A Winter Getaway – The Best Ski Destinations in Turkey
A winter ski break is ideal for anyone who needs a little rest from working life, school and everyday hassles. Turkey is really rich in terms of fabulous ski centres and hotels. Those looking for half-term breaks, new year holidays or even weekend getaways can have a great holiday experience at Turkey's ski resorts located on stunning snow-clad mountains. They can also benefit from pistes suitable for both experts and beginners, professional ski instructors, luxurious accommodation and limitless entertainment activities.
Uludağ Ski Centre, Bursa
Known as Turkey's first ski centre, Uludağ Ski Centre is located 22 miles southwest of Bursa. There are 20 pistes in total available to ski lovers, at an altitude of 2500 metres which vary in length- from 0.3 mile to 1.2 miles- and which are classified in terms of their difficulty as beginner, intermediate and advanced. With around 10 easy pistes for beginners, Uludağ is one of the best ski resorts for beginners. The pistes are easily accessible with 10 chairlifts and 13 drag lifts. Of course, skiing is not the only mountain sport you can do in Uludağ.  With 8 trekking tracks, it offers those fond of trekking a magnificent experience in the midst of nature.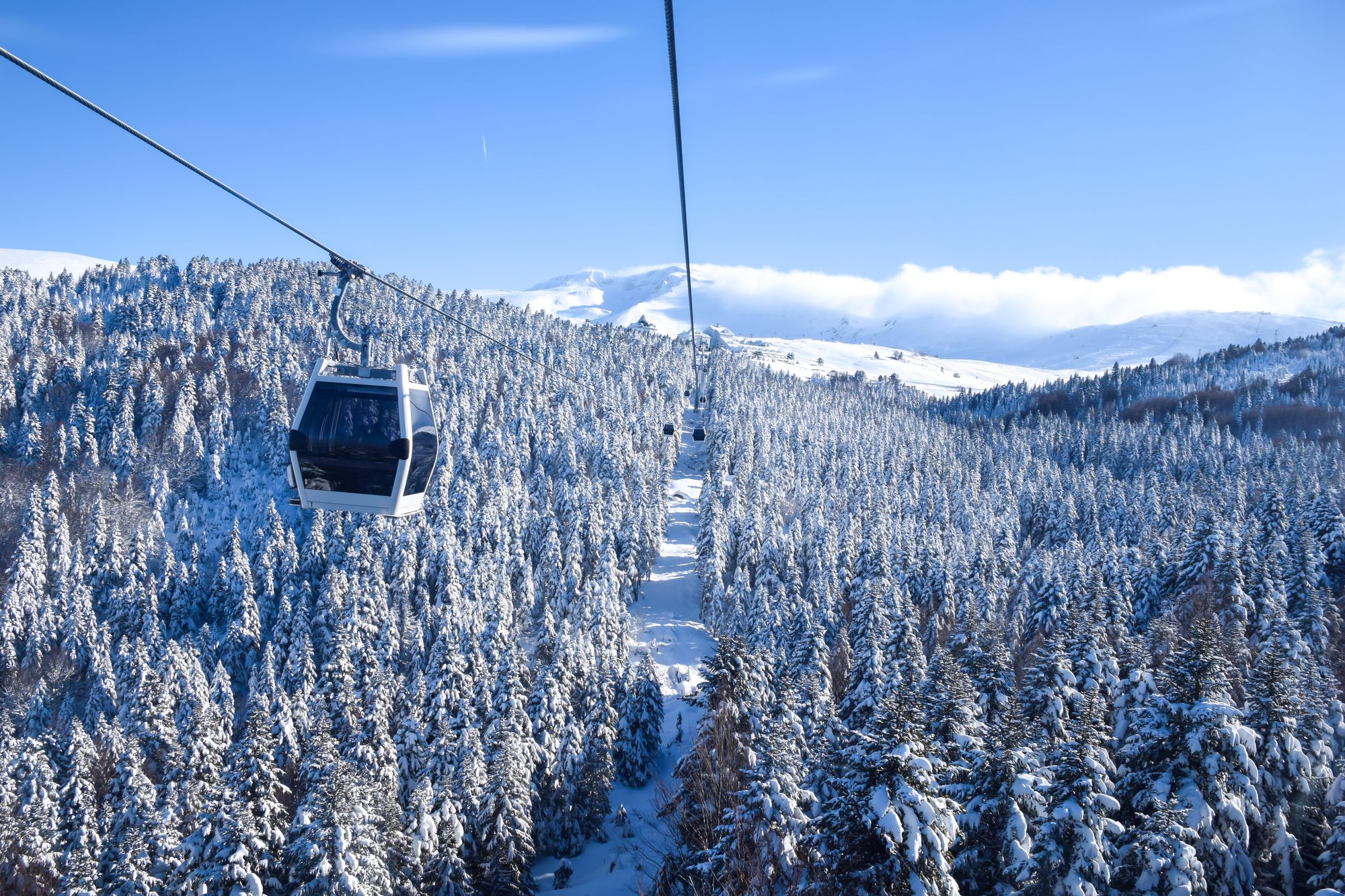 When to Visit?
The ski season in Uludağ  starts in mid-December and continues until the end of March. However, the busiest times in Uludağ are at the end of December and in January. As it is close to İstanbul and a number of other busy cities, Uludağ is a favourite destination for many people to celebrate New Year and spend half-term holidays.
Where to Stay?
Accommodation in Uludağ is situated in two different zones. The first zone is home to Uludağ's relatively old and well-established hotels. As for the second development zone, there are modern facilities which have been more recently built. Those who are looking for more competitively priced accommodation generally prefer the hotels in the first zone. On the other hand, those who are seeking more luxurious options prefer the second zone.
You can take a look at our halal-friendly holiday options in Uludağ and choose the best for your requirements. Bof Hotel Uludağ received the Best Ski Hotel of the Year Award in 2018 with its women-only pool, spa centre, luxury accommodation options and a great variety of facilities. The hotel is rated as "Very Good" by our guests with a score of 8,6 due to its proximity to pistes, comfortable accommodation, hygiene and the quality of the facilities.  

Winter Wonderland. First of all the food is great and of high quality, amazingly varied and delicious. There are 5 buffet tables on which different types of meat, fish and vegetable dishes are served. The hotel provides 3 main meals, coffee/tea and soup at night! Right across the road, you can find a small shopping center where you can take the cable car to go to Bursa.
Anonymous, South Africa, 2 nights, Dec 2019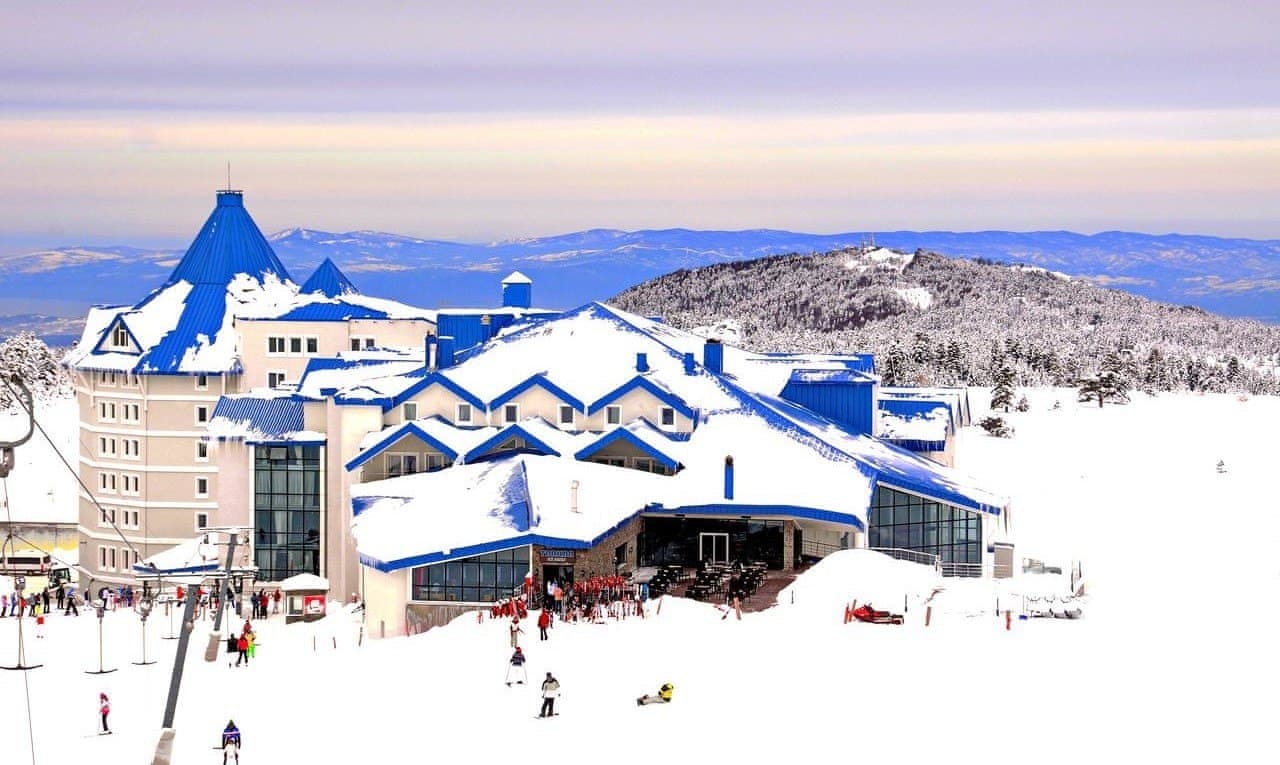 Erciyes Ski Centre, Kayseri
15 miles southwest of Kayseri, the ski centre is located on Mount Erciyes at an altitude of 12860 feet. It has a perfect geographic location so it is easily accessible by air and road from practically anywhere in Turkey, in a maximum of 4 hours! Awarded 'The Best Ski Centre of Europe' in 2014, Erciyes Ski Centre is home to a total of 34 pistes - 13 for beginners, 15 for intermediate skiers and 6 for experts. The length of these pistes varies from 0.15 miles to 2.6 miles. Also, there are 18 lifts including chair lifts, drag lifts and gondola lifts. Another appealing feature of Erciyes for ski lovers is that it is known for its 'powder snow', which is known to fall on high mountains. This is why Erciyes is also known as the 'Alps of Turkey'.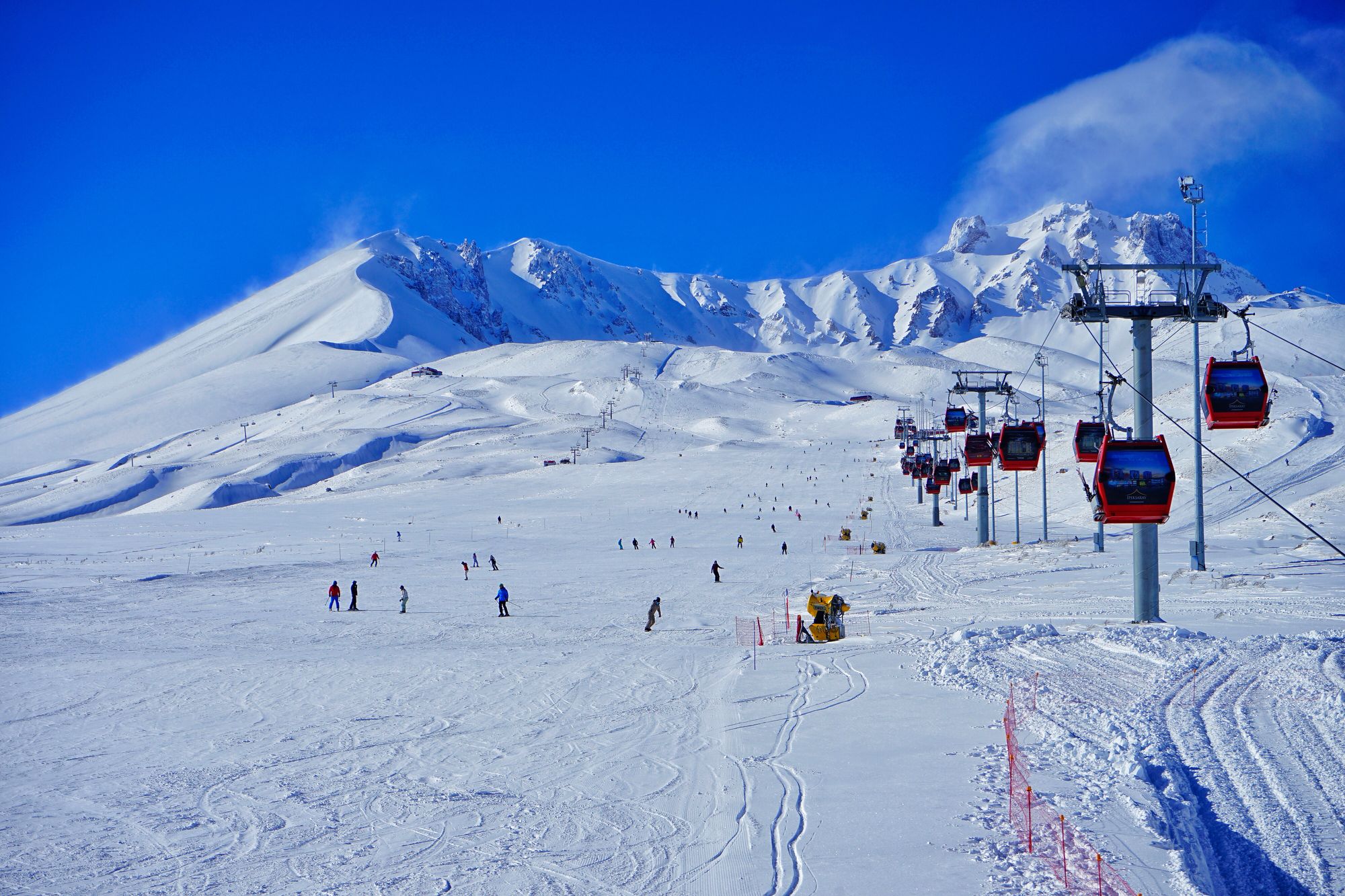 When to Visit?
The ski season at Erciyes Ski Centre, which is famous for its astonishing pistes and facilities, starts at the end of November and continues until May. It is possible to find a good snow depth to ski for almost 6 months at this ski centre, and there is some snow nearly 12 months of the year. Every winter, Erciyes welcomes approximately 2.5 million local and foreign tourists.
Where to Stay?
The second most popular ski centre for snow holidays, Erciyes offers a wide variety of holiday options varying from affordable hotels to luxury resort hotels with a wealth of facilities. Unlike the more expensive deluxe hotels of Uludağ, Erciyes has hotels which are more affordable. Therefore, it might be a more economical choice for families with kids, who want to spend their new year's holiday or half-term break in the middle of snow.
You can take a look at all ski hotels in Erciyes to find the accommodation which suits both your needs and your budget in the best way possible.
Palandöken Ski Centre, Erzurum
Located only 20 minutes from Erzurum Airport and 8 miles south of the city centre, Palandöken is one of the most popular ski centres. It is on Mount Palandöken, at an altitude of 10,419 feet. It is easily accessible with a direct domestic flight from İstanbul, Ankara and İzmir. This makes Palandöken an ideal destination and it hosts more than 500 thousand local and foreign tourists for winter weekend getaways, New Year's holiday and half-term breaks. You can find 22 pistes in total: 8 for beginners, 8 for intermediate skiers, 2 olympic and 4 natural pistes, which vary from between 0.18 - 7.4 miles in length.  
When to Visit?
Palandöken has previously been home to University Winter Games and the European Youth Winter Olympics. The ski season starts in early November with festivities, concerts and different activities and continues until the end of April. Not only ski lovers, but also holiday enthusiasts who are into a variety of winter sports such as paragliding, snowboarding, snow tubing and mountaineering enjoy Palandöken throughout the year.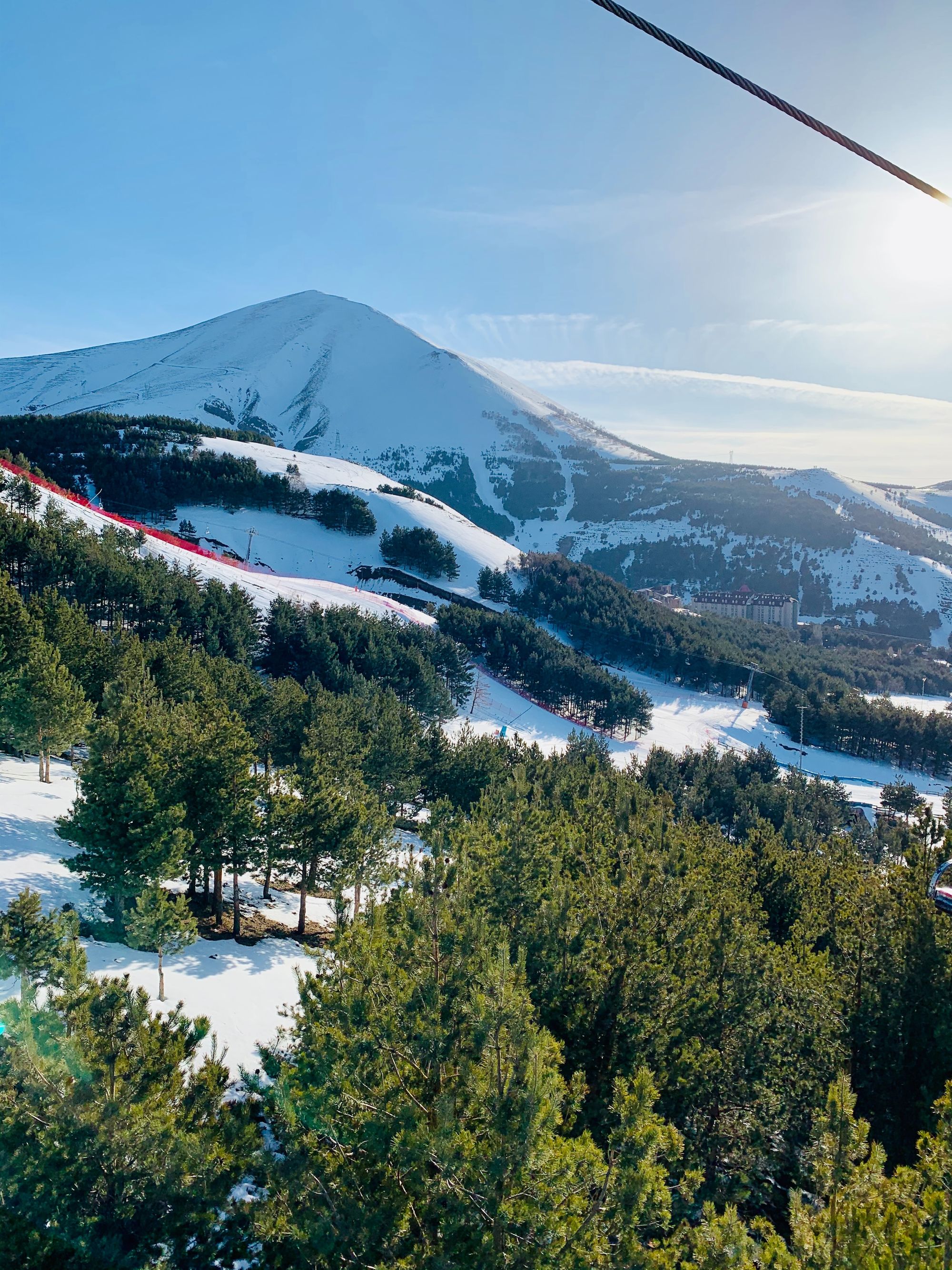 Where to Stay?
Palandöken Ski Centre offers its guests numerous accommodation alternatives varying from 5-star luxury hotels to more affordable ski hotels.
The 5-star Polat Erzurum Resort Hotel provides easy access to the ski centre's pistes with its own chair lift system. The guests have the chance to benefit from luxurious and comfortable accommodation at the hotel, which also provides a mini club for children and ski lessons from professional ski instructors. If you are looking for a luxurious stay at more affordable prices, then  Dedeman Palandöken Ski Lodge could be a good choice - the first boutique hotel inPalandöken. It is one of the best hotels for a winter holiday not only because of the comfortable rooms, but also due to its proximity to the pistes and Erzurum city centre.
You can take a look at all the other ski hotels in Erzurum to find the accommodation which suits both your needs and your budget in the best way possible.
Kartepe Ski Centre, Kocaeli
Only 4.3 miles from Kocaeli city centre and only 1.5-hour's drive from İstanbul, Kartepe is one of the most popular ski resorts for winter weekend getaways. Kartepe, which is located on one of the peaks of the Samanlı Mountains which is 5252 feet high, is home to 12 pistes (varying between 0.2 - 2.1 miles in length), 3 chair lifts and 1 teleski.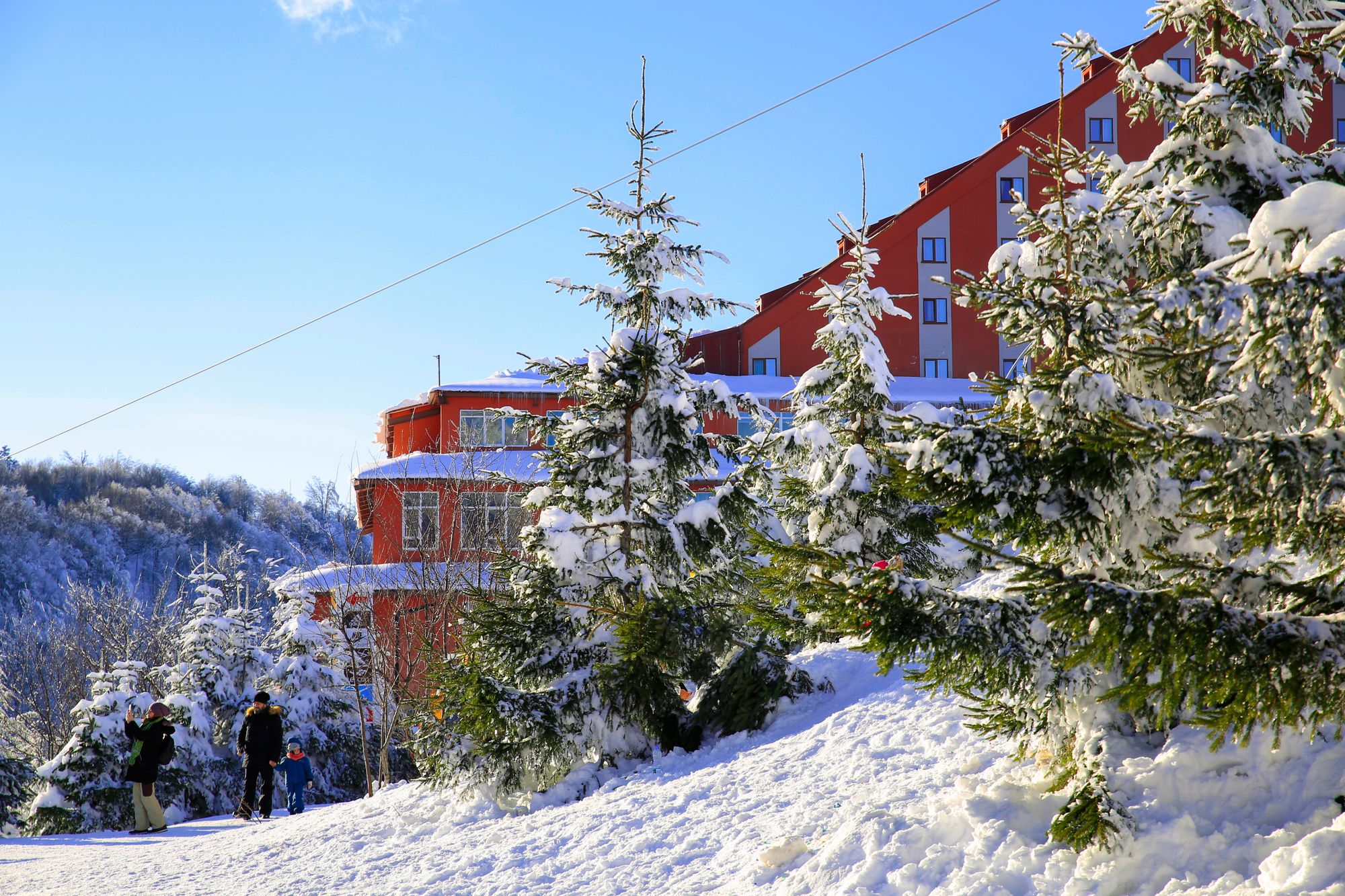 When to Visit?
With its excellent location, Kartepe Ski Centre is popular among skiers who love weekend getaways. The ski season starts in mid-December and continues until mid-March. However, the best months for skiing are January and February because the depth of the snow reaches 150 cm.
Where to Stay?
Kartepe does not offer as many accommodation options as the other ski centres, however, the hotel which is here, the4-star The Green Park Kartepe is a great choice, which is excellent  for beginners, who can learn from professional ski instructors.
Only one hour's drive from İstanbul, great for beginners! It is the only hotel in Kartepe, which is only 62 miles from Sabiha Gökçen Airport. The hotel provides excellent service and the ski facilities are also good. I haven't encountered any difficulty as a beginner skier and I took great pleasure from this experience.
Anonym, Germany, 2 nights, Feb 2019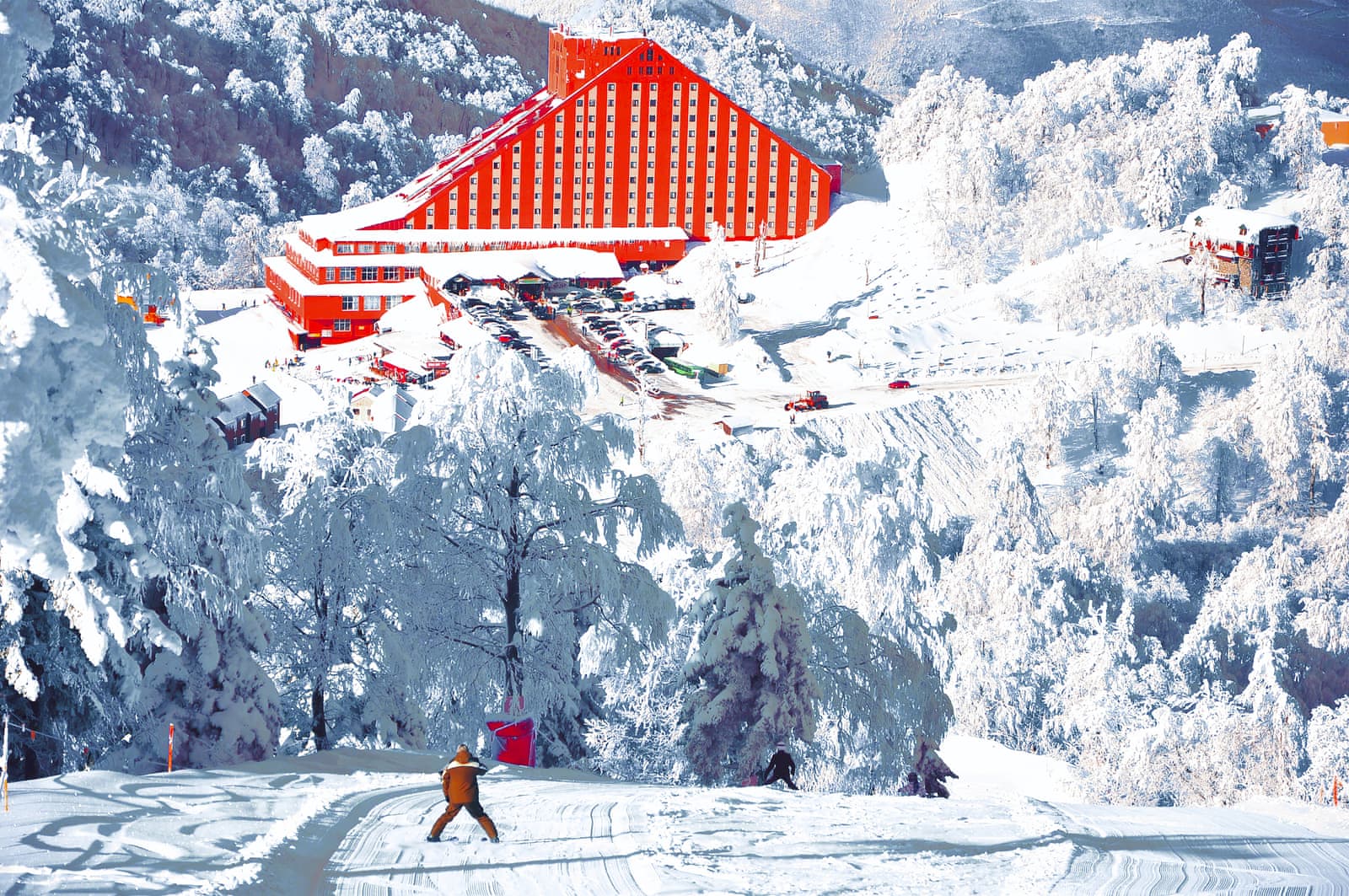 Sarıkamış Ski Centre, Kars
Located 33 miles southwest of Kars, Sarıkamış is one of the most popular ski centres with skiers and snowboarding enthusiasts as it is covered with crystalline and powder snow. There are 6 pistes available in Sarıkamış at the moment. There are two for beginners, two for intermediate skiers and two for professional skiers. Also, there are 4 chair lifts to get around the ski centre.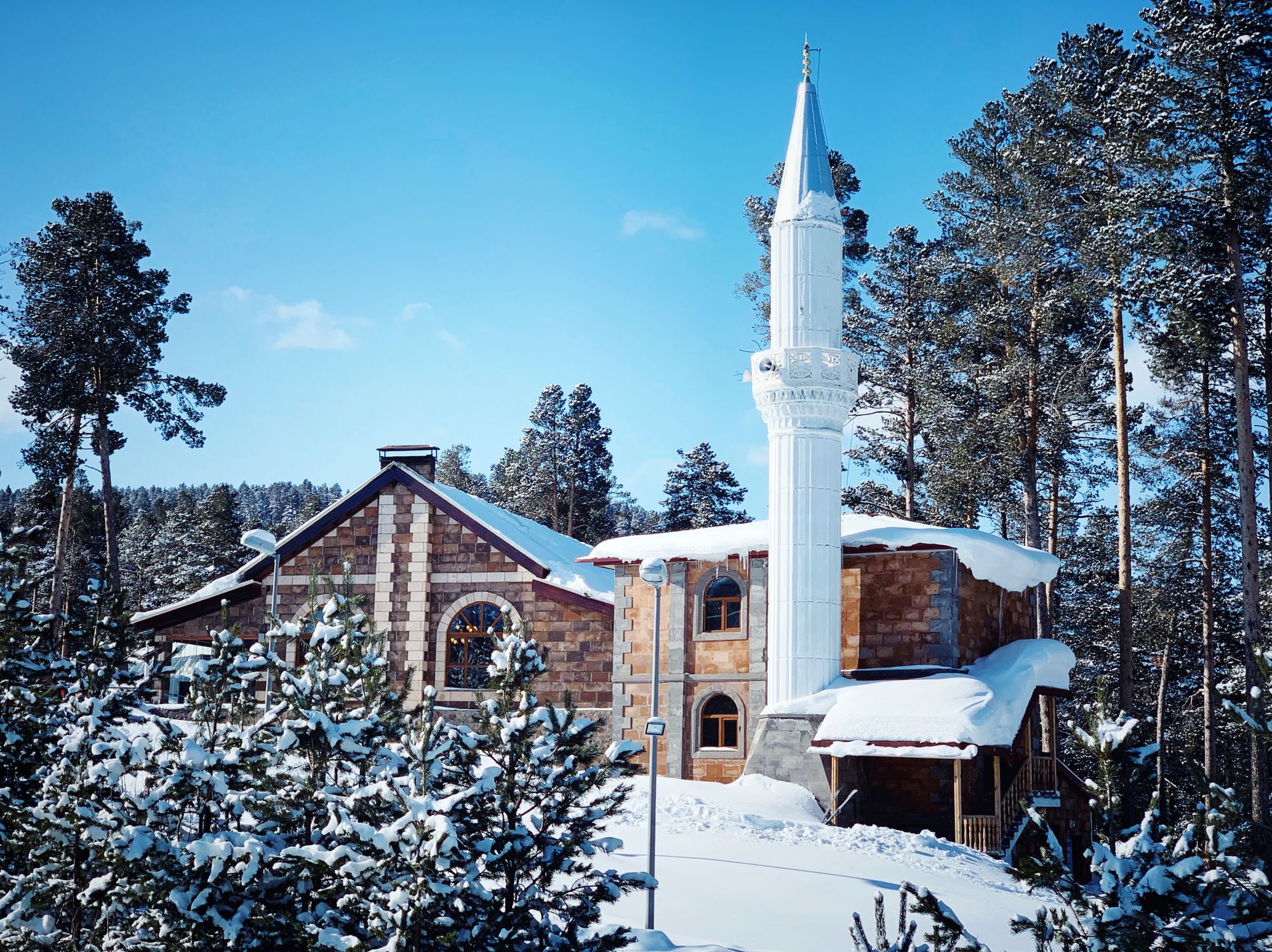 When to Visit?
In Sarıkamış, it snows for 57 days a year but there is snow on the ground for 141 days. As a result, there is a deep layer of snow on the ground, which is suitable for skiing for 5 months of the year. Starting in early December, the season continues until April. February or March are also popular because of the Winter Games Festival of Sarıkamış.
Where to Stay?
Along with the increasing demand for the Eastern Express, more people than ever have been visiting Kars. This has brought about an improvement in the quality of service provided by the hotels in Kars and Sarıkamış. Unlike the hotels of Sarıkamış which are typically modest, the ones in the wider region resemble those of Uludağ, with all the luxury and comfort they offer.
The 5-star Sarıkamış Kayı Snow Hotel is a great choice for those looking for a halal-friendly skiing holiday as it is very close to the ski slopes and it provides comfortable rooms, women-only pools, spa centre and an alcohol-free atmosphere.
Davraz Ski Centre, Isparta
Located 16 miles southwest of Isparta, Davraz Ski Centre is only 1.5-2 hours' drive from Antalya. Due to its great location, it has recently become one of the most popular ski centres for ski enthusiasts living in nearbycities, especially for weekend getaways and school holidays. 13 ski slopes are available at the moment: 2 for beginners, 8 for intermediate skiers and 3 for experts; varying between 0.5-1.6 miles in length. As for children and non-skiers, there is also a sledging track.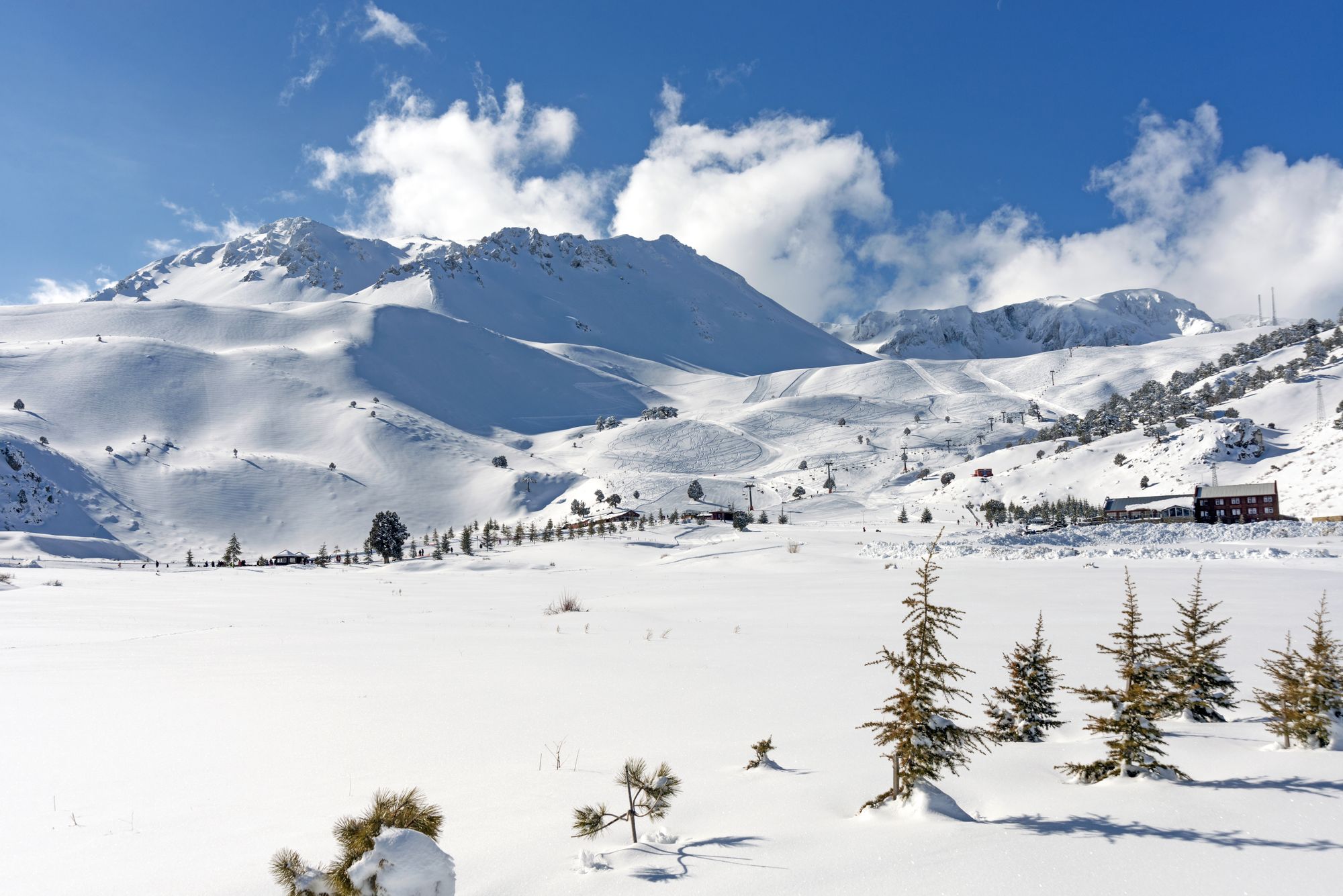 When to Visit?
Compared to other ski centres, Davraz has a shorter ski season. Starting towards the end of December, the skiing season ends in early March. The best months for skiing are January and early February.
Where to Stay?
Davraz does not have a great variety of hotels, since there is only one hotel in the ski resort: the 4-star Sirene Davras Hotel. Here you can stay in an amazing room/suite with a beautiful mountain or snow view and relax in the pool, sauna or Turkish bath.
It does not matter which ski centre you choose, your winter holiday will be as fun, fantastic and active as your summer holiday. All you need to do is to choose from amongst the halal-friendly ski hotels on offer and book in advance. These lovely ski centres have everything to make your holiday unforgettable!