Cappadocia - Visit the moon without leaving the earth
Immerse yourself in the fairy-tale atmosphere of Cappadocia. Get inspired and choose one of the beautiful halal-friendly hotels that are highly rated by HalalBooking customers. The region is home to outstanding natural wonders, notable in particular for fairy chimneys and a unique historical and cultural heritage.
One of the most touristic destinations of Nevşehir and even Central Anatolia, Cappadocia region takes its name from the Persian word Katpatuka which means "land of beautiful horses". With its fairy chimneys, underground cities, cave hotels and delicious cuisine, Cappadocia is one of the must-see destinations for a wonderful holiday.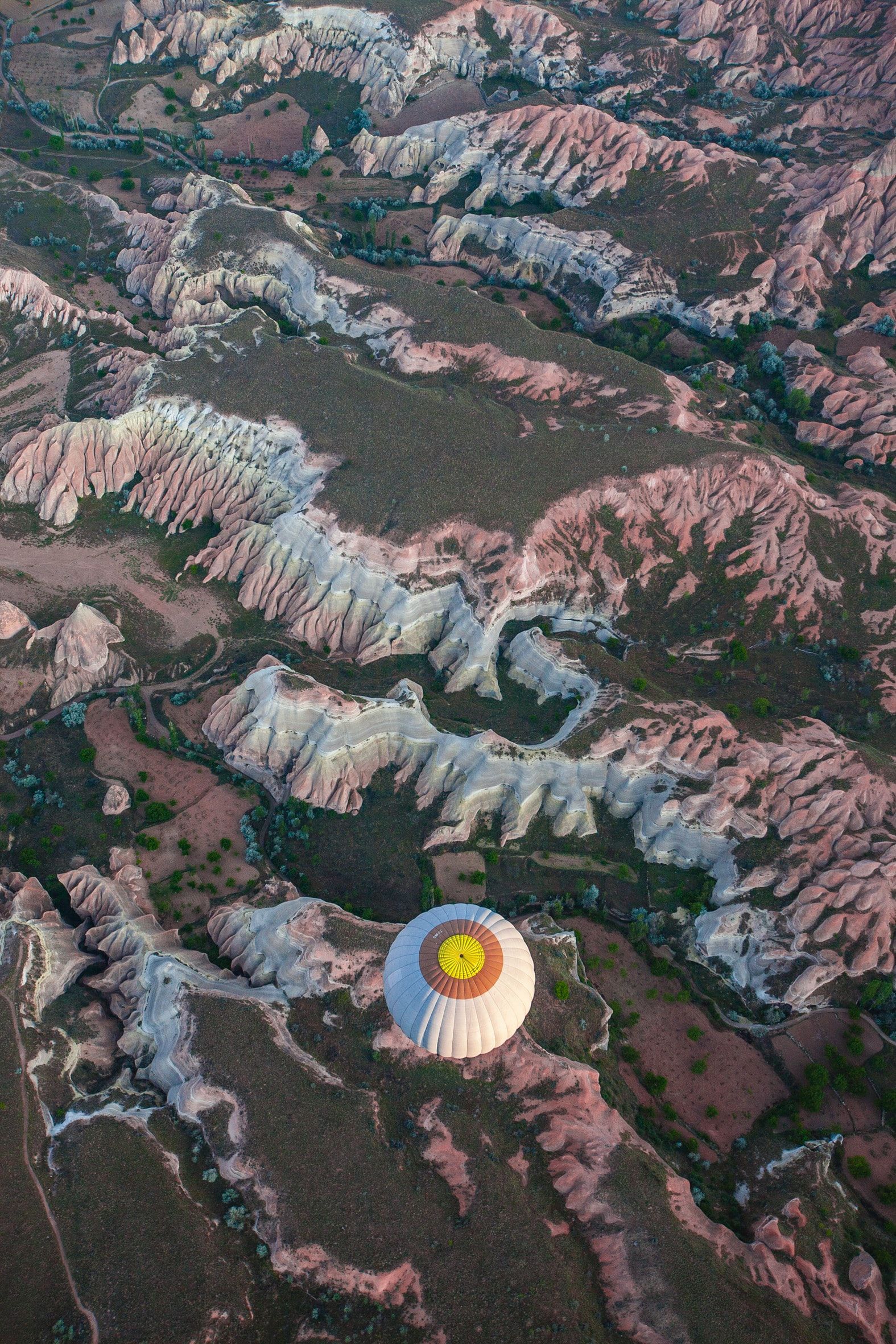 The region consists of four main districts: Göreme, Uçhisar, Ürgüp and Avanos.
Göreme
Göreme, a village in Göreme National Park, was included in the UNESCO World Heritage List in 1985 and is considered the tourist capital of Cappadocia. Located at the heart of a network of valleys dotted with fantastic rock formations, Göreme is best known for its thriving tourism industry, particularly spectacular hot air balloon flights and many boutique hotels that have been created from ancient cave houses. It is also known for its fairy chimneys, eroded rock formations, many of which were hollowed out in mediaeval times to build houses, churches and underground cities. It is believed that its first settlement dates back to the 6th century, so Göreme is home to many historical buildings.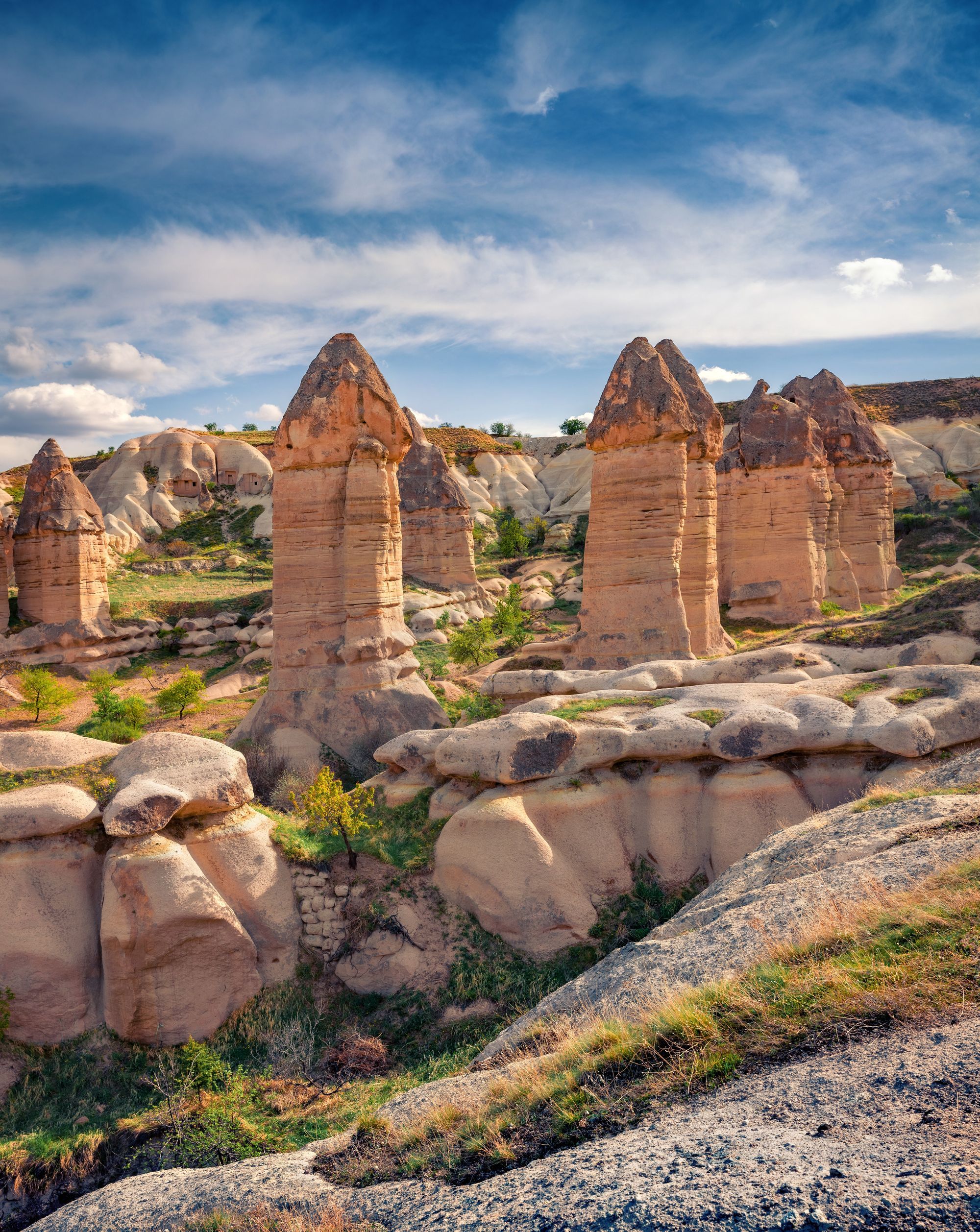 Uçhisar
Uçhisar is the highest hill in the Cappadocia region, the first findings of which date back to the Neolithic Age and also hosted Anatolian civilizations. Located in Nevşehir Province, on the edge of Göreme National Park, Uçhisar, which means "Outer Citadel" in Turkish, refers to the huge rock cone that is its central feature. Uçhisar Castle is undoubtedly one of the most distinctive castles in Cappadocia, possibly dating back to the Hittites. The data we have shows that the castle was used extensively during the Roman and Byzantine periods and formed an important point of defence against the increasing Arab raids of the period.
Ürgüp
Ürgüp is one of the most touristic settlements of Cappadocia, where the famous Üç Güzeller fairy chimneys are located. Millions of tourists visit Ürgüp every year and numerous films and TV series are filmed here in traditional mansions. As everywhere in Cappadocia, its centre is full of beautiful old stone houses clustered around a central rock formation, in this case Temenni Tepesi (Temenni Hill, Wish Mountain). Ürgüp is a good starting point to visit all of Cappadocia's main attractions, including the rock churches and the underground cities.
Avanos
The mediaeval town of Avanos on the banks of the Kızılırmak River is one of the rare settlements in Cappadocia that does not have cliffs and fairy chimneys. Using clay from the red mud of the Kızılırmak, the city has been the centre of terracotta art since 3000 BC and is the greenest place in Cappadocia. Visit pottery workshops, enjoy beautiful river views and explore the attractive old town with a stroll along the quaint stone streets.
Cappadocia attractions
Fairy Chimneys
Cappadocia boasts a fairy-tale-like landscape of fairy chimneys, geographic features carved 60 million years ago by rain and wind that eroded the lava and ash of the volcanic mountains in the region. Especially at Göreme Historical National Park, you can admire the fairy chimneys that have been used as churches, monasteries, dining halls, warehouses and dwellings throughout history.
Underground cities
Cappadocia offers impressive views not only above ground, but also below. Throughout history, the peoples living in Cappadocia have built underground shelters to protect themselves from attacks and invasions. In fact, underground shelters were used as permanent settlements at certain times and accepted as cities. Although there are around 200 underground cities in the region, only 7 of them are currently open to visitors. The most popular underground cities include Kaymaklı, believed to have been built during the Hittite civilization, Derinkuyu, the largest in Turkey, which may have housed up to 50,000 people in ancient times, and Özkonak, which gives clues to the war tactics of the time with its holes above the tunnels used to dump hot sand on the enemy.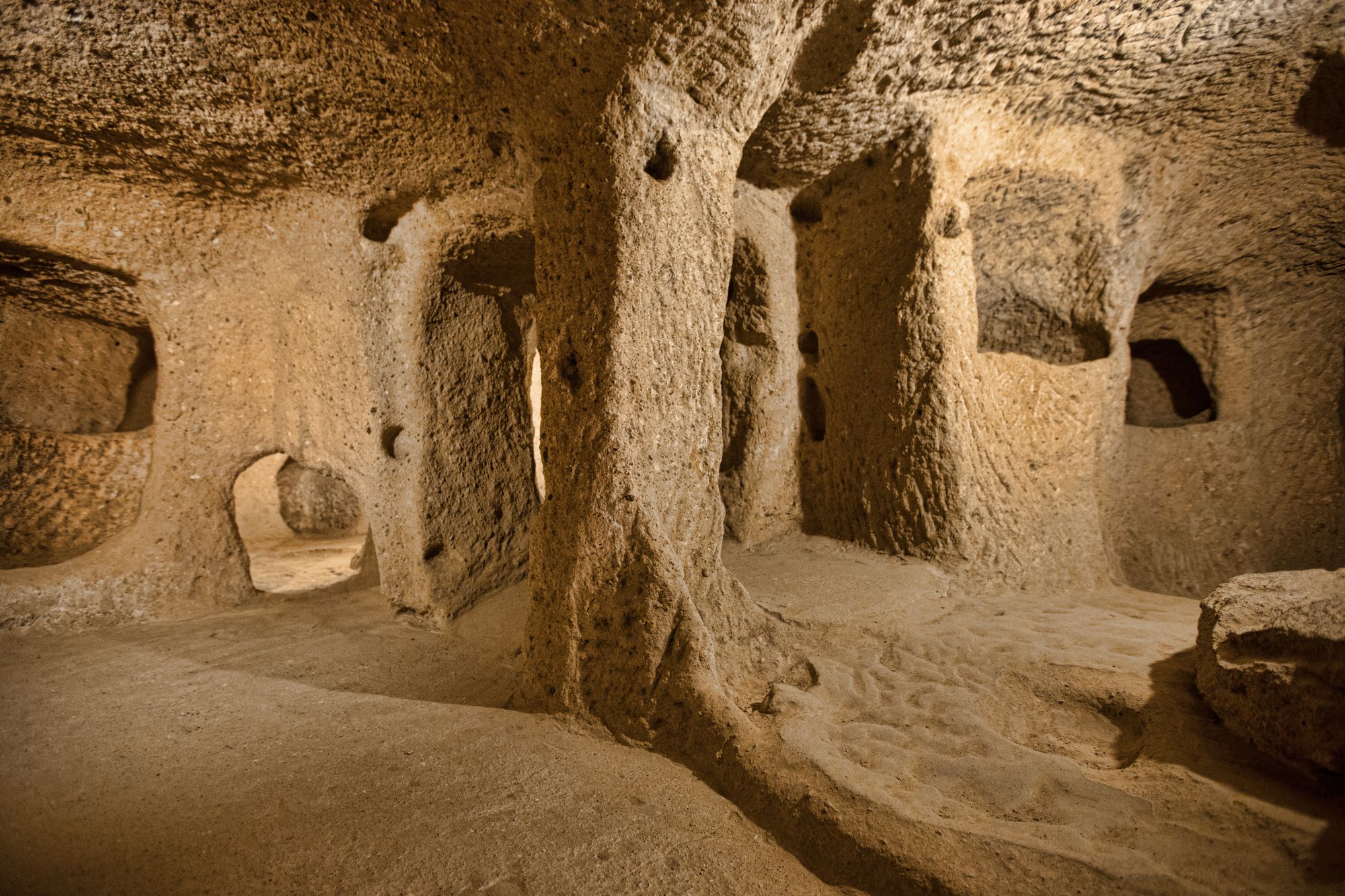 Cave hotels
The inhabitants of Cappadocia have used the rocks and fairy chimneys for many different purposes throughout history, such as houses, churches, warehouses and many more. With the boom in regional tourism over the past 10 years, many hotels offer fairy chimneys and caves as accommodation to experience the unique atmosphere of Cappadocia up close.
Overlooking the Güvercinlik Valley, the Şah Saray Cave Suites in Nevsehir offer a hot tub and Turkish bath in some rooms. In the traditionally furnished rooms you will feel as if you are in the Arabian Nights.
Cappadocia Cave Lodge in Nevsehir offers an authentic experience with its wide selection of cave rooms, offering a magnificent terrace where you can watch hot air balloons rise to the sky at sunrise. HalalBooking guests rated the hotel as 'Superb' with a score of 9.4.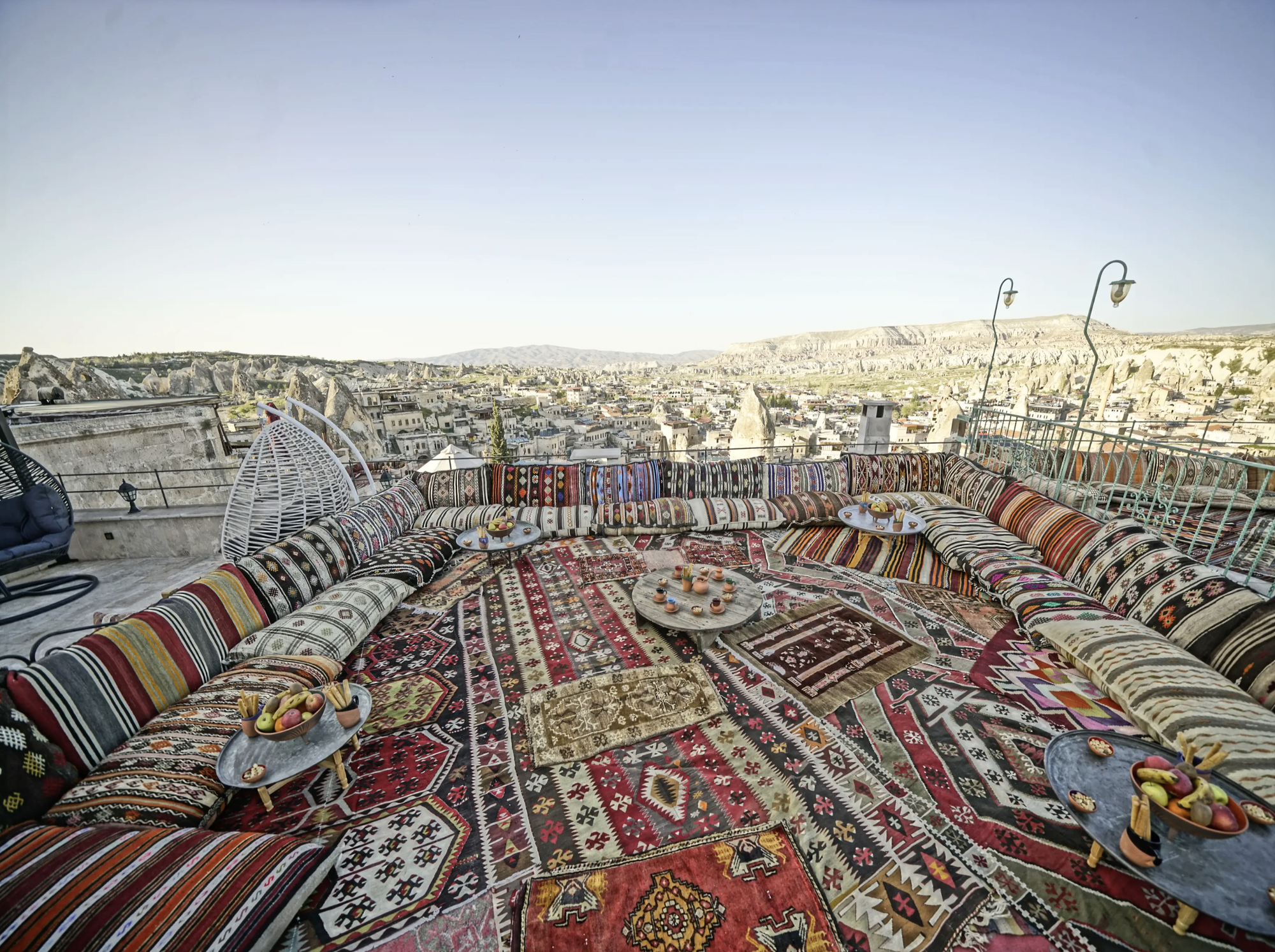 "The most beautiful hotel in Göreme" - "I liked the location of the hotel, the attention of the staff, the friendliness, the cleanliness of the room, and we were satisfied. If I go to Cappadocia once again, this is the only hotel I will go to. Number 1 in everything!"                                                                                                           Engin, Turkey, 3 nights, Aug 2021
You can also stay in traditional Cappadocia mansions such as the 5-star alcohol-free Ajwa Cappadocia in Ürgüp, which offers an indoor pool that can be rented for private use and a women-only spa centre.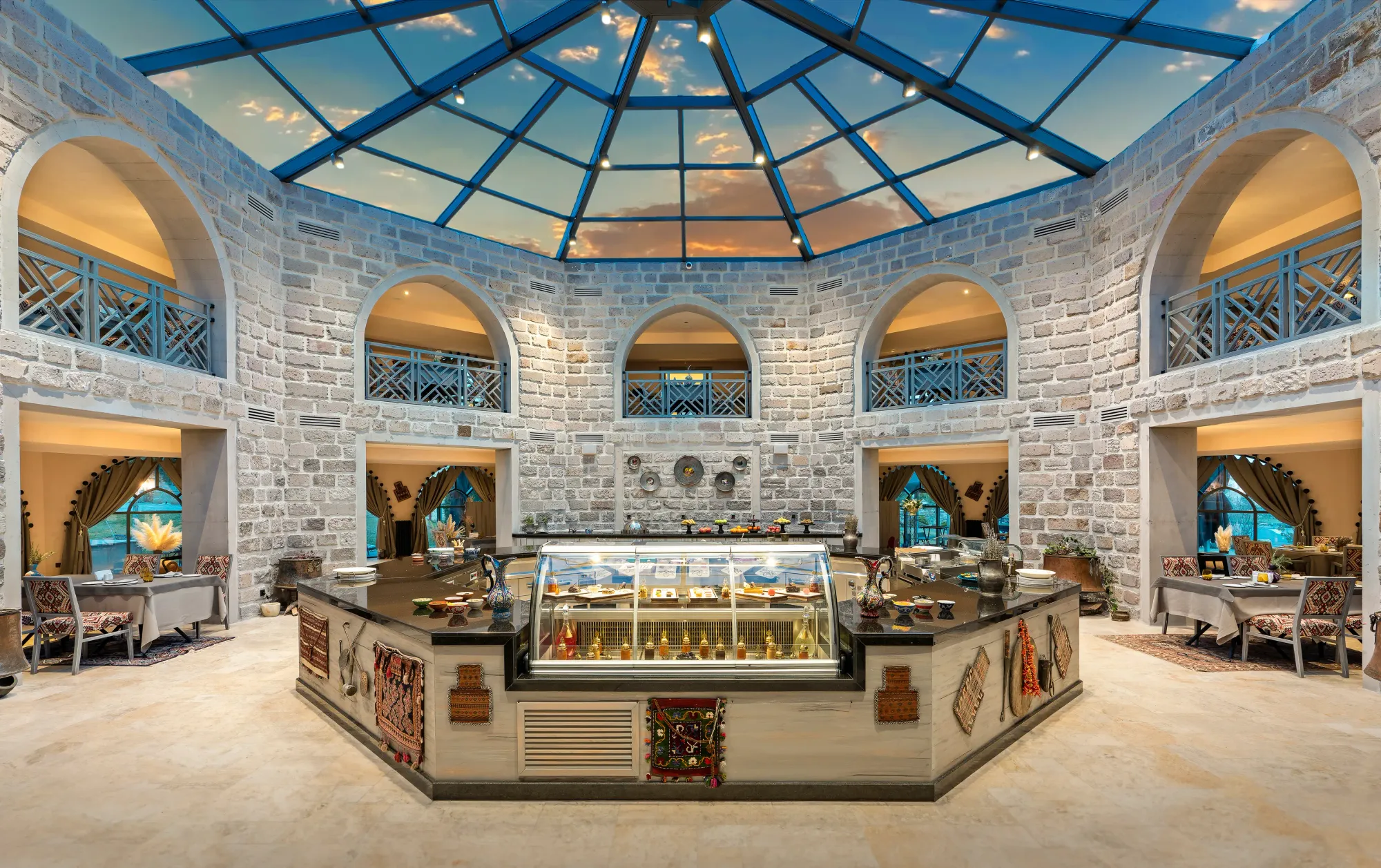 The Alaturca House Otel in Göreme offers a magnificent Cappadocia experience with its stone mansion architecture. It is rated 'Superb' by HalalBooking guests with a score of 9.0. You can enjoy breakfast while watching the hot air balloons.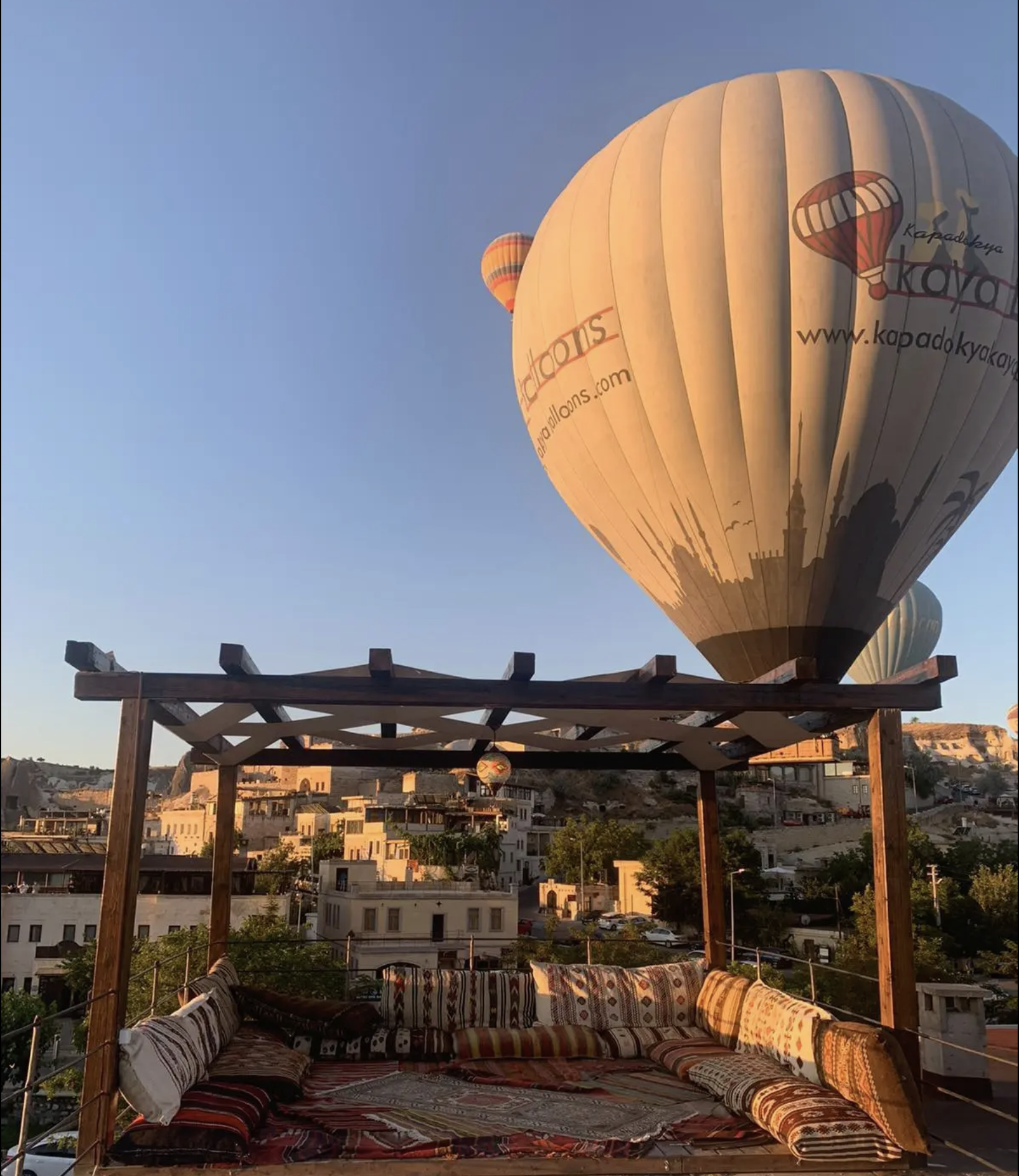 "Family Holiday" - A perfect hotel for families and couples. A great place. Friendly and helpful staff. Terrace with an amazing view of hot air balloons. Rooms are clean and comfortable. Great breakfast.     Muhammad, Turkey, 2 nights, Aug 2021
For Islamic Cappadocia holidays, choose amongst the halal-friendly Cappadocia hotels that combine authentic and traditional style with luxury.
Alaeddin Mosque
The Alaeddin Mosque in Avanos was built in 1202 by Alaaddin Keykubat, the ruler of the Anatolian Seljuk state, and is open for prayers. Built in Seljuk architectural style, the mosque has been expanded and improved over time through restorations.
Göreme panoramic viewpoint
The Göreme panoramic viewpoint offers stunning views of the epic landscapes of Cappadocia and its colourful, flowing hot air balloons over valleys and volcanic "fairy chimney" formations.
Ürgüp Temenni Hill
Temenni Hill, located at an altitude of 80 metres in Ürgüp, offers a terrace with 360-degree views over Ürgüp. There is also an ancient tomb and mausoleums built for Seljuk rulers.
Saruhan Caravanserai
The Saruhan Caravanserai, covering an area of about 2000 square metres, is located within the boundaries of Avanos District of Nevşehir. Built in 1249 during the reign of Izzeddin Keykavus II, it is the last caravanserai from the Seljuk period. Located in a strategic position on the Istanbul-Baghdad trade line, the caravanserai takes its name from the yellow local stones used in its construction.
Hot air balloon rides
Every morning, just before sunrise, hundreds of colourful hot air balloons take off, offering beautiful views both from below and up in the sky. There are many agencies offering hot air balloon rides online and on site, with prices varying by company.
Horse riding
The "Land of Beautiful Horses" has many horse farms where you can ride with professional riders and visit the fairy chimneys on horseback. At the farms you can choose the horses you want to ride and enjoy the tour as a family.
Pottery workshops
Visit the pottery workshops in Avanos and see artisans expertly create pottery, decorative items and vases before making your own!
Erciyes
Erciyes Ski Resort in Kayseri is one of the most popular winter tourism destinations. With its plateaus and lakes, it offers attractions all year round. Just one hour from Cappadocia, it is easy to combine your Cappadocia holiday with a day trip to Erciyes and enjoy the mountain air.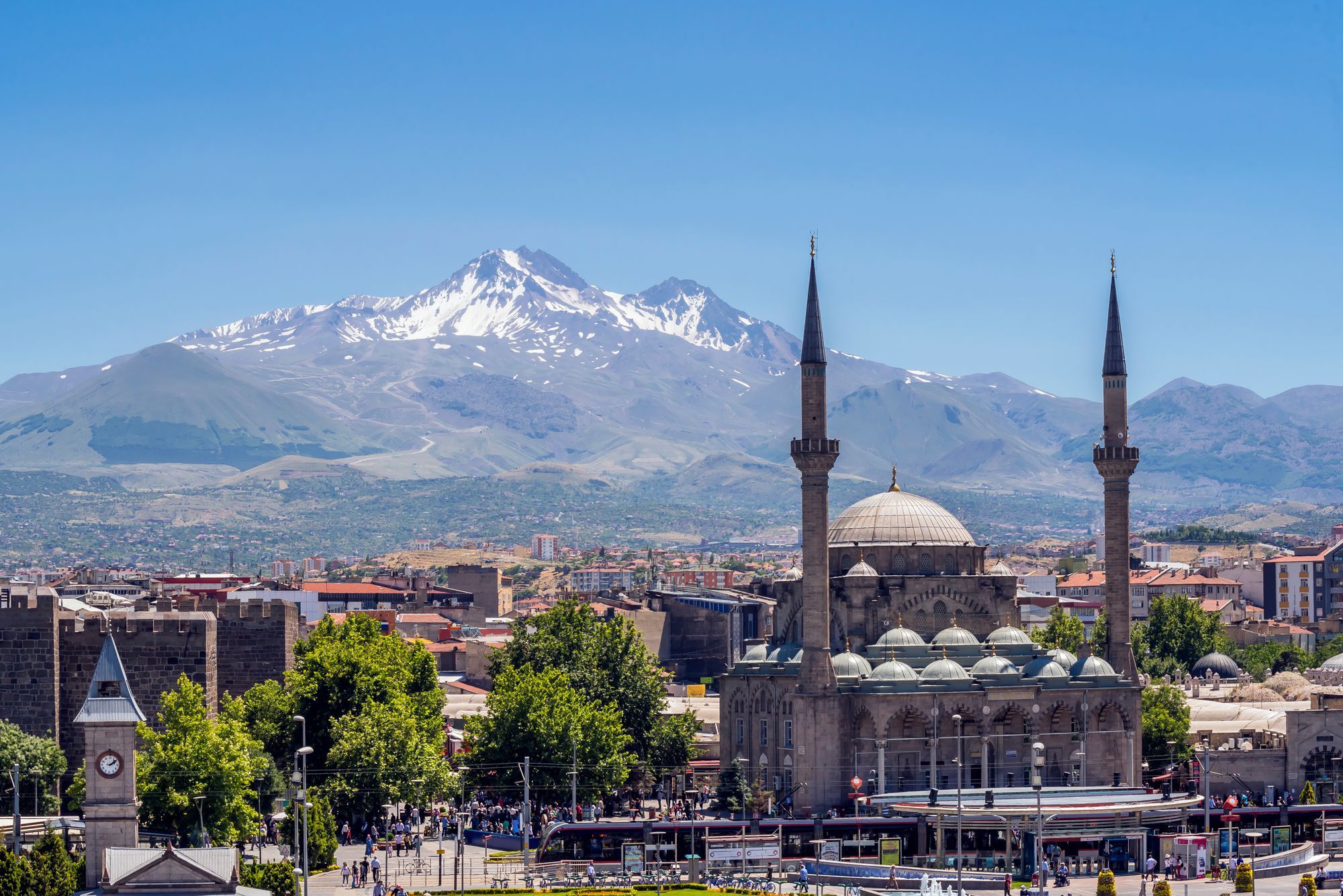 Delicious Cappadocian cuisine
In addition to impressive landscapes, Cappadocia has attracted visitors with its delicious, traditional cuisine for thousands of years. Here are some of the main dishes of the region:
Çömlek fasulye: Pot Beans with roasted meat.
Testi kebabı (Pottery kebab): Lamb meat, onions, tomatoes, garlic, eggplant, mushrooms, and potatoes slow-cooked in a clay pot sealed with dough.
Ayvalı Et Yahnisi: Stewed meat with quince and onions, salt, sugar and cinnamon, served with homemade noodles.
Patlıcan Dolması: Aubergines stuffed with rice, onions, parsley, raisins and spices.
Kora papareni: Pastry sheets with chicken and walnuts.
Kaşıtsi: Dessert made with molasses and starch.
How to get to Cappadocia
Cappadocia is easily accessible both by plane and by car. Turkish Airlines has daily flights to Nevşehir Cappadocia Airport from Istanbul, Antalya and İzmir. Other airlines such as THY, Pegasus, Anadolu Jet and others also offer flights to Kayseri Airport from many parts of Turkey.