Celebrate Ramadan in Istanbul 2023
Ramadan is a special time of year for Muslims around the world. It's a time of forgiveness, mercy and worship for the sake of Allah. So with that in mind, many people are choosing to spend the blessed month in a Muslim environment where they can take in the celebratory atmosphere of lighting, sights, smells and sounds of Ramadan.
And what better place to visit than Istanbul, especially during this blessed month? A city where you'll be dazzled by the centuries of history and awe-inspired by Islamic architecture as you walk through the ancient city.
Istanbul: a truly Muslim city, creating unforgettable memories that are everlasting.
Sahur in Turkey
The tradition in Istanbul is for people to wake up to the songs and sounds of drums being beaten by the famous davulcus who continue the century-long tradition of wandering the streets to wake up residents for "sahur" — the meal before a day of fasting that begins before sunrise, which is usually in the form of a light breakfast. When the Adhan for Fajr begins, the time for eating is over and the fast commences until the Maghrib Adhan.
Open Iftar events
Open Iftar is a cultural tradition that stretched over 600 years under the Ottoman Empire. In many Turkish cities including Istanbul, municipalitıes set up large "iftar tents" (iftar çadırları) and serve free iftars for tens of thousands. Take this wonderful opportunity during Ramadan to break the fast in an atmosphere where the holy month is celebrated by all. Some companions came to the Prophet ﷺ and complained: "We eat but are not satisfied." He ﷺ said, "Perhaps you eat separately?" The Companions replied in the affirmative. He ﷺ then advised, "Eat together and mention the Name of Allah over your food. It will be blessed for you."
Celebrating iftar
In Turkey, a traditional iftar meal would not be complete without the "Ramazan pide" - a traditional soft, leavened flatbread topped with sesame and nigella seeds, which is only made at this time of year.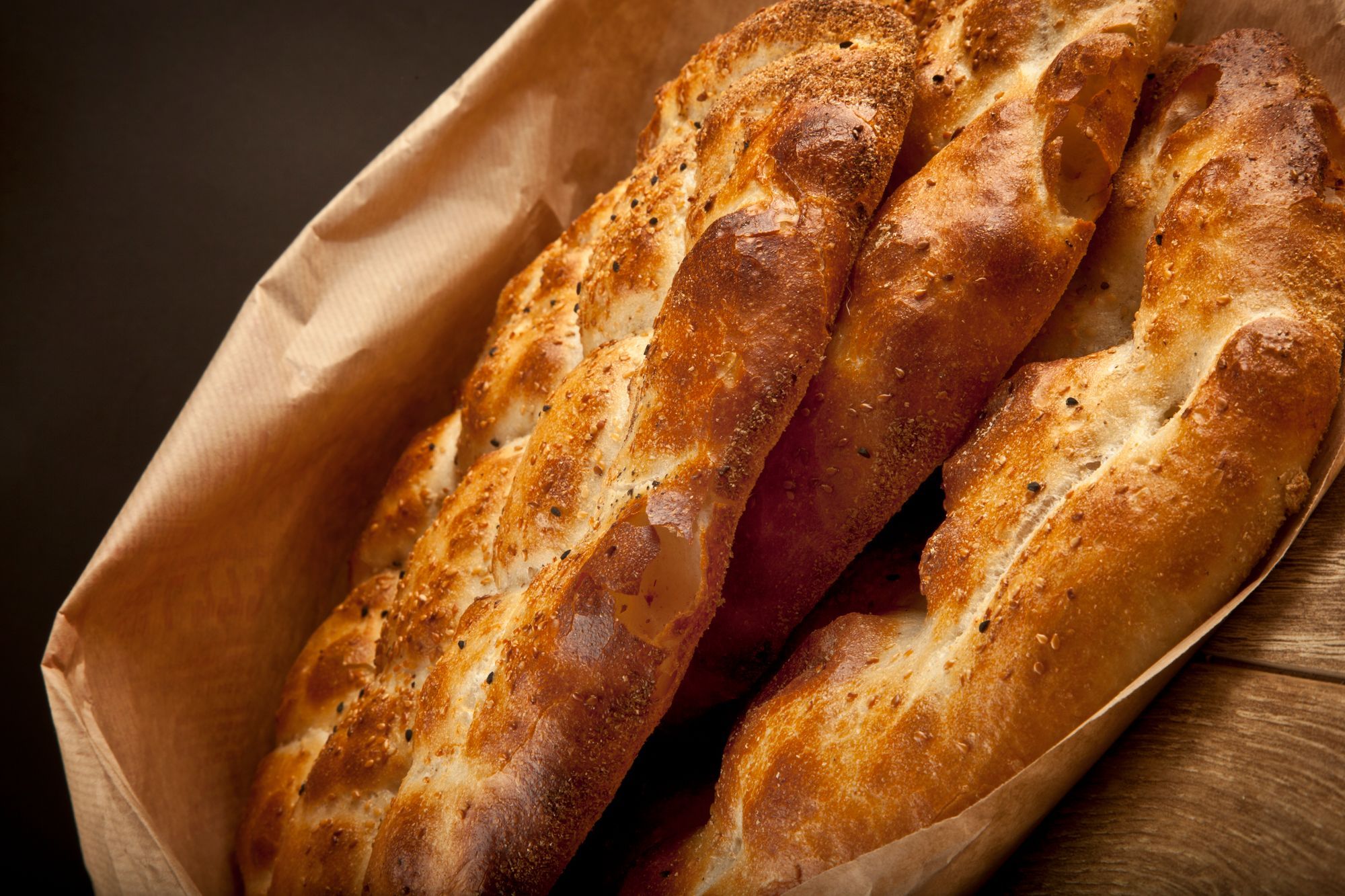 Soups are a staple of iftar meals in Turkey, with one of the most popular being the delicious and nutritious mercimek -  lentil soup. Different types of börek, cheese- or meat-filled flaky pastry are likely to be on the table, together with white cheese, black olives, other delicacies and ayran, a refreshing yoghurt drink especially welcome after a daylong fast on warm days. Typically, the fast is broken with a hurma (date) as per the tradition of the prophet. A main course of succulent kebabs or hearty stew will be followed by sweet honey-soaked treats such as baklava or kunefe, a sweet pastry filled with melted cheese.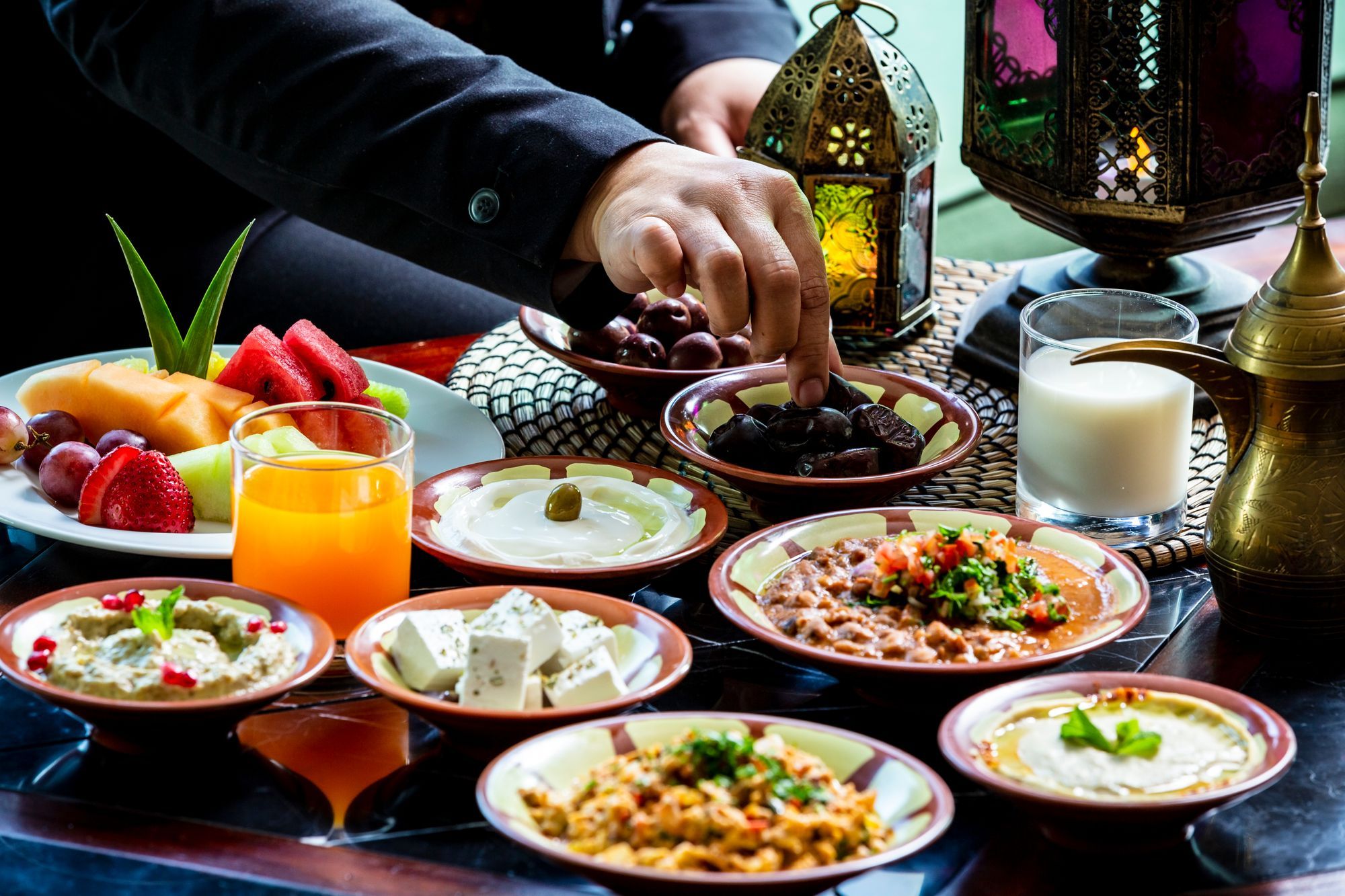 It is usual for Istanbul residents to gather in public parks, squares and mosque courtyards, for public iftar meals organised by local authorities or charities and companies - great occasions on which to experience Turkish hospitality. Everyone would wait for the signal to break the fast: the traditional 'Ramazan top atışı' (Ramadan cannon fire), a tradition since the 1820s, and the subsequent ezan from the minarets of the surrounding mosques.
Mosques in Istanbul
As Istanbul is obviously a Muslim city, there are many Masjids from which  you can pray, break fast or pray Taraweeh prayers. The Mosques around the city will also have special illuminations during Ramadan. Typically lights are hung between the minarets displaying the message: 'Hoşgeldin Ramazan' or 'Ya Şehr-i Ramazan' (Welcome Ramadan).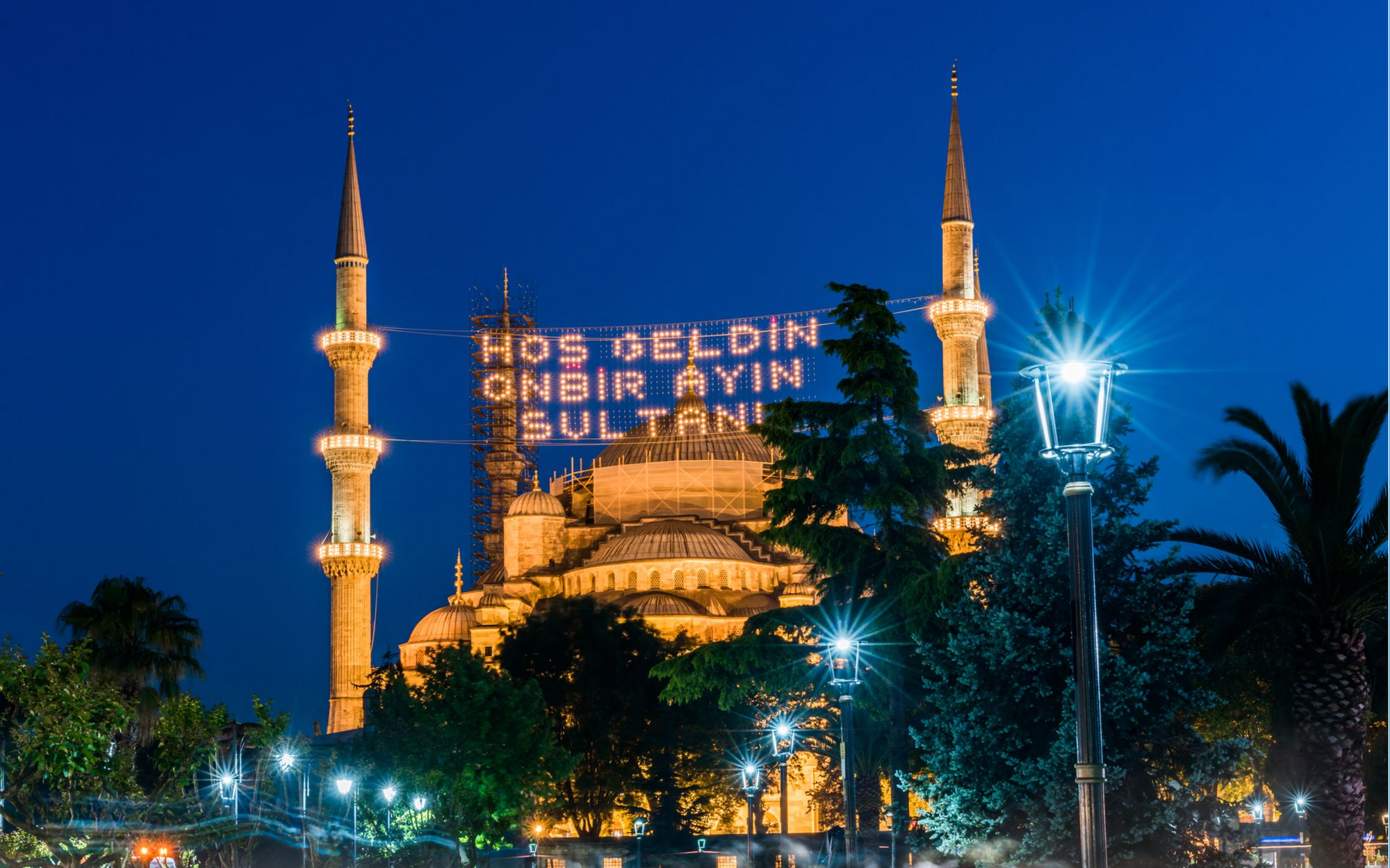 Holy Hagia Sophia Grand Mosque
First built in 537 as the patriarchal cathedral of the Eastern Roman Empire, Hagia Sophia was converted into a mosque following the conquest of Constantinople by Sultan Fatih Mehmet in 1453. After having served as a mosque for almost 500 years its status changed to a museum in 1935. On 24th July 2020 it was reopened as the Hagia Sophia Grand Mosque (Ayasofya-i Kebir Cami-i Şerifi).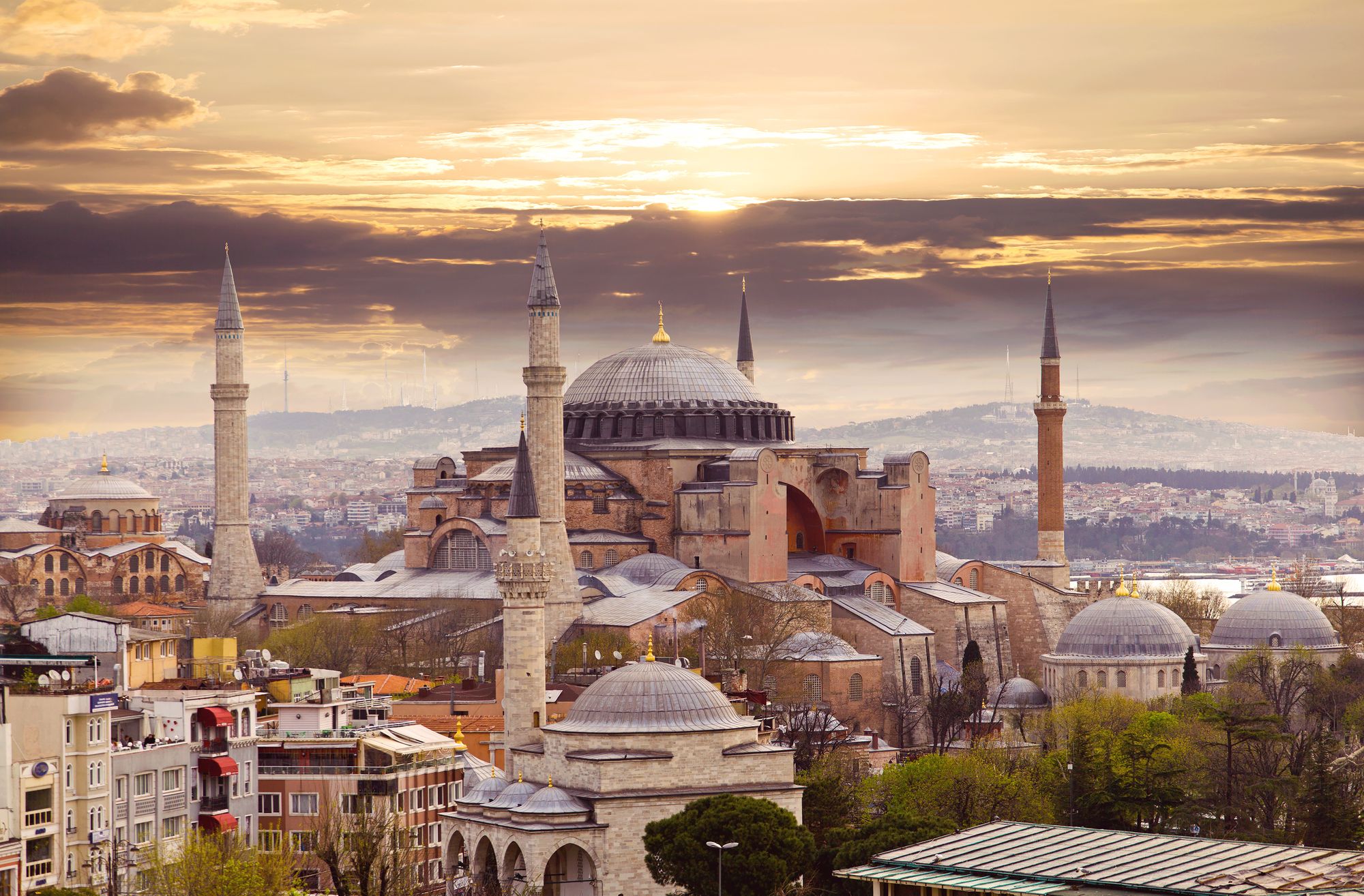 Halal-friendly hotels near Hagia Sophia.
Sultanahmet (The Blue Mosque)
The Sultanahmet Mosque, known as the 'Blue Mosque' after its interior, is one of the most famous mosques in Turkey. Completed in 1616 facing the Hagia Sophia, it was built between the years 1609 to 1616 during the rule of Ahmed I. Being one of the most popular sites in Istanbul, The Blue Mosque was included in the UNESCO World Heritage Site list in 1985 under the name of "Historic Areas of Istanbul".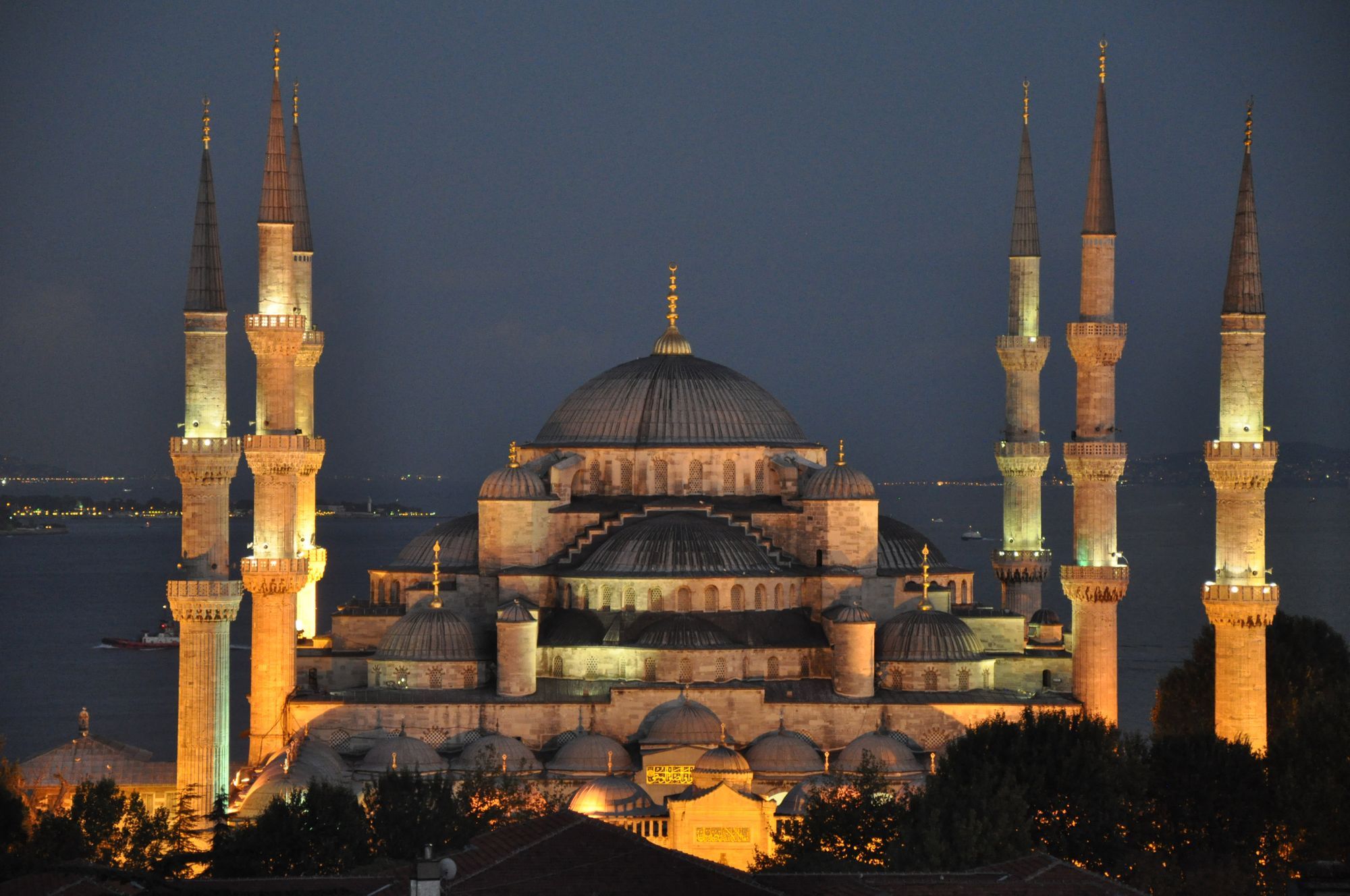 Halal-friendly hotels near Sultanahmet (The Blue Mosque).
The Süleymaniye Mosque
Known as the finest work of the greatest Ottoman architect, Mimar Koca Sinan, the Great Architect Sinan, built the Suleymaniye Mosque in 1550 for Sultan Süleyman the Magnificent. It may surprise you to know that Sinan himself referred to it as 'my journeyman work' (kalfalık eserimdir). In his own eyes, the Selimiye Mosque in Edirne was actually his 'masterpiece' (ustalık eseri). He referred to the Şehzade Mosque in Istanbul's Fatih district as 'my apprenticeship piece' (çıraklık eserimdir).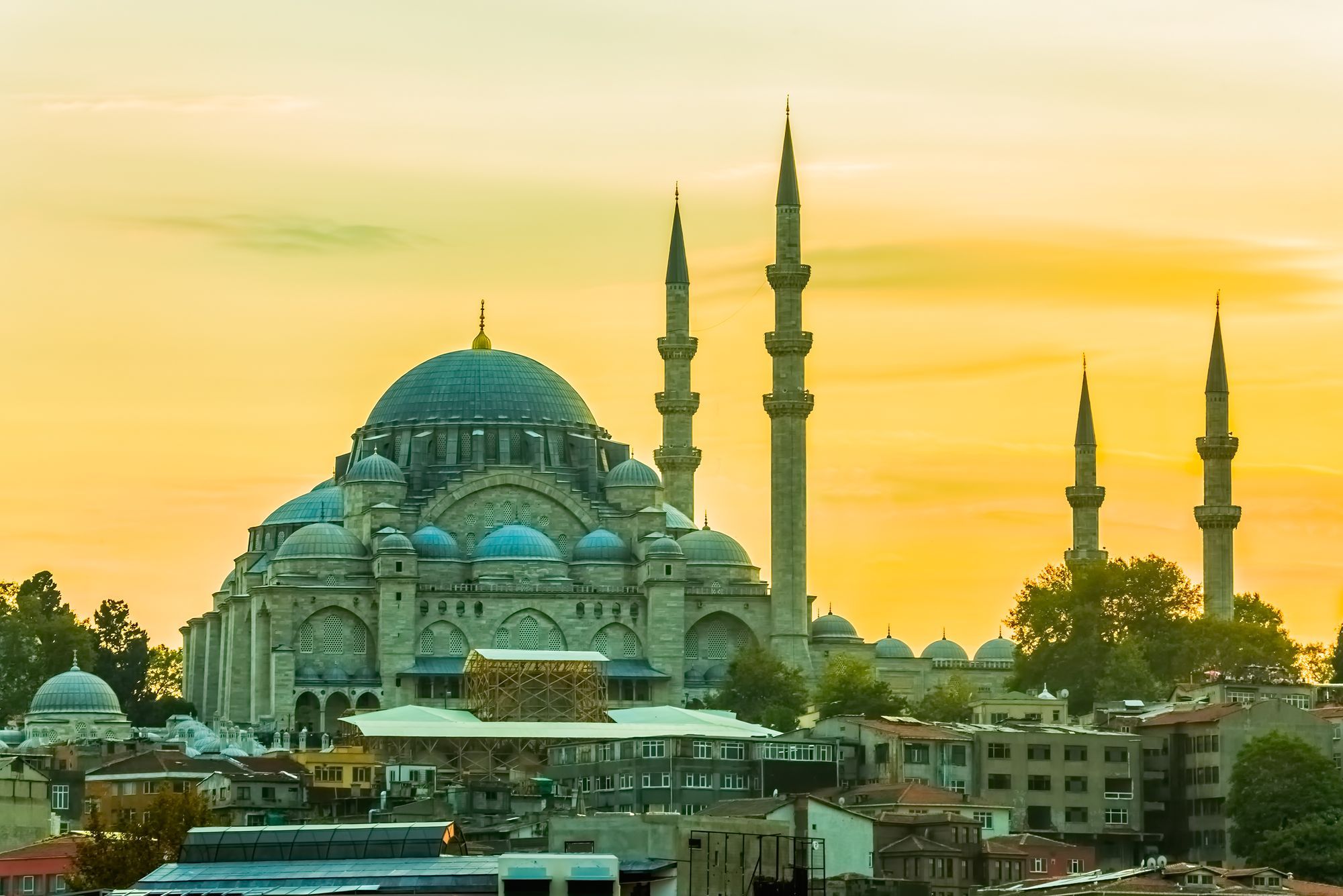 Halal-friendly hotels near Suleymaniye Mosque.
Eyüp Mosque
This is the holiest Islamic site in Istanbul and a prominent site of pilgrimage. It is the place where Eyüp, also known as Abu Ayyub al-Ansari, who was the companion and standard-bearer of the Prophet Mohammed, is buried. Although already 80 years old he was driven by the famous hadith and participated in the first Arab Siege of Constantinople. Referring to Constantinople, the capital of the Eastern Roman Empire, as "Costantiniyya" in Arabic, Prophet Muhammad said: "Verily you shall conquer Constantinople. What a wonderful leader will he be, and what a wonderful army will that army be!" and "The first army that goes on expedition to Constantinople will be forgiven."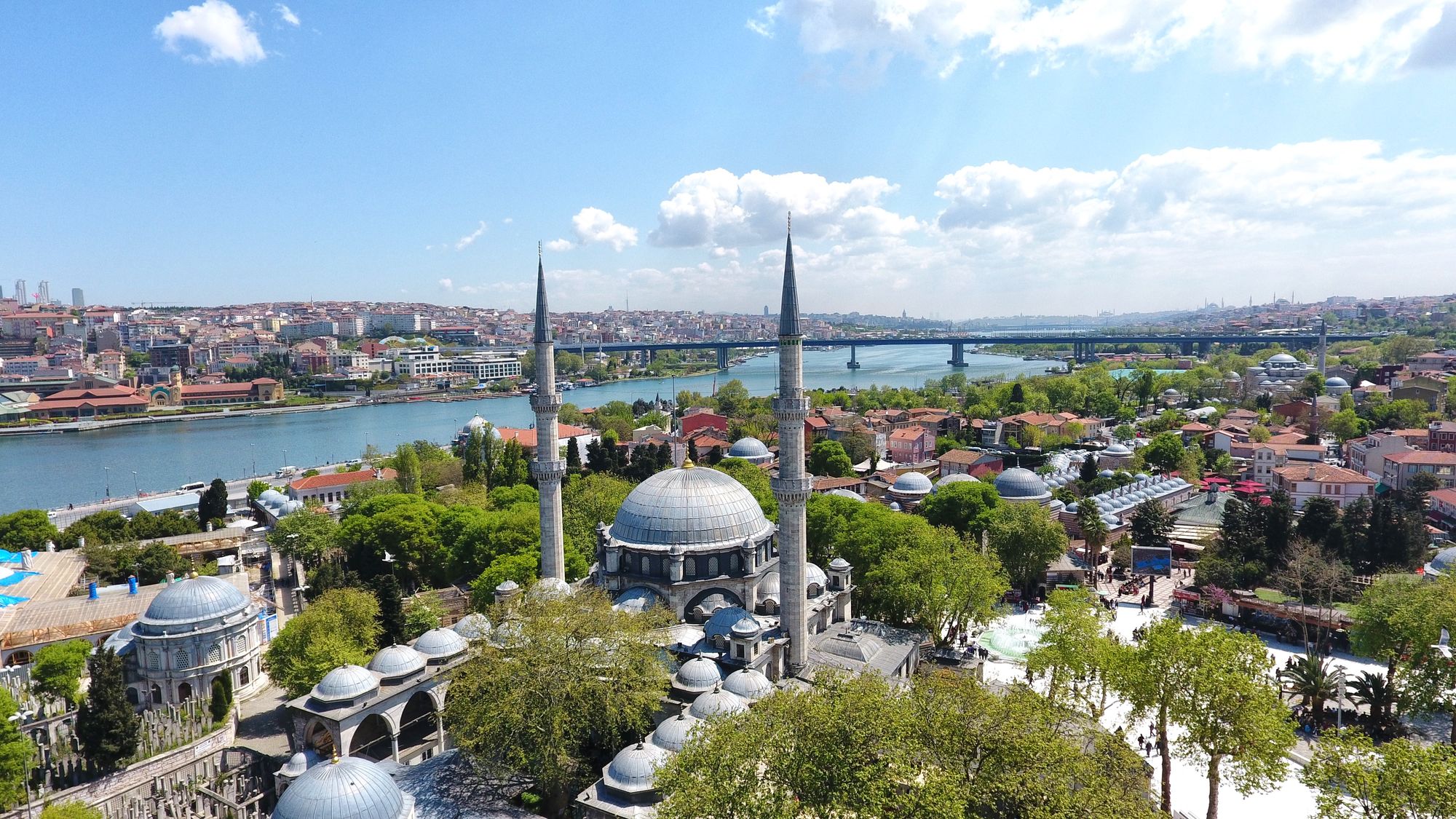 Halal-friendly hotels near Eyüp Mosque.
Topkapi Palace
This historic museum served as the main residence and administrative headquarters of the Ottoman sultans in the 15th Century. Today, it contains sacred relics of the Prophet Muhammad (PBUH), which include his sword, grail, bow and its sheath, as well as belongings of his companions.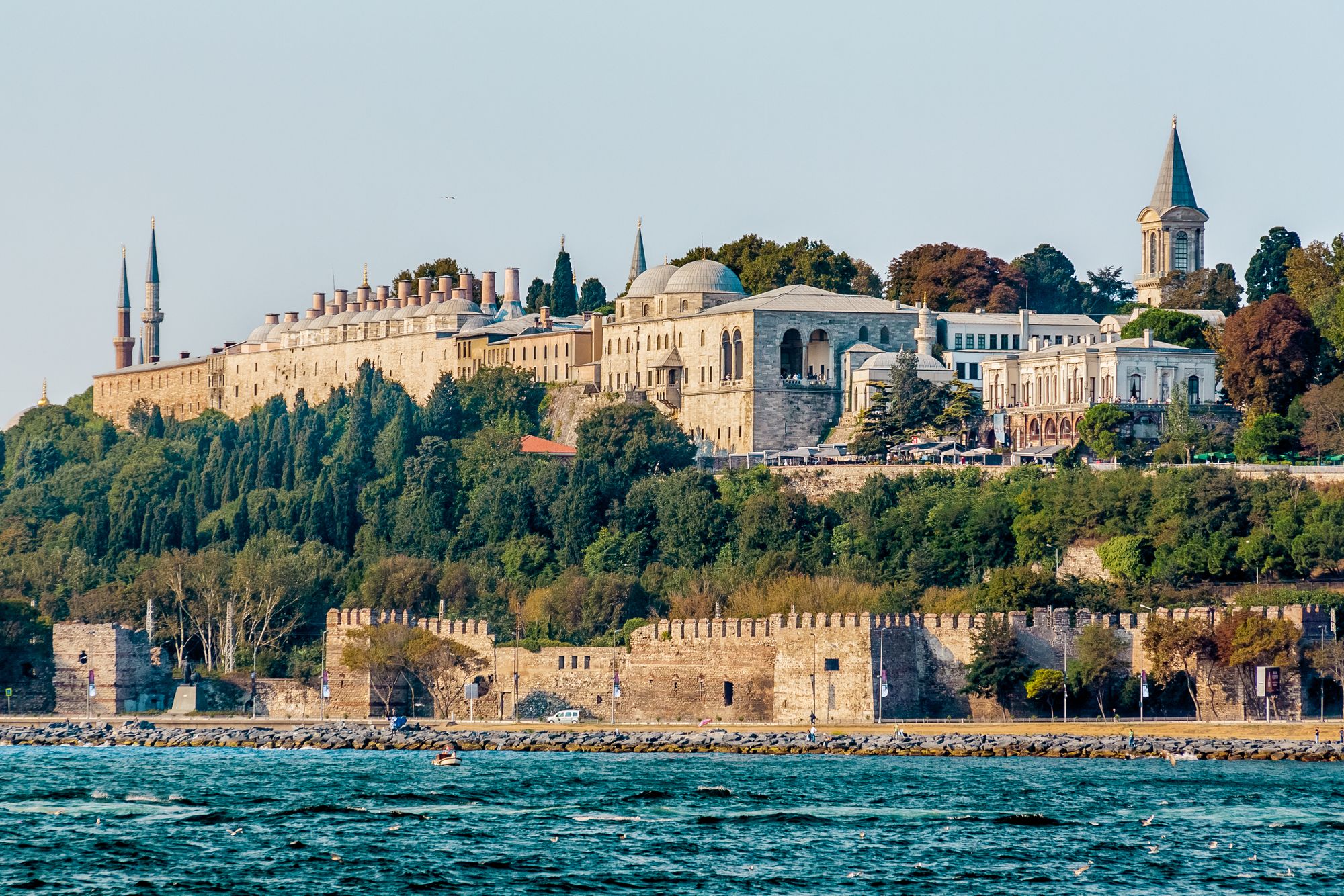 Halal-friendly hotels near Topkapi Palace.
Turkish Halal Cuisine
Turkey  is well known for its world-class cuisine, which is influenced and inspired by Mediterranean, Balkan, Middle Eastern, Central Asian, Eastern European, Armenian, and Georgian dishes. Many restaurants will offer special Ramadan menus catered to those who have been fasting throughout the day.
Some must-try dishes include:
Meze. These are small plates of foods which are varied and some of Mezes include fava - mashed broad beans, köpoğlu - fried aubergine cubes with a yogurt and tomato sauce) or muhammara - a dip made from red pepper paste, walnuts, lemon juice, and pomegranate molasses.
Kebap. No visit to Istanbul must be had without having at least one Kebap dish! There are many varieties of kebap including Adana and Urfa, which are spicy and non-spicy hand kneaded seasoned lamb meat grilled on skewers, Beyti - minced beef or lamb grilled on skewer, wrapped in lavaş bread and topped with yogurt and tomato sauce), and Şiş (skewered and grilled seasoned cubes of lamb or chicken meat).
Lahmacun. Often wrongfully referred to as a 'Turkish pizza', lahmacun has nothing to do with the Italian classic. A thin and crispy round of dough is topped with minced seasoned meat, which is complimented with a squeeze of lemon and parsley before it's rolled up and ready to eat.
Karnıyarık. A very common dish at Istanbul's many  restaurants, karnıyarık is made from whole baked aubergines filled with seasoned minced meat and parsley, then covered in a tomato sauce.
Kuzu Tandır. An ancient dish that was made by cooking lamb in a tandır - a clay oven in the ground, nowadays kuzu tandır is still made traditionally from extremely tender meat and served with iç pilav rice with nuts, diced liver and currants.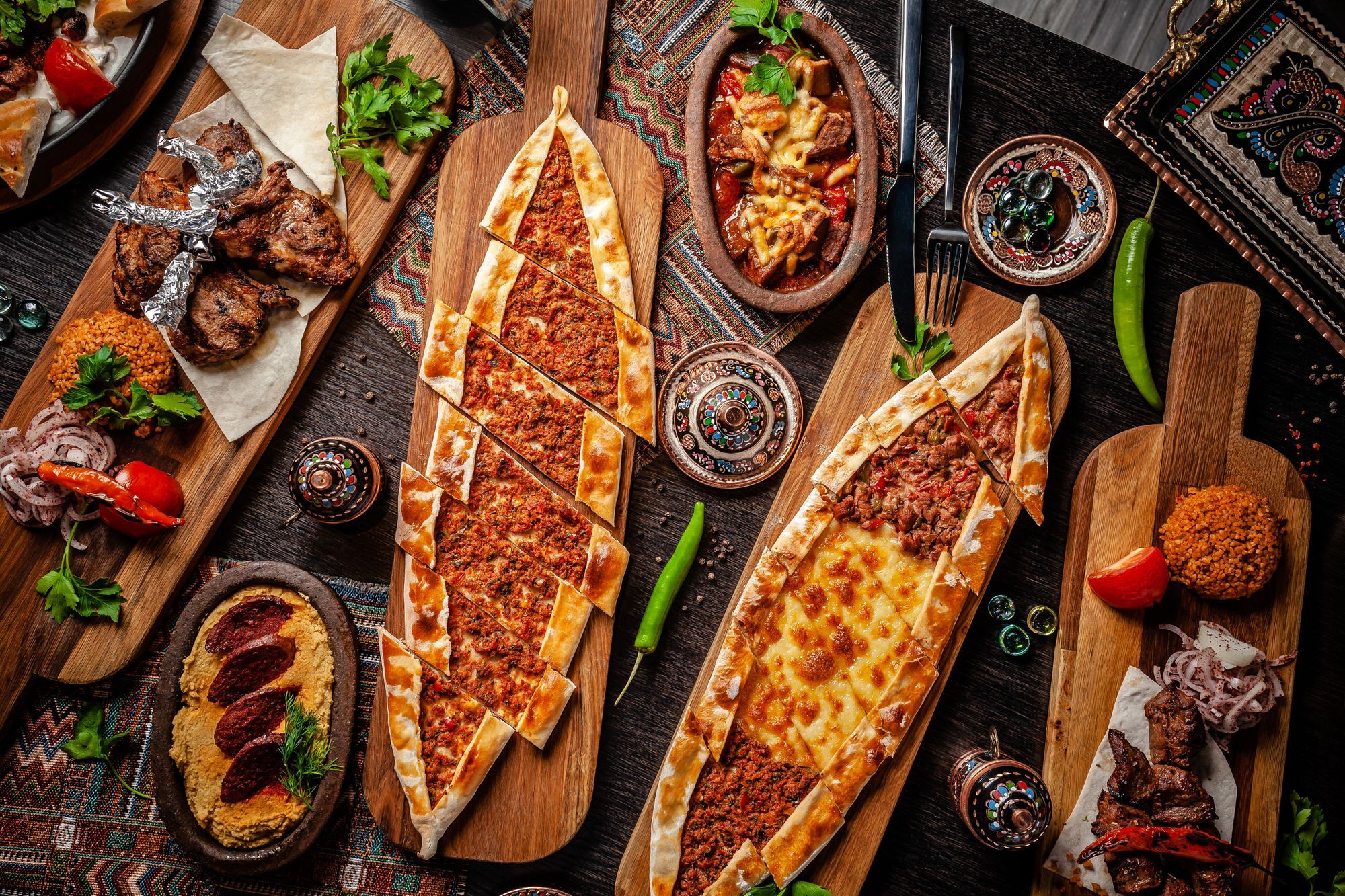 Value for Money
Istanbul is a city well-renowned for its bargains and good value for money right across the board, whether it's for food, buying clothes or souvenirs. Hotels are no exception and many of them have great deals during Ramadan to the highest standard, whether you have a  luxury or economy budget. As you'd expect, demands for rooms are extremely high and are booked many months in advance.
HalalBooking offers some of the best accommodation Istanbul has to offer, so don't delay and book the trip of a lifetime!