Celebrating Ramadan around the world in 2020
Muslims across the world will still be joining together in faith at this important time of the year.
Ramadan in 2020 won't be like any other year. Many of the elements which usually make up Ramadan, such as worshipping together or celebrating iftar with friends and relations won't be able to take place during the coronavirus lockdown, which has currently brought the world to a halt. For many of us, however, this year our lives are less busy, giving us more time to focus on the important religious principles which underpin Ramadan, and to think about our spirituality. Being at home with our immediate family is a reminder of the importance of family and of those who are closest to us.
Although we can't travel this year, and may not be able to enjoy the company of friends and family, spread across the globe, we can still be with them in spirit.
We can also still be inspired by the great examples of Islamic architecture and in particular the magnificent mosques, from which the adhan or ezan will still be heard, for the time being, no longer having to compete with the roar of the traffic, or the sound of planes flying overhead.
Ramadan in Bosnia & Herzegovina
Bosnia & Herzegovina's awe-inspiring Islamic architecture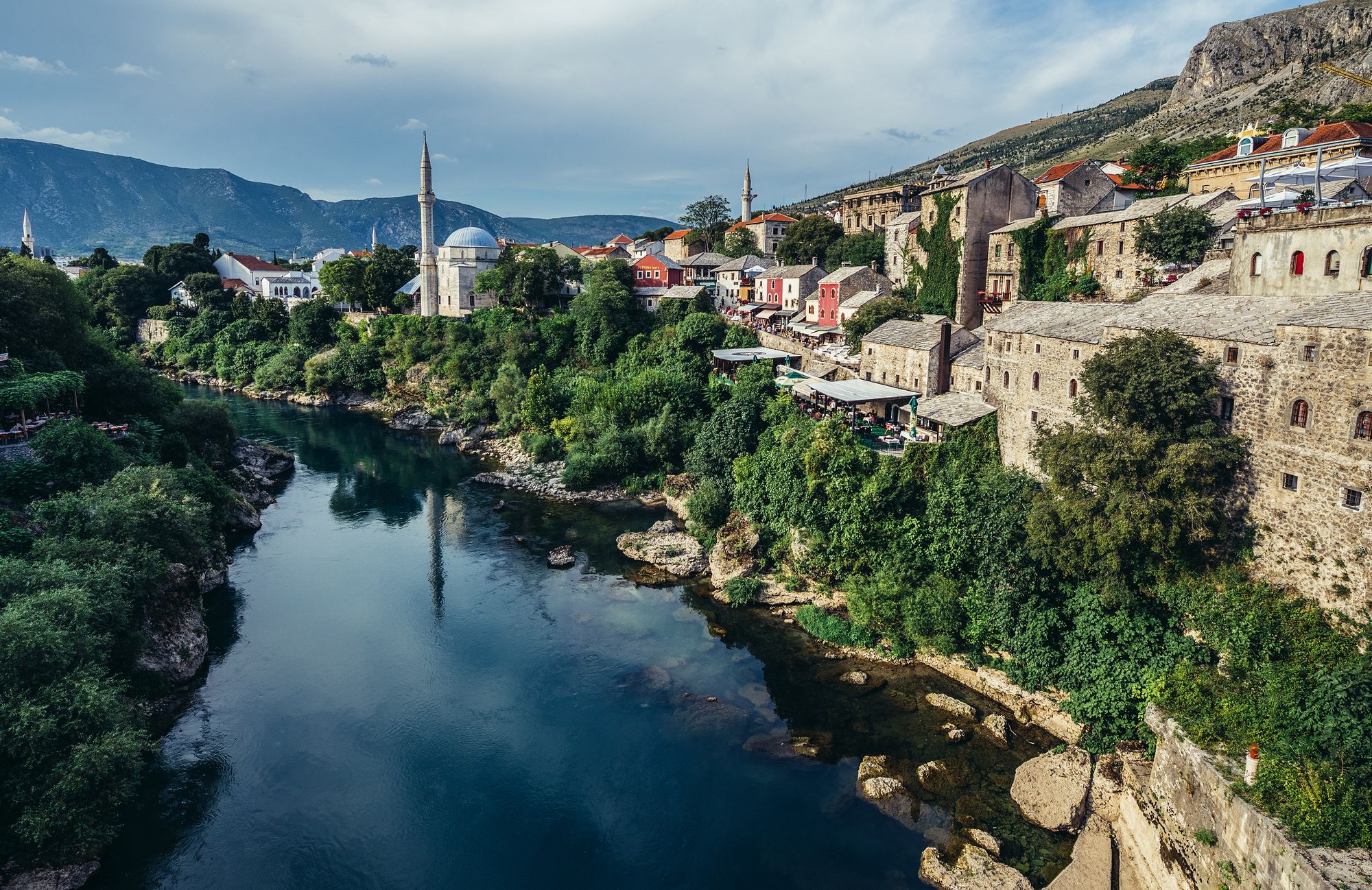 Gazi Husrev-beg Mosque, Sarajevo
This 16th century mosque is set in the heart of Sarajevo's old town. It is the largest historic mosque in Bosnia and Herzegovina and is a classic example of early Ottoman architecture. It has the distinction of having been the first mosque in the world to use electric lighting, in 1898 during the period of the Austro-Hungarian Empire. It reopened to worshippers last week for some prayers after having been closed for almost two months, with strict social distancing measures now in place.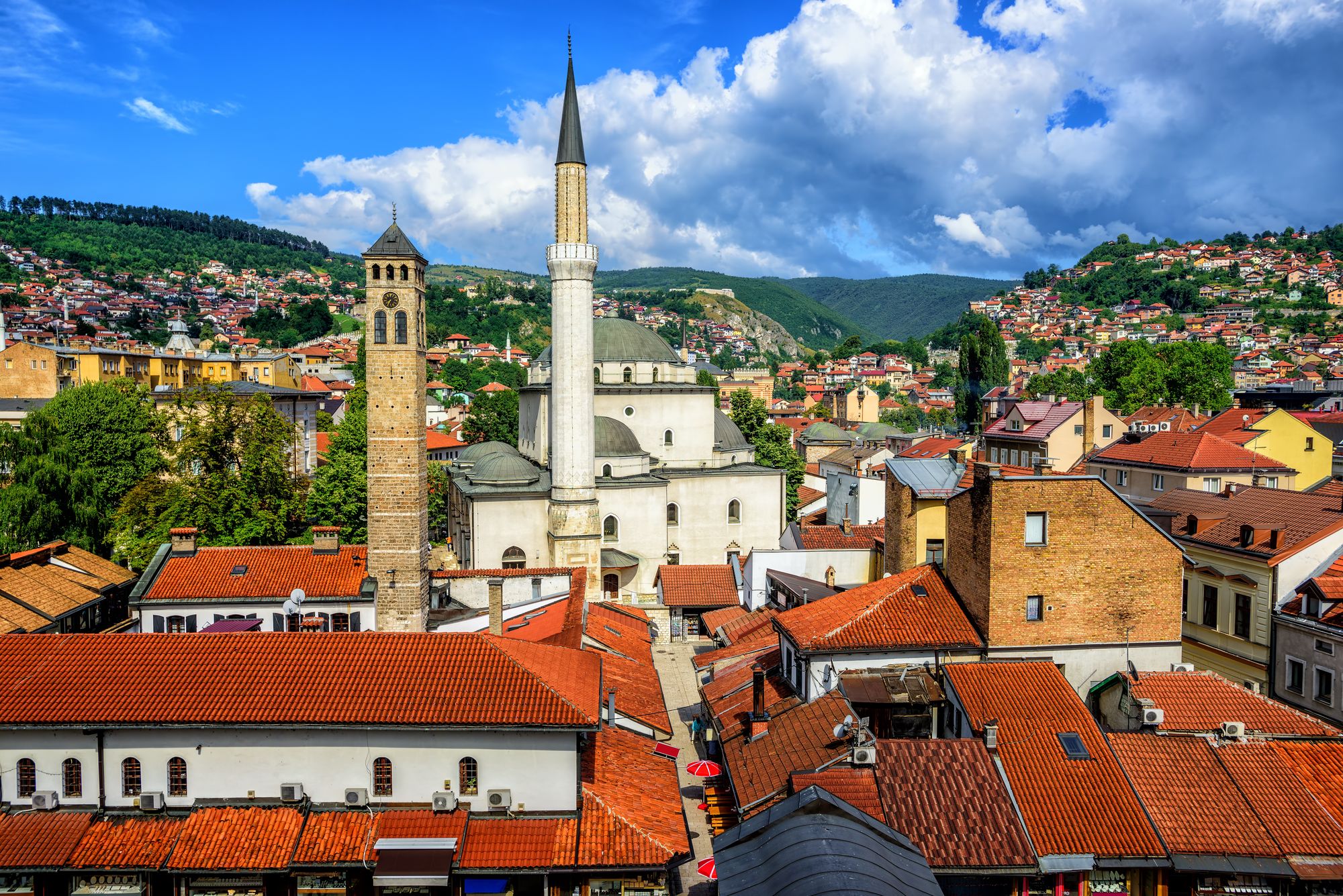 Other renowned mosques in Bosnia & Herzegovina include:
Emperor's Mosque (Careva Dzamija), Sarajevo
This impressive mosque was the first mosque to be built after the Ottomans conquered Bosnia, originally built from wood in 1457 and dedicated to Sultan Mehmed, the Conqueror. It was rebuilt in 1565, as a more substantial stone structure and this time dedicated to Süleyman, the Magnificent.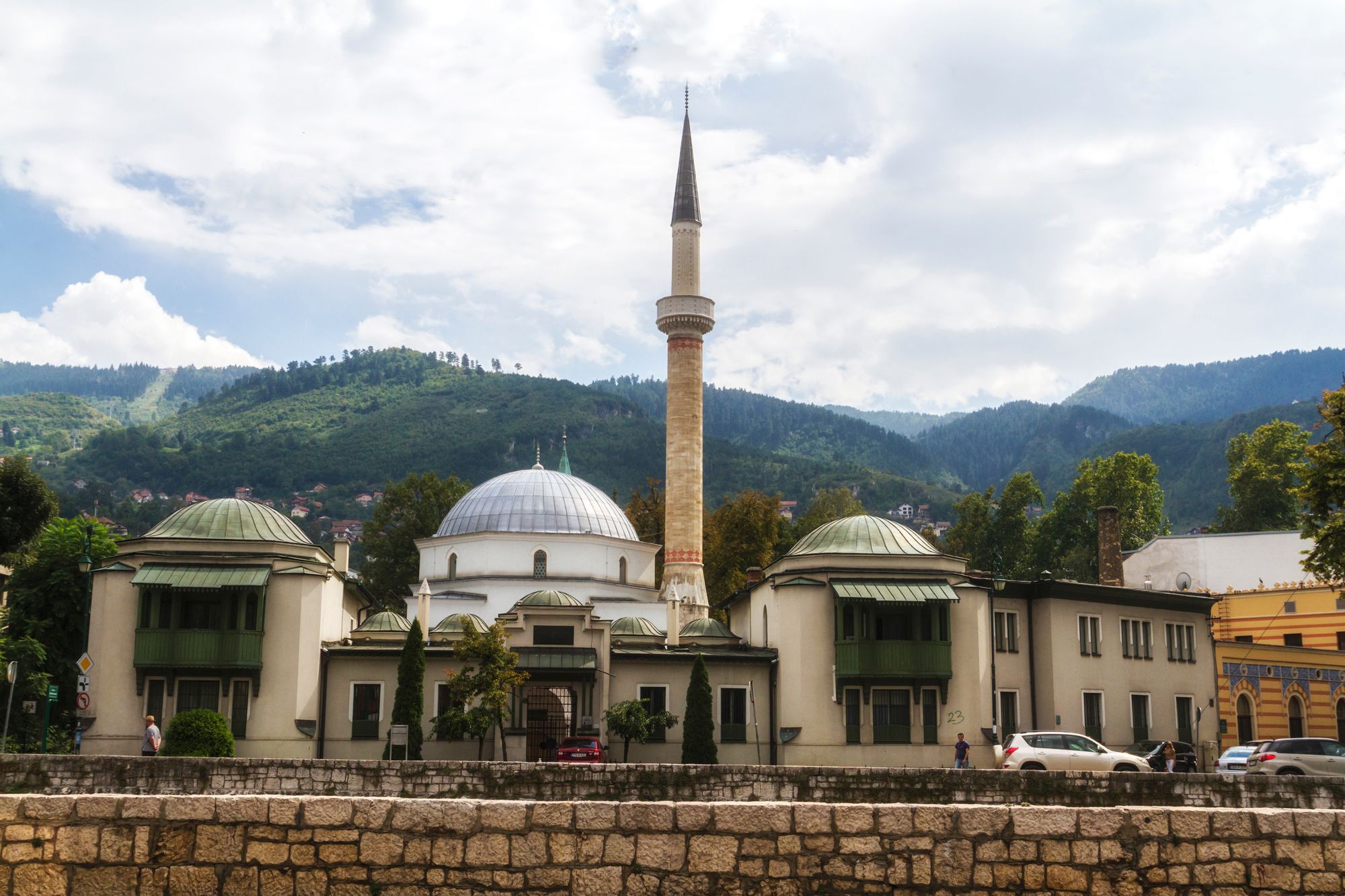 An interesting mosque, which was originally constructed in 1266 as a Catholic church and is the oldest Gothic building in the country. It became a mosque following the Ottoman conquest of the city in 1592, when it became a garrison town and site of the most important fort in Bosnia.
Koskin-Mehmed Pasha's Mosque, Mostar
This charming mosque is worth visiting for its original interior decorations including a dome painted with botanical designs, and stunning stained glass windows. Its gardens and minaret are also a great place from which to enjoy beautiful views of the town and the famous bridge, Stari Most.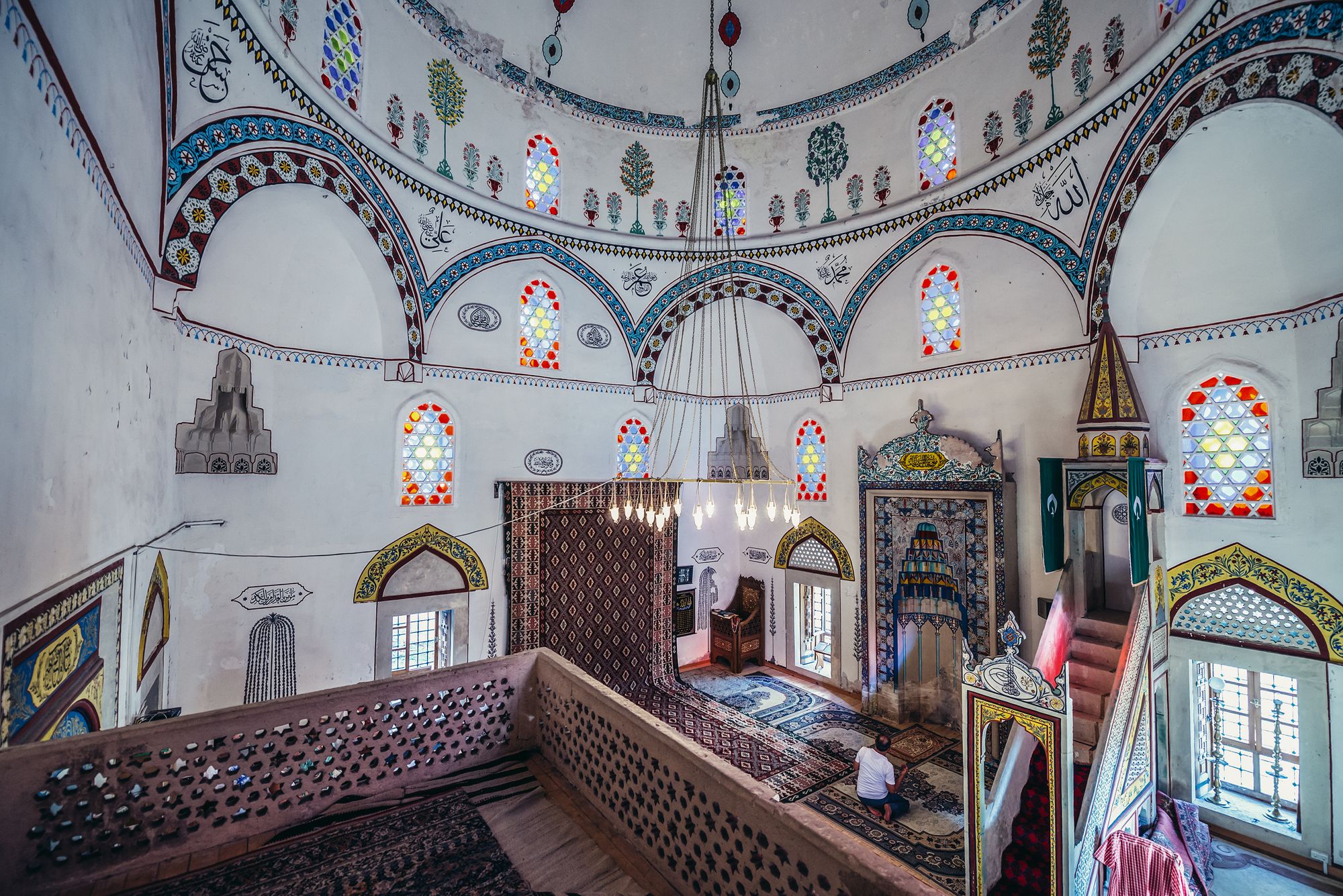 Karadoz Bey Mosque, Mostar
A beautiful mosque, situated close to Mostar's old bazaar, which was completed in 1557 and is well worth a visit. Some believe that it was designed by the great Ottoman architect, Mimar Sinan.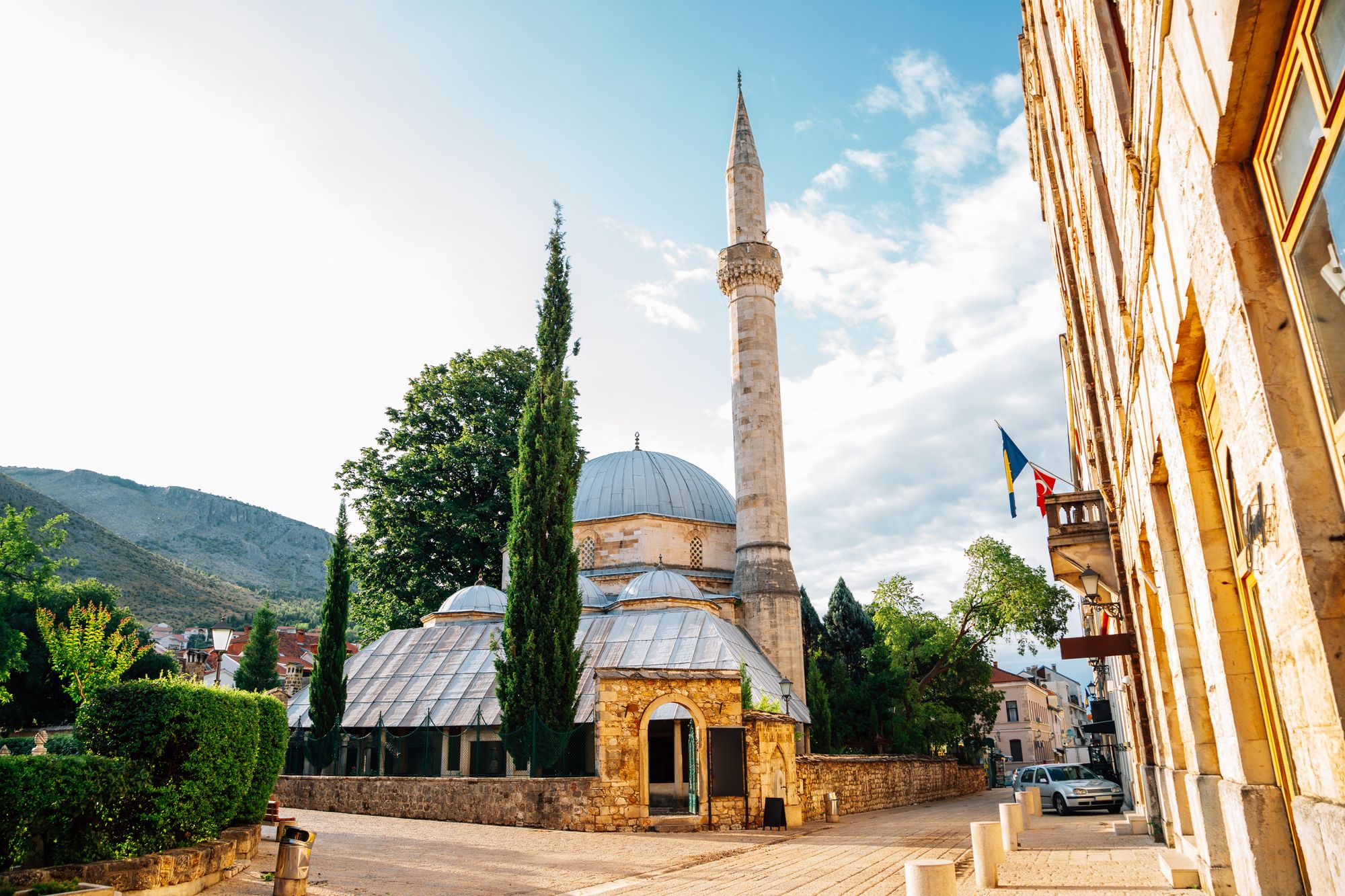 Sarajevo Ramadan Festival
In other more usual times, the Sarajevo Ramadan Festival is an annual event, which showcases the contribution of the Muslim community to life in Bosnia and Herzegovina. It includes religious and cultural events, with the centrepiece being a vast open-air iftar which takes part at the city's Yellow Bastion or Žuta Tabija, the Ottoman fortress overlooking the city. The fortress is often known locally as Top, after the cannon balls which were traditionally fired from here. The sound of cannon fire is still used today as the centuries-old signal for Ramadan to start, and for the end of the fast each day. Often, socialising will continue here from iftar until sahur. The festival usually consists of many different events including concerts of Islamic music, exhibitions of painting or calligraphy, lectures, films, poetry reading and other activities.
Celebrating Iftar in Bosnia and Herzegovina
The iftar meal will still be as significant as ever during Ramadan in 2020, even if there are fewer people sitting around the table than usual.
In Bosnia and Herzegovina, Muslims break their fast with a date, as is traditional throughout the world. A traditional iftar meal here would not be complete without somun or lepinja a type of Balkan flatbread. In Sarajevo, the tradition is for it to be accompanied by topa a soup-like dish made from kaymak (clotted cream), cheese and eggs. This will often be followed by the traditional chicken soup known as Begova corba, named after the local name for the Ottoman provincial governors. Next come dishes such as the traditional meatballs known as cevapcici, cooked in a charcoal oven accompanied by different types of dolma, stuffed aubergine, courgette or pepper, filled with seasoned mincemeat and rice. The meal ends with sweet desserts such as tulumba, mini syrupy churros made from dough, piped from a star-shaped nozzle, fried and dipped in lemon syrup known as agda or Bosanske hurmašice, date-shaped biscuits soaked in the same, sweet, lemon-flavoured syrup. The meal ends with traditional Bosnian coffee, which is served thick and strong like Turkish coffee, with the difference that rather than making the coffee with sugar, a sugar cube is served on the side, to chew alongside your coffee.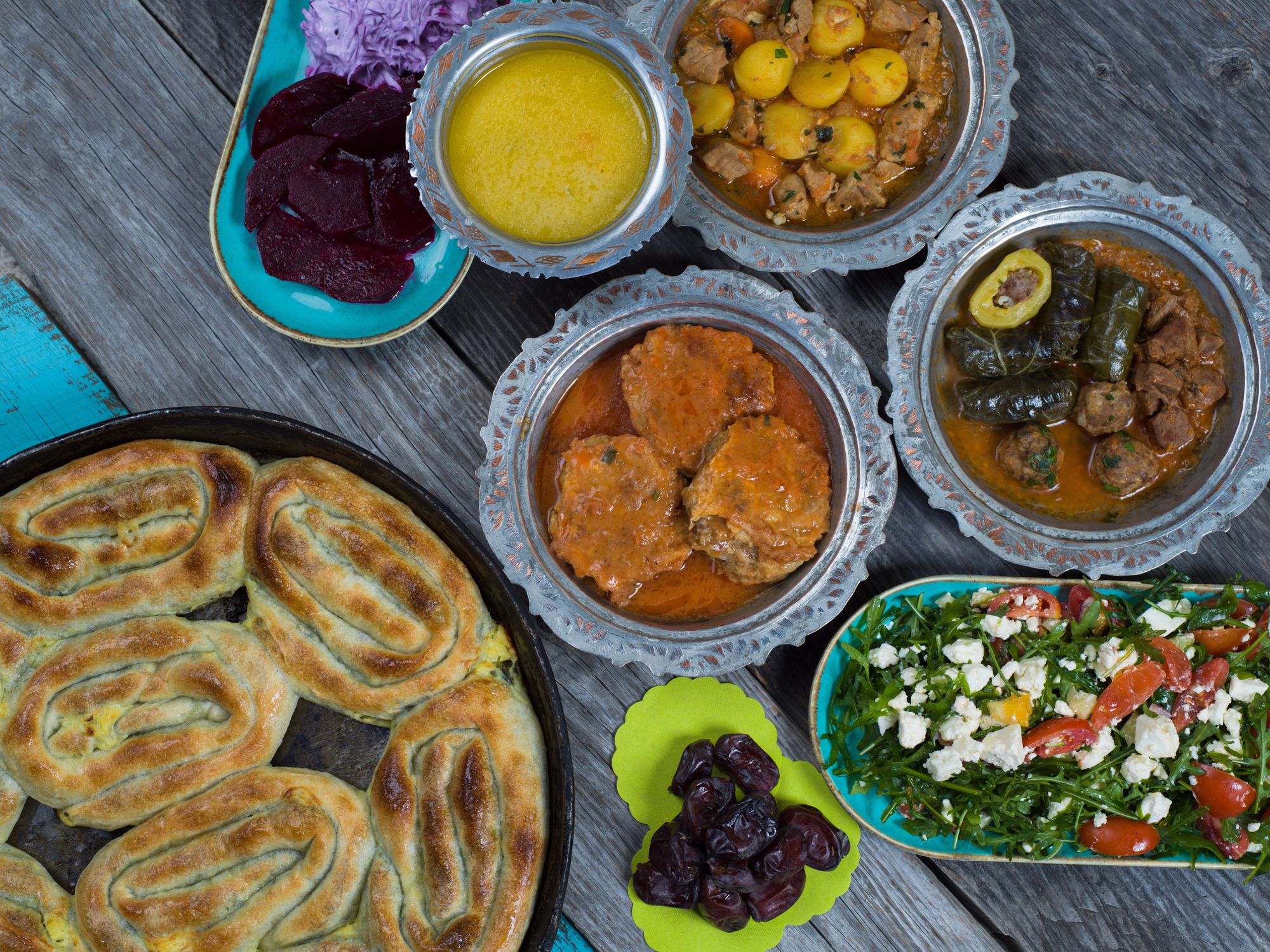 Ramadan in Indonesia
Indonesia's awe-inspiring Islamic architecture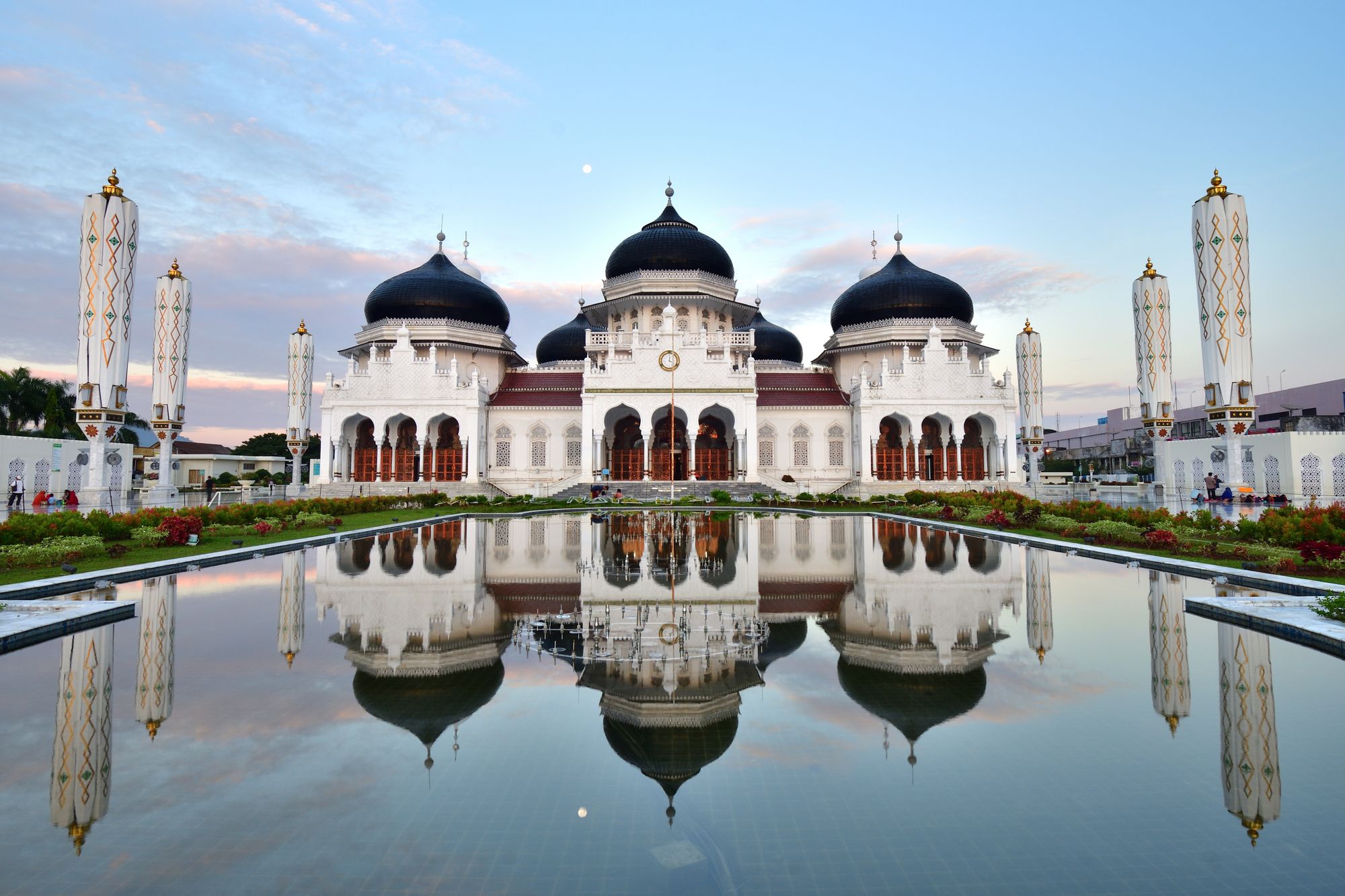 The Grand Istiqlal Mosque, Jakarta
The Grand Istiqlal Mosque is the national mosque and is named after the Arabic word for Independence, to commemorate the country's independence in 1945. It is the largest mosque  in south-east Asia, with room for over 120,000 worshippers. Usually, during Ramadan, the vast courtyard, which surrounds it, would also be packed with thousands of worshippers for Taraweeh prayers. The building itself  is set over 5 floors and  has a simple but impressive interior decorated with Arabic calligraphy. The Grand Istiqlal Mosque stands in the heart of the city, opposite Jakarta Cathedral next to Merdeka Square, where the impressive National Monument is situated, a 137 metre high tower, topped with a 14.5 metre bronze flame covered in gold leaf.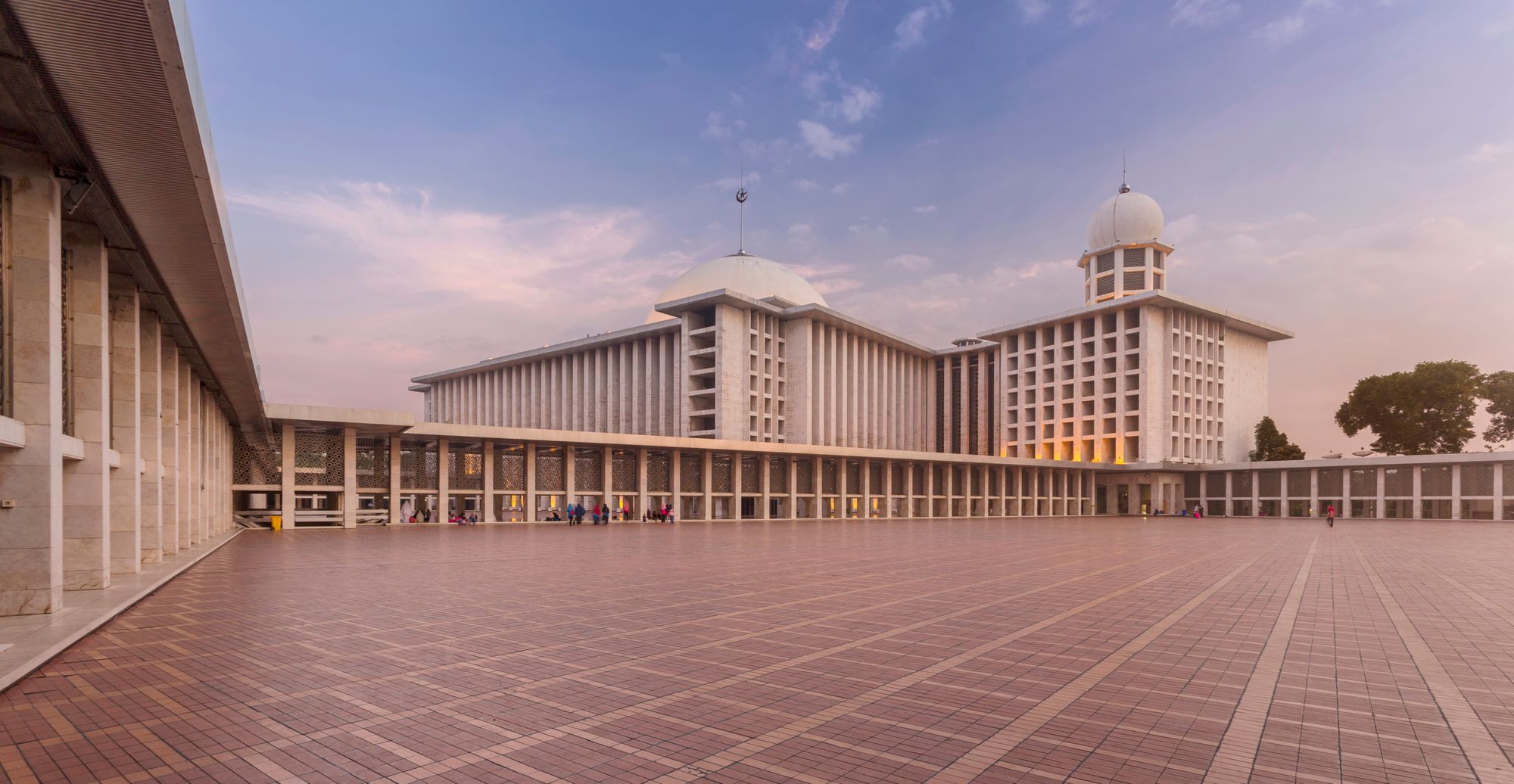 Other renowned mosques in Indonesia include:
Masjid Raya, Bandung, West Java
Also known as the Grand Mosque of Bandung, the tower of this mosque is one of the best places from which to enjoy panoramic views over the city of Bandung. It was originally constructed in 1812 but has seen many renovations, which have enlarged the original structure. It is now several storeys high with domes and towers.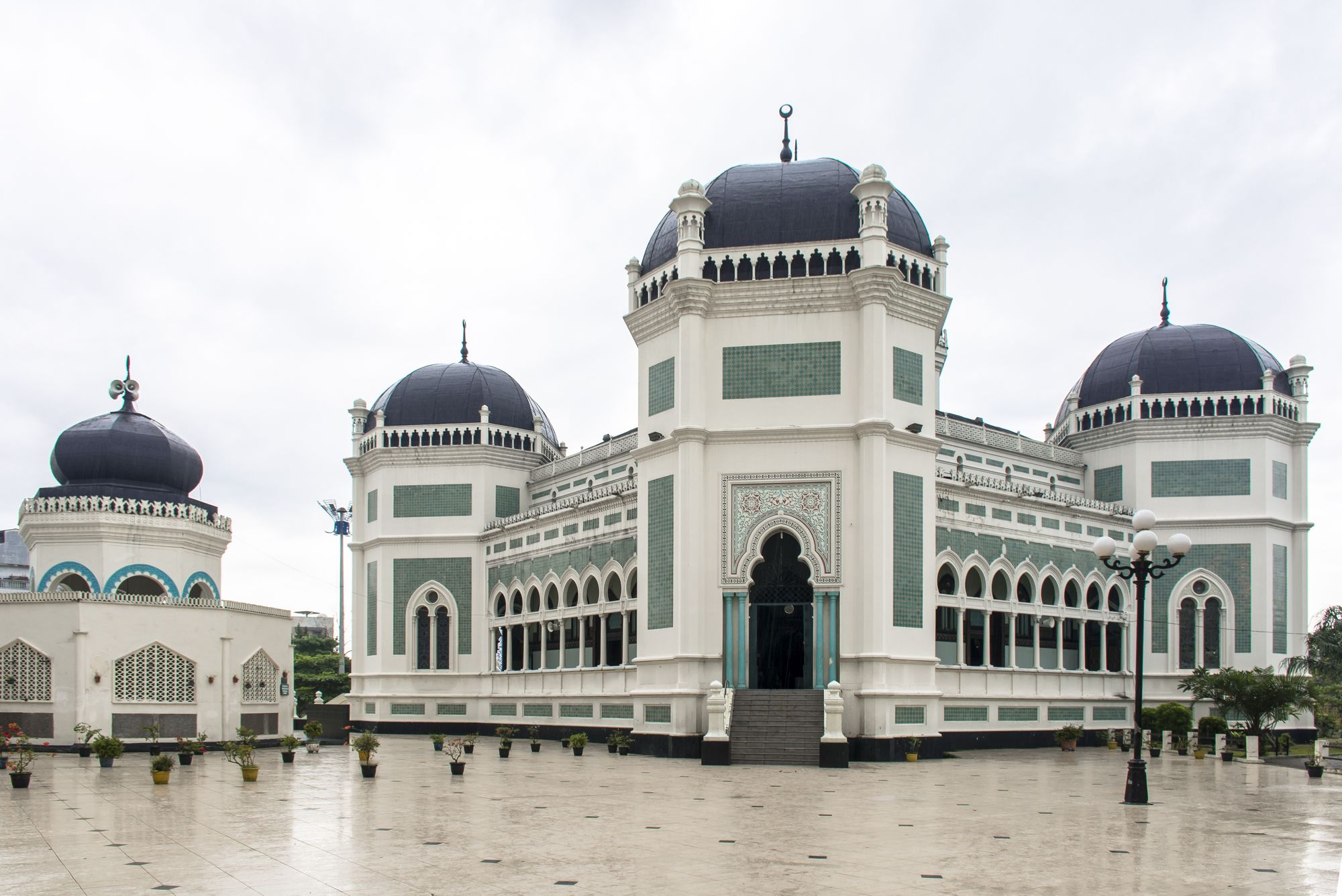 Al-Irsyad Mosque, Bandung, West Java
This contemporary mosque is one of the most impressive examples of modern Indonesia architecture. Unusually, it doesn't have a dome and is a cube-like structure. Its interior is just as beautiful as its celebrated exterior.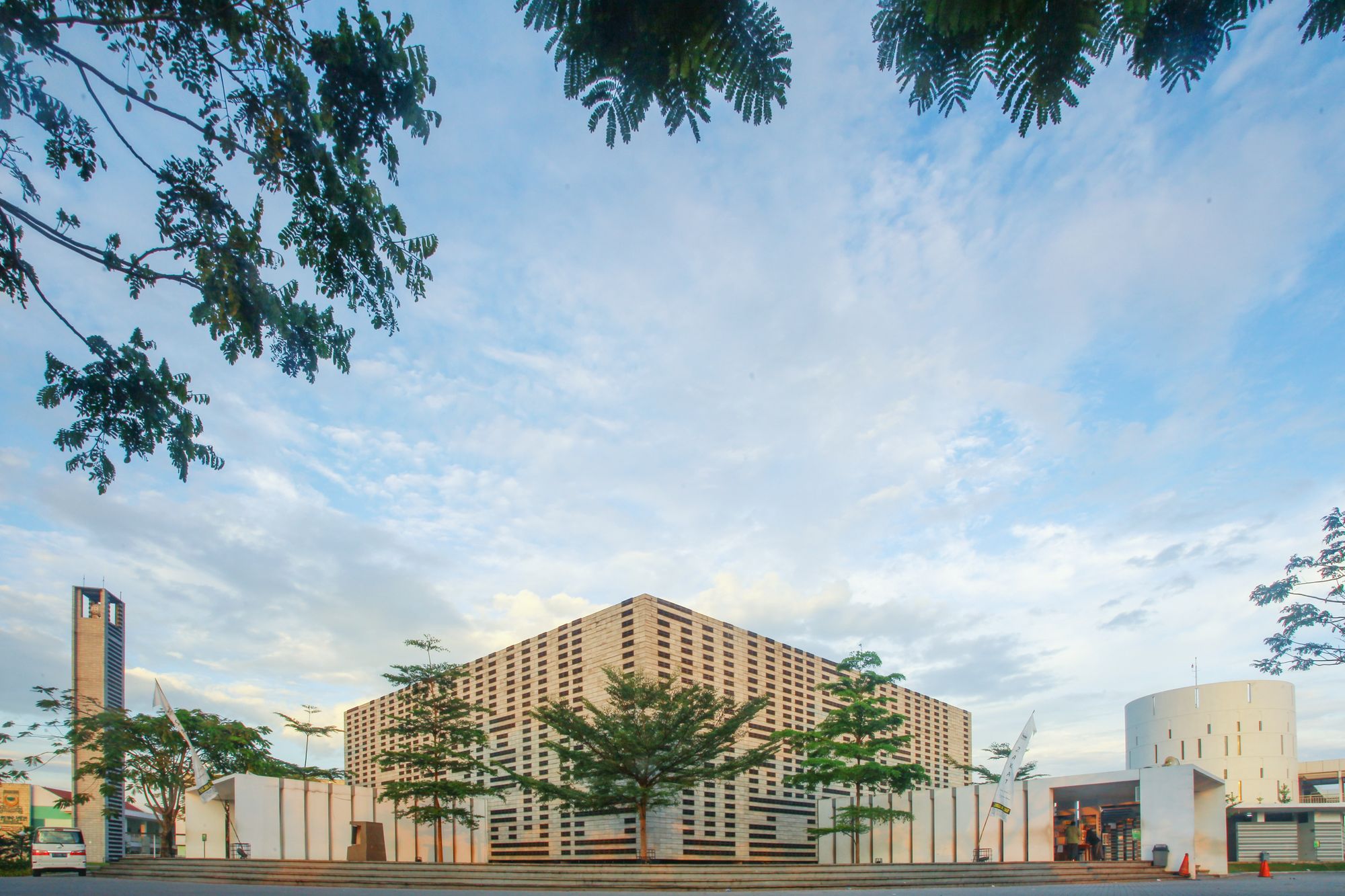 Menara Kudus Mosque, Central Java
This mosque dates back to 1549, making it one of the oldest mosques in Indonesia. It is a unique blend of both Hindu and Islamic architectural styles, resembling a Hindu temple from the outside.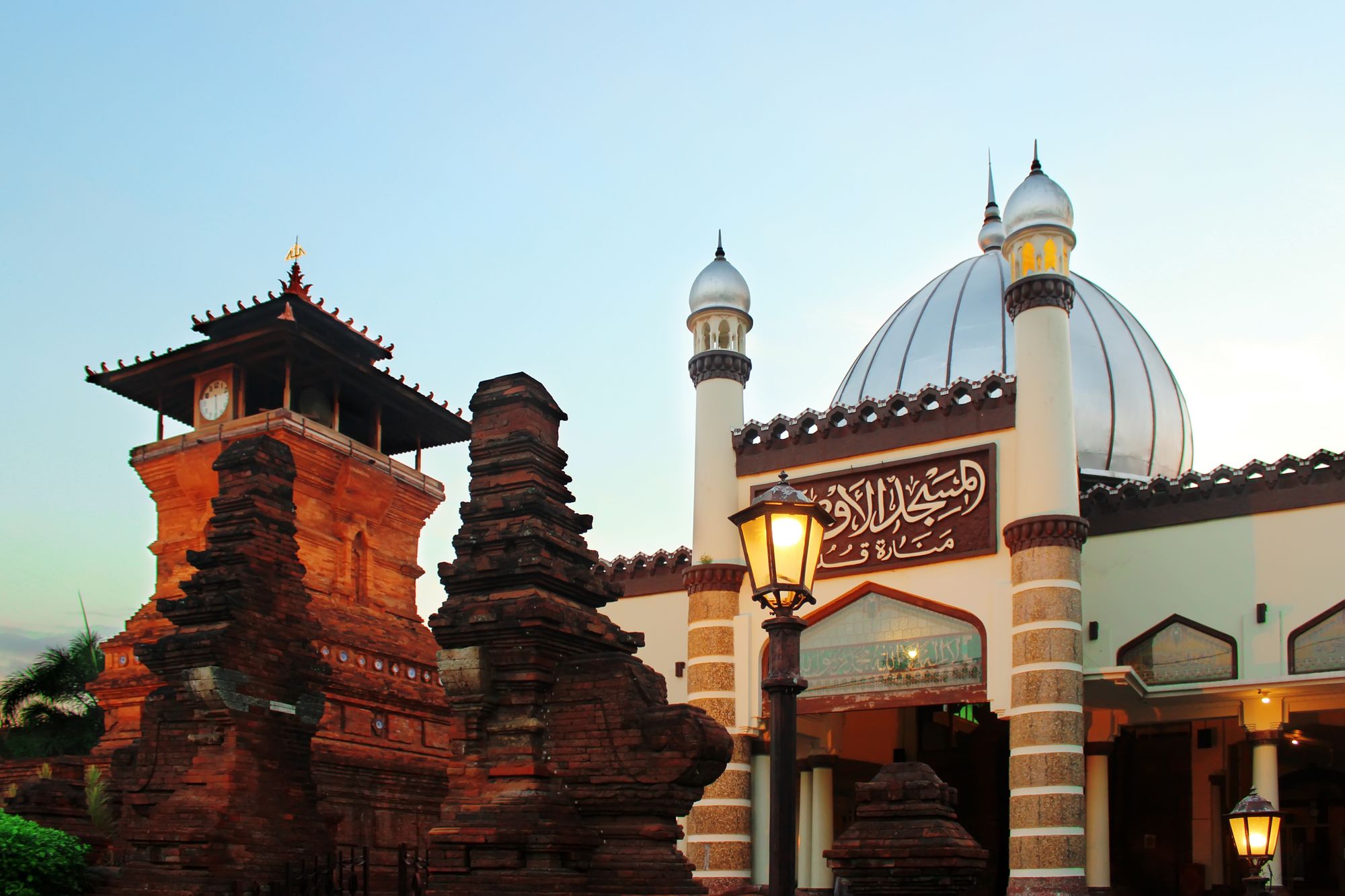 Baiturrahman Grand Mosque, Banda Aceh
This elaborate mosque is over 130 years old. It is a stunning example of intricate Islamic architecture with its fine domes, minarets and breathtaking white exterior. Historically, it was the location for one the most important battles the Acehnese fought against the Dutch colonial invaders. Here, they achieved their first success by killing Major General Rudolf Köhler during the First Aceh Expedition in 1873. During the battle the mosque caught fire. In 1879 the Dutch rebuilt Baiturrahman Mosque as a gift to reduce the anger of the Acehnese. More recently the mosque became world famous and a landmark of Banda Aceh following the devastating Indian Ocean tsunami in December 2004.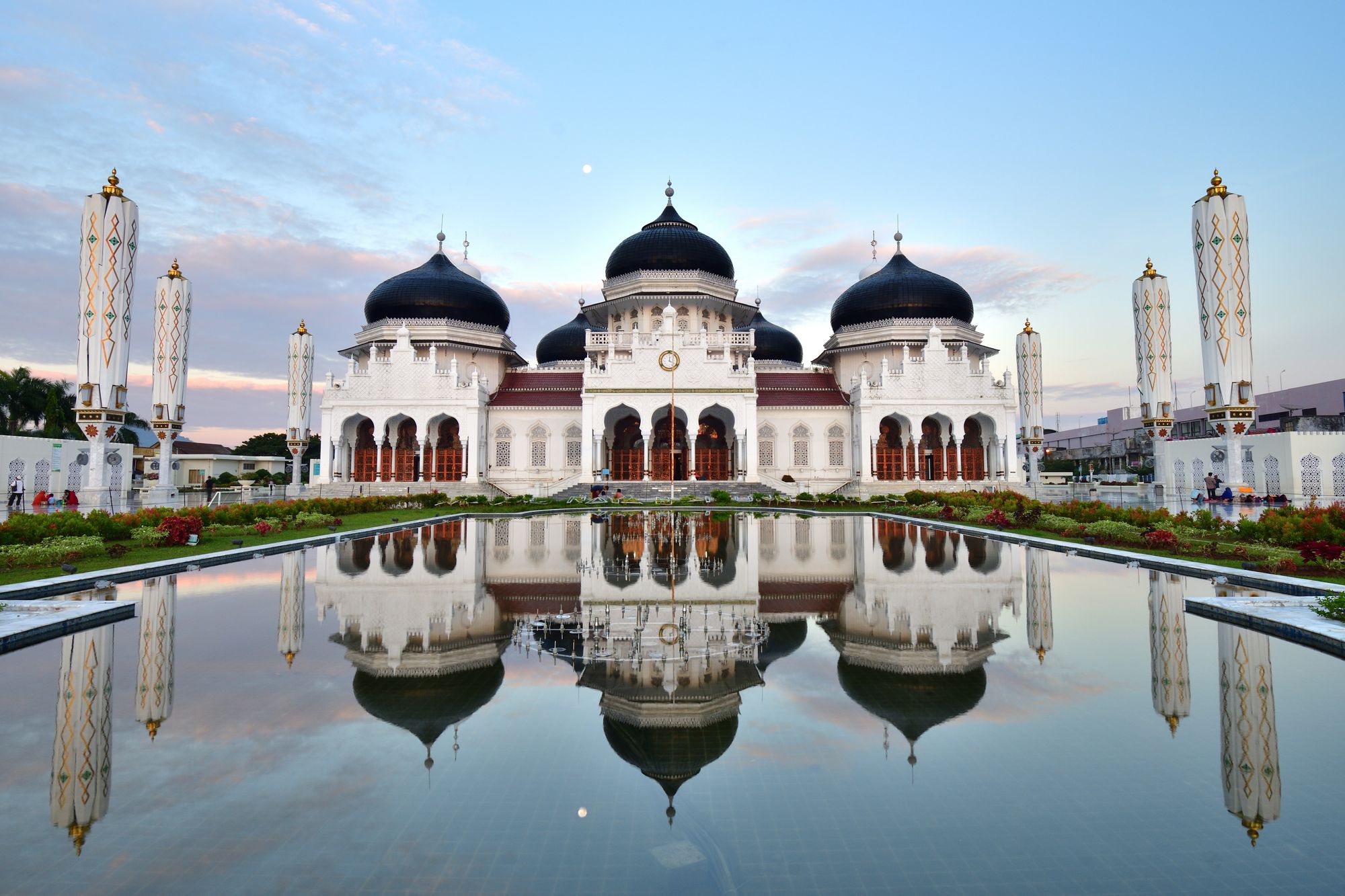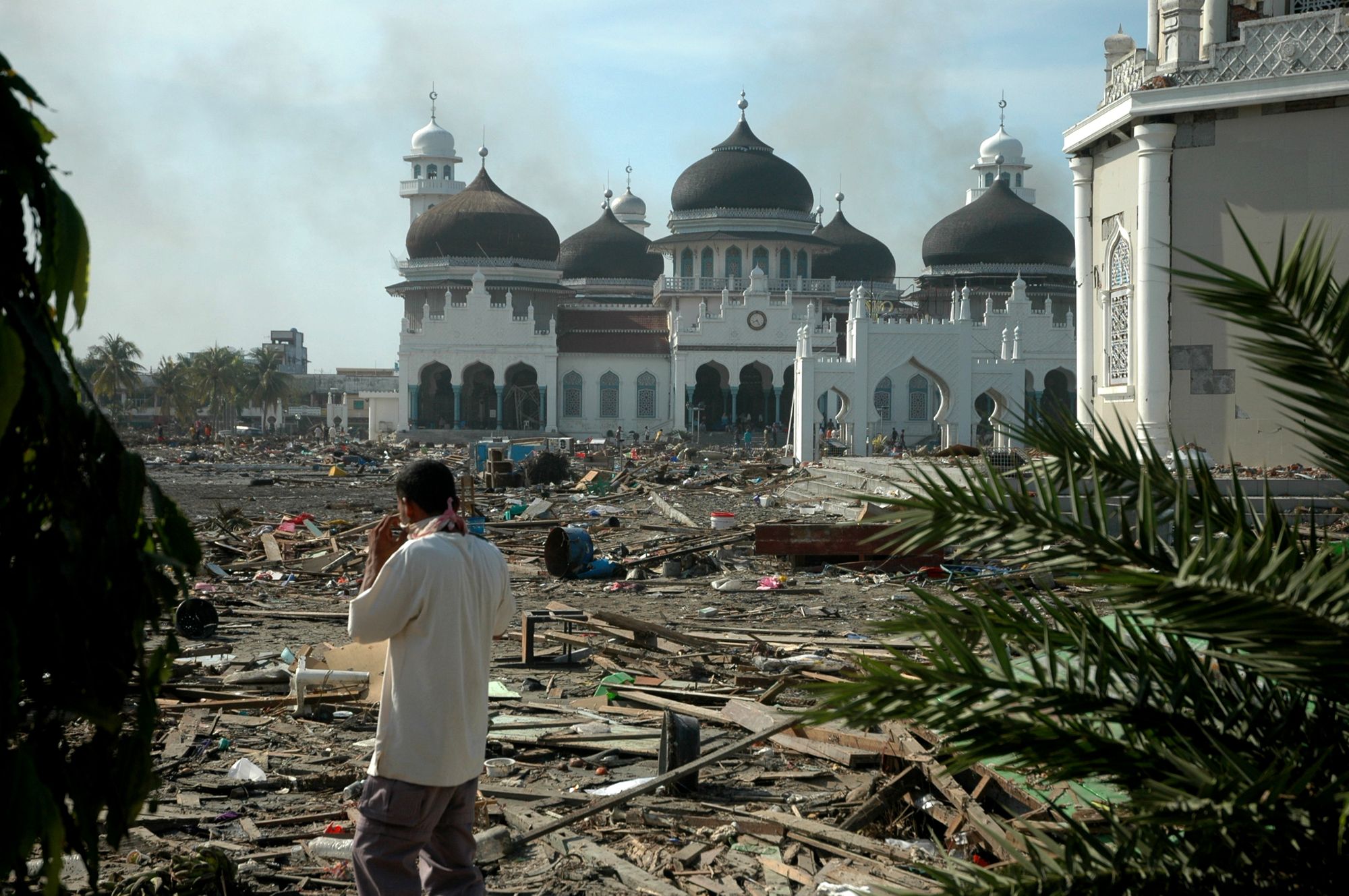 Celebrating Iftar or 'Buka Puasa' in Indonesia
Ending the fast can be a noisy affair in Indonesia, as it is traditional for young people to throw firecrackers in the street. The iftar meal, known as 'Buka Puasa' in Indonesia, will still be as significant as ever during Ramadan in 2020, even if there are fewer people sitting around the table than usual. Although there is no official countrywide lockdown in Indonesia, in Jakarta, for example movement is still restricted and many families will be apart.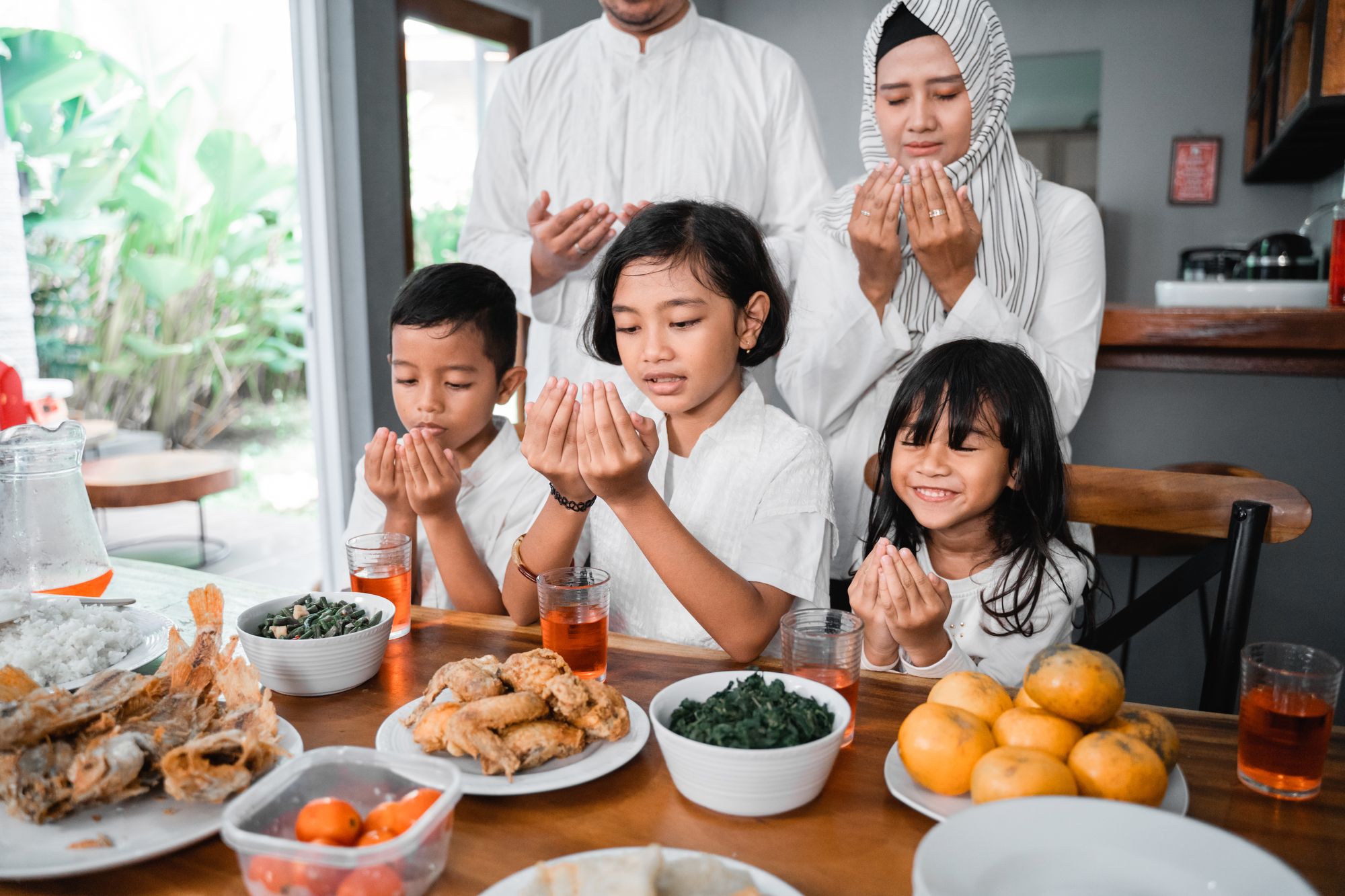 As in other countries, the fast is usually broken with a date or kurma, to follow the tradition. In Indonesia, a traditional iftar meal would not be complete without kolak, which is a type of sweet soup, made from coconut milk, mixed with palm sugar, vanilla and the fragrant leaves of the pandan plant. It usually includes slices of banana, sweet potato and pumpkin. Its sweet taste is perfect for breaking the fast and raising the blood sugar level. Usually it would be available for free in restaurants throughout Indonesia or sold in the special Ramadan street markets.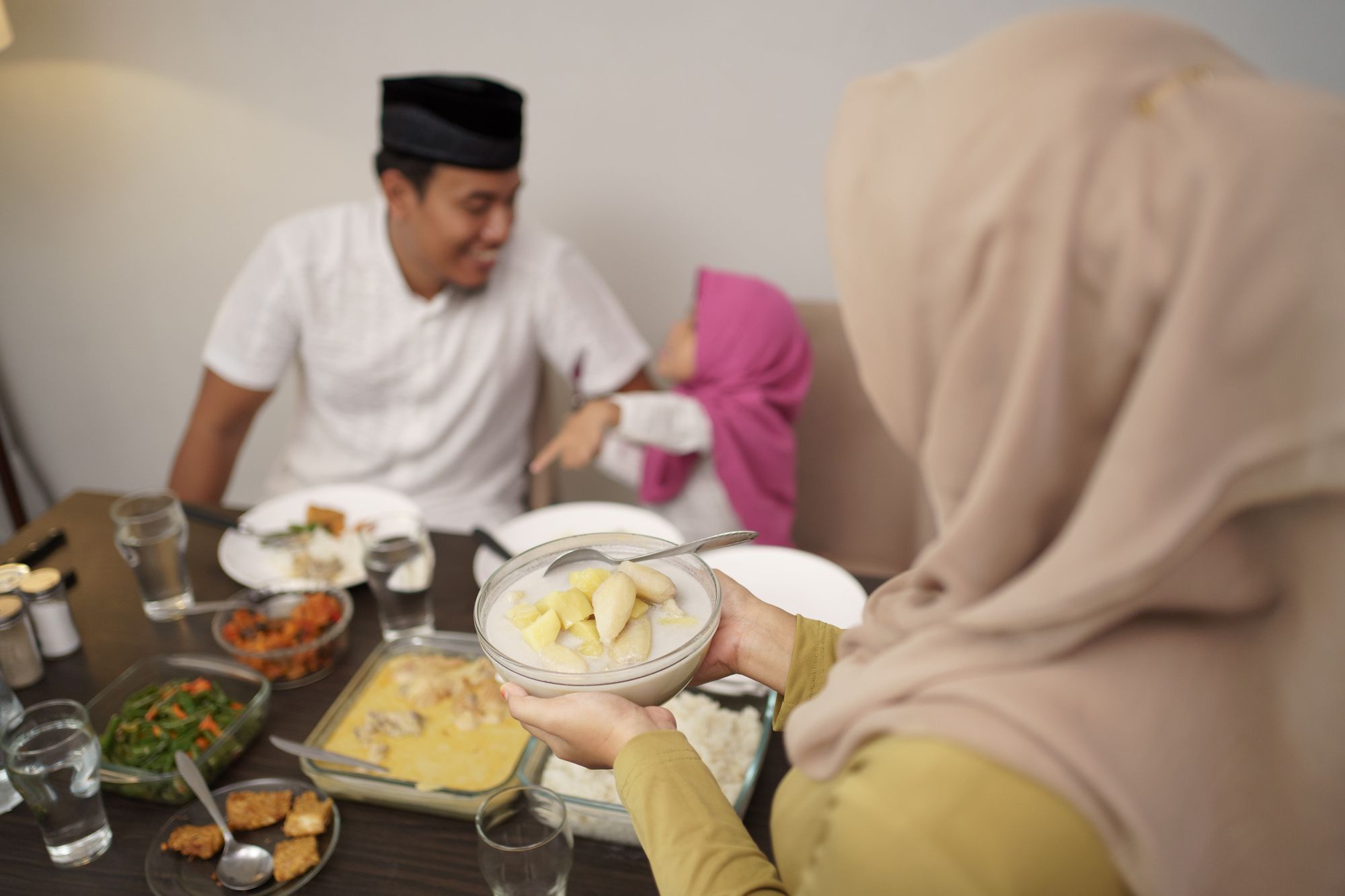 In May, temperatures in Indonesia are already rising with an average high in Jakarta of around 32°C. Many people, therefore choose a refreshing drink to break their fast, such as Pisang ljo, a speciality of Makassar, made from bananas, wrapped in flour dough, which has been coloured to make it green, served with coconut milk and shaved ice. Es Timun Suri is another popular Ramadan drink, made from a juicy fruit of the same name, which looks a bit like a melon.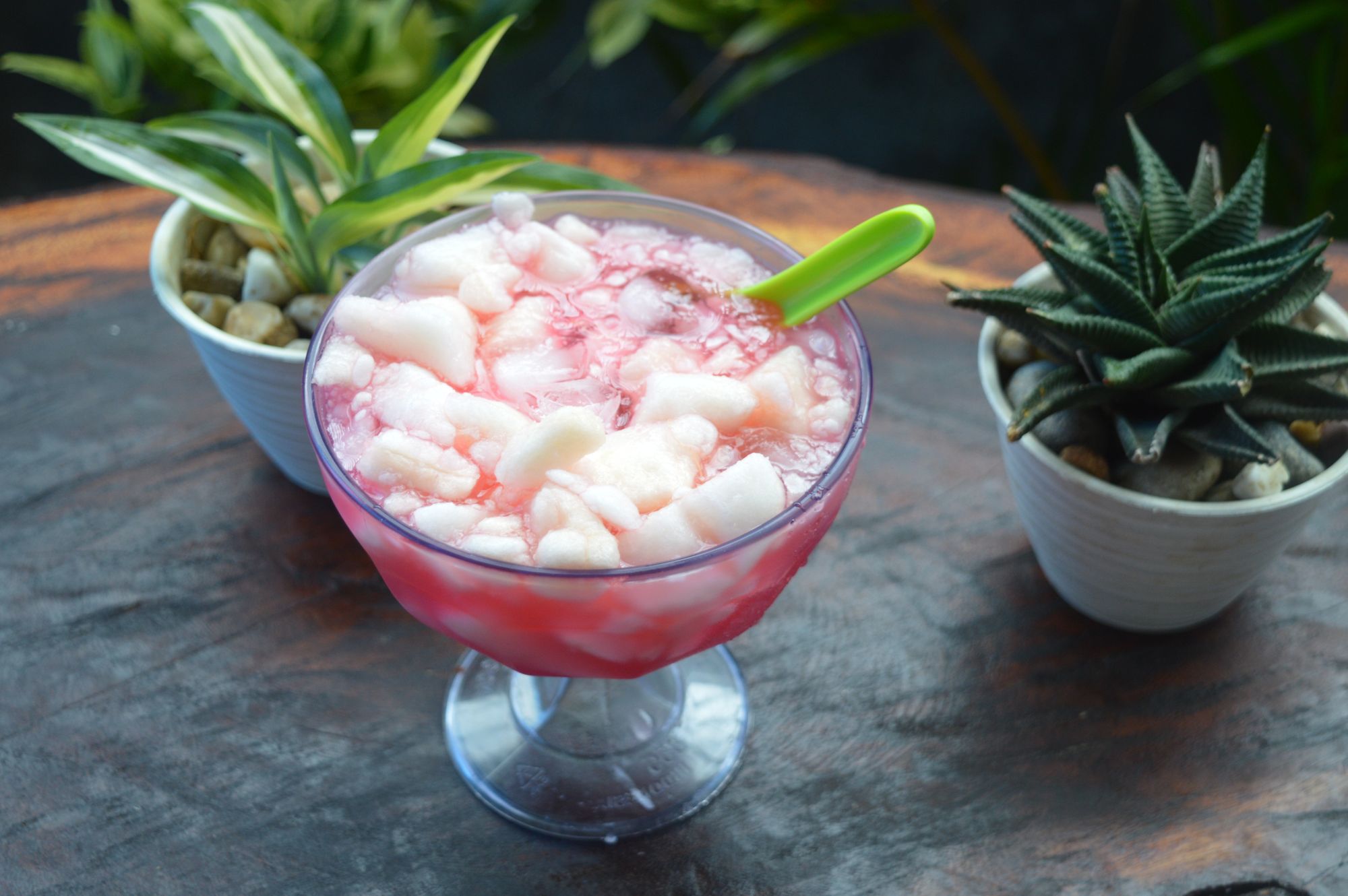 There are many regional specialties for 'Buka Puasa' including kicak, made from mashed sticky rice with grated coconut and sliced jackfruit, a speciality of Yogyakarta. A dish originating from West Kalimantan is Sotong Pankong, which is dried cuttlefish, grilled over charcoal, served with shrimp or peanut sauce. A favourite of Bali is Sate Susu, made from cows udders, seasoned with spices and grilled over charcoal.
The traditional Indonesian drum - the beduk
The beduk  is a traditional drum, suspended from a rack, usually made from water buffalo leather, which makes a distinctive sound. It is used in mosques throughout Indonesia to signal the start of prayers, before the adhan. It is also beaten to sound the end of fasting and to wake people up for sahur. Groups of children parade through the streets with a beduk, or even an improvised oil drum, which they beat to wake the neighbourhood in time to eat sahur, before the fast begins. In more rural places, the tradition is for young people to walk the streets banging kitchen pots and pans or bamboo sticks to wake everyone up.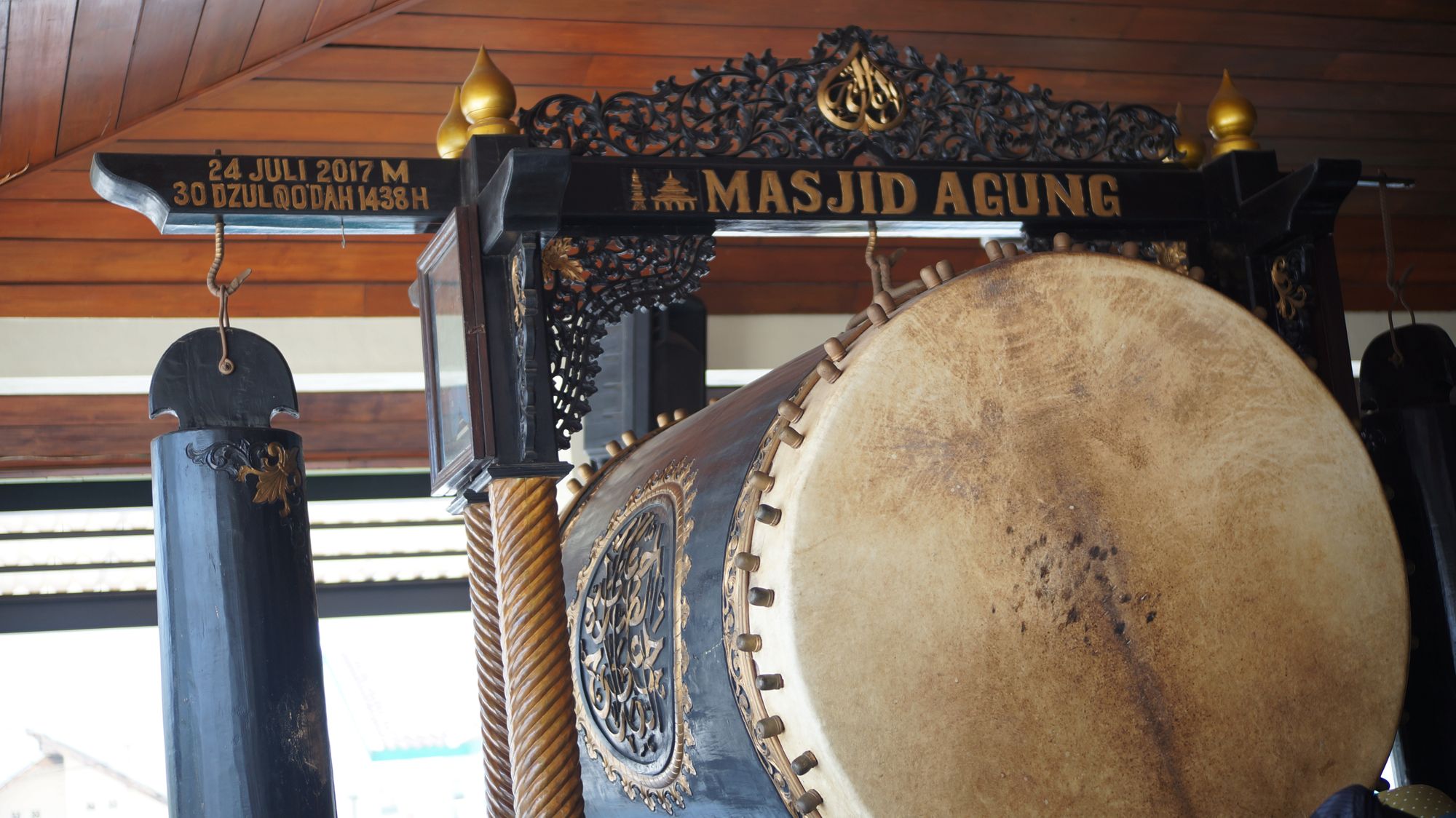 Ramadan in Morocco
Morocco's inspirational Islamic architecture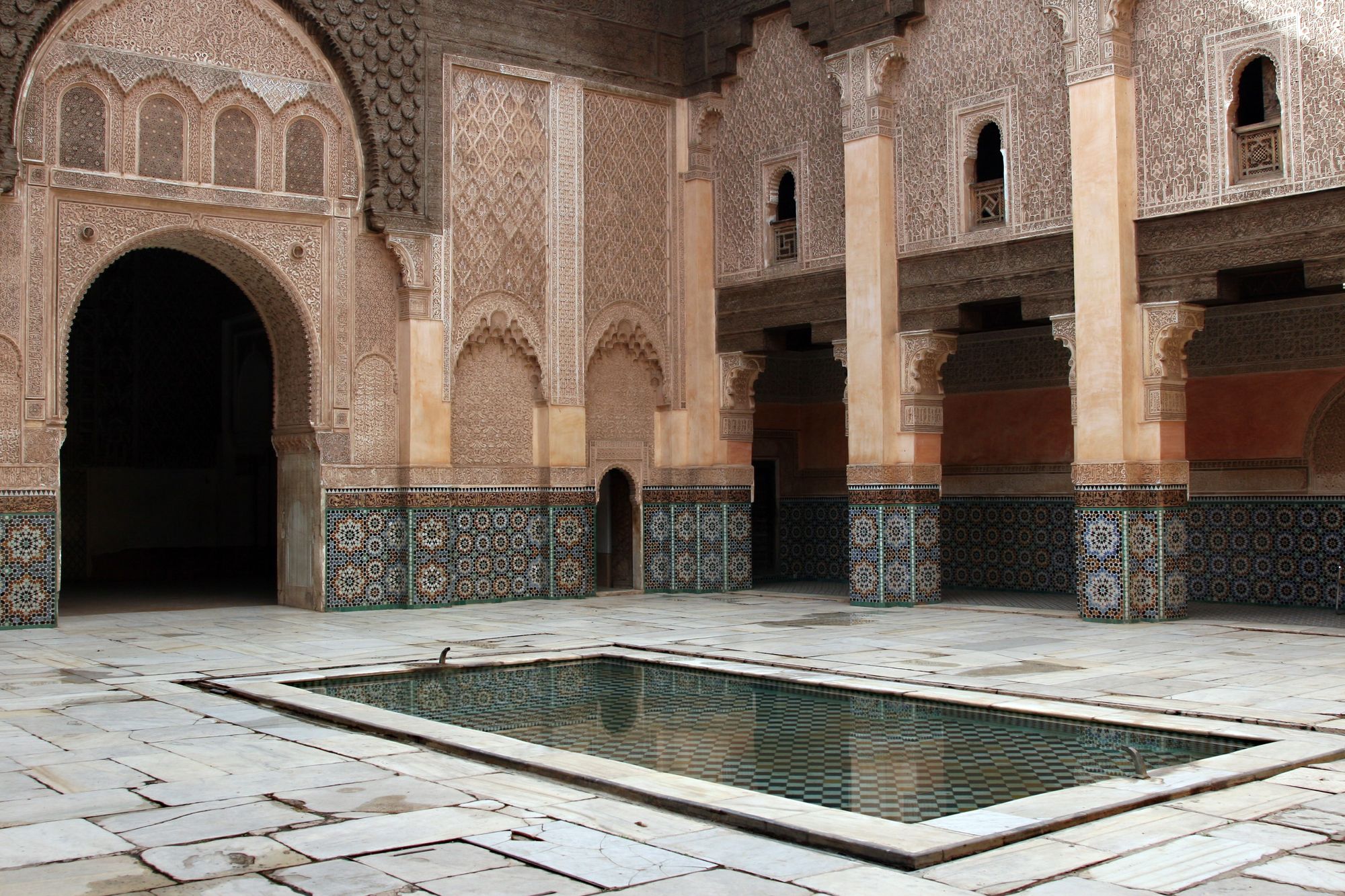 Koutoubia (Kutubiyya) Mosque, Marrakech
This mosque, which was built in 1199, is one of the city's most recognisable buildings. Its name comes from the booksellers, which once surrounded it. Its minaret towers over the surrounding buildings at an impressive height of 77 metres, built from huge blocks of the distinctive local red sandstone. Usually, during Ramadan, worshippers at Taraweeh prayers would spill out on to the surrounding streets, with prayers from the mosque being relayed over a loudspeaker to those standing outside.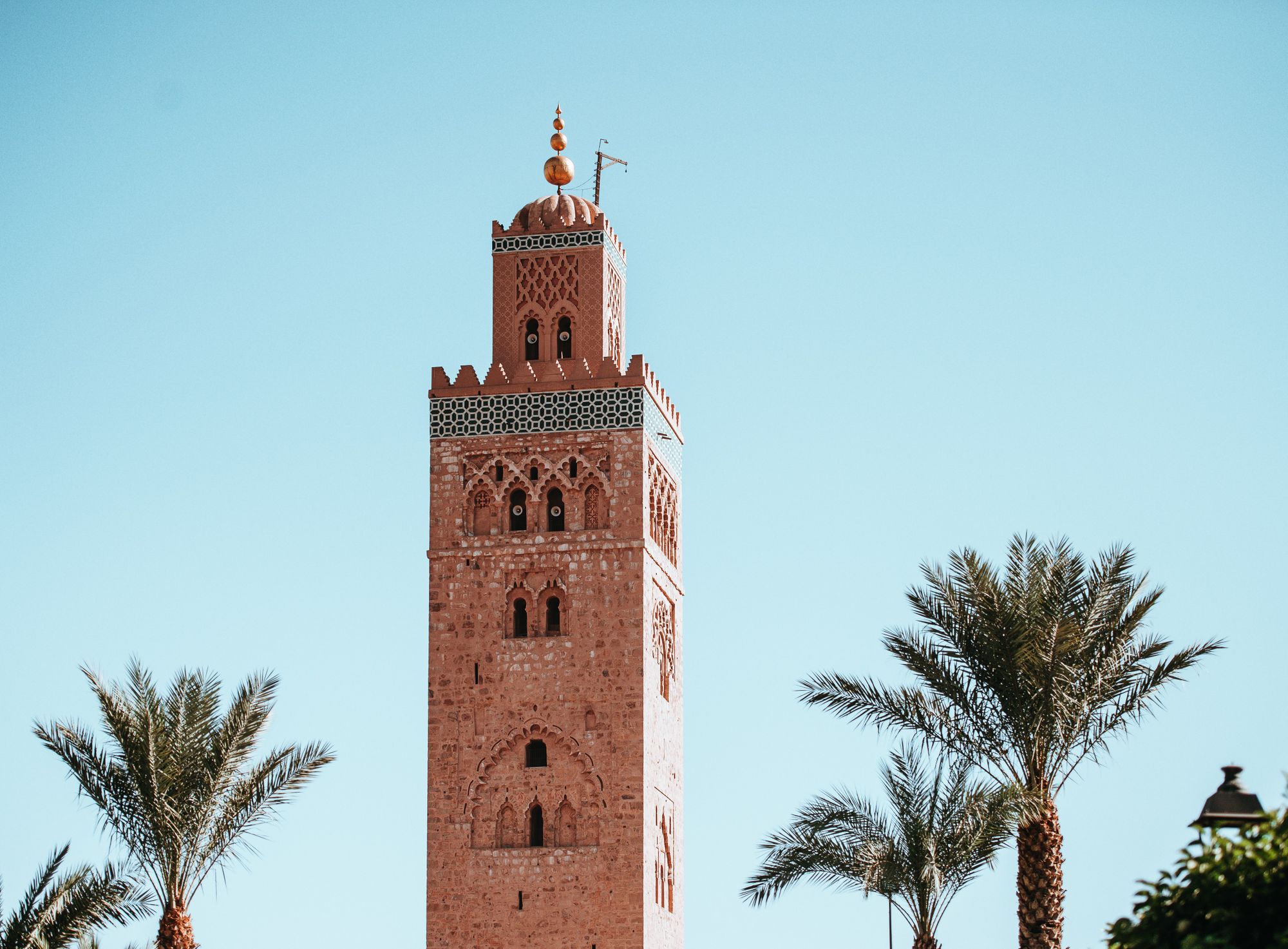 Hassan II Mosque, Casablanca
This stunning building is a triumph of modern Islamic architecture, blending contemporary design with traditional Moroccan craftmanship. It was built to celebrate the 60th birthday of King Hassan II in 1993. Inside are bright and colourful zellij tiles and intricate marble floors, together with stone and woodwork, carved by hand, following ancient traditions. Its minaret is 210 metres tall, rising above the Atlantic sea. It is set in a truly beautiful location, built out over the waves of the sea. It can accommodate up to 25 thousand worshippers, making it one of the largest mosques in the world. Even this is not enough, however, on Laylat Al Qadr, one of the busiest times of the year, when people spill out of the mosque, as they come to pray with its Iman, Omar Al Kazabri, renowned for his Quran reading.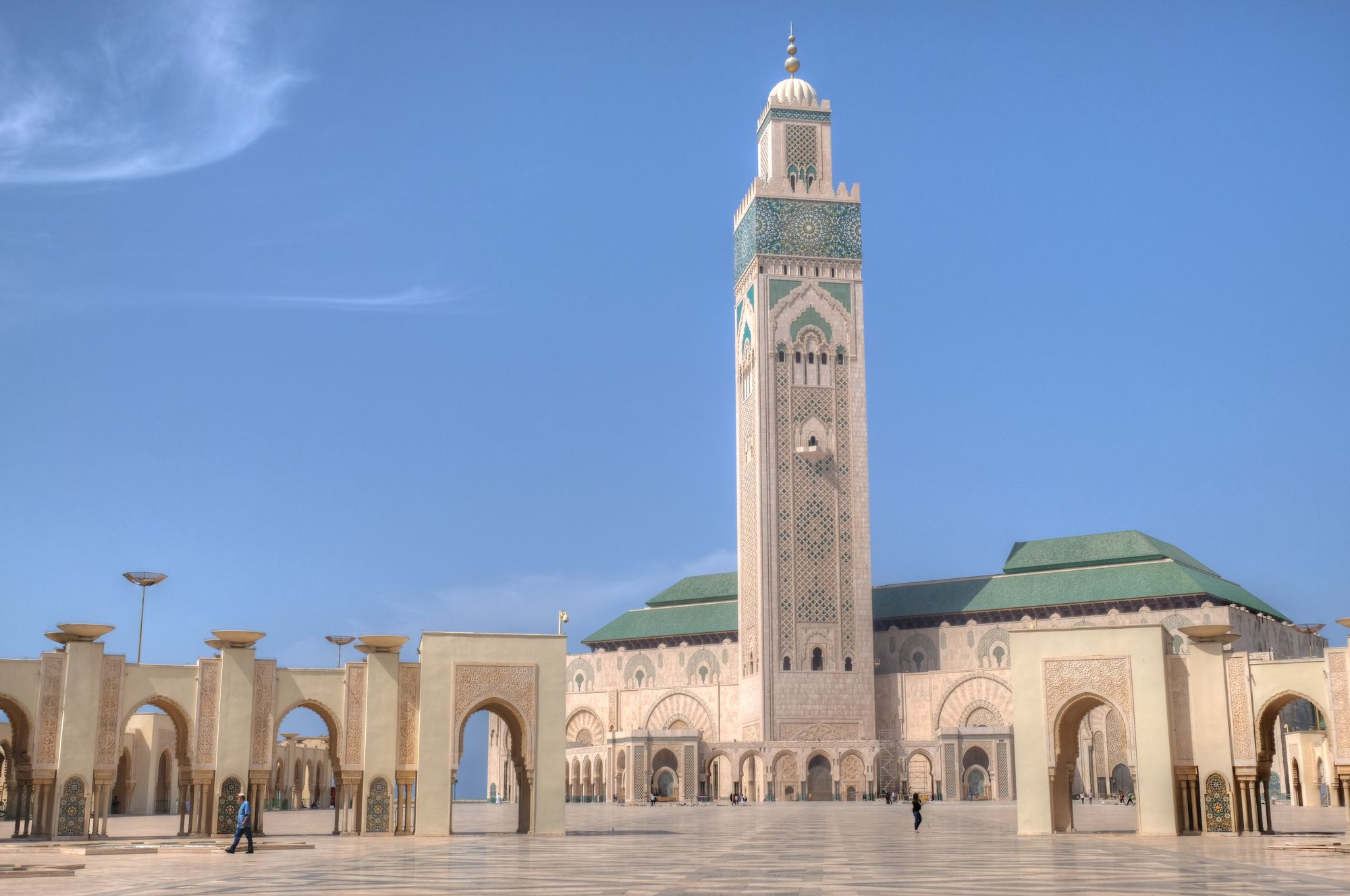 Kairaouine Mosque (Al Quaraouiyine), Fes
This unusual mosque was founded in 859 by a female Tunisian refugee named Fatima El Fihria. It was originally built in a simple style, which has been embellished over time, with the addition of arches, magnificent pavilions and Andalusian style decoration. It is located at the heart of the university, which is one of the world's oldest educational establishments. Its distinctive green pyramid-shaped roof and minaret rise above the university buildings. This mosque is also exceptionally large and can accommodate over 20,000 worshippers at one time.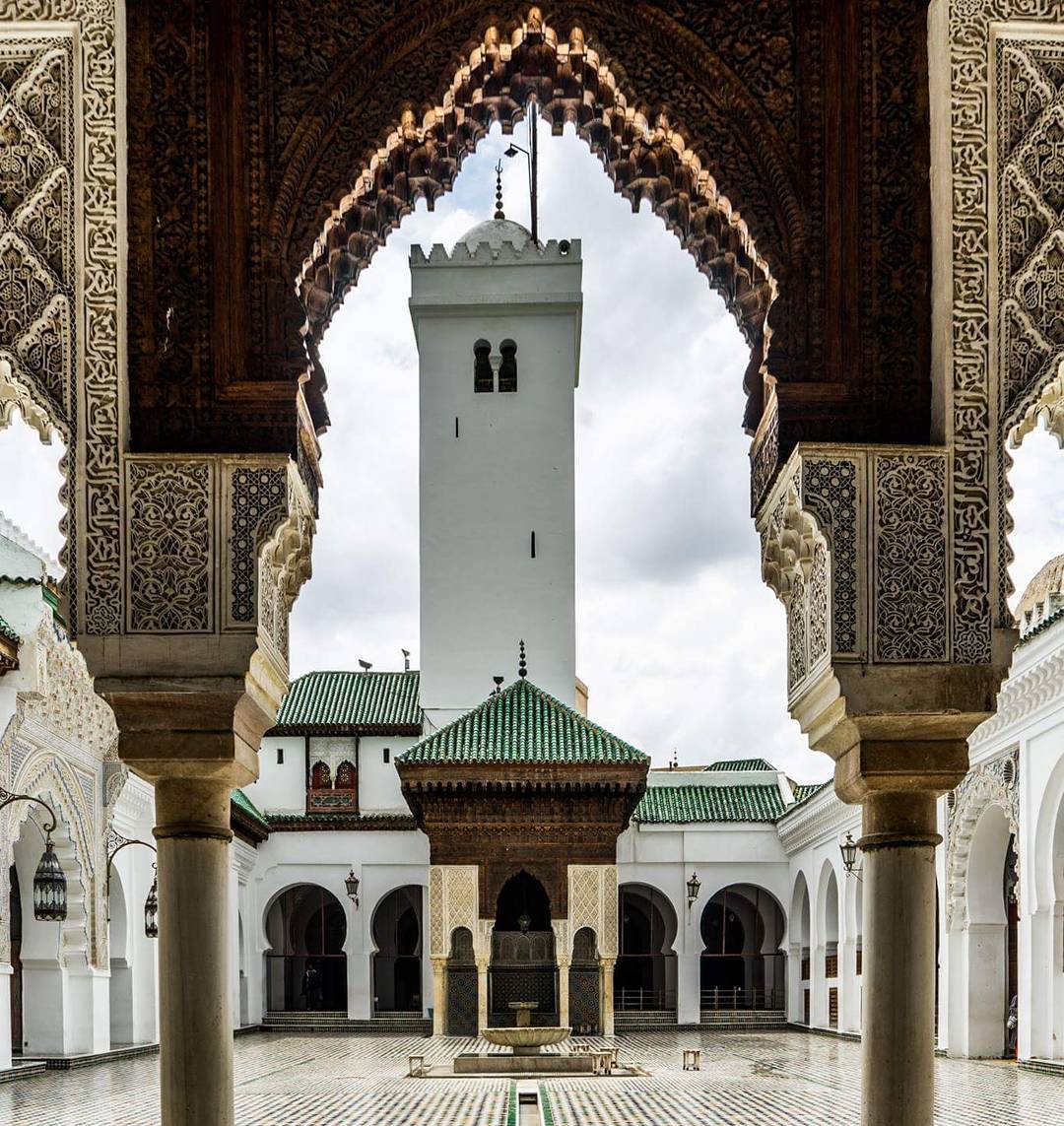 Waking for Sahur
In some cities and neighbourhoods, families will be woken for Sahur or Shoor by the 'Nafar' who walks the streets playing a distinctive trumpet-like instrument. In other places, it will be drummers playing the traditional Moroccan drums known as 'duff' who wake people to pray and eat their dawn meal. At the end of Ramadan, they knock on doors and they are rewarded with gifts as a reward for their job.
Celebrating Iftar in Morocco
In more usual times, it would be common for families to attend Taraweeh prayers together before heading home to enjoy an iftar meal and then wandering on to the streets to enjoy the atmosphere of celebration and perhaps taste some of the delicious street food being sold. Families will be in their best, most colourful clothes. Many will have been to the tailor to buy new clothes for Taraweeh - and will be dressed in fine Moroccan robes such as abaya, djellaba, jilbeb or qamis with brightly coloured Moroccan shoes such as balgha and cherbil.  Often the crowds thronging the mosques are so big that loudspeakers are set up outside, and streets are closed so that worshippers can join in prayers outside the mosque.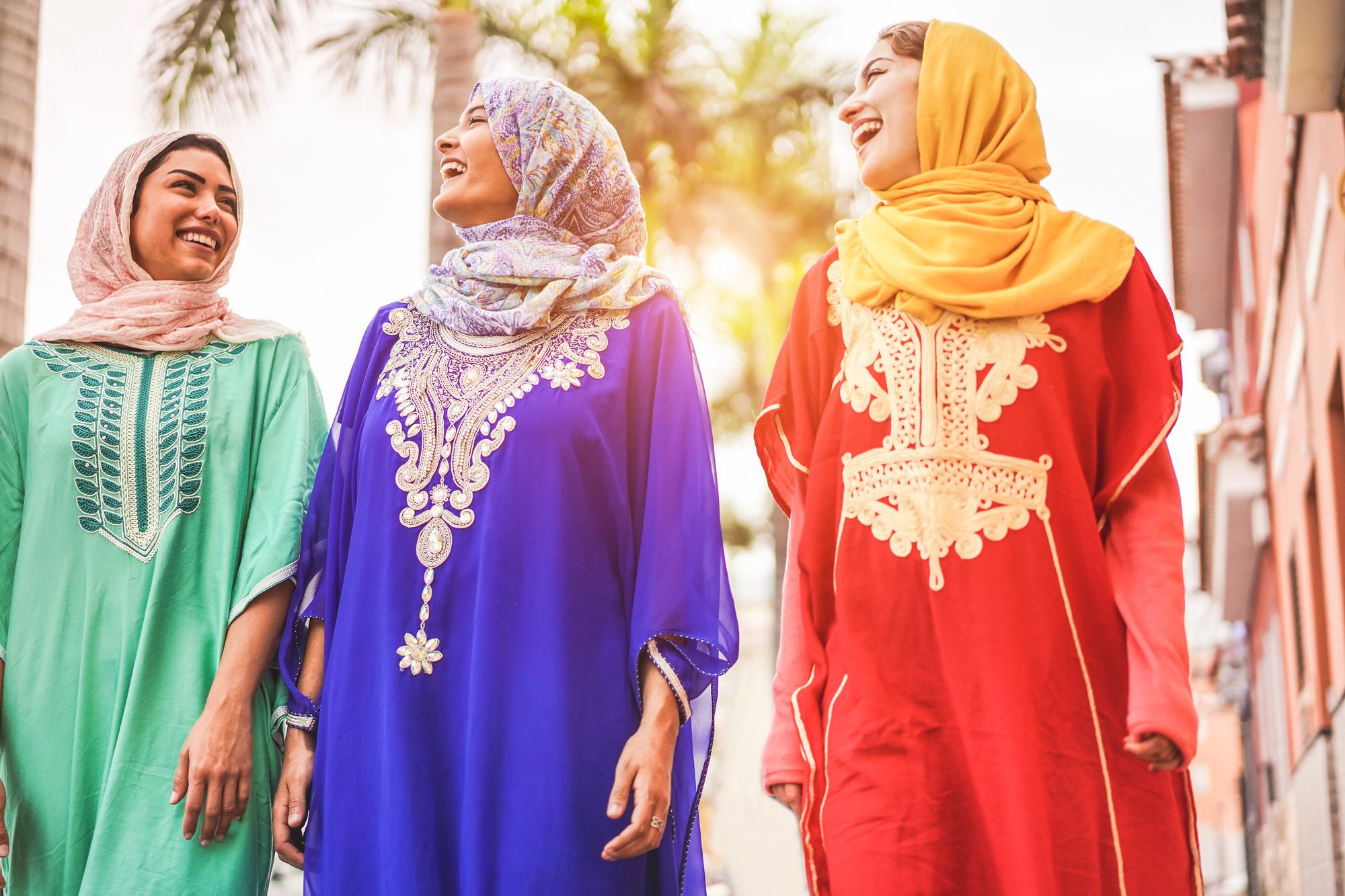 This year will be an altogether quieter affair, although no less special, as families gather together to break the fast and focus on the essential messages of Ramadan.
After breaking the fast with the traditional date, usually one of Morocco's soft, sweet Medjoul dates and drinking fermented milk,  many families start their iftar meal with Harira soup, a delicious and nutritious soup made from tomatoes, chickpeas, lentils and lamb. The iftar table will be full with delicacies such as: briouat, flaky pastry parcels, similar to samosas, filled with eggs, cheese, minced meat or chicken and almonds; msemen, which are sweet or savoury pancakes, filled with minced meat or with honey and butter; semolina pancakes known as baghrir; small pitta breads known as batbout and cigares, filo pastry rolls filled with meat.  Morocco is famous for its fruit and freshly squeezed juices and are a great source of vitamins.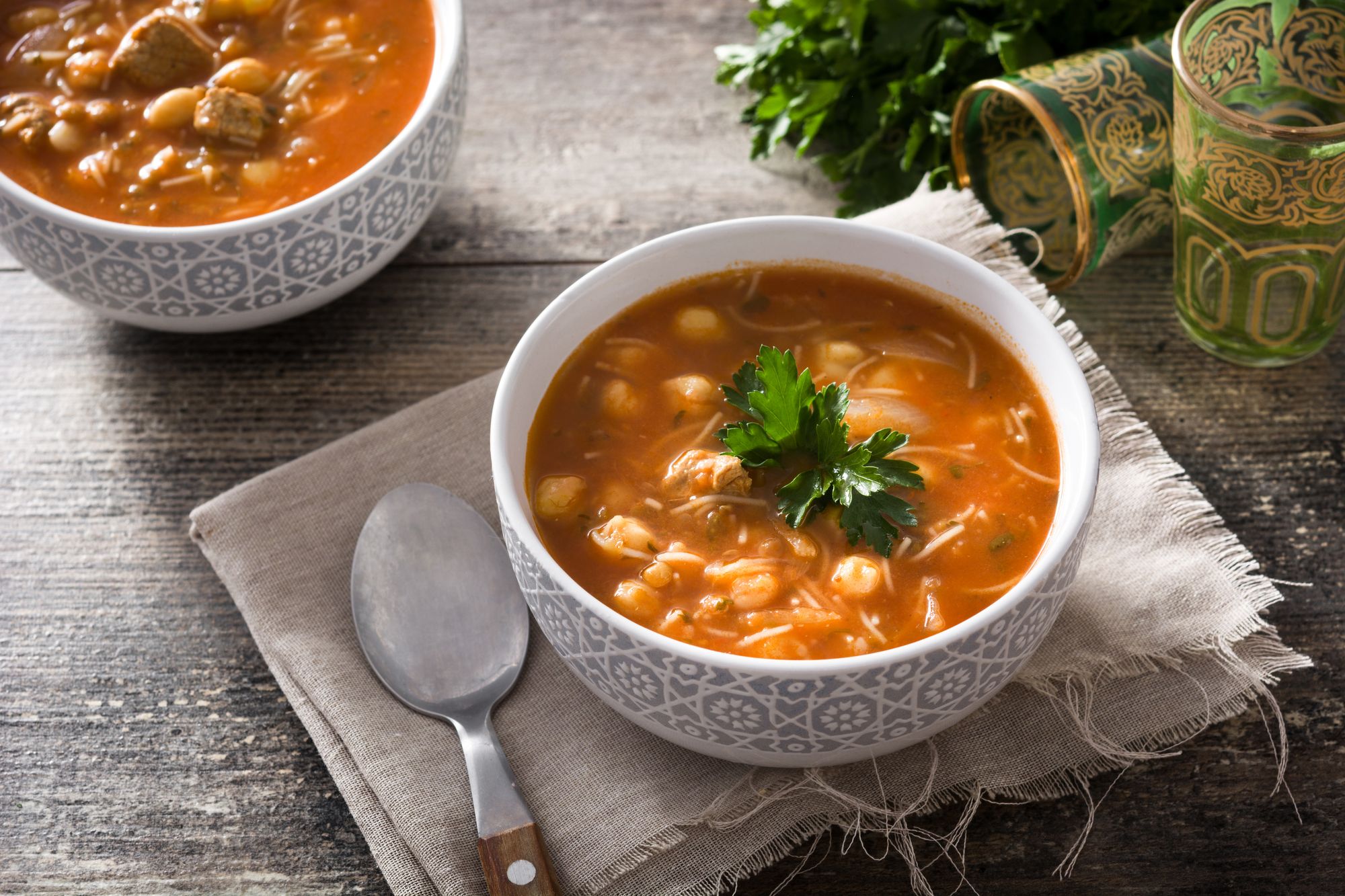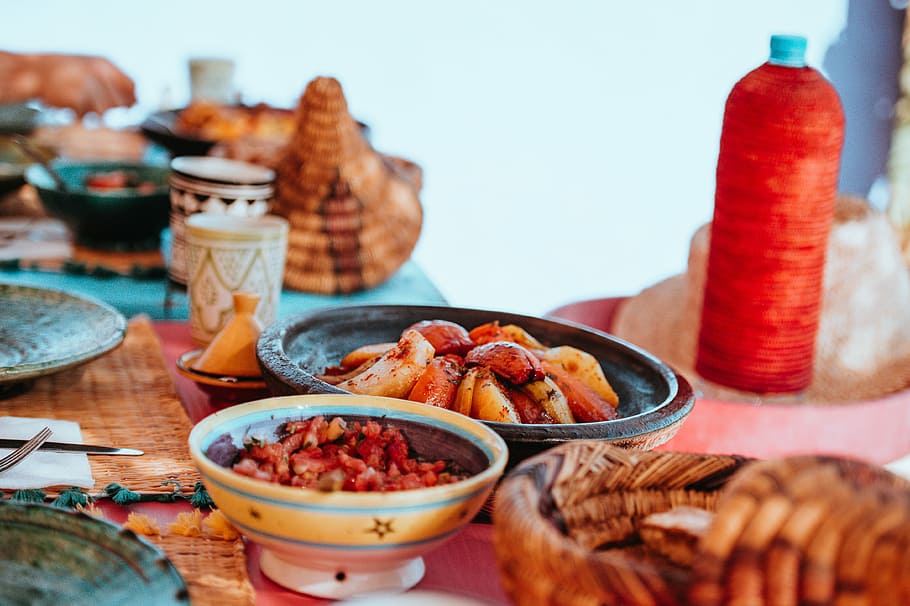 The iftar meal is completed by sweet treats such as chebakia, which are Moroccan sesame pastries, fried and coated with honey, ghriba and sellou pastries, all washed down by the traditional drink of sweet, fragrant fresh mint tea.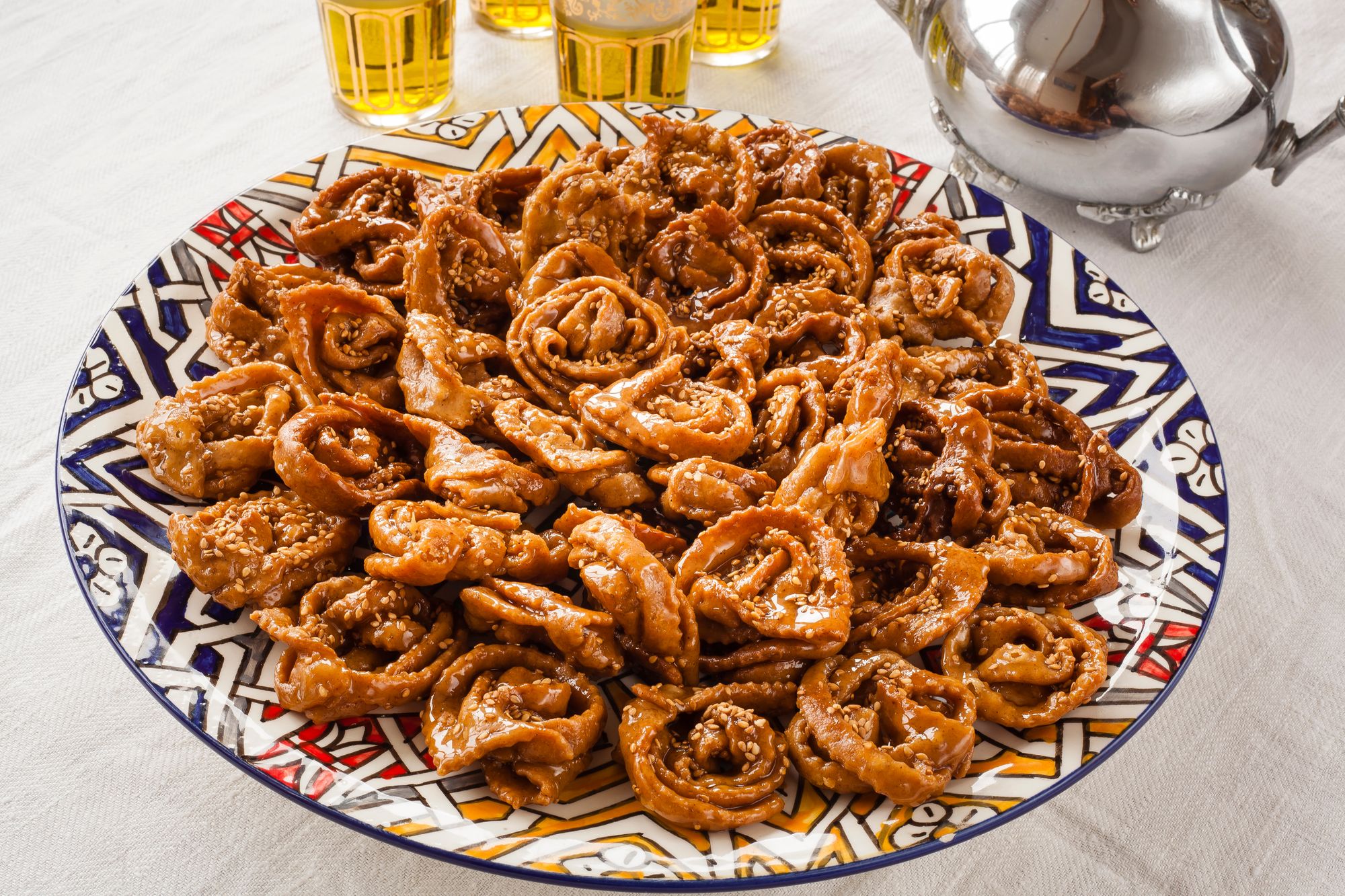 Ramadan in Turkey
Istanbul's awe-inspiring Islamic architecture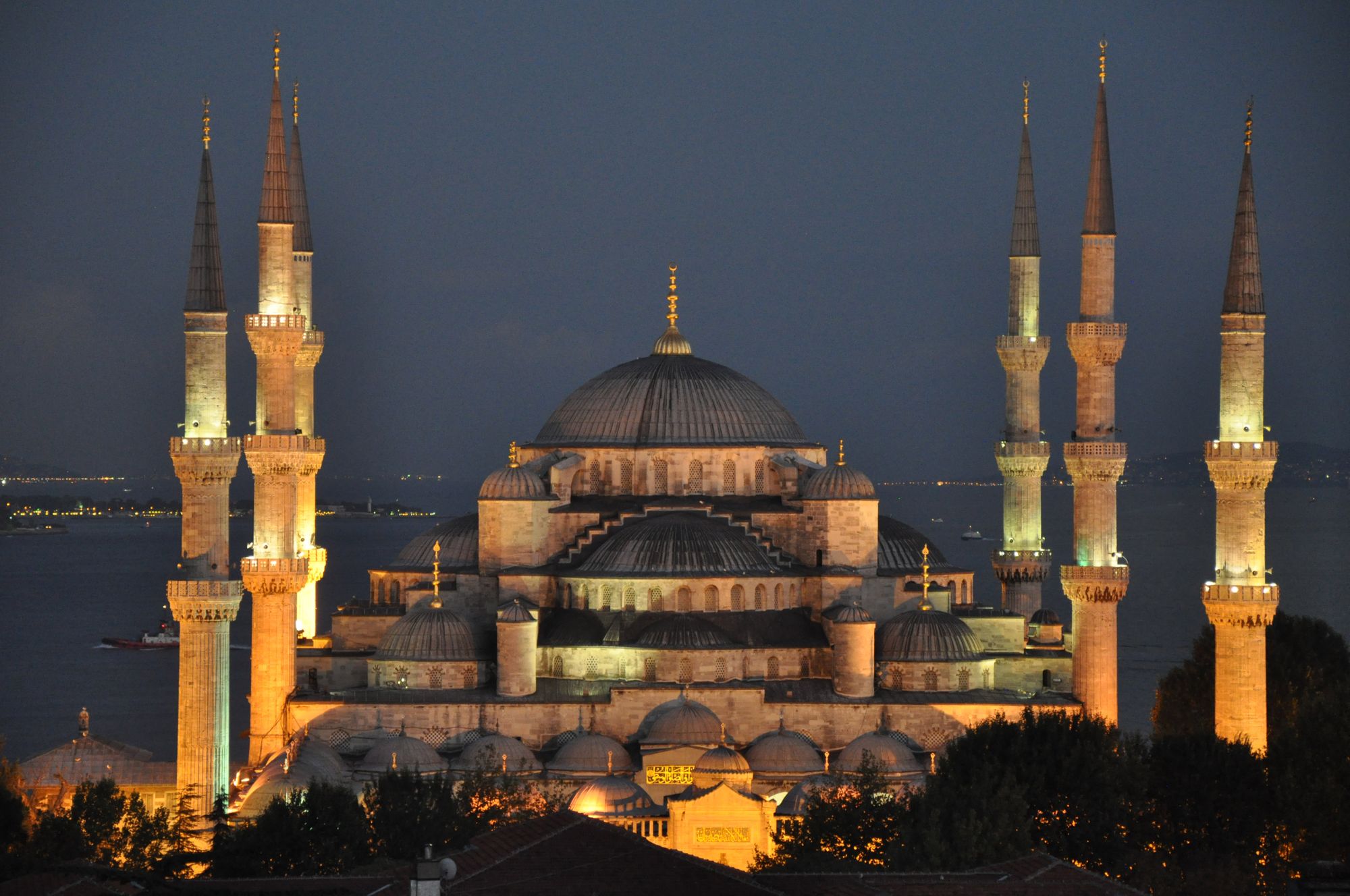 The Blue Mosque, Sultanahmet
Istanbul was the third and final capital of the Ottoman sultans and Sultanahmet Mosque, known as the 'Blue Mosque' after its interior, which features beautiful blue Iznik tiles, is one of its most famous mosques. It was completed in 1616 and stands facing the Hagia Sophia, which was built by the Roman Emperor Constantine as the Church of the Divine Wisdom and in 1453 was turned into a mosque by Fatih Sultan Mehmet, Mehmet the Conqueror. In 1935 it was changed into a museum.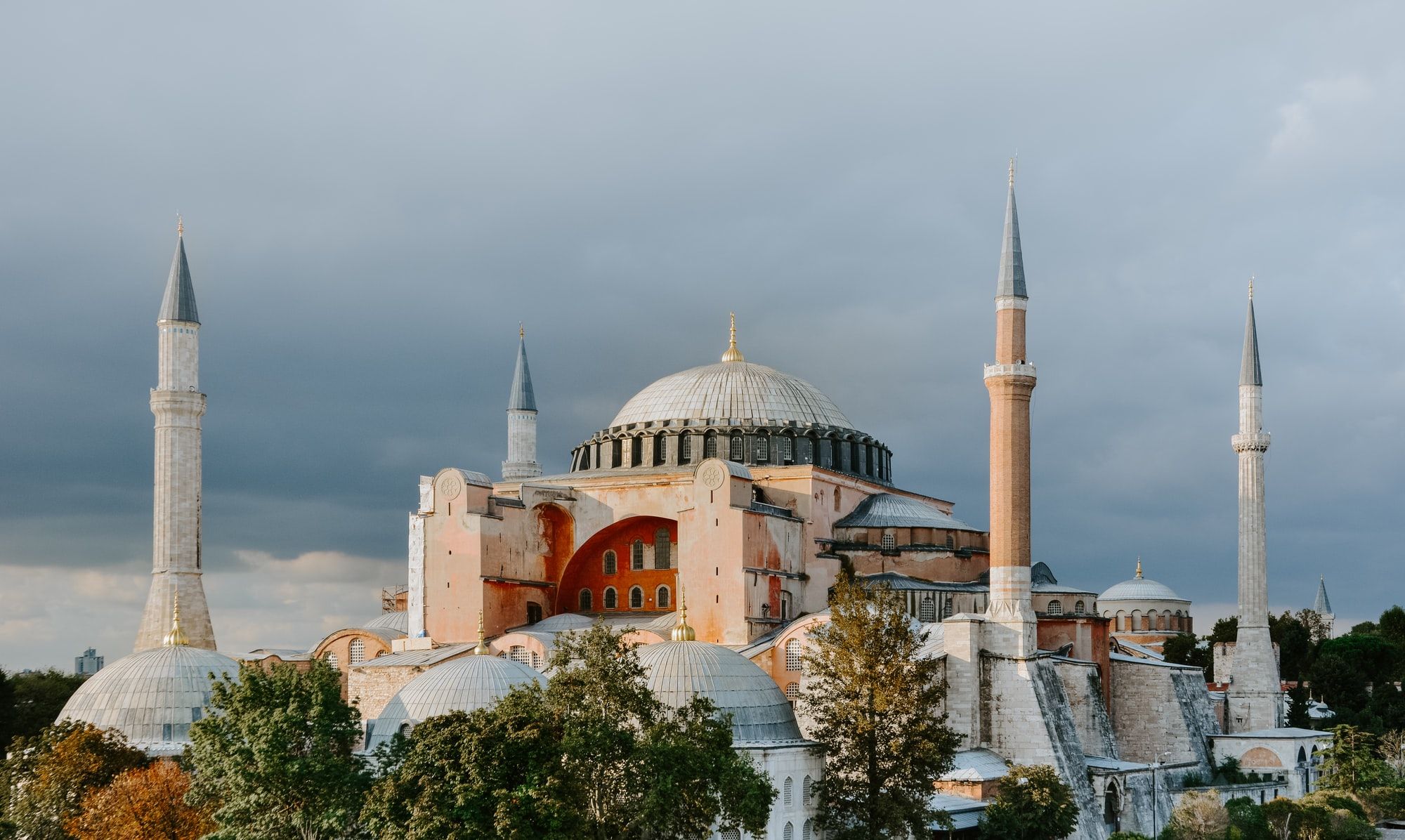 Other renowned Istanbul mosques include:
The Süleymaniye Mosque, known as the finest work of the greatest Ottoman architect, Mimar Koca Sinan, the Great Architect Sinan, built in 1550 for Sultan Süleyman the Magnificent. It may surprise you to know that Sinan himself referred to it as 'my journeyman work' (kalfalık eserimdir). In his own eyes, the Selimiye Mosque in Edirne was actually his 'masterpiece' (ustalık eseri). He referred to the Şehzade Mosque in Istanbul's Fatih district as 'my apprenticeship piece' (çıraklık eserimdir).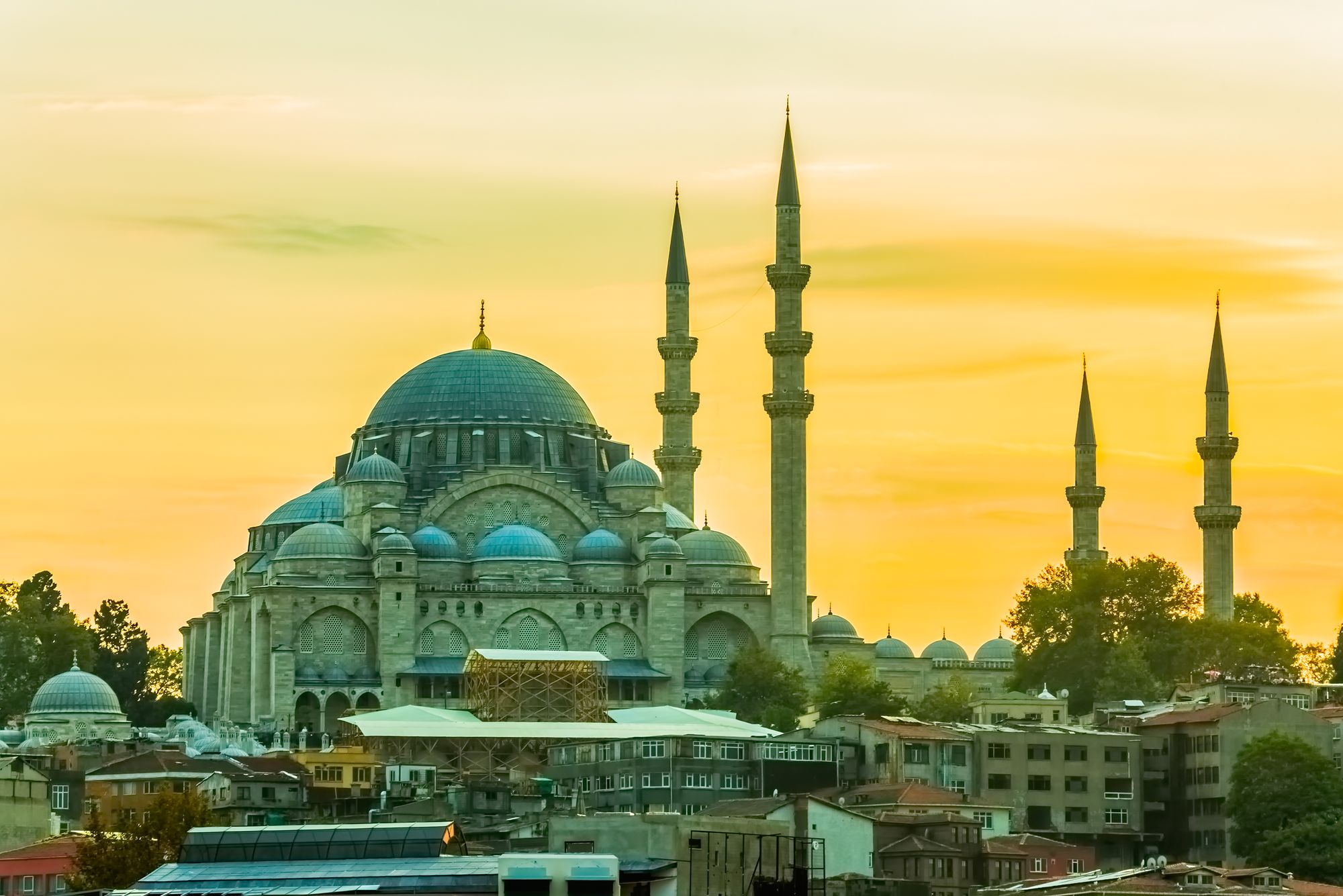 Eyüp Mosque is the holiest Islamic site in Istanbul and a prominent site of pilgrimage. It is the place where Eyüp, also known as Abu Ayyub al-Ansari, who was the companion and standard-bearer of the Prophet Mohammed, is buried. Although already 80 years old he was driven by the famous hadith and participated in the first Arab Siege of Constantinople. Referring to Constantinople, the capital of the Eastern Roman Empire, as "Costantiniyya" in Arabic, Prophet Muhammad said: "Verily you shall conquer Constantinople. What a wonderful leader will he be, and what a wonderful army will that army be!" and "The first army that goes on expedition to Constantinople will be forgiven."
The Fatih Mosque is so-called after the 'Conqueror' Fatih Sultan Mehmet, or Mehmet the Conqueror, who ordered a mosque to be built here in 1463, as the first mosque to be built after the conquest of Constantinople a decade earlier. In fact, the original mosque building no longer exists, and the current building dates back to 1771, and is a fine example of Turkish Islamic architecture.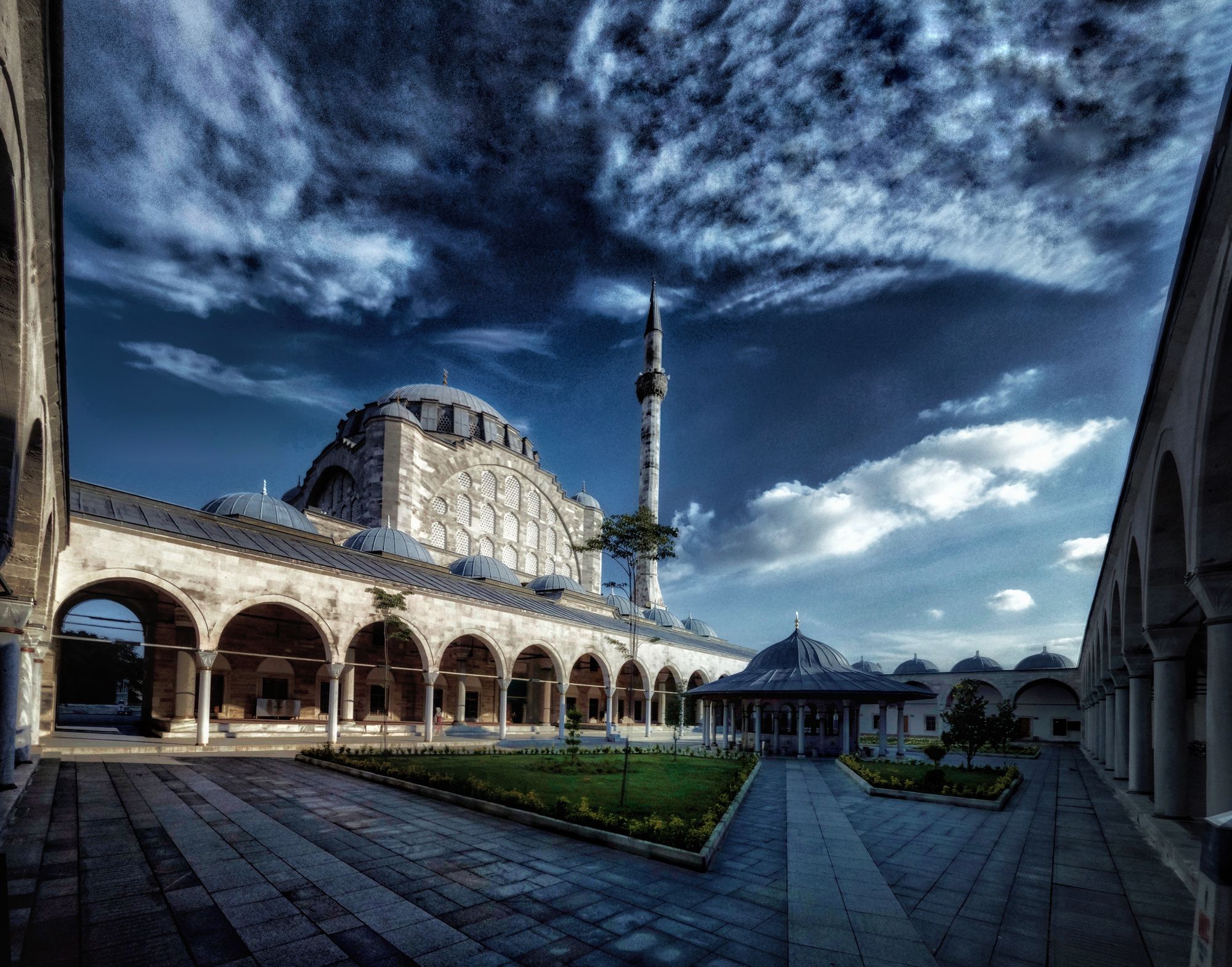 Mosques have special illuminations during Ramadan. Typically lights are hung between the minarets displaying the message: 'Hoşgeldin Ramazan' or 'Ya Şehr-i Ramazan' (Welcome Ramadan).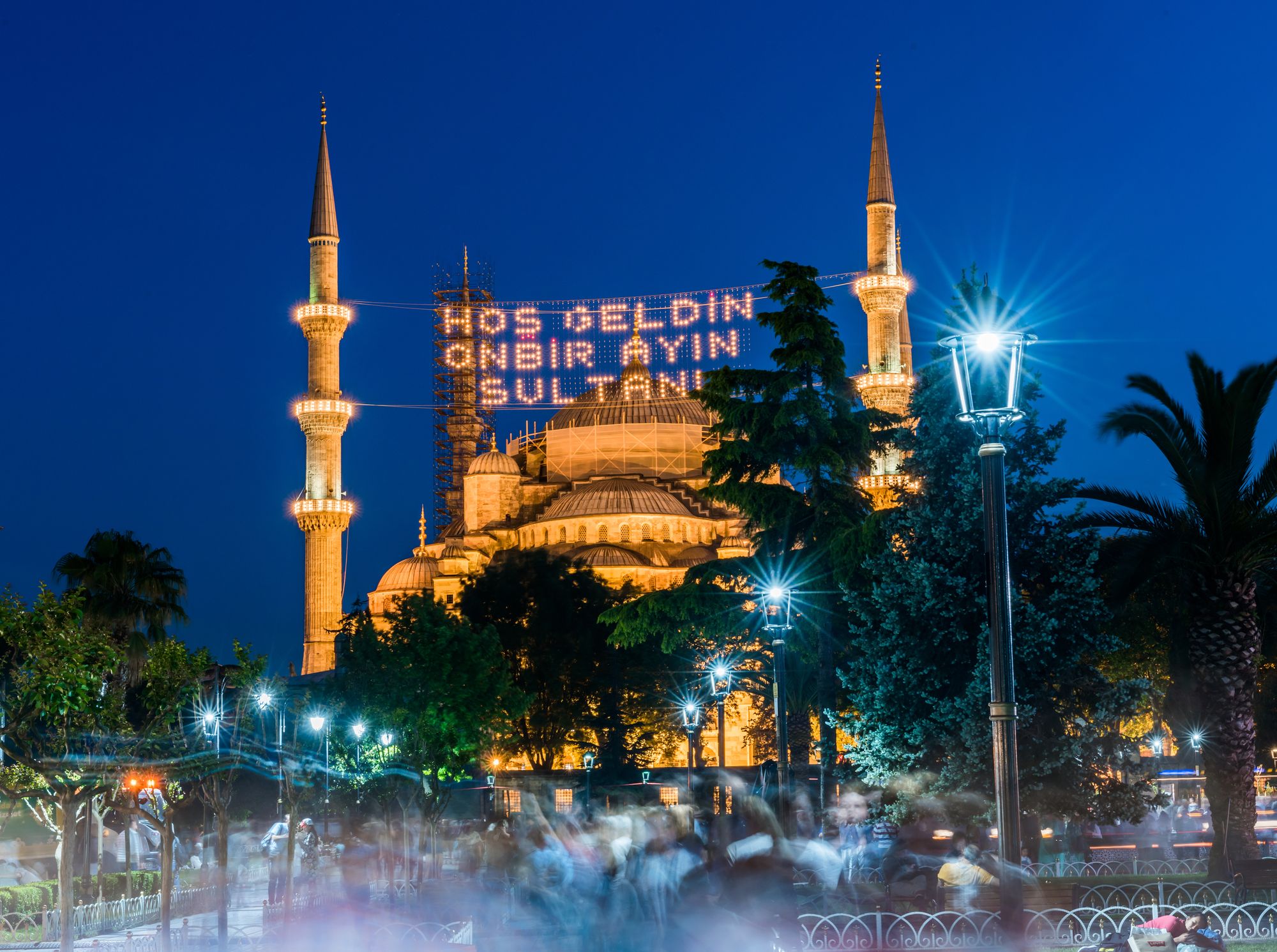 Celebrating Iftar in Turkey
The iftar meal will still be as significant as ever during Ramadan in 2020, even if there are fewer people sitting around the table than usual.
In Turkey, a traditional iftar meal would not be complete without the "Ramazan pide" or traditional soft, leavened flatbread topped with sesame and nigella seeds, which is only made at this time of year. Fortunately, bakers are still open – even during curfew times.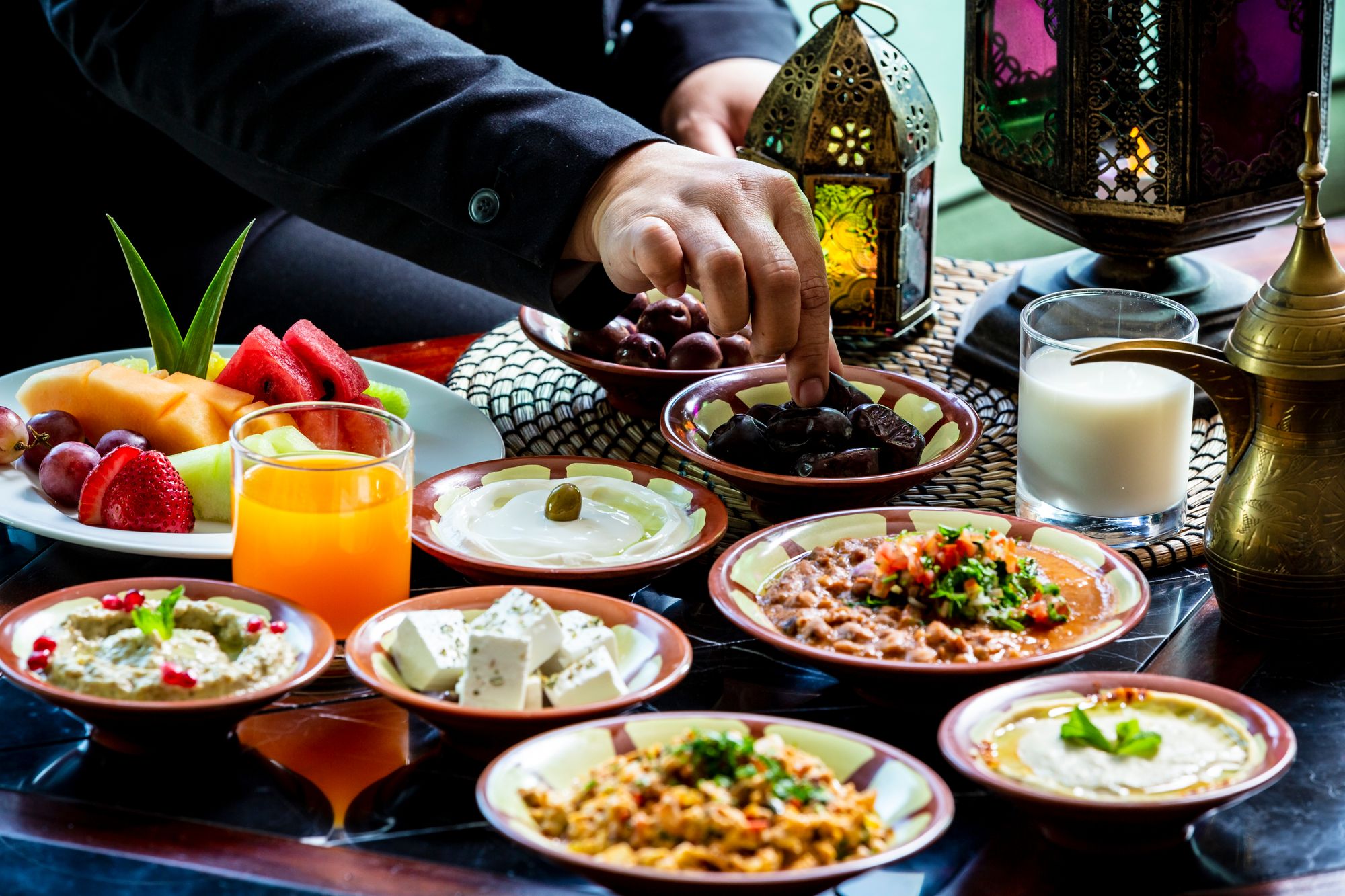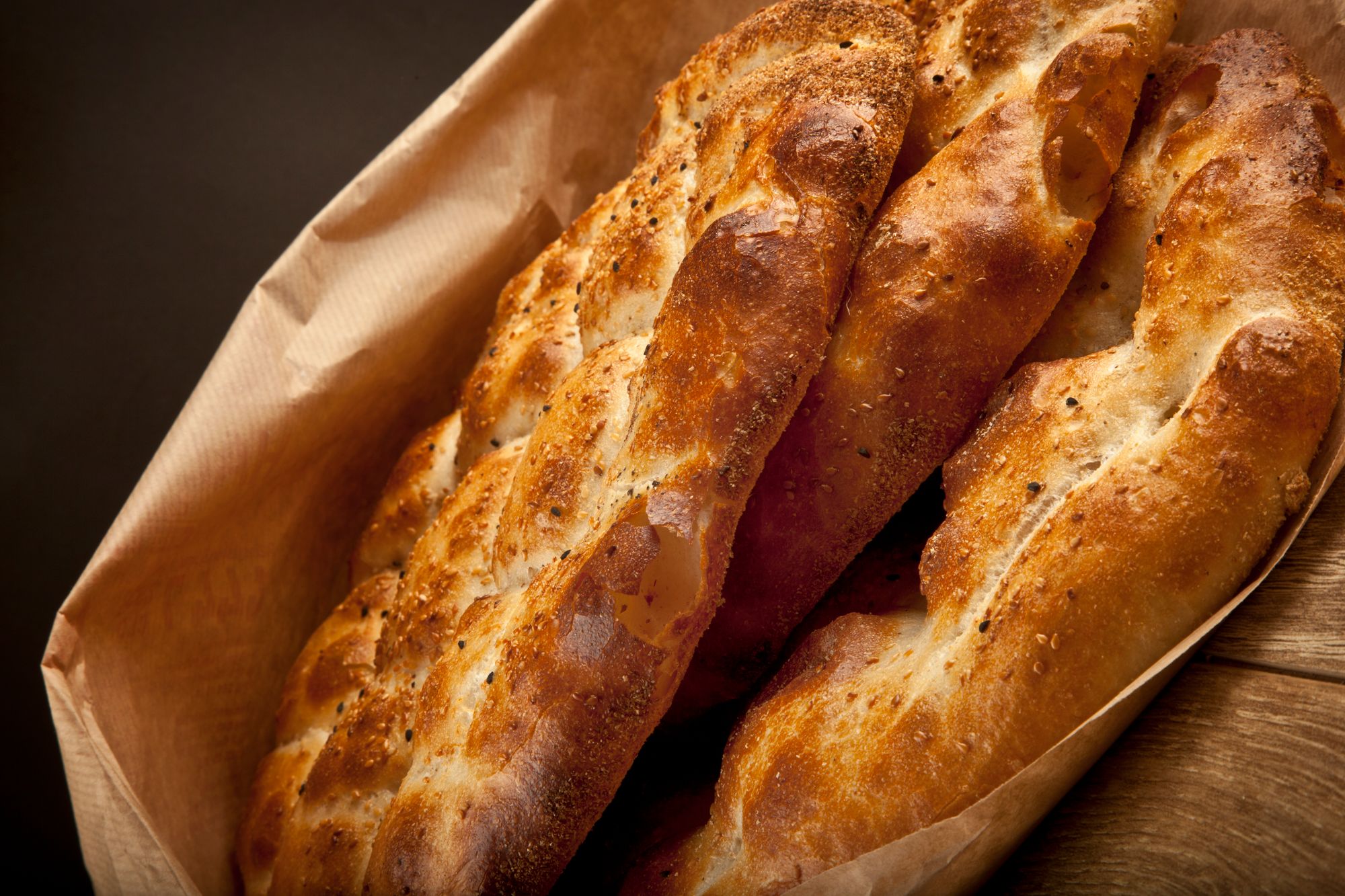 Soups are a staple of iftar meals in Turkey, with one of the most popular being the delicious and nutritious mercimek or lentil soup. Different types of börek, cheese- or meat-filled flaky pastry are likely to be on the table, together with white cheese, black olives, other delicacies and ayran, a refreshing yoghurt drink especially welcome after a daylong fast on warm days. Typically, the fast is broken with a hurma (date) as per the tradition of the prophet. A main course of succulent kebabs or hearty stew will be followed by sweet honey-soaked treats such as baklava or kunefe, a sweet pastry filled with melted cheese.
In more normal times, it would be usual for Istanbul residents to gather in public parks, squares and mosque courtyards, for public iftar meals organised by local authorities or charities and companies - great occasions on which to experience Turkish hospitality. Everyone would wait for the signal to break the fast: the traditional 'Ramazan top atışı' (Ramadan cannon fire), a tradition since the 1820s, and the subsequent ezan from the minarets of the surrounding mosques.
Sahur in Turkey
The tradition in Istanbul is for people to wake up to the songs and sounds of drums being beaten by the famous davulcus who continue the century-long tradition of wandering the streets to wake up residents for "sahur" — the last meal before a day of fasting that begins before sunrise, which is usually in the form of a light breakfast.