Discover Afyon and its healing waters
Afyon – or, to give the city its full name, Afyonkarahisar - is renowned as one of the leading spa centres in Türkiye, due to its famous thermal springs and their healing waters. It is also famous for its marble, which is its most successful export, not just in Türkiye, but throughout the world. Türkiye is home to around one third of the world's marble reserves and around 12% of the country's marble comes from here. In fact, Afyon has unique and very rare types of marble that are exclusive to the area.
This historic city offers that elusive quality of being far from the well-trodden tourist trail, yet easily accessible, roughly halfway between Izmir and Ankara. It is a little microcosm of what makes Türkiye special, all in one unique place. Part of UNESCO's Creative Cities network, it offers a wealth of authentic experiences and has a rich gastronomic tradition.
Where does the name Afyonkarahisar originate?
Literally translated from Turkish, Afyon means 'opium poppy', after what was formerly the region's most prevalent crop, and kara hisar means 'black castle'. This is a reference to the age-old black fortress which looks down on the town from a 200-metre-high promontory of dark volcanic rock.
Where is Afyon?
Afyon is situated inland in a mountainous region, known for its agriculture. It is situated at the half-way point of the Aegean coast and the Anatolian hinterland. Due to its location, it has always been of strategic importance and, in fact, it was the site of a significant victory in the Turkish War of Independence, when the Turkish army repelled the Greek invaders under the leadership of Mustafa Kemal Pasha, later to become Atatürk, at the Battle of Dumlupınar, on 30th August 1922.
Afyon – Thermal, Spa and Wellness Capital of Türkiye
Afyon's thermal springs
The best known of Afyon's thermal springs is at Gazlıgöl (literally translated as 'lake with gas'), around 22 km from the city centre. Its waters are rich in gases and minerals such as sodium bicarbonate, sodium chloride, carbon dioxide, bromine and fluorine.
Its waters are said to cure such diverse ailments as rheumatism, skin problems, digestive complaints, cardio-vascular problems, and diseases of the kidney and urinary tract.
The history of spas here stretches back some 5,000 years, and the therapeutic powers of the thermal waters are still in demand today, with visitors coming from all over the world. They offer not only physical cures but also psychological benefits, ensuring rejuvenation and complete relaxation.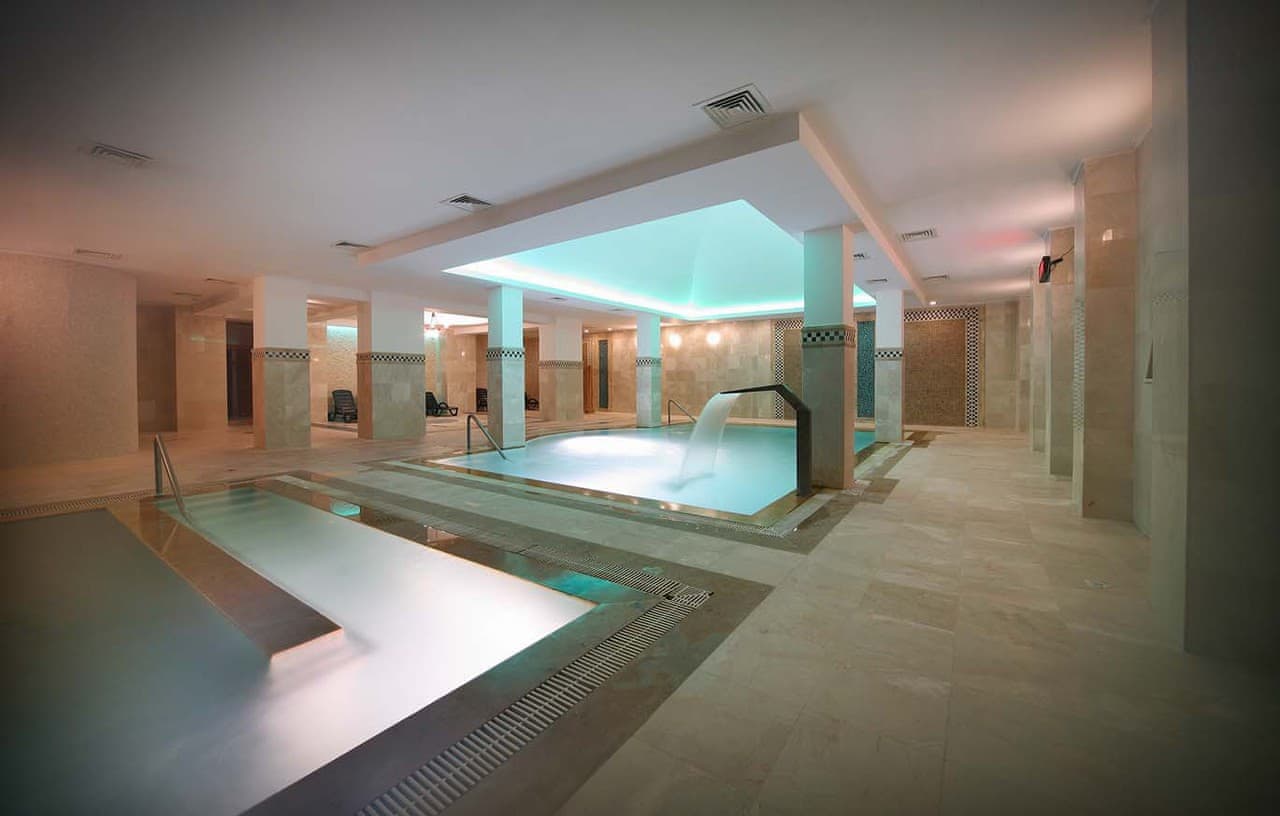 Many of the hotels in the region offer halal-friendly spa facilities, with separate spas or areas dedicated to women-only and men-only. Some have dedicated women-only outdoor or indoor thermal pools as well as dedicated men-only pools. Other complementary treatments and therapies include steam rooms, hydrotherapy, aromatherapy and saunas.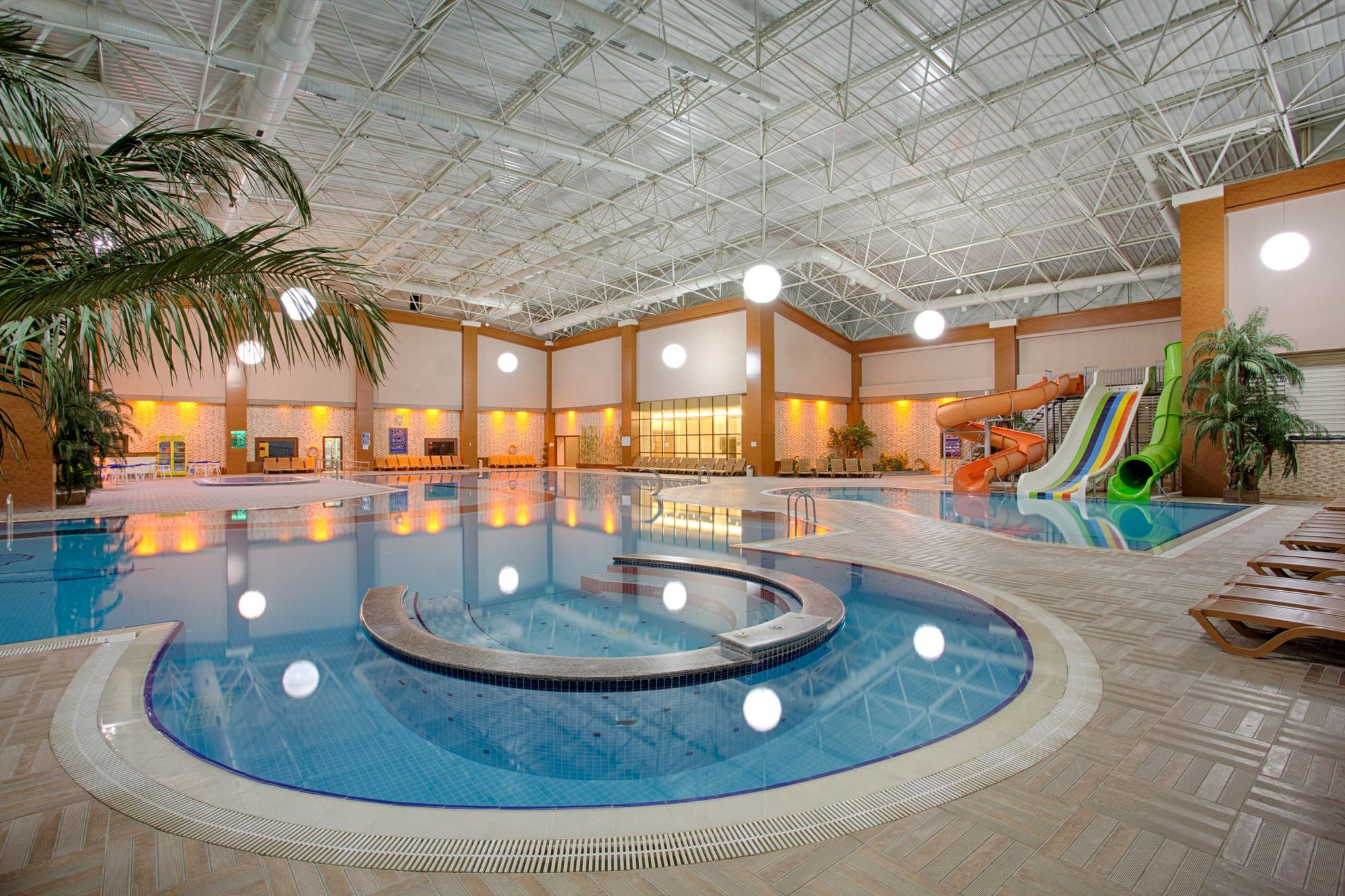 HalalBooking offers an excellent range of halal-friendly thermal and spa hotels in and around Afyon, to suit all requirements and budgets.
Afyon's mud baths
Afyon's therapeutic treatments also include mud baths. The mud from nearby Sandıklı is said to contain radioactivity (no amount harmful to humans), which is said to be the key to its healing properties for pain. It is thought to cure aches and pains and help remove toxins from the body, thereby improving circulation, curing rheumatism and improving joint pain, by relaxing the muscles. It is also said to aid weight loss and make skin smoother, getting rid of wrinkles.
Turkish baths in Afyon
The history of the bath house dates right back to Roman times. It was enthusiastically adopted by the Turks, especially after the region embraced Islam, with its focus on the importance of cleanliness.
During the Ottoman period, the Turkish bath or hammam became much more than a place to wash, established as being at the heart of many social occasions. It developed its own rituals, not only around washing, but also around the celebrations which took part here, including the preparations for marriage, where the bride and groom would have their own separate hamam preparations and festivities.
Even today in Türkiye, it is only in tourist resorts where there are mixed baths. Traditionally, Turkish baths are always separate for women-only and men-only, either housed in separate buildings or open to women-only and men-only at separate times, with only women working in the women's section, and men in the men's section.
Afyon's thermal spa hotels mostly have traditional Turkish baths where you can enjoy the age-old rituals of 'kese', scrubbing down with a rough cloth to remove the dead skin, and a relaxing 'köpük' foam massage with the lather of a traditional block of olive oil soap. You'll definitely be glowing afterwards!
You can visit Afyon's Turkish Bath (Hammam) Museum to find out more about its local history and traditions.
Top attractions in Afyon
Afyon's Phrygian Valley
Afyon was settled by the Phrygians in around the 8th to 6th centuries BCE. They ruled over the area between the Kızılırmak and Sakarya rivers, with Gordion as their political capital and Pessinus as their religious centre. Although the name 'Phrygian' may not be familiar, many myths associated with this ancient civilisation are well-known – the legend of the Gordian Knot, for example, or King Midas and his golden touch.
The Phrygian Valley spreads across the provinces of Afyon and neighbouring Eskişehir and Kütahya. The area is quite reminiscent of Cappadocia with its strange volcanic rock formations, which resemble 'fairy chimneys'. There are also similar cave dwellings at nearby Ayazini Köyü as well as an impressive Byzantine rock church and a Roman necropolis, which are well worth exploring.
The best way to explore the sites is to follow the Phrygian Way, one of the longest trekking routes in Turkey at over 300 miles (500 kms) – you can choose to walk the path or maybe hire a bicycle.
If you're happy to travel a little further afield, one of the main Phrygian sites in the area is Midas Șehri (City of Midas), around 70 kms north of Afyon in the village of Yazılıkaya, which means, literally the 'rock with writing', which is a reference to the Midas Monument. The 16-metre high carved rock wall dates back to the 7th or 6th century BC and is thought to have been used to house a statue of the goddess Cybele, also known by the Phrygians as Matar. A smaller temple is nearby at Küçük Yazılıkaya.
There are a number of other impressive rock formations, reliefs and tombs as well as a ruined acropolis and a number of water cisterns, which are well worth exploring. There is also a rock-cut monastery and museum.
Two of the best-known monumental rock tombs are known as Aslantaş ('lion stone') which is 11 metres high and depicts two lions standing on their hind legs, and Yılantaş ('snake stone') despite its name, (which perhaps came from its broken parts lying on the ground) it also depicts lions.
Afyon's natural beauty
Afyon is situated in the midst of stunning countryside, surrounded by mountains. There are many areas of outstanding natural beauty to visit. The Akdağ National Park is home to fragrant pine forests, streams and lakes not to mention caves and a 20km long canyon. There are many observation posts from which you can see horses, deer, wild boar, foxes and wolves. Lake Eber (Eber Gölü) with its beautiful reed beds is another area of particular natural beauty. Sunrise and sunset are the best times to visit to see the wild birds including pelicans, cormorants, herons and terns.
You can also take a boat trip on the lake to see the wild carp and pike. Lake Acı (Acigöl) is around 5 kms from the city, sheltered by the foothills of the Söğüt Mountains and has thermal water with high sulphate content. This is one of the rare places where you can see flocks of flamingos throughout the year, as well as eagles, hawks, falcons, wild ducks and geese and water turtles. There are watch towers around the lake from which you can observe the birds.
Hot air balloon rides
If adventure is more your thing, then why not take to the skies over beautiful scenery from a hot air balloon, and view the wonders of the valleys, mountains and wildlife from above. You can enjoy panoramic views of the city and its surrounding landscape as part of this unique experience.
World-class marble
Afyon is famous for its marble quarries and in particular its renowned Afyon white and pink marbles. When Emperor Justinian ordered all provinces under his reign to send the best materials to construct Hagia Sophia, it included Afyon marble. Visit the marble works to see how the huge blocks arrive from the local quarries and are cut into delicate sheets to be sent to 120 countries across the world. You can also visit the historic Ottoman Tașhan, where marble was once traded.
Shopping in Afyon
As well as taking home some of the local culinary delights to share the taste of Afyon with family and friends, there are plenty of shopping malls and markets to look for a bargain, including the Afium Outlet Shopping Center, built to resemble a historic street. There are plenty of eating places and a whole range of shops, mostly selling different types of clothes from factory outlet shops.
Historic mosques in Afyon
Afyon's Ulu Camii is the oldest building in the city, and a fine example of a Seljuk mosque. It was built between 1272 and 1277 and is one of the oldest examples of its kind in Anatolia. Its original wooden ceiling and carved wooden pillars are beautiful and give rise to the name by which it is often known, the 'Mosque of Forty Pillars'.
Afyon is also home to the Mevlevihane, the second most important Mevlevi lodge after Konya, founded in the 1300s by the religious order sometimes known as the 'whirling dervishes'. Part of this complex is the Mevlevi (Türbe) Camii.  The mosque was rebuilt in 1908 by order of Sultan Abdül Hamit II. Its mausoleum holds the tombs of Mevlana's grandsons. Opposite the mosque is the Mevlevihane museum telling the history of the Mevlevi in Afyon.
Another impressive mosque is the Imaret Camii, also known as the Gedik Ahmet Pasha Mosque, after the Grand Vizier who commissioned its construction in 1472. Its beautiful blue-tiled, fluted minaret is typical of the Seljuk style. It was restored extensively in 1795.
Halal food and restaurants in Afyon
In common with other destinations in Turkey, all of the food served in Afyon is halal. Also, it is easy to find alcohol-free hotels in Afyon and many restaurants in the region are alcohol-free too. There are all sorts of delicacies in the region for you to enjoy, especially if you have a sweet tooth. Afyon is known especially for its Turkish delight 'lokum' and its clotted buffalo cream 'kaymak' there's even a local favourite which combines the two: Turkish delight with a layer of clotted cream, sprinkled in desiccated coconut.
Alternatively, enjoy your kaymak on the Afyon version of bread pudding, made with sour cherries, vișneli ekmek tatlısı. Why not also try some helva, made from sesame, grounded up and sweetened as well.  Local bakers sell freshly-made poppy-seed bread and the spicy Turkish beef sausage 'sucuk' is a tasty treat – you can even find succulent döner kebab made from sucuk. Also, try out some keskek, which is a dish made from boiled wheat and chick peas and stewed with meat.
How to get to Afyon
Due to its strategic location, it is relatively easy to get to Afyon by road, or by railway – the Izmir-Ankara and İstanbul-Konya train routes stop off in Afyon. The nearest airports are Kütahya (approx. 60 km away) or Ușak ( approx. 102 km away) which can both be reached by domestic flights from Istanbul.
Where to stay in Afyon
Afyon offers an excellent choice of spa hotels, where you can enjoy the thermal spring waters and a full range of wellness treatments. They all offer halal food, many of them are alcohol-free and most have dedicated women-only spas and pools, which are fully-secluded offering complete privacy for Muslim women.
Ikbal Thermal is a 5-star hotel ideal for wellness, shopping and entertainment, with first-class spa and wellness facilities to help you relax during your stay. Modest swimwear is permitted in all treatment rooms and pools.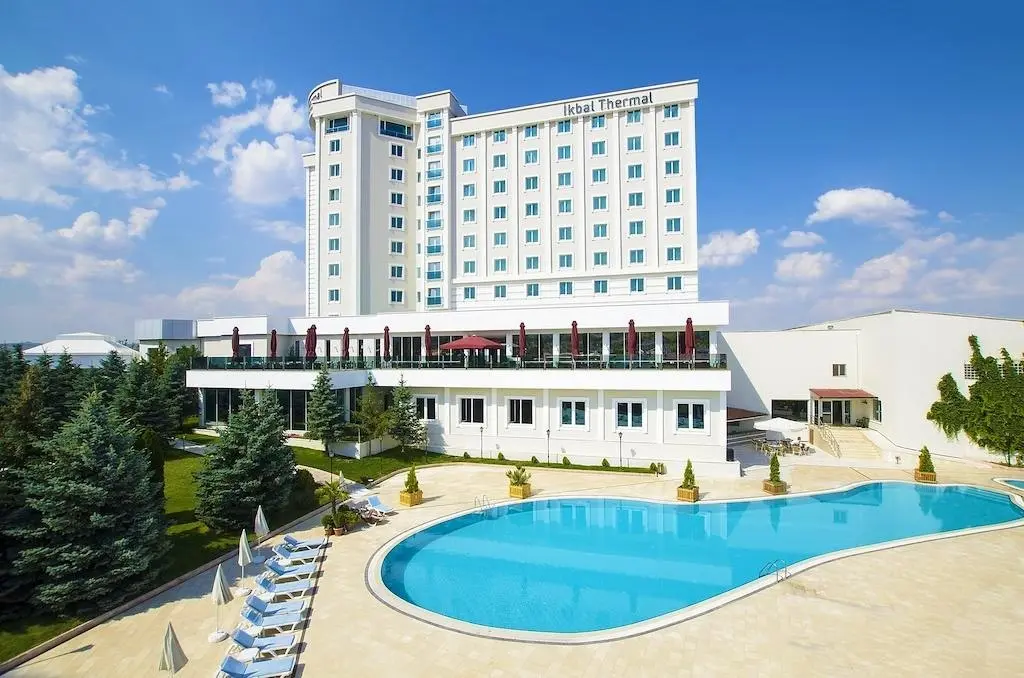 NG Afyon Wellness & Convention
An attractive thermal resort with extensive ladies-only facilities including indoor and outdoor pools and spa centre. It also boasts family pools, including one with waterslides, plus separate men-only and mixed spa centres.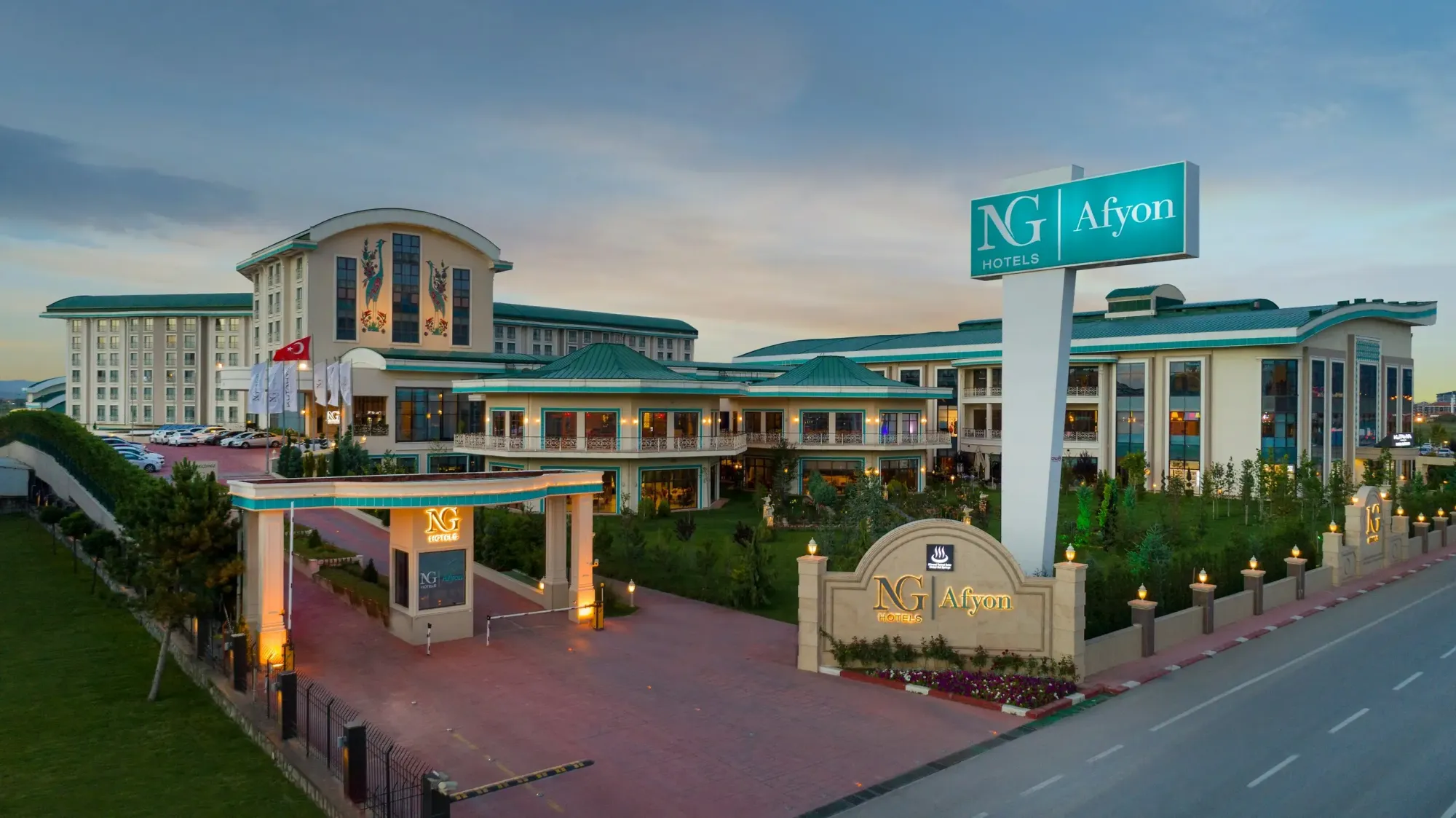 HalalBooking offers around 30 properties in Afyon to suit all tastes and budgets. Browse our full range of halal-friendly properties in Afyonkarahisar and use our halal filters to find the features you require.