Beautiful Agadir is Morocco's most popular beach resort, which is warm and sunny even in the midst of winter, offering an enticing escape all year round. Here are just some of the reasons why Agadir is so attractive for Muslim families and couples alike.
Year-round sunshine
Agadir is set in the south of Morocco, on its west coast, sheltered by high mountains. Average high temperatures in July and August are around 30°C, and over the winter it enjoys some of the mildest weather in the country. The average high temperature rarely falls below 22°C, even in the depths of winter, with an average of 7-9 hours of sunshine in the winter months, making it a great choice for a halal-friendly holiday all year round. The summer season stretches right into November, when the average high temperature is 25°C and the sea temperature is a warm 20°C.
Golden sandy beaches
Life in Agadir revolves around its vast sandy beach, which sweeps along the coastline for some 9 kilometres, with a palm-lined promenade, known as the Corniche, running alongside. It is a Blue Flag beach of golden sand, attracting beach-lovers from all around the world. There are many beachfront restaurants and cafes, serving tasty halal food. There are a wide variety of watersports taking place and sunbeds and shades are available for hire. It's not only buzzing during the day, but also in the evenings when the cafés come into their own and families stroll along the seafront promenade. It's a beautiful place to watch the sunset too!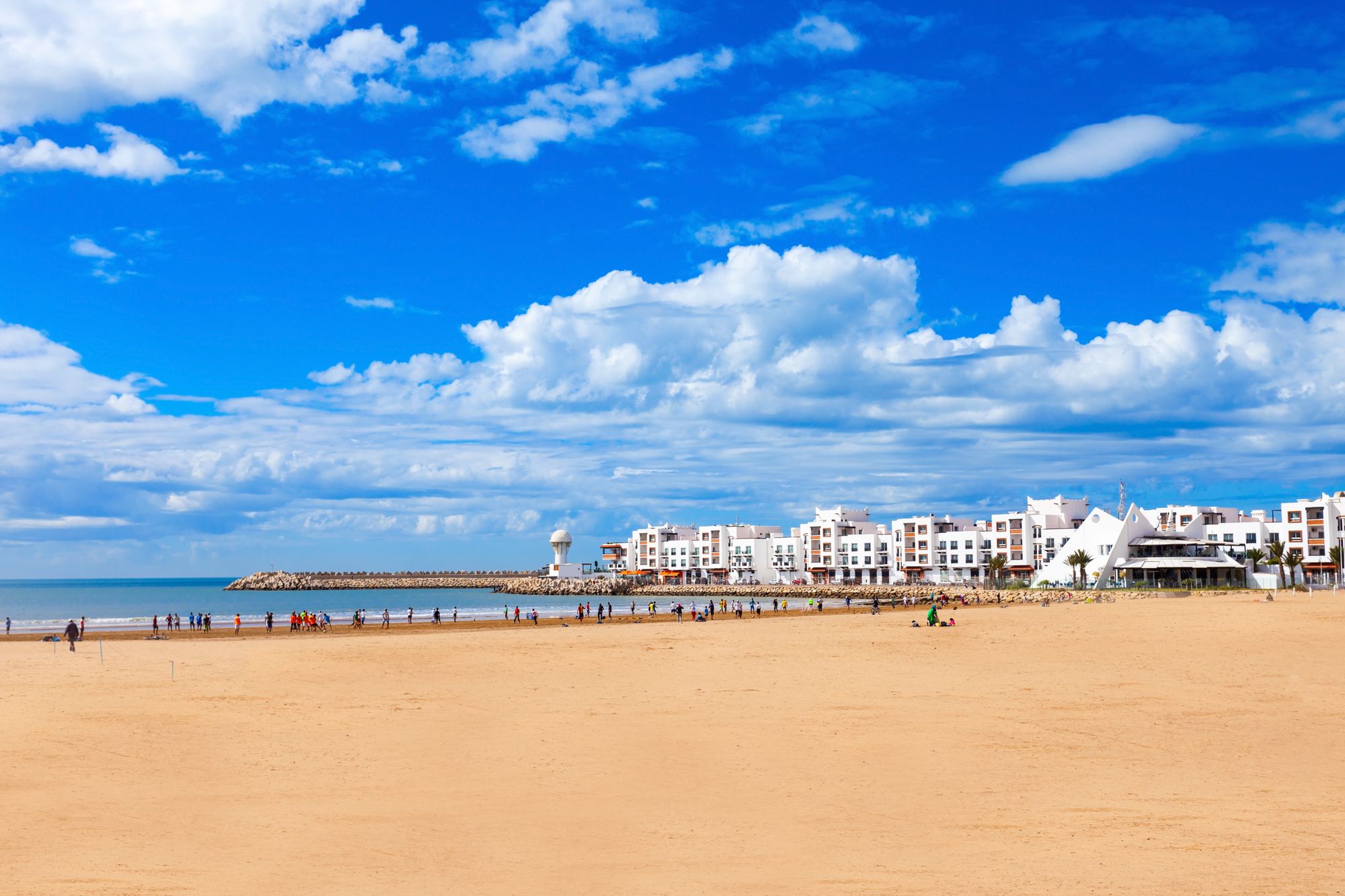 Just outside Agadir are the famous surf beach of Taghazout and Tamraght Beach, which is perfect for families with its shallow waters.
Shopping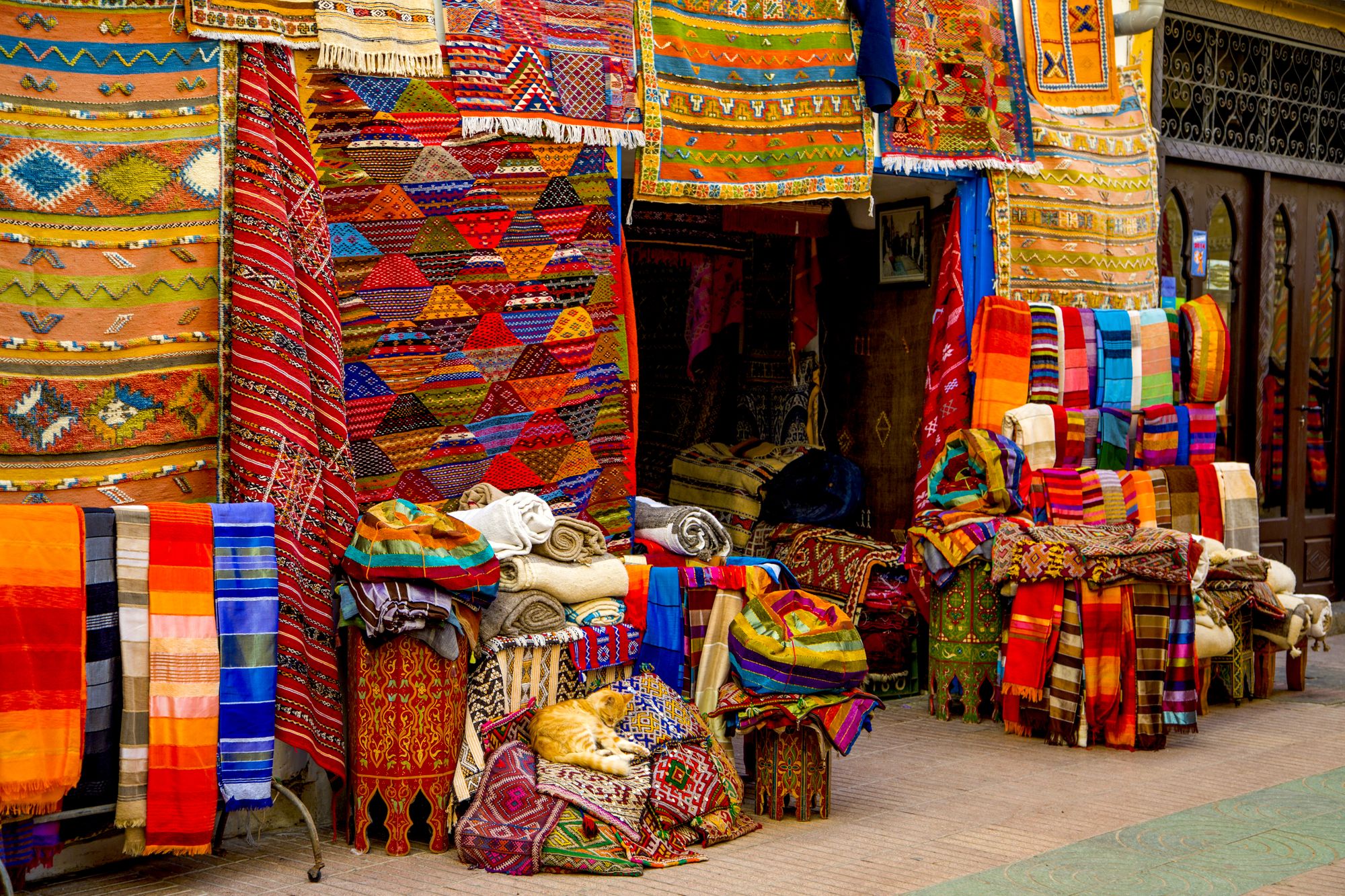 If you want to enjoy an authentic Moroccan shopping experience then you should definitely head to Souk El Had, where you will find over 6,000 stalls selling everything you could imagine - from fresh fruit and vegetables to spices, clothes, pottery and jewellery. It's a wonderful place to find some souvenirs to take back from your halal-friendly holiday or simply to soak up the atmosphere. It is open every day except for Mondays. 12 numbered gates lead into the souk and stalls tend to be grouped together with those selling similar goods, which makes it relatively easy to find your way around. Specialities of the region include argan oil and locally-grown saffron. If upmarket boutiques are more your thing then head to the modern marina - it's a lovely place to wander in the evening, and perhaps enjoy a mint tea or an ice cream.
Delicious Halal food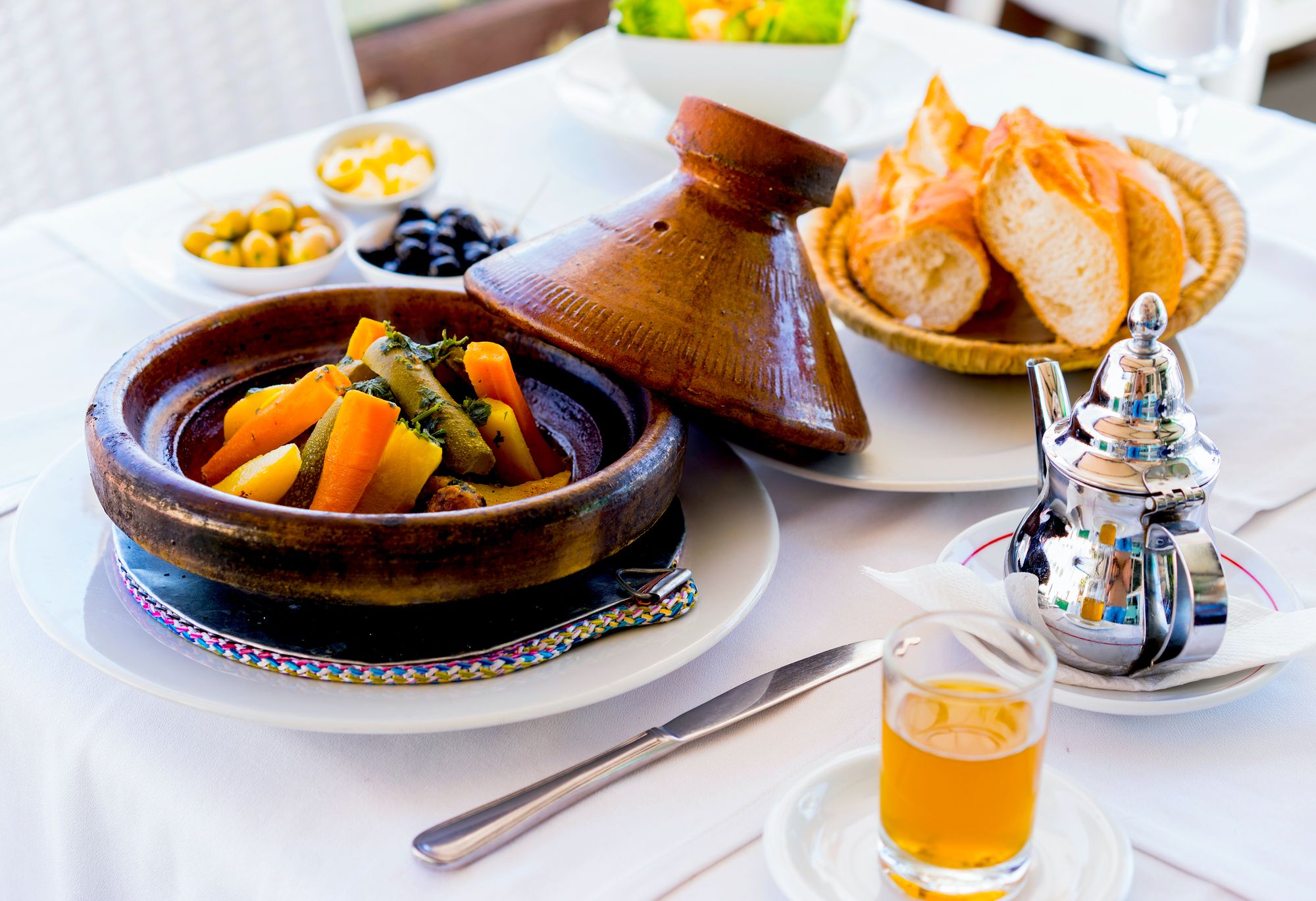 One of the biggest benefits of the cosmopolitan ambience in Agadir is the huge variety of international cuisine which is available - and all of it is halal. From pizza and pasta, to fast food burgers and Indian delicacies, Agadir can claim to offer the most diverse range of restaurants in Morocco. Due to its coastal location, there are some excellent fish and seafood restaurants in Agadir and, of course, there are also lots of places serving traditional Moroccan specialities such as couscous and tagines. Halal meat is available throughout and it is very easy to find alcohol-free restaurants and cafés.
History and Culture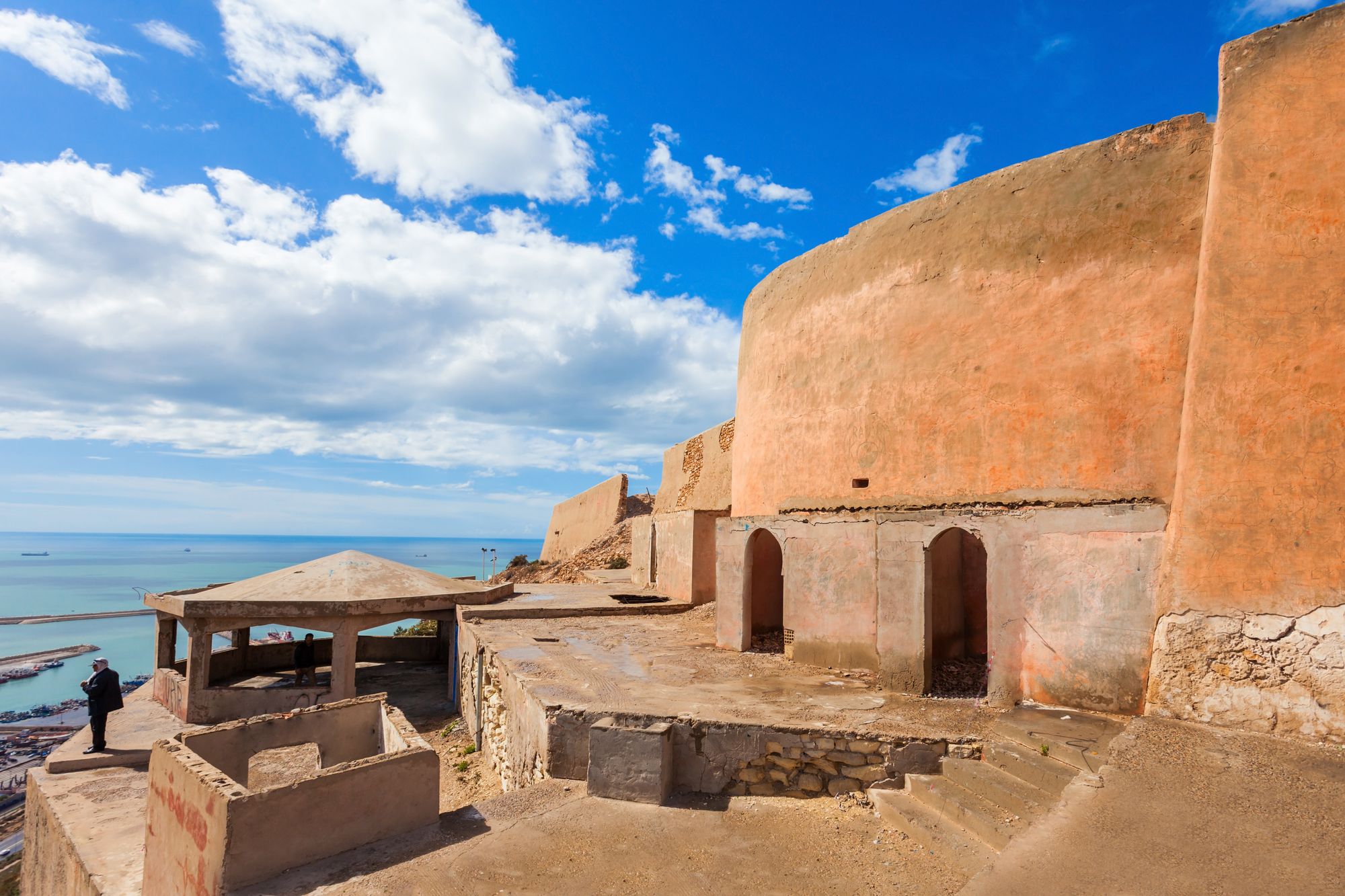 Unfortunately, not much remains of old Agadir, due to an earthquake which flattened much of the city in 1960. There is little left of the Kasbah Oufella, apart from its walls, but it still sits on a hilltop overlooking the modern city, and is worth visiting for the views alone.
If you want to get an idea of what the old city once looked like, then take a trip to La Nouvelle Medina Polizzi, an interesting site, which was built in the 1990s to recreate the medina, constructed using traditional Berber techniques. There are restaurants, workshops and shops there. You can also visit the Museum Municipal du Patrimoine Amazigh to find out more about the local history of the area.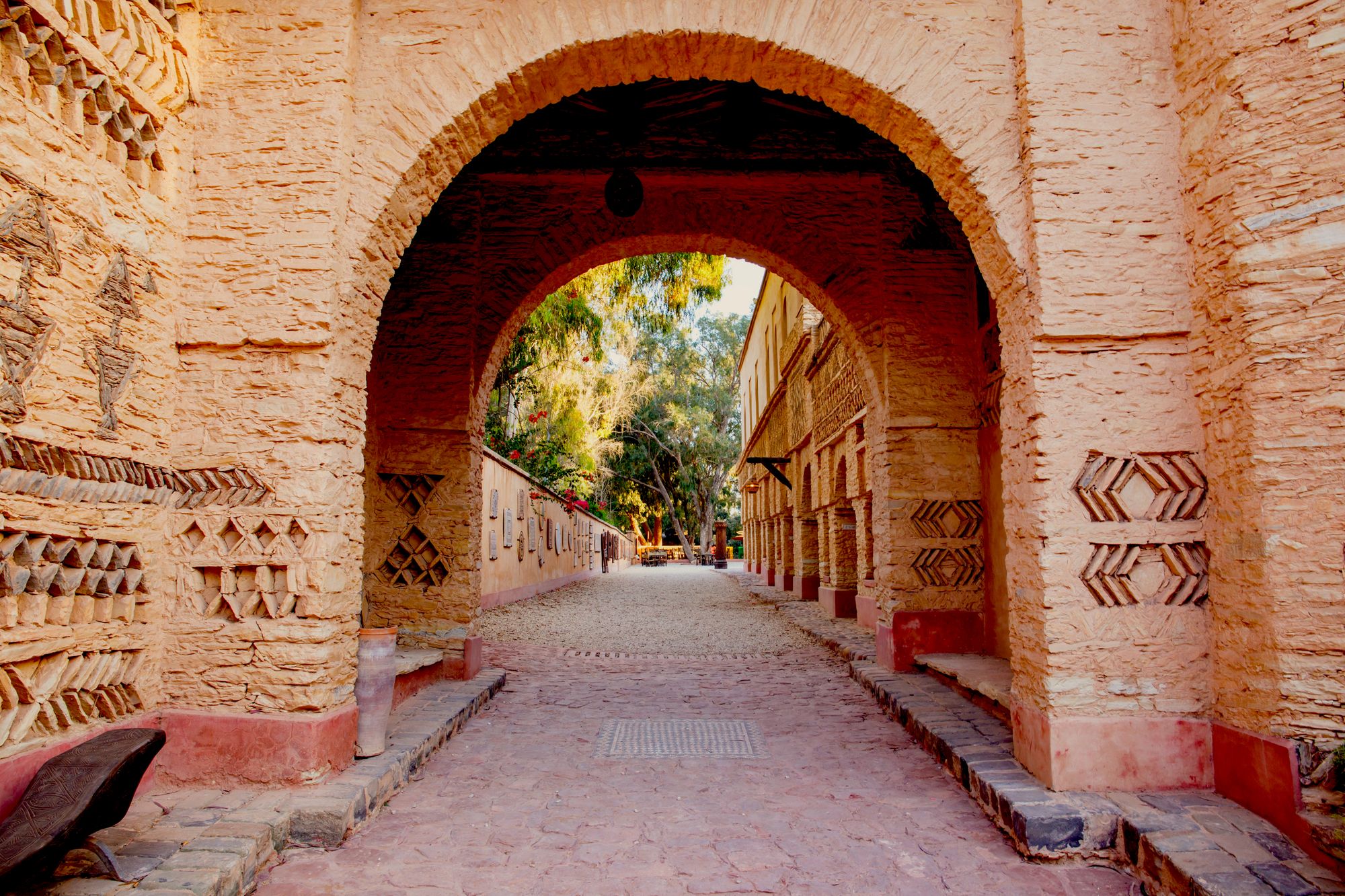 Natural Landscape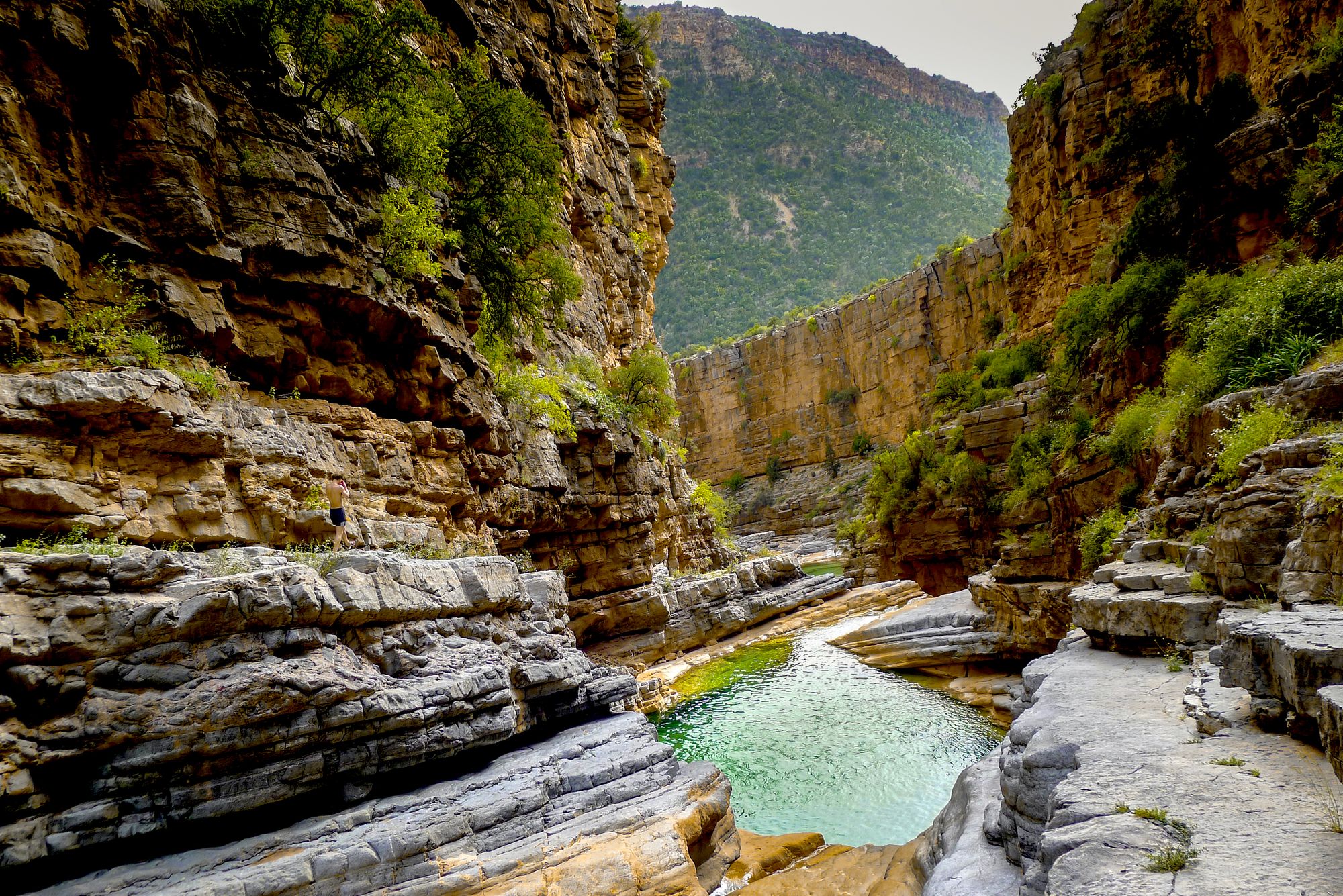 Take a day trip away from the coast and visit the beautiful Paradise Valley in the foothills of the Atlas Mountains. Hike through limestone gorges, past traditional villages, alongside rivers, and admire the stunning Imouzzer waterfall. Further south is the National Park of Sous-massa, which is a wonderful place for bird-watching, situated around the Sous-massa river estuary - drive or take an organised excursion from Agadir. Make sure you include a stop-off at the traditional fishing village of Tifnit.
Family-friendly entertainment
Obviously, the beach is a big attraction for families visiting Agadir - it is a 6 mile long (over 9kms) stretch of wide, golden sand. One of the more unusual aspects of a visit to the beach, is that it's a great place to enjoy a camel ride.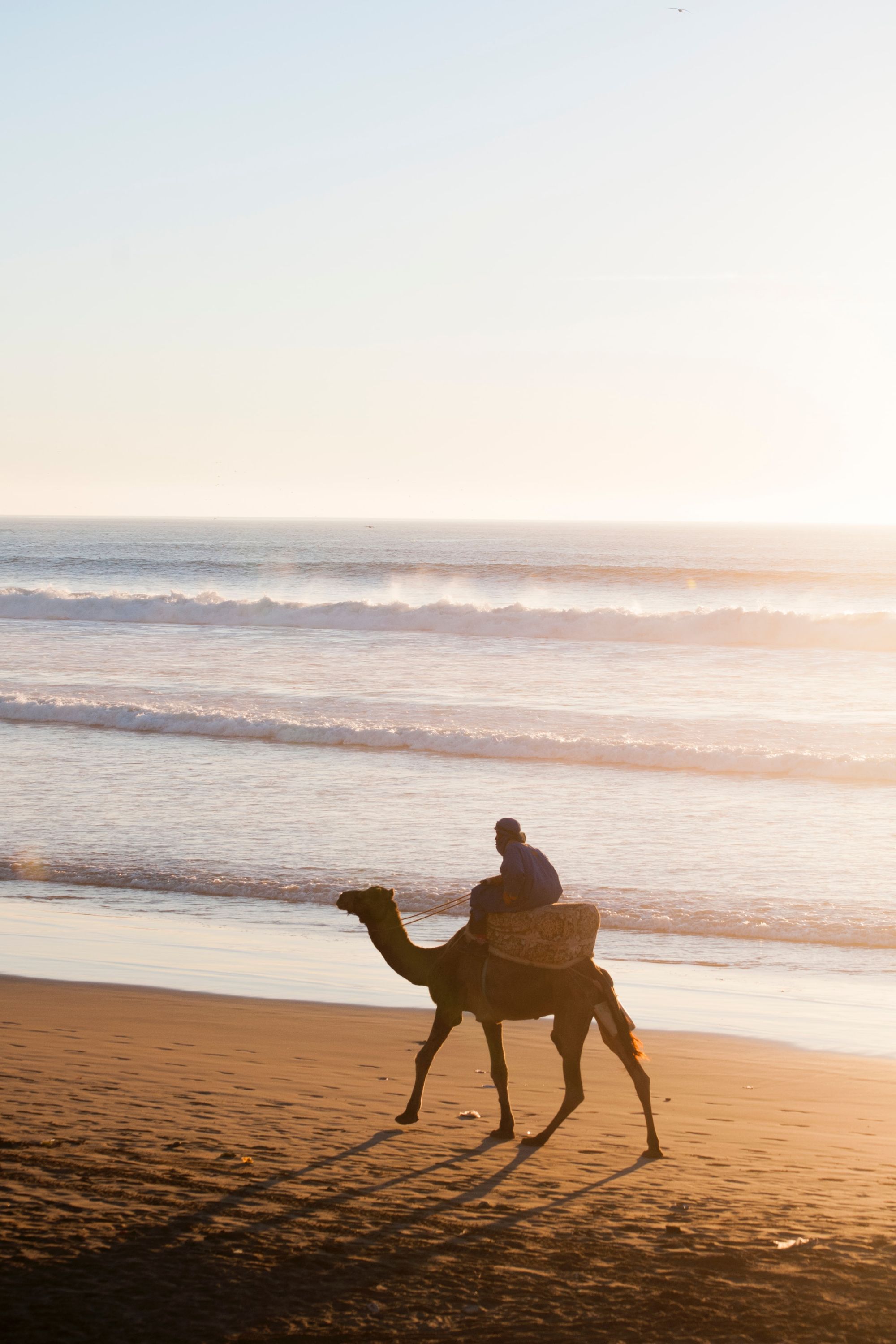 Alternatively, you could enjoy horse-riding along the beautiful sand - there is nothing more romantic than riding along the beach at sunset with your partner.  There's also a big wheel in a funfair area, close to the beach, 'La Grande Roue d'Agadir' which children will enjoy - it's open in the late afternoon and evening. One of the top family days out in Agadir is a visit to Crocoparc, which is a unique day out. See not only crocodiles but also iguanas, turtles and snakes. Don't miss feeding time!  Nature-lovers will also enjoy a visit to the Vallée des Oiseaux, where you can see a diverse array of exotic birds including parrots and flamingos, as well as ducks, geese, and some animals such as goats.
Where to stay in Agadir
HalalBooking offers a good selection of halal-friendly accommodation in and around Agadir. Choose from hotels and apart-hotels, according to your requirements. These include alcohol-free hotels serving only halal food such as Palais des Roses - which is rated 'very good' by HalalBooking guests - and Residence Yasmina which has a 'good' rating.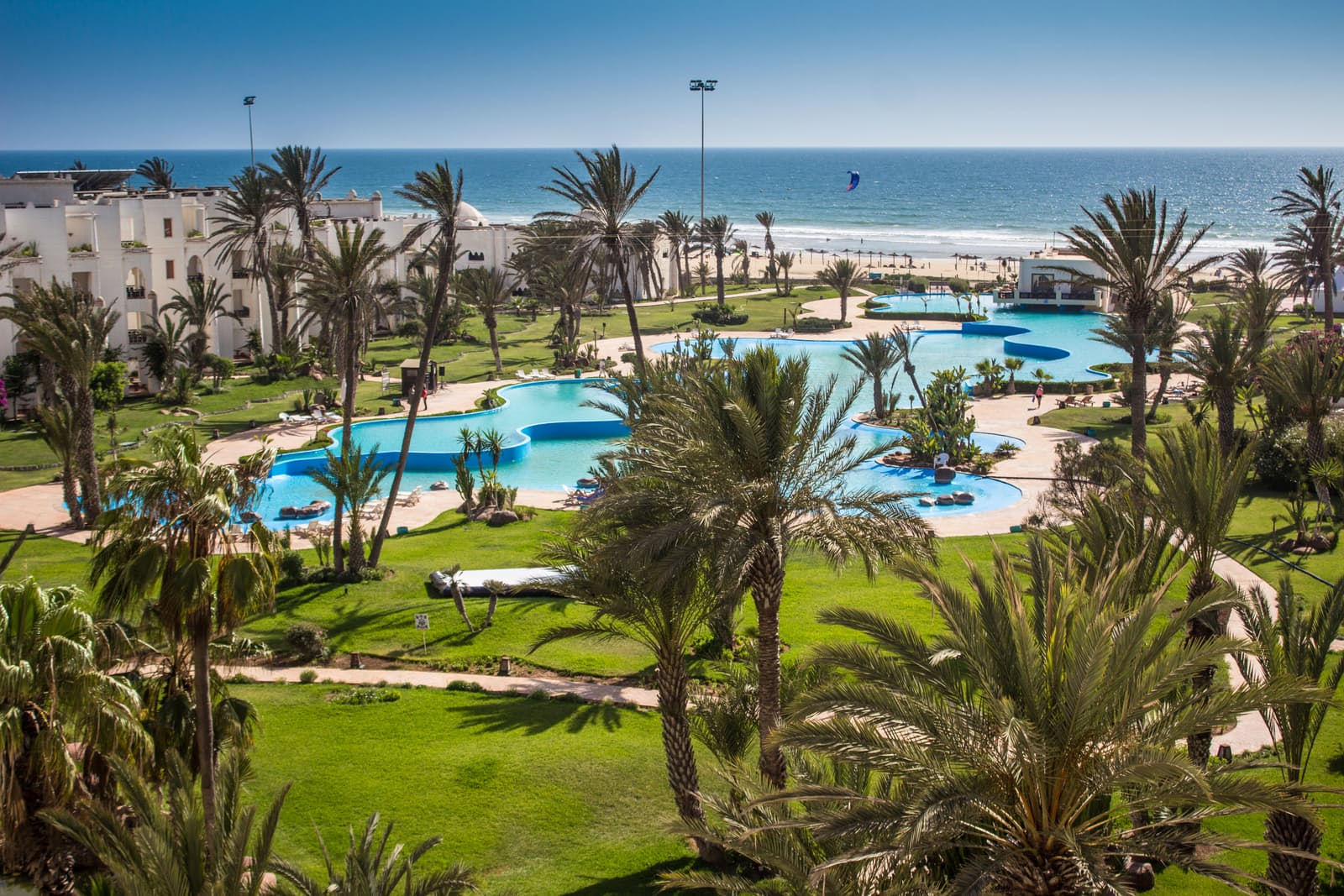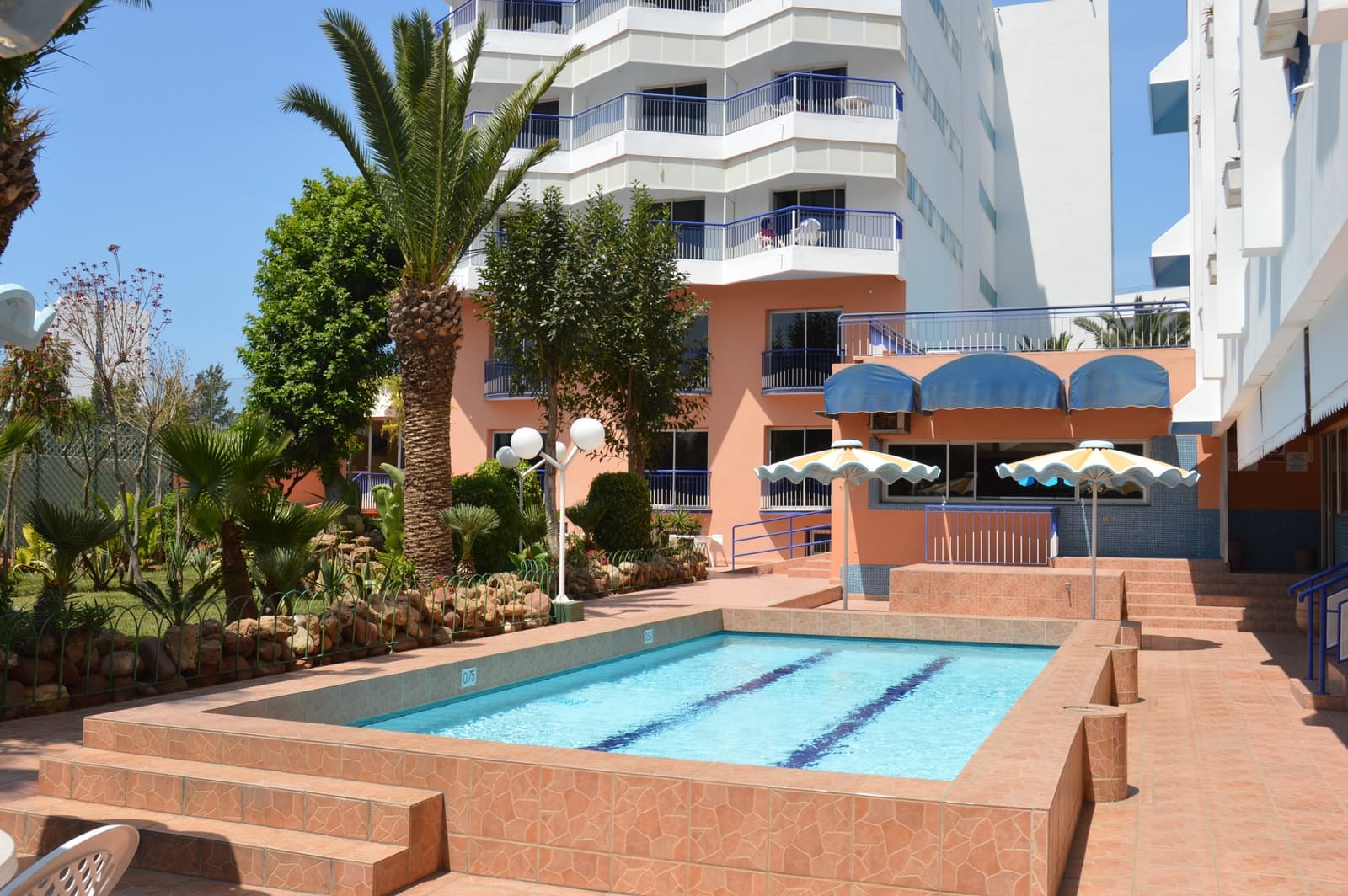 One of the best choices, however, is undoubtedly the Atlantica Parc Lodge, which is an alcohol-free resort, set on the coast in Imi Ouaddar around 30 kms north of Agadir. It's ideal for families with children and the modern 2 or 3-bedroom chalets and mobile homes offer flexible accommodation comfortably sleeping 6 adults. It offers great value for money with a host of amenities on site. Its popular aqua park is open from April to October and boasts lots of fun slides as well as a dedicated women-only area, which is completely private and not overlooked in any way.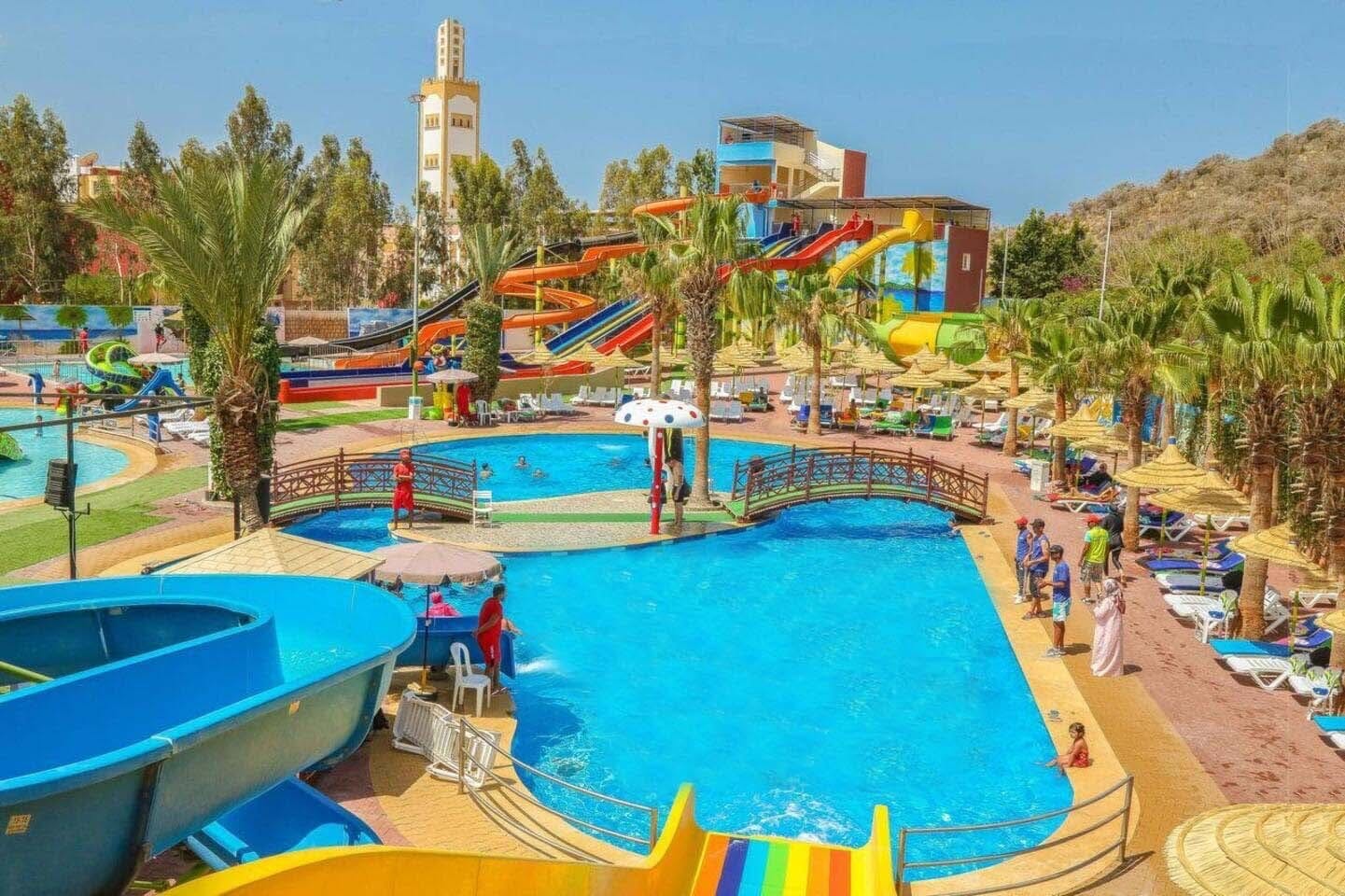 The women-only area includes an indoor pool and sunbathing area as well as a brand-new women-only aquapark with fantastic slides, two swimming pools and a kids' pool.  Atlantica Parc Lodge's beach is vast and much calmer than the beaches closer to central Agadir. It is ideal for families who would prefer to escape from the hustle and bustle of other, more cosmopolitan beaches and enjoy a more family-friendly environment.
Atlantica Parc Beach accommodation is in chalet-style mobile homes by the sea. It is part of the Atlantica Parc Lodge complex, a club hotel close to the beach. Atlantica Parc Beach guests have free access to the water park and the dedicated women-only pools at the Parc Lodge site.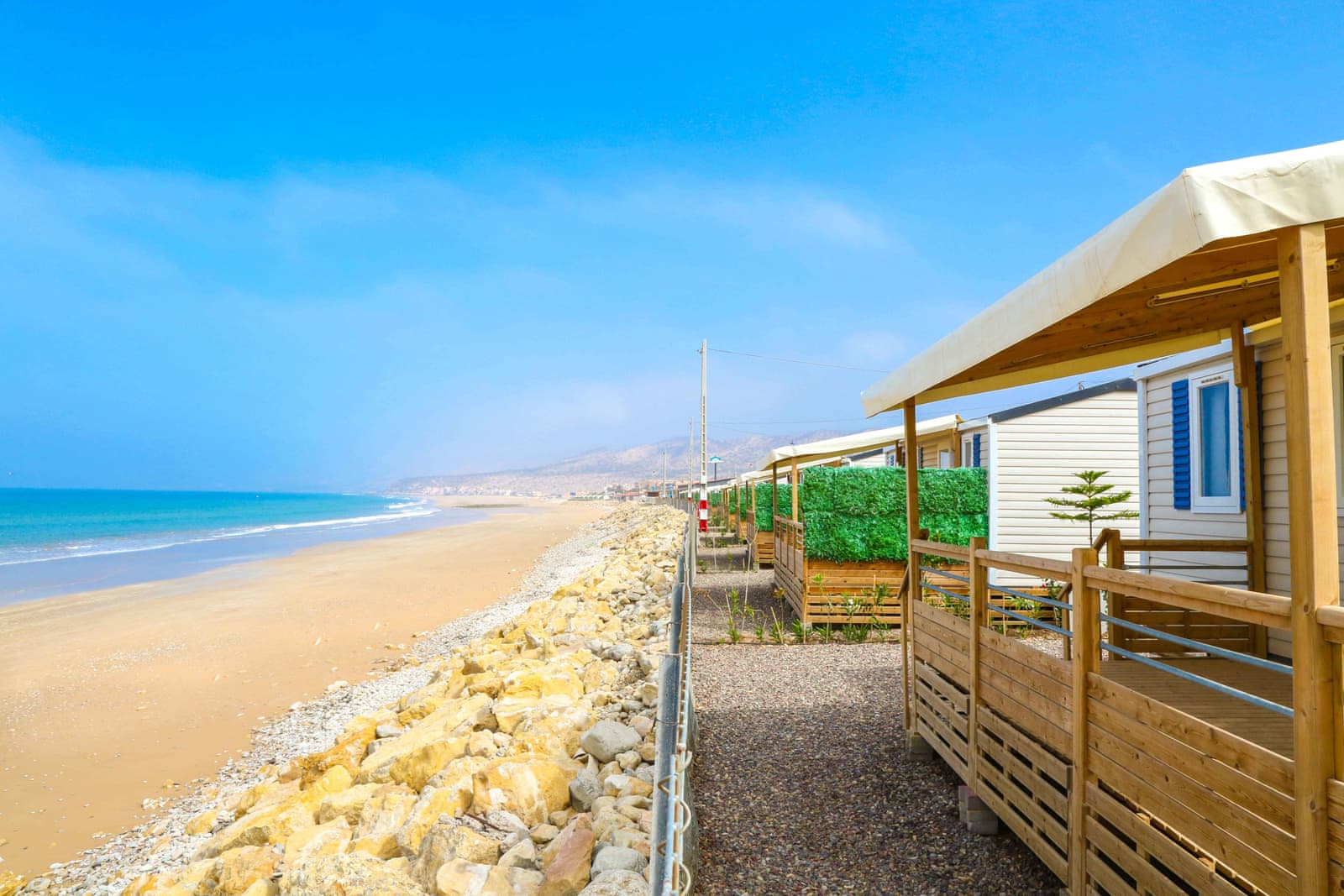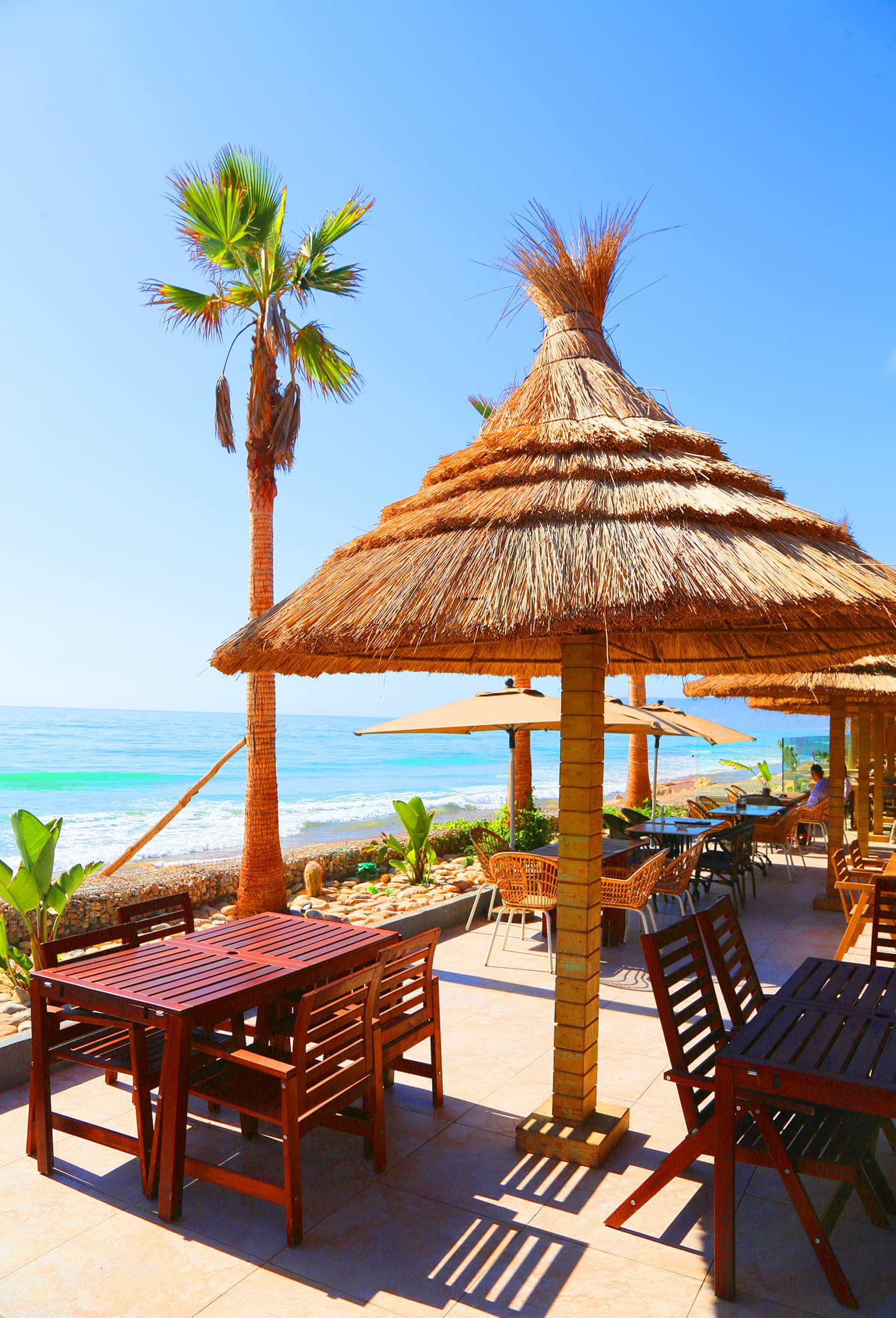 How to get to Agadir
Agadir has its own international airport serving many European cities with scheduled or charter flights. It is also possible to travel the 260 kms from Marrakech by bus or taxi and there are good road links with other Morrocan centres. Alternatively, you could choose to hire a car from Marrakech airport and drive to Agadir. The road between Marrakech and Agadir is a very modern and safe dual carriageway.