​​Road trips with HalalBooking: Discover the Islamic Heritage of Andalusia
Embark on an incredible road trip through Spain's Andalusia region and discover wonderful cities with its rich Islamic heritage. Experience the historic streets of Granada with its stunning Alhambra Palace, the hypnotising Mezquita de Córdoba or the beautiful Royal Alcázar of Seville. Tour this glorious region at your own pace by car and absorb 800 years of impressive Islamic history and architecture during what was considered a golden age for innovation in technology and science.
Itinerary
This route takes you through all the historical sites and is a comprehensive tour of Islamic Andalusia:
Granada -> Cordoba: 201 km - driving time approx. 2 hours 20 minutes
Cordoba -> Marbella: 217 km - approximate driving time of 2 hours 17 minutes
Marbella -> Ronda: 63 km - driving time approx. 1 hour 6 minutes
Ronda -> Seville: 133 km - driving time approx. 1 hour 50 minutes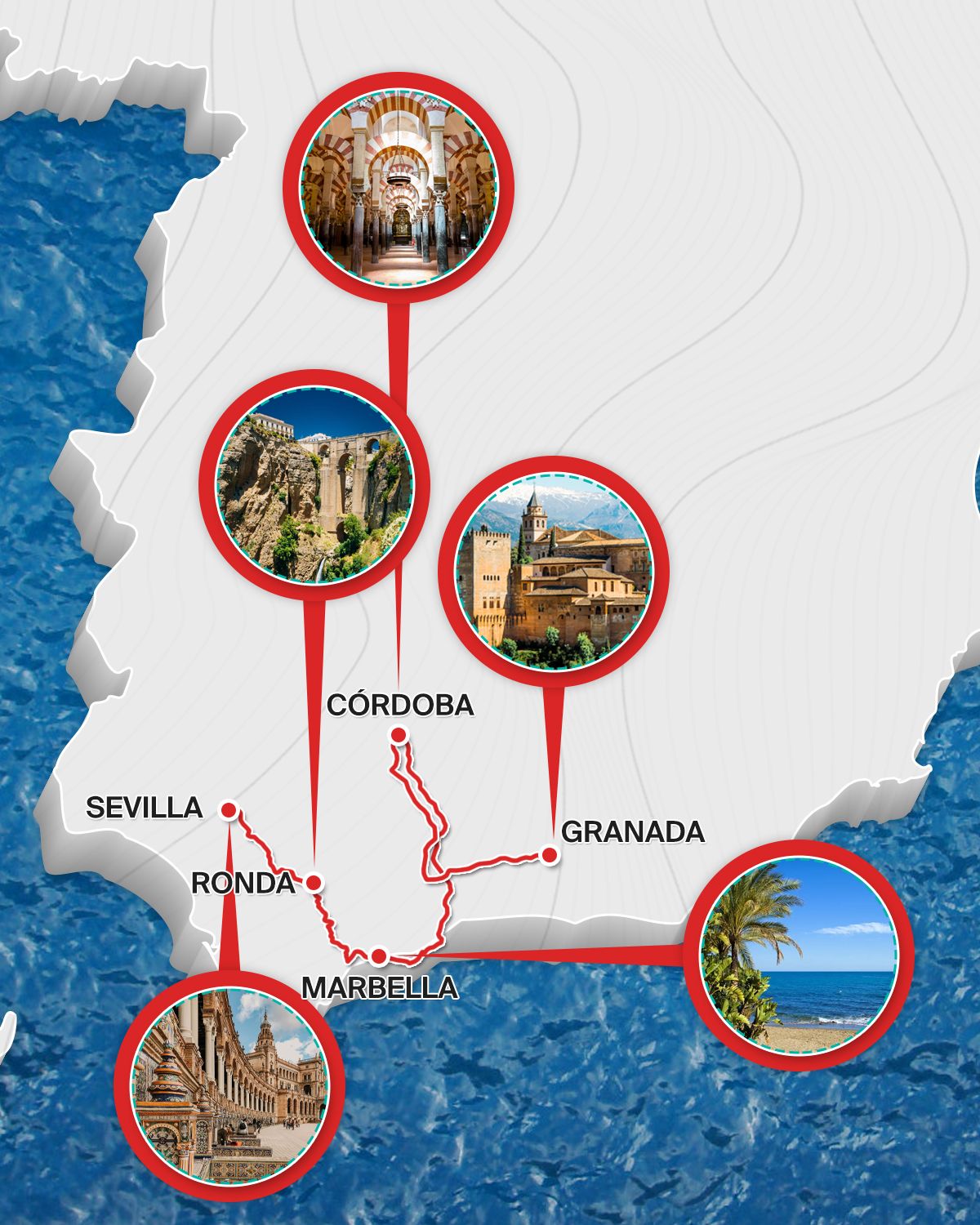 The history of Andalusia
For those who may not know, Andalusia is an autonomous region known for its bounty of rolling hills and streaming rivers in the South of Spain. This legendary land has a rich historic legacy, with its flare of Spanish and Moorish cultures intertwined, and the beautiful landscapes have given birth to artists such as the iconic Picasso. The term 'Moors' was loosely used to describe Muslims from the Middle East and North Africa. With what the Spanish often refer to as 'the Moorish occupation' lasting over 700 years, the land of Andalusia was transformed from a poor land to an area flourishing in astronomy, poetry, architecture, medicine, philosophy and more. Considered the 'Golden Age of Islam', this period transformed Al-Andalus into a beacon for economic and cultural learning and a progressive land full of technology that was unparalleled elsewhere such as streetlights, libraries, sewage systems and arts. Whilst the Islamic rule fell at around 1492 and Spain underwent a mini transformation, the relics and legacy of the Muslim rule can be seen in the landmarks and architecture of the cities. The Muslim influence can still be felt in the tranquil atmosphere of the cobbled streets which are much akin to neighbouring Morocco.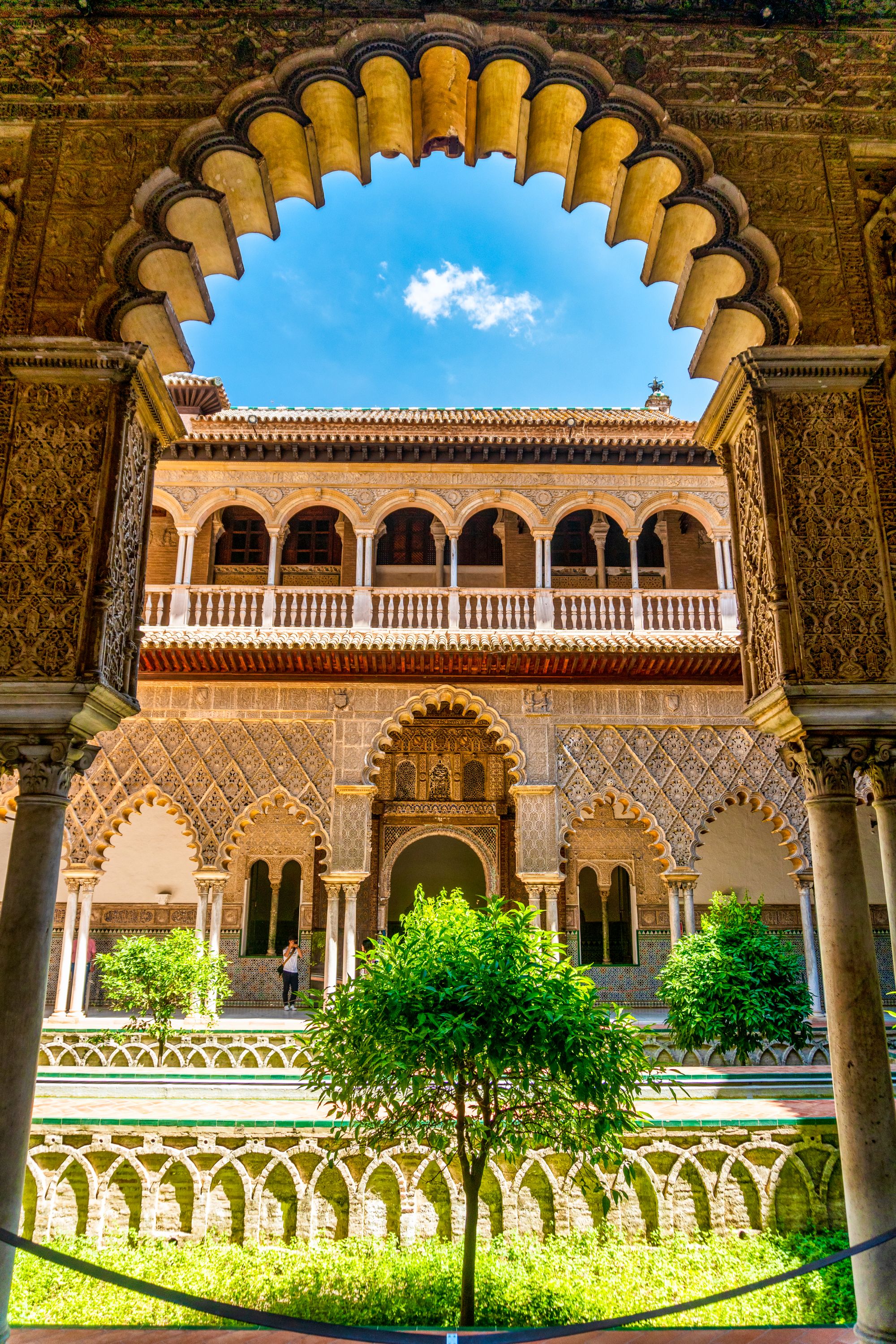 Why visit Andalusia?
Whilst we are focusing on the main cities of Al-Andalusia (Granada, Ronda, Seville, Cordoba and Marbella), there are many more beautiful sites to explore. The road trip can be enjoyed by all types of travellers, including friends, families and couples. It is the perfect opportunity to have a city break, and find yourselves immersed within an area full of culture and history which will both inspire you and increase your knowledge of the important impact Islam had in Europe.
A halal-friendly holiday is ever present in Andalusia with the selection of halal food and prayer spaces - satisfy your cravings with organic seasonal foods, fresh orange juice, Mediterranean diets, and Middle Eastern desserts cooked freshly.
When is the best time to visit?
The good thing about Andalusia is that there is sunshine all year round, which all of us from the UK can appreciate. Whilst the summer holidays are a popular time for families, July and August may be too warm for some, with temperatures reaching up to 40°C. However, spring and autumn present a milder climate with an average temperature of 16°C and fewer crowds, so you will get the beauty and colours of Andalusia to appreciate yourselves.
How to get around in Andalusia?
The main international airport of the region is Malaga Airport. From here, you can choose to travel via public transport; bus or train. For a holiday on a budget, buses are the cheapest way to get around. However, if you are a larger group, or would like a more flexible itinerary, we suggest renting a car to stop you being restricted in where you go and bring a more road-trip vibe with the beautiful scenery. There are many car rental companies online which you can book in advance or at the airport. Driving from Malaga Airport to Granada takes approximately 1 hour and 25 minutes.
TIP: Plan your trip in advance if possible, if you are planning to travel a lot, be sure to book a car with unlimited miles, to avoid any excess charges.
To start off with, we begin with the charming historic city of Granada. The aura of this magnificent city with the stunning Sierra Nevada mountains as the backdrop is unbeatable. You will find yourself enchanted by the sounds of street life and the graphic art murals. During nearly 250 years of Nasrid rule, the city became a centre of economic prosperity, cultural influence and intellectual development, enjoying an Islamic heritage that is evident everywhere: from the Alhambra Palace that overlooks the city, to the spicy aromas coming from street stalls and the teterías (teahouses) of the Albayzín, the historic Arab quarter.
Attractions in Granada
Perhaps the most popular attraction in Andalusia is the Alhambra Palace in Granada, standing tall upon a cliff, overlooking the whole city below. The gateway to the life of Spanish Moorish Rule, this palace was once the setting of the opulent lives of the Emirs and with the Generalife Gardens, you can walk in their footsteps in the ancient courtyards.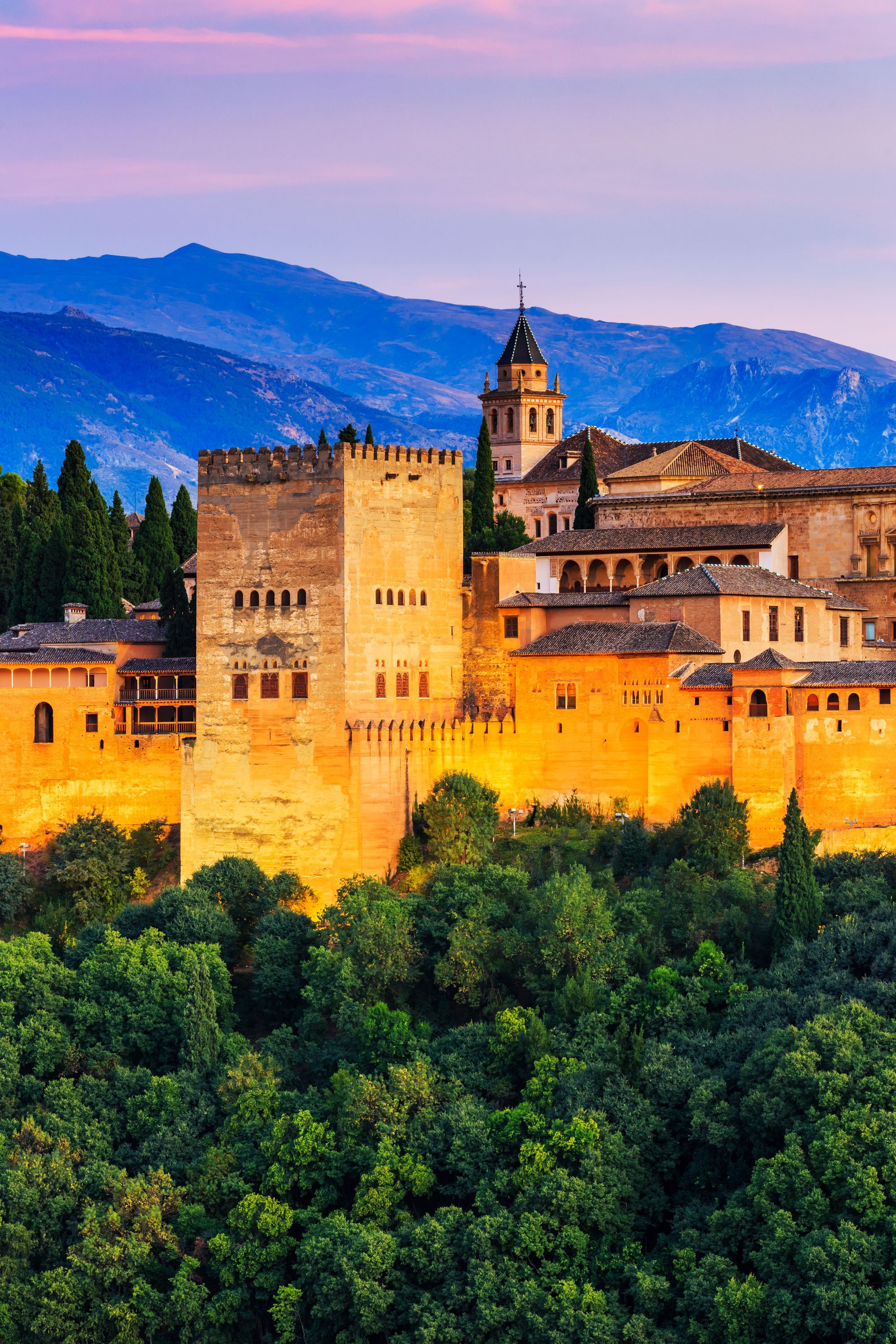 Visit the Cathedral and Chapel of Granada to see where the Kings who brought the fall of the Moorish rule in Spain, once spent their time and now lie. Explore the ancient baths of Hammam Al Andalus, traditional Turkish baths with spa packages and El Bañuelo, which are the remains of an 11th century bath. Collect trinkets and souvenirs for your loved ones at the bustling market Alcaicería and get a feel of the locals. Finish your day at the Mirador San Nicolas, and watch the sunset on this hilltop with a bustling and aesthetic view of the city.
TIP: Buy tickets for many of the beautiful attractions such as the Alhambra, beforehand to save time in the queue and to ensure they don't sell out.
Granada for the halal-conscious traveller
There are mosques in Granada where you can pray mostly in the area of Albaicín, including the grand Mezquita de Granada, which reopened in 2003 as an official mosque hosting the five daily prayers. There are also exhibitions and classes about the legacy of Islam in Spain, for everyone to attend. In Albaicín, you will also find halal food, as it is predominantly Muslim.
Discover all our halal-friendly properties in Granada.
The next stop on your journey takes you to Cordoba, which is approximately 2 hours and 20 minutes drive from Granada.
Undoubtedly the focal point and capital of Muslim Spain, the charm of Córdoba can only be experienced at first hand walking along the mediaeval streets and seeking refuge from the sun under the tall Mediterranean greenery. Muslim rulers built countless libraries, schools and universities in Cordoba, leaving the city with a Islamic ancient heritage. Many centuries later, Córdoba is considered one of Europe's intellectual hubs. The city is known for the Mezquita, the mosque-cathedral with its many arches that seemingly go on for many distances. Cordoba also has golden stone buildings with iron balconies, a plethora of halal restaurants, and cultural depth.
Attractions in Cordoba
The mesmerising Mosque-Cathedral (Mezquita) of Cordoba is one of the greatest buildings left today symbolising the sophistication of the Islamic rule within Spain. It was built when Córdoba was capital of Islamic Spain and western Europe's biggest, most cultured city. The ornate architecture will leave you enchanted. Combine this with a visit to the Alcazar of the Christian Monarchs, a palace with an elaborate garden. Take a walk along the Roman Bridge to get an amazing view of the shimmering waters, and finish off your visit at the ancient buildings of the renaissance Palacio de Viana and the Roman ruins of the Templo Romano.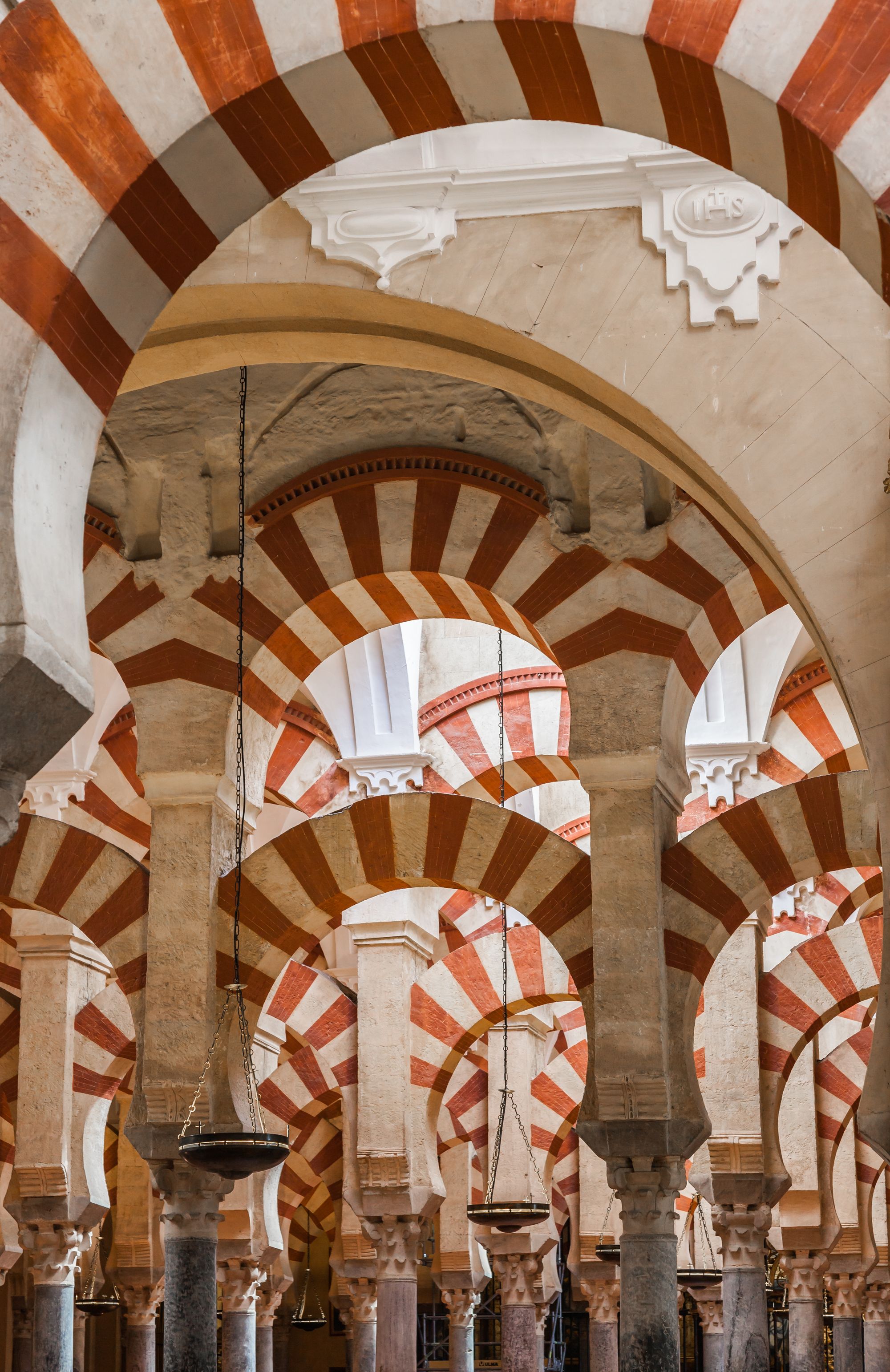 Cordoba for the halal-conscious traveller
Córdoba offers a Muslim-friendly city break with a handful of halal restaurants and takeaways mainly with Middle Eastern cuisine. There are also three functioning mosques to pray in and fulfil your daily prayers.
Discover all our halal-friendly properties in Cordoba.
Your next stop is Marbella – a 217 km drive from Cordoba, taking around 2 hours and 17 minutes.
The coastal city of Marbella is known for its azure seafront and beach resorts. Not too far from Malaga, the city boasts a coastline of 27 kilometres with a magnificent mountainous backdrop - all the scenery you dream of in one area. Its Arabic heritage can be seen in the whitewashed Old Town (Casco Antiguo), partially framed by 10th-century Moorish castle walls. Narrow streets meander past flower-strewn balconies and on through shady squares with orange trees, fountains and lively cafes.
Attractions in Marbella
Begin your visit with an early morning walk on the tranquil Puerto Banús beach, which has a café for refreshments. Then, explore the Castillo Sohail, built by one of the Emirs of Córdoba in 956 AD. This fortress is a symbol of Marbella and has been destroyed and rebuilt many times throughout history. There is even a little museum inside which you can enjoy with the beautiful coastal views. Take a trip to the Plaza de los Naranjos, the city centre bustling with cafes and shops and visit the promenade of Paseo Marítimo for scenic views. For adventure lovers, we recommend visiting the Guadalmina River where you can find activities such as canoeing, golfing and hiking and watch the sunset at this aesthetic scene.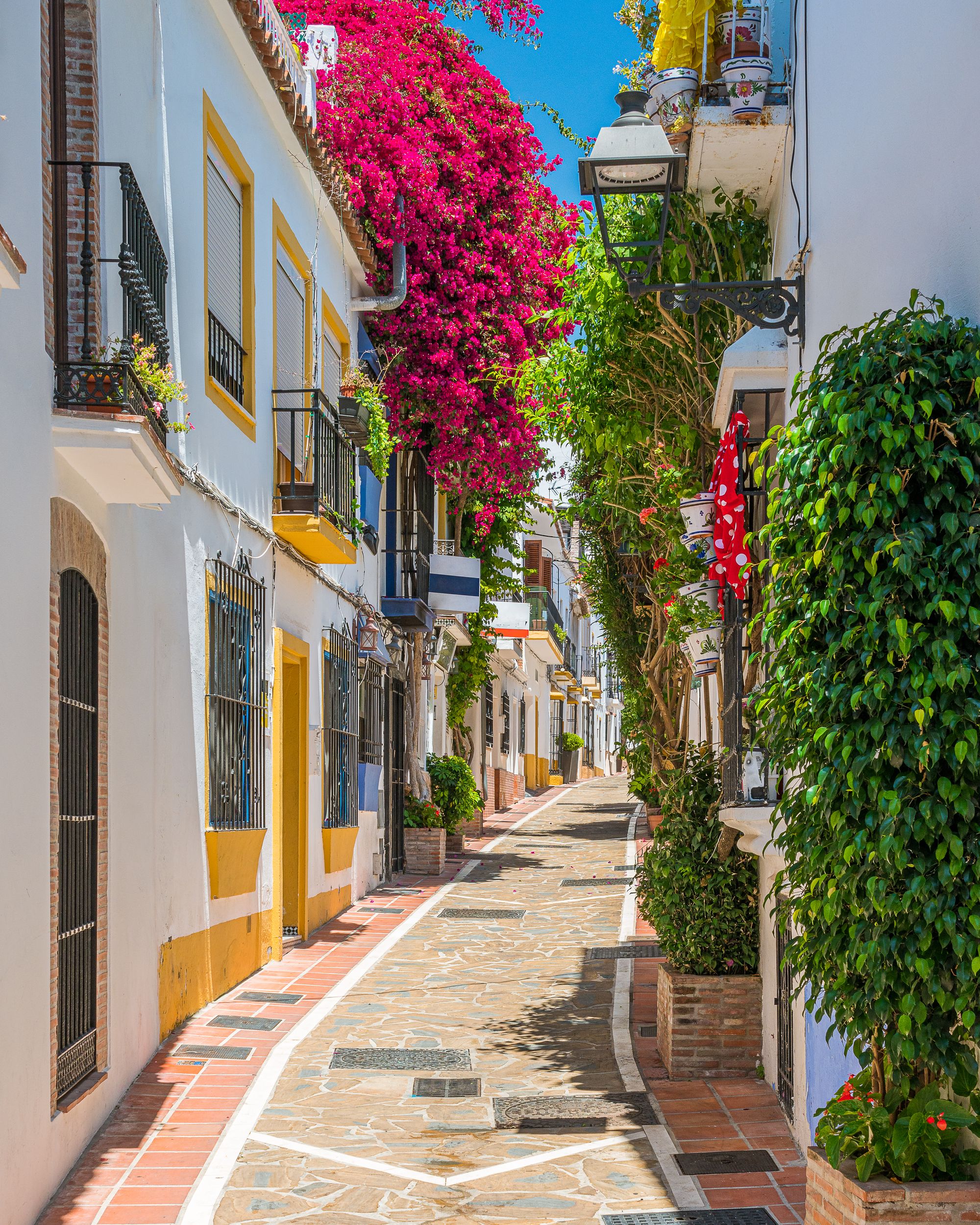 Marbella for the halal-conscious traveller
There are a few halal restaurants dotted about Marbella offering different cuisines including Middle Eastern, Indian and even a halal burger place. The mosque of Marbella, King Abdul Aziz Mosque, is one of Spain's first mosques built in modern times. With its whitewashed walls and striking architecture, it not only serves as a prayer facility but also offers magnificent views. Apart from that one, there are no other mosques in Marbella but there are many serene beaches to pray on.
Discover all our halal-friendly properties in Marbella.
From Marbella your next stop is Ronda, a journey that takes around 1 hour and 6 minutes.
The amazing city of Ronda is something out of an action film - perched upon the El Tajo Gorge, the dramatic landscapes exude excitement and adventure. The city is divided into three areas: the old Arab Medina, the neighbourhood of San Francisco, separated by city walls, and the Mercadillo neighbourhood, which is on the other side of the Guadalevín river. A strong Arab presence can still clearly be seen in the appearance and layout of the city, which many believe is the best conserved in all Andalusia.
Attractions in Ronda
The most famous attraction of Ronda is the Puente Nuevo, a magnificent historic bridge built in the 1700s between the two sides of the city and is an amazing sight to see. Whilst in the city, take a tour of the 18th century Bullring of the Royal Cavalry and its museum. Although bullfights do not officially take place here as frequently as in the urbanized areas such as Seville, there is a fight every year in the second week of September to honour a legendary bullfighter from Ronda in the 18th century. Take a walk along the historic steps of the preserved Arab Baths and visit the Minaret of San Sebastián - once a mosque, it is the only building in Ronda left from the Muslim rule.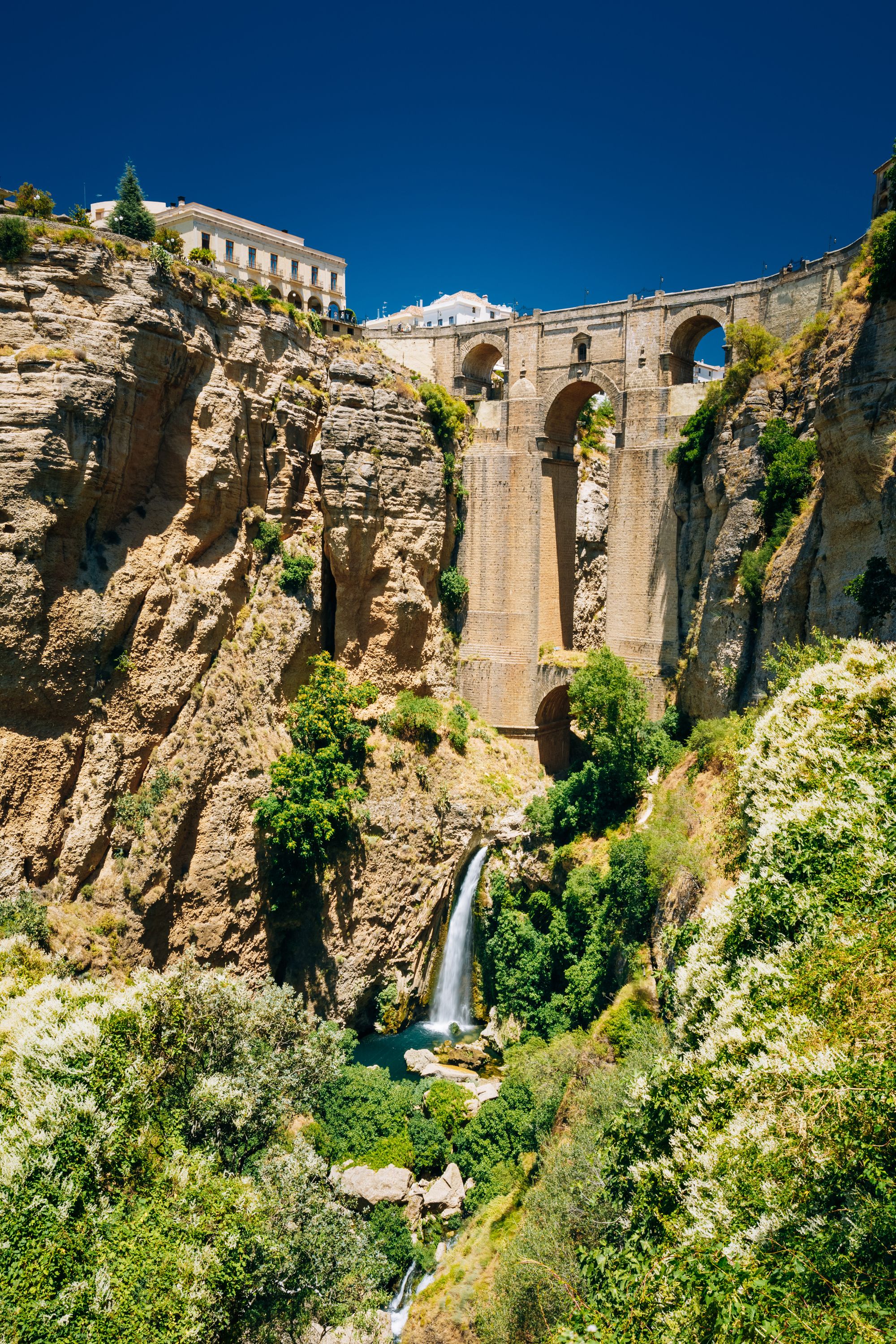 Ronda for the halal-conscious traveller
None of the mosques of Ronda survived the conquest, and today, there are no Muslim prayer facilities, which means that you will have to bring a travel mat. Fortunately, there are a few halal food options, mainly takeaways, to ensure you stay satisfied.
Discover all our halal-friendly properties in Ronda.
From Ronda to your final destination, Seville, it takes approximately 1 hour and 50 minutes, 133 km.
Finally, we finish off with Sevilla or Seville, the largest city and the capital of Andalusia, one of the most charming destinations in Spain. Moorish landmarks and Gothic architecture make Seville's enchanting streets full of intrigue ready to be explored. This monumental city offers lively streets and large open spaces. The splendour of its monuments is evident in La Giralda, an icon of the city with a fantastic viewpoint.
Attractions in Sevilla
Go back in time through the beautiful complex of the Royal Alcázar of Seville, an ancient Moorish palace built during the Almohad dynasty. Visit the Catedral de Sevilla with its tall and looming bell tower and Gothic structure to excite all. Finish off with an evening on the Plaza de España, known as the "Venice of Seville". This landmark of intertwined Moorish and Renaissance architecture has fresh ice creams, bikes and even boats to row along the canal.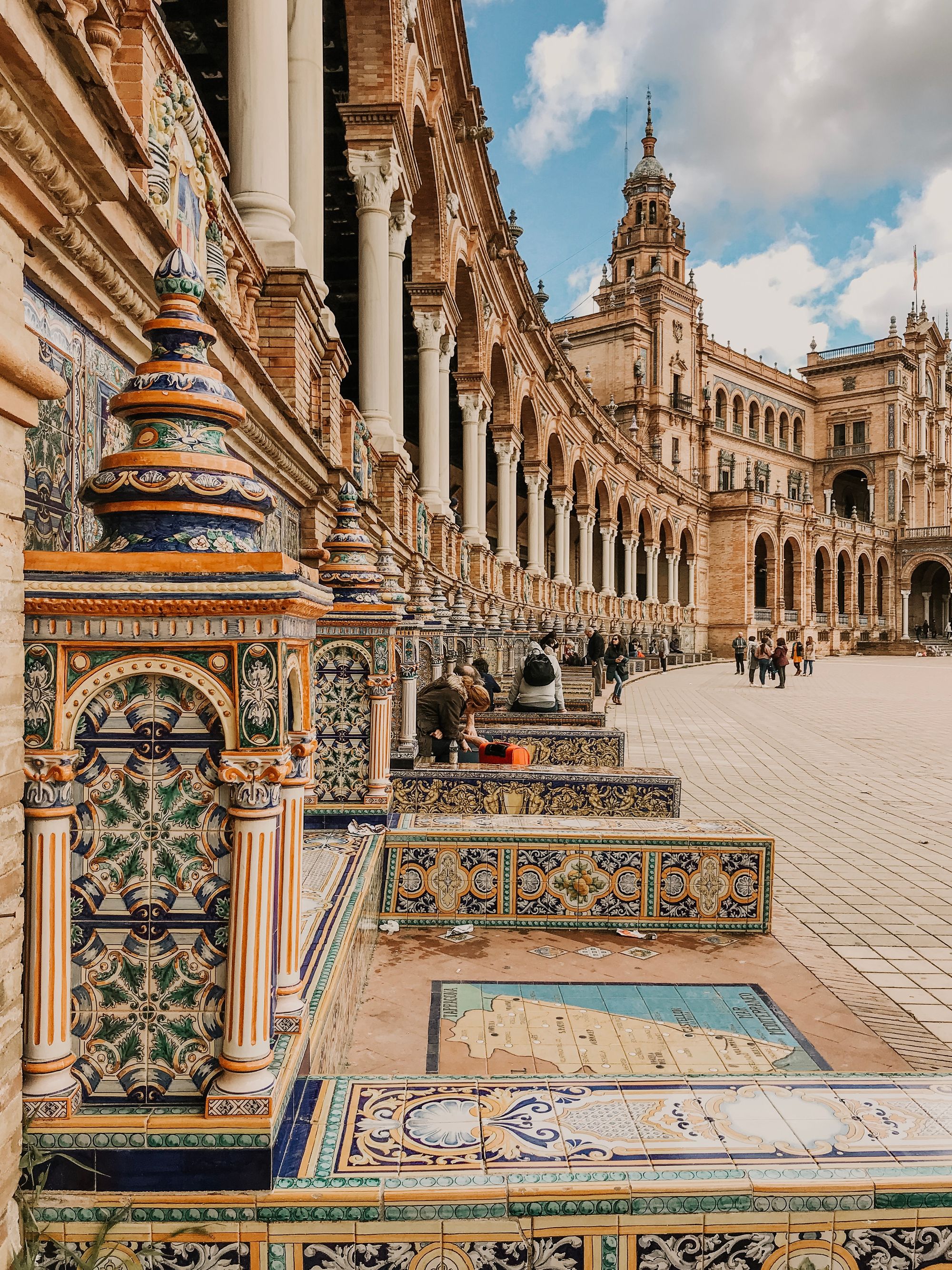 Sevilla for the halal-conscious traveller
Seville is home to many halal Middle Eastern and South Asian restaurants to satisfy your cravings. There are three small mosques in Seville, but as of 2020, ex-footballer Frederic Kanoute, has raised money for the aim of building a formal space for the city's growing Muslim population.
Discover all our halal-friendly properties in Sevilla.
Halal-friendly hotels in Andalusia
For your road trip, you can choose to base yourself in one of the cities, or spend a night or two in each area. Many tourists choose to stay in Seville, Granada or Malaga due to the plentiful attractions and ease of travel. Families may opt to stay in the brilliant choice of halal-friendly villas, which can come with your very own private pool and a kitchen where you can cook all your own delicious meals. Explore the choice of hotels on HalalBooking, for example the halal-friendly Costa del Sol Torremolinos Hotel, a popular alcohol-free four-star residence that serves halal food only and offers fully-secluded massage rooms that are available for private hire. Another popular halal-friendly hotel is the Alanda Marbella Hotel, which offers alcohol-free rooms, an outdoor pool as well as a beach.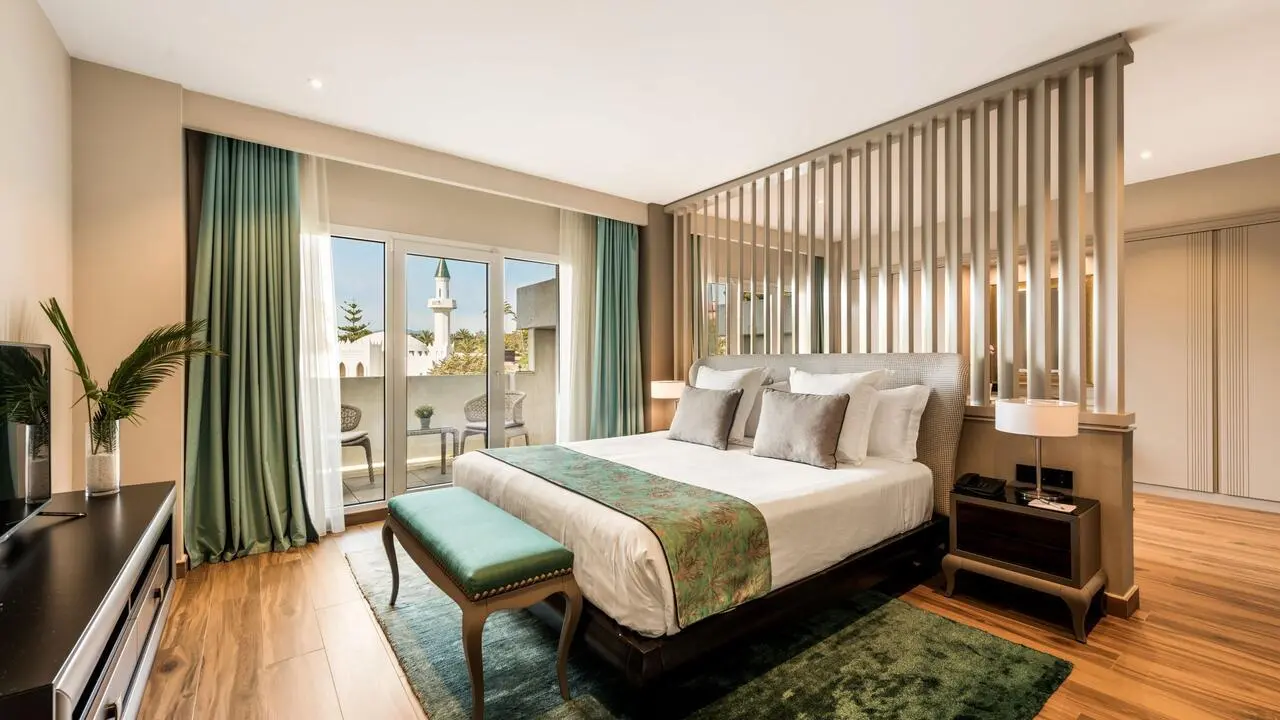 Why you should make Al-Andalus the focus of your next Spanish holiday
Walking the streets that were once inhabited by the Moors, you will see more to Spain than just the beaches. With secrets of history hidden in the landscapes, the Moorish architecture, and the ancient relics, you will leave a part of your heart in the maze of whitewashed buildings. Look forward to learning about the rich Andalusian history and lose yourself in the mystical atmosphere.