Indonesia - the land of contrasts
Indonesia is an island nation of contrasts, where the spiritual manifests itself in diverse cultures and magnificent temples, while nature holds untold treasures with dramatic seascapes, exotic wildlife and active volcanoes. Home to the world's largest Muslim population, it has everything from city breaks in Yogyakarta, one of the nation's foremost cultural centres, to laid-back resorts in Bali or Muslim-friendly Lombok. This vast country has 17,000 islands and is home to stunning wildlife such as orangutans and an estimated 300,000 other species.
Whether you want to relax on the stunning beaches of Bali and Lombok or take a city break to Yogyakarta, Indonesia has everything you could wish for. There are also many exciting activities such as trekking in the vast rainforests or surfing the waves at one of the many world famous beaches. Since Indonesia is home to the largest Muslim population in the world, most if not all of the food served is halal. It is also easy to find alcohol-free bars, especially in Bali.
Bali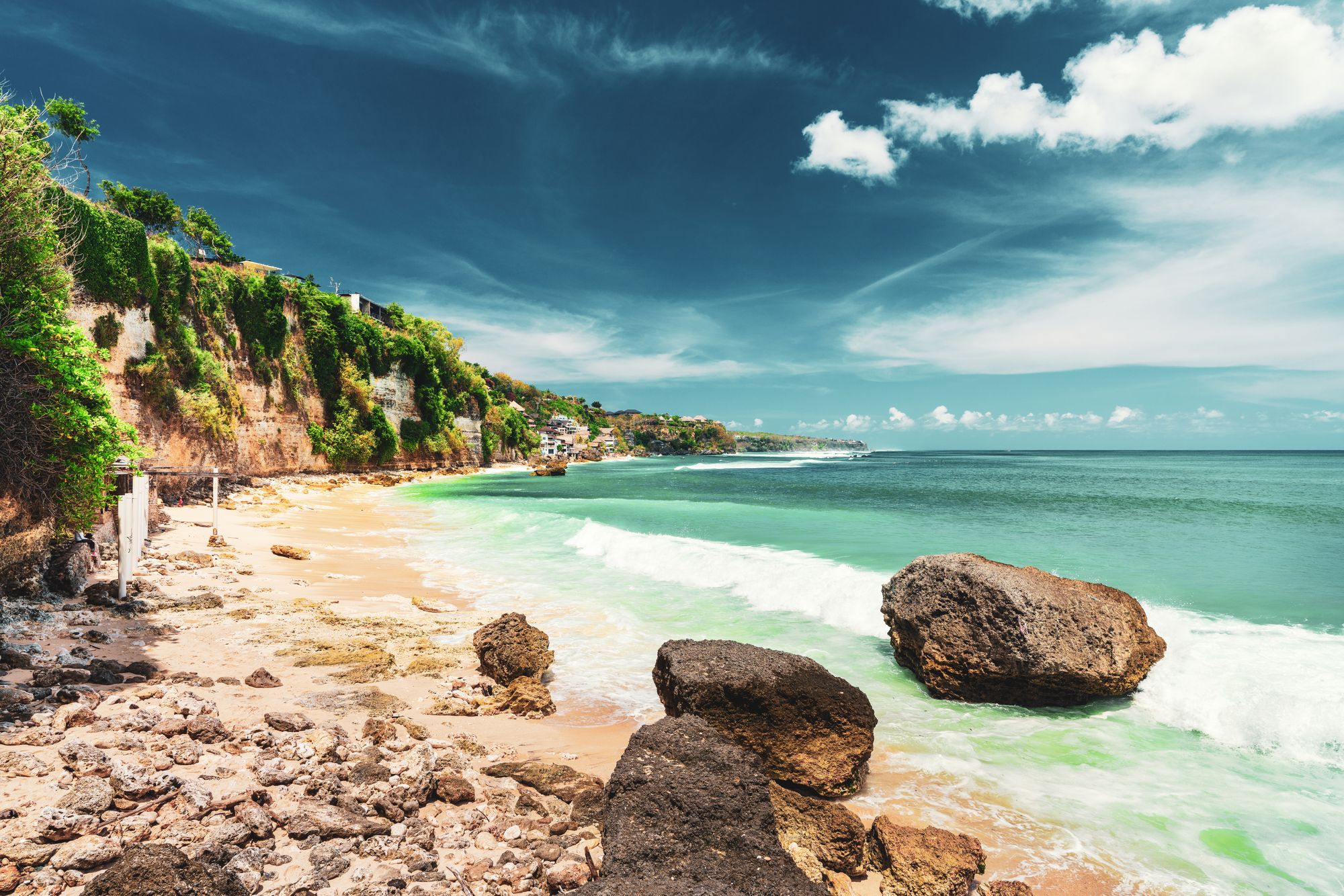 Bali has been a hotspot for a number of years, particularly popular with digital nomads, surfers, divers and beach lovers. One of Indonesia's most magnificent islands and one of the most popular tourist destinations in Asia, it offers natural beauty and glorious white sand beaches with warm hospitality.
Enjoy the magical sunset with a delicious fresh seafood dish on the white sandy Kuta beach. If you want to try surfing, hit the beach early in the morning and enjoy the world-class waves.
Top attractions in Bali for Muslim travellers
Puja Mandala Complex and Ibnu Batutah Grand Mosque
Located in Kuta Selatan, the Puja Mandala Complex is unique of its kind and honours religious tolerance. Nestled in the hills, it houses 5 places of worship representing each major religion: Christianity, Catholicism, Hinduism, Buddhism and Islam. Amongst other religious prayer facilities, it hosts the magnificent Ibnu Batutah Grand Mosque with its bright green tiled prism-shaped roof.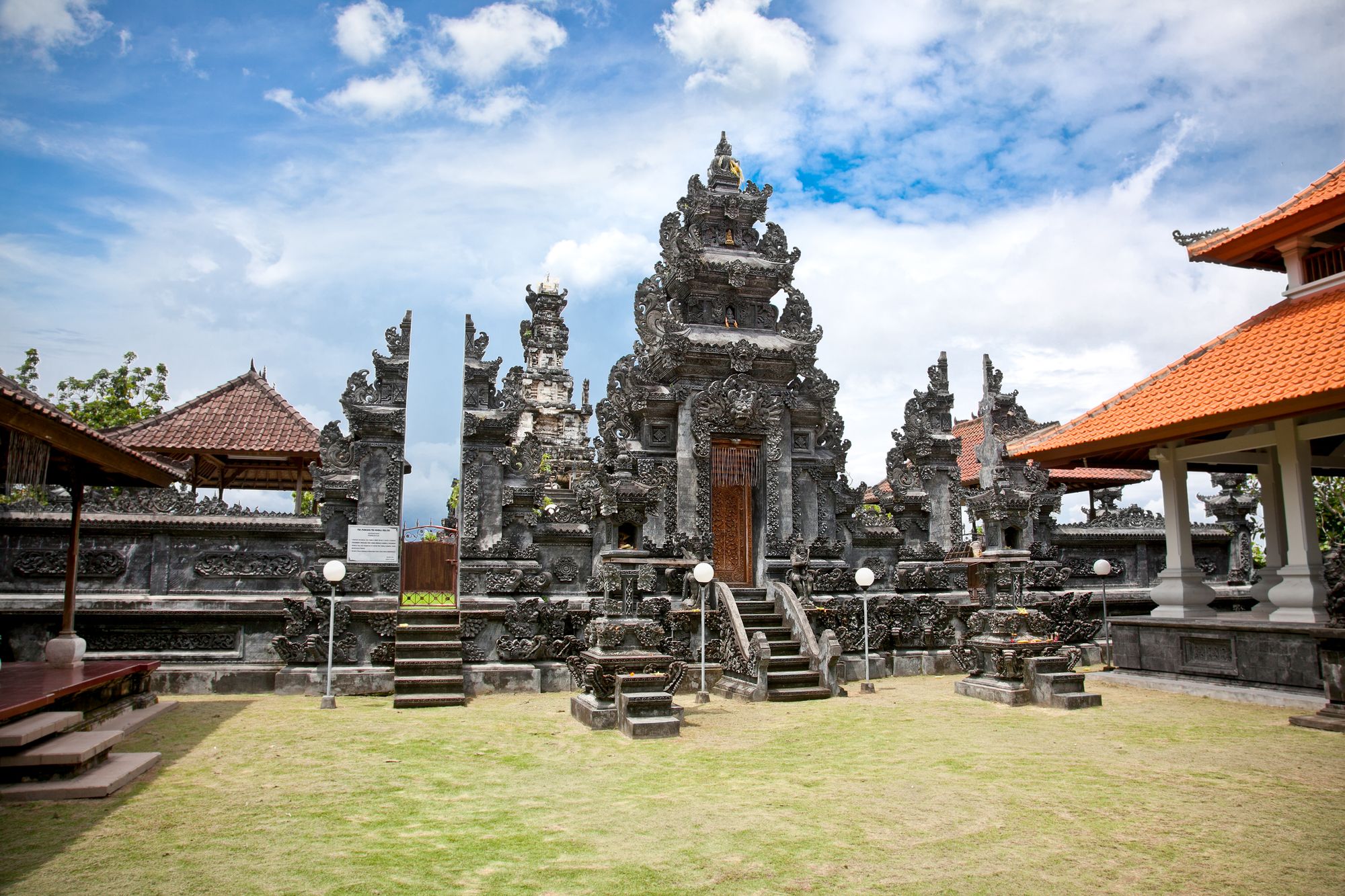 2. Mount Batur
Hike up the 1,700-metre summit of the active volcano of Mount Batur to watch the sunrise above the lush mosaic of mist-shrouded mountains and enjoy spectacular views. You will also find hot springs to dip in and soothe your body after your trek uphill.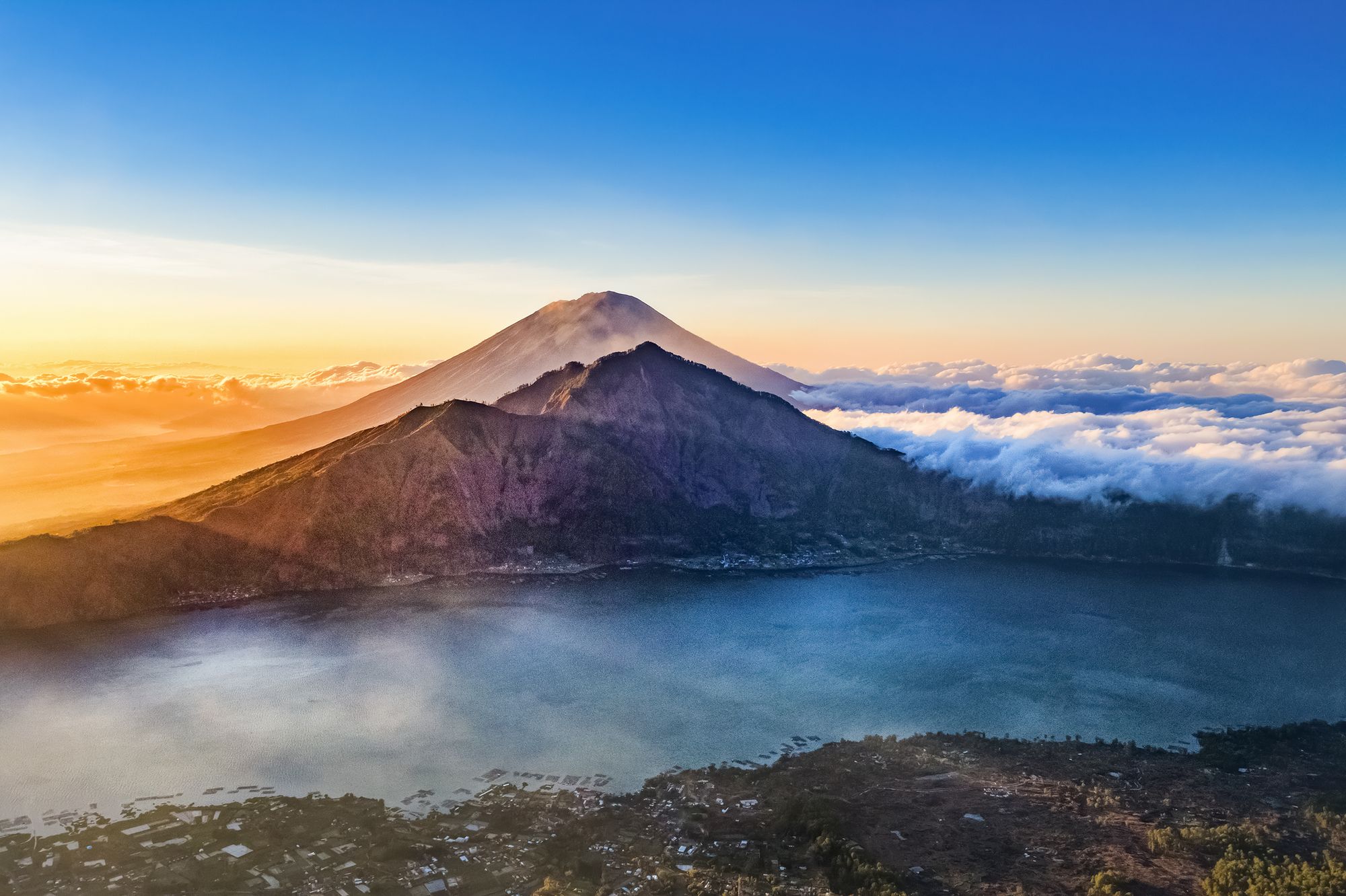 3. Batur Caldera
The Batur Caldera, one of the most beautiful in the world, offers fantastic hiking trails, with mountain peaks breaking above the clouds, the sea spreading out on one side and the lake on the other. At sunrise you will see everything coloured in bright orange and yellow tones.
4. Lake Batur
Located at the base of Mount Batur, the beautiful Lake Batur is a crater with crystal clear waters surrounded by pools of hot springs. It is the largest and most popular lake in Bali.
Where to stay in Bali
Check out our halal-friendly properties in Bali where some types of room or villas have a private pool providing complete privacy for your family or group :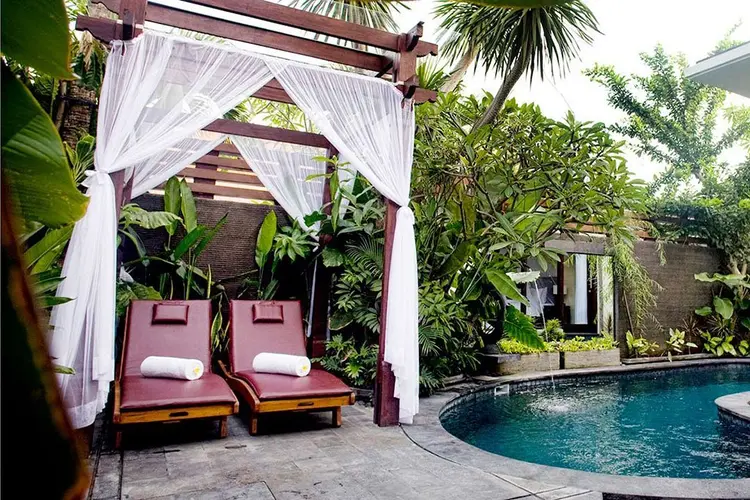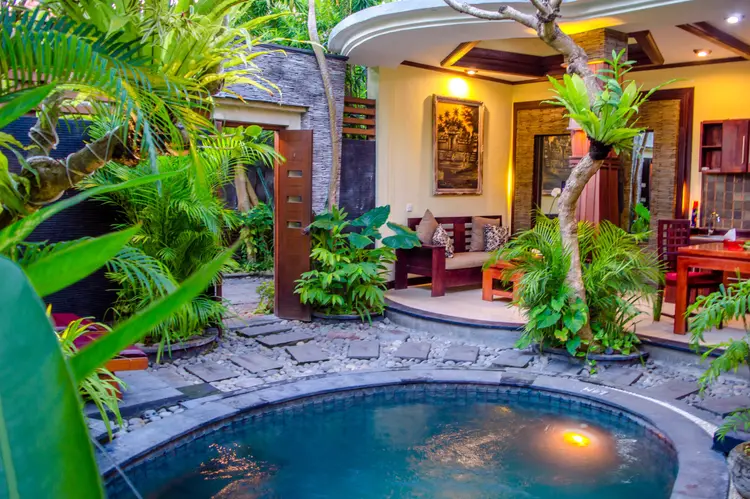 HalalBooking.com lists a number of halal-friendly villas in Bali with alcohol-free options and ladies-only outdoor pools, for the convenience of halal-conscious travellers.
Discover all our halal-friendly properties in Bali.
Lombok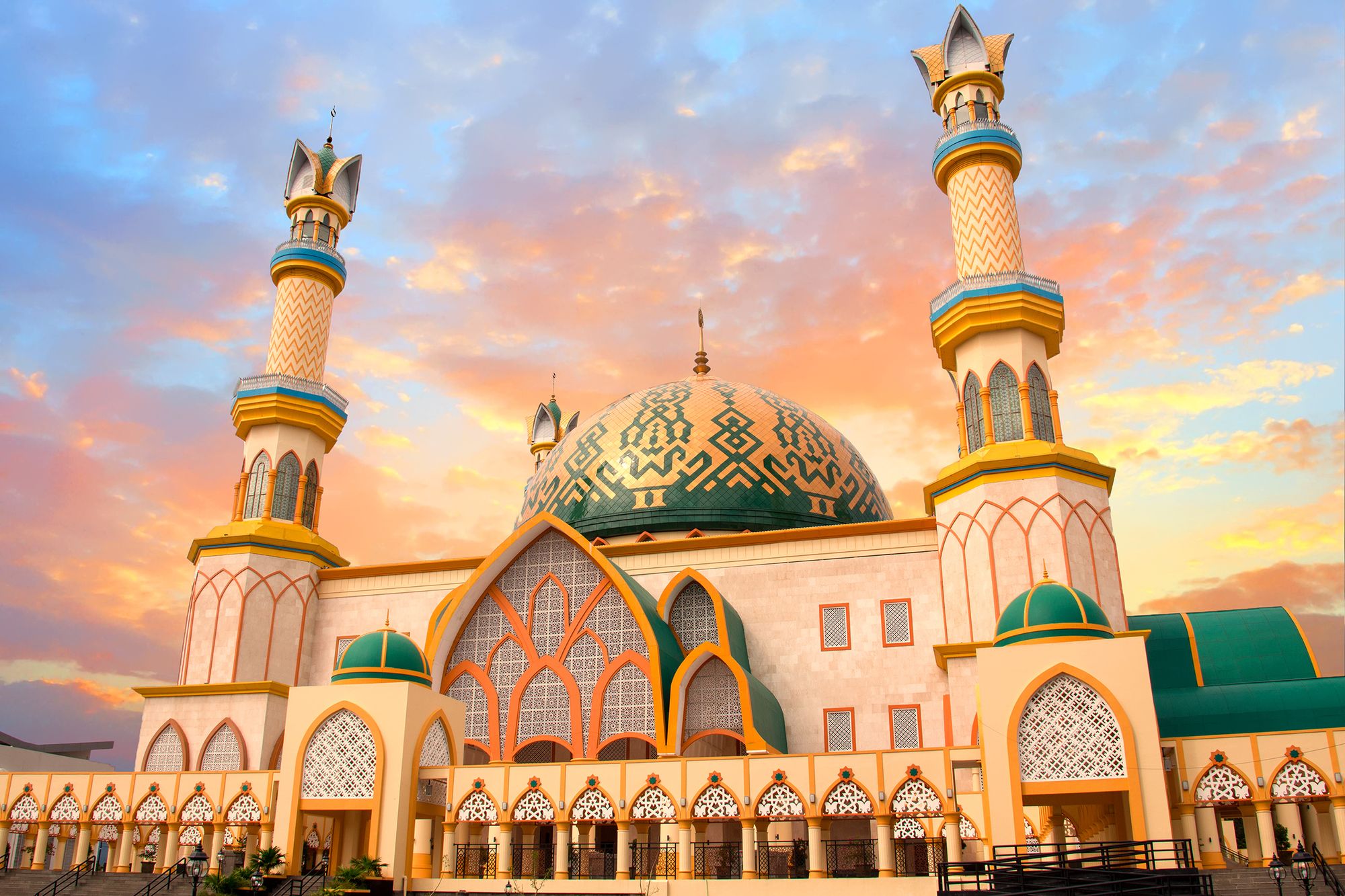 Also known as the "Island of 1,000 Mosques", Lombok is named after its infamous chilli pepper. It is a place where time seems to have stood still, with unspoiled nature, vast white sandy beaches and spectacular marine life with excellent snorkelling and diving opportunities.
Top attractions in Lombok for Muslim travellers
Rinjani Volcano
The mighty Rinjani Volcano, Lombok's highest peak towering over the island, attracts religious pilgrims and adventurous tourists alike.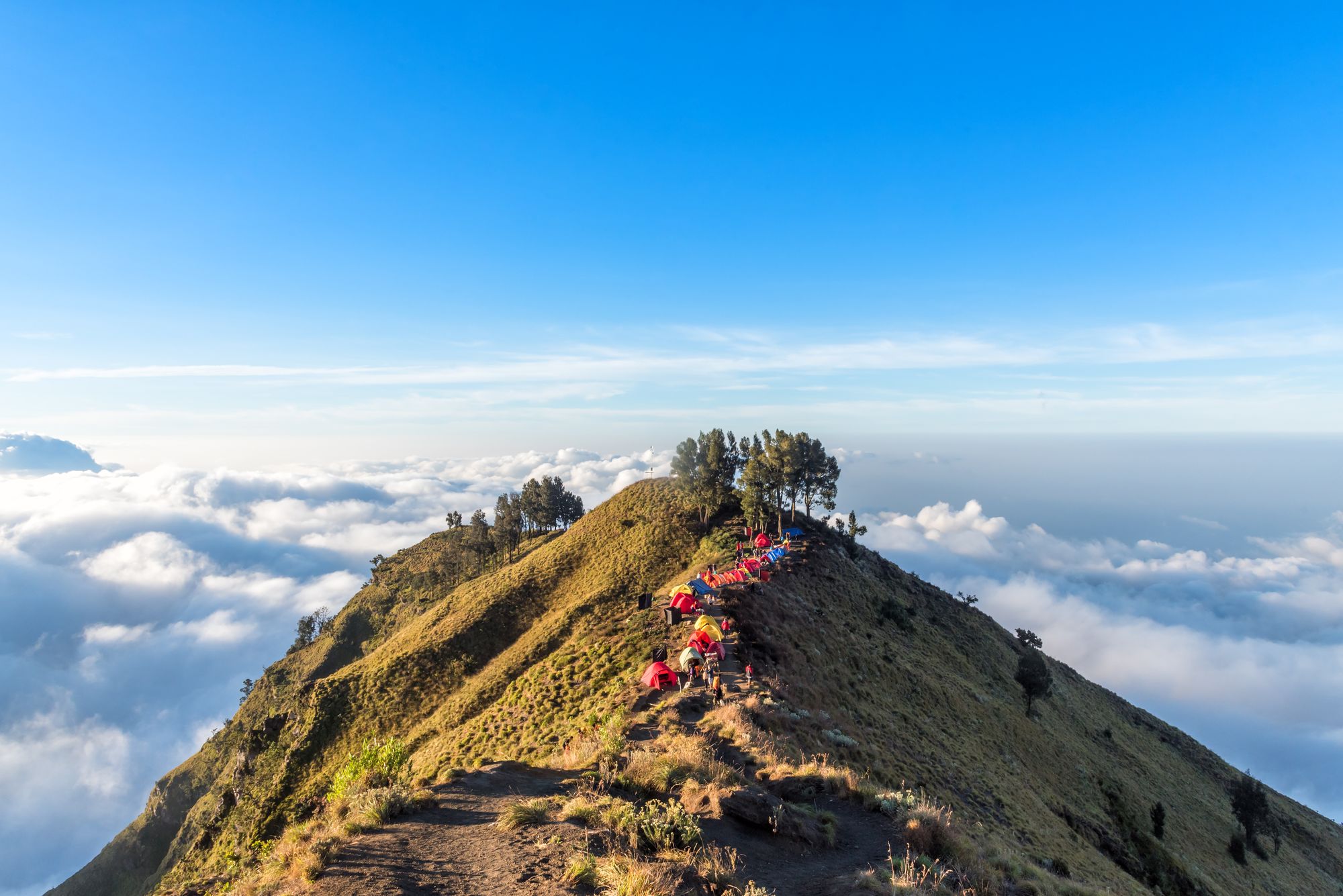 2. Gili Islands
The Gili islands, a paradise only 20 minutes by boat from Lombok, are very popular for scuba diving and snorkelling and swimming with turtles!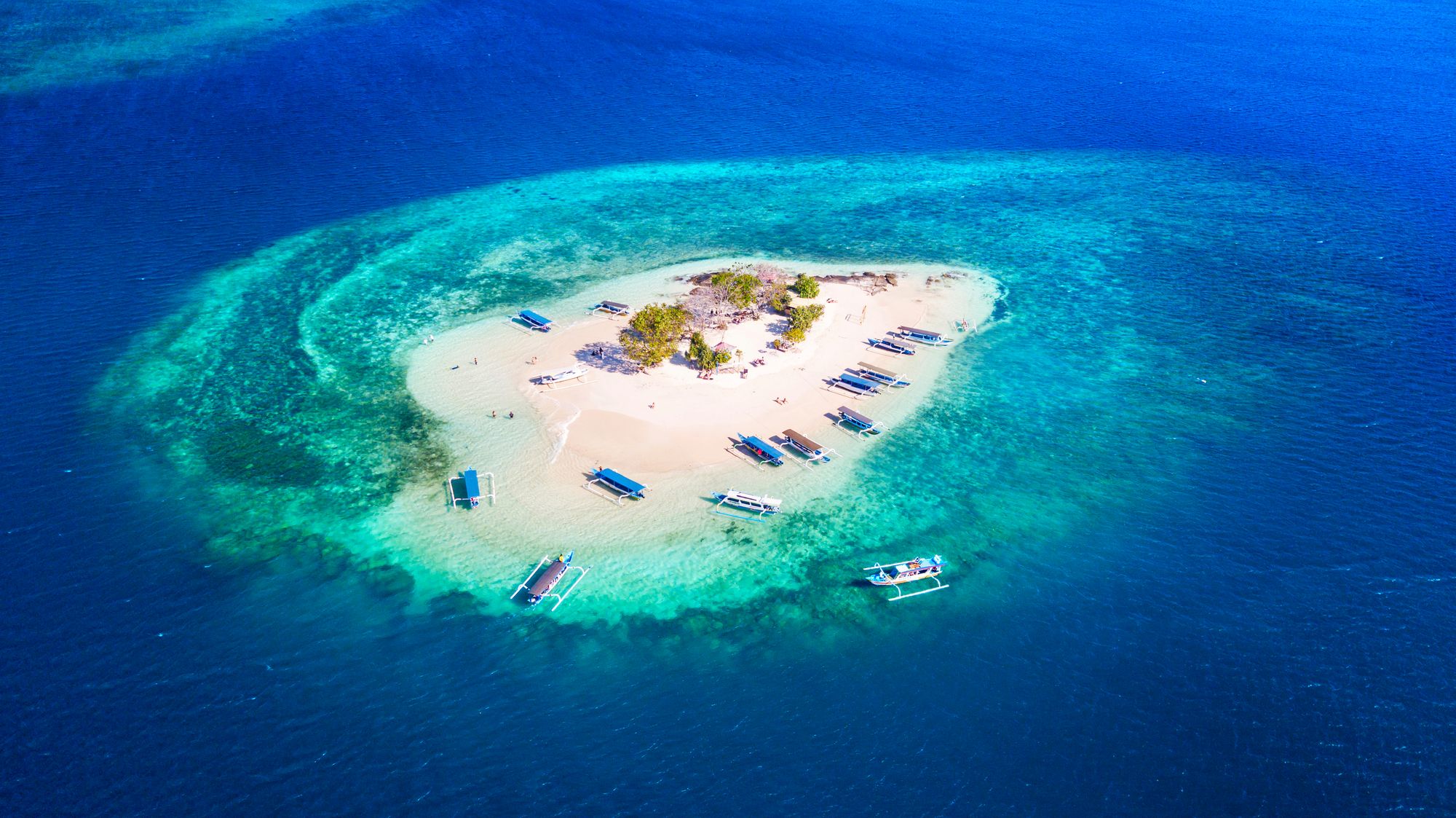 3. Pusuk Monkey Forest
The Pusuk Monkey Forest offers beautiful forest trails like a winding hill overlooking lush protected forests accompanied by the amazing sounds of nature.
Where to stay in Lombok
To enjoy this tropical island, stay at the 4-star Svarga Resort Lombok Hotel. Located on a hilly contour near Senggigi beach, this alcohol-free resort serves only halal food and has a number of villas with secluded private pools. The resort is currently rated "very good" with a review score of 8.7 by HalalBooking.com customers.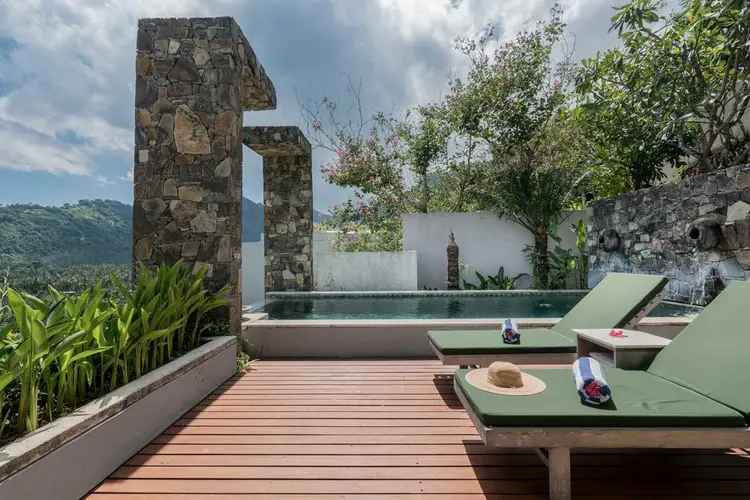 Another great hotel is the 5-star Katamaran Resort located in Senggigi, 20 minutes from the boat pier to the Gili Islands and Bali. It is rated "superb" with a review score of 9.3 by HalalBooking.com customers.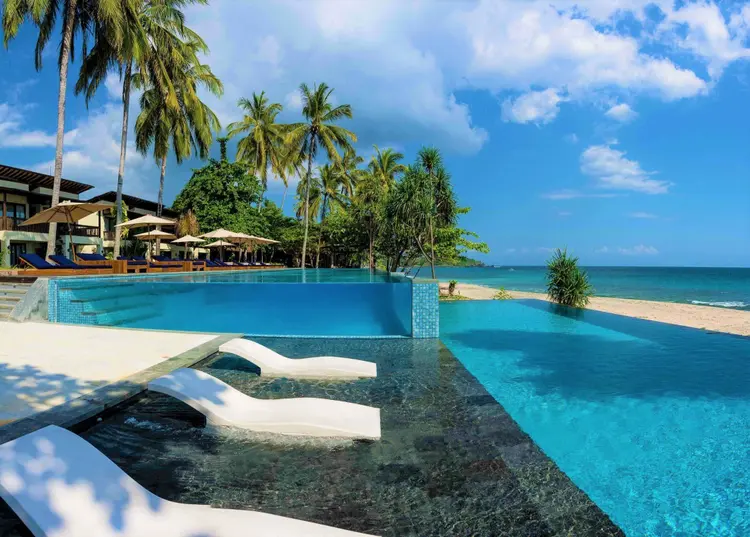 This magnificent island has won many awards as a top international halal tourism destination and is also perfect for honeymoons!
Discover all our halal-friendly properties in Lombok.
Yogyakarta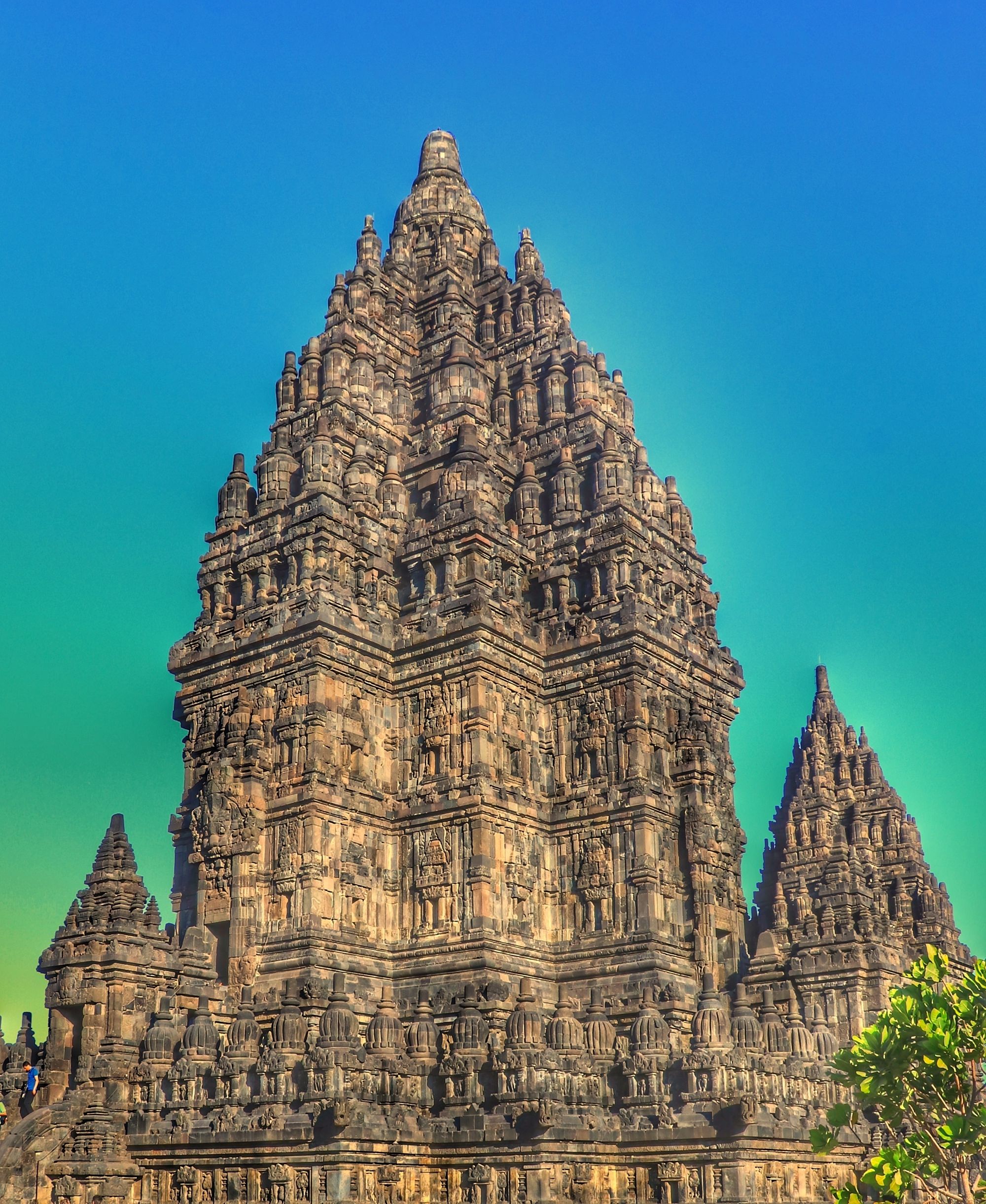 Located in Java, Yogyakarta is a majority Muslim city rich in culture, arts and attractions.
From strolling through the living museum of the Kraton (Sultan Palace) and Fort Vredeburg or famous temples like Prambanan and Borobudur from the 8th and 9th centuries, to watching goldsmiths making beautiful jewellery in Kotagede and shopping on Malioboro Road, Yogyakarta has a lot to offer.
Top attractions in Yogyakarta for Muslim travellers
Karanganyar Pottery Village
Visit the pottery village of Karanganyar and make traditional pottery by hand.
2.  Kotagede
The historic neighbourhood of Kotagede is a great place to discover the arts and crafts scene that Yogyakarta is famous for. The village within the city has narrow streets leading to courtyards and artists' workshops, and bicycles and rickshaws replacing motorbikes and cars.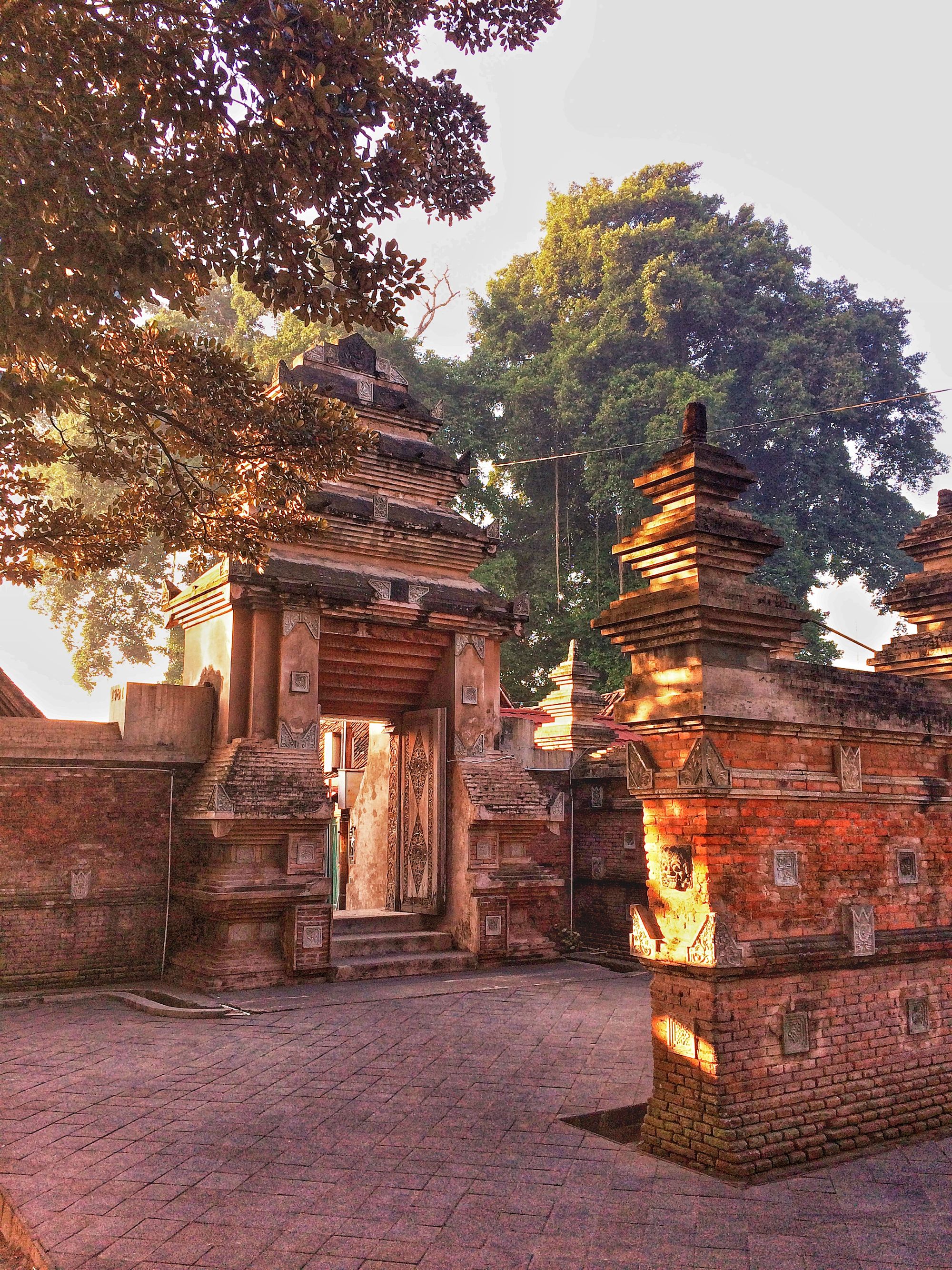 3. Taman Sari and Sumur Gumuling Mosque
Taman Sari, also known as "Water Castle", was an amusement park for the Sultan and his family many years ago. The park is home to castles, pavilions and water features, as well as the mysterious Sumur Gumuling underground Mosque and secret passages.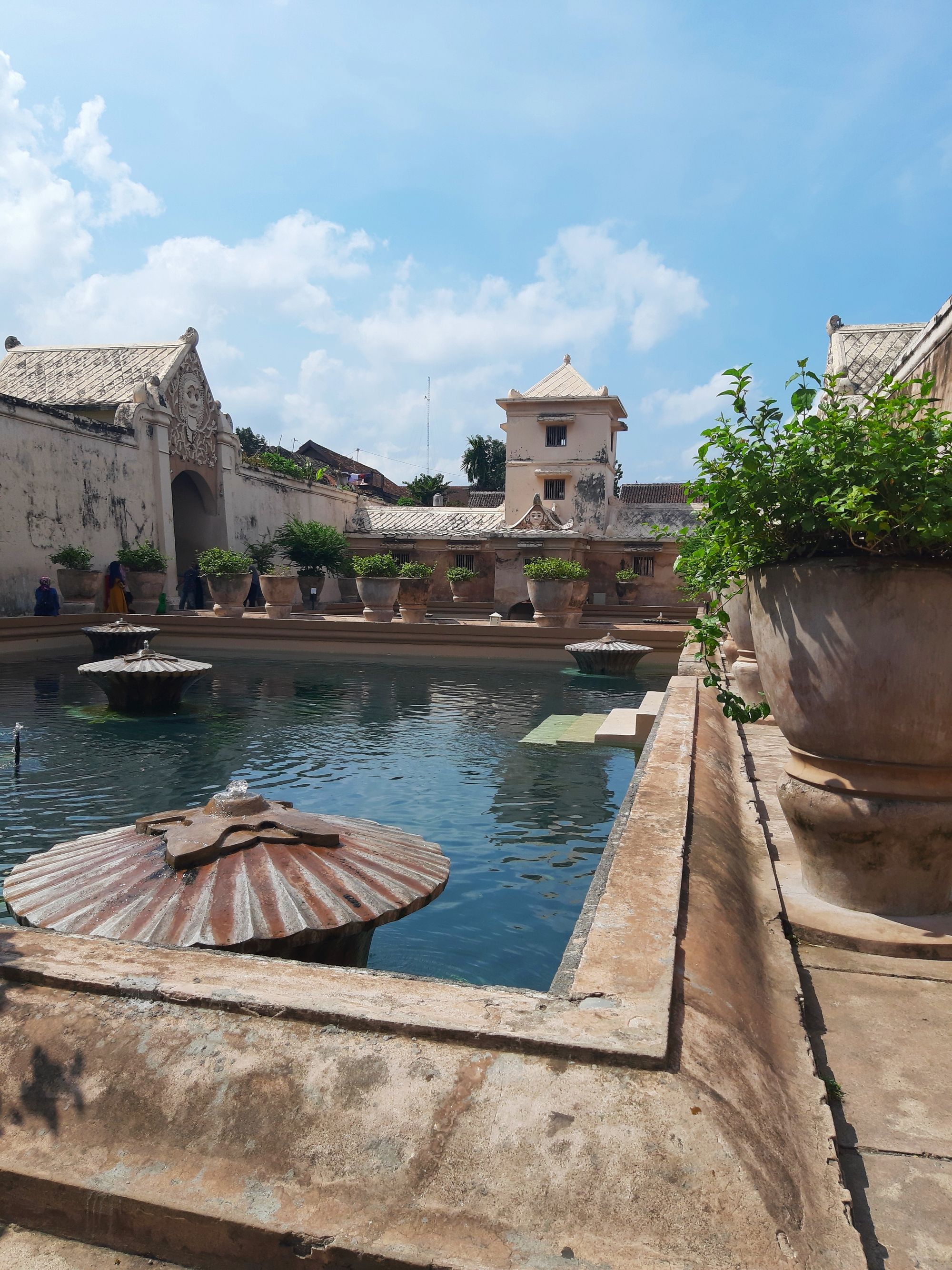 Where to stay in Yogyakarta
Check out halal-friendly hotels with outdoor pools in Yogyakarta that allow modest swimwear: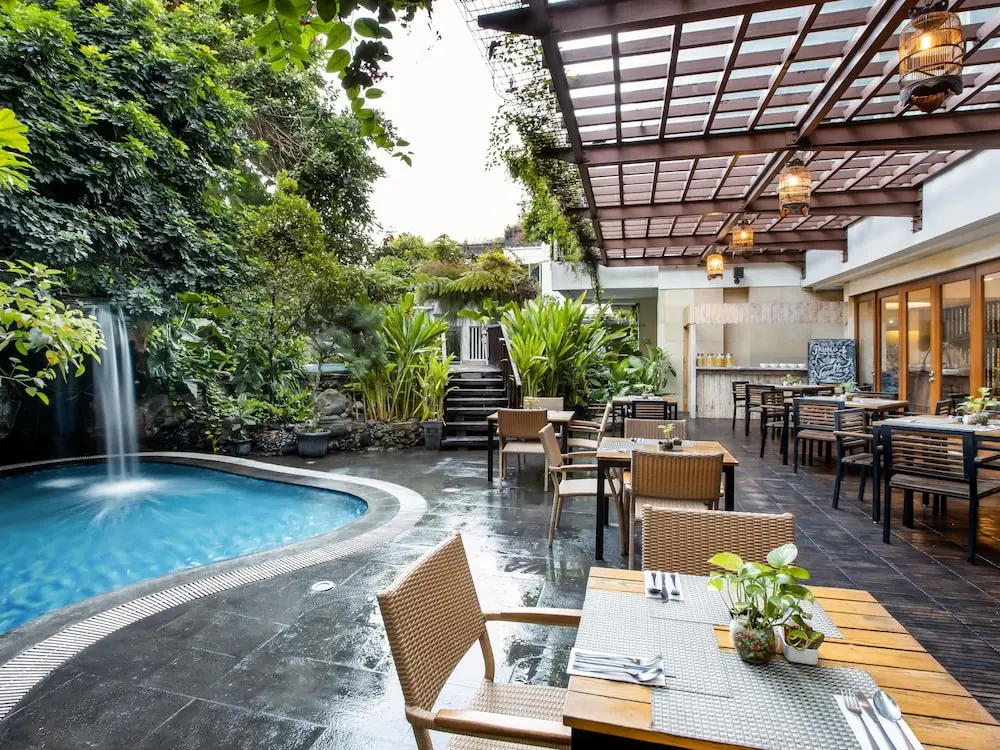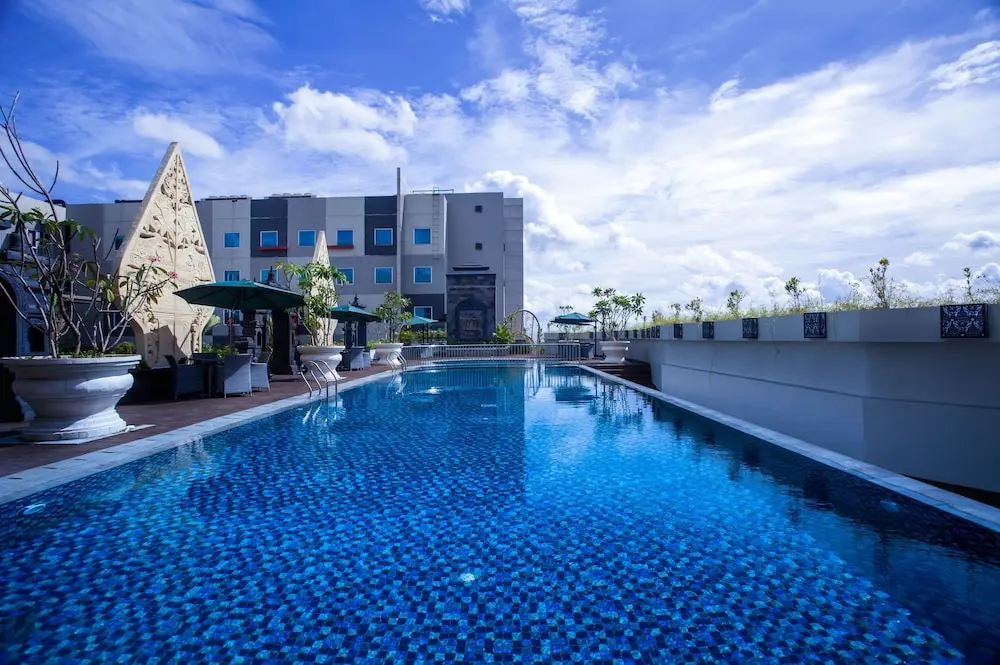 Discover all our halal-friendly properties in Yogyakarta.
Is all food halal in Indonesia?
As Indonesia is a majority Muslim country, halal food is widely available and easy to find in eateries and restaurants across the country. Indo cuisine is unique and known for its spices, fried rice dishes and satays. Here are some must-try Indonesian dishes:
Nasi Goreng - The most popular dish in Indonesia is rice with fried egg and either chicken or seafood. There are also vegetables, garlic, shallots, shrimp paste, and chilli and tamarind in most cases. In the restaurants and street vendors, nasi goreng is prepared to order. You can choose what type of meat, how spicy, or how you want your egg added (mixed with the dish or sunny-side-up).
Satay - A popular street food that can be found easily, especially if you follow the scent and the smoke. The meat/fish, diced into small chunks, is seasoned before being placed on the grill. They have many options like chicken, goat, beef, fish and more. Satay is served with peanut or soy sauce and accompanied by a ketupat (rice cake wrapped in a palm leaf).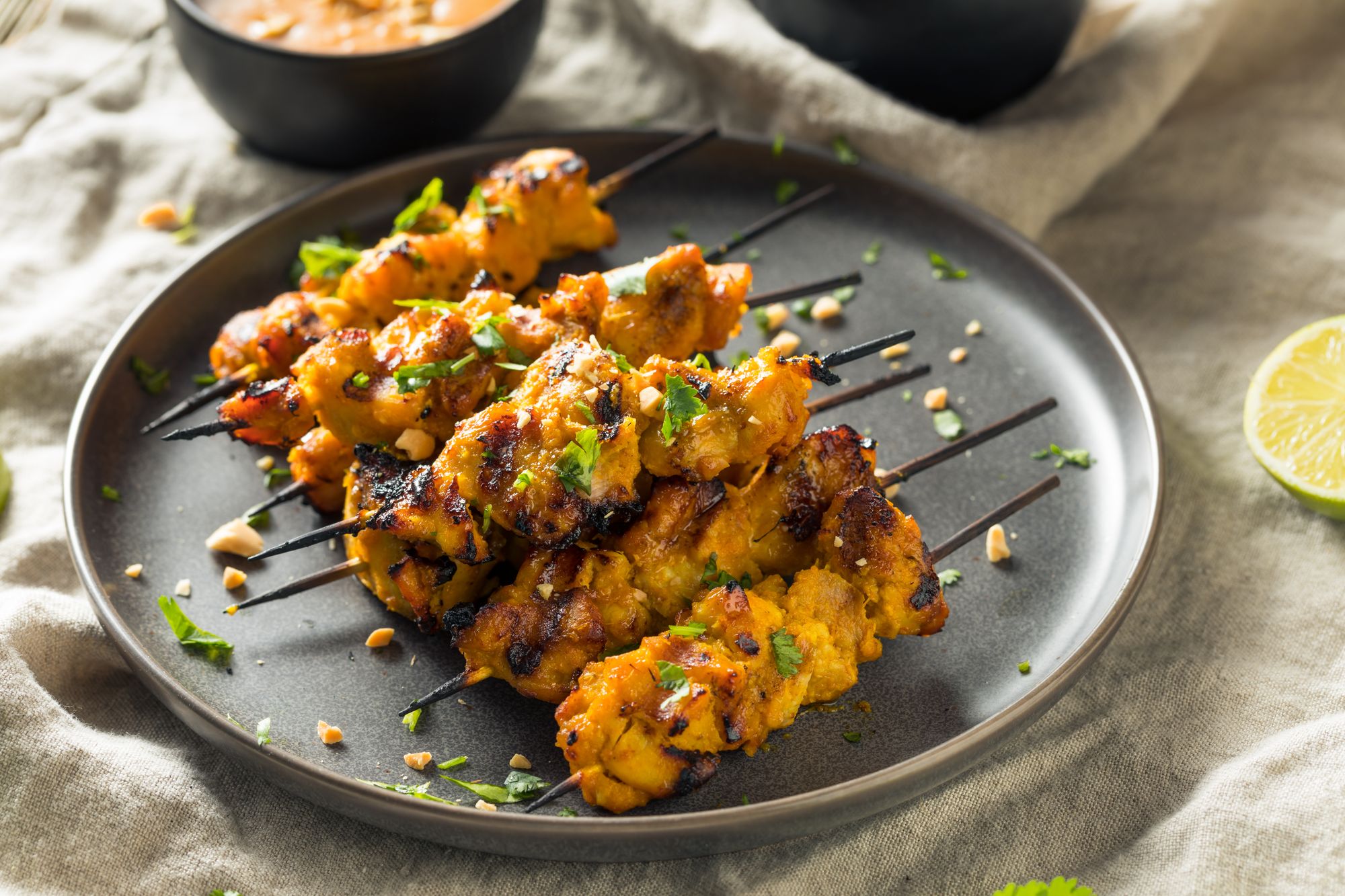 Tempeh - A delicacy made from fermented soybeans traditionally wrapped in banana leaves. Tempeh is also used in salads, rice dishes and noodles and can be eaten as tempeh goreng (fried), tempeh bacem (stewed in palm sugar and coconut water), tumis tempeh (fried with vegetables), tempeh satay, etc. Fresh tempeh from a street vendor or restaurant tastes best.
Ayam Goreng - Another popular dish made with fried chicken. The meat, marinated in a mix of local spices, is deep-fried in palm or coconut oil. There are many variants of ayam goreng across the islands.
Pisang Goreng - Fried banana or plantain slices, which is also a popular street food. They are breaded with breadcrumbs, honey or simply.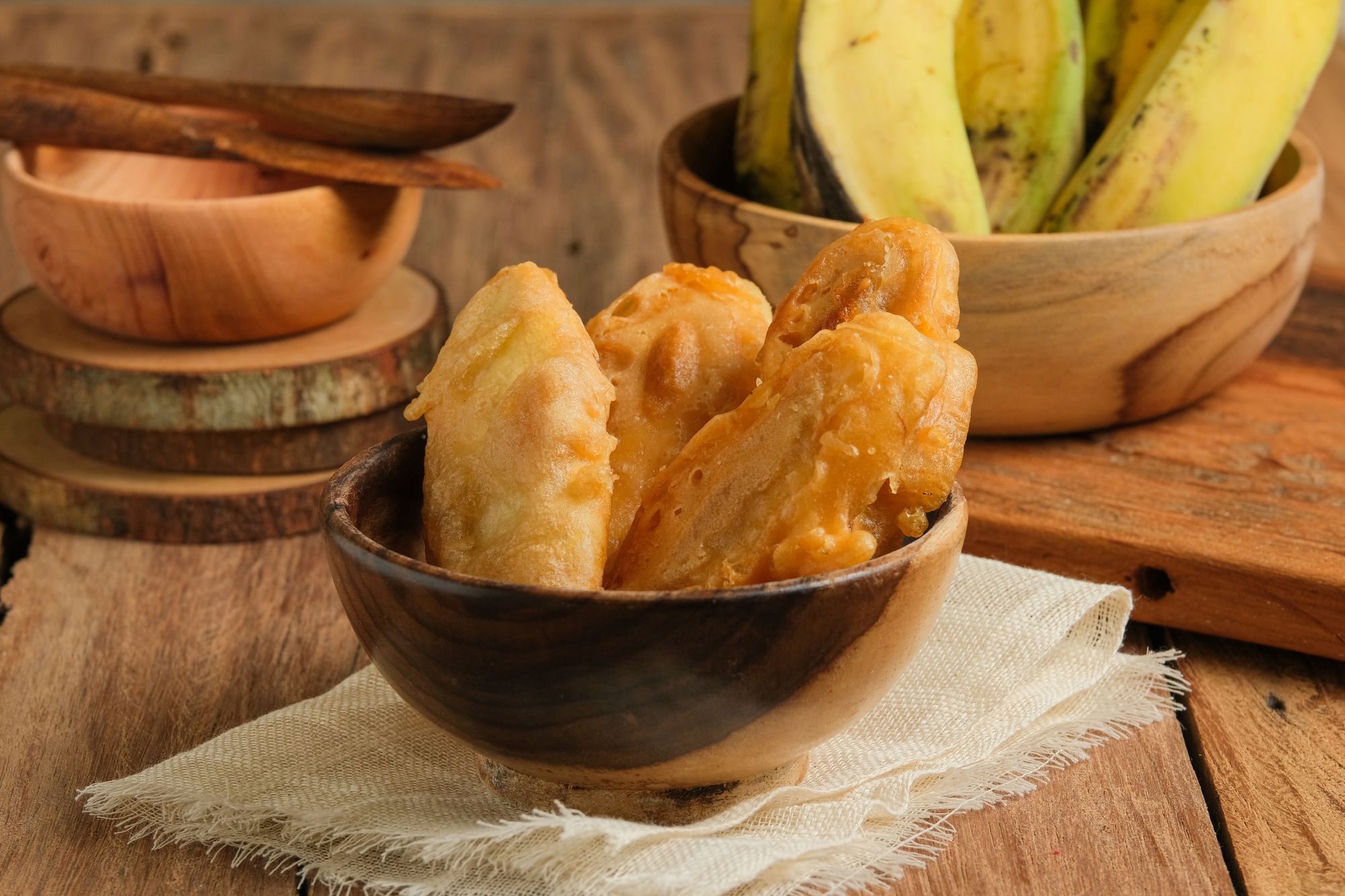 When is the best time to visit Indonesia?
Enjoying a tropical climate, Indonesia has two seasons: the dry season (April to October) and the wet season (November to March) and enjoys hot and humid temperatures all year round. The high season is usually in the summer holidays and the Christmas holidays.
The low season between January and February is generally cheaper in terms of hotel bookings and flight tickets. There are also far fewer crowds, which is a great opportunity to immerse yourself in local culture in places like Bali without the usual tourist rush. One downside, however, is that orangutans and other wildlife are harder to spot during the rainy months.