Once upon a time in Marrakech
Marrakech is a legendary city, visited and romanticised by many - and yet there is so much more to this ancient city. Surrounded by beautiful nature and vistas of the Atlas Mountains, Marrakech is more than a destination, it is a place to experience! Known as the "Red City", Marrakech gets its colourful name as almost all of its buildings, houses and even walls are painted as such. Morocco's centre-piece and cultural hub has everything to awaken the senses - smells, sights, sounds, tastes and touches to create memories that will last a lifetime. As one of Morocco's four Imperial cities, Marrakech is also a fascinating treasure trove of ancient monuments, historic remains and beautiful gardens. Whether it's a short city break or a week-long holiday, there's plenty to see and do during your visit.
Top Attractions in Marrakech
Old Town (Medina)
Jemaa El-Fna
Gueliz District
El Badi Palace
Majorelle Garden
Ben Youssef Madrasa
Bahia Palace
Atlas Mountains
Old Town (Medina)
The Old Town or Medina of Marrakech is the hive of activity and focal point of the city. Stroll along the cobbled streets filled with many centuries of history against a backdrop of textiles, colourful spices and bathhouses. By far the most visited attraction in Marrakech, the Medina is a fortified historic Islamic capital founded in the 11th century. It is also home to many must-see Marrakech attractions such as the Jemaa el Fna, the Koutoubia Mosque, the traditional Souk Semmarine, the Bahia Palace, the Kasbah and Ben Youssef Madrasa. Be inspired by the many riads, shop around for a bargain and try a tagine to get the full experience.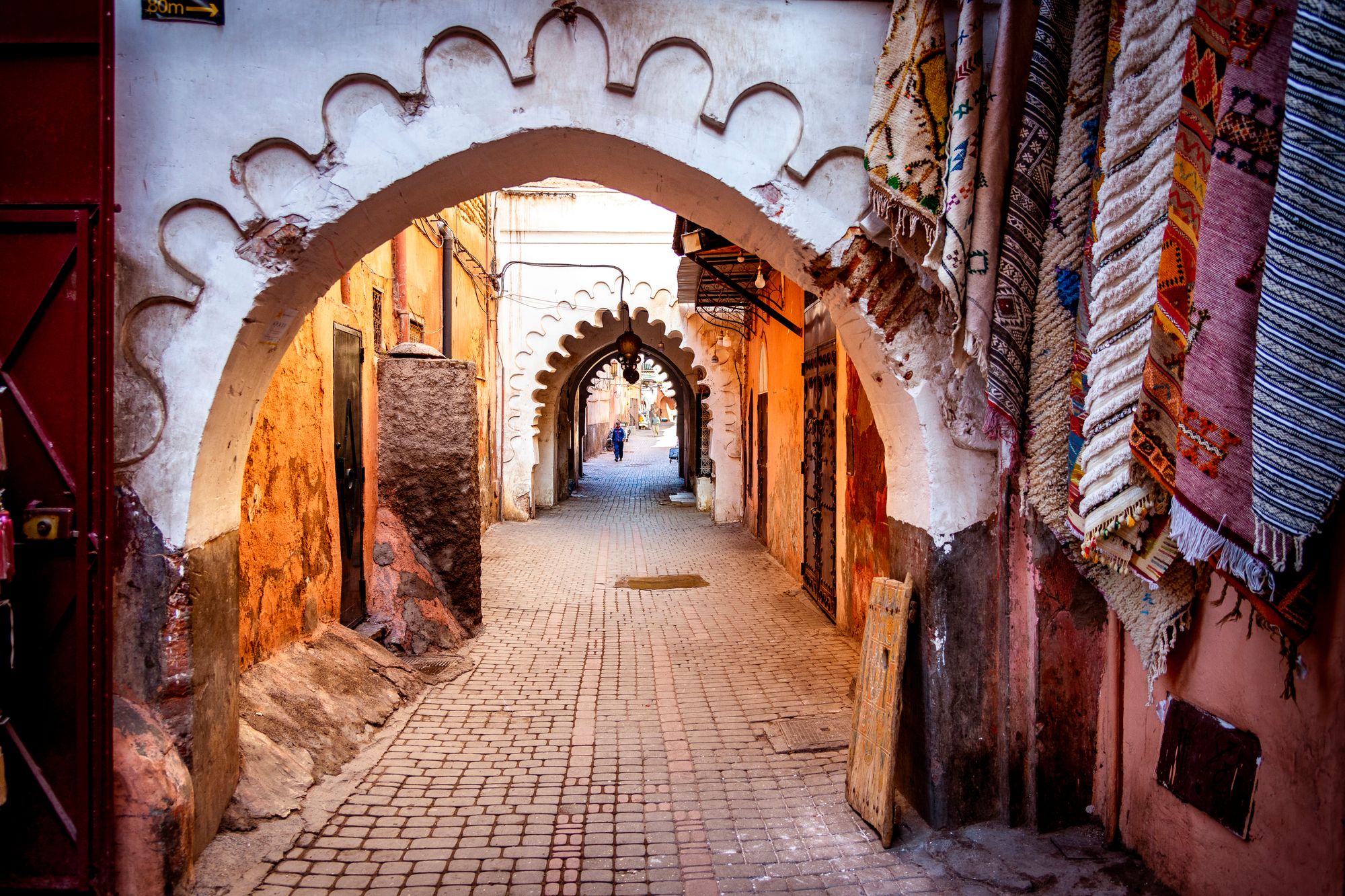 Jemaa el-Fna
No visit to Marrakech would be complete without a stroll around the magical Jemaa el Fna, Marrakech's main square. Tourists from all over the world flock to the square to enjoy the sights and sounds of this world-famous site. Declared a Unesco World Heritage Masterpiece in 2001, the square is lined on one side by the Marrakech souk, on the other side are hotels and gardens and café terraces, with narrow streets leading into the medina. Let yourself be tempted by the numerous food stalls serving merguez sausages and other grilled meats, as well as those selling freshly squeezed orange or pomegranate juice, while you're entertained by gnaoua musicians, snake charmers and acrobats who perform late into the night! If you visit in November during the Marrakech International Film Festival, the square turns into a huge cinema!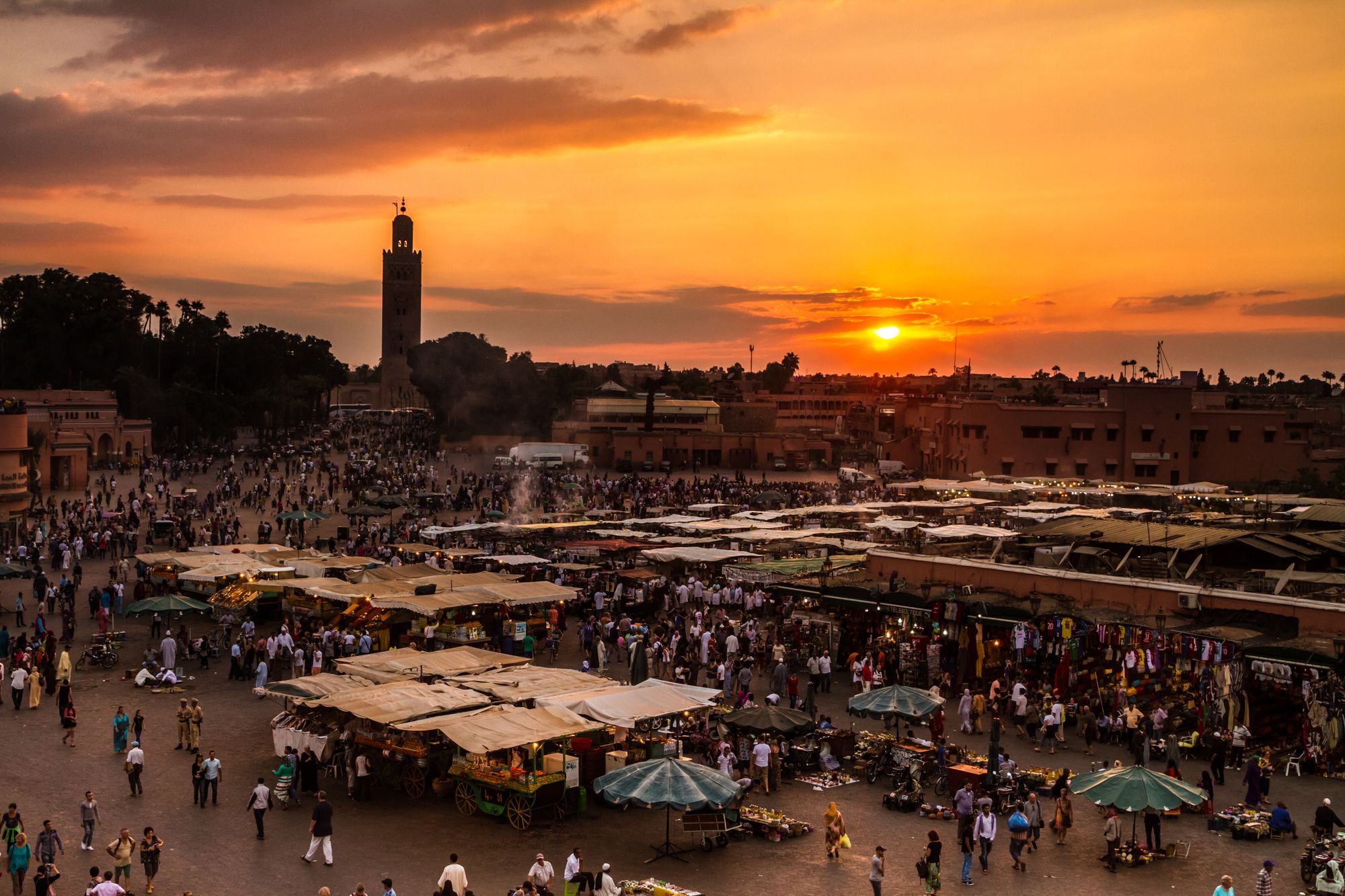 Gueliz District
The new ultra-modern district of Guéliz, built in the 2000s, is one of the old "French" districts, from the time of the Protectorate, and presents a strong contrast to the Medina. It is the perfect compromise to enjoy the Moroccan sun in the comfort of modernity. You will find shops, art spaces, cafes and museums. It houses the Majorelle Garden and the Yves Saint Laurent Museum, as well as the Matisse Art Gallery, named after the 20th-century artist Henri Matisse. The Theatre Royal is worth a visit for a ballet performance or a matinee show. Located on the corner of Rue de la Liberté and Boulevard Mohammed V, Place Vendome is a great place to shop for leather goods such as purses, bags or a belt made from Morocco's finest leather. Imperial Plaza is the place to unwind from the hustle and bustle of Gueliz or Jemaa el Fna, with massages, spas, swimming pools and wellness facilities. Step back in time and grab a bite at Le Grand Café de la Poste with old-fashioned French decor and delicious Moroccan dishes with a French twist.
El Badi Palace
Visit the El Badi Palace and imagine the grandeur of the building during its heyday. Dating to 1578, this fascinating masterpiece was funded by the Portuguese after their defeat at the Battle of Alcacer Quibir. Today it stands in impressive ruins and has been dubbed the "eighth wonder of the world". It is said that there were 300 rooms decorated with gold, turquoise and crystal. The palace also features a large pool in the centre of the courtyard surrounded by lush gardens and fountains. It also has several smaller rooms used for private meetings and receptions. The walls are decorated with intricate mosaics and carvings, and the pillars are marble.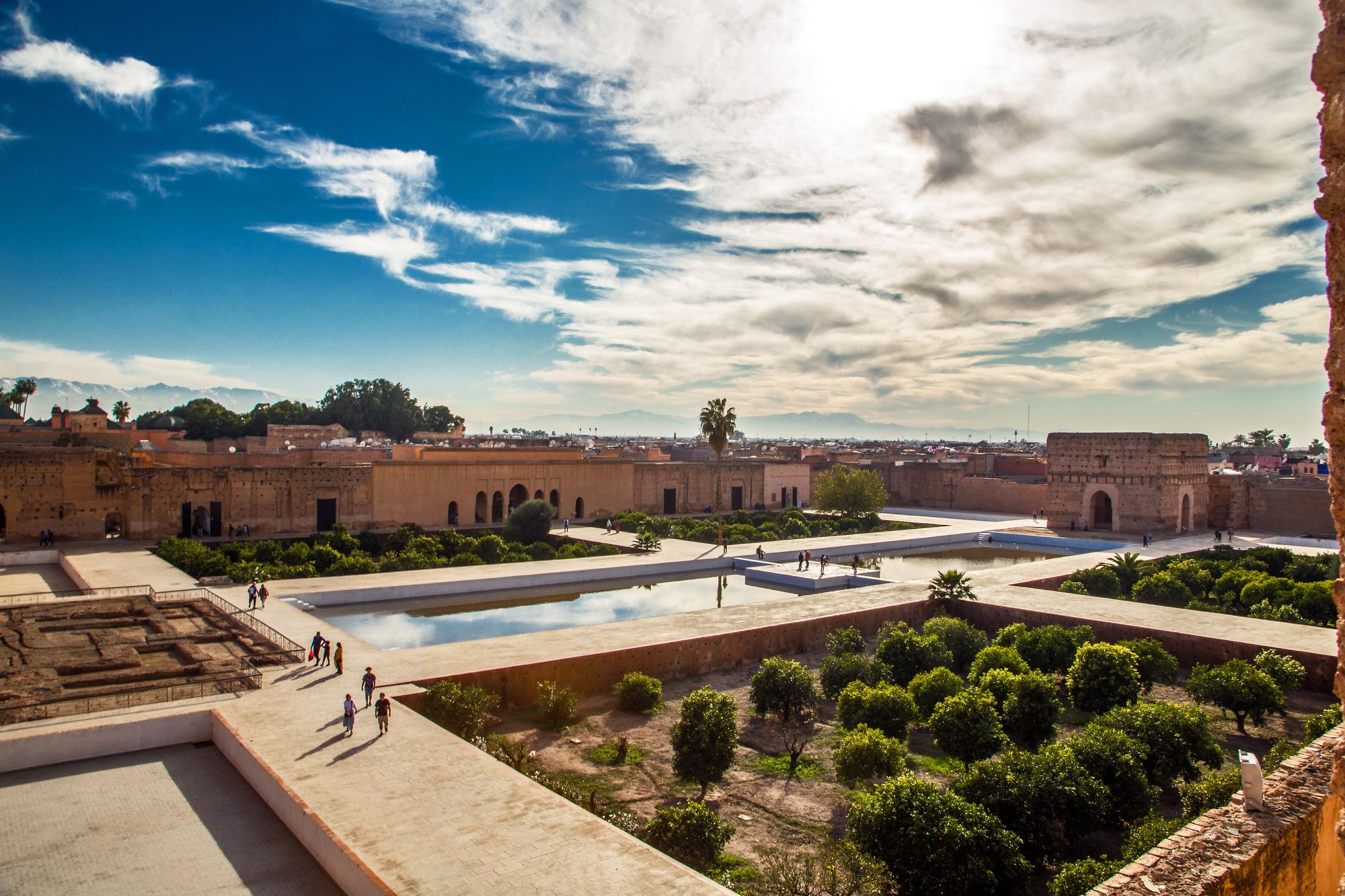 Majorelle Garden
Built in 1920 by the French painter Jacques Majorelle, this artistic garden also houses the Islamic Art Museum of Marrakech and the Berber Museum. Next to the Majorelle Garden, the Yves Saint Laurent Museum presents the life and history of the Moroccan-born fashion designer - a must for all fashion lovers. Explore the pretty Majorelle Garden and take a breath of fresh air in this oasis of tranquillity, outside the colourful chaos of the Marrakech medina. Stroll along shady paths, among exotic trees and plants, streams and ponds decorated with water lilies and lotuses.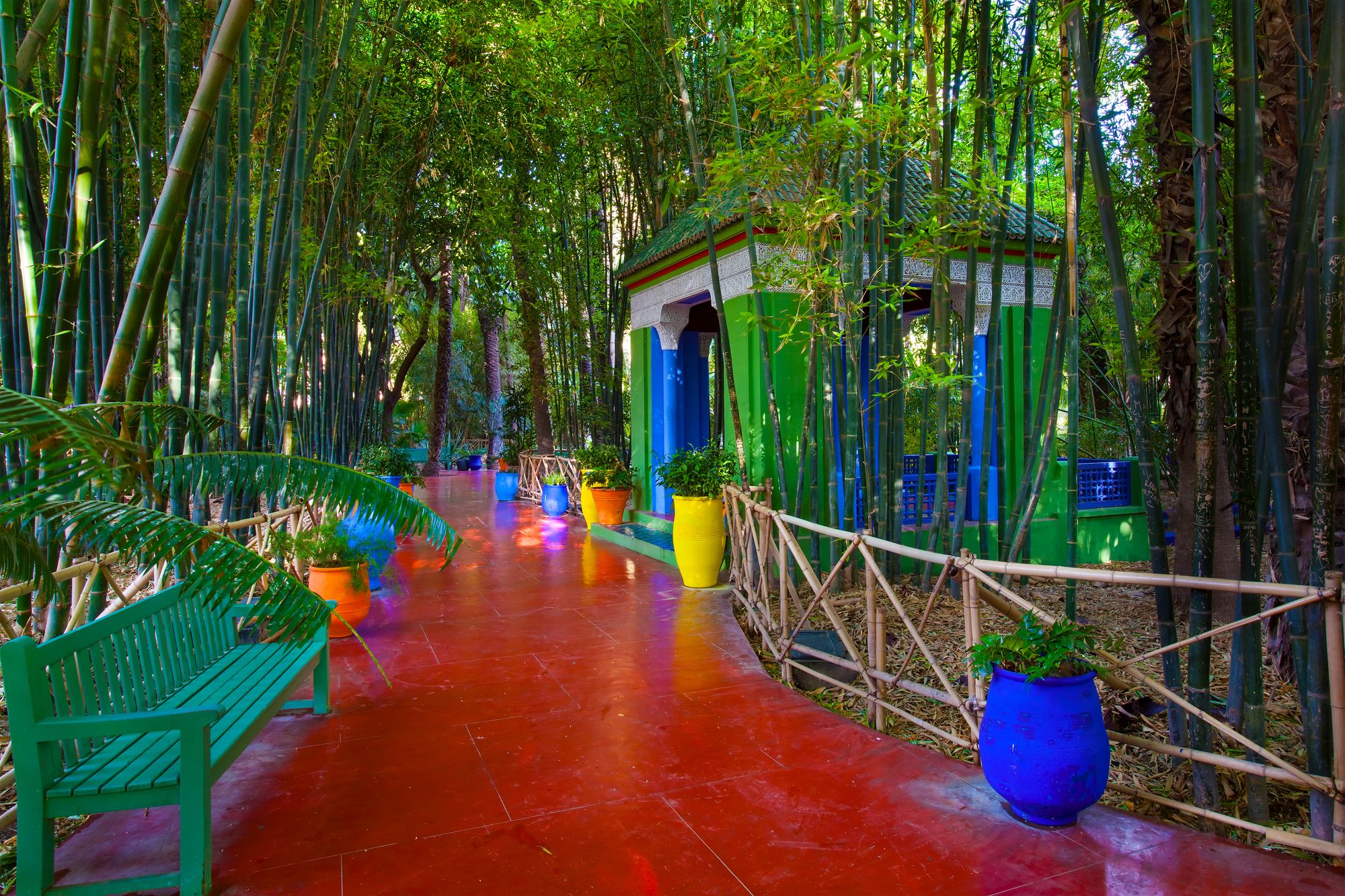 Ben Youssef Madrasa
Visit the Ben Youssef Madrasa, one of the most beautiful buildings in all of Marrakech. An Islamic centre for five centuries, it was the jewel of Moorish architecture and was renovated and reopened as a historic site in 1982. In 1999 further renovations were carried out and it was transformed from a college to a museum and cultural centre open to all. The madrasa houses 132 rooms for students to learn about Islam and its walls are inspired by the Andalusian style. It was once the largest Islamic college in the world.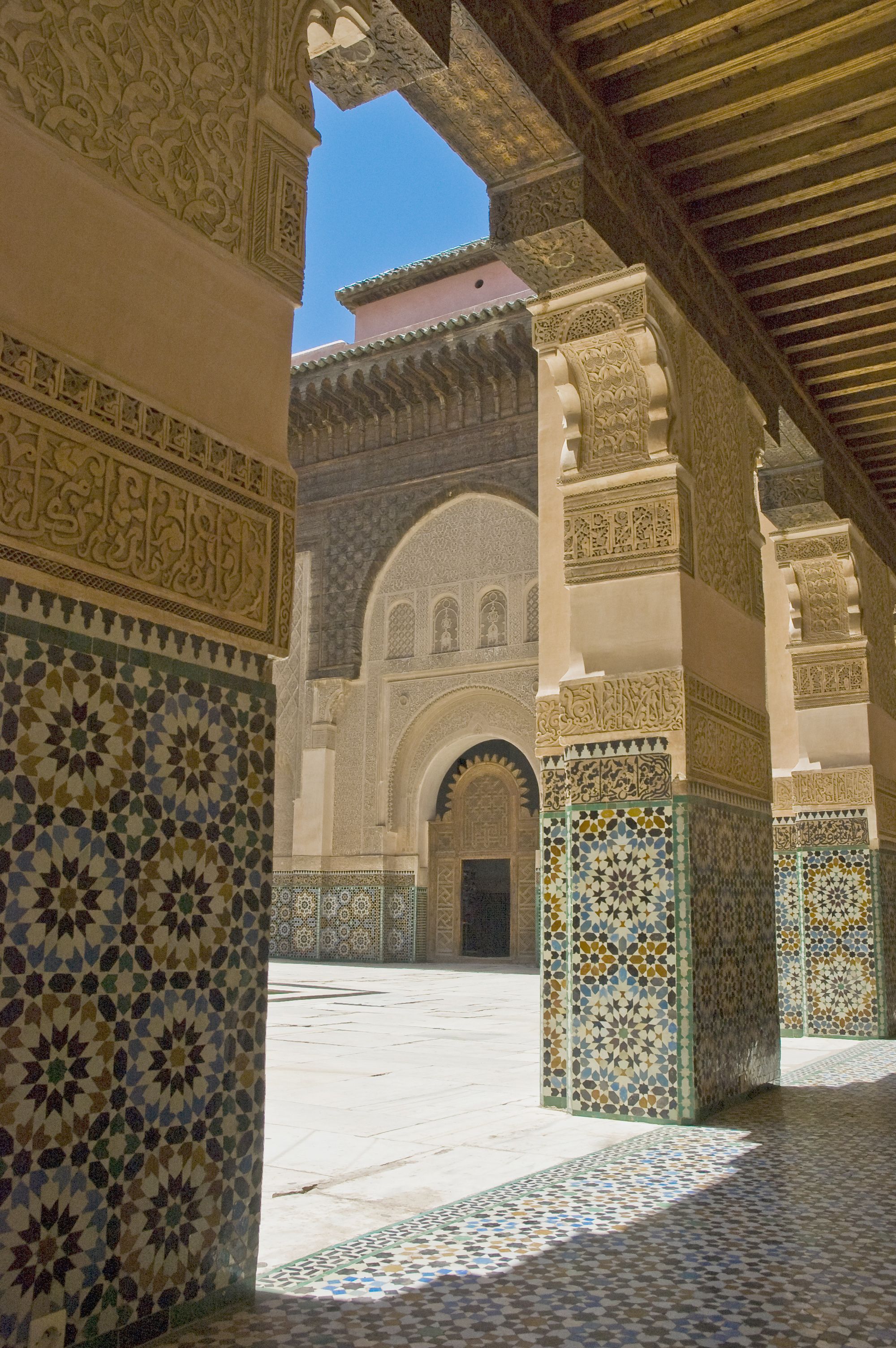 Bahia Palace
Discover the impressive 19th century building which is a legacy of the life of the Sultans. Decorated with marble, mosaics, stuccos, paintings and stained glass, the palace represents Moroccan architectural art. The palace was built by Si Moussa, the powerful Grand Vizier of Sultan Hassan I of Morocco in 1859 and bears the name of one of his wives. His objective was to build the greatest palace of its time, which came to fruition when his son took control of the palace in 1894.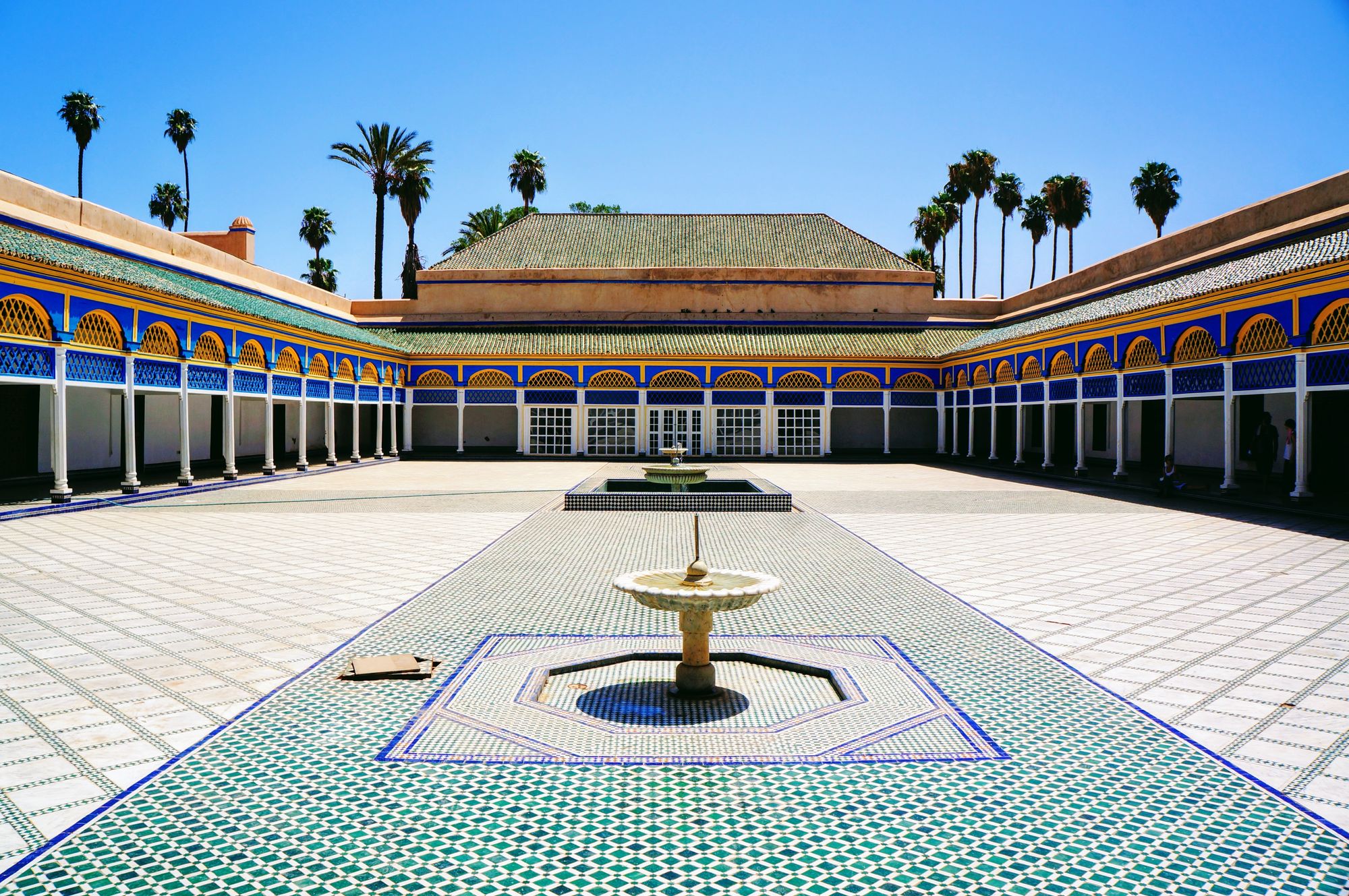 Atlas Mountains
On the outskirts of Marrakech, lies the epic Atlas Mountains, which dominates the city's backdrop. Marvel at Berber villages, desert oases, deep valleys and the Atlas Mountains that will take your breath away. The snow-capped mountain range is about an hour's drive from central Marrakech and can be seen from every vantage point in the city on a clear day. Hike through the mountains and visit some of the most remote Berber villages and enjoy amazing Moroccan food with locals who will happily host you in their homes.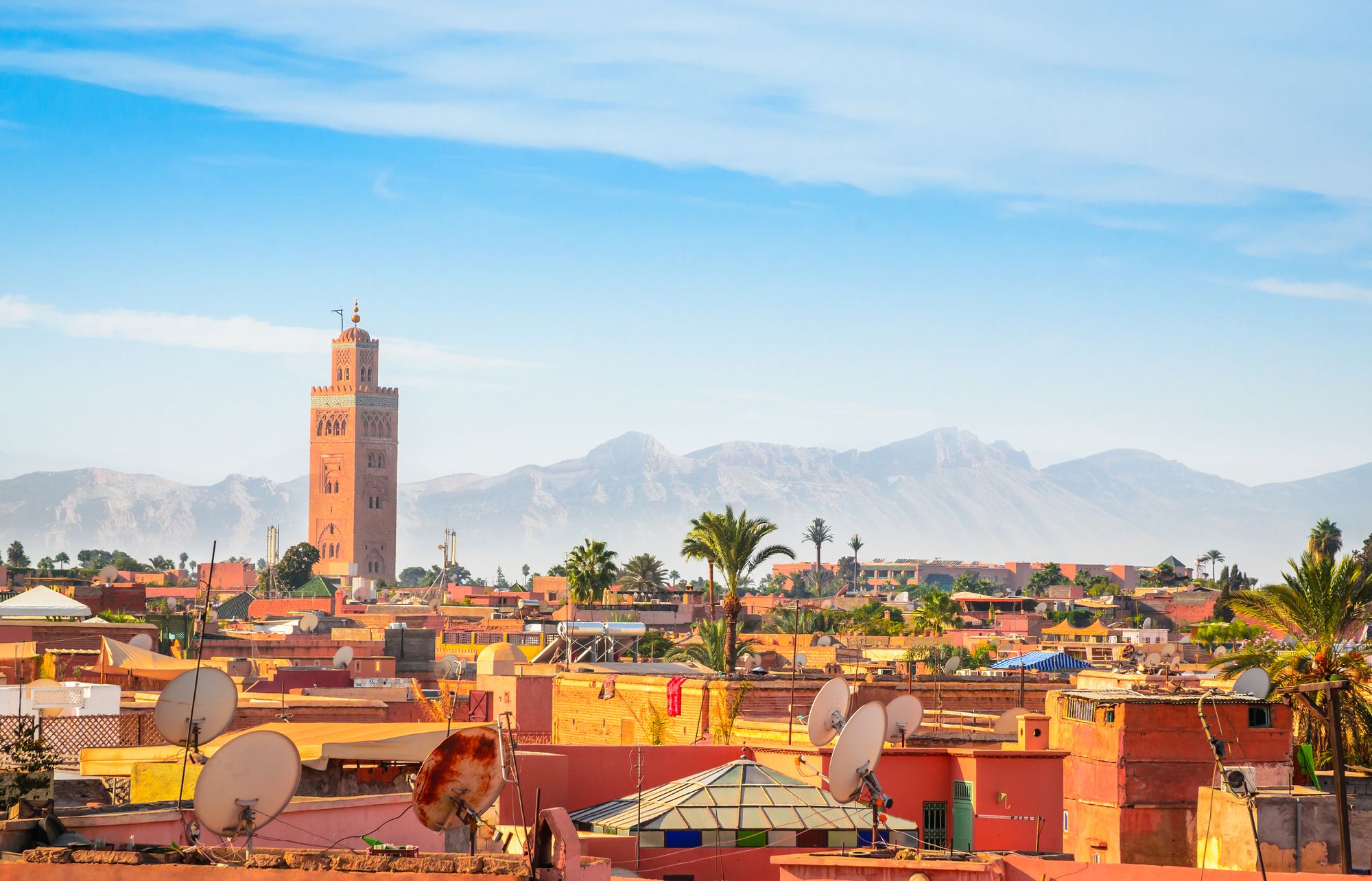 Top Activities in Marrakech
Cycle or Camel/Horse Ride in La Palmeraie
Hot-Air Balloon Ride over the Marrakech Countryside
Cooking class: Moroccan cuisine
Make your own Babouches at the Ateliers D'ailleurs
Oriental Bathing Culture in the Hamman
Cycle or Camel/Horse Ride in La Palmeraie
This palm oasis is located just outside the city of Marrakesh and has over 100,000 date palms and fruit trees. For a grand experience, take a bike ride or ride a horse or camel, surrounded by a few hundred thousand palm trees! For an adrenaline rush, rent a quad and go for it!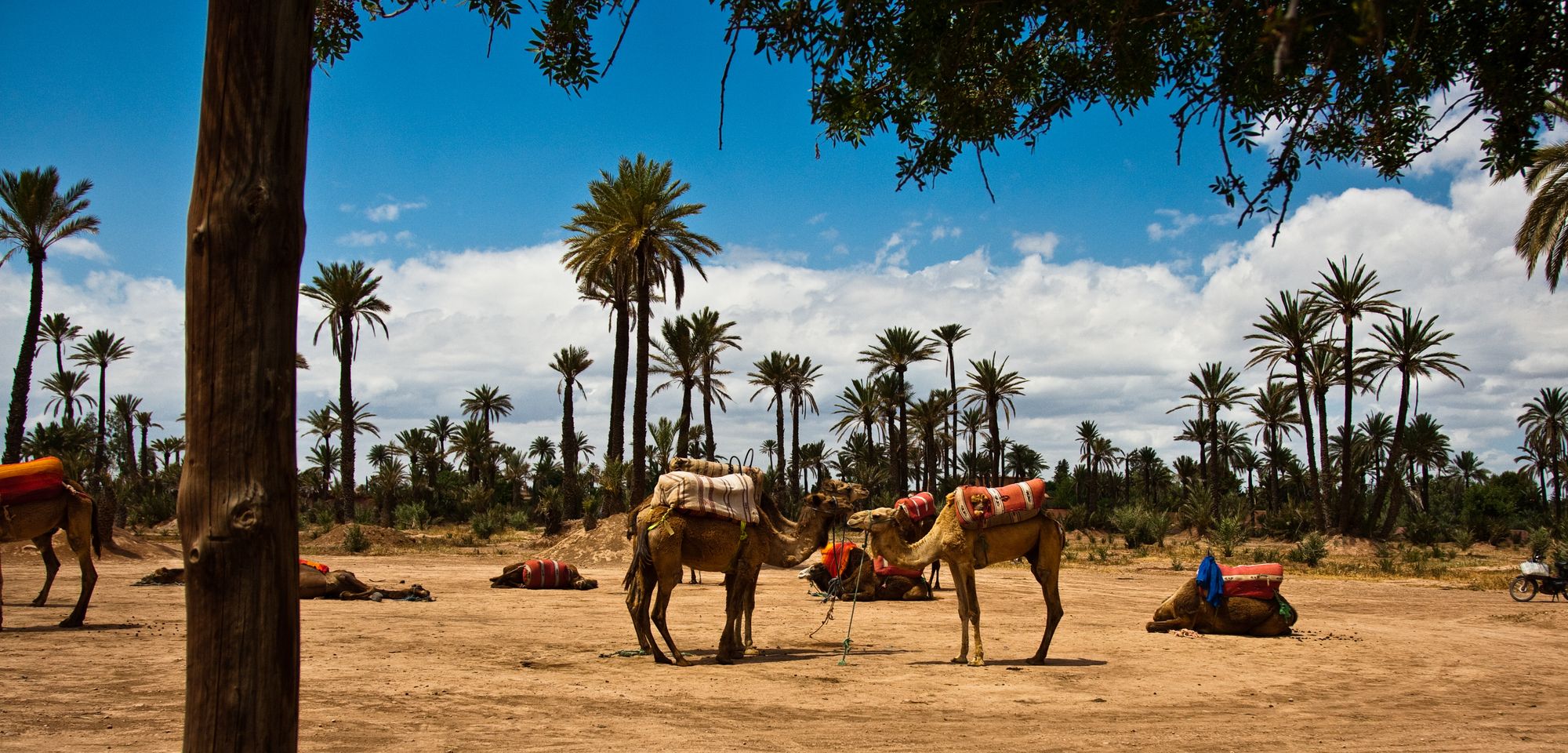 Hot-Air Balloon Ride over the Marrakesh Countryside
How about a birds-eye view of the countryside if you're feeling brave? Try a hot-air balloon ride! You will remember this once-in-a-lifetime experience. Arrive early in the morning and enjoy tea and light snacks as you watch your balloon inflate at sunrise. Take in the views of Berber villages, desert oases, deep valleys and the Atlas mountains. Once back on the ground, enjoy a post-balloon camel ride and a full breakfast in a nearby village. A truly unforgettable experience.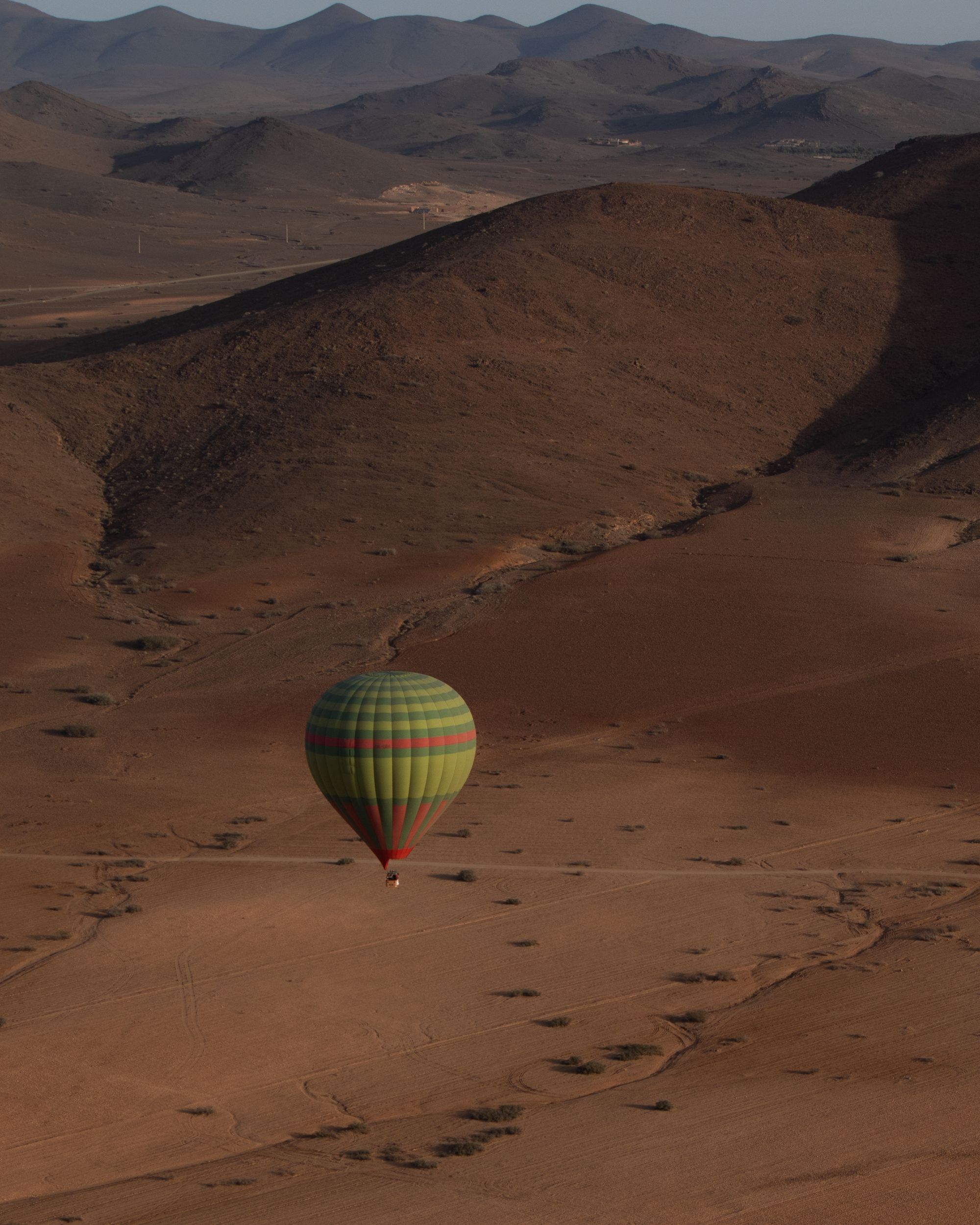 Cooking class: Moroccan cuisine
Food is central to Moroccan culture, so why not try to make some yourself? At Souk Cuisine, they host cooking classes with a twist. Beginning with a tour of the souks first in the morning, you shop for ingredients before heading to a riad where you will be taught how to cook by a group of local women. You will learn all the traditional methods of Moroccan cooking in great detail, from spotting the freshest produce to learning how to cook it over a 4-hour period while sipping fresh mint tea.
Make your own Babouches or Pots at the Ateliers d'Ailleurs
Take advantage of a unique opportunity to visit the Ateliers d'Ailleurs, a workshop where you can make your own pottery or babouches (slippers) with a master craftsman, or even take a step-by-step class. Not only is it an opportunity to get creative, but also to meet serious artisans and hear how they became masters of their craft. The course fee includes equipment and raw materials, an experienced craftsman, a guide to take you from the hotel to the workshop, lunch and a handmade souvenir made by the artisans.
Oriental bathing culture in the hammam
Take a break from the hustle and bustle of the souks and Medina and enjoy an authentic Moroccan cultural experience. Purify your body, rejuvenate and relax your mind in a traditional Moroccan hammam. The experience usually consists of a number of different stages with a steam bath, skin lathering with the traditional black soap, skin scrubbing with a 'kessa' and finally washing with cold water. To enjoy a local hammam experience, visit the Hammam Dar el Bacha in the medina of Marrakech. It is open to men and women separately at different times of the day. There is also the luxurious Royal Mansour, loved by the rich and famous, which is spread over three floors. There are separate hammam sections for men and women. You can also rent a private hammam suite for complete privacy and choose from a range of treatments.
Mosques in Marrakech
Koutoubia Mosque
The magnificent Koutoubia Mosque looks over the Medina of Marrakech. Built during the Hispano-Moresque period in 1158 with masterful craftsmanship and luxury, it is arguably the most beautiful mosque in the world. The tallest building in Marrakech houses its iconic nearly 70m high minaret towering over the city. And very typical of Marrakech, the colour of the mosque is red!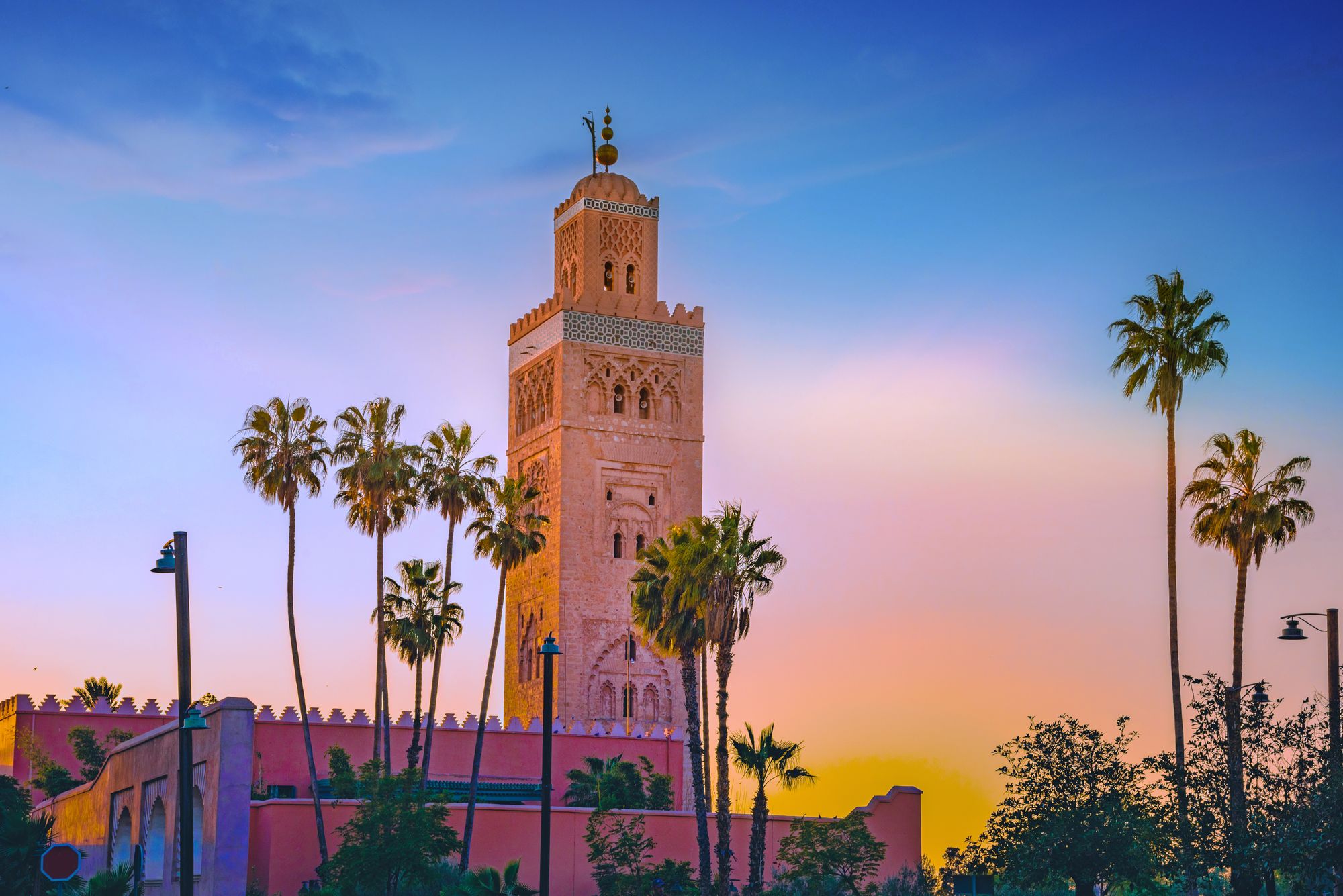 Ben Youssef Mosque
The Ben Youssef Mosque was built in 1070 by Yusuf ibn Tashfin, an Almoravid Emir, as the central place of worship for Marrakech, which was just a tiny fledgling city at the time. It is the oldest and most important mosque in Marrakech. Throughout history, it has been expanded, demolished, rebuilt, and refurbished many times. Although almost no traces of Almoravid architecture or Almohad architecture remain, the original name of the Ben Youssef Mosque has remained.
Bab Doukkala Mosque
This historical sixteenth-century mosque was commissioned in 1558 by Lalla Masuda, wife of the first Saadian sultan Mohammed el-Sheikh. Also known as Al-Hurra Mosque, it  is named after the nearby western city gate, Bab Doukkala.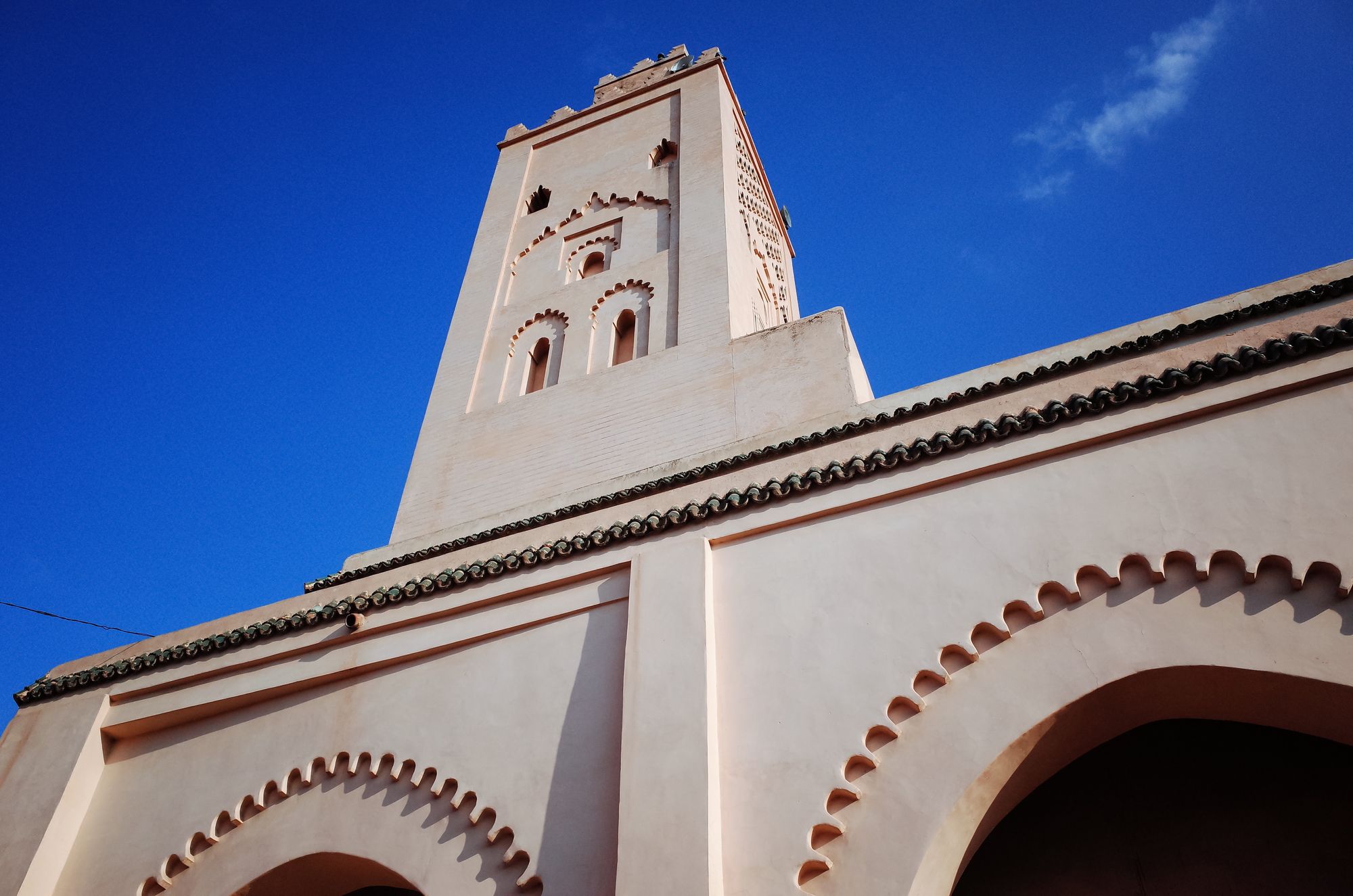 Halal food and restaurants in Marrakech
For your peace of mind, Morocco being a Muslim country, all food served in restaurants is halal, with the exception of some tourist facilities in resorts. As mentioned above, food makes Marrakech tick and your trip wouldn't be complete without trying out some Moroccan dishes. So here's what you should try:
Tajine - The dish that is almost synonymous with Morocco! Cooked and served in a cone-shaped clay dish, the lamb is slowly cooked with spices (usually turmeric, cumin, saffron or ginger) and prunes until tender, resulting in a broth bursting with flavour. Alternatively, there are also tajines with chicken, lamb or fish. Homemade is always best, so give it a try during your stay in a riad or a villa.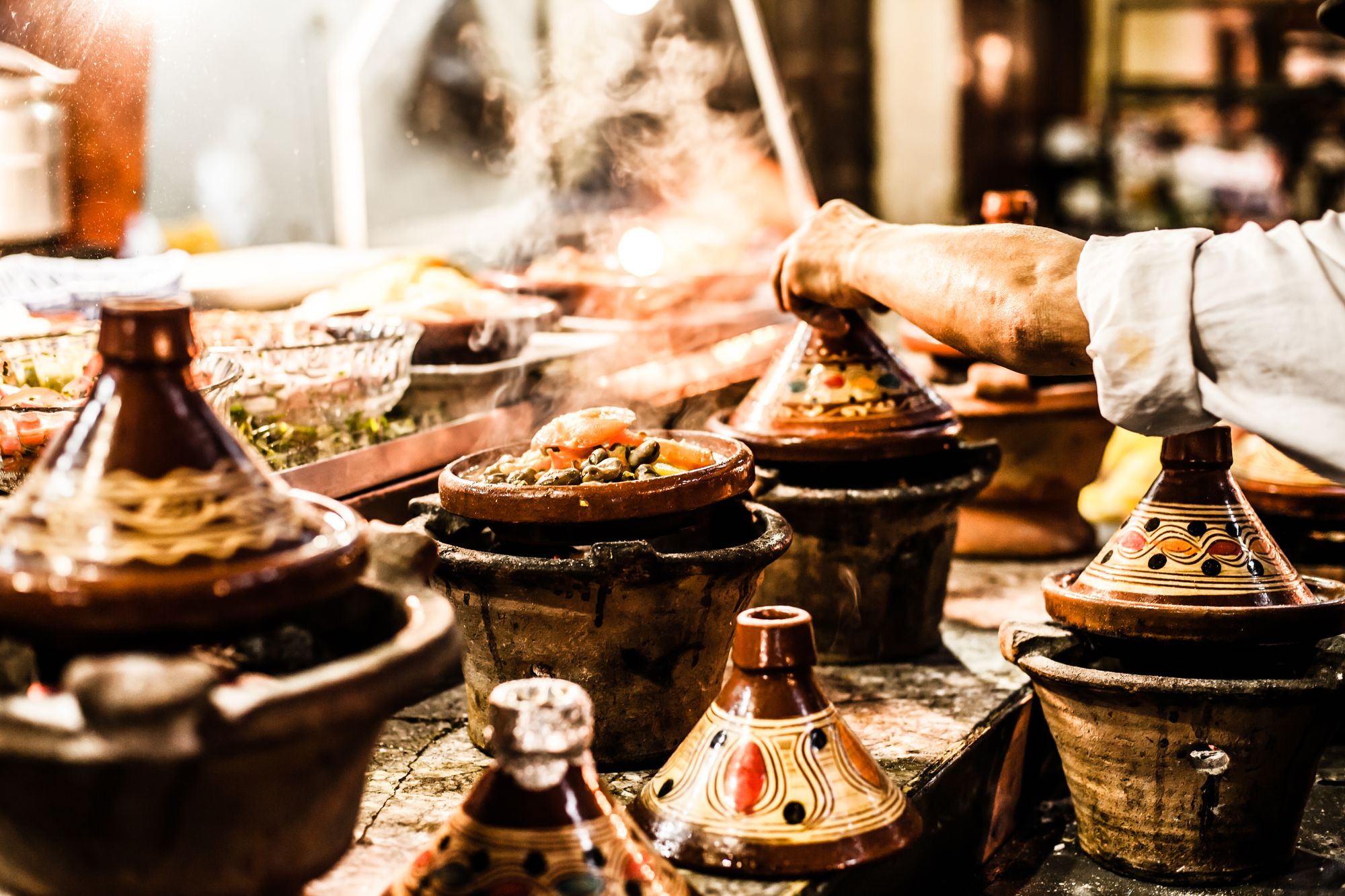 Pastilla - Usually, Pastillas are served as a starter before a main meal. It's a chicken-filled pie wrapped in flaky dough, similar to filo. It combines sweet and savoury: meat cooked in butter before being shredded, a sauce thick as custard spiced with saffron and other spices, and a layer of toasted nuts, sugar and powdered cinnamon. The ideal place to try is a visit to fine dining restaurants such as the Royal Mansour, the Es Saadi Hotel or the Mamounia.
Méchoui - Meat lovers will love the sight of a whole lamb roasted on a spit, méchoui-style. The meat is usually sprinkled with a generous amount of ras el hanout spice and rotated slowly over embers. It takes a few hours for the meat to become tender. Head to Mechoui Alley, where vendors set up stalls to carve off some of the most succulent cuts of slow-roasted lamb.
Tangia - Similar to tagine, tangia refers to both a dish and the cooking apparatus. Rather than a cone shape, it's encased in an urn and, typical of Moroccan food, takes even longer to cook than its similarly named but better-known dish. It's also known as bent r'mad (daughter of ashes), as the embers are where it's embedded to cook for hours. For the street food version, head to Chez Lamine among the street stalls and for a more refined palate try the Royal Mansour.
Couscous - Soft, buttery couscous is a staple throughout Marrakech. It's hard to imagine any feast or celebration across Morocco without it. A traditional recipe consists of seven vegetables varying according to the season, stewed with meat in a broth. Couscous needs to be cooked low and slow so the grains soak up all the flavour. It's often topped with a garnish of raisins and caramelised onions. Why not visit Naima, a tiny one-room restaurant in the medina, or the Amal Center which serves a traditional couscous on Fridays.
Mint Tea and Pastries - There is no way to visit Marrakech without sipping mint tea at any time of day. It's best drunk with sugar alongside Moroccan biscuits and pastries, like ghoriba, a Maghrebi cookie, sweet briouates and chebakia, rolled strips of dough deep-fried and tossed with rosewater, honey and sesame seeds. Enjoy mint tea and pastries while watching live gnaoua musicians perform at Cafe Clock.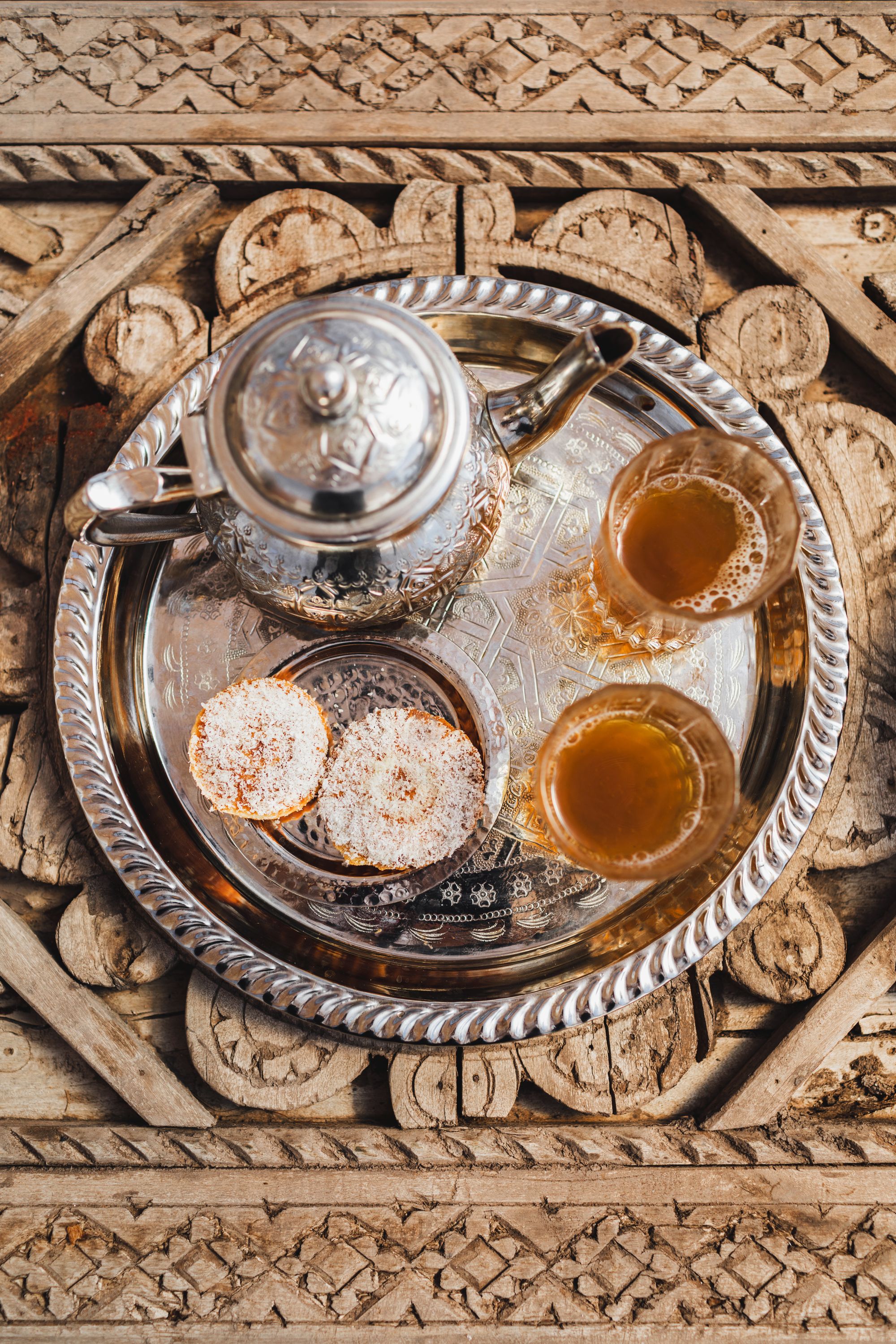 Freshly Squeezed Juice - One of the very first things to do when arriving at Jemaa el-Fna is to try some freshly squeezed orange or pomegranate juice at one of the many vendors and stalls dotted across the square. The taste sensation will be as if you have tasted the best and freshest fruits you've ever had. And this for less than a euro, pound or dollar!
How to get around in Marrakech
Getting from one destination to another in Marrakech is easy and not too costly for such a compact city. One thing is certain: the car is not your best means of transport, especially when you want to browse the souks and narrow alleys.
Taxi - The easiest way to get around quickly is to take a taxi. However, try to look outside of the tourist areas as fares are usually cheaper there. Taxi apps such as Uber, Bolt and Lyft are not usable in Marrakech, so hailing one from the street is your best option. Make sure you agree on a fare with your driver before beginning your journey.
Walking - To see Marrakech in all its splendour, we strongly recommend seeing it on foot unless you're in a hurry. The city is almost made for trekking, given how flat and compact it is, adding that the alleyways and souks are much easier to navigate than by car.
Bus - Bus services start around 6am and finish between 9:30pm and 10pm, with buses running every 15 to 20 minutes on most routes. You can buy tickets on board and they will take you around the whole city including the main attractions.
Calèche - These green horse-drawn carriages parked outside Jemaa el Fna are a nice way to get around the city if you're after a fancy holiday. A typical Caleche route would be from Jardin Majorelle to the Kasbah and Mellah via Djemaa El Fna and around the city walls. As with taxis, make sure to haggle down for a decent rate before setting off.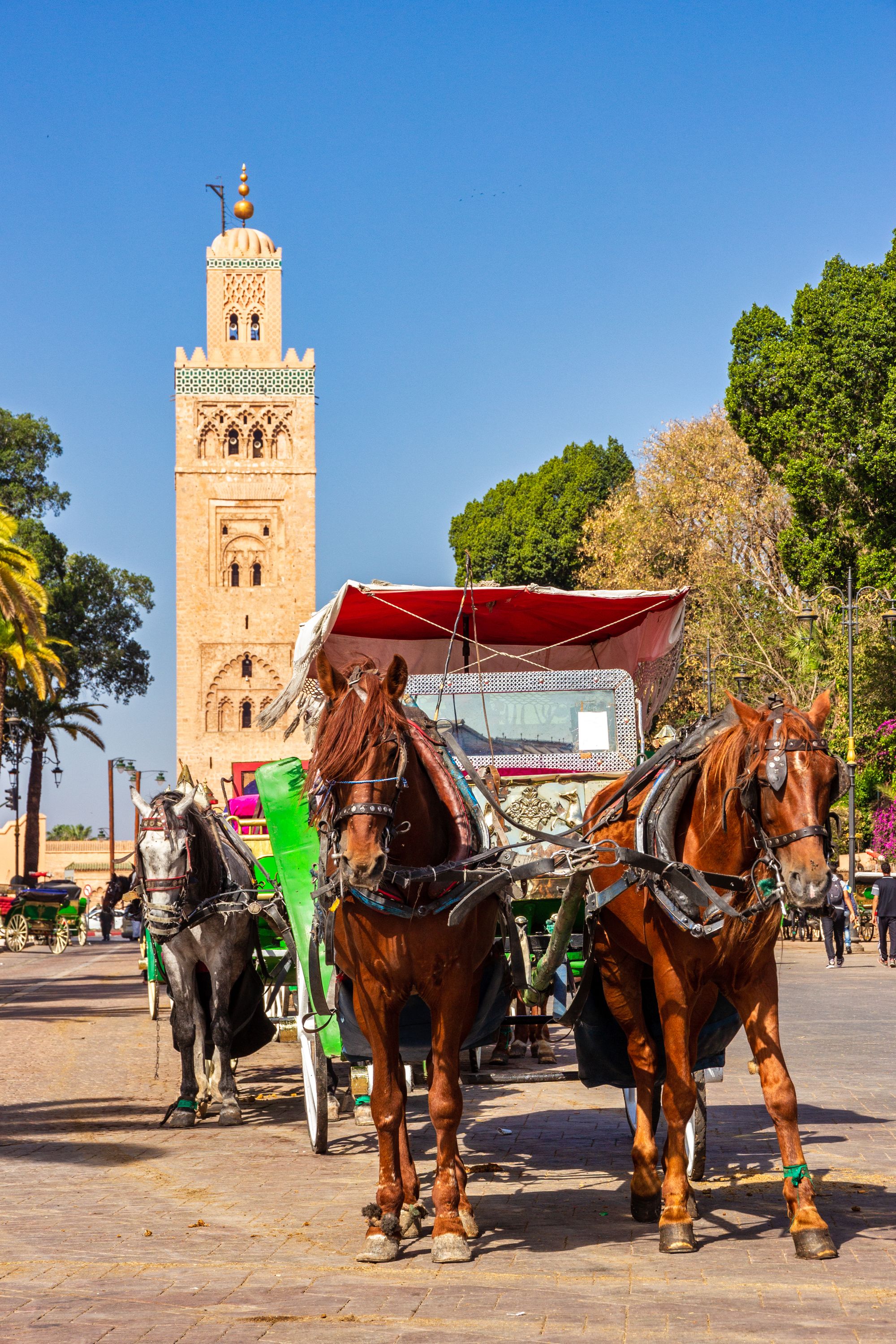 Car - You can rent a car at the airport or from car hire companies in the city. But a word of warning: it is not the most car-friendly city, especially in the medina and often drivers don't indicate and drive in between lanes.
Bicycle - Cycling, if you can stomach it, can be a great alternative way to see and get around Marrakech. Marrakesh was also the first city in Africa to introduce a bike-sharing scheme. Medina Bike has kiosks at the Koutoubia Mosque, the Place de la Liberté in Gueliz and the Jardin Majorelle. Register for the service via the app or website. Bikes and helmets can be rented at outlets such as AXS and Pikala Bikes.
Halal-friendly properties in Marrakech
Morocco has proved to be one of our most popular destinations for halal-friendly holidays. It is one of those countries whose very name conjures up exotic images of atmospheric medinas, bustling souks, spice-filled aromas and spectacular scenery. From halal-friendly hotels, resorts and villas to riads, Marrakech offers a variety of property types to suit all your needs.
Villas -Holidays in villas are always a good choice for families with children. Without the pressure to fit in with others' schedules, self-catering is sometimes the best option for picky eaters or families who don't all have the same schedule. Our Moroccan villas offer the best of both worlds - some are available on a self-catering basis; others have use of the communal facilities or come with a chef or housekeeper to shop and cook for you (may incur an additional fee, so check the details on individual property pages).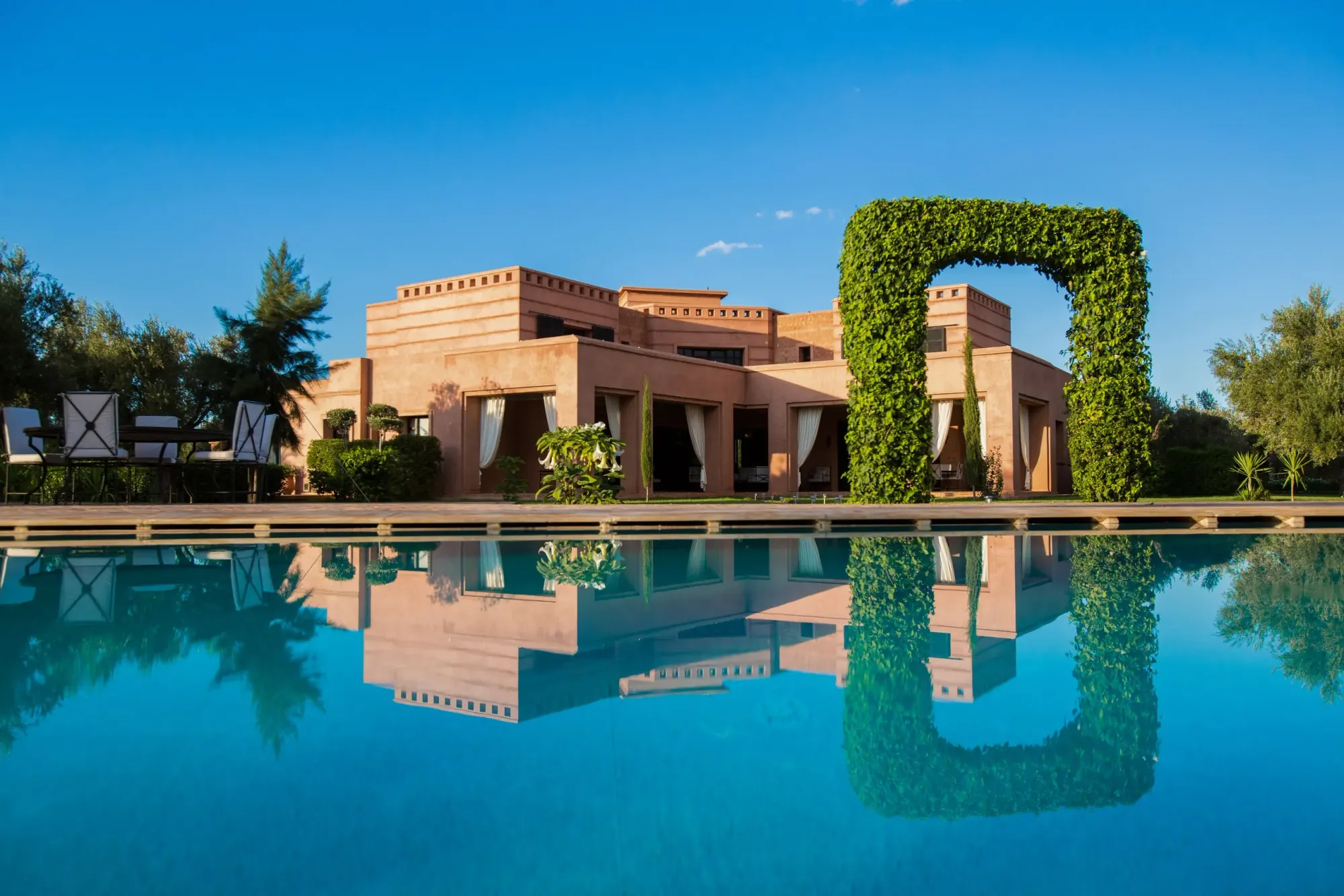 5-bedroom luxury villa enjoying mountain views with private pool and spa centre. It is within easy reach of Marrakech. Each room has a private bathroom, and helpful staff are on hand.
Discover all our halal-friendly villas in Marrakech.
Riads - For a true Moroccan experience, stay in a traditional riad. Once only reserved for the very rich and the aristocracy, they are now accessible to everyone with their multi-storey buildings that have a wonderful courtyard with a water fountain feature and often have grand rooftop terraces. Choose from one of many halal-friendly riads in Marrakech!
To learn more about riads, have a read through our Blog about riads.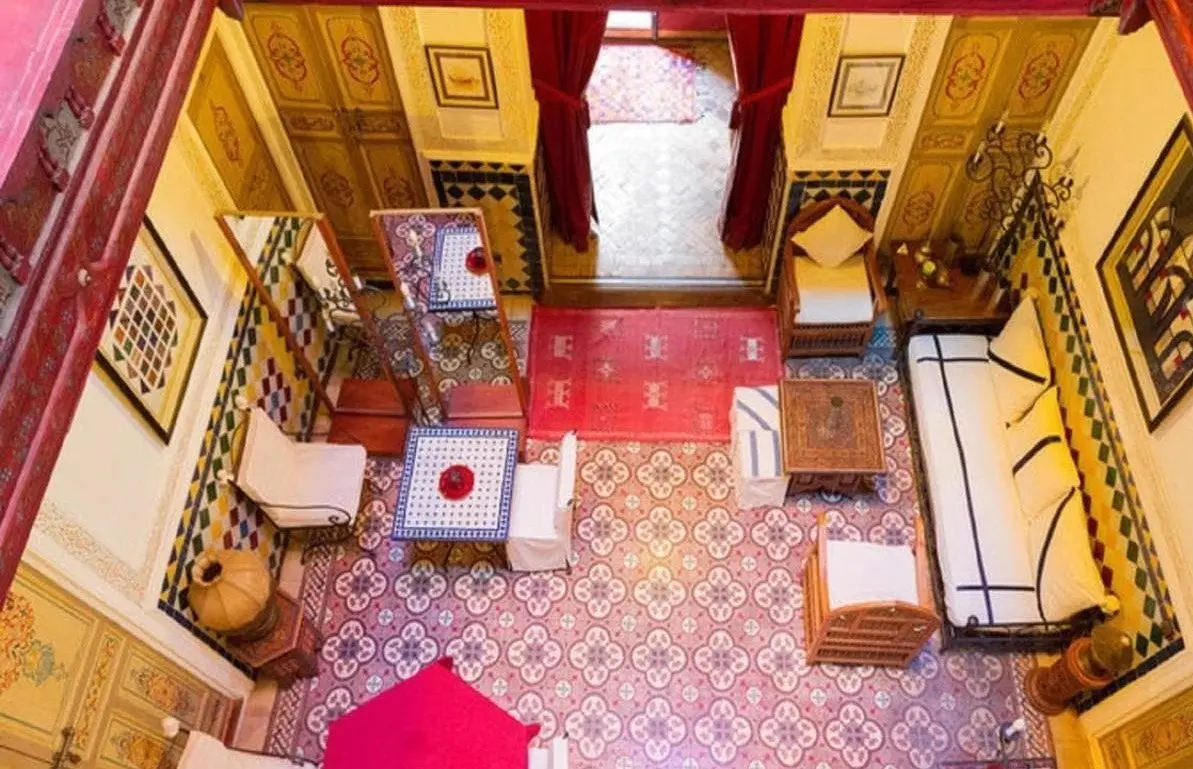 Within the old walls of the Medina (old city), this stunning Riad is right next to the buttresses of the XVI century Palace El Badi and offers a priceless experience of traditional Moroccan hospitality.
Suggested 3 day itinerary for visiting Marrakech

Day 1 - Start with a visit to the Marrakech Medina and lose yourself in the many passages, alleys and tunnels. There are countless little souks and stores selling everything and anything you could want in this UNESCO World Heritage Site, which dates back to the 11th century. Next, visit the Koutoubia Mosque for salat, whose name translates to the "Booksellers' Mosque" because of the many booksellers who used to sell their products in the area. Finish our outing at the iconic Jemaa el Fnaa, home to the biggest souk in Morocco and also Africa's biggest and busiest street food market square, serving merguez sausages and other grilled meats.
Day 2 - Start your day with a visit to the 19th-century Bahia Palace to see the beautiful mosaics and paintings. If you're after more culture, then the El Badi Palace, commonly referred to as "the eighth wonder of the world" is also a must-see. For stunning Islamic architecture, greenery and water features, The Menara Gardens should also be on your must-visit list. Finally, relax in the Jardin Majorelle where you can simultaneously visit the Yves Saint Laurent Museum, both of the most popular tourist attractions in Marrakech.
Day 3 - For an alternative shopping experience, less intense than Jemaa el Fna, head to the Gueliz District to shop for designer leather goods or popular brands at cheaper prices than in Europe. Or if you want to escape the city, the epic foothills of the Atlas Mountains are well worth a visit. Learn about Berber culture and traditions by visiting a village and sharing breakfast with them. Marvel at desert oases, deep valleys and the stunning Atlas mountains. And if you're feeling brave, try a hot-air balloon ride!
It is very easy to combine a stay in Marrakech with visits to other parts of Morocco. HalalBooking offers a large selection of halal-friendly properties in Morocco, spread across the kingdom.
If you wish to know more about Morrocco's imperial cities, please read our blog The Imperial and Historical Cities of Morocco: Fez, Marrakech, Meknes and Rabat