Road trips in Turkey with HalalBooking: Bodrum-Antalya Route
The second of HalalBooking's Turkish road trips starts in Bodrum - the famous Aegean seaside resort - and follows the Aegean coast to the south and finally takes you to Antalya. Along the way, you will pass through history, culture and nature.
Get Ready For a Marvellous Road Trip!
Start your journey by renting a car from Bodrum Milas Airport or Bodrum city centre.
If you plan to start your road trip at Milas Airport, follow the D330 Highway. After 35 km (about 30 minutes) you will arrive in Bodrum city centre.
BODRUM
With its magnificent beaches, bays, colourful flowers around the cobblestone roads and 3,500-year-old cultural heritage, Bodrum welcomes hundreds of thousands of visitors every year and is one of the most popular holiday resorts on the Aegean coast.
Bodrum offers a great number of halal-friendly properties ranging from resort hotels to boutique hotels and villas. One of the most exclusive resorts in Bodrum is The Oba Hotel, which opened in 2020. This is the only hotel in Bodrum which has a women-only, men-only and a family beach. Among its halal-friendly services catering for women and men in separate areas, there are indoor and outdoor pools, aqua parks and spa centres. It is an alcohol-free holiday resort where families, especially those with children, can spend a pleasant time thanks to daytime and evening activities, children's clubs and childcare services.
For guests looking for a more affordable hotel, Inanc Hotel Bodrum is the ideal option. It offers its guests accommodation with an all-inclusive concept and is home to women-only indoor and outdoor pools as well as a spa centre dedicated to women. It is located within 5-minutes' walking distance of a private beach area, which is allocated for its guests.
The museums in Bodrum city centre are like a treasure chest filled with history, art and culture. The must-see ones are the Museum of Underwater Archaeology, exhibiting the 3,300-year-old Uluburun shipwreck; the Zeki Muren Art Museum, displaying the belongings, clothes and awards of the famous Turkish singer Zeki Muren; and the Bodrum Maritime Museum, hosting artifacts from Bodrum's maritime history.
Those who want to pack their holiday full of history can travel back to antiquity by visiting the ancient cities of Myndos, Iasos and Pedasa, taking part in activities organised in the Bodrum Antique Theatre and seeing the remains of the Mausoleum of Halicarnassus, which was one of the 7 wonders of the ancient world. Bodrum Castle, built in the 15th century, and the Ottoman Shipyard, built  in 1775, are among the remains of Bodrum's Ottoman heritage.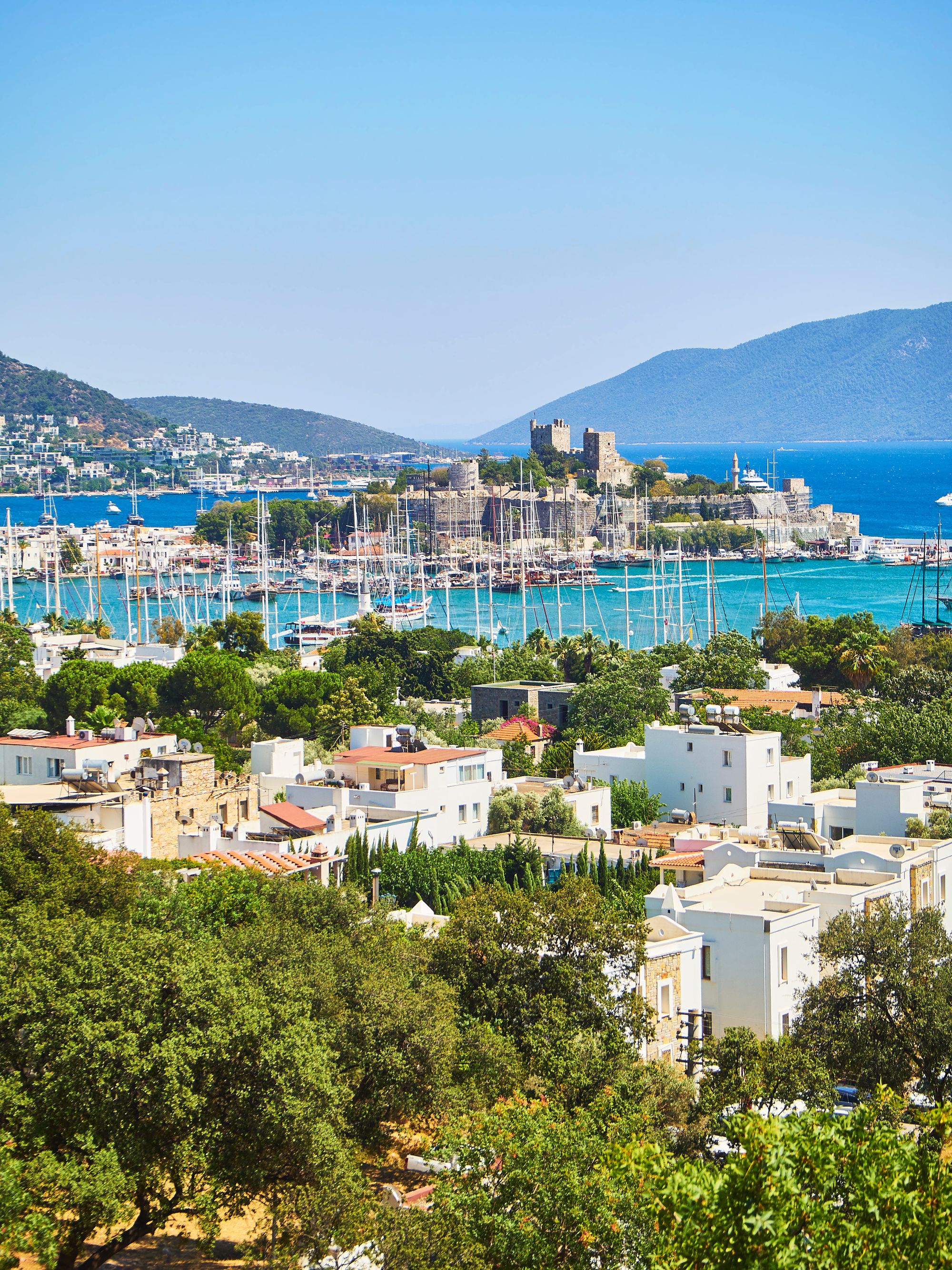 There are also countless natural beauties in Bodrum like Rabbit Island, which is very close to and accessible on foot from Gumusluk; Incirlin Cave, with its fascinating geologic formations ; Gokceler Canyon, which is home to a great variety of plants and animal species and the deserted Sandima village, famous for its stone houses.
If you want to learn more about Bodrum's magnificent beaches or discover its beautiful bays, take a look at our article entitled: "The Beautiful Beaches and Bays of Bodrum.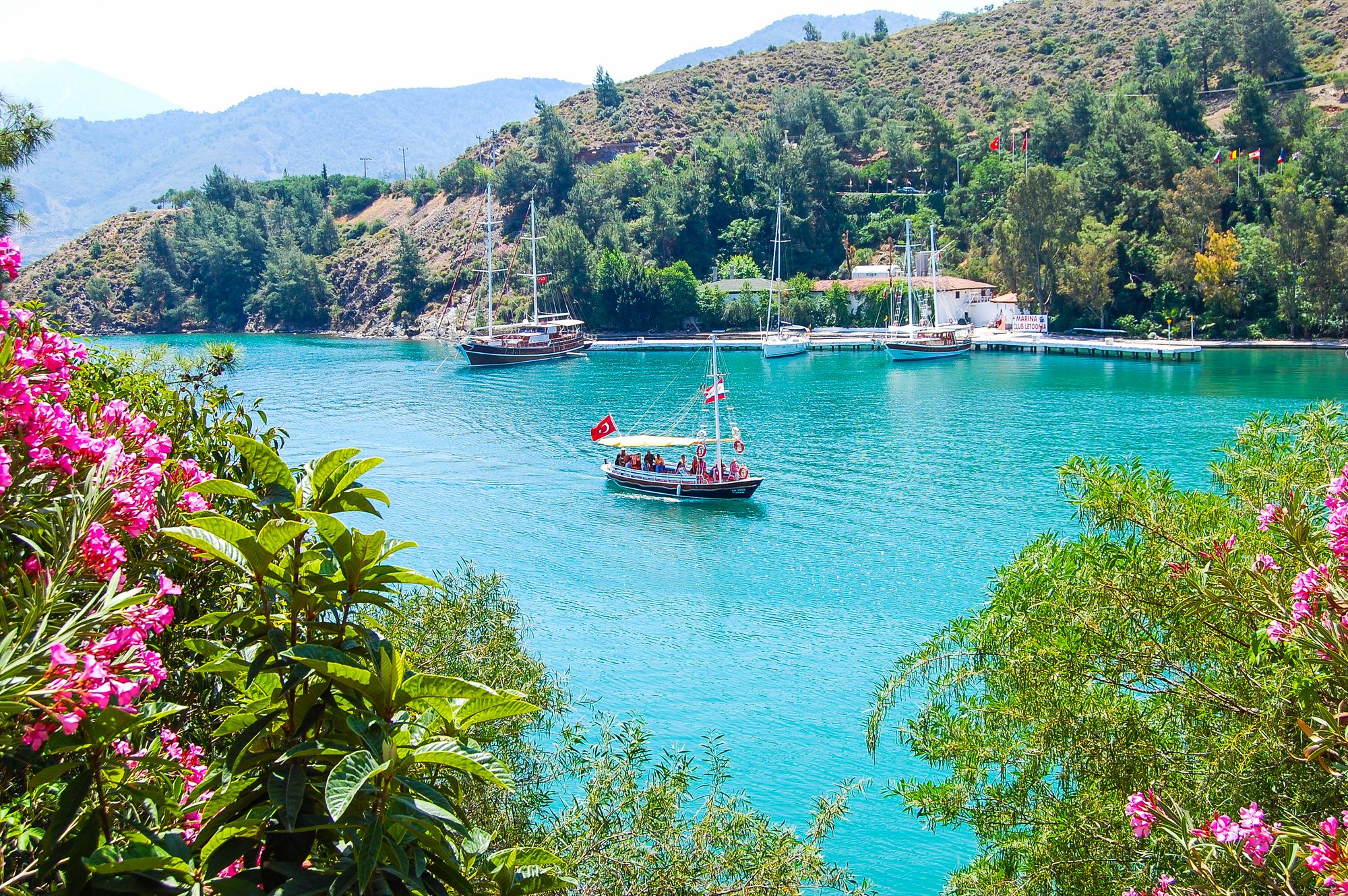 It only takes 45 minutes by ferry and 20 minutes by high-speed catamaran from Bodrum to the Greek island of Kos/Istankoy Island. Ferry and catamaran tours to Kos Island are run by private companies and depart from Bodrum and Turgutreis ports. The price of a ferry ticket can vary depending on the year and season but on average a round-trip ticket costs 20 euros per adult, and 10 euros per child. To go to Kos Island, you need a green Turkish passport, Schengen visa or an international passport with entry visa, if required.
Kos Island, also known as Istankoy, has a population of 50,000 people, up to 3,000 of whom are of Turkish origin. Many Turks run restaurants and offer specialties that combine elements of the Turkish and Greek cuisine.
During your island tour, visit the Castle of the Knights, located just at the entrance to the port of Istankoy, the excavation area Ancient Agora (ancient market), where excavations are still going on, and the Plane Tree of Hippocrates, which is said to be the place where Hippocrates -the father of medicine- lectured his students. Watch the breathtaking sunset in Zia village, which is only 16 km from the centre.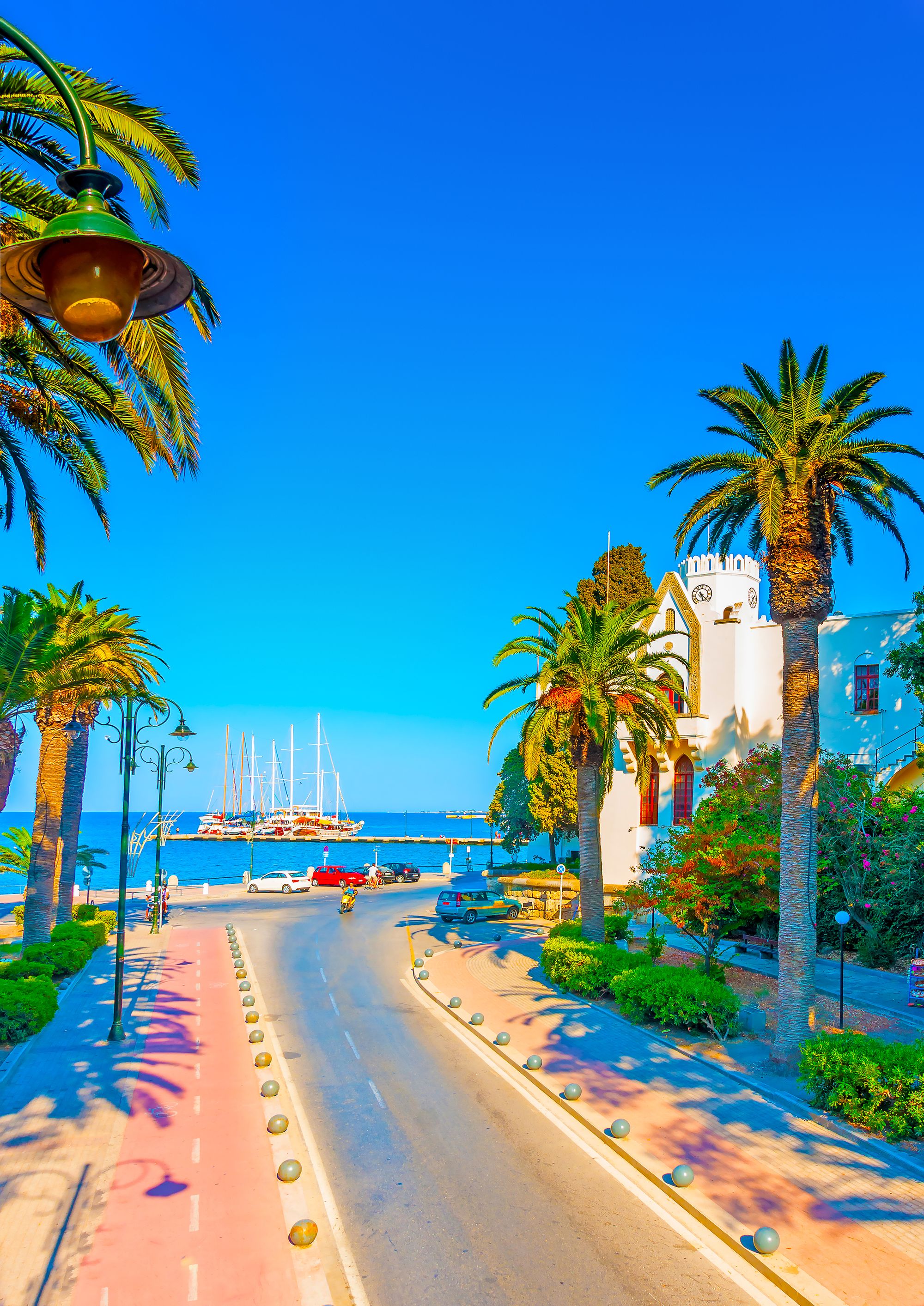 The next stop on your road trip is Datca. The easiest and shortest route between Bodrum and Datca is a wonderful 1.5 hour journey by ferry. The overland route takes about 3 hours. Ferry schedules (departing Bodrum port) vary according to the season, but they are constantly updated on the company website. The sea journey from Bodrum to Datca costs 175 TL per car (including the driver) and 20 TL for each passenger. Children up to 6 years of age travel free of charge, and there is a 50% discount for children from 7 to 12 years of age. Note that these prices refer to the summer season 2021. You can find current tariffs online.
DATCA
With its cobblestone roads and old houses, Datca is a typical town of the Aegean region, situated on the Datca peninsula. By strolling through the markets, you can shop and feel the authentic atmosphere of the city. With its inspiring almond and olive trees, Datca is a place which has not lost its natural beauty and this makes it very peaceful. Visit the neighbourhood widely known as Old Datca, offering a variety of must-see places. Enjoy Turkish pancakes (gozleme) and drink Turkish ayran (yoghurt drink) at Orhan's Coffee House while resting under the shade of the mulberry trees. Discover the House Of Alamango, which is a historic Greek house, and buy handmade products and souvenirs from stalls set up along the streets.
Datça's amazing nature and charming atmosphere offer its visitors numerous activities: enjoying the sun and sea on blue-flagged beaches, exploring the beautiful bays with boat tours or yacht trips, hiking and biking on the trails, discovering the traces of antiquity in the ancient city of Knidos -the first civilization of the Carians - and joining the artistic events which last throughout Datca's summer season.
Your next stop is Marmaris, which you will reach after driving 70 km on the D400 highway (about 1 hour drive).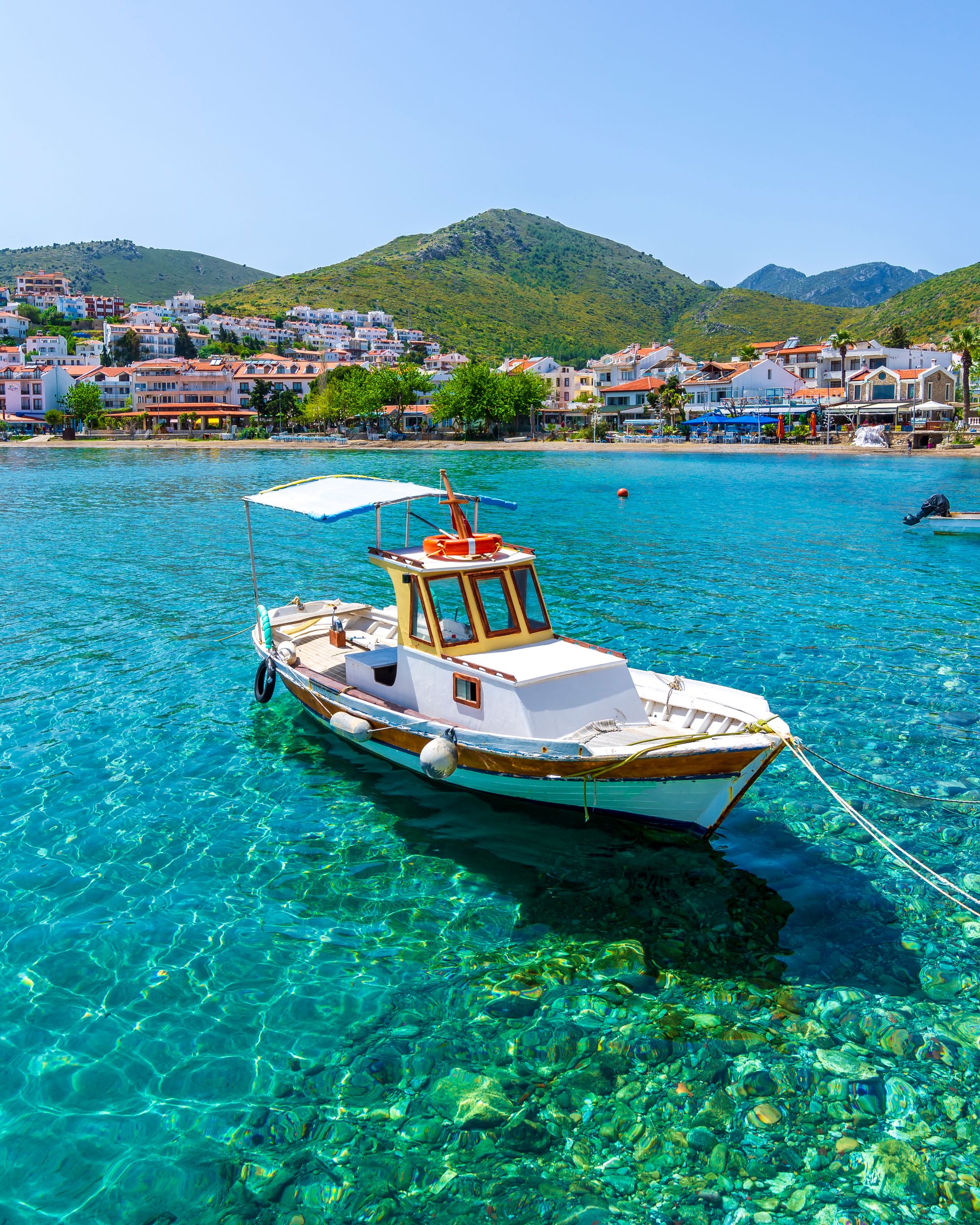 MARMARIS
Marmaris is home to countless natural beauties including its spectacular bays and lush forests as well as impressive historical structures dating from ancient times and from the Ottoman period. It has also recently become one of the most popular halal-friendly holiday destinations, with an increase in the number of its Muslim-friendly holiday resorts, hotels and villas.
If you want to pamper yourself and enjoy the sea, sun and pool on a holiday in Marmaris, Angel's Marmaris, a 5-star alcohol-free holiday resort with a private beach, is ideal for you. Located on its own bay, it provides women-only, men-only and family beaches, pools, aqua parks and many other facilities.
If you prefer a more affordable alternative, you can stay at Mavi Deniz Hotel in Turunc. This 4-star alcohol-free hotel provides its guests with peaceful accommodation with a simple and comfortable design. It offers pools and spa facilities that serve women and men in separate areas. This seafront hotel also has a mixed beach and sunbathing area which can be enjoyed with modest swimwear.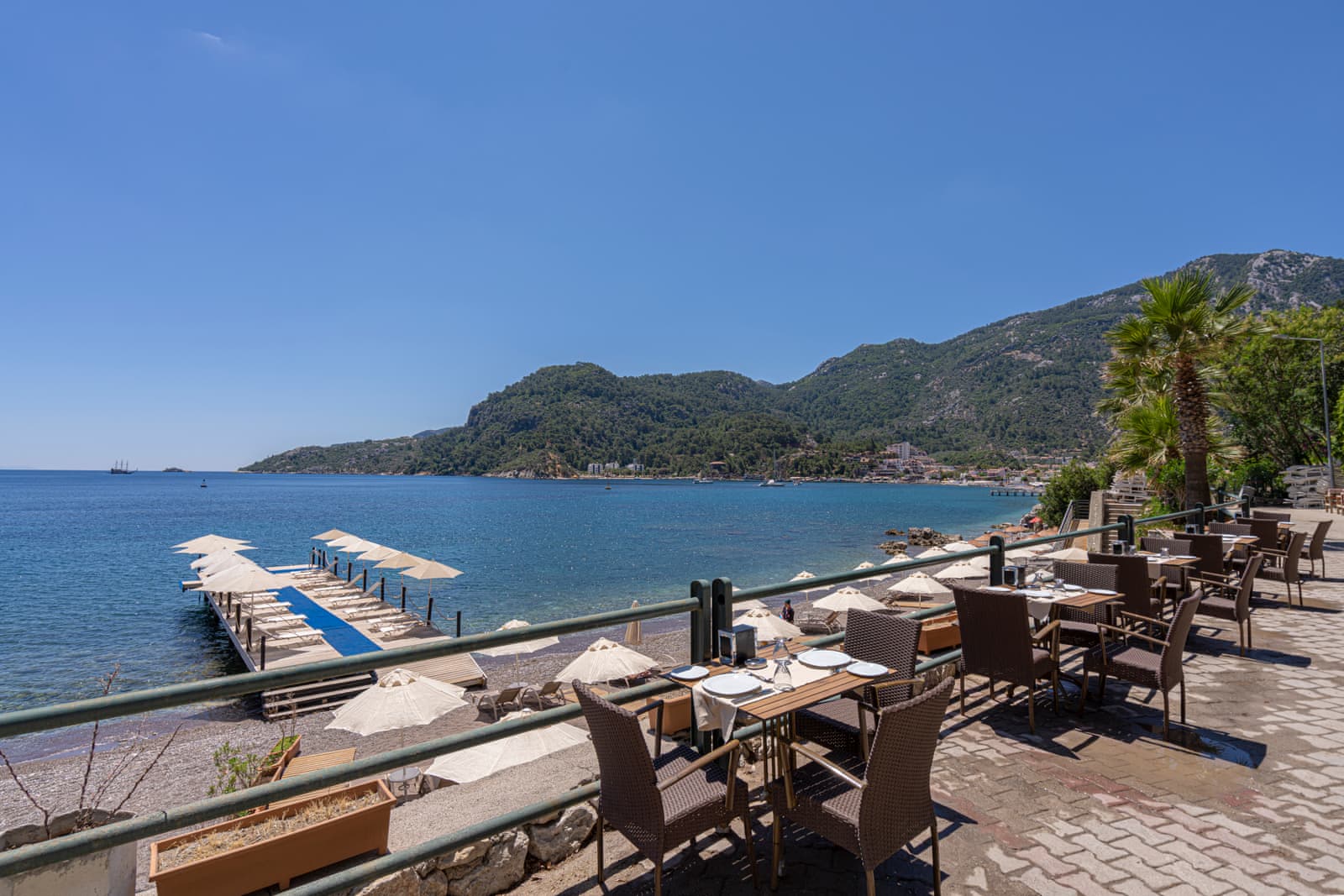 Marmaris and its surroundings were home to very important port cities in ancient times, whose ruins turned Marmaris into an open-air museum. You can visit ancient cities like Physkos, Amos, Loryma, Gallipolis, Hyda, Kedrai and Idyma.
The historical structures in the area are not limited to antiquity. Since it was one of the most important stops of Suleiman the Magnificent during his expedition to Rhodes, you can find many artifacts in Marmaris, which date back to the Ottoman era. Popular places are  Marmaris Castle, which is thought to have been built during or just before the Rhodes expedition, the Hafsa Sultan Caravanserai which was built for the mother of Suleiman the Magnificent, the Tomb of Sariana, a famous fortune teller who told Sultan Suleiman, before his conquest of Rhodes, "If none of your soldiers has anything ill-gotten, then the victory is yours.", and the Tashan & Kemerli Bridge.
If you want to spend a peaceful day enjoying a fabulous river view in the middle of lush trees, visit Saklıgol (Hidden Lake). You can eat in the lake's restaurant, surrounded by the Azmak River, which flows into the Gulf of Gokova, and engage in many activities such as canoeing, pedalo, horse safari, archery and golf.
Those who love diving often choose Paradise Island, which is a peninsula of outstanding natural wonder. There are many restaurants and cafes on the island. Also, located at the top of the island is Nimara Cave, one of the most popular local attractions with a 12 thousand-year history. Another popular stop for diving enthusiasts is the Chimney Cave (Baca Magarasi)- an underwater cave at a depth of 14 metres.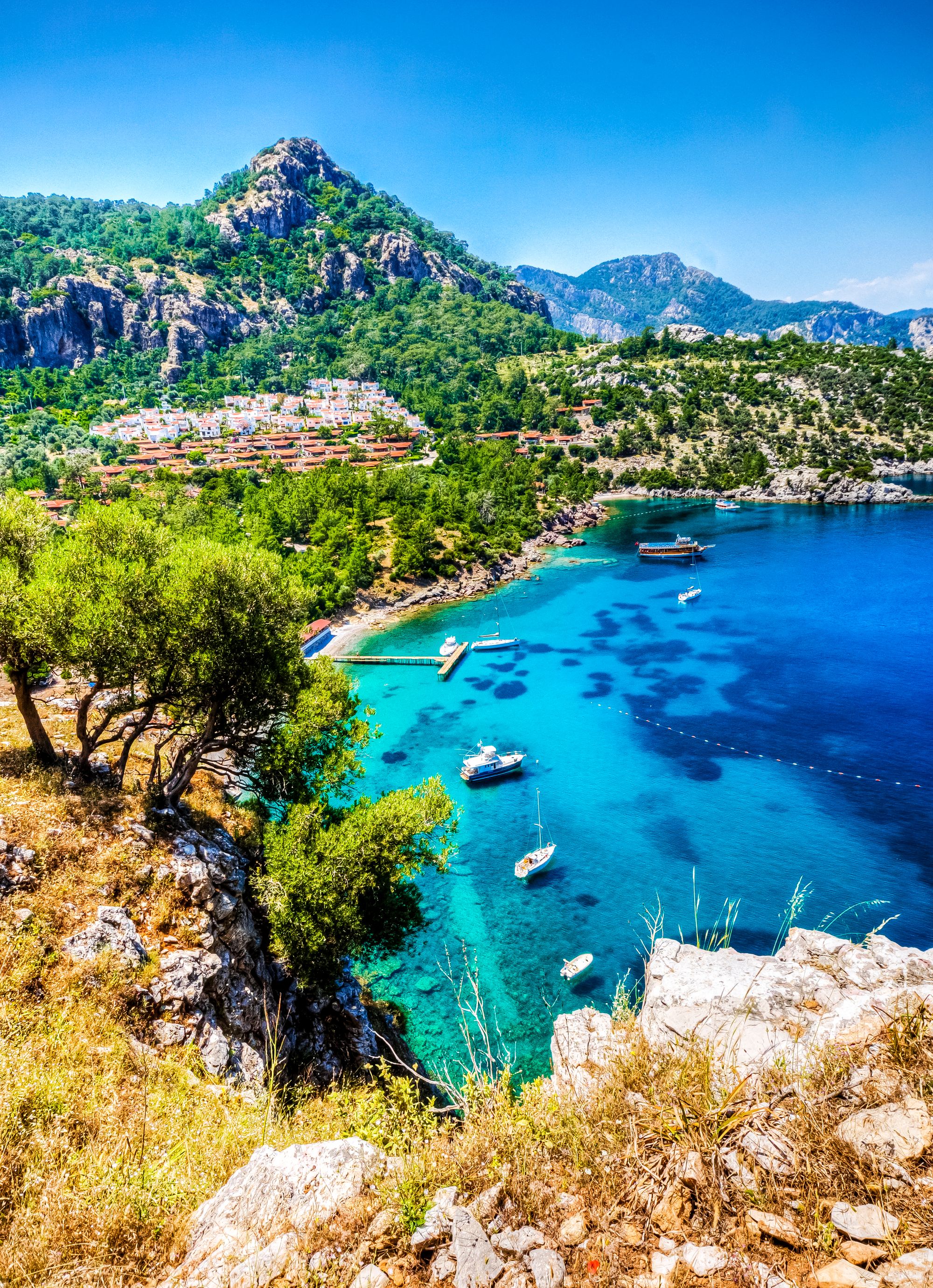 Your next stop on your itinerary is Fethiye. Take the highway D400, also known as Marmaris-Fethiye highway. You will arrive in Fethiye after 125 km, after approximately 1 hour and 45 minutes.
FETHIYE
Fethiye, the district of Mugla by the Mediterranean Sea, attracts approximately 1.5 million local and international tourists every year with its blue-flagged beaches, clear blue waters, turquoise bays, water sports, various activities and a rich history dating back thousands of years.
Fethiye is one of the holiday destinations offering the greatest number of villas, which have a totally secluded swimming pool in the property's private garden. You may need to spend a number of days in Fethiye to see all the inspiring natural places and try different activities. You can choose a totally secluded villa during your stay and enjoy the private family pool without any concerns for privacy.
If you don't wish to give up the comfort of a hotel, there are also many halal-friendly hotels or villa hotels in Fethiye. Located in a large and lush garden, Katrancı Park Hotel is an alcohol-free holiday resort offering a ladies-only outdoor pool. The property is only a 5-minute walk from the beach and offers a mixed-use beach and sunbathing area that can be enjoyed with modest swimwear.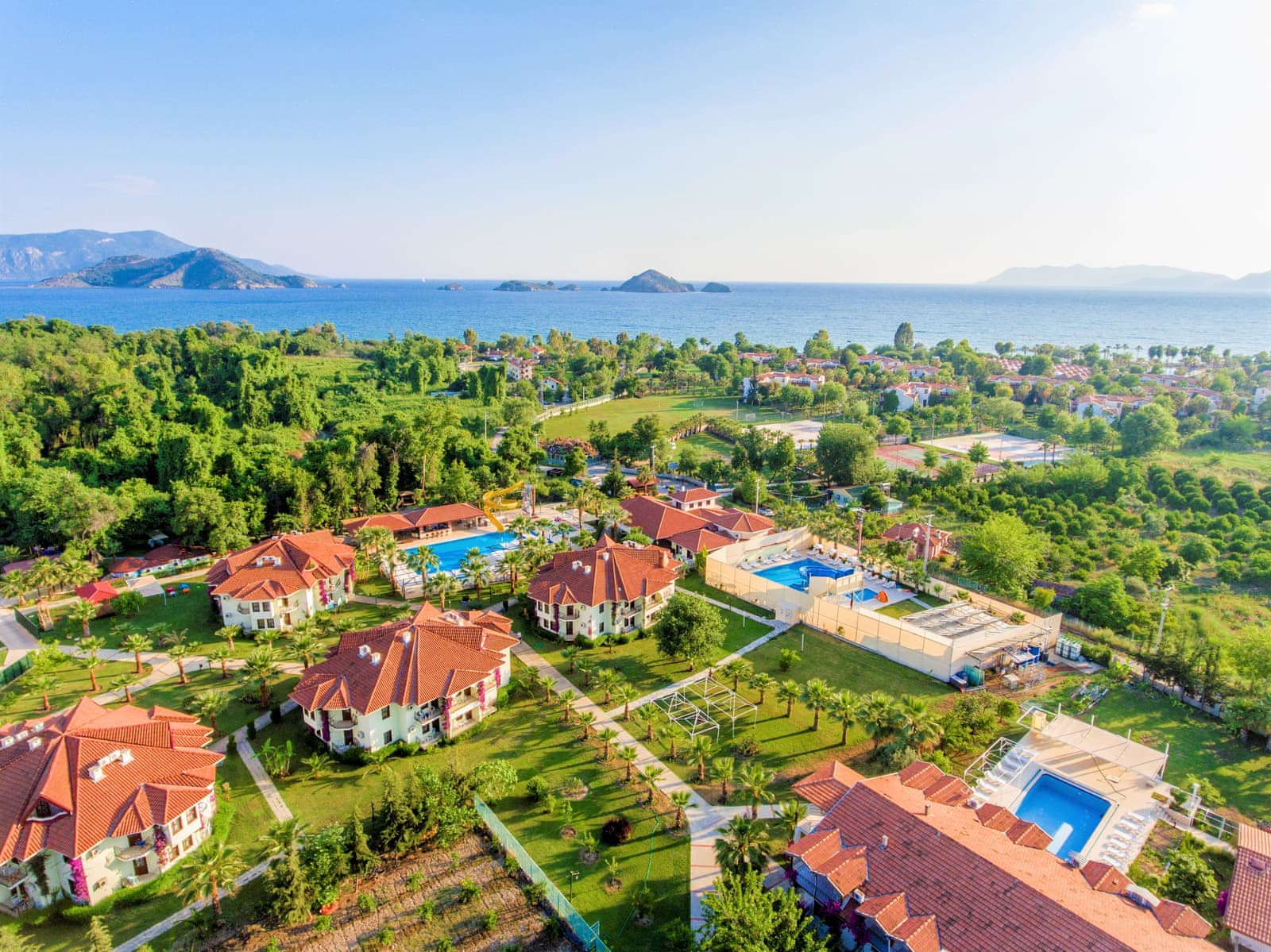 If you want to experience the privacy and comfort of a hotel while staying at a villa, you may choose to stay at Zehra Villas Hotel. The property is home to completely secluded villas with private pools and also offers a restaurant, women-only and men-only beaches and sunbathing areas. Halal-friendly properties in Fethiye provide their guests the style and services they expect.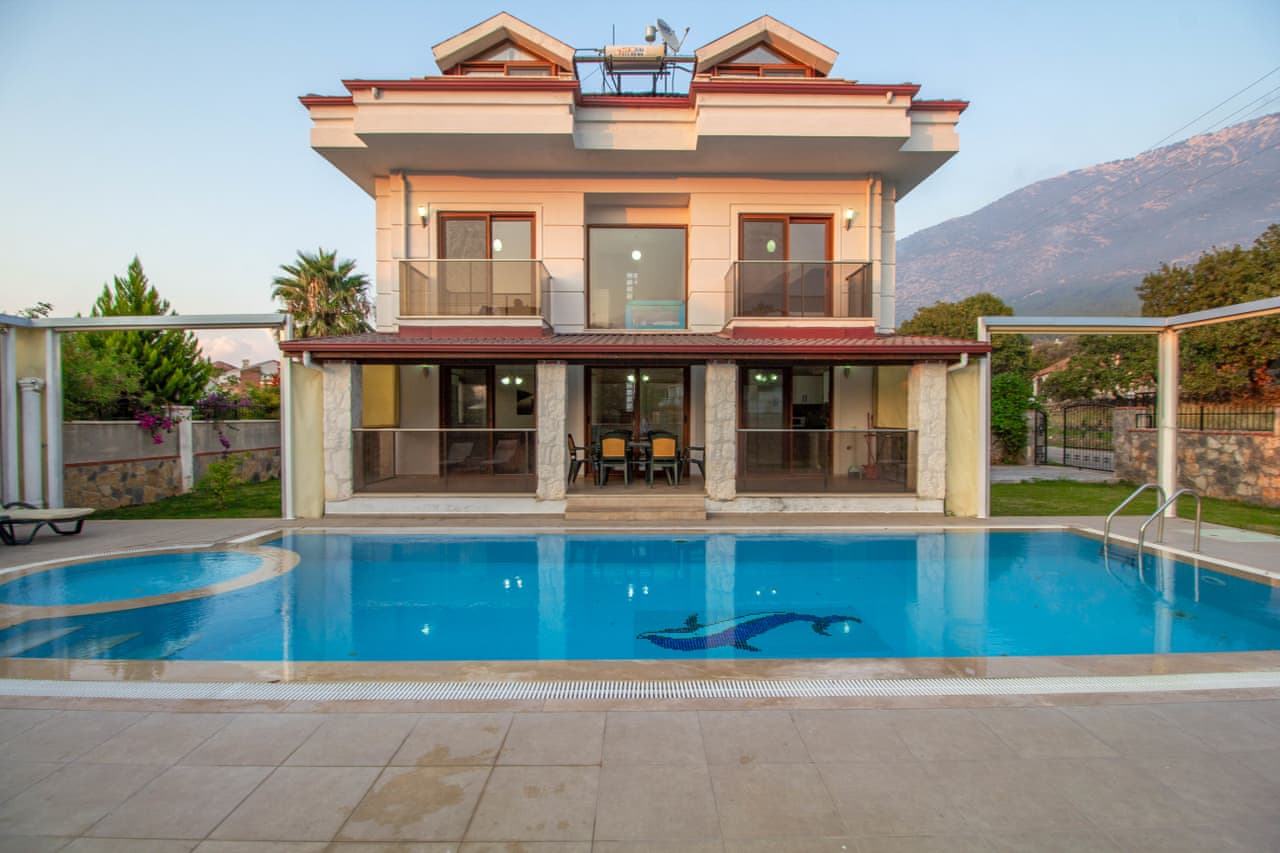 Like other coastal cities in the Aegean Sea, Fethiye is a city steeped in history, known in ancient times as "Telmessos". Even the stones, soil and rocks offer something historical. One of the most well-known ancient structures is the Tomb of Amyntas. It hosts tombs carved into rocks for people with a high status during the Lycian period. Their elaborate design and the figures used give an insight into the life and culture of the period. Don't miss the ancient city of Tlos, where Pegasus (the mythical winged horse) is believed to have lived.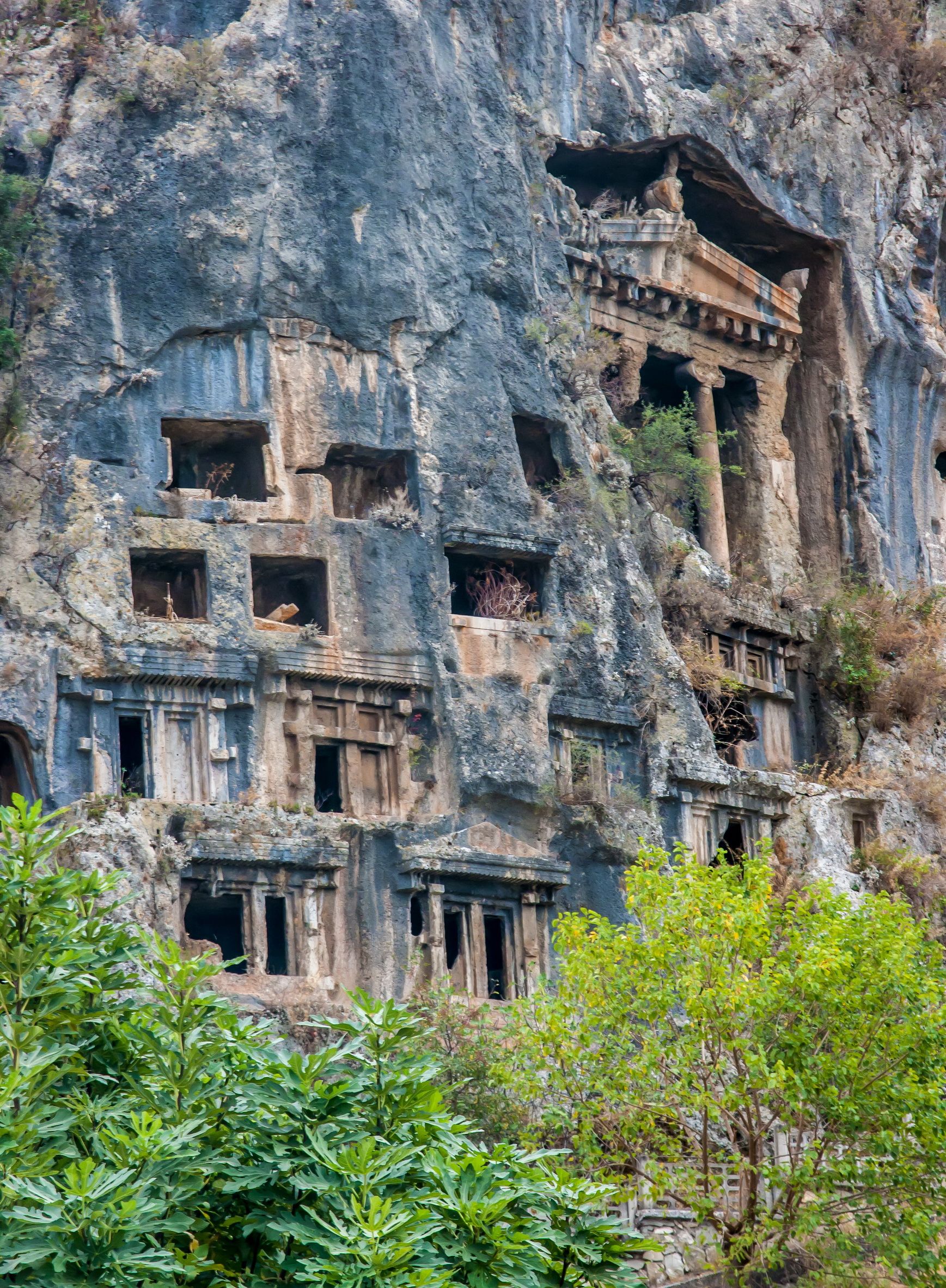 A Greek village until 1923, Kayakoy was hit by an earthquake in 1957 which turned it into a "ghost city"- which is now the local name- with no inhabitants. It is one of the favourite places visited by local and international tourists. If you like taking photos, you should definitely see this village of stone houses.
Places to see in Fethiye are not limited only to ancient cities. As you plan your trip, we recommend you to allocate one day to a boat tour of the tiny islands known as the Twelve Islands. You can book Muslim-friendly boat tours to swim in the open water, explore magnificent bays and islands. Soft drinks and halal food are served during the tour. The staff on the boat consists of only women, removing guests' concerns for privacy. During the Twelve Islands boat tour guests have the chance to visit Yassica, Rabbit, Kızılada, Katranci and Gocek Islands as well as Aquarium and Soguksu Bays, and Camel Beach.
You can also try activities such as horse riding, paragliding and boat parachuting. Go hiking and cycling on the Lycian Way trails as you enjoy the natural beauties of the region and see the ancient cities.
OLUDENIZ
The last stop on your Fethiye trip is Oludeniz, known as the "Land of Light and Sun" in ancient times. Selected as the most beautiful beach in the world in 2006, it is an awesome natural beauty that is unique with its fine white sandy beaches, calm and clear waters with different shades of blue as well as lush trees.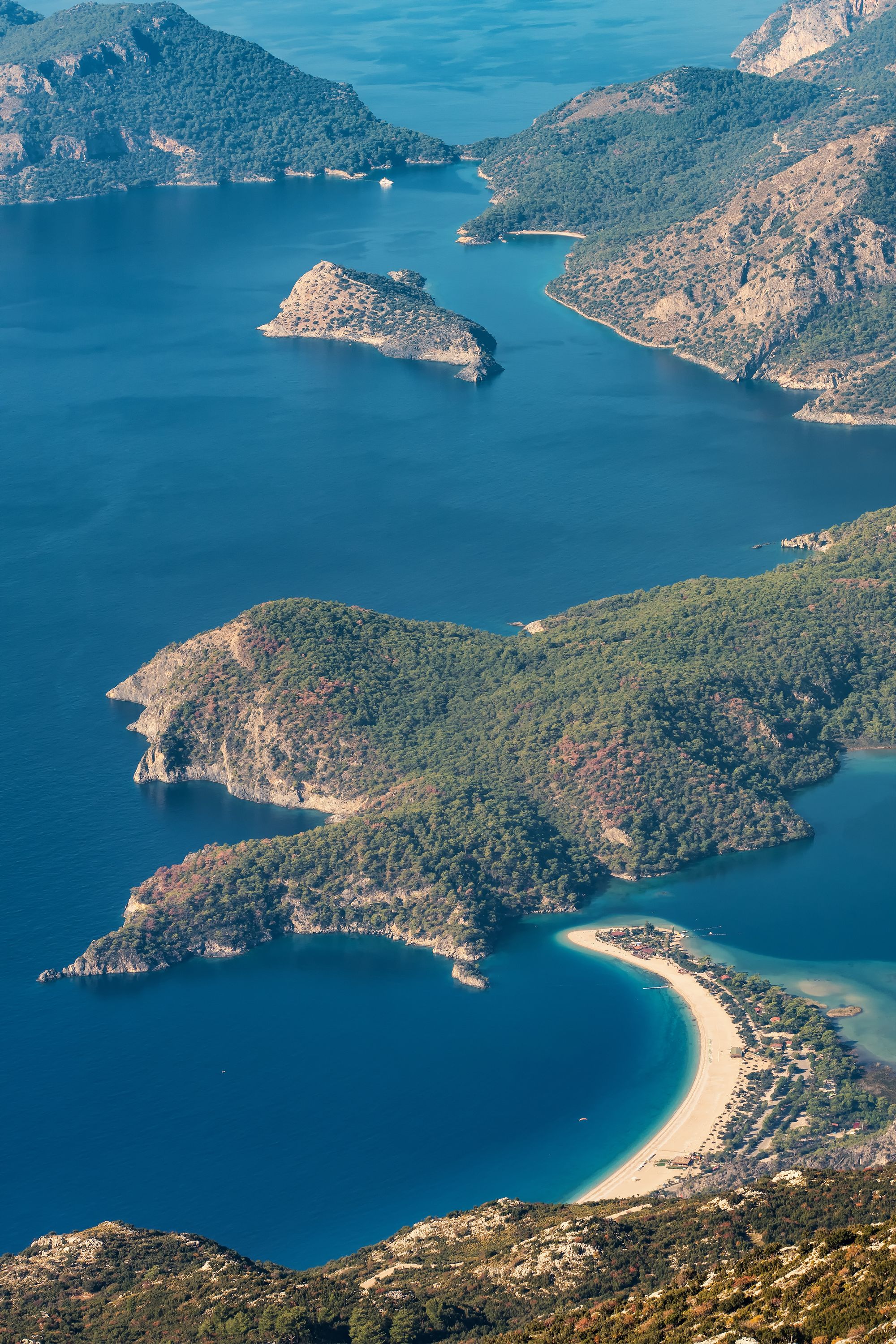 Oludeniz is also host to nearby Butterfly Valley, which is one of the greatest attractions of the region. More than 80 species of butterflies live there. Workshops on natural life are also organized for children in the valley where you can do many sports and activities such as paragliding, snorkelling and rock climbing.
Get prepared to depart for Saklikent, the next stop on the route. Follow the Fethiye-Oludeniz Highway for about 5 km and turn right in the direction of Suleyman Demirel Boulevard. After 7 km, turn left in the direction of Sitki Kocman Highroad and drive for 600 m. You will arrive at the D400 Highway. After 14 km, turn right when you see the Tlos/Saklikent signpost and just follow the signposts to Saklikent. After about 19 km you will arrive in Saklikent. This trip takes about 50 minutes.
SAKLIKENT
Although its name is generally known as Saklikent Canyon, it is officially called Saklikent National Park and it draws the line between Antalya and Mugla. The canyon is 200 m high and 18 km long. Visitors who choose to walk through the water to cross the canyon are advised to wear adequate sandals due to the cold and babbling waters. Otherwise, you may face the risk of completing the trip barefoot. If you don't want to take such a risk, there is also a small shop at the entrance where you can rent shoes and sandals.
After your hike you can eat at tables set up on the water, enjoy an adventure on the rafting trail and have a family picnic in the picnic area. Entrance fees to the National Park Museum have to be paid in cash, you can not use your museum pass or credit card. Don't forget to check the current prices on the website and make sure you have cash with you.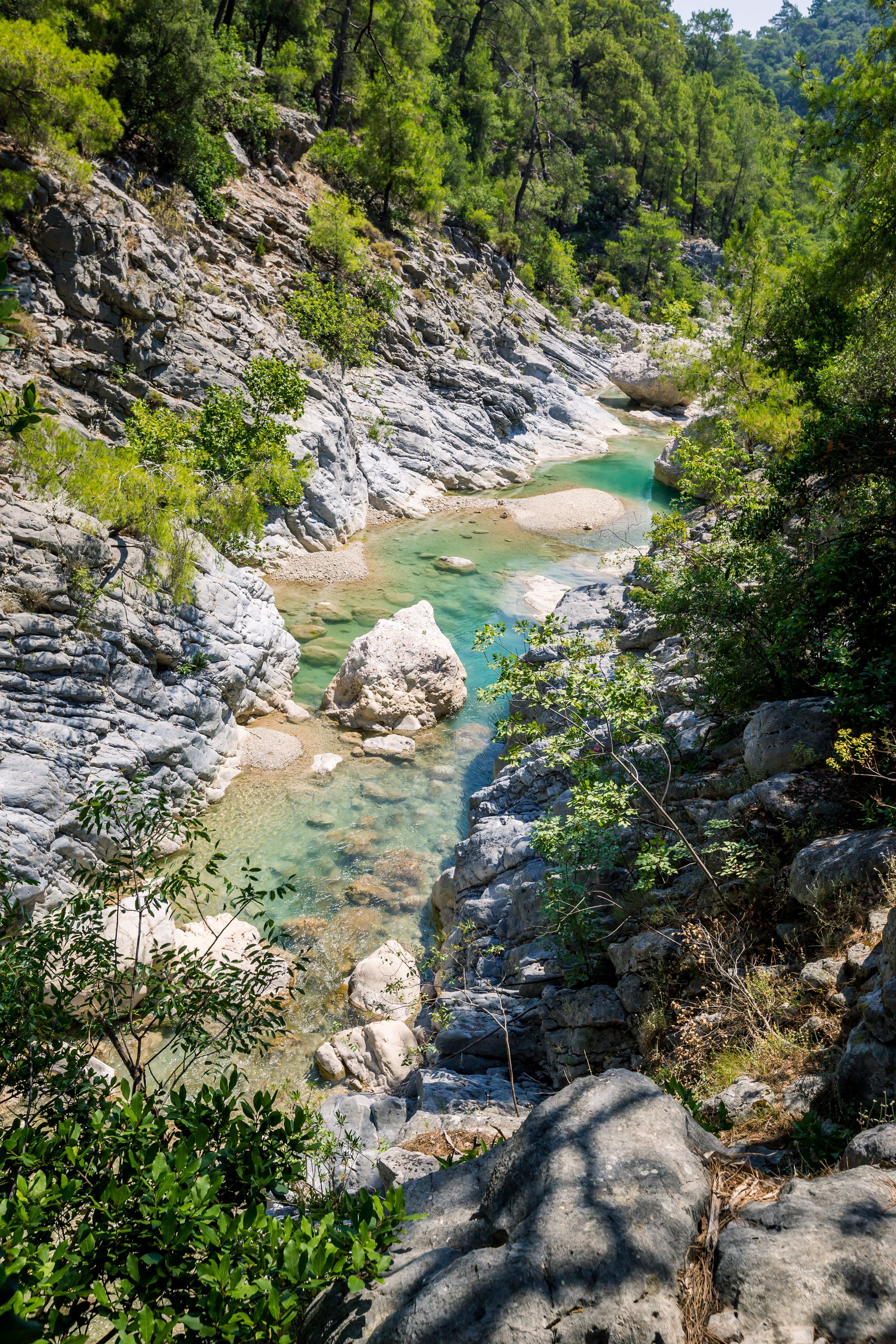 After spending a day in the refreshing and peaceful atmosphere of Saklikent, prepare to set off for Kas, the next stop on your trip. Follow the D400 highway and after 44 km along the crystal blue waters of the Mediterranean Sea, you will arrive in Kas (approximately 1 hour drive).
KAS
Located in the resort centre, the Antiphellos Ancient Theatre might be a good place to start your Kas trip. This preserved ancient theatre is one of the most popular attractions due to its amazing historical texture and its extraordinary sunset views. You can stroll around the Long Bazaar located just in the heart of the city and buy handcrafts, glass artworks, wooden figures, local clothes and other types of souvenirs. As you walk through the bazaar, you will see the Tomb of a Lycian King, which is believed to date back to the 4th century BC.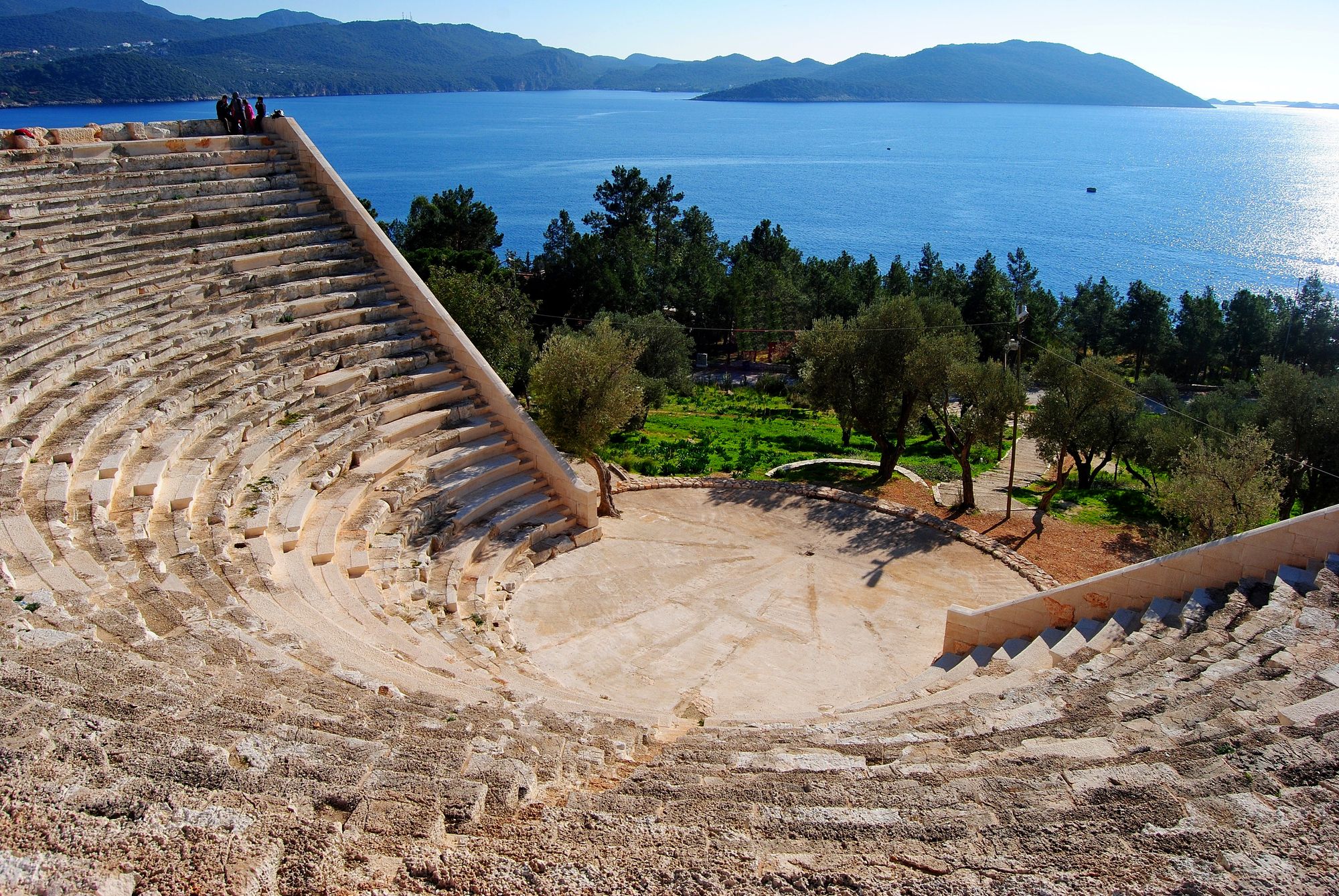 The next stop on your trip is the Kekova region with the island of the same name, which lies between Kas and Demre. Follow the D400 motorway and after about 9 km turn right when you see the sign to Kekova. After about 21 km you will reach Kekova.
Explore the surreal sunken sites by boat. The 2,400-year-old town of Simena, which was largely submerged in the sea after an earthquake, is particularly well known. The only surviving structure from the 4th century BC. is the castle of Simena.
If you stay in Kas for a couple of days you can explore the fascinating historic ruins and enjoy the magnificent Mediterranean views. You can choose among its villas and hotels.
KEMER
Another holiday paradise of the Mediterranean is Kemer, where history meets nature. It offers unique sights to be discovered both above the ground and under the water.
After driving 112 km on the D400 Highway, turn right when you see the Phaselis (ancient city) signpost. You will arrive in Phaselis, which is the oldest settlement in Kemer. Dating from the 7th century BC, this city has been the scene of many important events throughout history. It is a favourite site for both local and international tourists and gives its name to the bay where it is located.
After your cultural and natural experiences in Phaselis, take the D400 Highway again and after about 15 km you will arrive in Kemer.
Situated in the foothills of the Taurus Mountains, Kemer is one of the most popular holiday destinations in the Mediterranean region. Here amazing mountains covered with lush forests meet the sea. Besides, in Kemer, there are numerous historical buildings dating back to the times BC, the Seljuk period and World War I.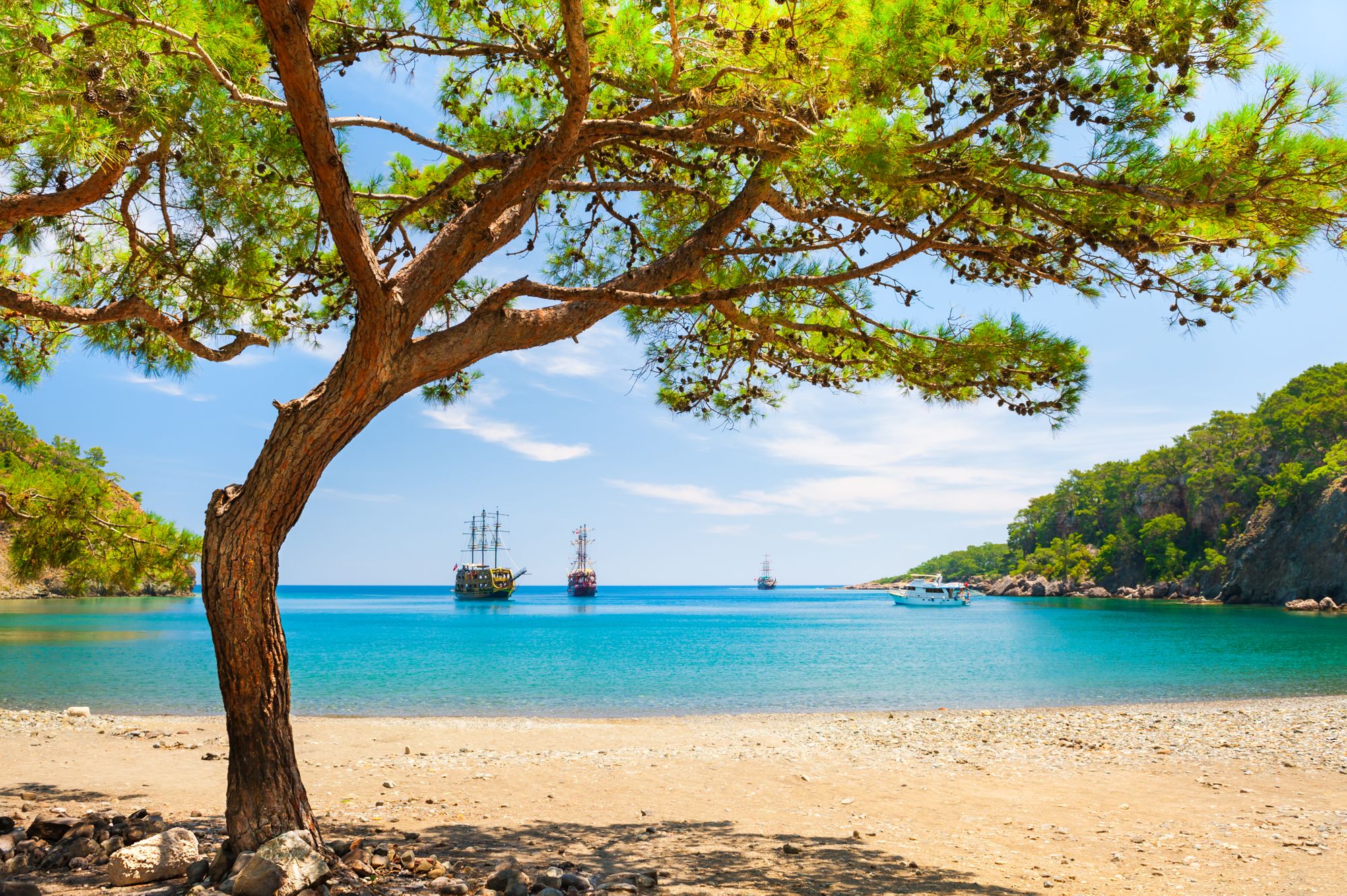 These are the historical landmarks in Kemer: the Ancient City Of Idyros, which is within walking distance of the city centre and attracts attention with its floor mosaics, the Seljuk Hunting Lodge, which was built between 1230-1248 and which is the only example of the Turkish-Islamic art tradition and the Paris 2 Shipwreck, an underwater French ship sunk by gunfire during World War I off the Kemer Marina (shipwreck diving available).
You can visit islands such as Suluada, Ucadalar, Olympos, Demre and Myra with daily boat tours.
If you want to stay in Kemer, where you can enjoy the sea and history at the same time and experience an unforgettable holiday, you can choose from villas and hotels offering something for every taste.
Get ready to set off for Antalya city centre - the last stop on your road trip. After driving 33 km on the D400 Highway, turn right towards Mediterranean Boulevard and you will arrive in Antalya city centre.
ANTALYA
Your Aegean-Mediterranean road trip, offering a perfect blend of history, sea, sun and unspoilt nature ends in Antalya- the fifth largest city in Turkey. Antalya has been of great importance in every period because it has been home to a large number of civilizations throughout history and is one of the most important cities in the Mediterranean.
Kaleici is the most historic district of Antalya, offering a nostalgic atmosphere with wooden Ottoman mansions, with their distinctive bay windows and stone streets decorated with colourful flowers. In the cafes and restaurants, you can enjoy the historic atmosphere and buy some souvenirs from the bazaar. One of the most important buildings of Kaleici and Antalya is the Hadrianus Gate (The Three Gates), which was built in 130 to celebrate the emperor's visit to the city.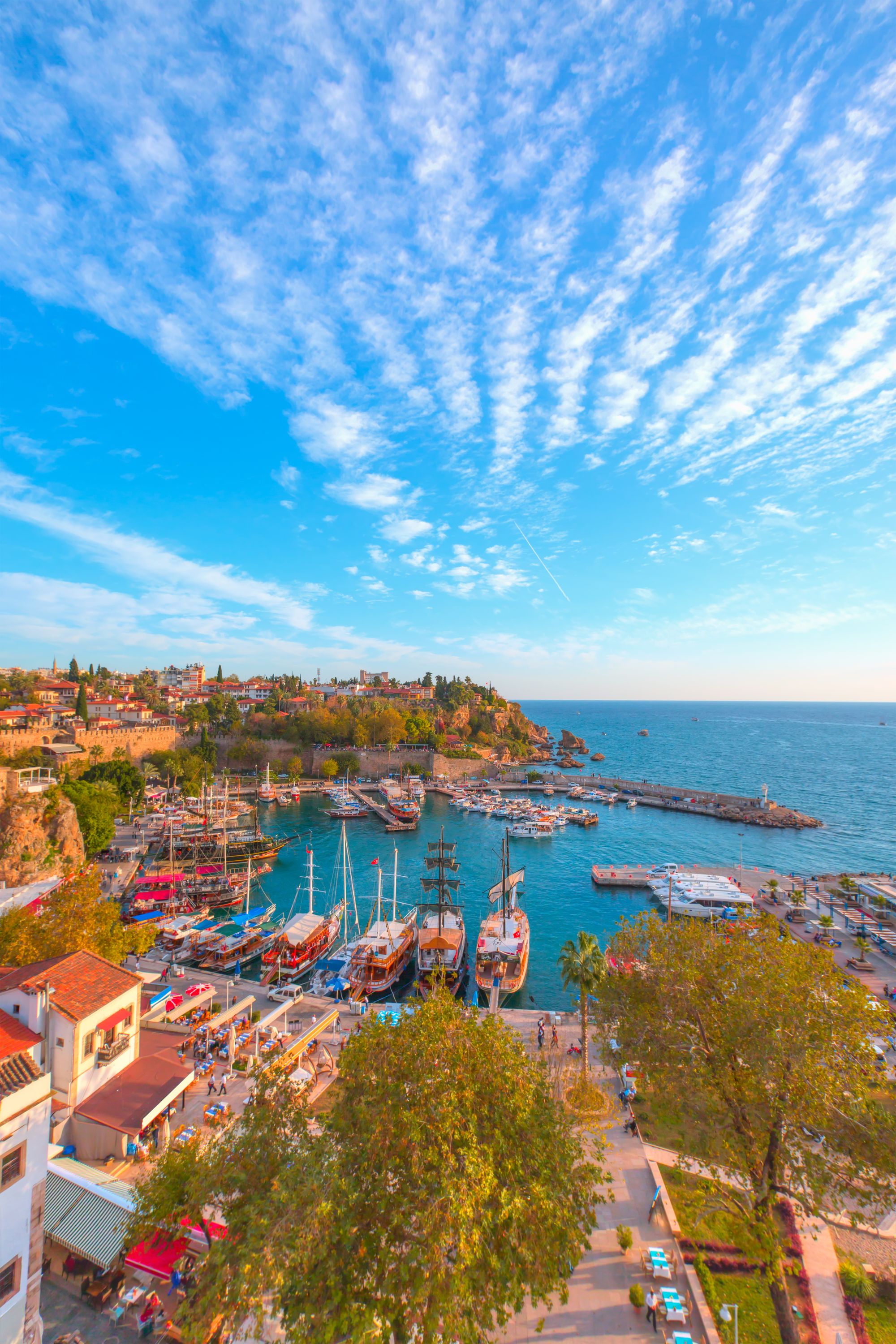 Known as the first piece of Islamic architecture in Antalya, Yivli Minare Mosque was built as a minaret to the mosque which was converted from a church by Sultan Keykubad I - a Seljuk Sultan- in the 13th century. With its special architecture, this minaret is a leading symbol of the city's skyline. Built in the 1500s, Murat Pasha Mosque is another historic mosque in Antalya and it is open for worship. It is famous for its colourful tiles and elaborate design.
Don't miss the chance to see the Karaalioglu Park whilst enjoying the beautiful sea views in the shade of gorgeous palm trees. Go to Antalya Zoo which is home to about 900 animals living in an atmosphere similar to their natural habitats. Another fun alternative might be Minicity, where miniatures of iconic structures from all over Turkey are displayed. You can also have a good time with your children at Akturpark, which is home to the Heart of Antalya - the largest ferris wheel in Turkey, and second largest in Europe after the London Eye.
You can return your rented car to the car rental company in Antalya city centre and take the Havas shuttle buses to go to the airport. If you prefer to return your car to the airport branch of the car rental company, you can take the D400 Highway and you will arrive at Antalya Airport after 11 km.