Road Trips in Türkiye with HalalBooking: Ordu - Artvin Route
Famous for its natural beauties, historical riches and unique plateaus, the Black Sea region is one of the most suitable regions for road trips. Our Ordu-Artvin route takes you through picturesque cities such as Giresun, Trabzon, Rize and Artvin, as well as magnificent plateaus. Discover the mysteries of nature, visit historical places and live unforgettable experiences with the locals on the region's unique plateaus.
Itinerary
Ordu → Giresun - 47.5 km
Giresun → Trabzon - 130 km
Trabzon → Rize - 80 km
Rize → Artvin - 91 km
Artvin → Rize - Artvin Airport - 58 km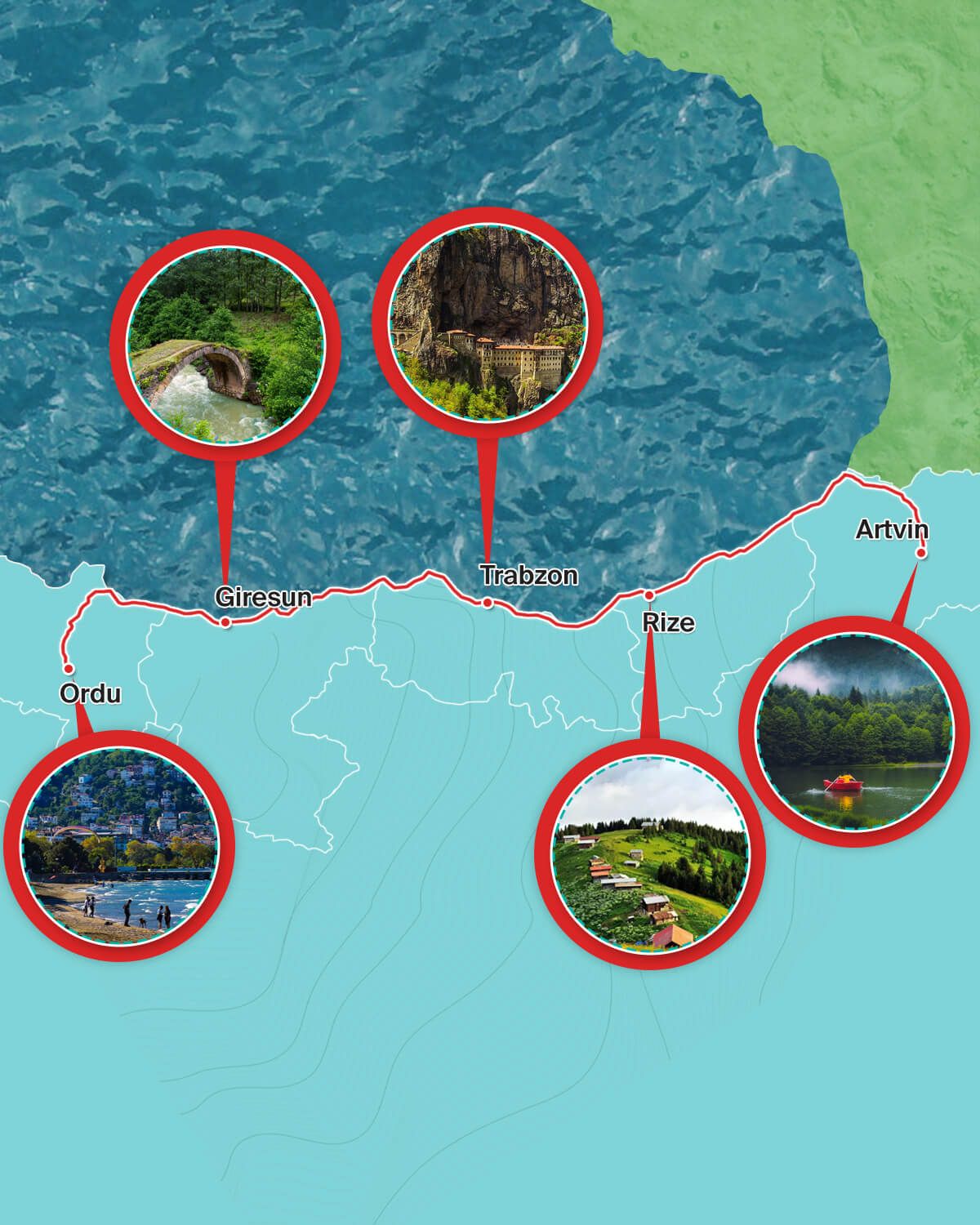 Get ready to hit the road!
Your journey starts in Ordu, in the eastern Black Sea region of  Türkiye. You can start your journey with your own vehicle or rent a car after arriving at Ordu-Giresun Airport, which is approximately 20 minutes from Ordu. You can rent your car at the airport or in the city centre. We recommend that you make sure that the vehicle you rent is suitable for the terrain due to the mountainous roads.
There are direct flights to Trabzon from many points of the Arabian peninsula such as Sharjah, Muscat, Kuwait City, Amman, Riyadh and Doha. If you live in one of these cities or nearby, you can also choose to start your trip by renting a car from Trabzon Airport and explore the nature of the Eastern Black Sea Region.
Ordu is a fascinating city known for its picturesque coastline, lush green mountains and charming villages. Whether you are looking for a quiet beach holiday or an outdoor adventure, Ordu has something for everyone.
Like all cities of the Black Sea region, Ordu is home to many natural beauties. Some of them are:
Boztepe: One of the iconic spots of Ordu, it is a hill park where you can enjoy the city view. You can easily reach it by cable car or by car, and you can buy local souvenirs from the shops on the hill.
Yason Cape Peninsula Nature Park: Located in the Persembe district of Ordu, it offers a peaceful environment with its unique coastal scenery, natural beaches and walking routes. It is frequently visited by tourists for its unique sunrise and sunset views.
Persembe Plateau: Close to the town of Persembe in Ordu, Persembe Plateau is famous for its lakes, waterfalls and local delicacies.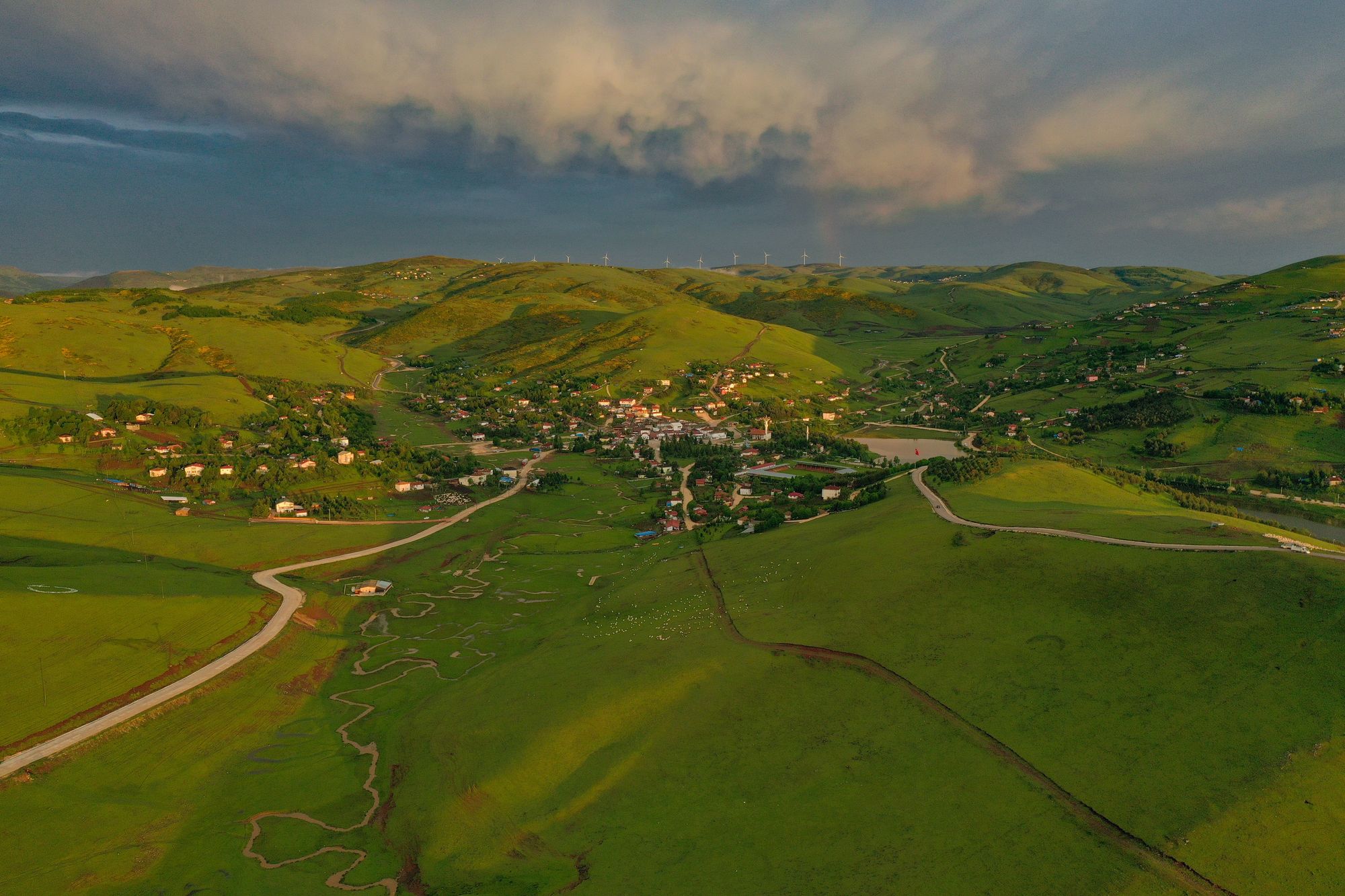 Ordu is also home to numerous historical mosques:
Ulu Mosque: Located in the centre of Ordu, it is one of the largest and most historical mosques in the city. It draws attention with its architectural structure and interior decoration.
Eskipazar Mosque: Located in the centre of Ordu, this Ottoman-era structure has been preserved to this day and has historical and cultural significance.
Gülyalı Hızır Paşa Mosque: Located in the Gülyalı district, the mosque impresses visitors with its historical texture and aesthetic architecture.
Ordu has many beautiful beaches where you can swim. However, Ünye deserves special attention for its women-only beach. Opened in 2021, it provides women-only services between 10.30 and 18.00 for a fee.
Ordu will also spice up your holiday with its mouth-watering cuisine. Derin Balık is one of the best alcohol-free fish restaurants in the city and Tek Reis'in Yeri, located by the sea, is amongst the best seafood restaurants in Ordu. Popular restaurants include the Meşhur Pide restaurant, which has existed for generations, and the family-friendly Aktaşlar Pide with its children's playground. One of the specialities of Ordu is the pita varieties, also known as Ordu yağlısı.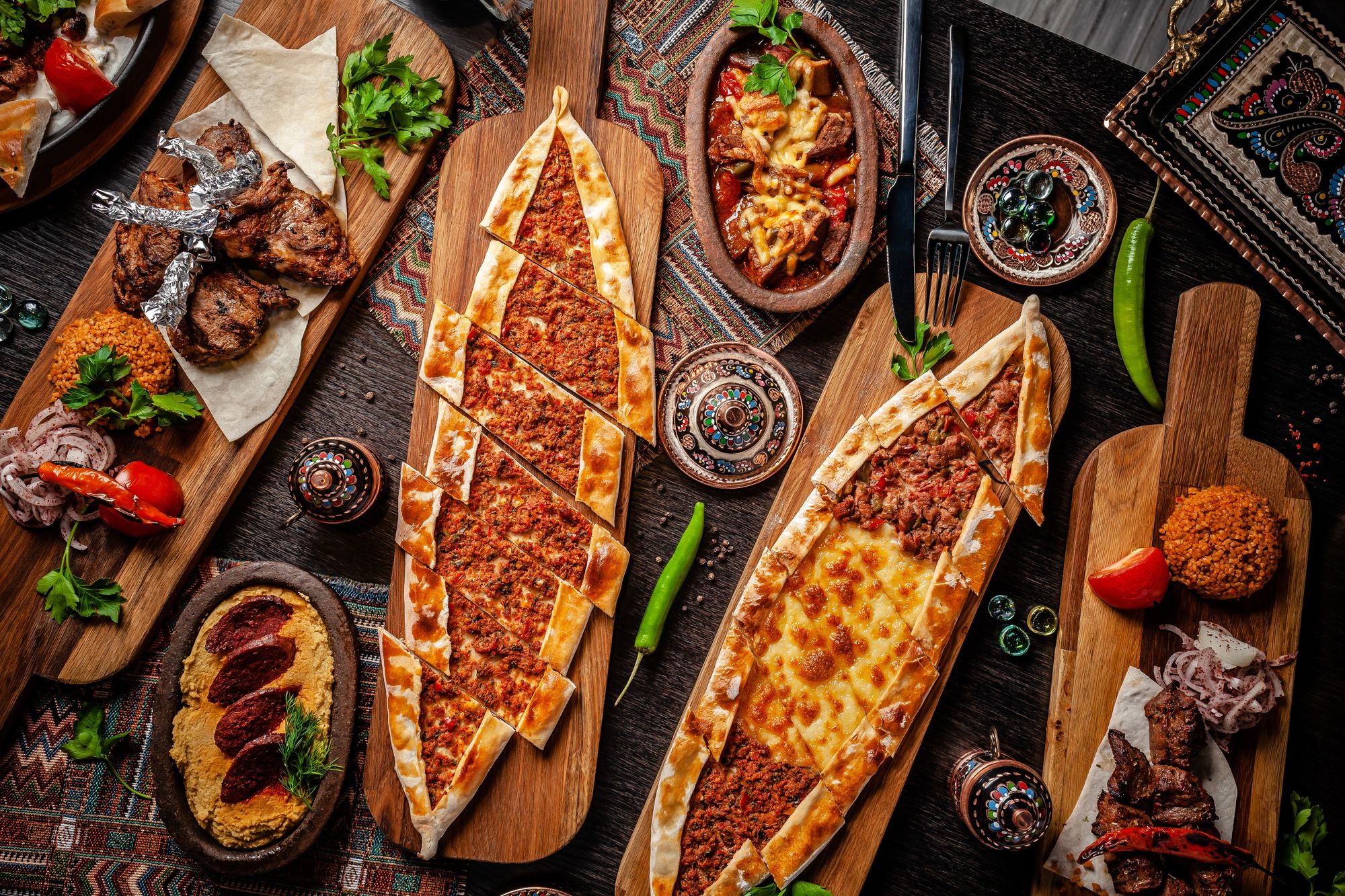 Choose amongst our halal-friendly properties in Ordu, in the city centre or in the nearby coastal districts such as Fatsa and Ünye.
It's time for our next stop, Giresun, a 45-minute drive along the Black Sea coast.
Giresun, a coastal city in the Eastern Black Sea region, mesmerises visitors with stunning natural landscapes, including beautiful beaches, lush mountains and rich cultural heritage. It is also home to many historical and cultural structures.
Must-see attractions in Giresun include:
Giresun Highlands offer a fairy-tale atmosphere in the lush green mountains above the clouds. The most famous of these plateaus are the Kümbet Plateau and the Kulakkaya Plateau. In addition, Mount Sis Plateau, located on the highest mountain in the city on the border of Giresun and Trabzon, offers its visitors an unforgettable experience above the clouds. With its clean fresh air, Giresun Highlands is ideal for hiking, picnicking, trekking, mountaineering and nature sports.
Historical and Cultural Heritage
Giresun also has a rich historical and cultural heritage. The remains of the 2nd century BC Giresun Castle, which are still in good condition despite the passage of thousands of years, are considered to be one of the most important landmarks in  Türkiye. Tirebolu Castle is located by the sea in the Tirebolu district and is thought to have been built in the 15th century, and the beautiful Hacı Miktad Mosque dates back to Ottoman times and is open to prayer.
Located at an altitude of 1,840 metres, Koçkayası Nature Park in the Tirebolu district offers 623 hectares of forest and lush vegetation with unique views and untouched wildlife. Blending nature and culture tourism, Yedideğirmenler Nature Park in the Güce district is home to seven 250-year-old active corn mills, rivers, waterfalls, unique trees, caves and sinkholes. Görele Kuş Cenneti Nature Park, Ağaçbaşı Nature Park and Kuzalan Nature Park in the Şebinkarahisar district offer magnificent mountain views, waterfalls, rich vegetation and natural habitats.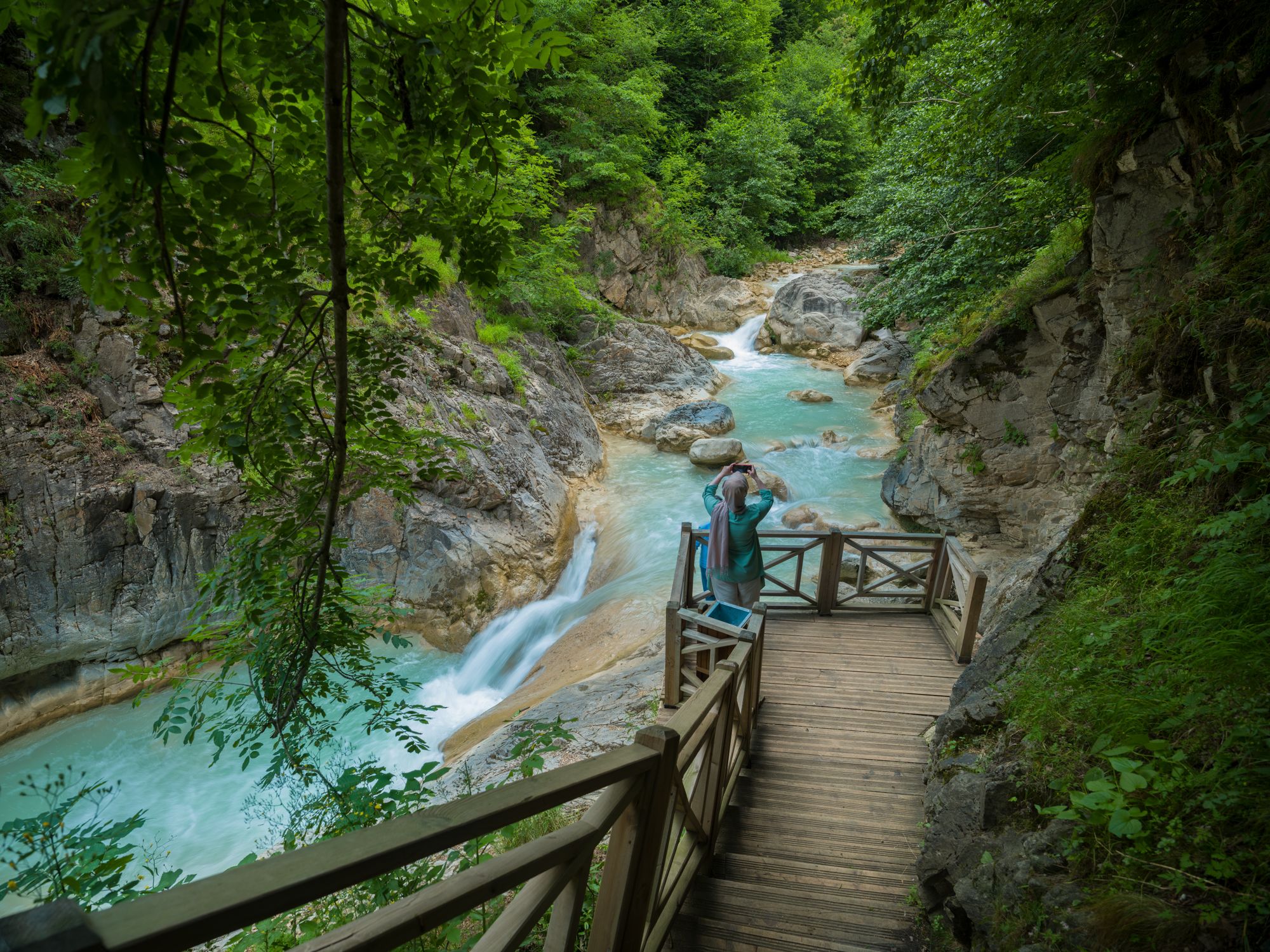 With its beaches, islands and coves stretching along the coastline, Giresun is also a great destination for sea lovers. Giresun Island is one of the main tourist spots of Giresun with its natural beauty, historical richness and impressive scenery. On the island, visitors can spend time in contact with nature, explore historical ruins and experience the fascinating atmosphere of the Black Sea.
Choose among the numerous alcohol-free restaurants in Giresun, such as the Şoray Balık Lokantası for delicious fresh fish, the Cinağa'nın Yeri for local bean dishes, the Serender Restaurant for meat and chicken dishes and the Mustafa Patar Tel Kadayıf for its famous kadayif and milk pudding.
Stay in one of our selected halal-friendly properties in Giresun, in the highlands or in the city centre.
Continue along the coast for 130 kilometres to reach your next destination: Trabzon.
With its 4000 years of history, Trabzon is the most visited city in the eastern Black Sea region. Boasting delicious local cuisine, lush nature, legendary plateaus, rough sea, music and a rich history, it invites you to a unique, unforgettable experience.
Here are some important historical places to see in Trabzon:
Hagia Sophia Trabzon: Not to be confused with the Hagia Sophia Mosque in Istanbul, this is one of Trabzon's most famous historical buildings. Formerly a 13th-century Greek Orthodox church, it was converted into a mosque in 1584, a museum in 1964 and a mosque again in 2013.

Trabzon Castle: Located at the highest point of the city, Trabzon Castle was built during the Byzantine Empire period. Parts of the historic castle have been preserved and offer a wonderful panoramic view of the city.

Gülbahar Hatun Mosque: Built in 1514, it is one of the oldest and most important historical mosques in Trabzon. It has architectural features from the Ottoman period.

Sümela Monastery: Located in the Maçka district of Trabzon, the Sümela Monastery was built in the 4th century. Built on a high cliff, the monastery is surrounded by natural beauties and impresses visitors with its unique structure, frescoes and historical atmosphere.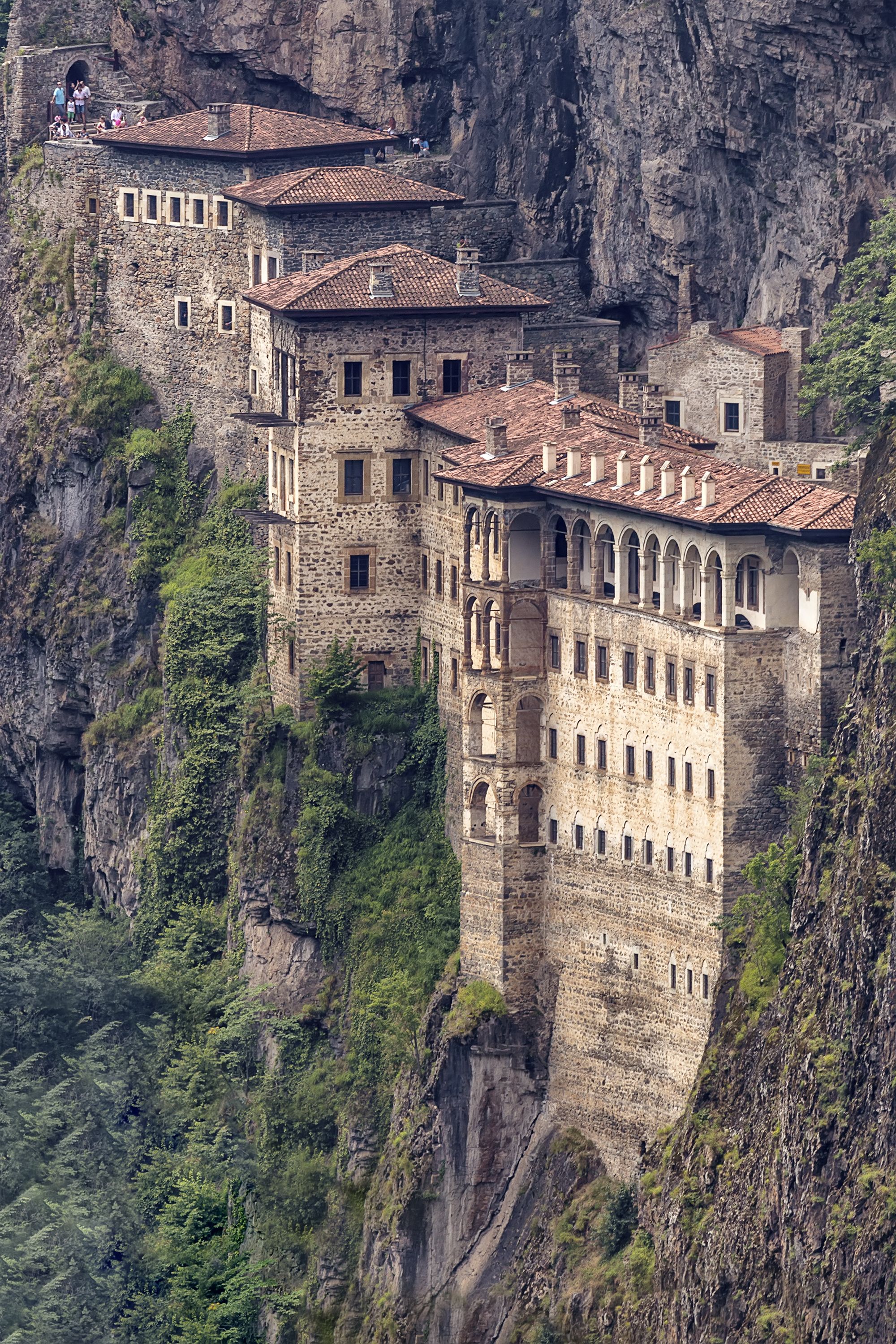 Fatih Sultan Mehmet Bridge: The historic bridge in the Iskenderpasa district was built in the 15th century when the Ottomans conquered Trabzon and is a historic crossing point.

The historical mansion, known as the "Kaleli Mansion" by the fans of the TV series "Sen Anlat Karadeniz", is located in the Sinanlı Village of Vakfıkebir and is open to visitors. Fans of the series can also visit the Civra, a stony pier on the Black Sea coast in the Soğuksu region.
Trabzon has the most beautiful natural beauties not only in the Black Sea region but in all of  Türkiye. Some of the must-see natural wonders in Trabzon are as follows:
Uzungöl Lake: Located in the Çaykara District of Trabzon, this magnificent natural lake is surrounded by lush green mountains and is one of the most visited places for domestic and foreign tourists. During your stay in Trabzon, we recommend that you spend one night in one of our halal-friendly hotels in Uzungöl and explore the beauties of the region to the fullest. You can also visit the surrounding plateaus such as the Sultan Murat Plateau.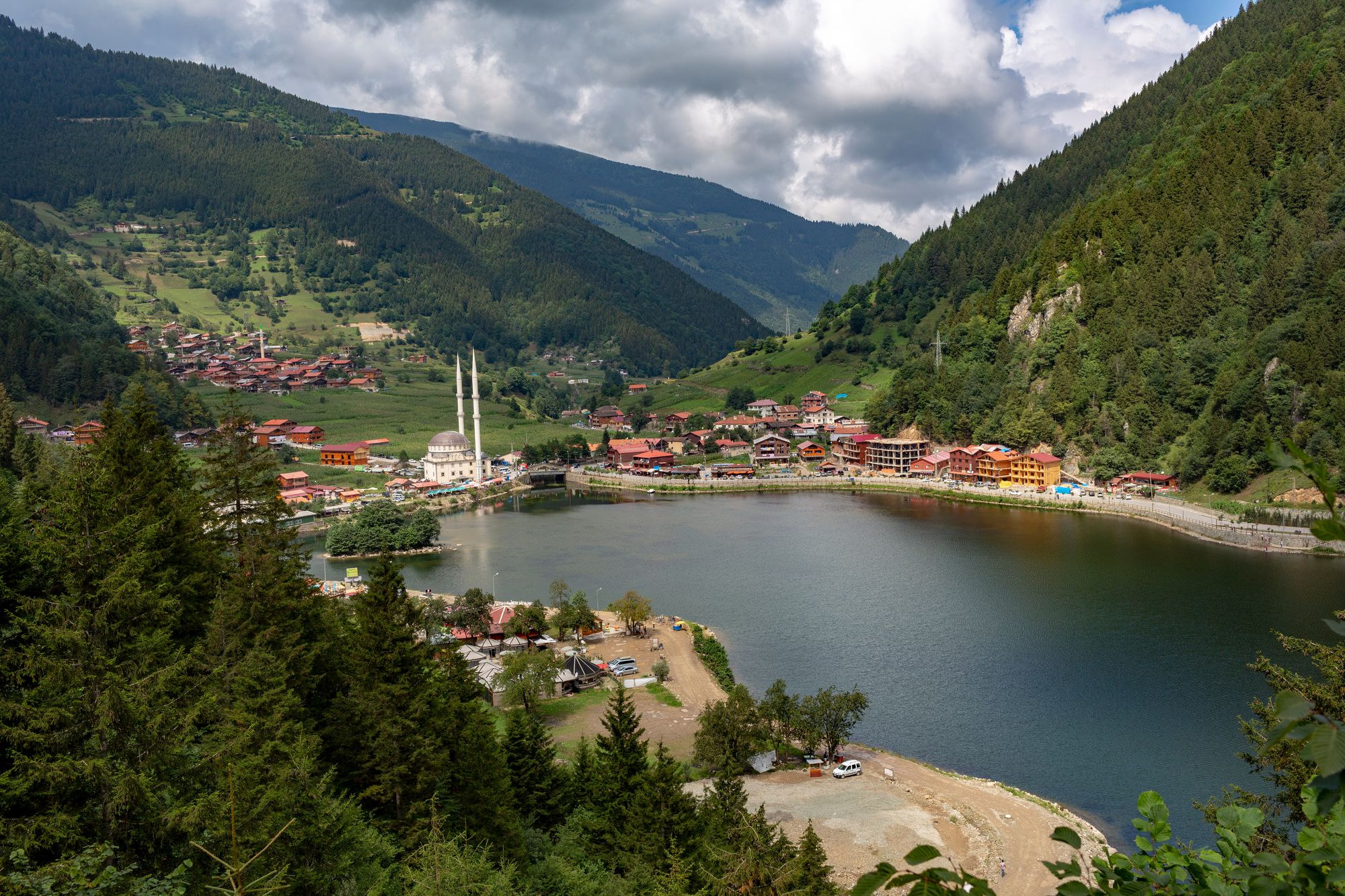 Altındere Valley: This national park offers historical heritage and impressive landscapes and is one of the main tourist destinations of Trabzon. You can visit Sumela Monastery, take nature walks, have a picnic and discover natural life.
Sera Lake and Nature Park: Located in the Çaykara district of Trabzon, this magnificent natural lake is surrounded by lush trees and mountains. You can have a picnic around the lake, take nature walks and enjoy the natural beauty of the area.
Çal Cave: Located in the Düzköy district of Trabzon, Çal Cave is one of the largest caves in Türkiye. It contains lakes, stalactites and columns.
Soganli Plateau: Famous for its natural beauty and cool weather, the Soganli Plateau in Trabzon's Tonya district is great for hiking, nature photography and tasting local delicacies.

Trabzon is home to many alcohol-free restaurants serving delicious local Trabzon cuisine. The Cemilusta and the Nihat Usta serve the famous Akçaabat meatballs, as well as various fish dishes and meatballs. The Bordo Mavi Balık, Trabzon's most popular fish restaurant, serves anchovy dishes, Black Sea fish and many other kinds of seafood. The Karpi Pide serves Black Sea pita, the historical Kalkanoğlu Pilav and the Hamsikoy Yayla Restaurant serve local dry beans and rice dishes, and the Asi Mer Kafe Kahvaltı Ve Ev Yemekleri offers rich Trabzon cuisine and breakfast dishes.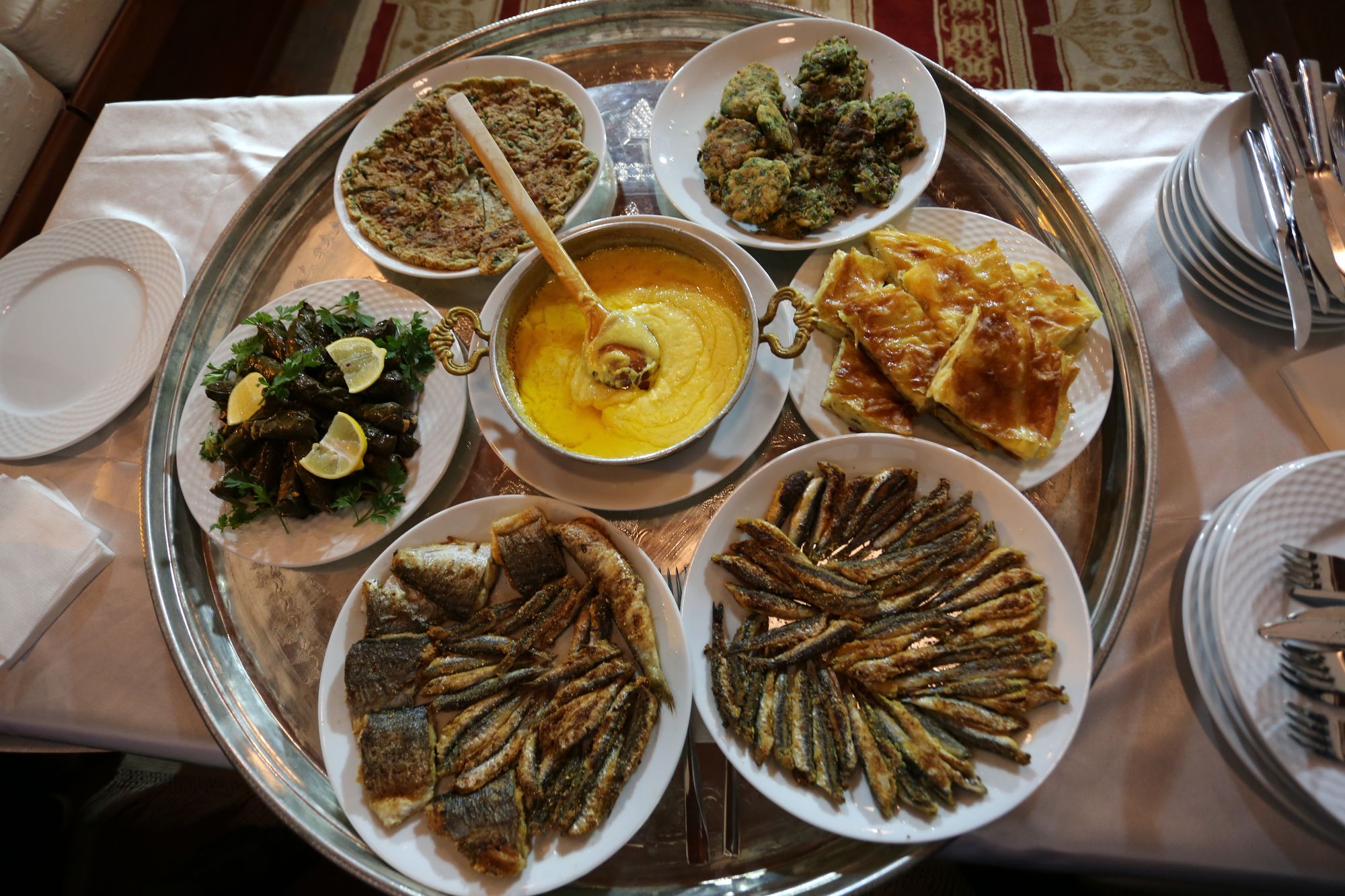 Our halal-friendly hotels in Trabzon offer many options from five-star facilities to family hotels, from boutique hostels to bungalows.
Continue on the road by following the Black Sea coastal road, after 80 kilometres you will reach Rize.
Rize impresses with its natural beauty, historical heritage, tea plantations and Black Sea culture. It offers a lot to discover for both nature lovers and those interested in culture and history. Experience local life and enjoy nature surrounded by the mystical atmosphere of Rize.
Here are some of the natural beauties in Rize you should see:
Ayder Plateau - Visited by more than 1 million tourists every year, it is one of the most famous plateaus of Rize and in all of Türkiye. Ayder Plateau attracts its visitors with its lush nature, healing thermal waters, waterfalls and natural beauties. You can take nature walks in the plateau, enjoy the fresh air and taste local delicacies. In the afternoon, the young people of the region play the instrument "tulum" and perform the folkloric folk dance called "horon", in which you will be invited to dance! We strongly recommend a 2-day stay on the Ayder Plateau to enjoy it fully. Choose from our selected hotels in Ayder.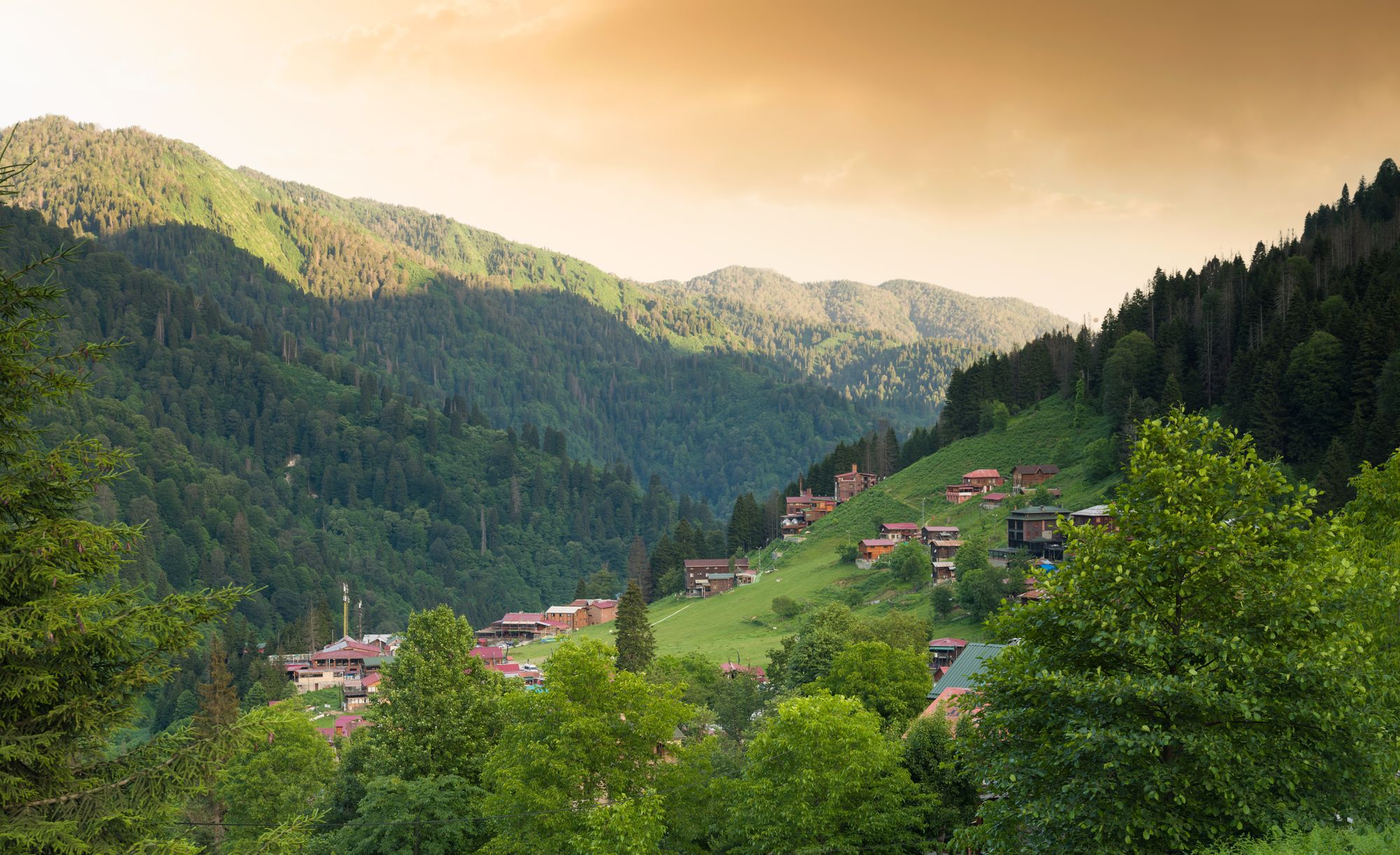 Kaçkar Mountains - The Kaçkar Mountains are famous for their high peaks, glaciers, streams, lakes and endemic vegetation. It is an ideal place for mountaineering, trekking and nature photography.
Firtina River - Firtina River flows through Rize's Fırtına Valley, offering opportunities for rafting and canoeing trips, as well as visiting the villages and plateaus on the banks of the river.
Zilkale - Located in the İkizdere district of Rize in the Fırtına Valley, this mediaeval hilltop castle is also known as the "Pearl of Türkiye". It is surrounded by forests and waterfalls and offers magical views. The castle was probably built between the 14th and 15th centuries and is the most mysterious and romantic castle in Türkiye.
Gito Plateau - Also in the İkizdere district of Rize, the Gito Plateau offers a peaceful atmosphere for visitors with its lush forests, plateau houses, ponds and picnic areas.
Pokut Plateau - The Pokut Plateau offers visitors an unforgettable experience with its lush nature, magnificent landscapes and suitable routes for extreme sports.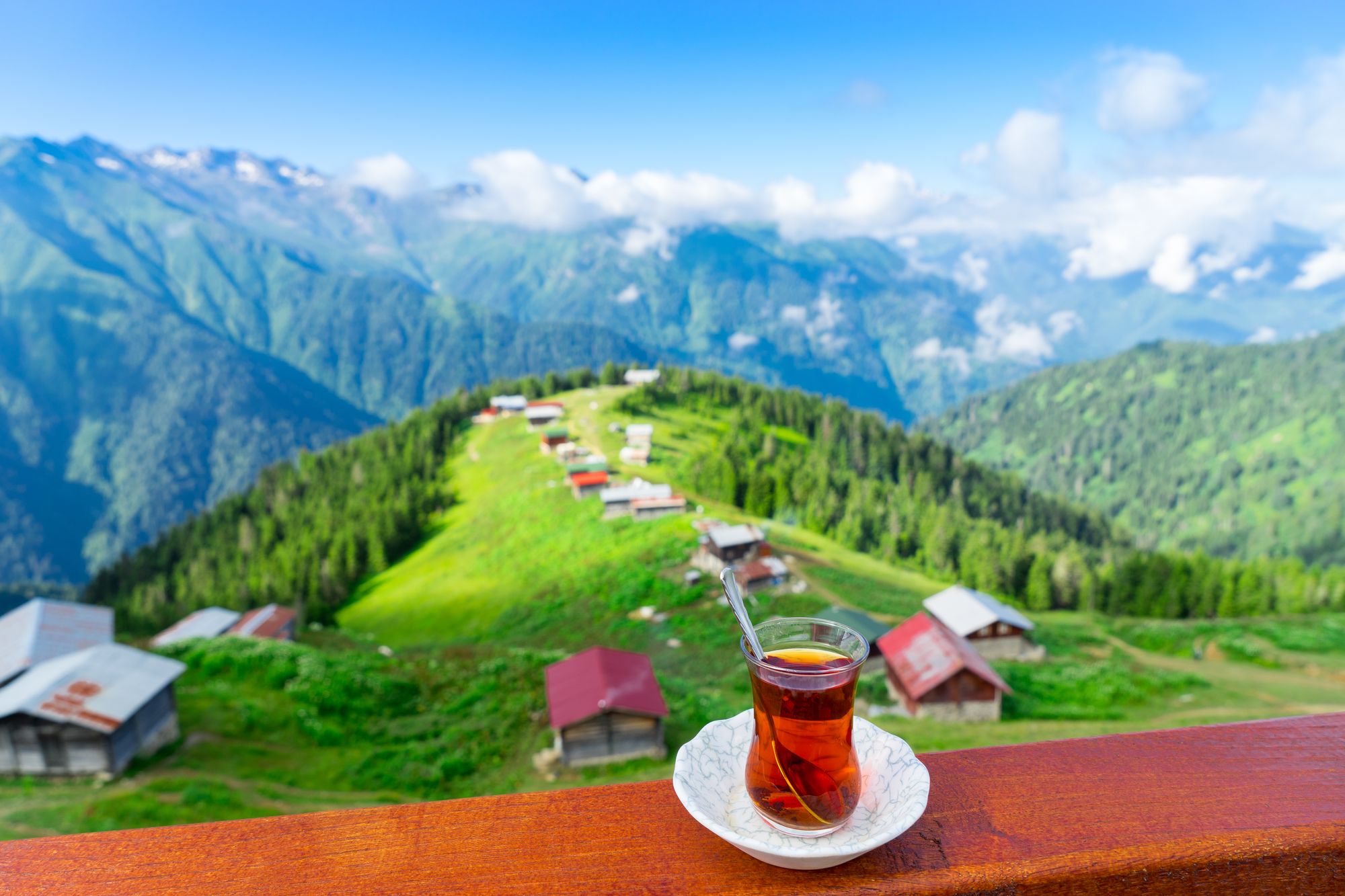 Rize has many restaurants offering various dishes of Eastern Black Sea cuisine. The Sini Yöresel Yemek ve Kahvaltı Yeri offers a rich mixed breakfast with varieties such as Kolot cheese, muhlama and kuymak. Located in the centre of Rize, the Evvel Zaman Yöresel Yemek Ve Kültür Evi serves local dishes such as black cabbage rolls, roasted pickles, pilaf with anchovies and pepeçura dessert made from a grape grown in the region. The Hüsrev Lokantası in Çayeli is one of the best places to eat İspir beans, one of the famous dishes of the region. The Dayının Balık Evi in the Pazar district is the most popular fish restaurant in Rize serving anchovy bread, fish balls, anchovy with vegetables, and grilled and fried fish.
Choose from our wide range of halal-friendly accommodations in Rize, either on Ayder Plateau, Camlihemsin, Ardeşen or Rize city centre.
Our last stop is Artvin, about 1.5 hours from Rize.
Artvin offers a unique sightseeing experience for nature and history lovers with a mesmerising atmosphere amidst natural beauties.
Borcka Karagöl Nature Park - Located in the Borcka district of Artvin, Karagöl fascinates with its crystal clear water, lush forests and impressive mountain views.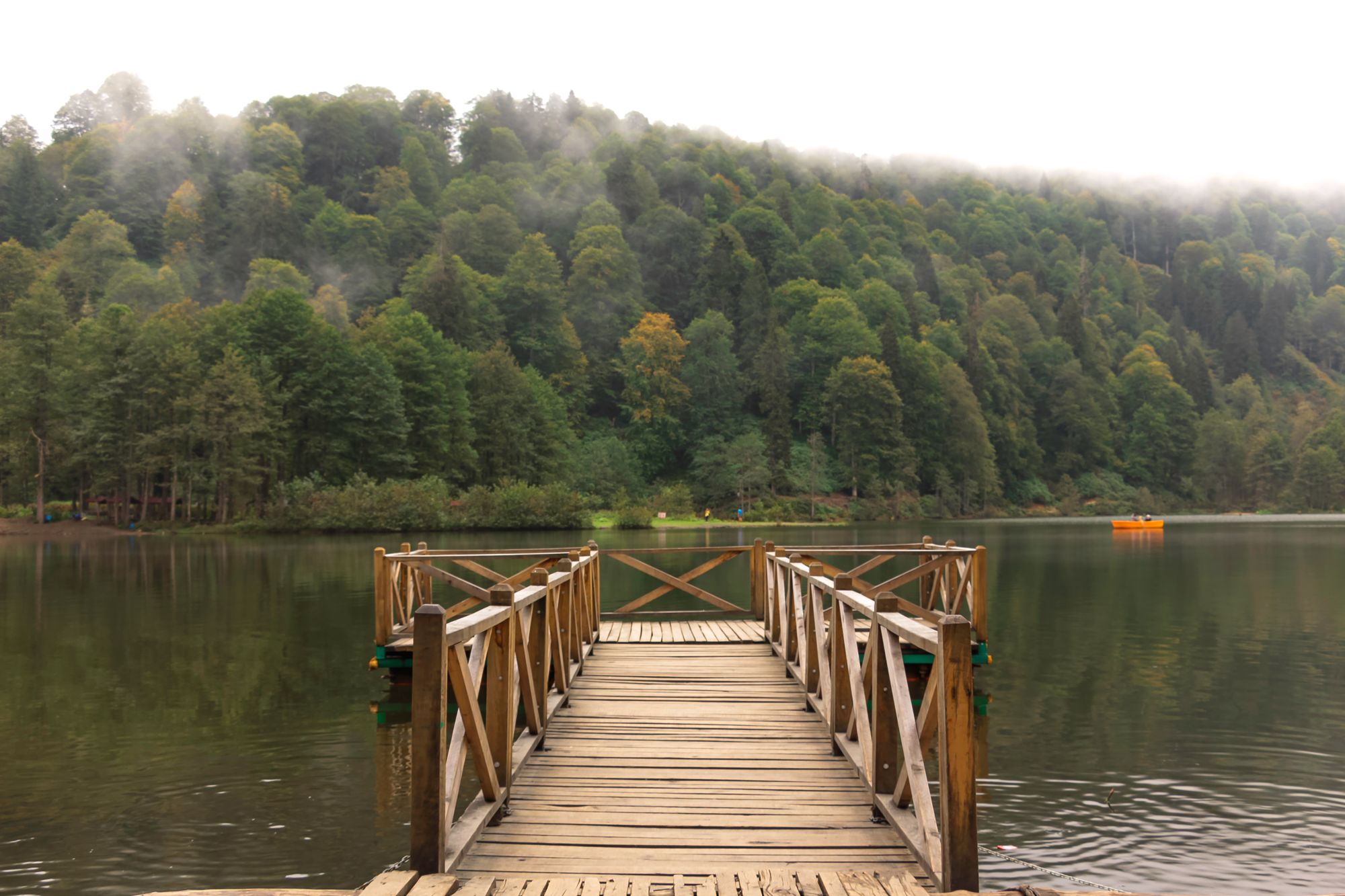 Hopa District - A popular district with beautiful beaches and Black Sea scenery. It is home to the Derepazarı Plateau at a distance of 20 km from the town centre, Kemalpaşa Village at a distance of 15 km and the Cankurtaran Plateau at a distance of 30 km.
Yusufeli District - Located in the south of Artvin, it attracts visitors with its natural beauties and historical places such as Tortum Waterfall, İspirizade Mansion, Balıklı Lake and Şavşat Waterfall.
Top addresses to eat and enjoy Artvin's culinary delights include the Klaskurelebi, known for its traditional Karadeniz breakfast, the Meroli restaurant, which serves regional dishes in a charming atmosphere, the Ersin Dede Cağ Kebap, which serves Cağ Kebab, a delicious meat dish, and the Aspirin Pide ve Kebap Salonu, a great choice to try Hopa-style pita.

Choose from our wide range of halal-friendly accommodations in Artvin, either in the districts of Hopa, Borçka, Şavşat or in the city centre.

After completing your Eastern Black Sea Road Trip, you can drop off your rental car directly at Rize-Artvin Airport (Please check if this is available with your car-rental agency if you rented from an agency in the city centre). There are many daily flights from Rize to Istanbul and Ankara.

To prepare for this epic road trip, you can explore our halal-friendly accommodation options of the Eastern Black Sea Region along this magnificent route and take a journey into mesmerising nature! We also offer various other road trip routes, check out our blog!