Spain - a destination rediscovering its Islamic heritage
When you think of Spain, what comes to mind? Sun? Sand? Sea? Soccer? Siesta? But what about its near 800-year Islamic history?
Spain has a rich history and vibrant culture. But it's fair to say that its Muslim heritage has traditionally been ignored or underplayed, surprisingly given how long the Moors ruled many parts of Spain. But that is starting to change. The Spanish government is increasingly keen to attract visitors for halal holidays in Spain. The Muslim influence can still be seen in the architecture and culture of the country, with Andalusia seen as a hub of Islamic history.
The country offers opportunities for exploration and discovery for Muslim travellers beyond just its Moorish heritage. Whether it's vibrant cities like Barcelona and Madrid or sun-drenched coastal resorts like Malaga and Marbella, Spain has something for every traveller. Travelling to Spain is easy and affordable, with regular flights from major European cities, especially during summer.
Islamic heritage of Spain
The ancient name for the Iberian Peninsula was Hispania. The Visigoths took over the region after the Western Roman Empire fell in 476. And then, the Islamic Umayyad Caliphate arrived in 711.
The Umayyad Caliphate was the second Caliphate to be established after the death of the Prophet Muhammad (pbuh). It was one of the largest empires ever to exist - at one point covering over 4 million square miles. Its power base, in what is now Syria, came under attack from the Abbasids, however, and Abd al-Rahman I, its last surviving leader, escaped to Spain.
Aided by the governor of Ceuta, Count Julian, the famed Muslim general Tariq ibn-Ziyad landed at the Rock of Gibraltar. 'Gibraltar' comes from the Arabic' Jabal At-Tariq,' which translates as 'rock of Tariq.'
Within seven years, the Caliphate took the Iberian peninsula with surprising ease and minimal resistance. Over time Muslim rule declined in the country, ending in 1492 when Granada was conquered.
Andalusia is the must-visit region if you want to see the Islamic history of Spain in all its splendour. In fact, the region's name is derived from the Arabic name "Al-Andalus."
The "Golden Age"
From the 8th to the 15th century, Muslim rulers created a fusion of Islamic, European, and Mediterranean cultures. It influenced art, architecture, science and literature.
The peak of Spanish Muslim civilisation came with the Umayyad Caliphate of Cordoba in the 10th century. The period is often described as a 'golden age' of learning where libraries and colleges were established and the arts flourished.
The "Golden Triangle" of Cordoba, Granada, and Sevilla is renowned for its impressive Moorish influence.
One of the most famous examples of this heritage is the Alhambra, a fortress-palace in Granada. It's famous for its intricate Islamic geometric designs, leafy gardens, and stunning views of the surrounding mountains.
A nod to the country's more recent Muslim history is only a 20-minute walk from Alhambra. Opened in 2003, the Mezquita de Granada is the city's first mosque since the end of Muslim rule in 1492. The stunning garden of the mosque overlooks the Darro River Valley and the Sabika Hill, where the Alhambra is visible in the distance.
The Great Mosque of Cordoba, or the Mezquita, is a dazzling example of Islamic architecture. Its stunning original features remain intact, such as the horseshoe arches and the prayer hall. Meanwhile, the Calahorra tower, a fortified gate built by the Almohad Caliphate, has a charming museum highlighting the city's rich Muslim history.
In Seville, you'll want to see the Alcazar (an Arabic word meaning fortress or palace), a royal palace built by Moorish Muslim kings in the 14th century. And while you're there, check out the Giralda Tower — once a minaret of the Great Mosque of Seville.
You can attend the various events and exhibitions organised by the Spanish government's Casa Arabe, which aims to showcase Islamic culture and promote halal holidays in Spain.
Spain should definitely be on your radar if you're seeking a place that combines history, culture, and knowledge. In its Muslim era, it stood out as a hub of innovative thinking and artistic brilliance. Intellectuals thrived in fields such as medicine, astronomy, and mathematics, leaving an invaluable legacy that still marvels and motivates people globally even today.
Top attractions in Spain
From relaxed cities to sunny coastal resorts, Spain has it all. Stay in an alcohol-free hotel or in a fully secluded pool villa; choose vibrant Barcelona or discover Andalusia, once at the heart of the Umayyad Caliphate. Here is our choice of top places to visit in Spain:
Andalusia's Golden Triangle - Seville, Cordoba and Granada
Costa del Sol
Barcelona
Costa Brava
Madrid
Balearic Islands
Delve into the unique charm of Andalusia with its three fascinating historic cities. Discover beautiful Granada against the stunning mountain backdrop of the Sierra Nevada and its most popular attraction, the breathtaking Alhambra Palace. Explore the charm of Cordoba's mediaeval streets and visit the mesmerising Mosque-Cathedral, the Mezquita, and taste the best tapas in majestic Seville with the impressive Alcázar Réal, the Royal Palace.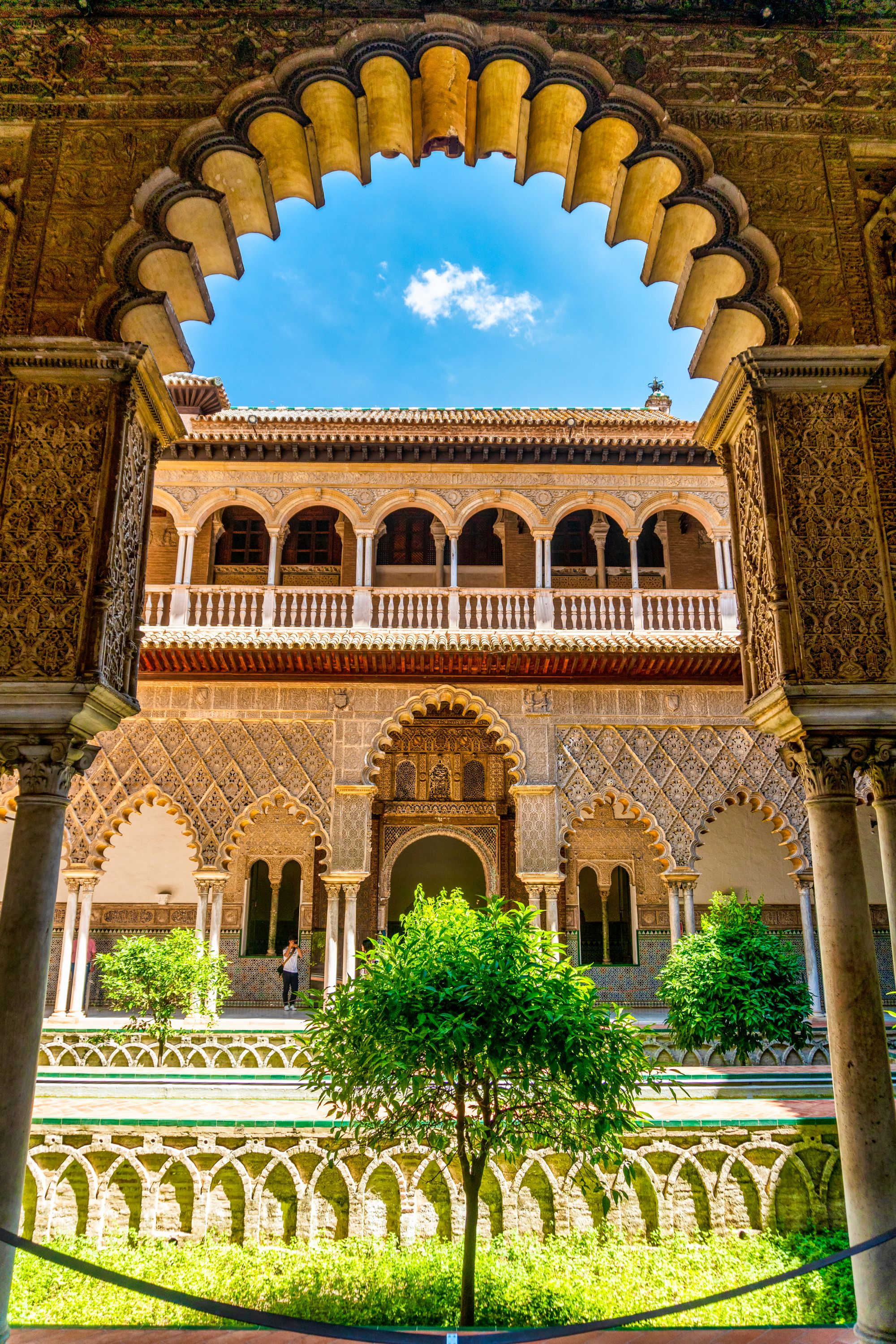 Top attractions in Andalusia include:
Alhambra, Granada - the unmissable hilltop palace fortress which stands above the city. It was established by the first Nasrid King, Mohammed I as his residence in the 13th century and transformed by his successors, Yusuf I and Mohammed V transformed it into a sumptuous palace.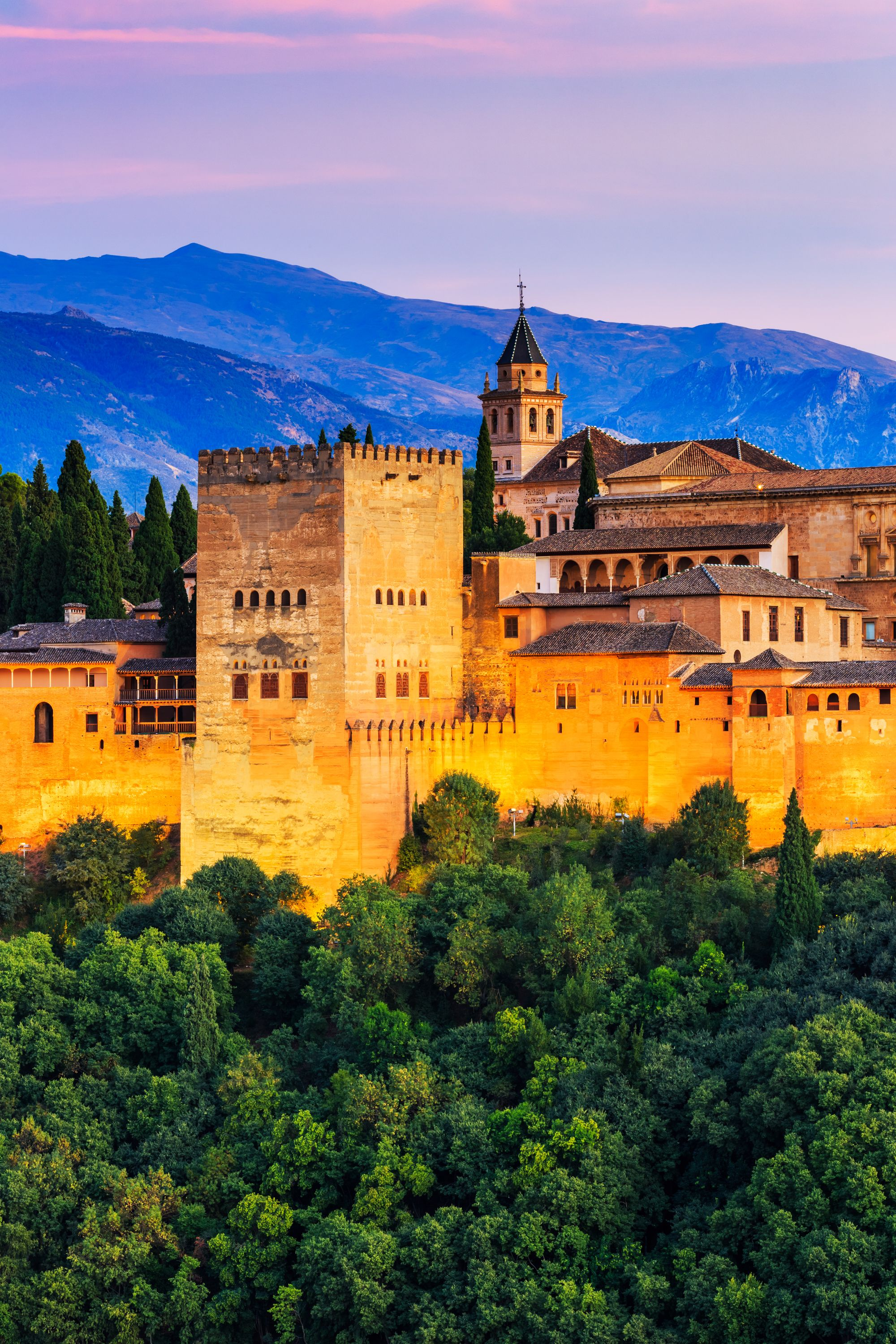 Great Mosque of Cordoba - read more about the fascinating Mezquita-Catedral de Cordoba below in the section about mosques.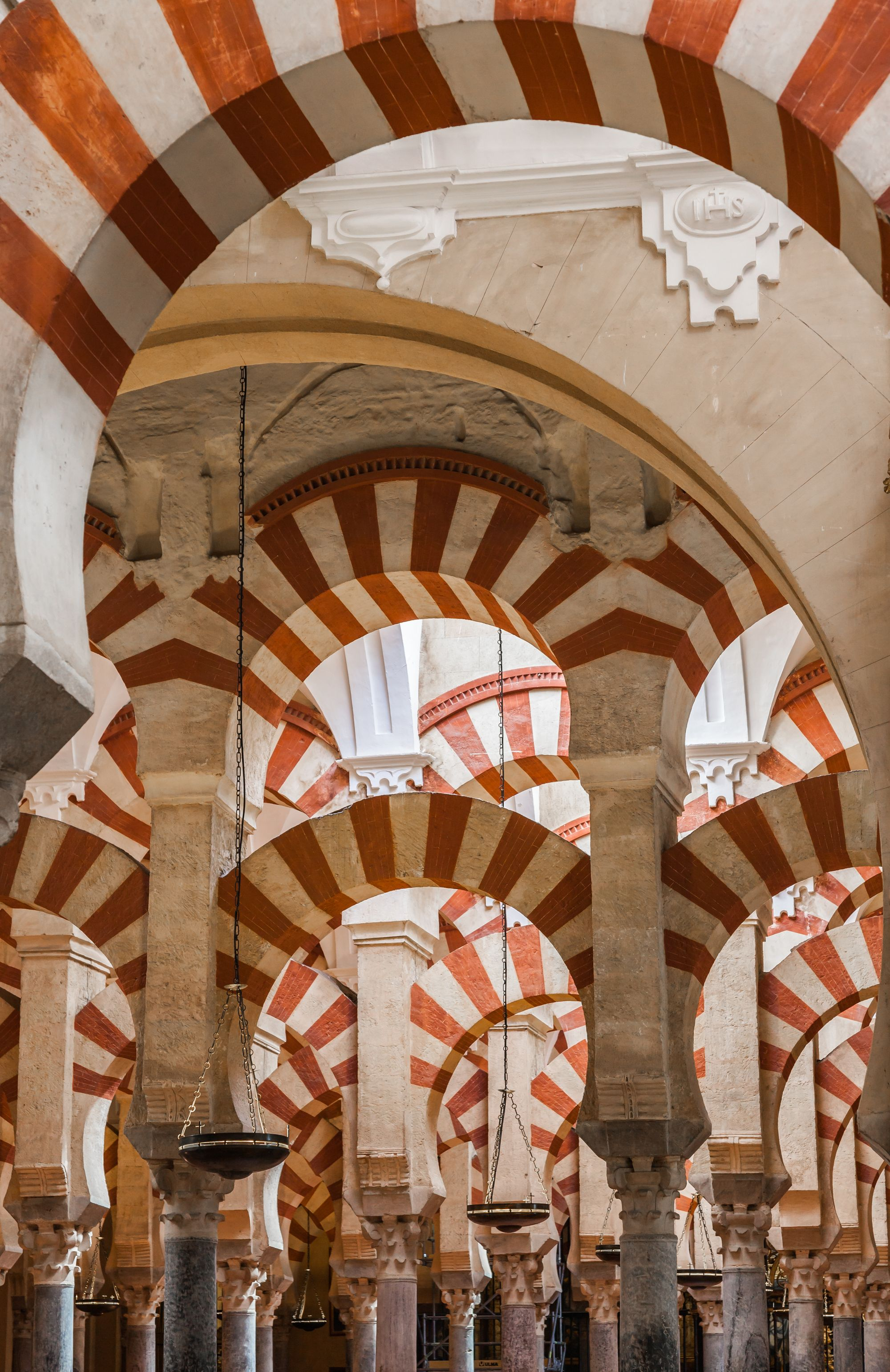 Science Park, Granada (Parque de las Ciencias) - an interactive science centre and museum set over more than 70,000 square metres: fun and educational for all the family.
Seville Cathedral and Giralda - the impressive minaret (now bell tower) of what was once a mosque (see the section on mosques for more details).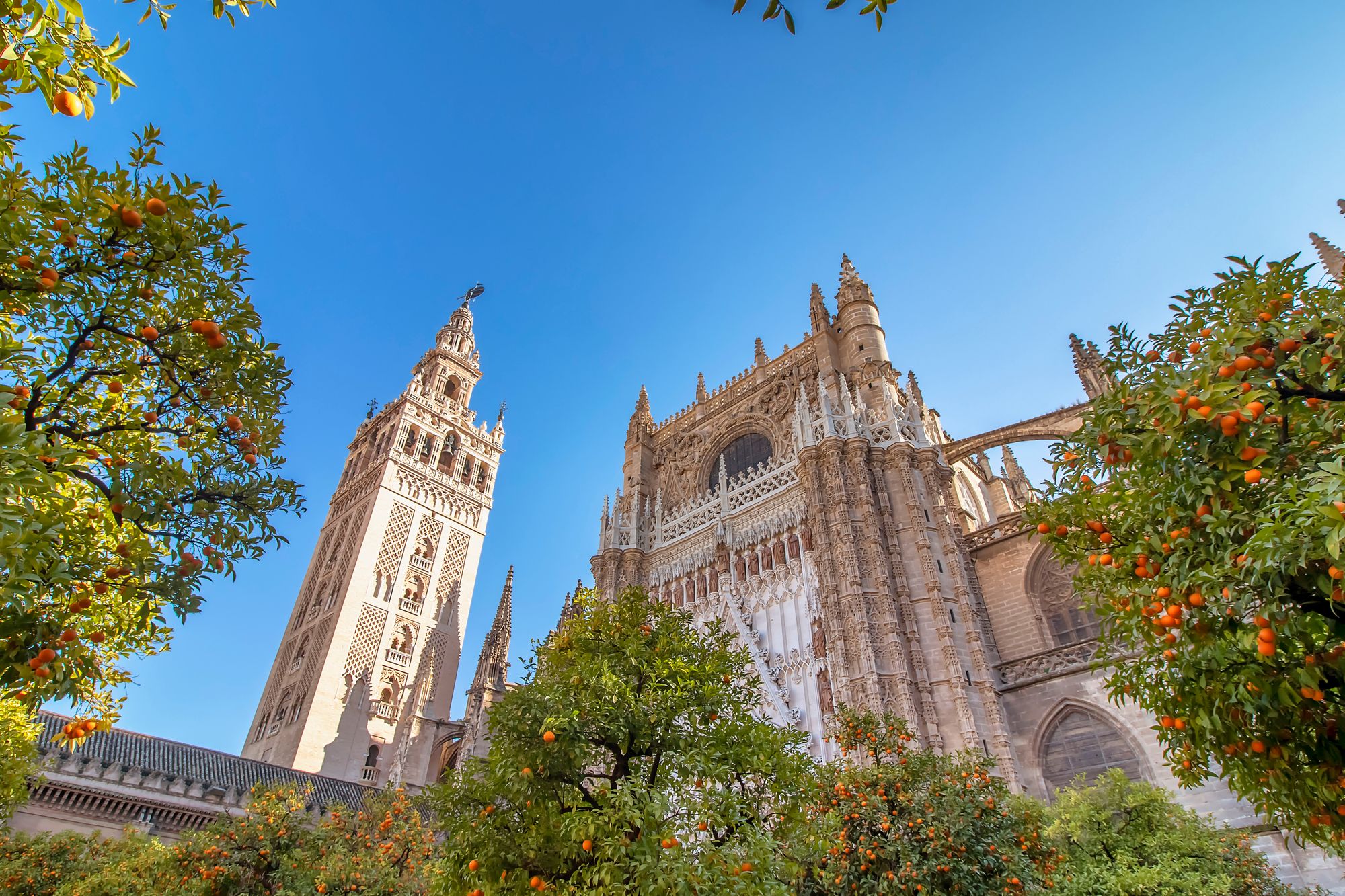 Headquarters of the Casa Arabe, Cordoba - Visit the strategic centre promoting positive relationships between Spain and the Arab world. It often holds exhibitions and events and is a meeting point for the Muslim community.
Costa del Sol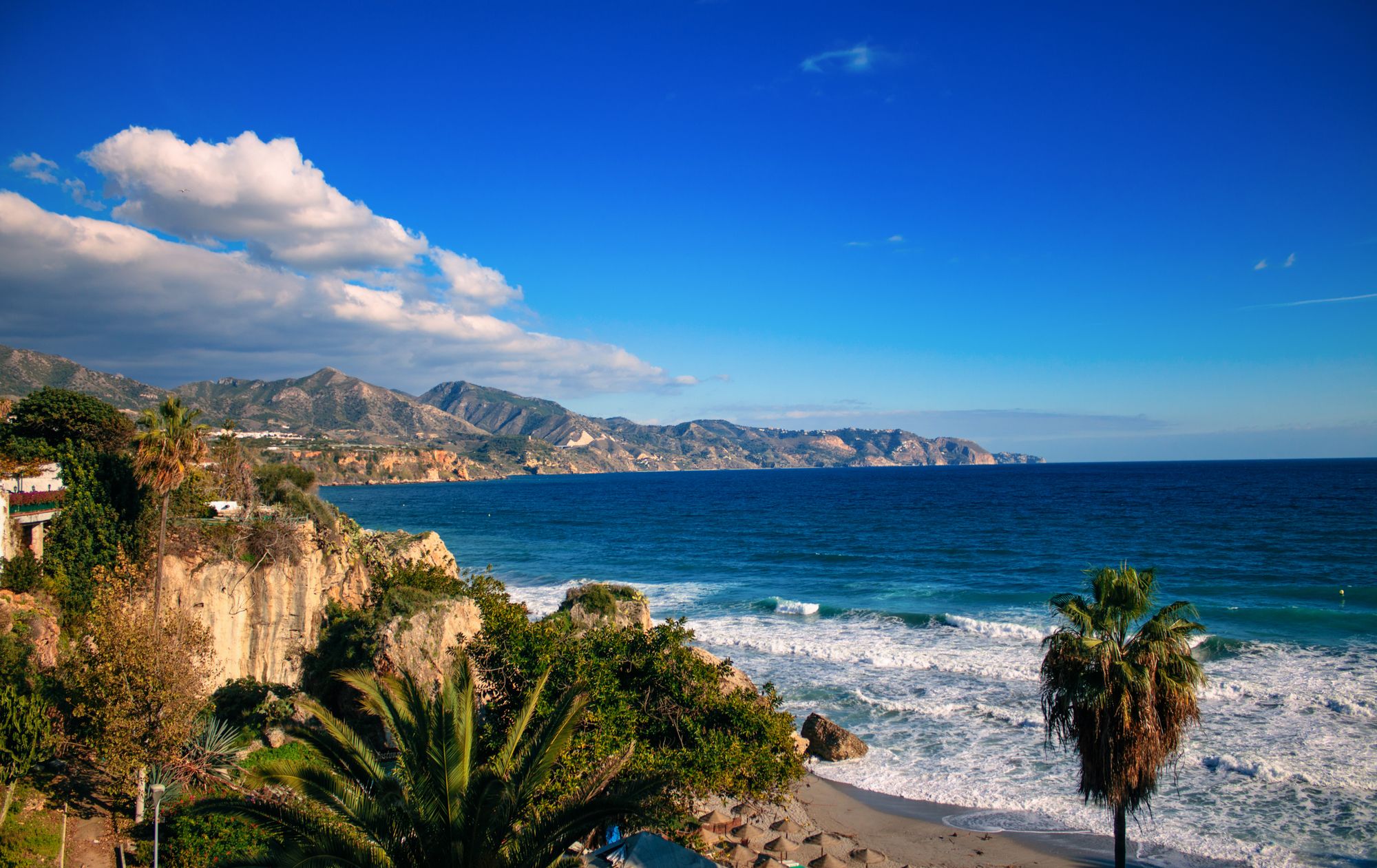 Spain's famous sunny coastline of golden sandy beaches and azure sea takes in the coastal resorts of Marbella, Torremolinos and the city of Malaga. Its national parks provide a magnificent mountainous backdrop - all the landscapes you could dream of in one place! It is home to two of our best-selling Spanish halal-friendly alcohol-free resort hotels: Costa del Sol Torremolinos Hotel and Alanda Marbella Hotel.
Gaudi's unique modern architecture blends with a relaxed seaside ambience. The Catalan capital is a great place to visit at any time of the year, with tourists aplenty to soak up the Mediterranean sun. Since the city was only under Muslim rule for a short period of around 85 years, it retains almost none of its Islamic heritage, but its impressive futuristic architecture is more than enough reason to visit.
Top attractions in Barcelona include:
Sagrada Familia Church - the breath-taking church which was the life's work of the famous Catalan architect, Antoni Gaudi.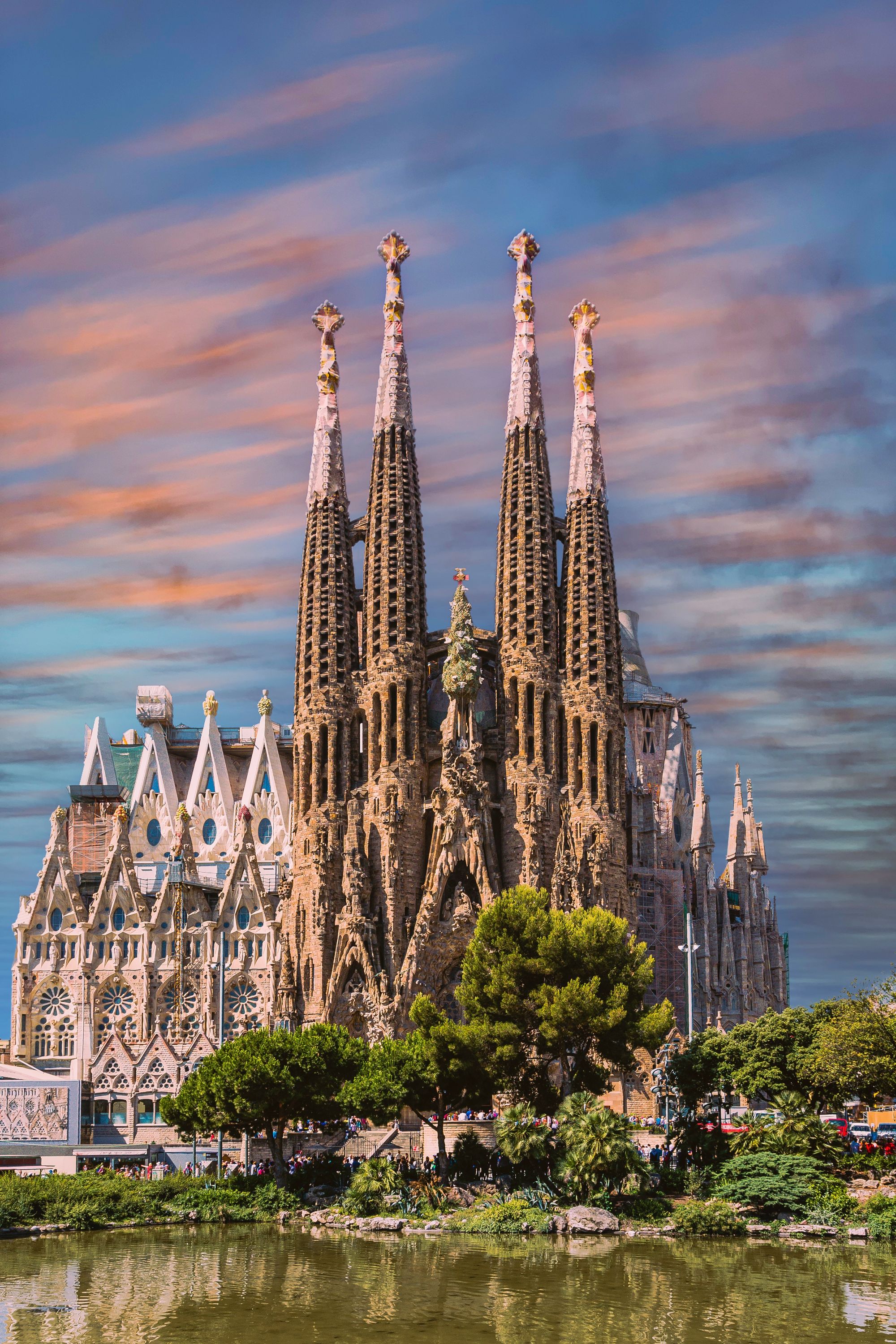 Casa Mila - the unique building, which was Gaudi's iconic work of  civic architecture, built as a family home and apartments.
L'Aquarium de Barcelona - this impressive aquarium is a great place to learn about the biodiversity of the Mediterranean. If you're feeling adventurous try the shark cage diving experience!
To the north of Barcelona is the popular Costa Brava, a beautiful stretch of coastline of hidden coves and sandy beaches taking in charming resorts such as Lloret de Mar and Pineda de Mar.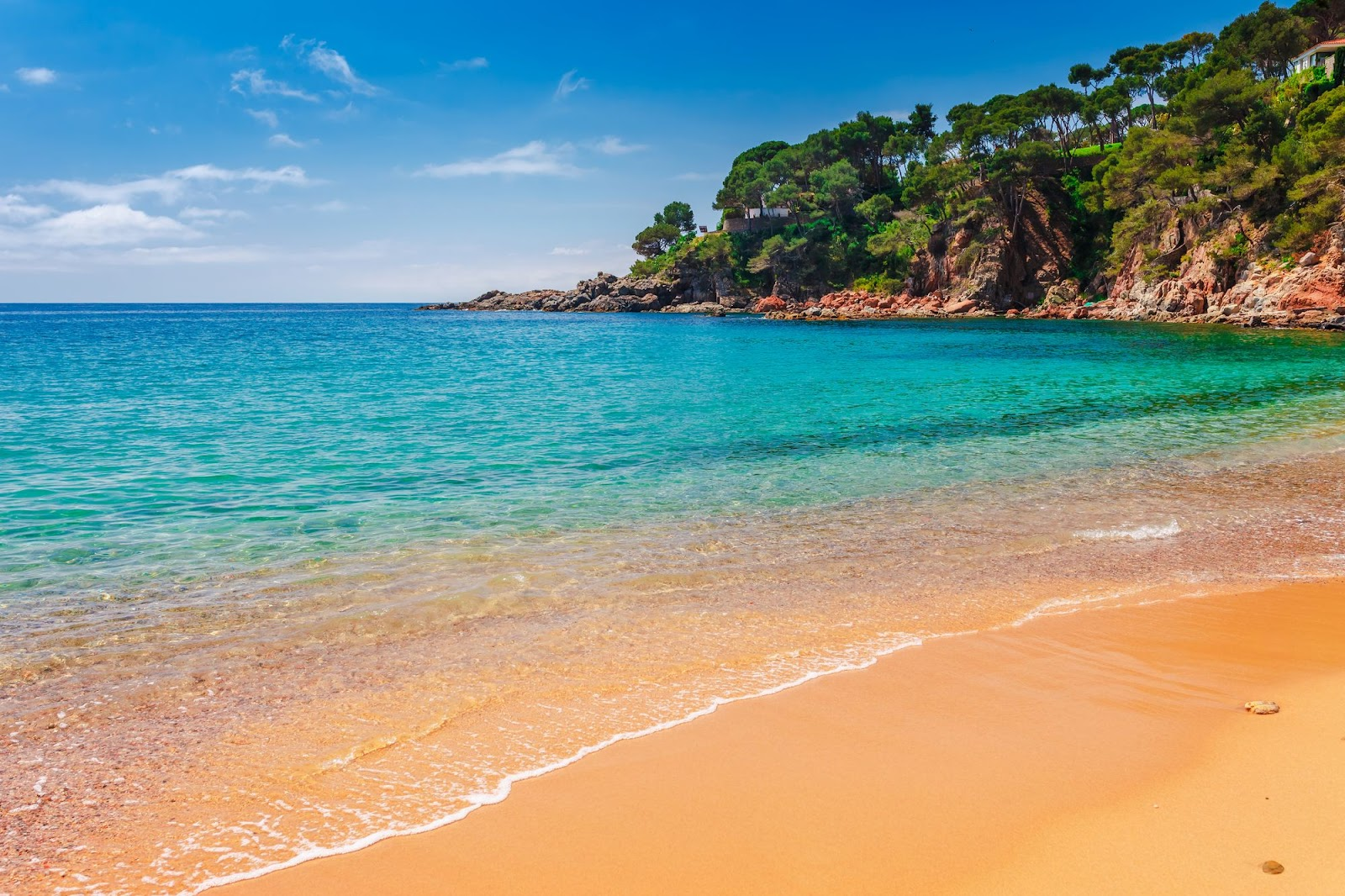 To find out more about this lovely coastline, literally translated as 'the wild coast' read our dedicated  blog article: Costa Brava - "the wild coast", which gives an insight into its attractions and its buried Islamic history.
Madrid is one of Europe's busiest capital cities and draws visitors from across the world. It was, in fact, Emir Muhammad I of Cordoba, who founded Madrid - or Mayrit (meaning spring or fountain) in Arabic - in the ninth century. It has a hidden Islamic history, which is only recently being celebrated, with the opening of a new museum, the Galeria de Colecciones Reales. The museum is situated next to Madrid's Royal Palace and built on the location of the original fortified wall, which was uncovered during its construction in 1999. It comprises the original Umayyad fortified wall, three towers and the remains of a gate. It would once have been part of the city's alcazar. Although Madrid was once a thriving Islamic city, after 1561, when Felipe II established his capital here, he began the process of hiding its Islamic origins, which nonetheless still remain in its street layout and place names.
Top attractions in Madrid include:
Prado Museum - Spain's most important art museum including some of the country's best known paintings.
Palacio Real - Spain's royal palace, which now functions as a museum, highlighting the luxurious life and rich history of the royal family.
Gran Via - the capital's main shopping street, home to its most popular department stores.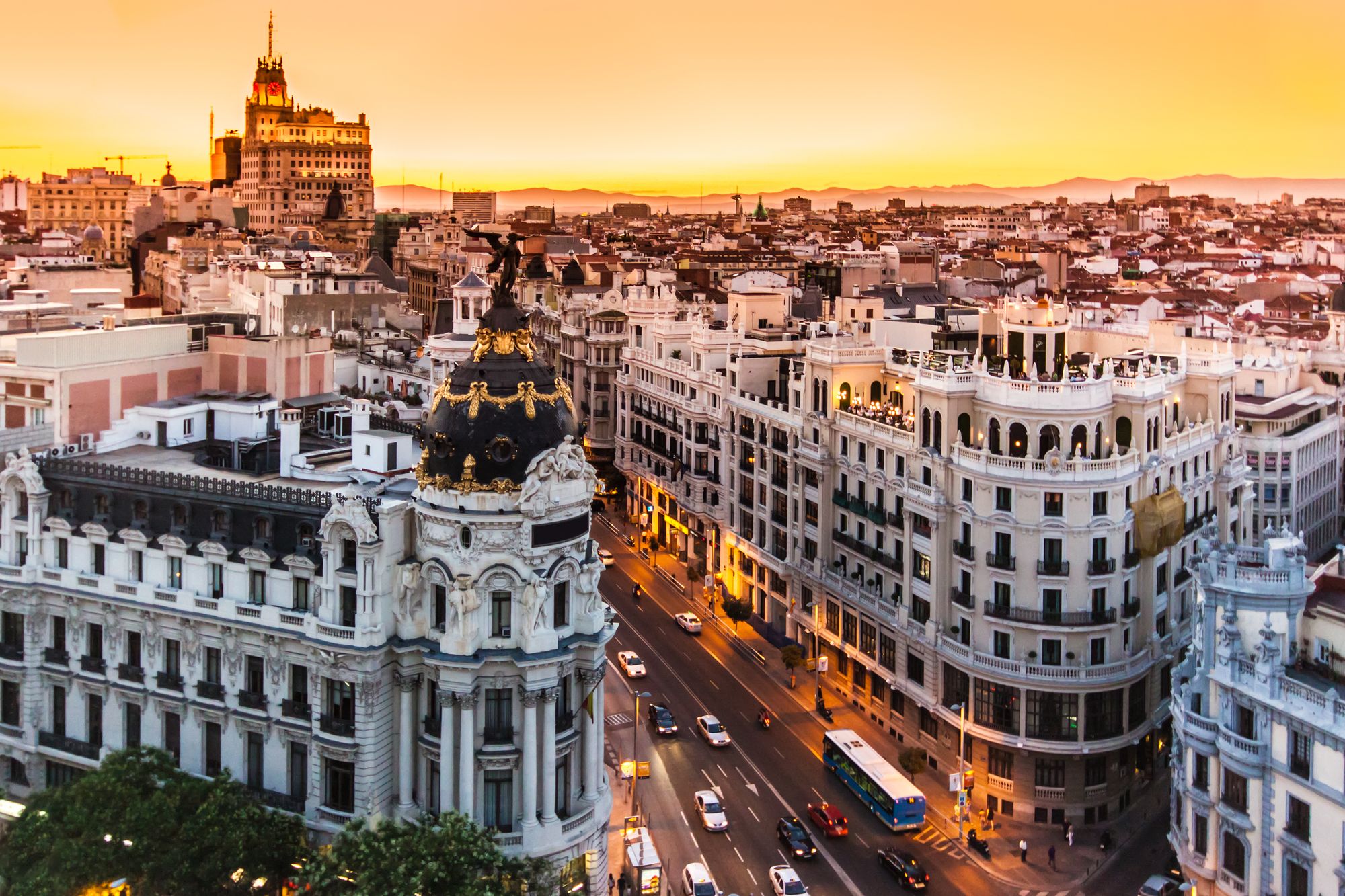 Casa Arabe - the headquarters of this centre, which bills itself as 'a meeting point between Spain and the Arab world' often holds interesting exhibitions and events.
The sunny Mediterranean islands of Majorca, Menorca, Ibiza and Formentera are situated off the coast of Spain, east of Valencia. Although known for their nightlife and beaches they do retain traces of their fascinating Islamic heritage.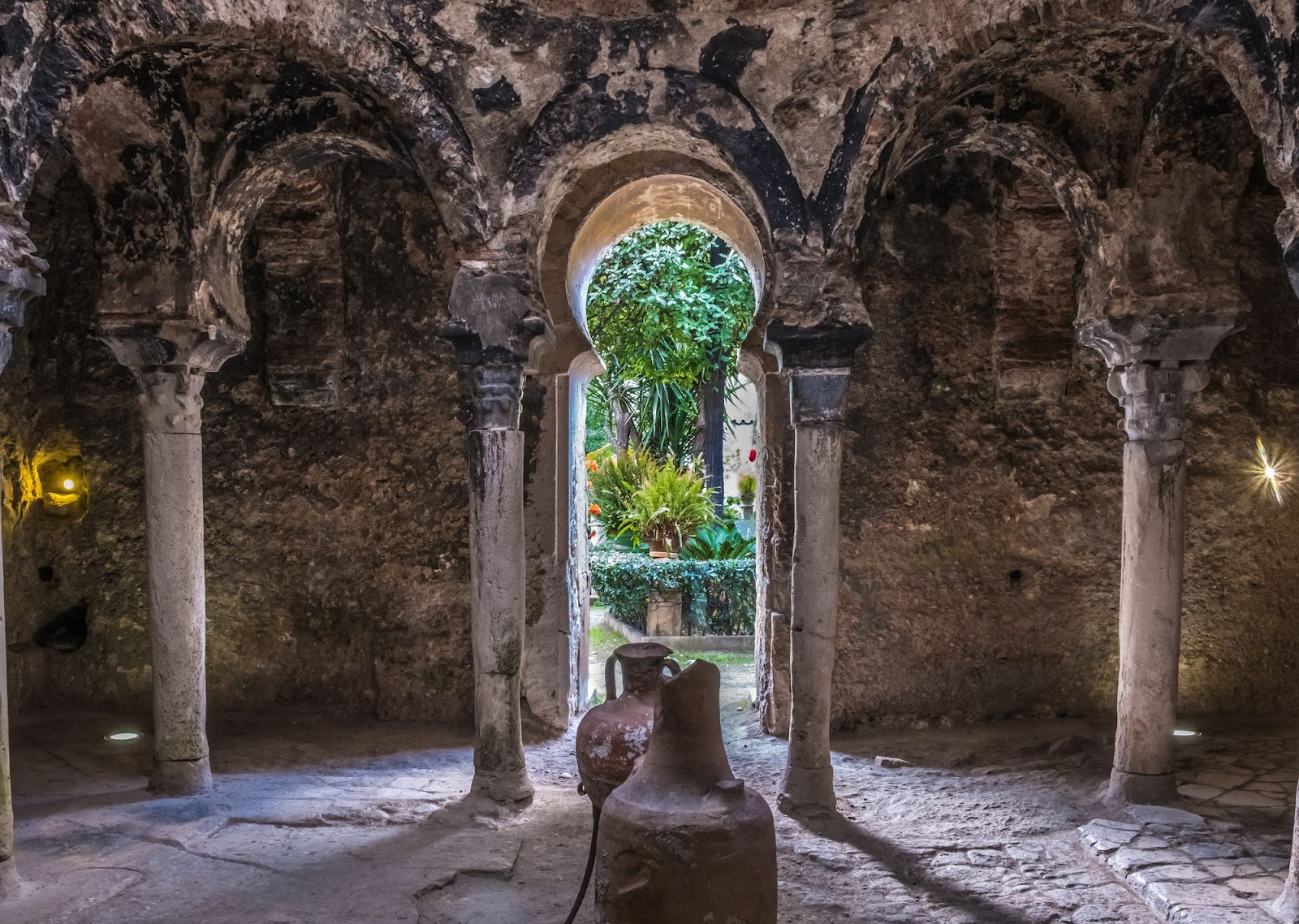 To find out more read our dedicated blog: Balearic Islands: a Mediterranean paradise
Mosques in Spain
According to the Spanish tourist office, there are over 250 official mosques and Islamic religious centres in Spain. You can find a full list of them on the official Spanish Ministry of Justice web page, to check if there's one near where you will be staying.
Here's our list of mosques in the main tourist centres of Spain - there's a couple of 'trick' ones, which are shining examples of Islamic architecture, but sadly are in use as cathedrals and, therefore, no longer available for Muslims to pray. You should definitely make sure to visit, as they will undoubtedly be a highlight of your trip to Spain, but you will have to find a working mosque to pray Jumuah.
Great Mosque of Cordoba (Mezquita-Catedral de Córdoba)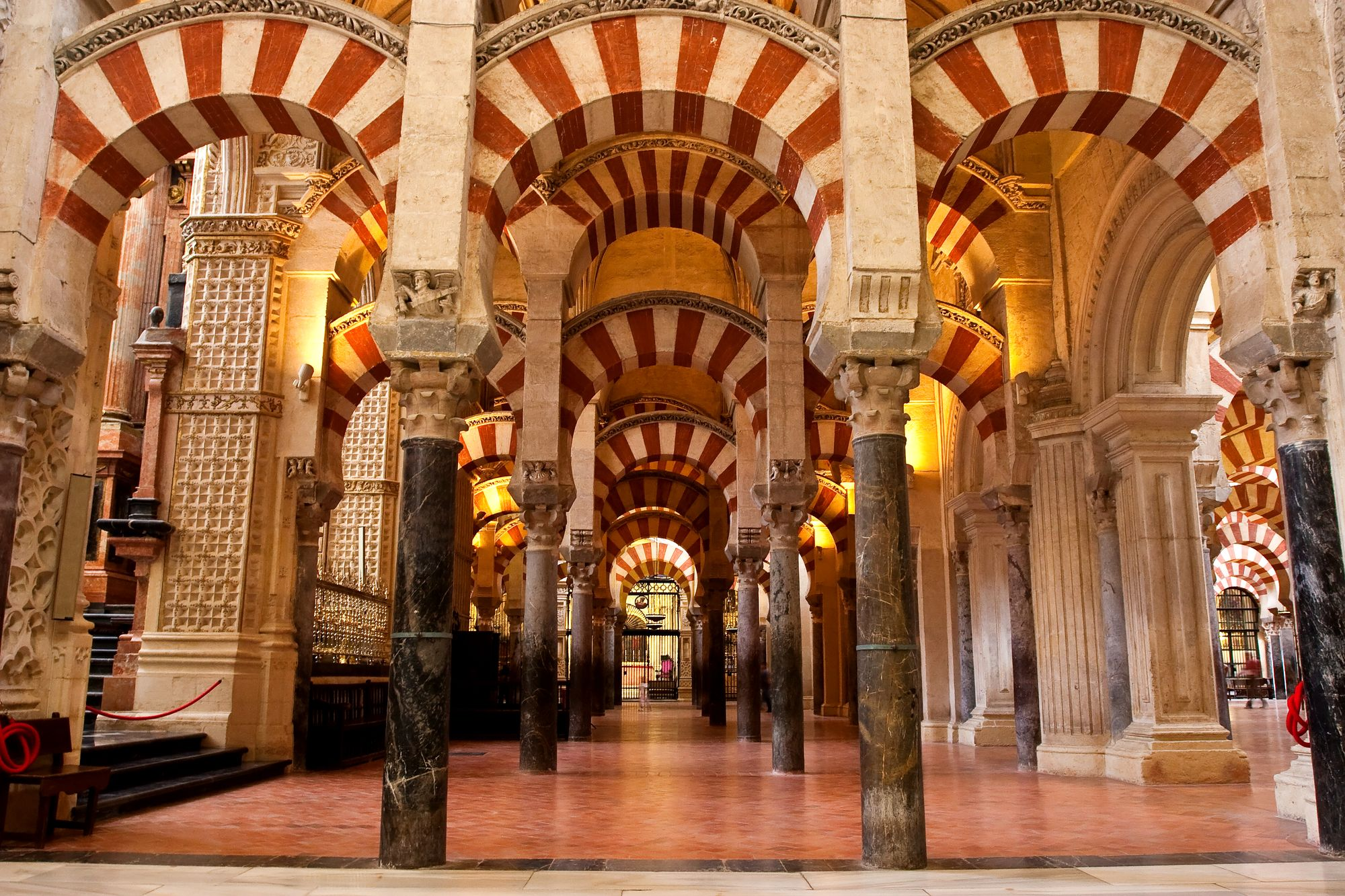 This stunning mosque can lay claim to be the most impressive architectural achievement of the Al-Andalus period of Spain. It has been used as a place of worship by all those who have conquered the area, in its long and chequered history. The site was first home to a Roman temple, honouring Roman god, Janus, which was replaced by a Visigoth church and followed by a mosque which was rebuilt in its current form. Finally it was repurposed as a Catholic church in 1236 and remains so today, which means that Muslims are not permitted to pray here. Its most breath-taking features date from its time as a mosque, including its magnificent prayer hall with its ornate columns, its marble mihrab, dazzling dome, sparkling with gold mosaics, courtyard fountain, citrus grove and former minaret, which is now encased in a bell tower.
Seville Cathedral and Giralda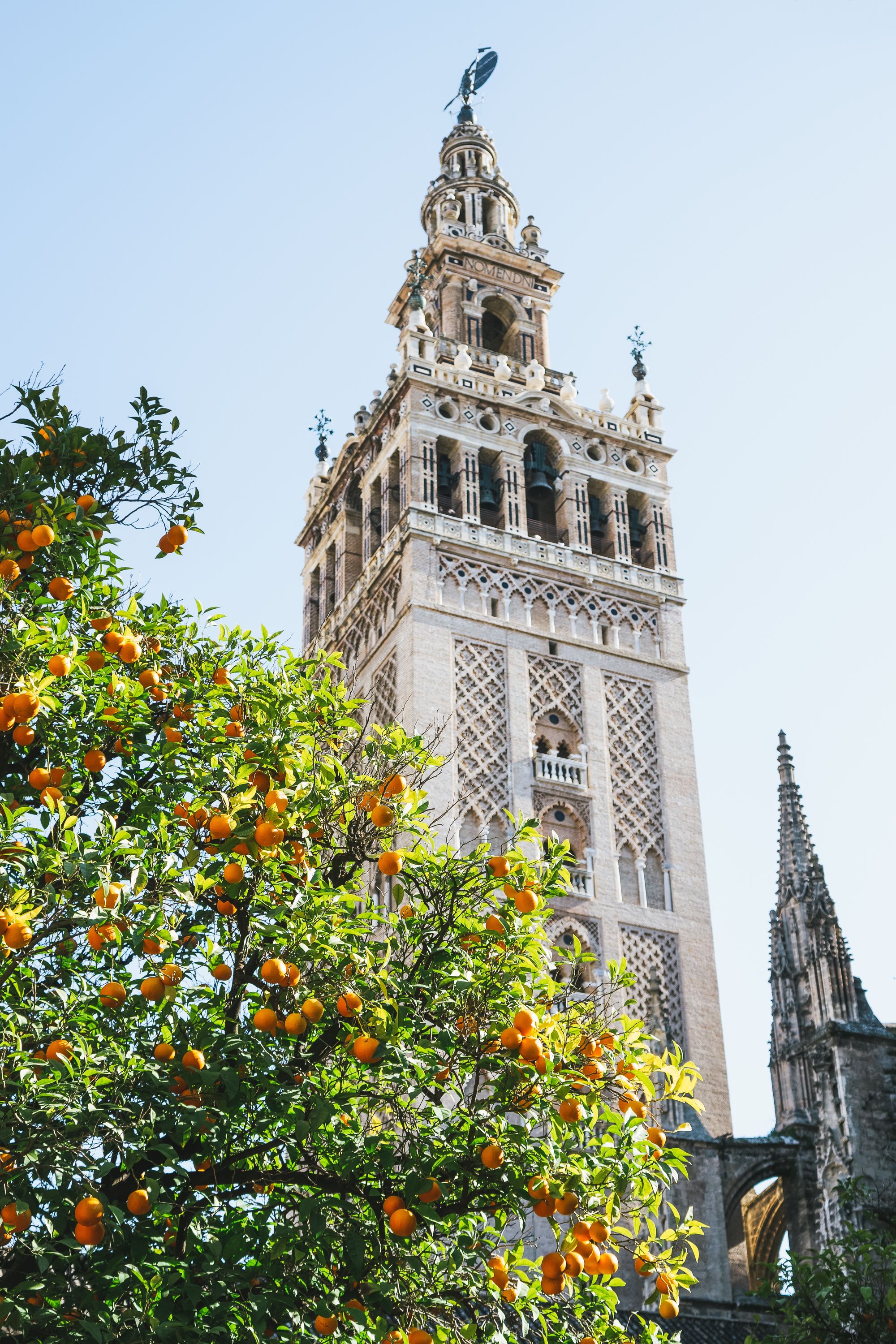 Today's cathedral was also formerly a mosque, which was damaged by earthquakes in 1356 and 1362 and largely rebuilt. The most significant feature which remains is the Giralda, which is now used as a bell tower, but was once the minaret of the mosque. You can also see the mihrab and the original mosque's courtyard, filled with  orange trees, the Patio de los Naranjos.
Fundacion Mezquita de Sevilla
For daily prayers in Seville, you should instead visit the city's first mosque to be built in over 700 years. Footballer Frederic Kanoute helped raise nearly £1m for the Seville Mosque when the former Tottenham striker moved to play for the city's football club.
Great Mosque of Granada (Mezquita Mayor de Granada)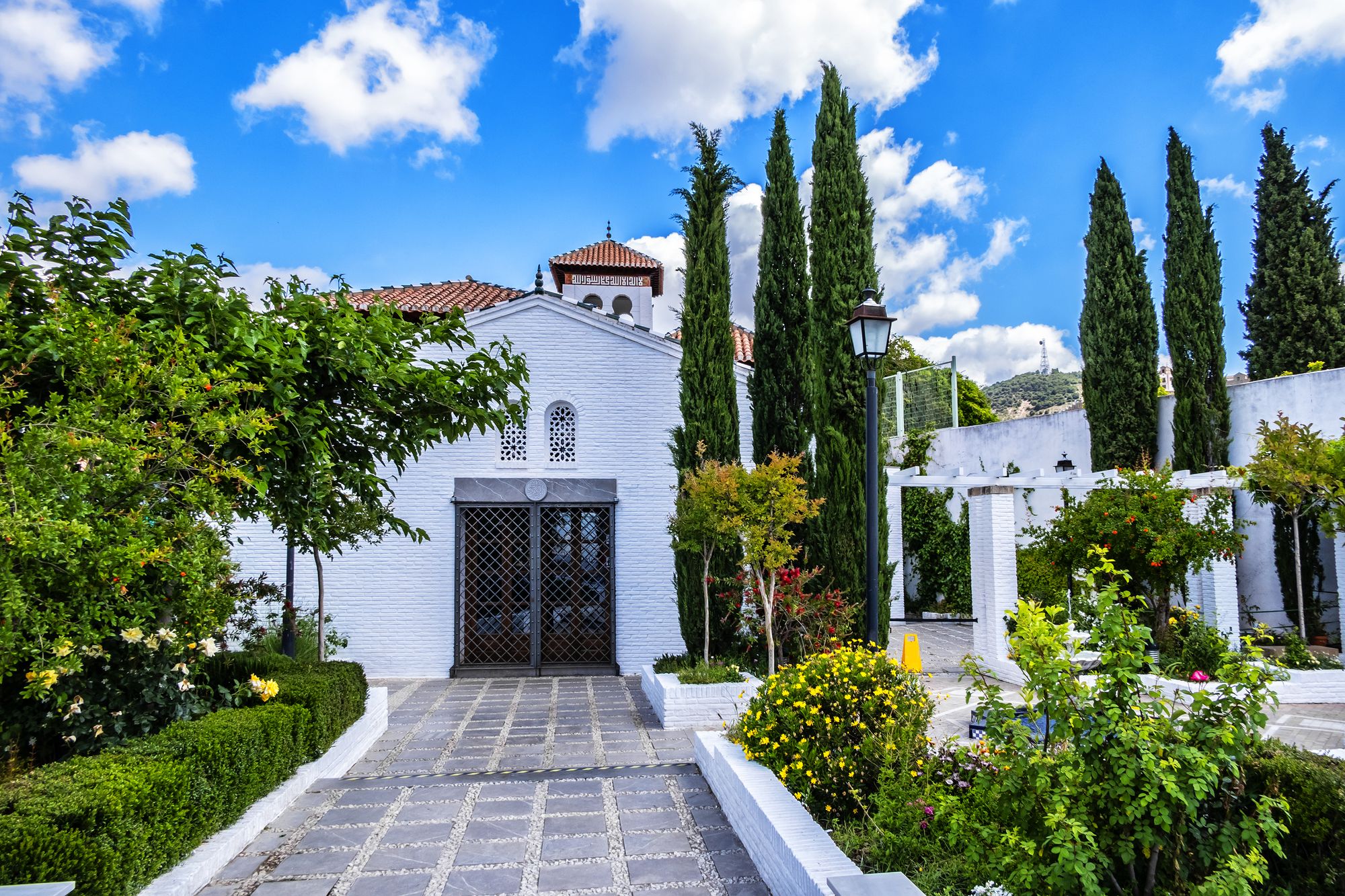 Built in 2003 in traditional Moorish style, in a beautiful setting, this mosque has the distinction of being the first to be built in Granada since 1492. It enjoys superb views from its garden, filled with citrus, pine and olive trees. It is open for daily prayers, Jumuah, Quran study and other community activities.
Islamic Cultural Centre and Mosque, Madrid (Mezquita de la M30)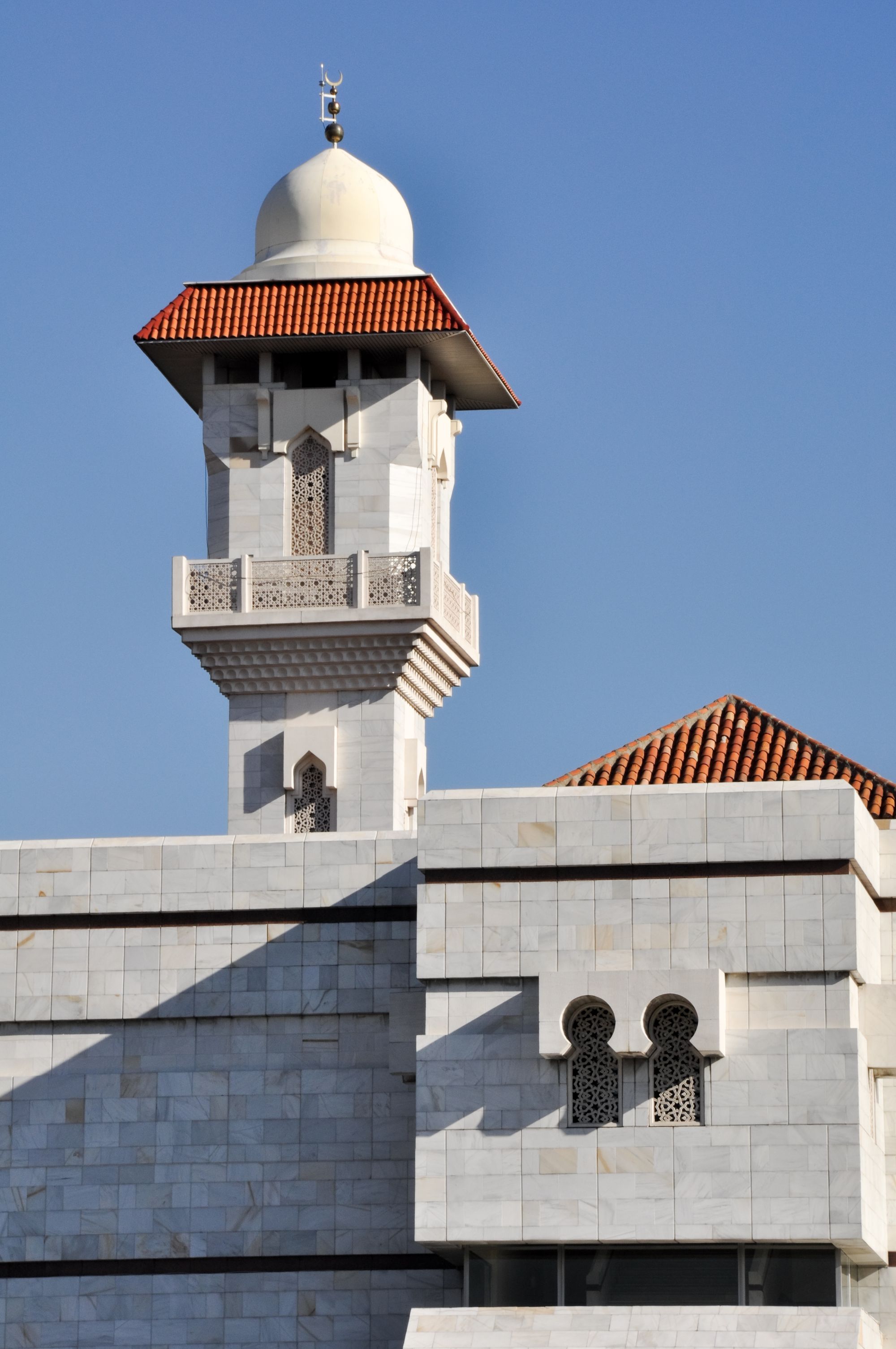 This is the biggest mosque and Islamic cultural centre in Spain and one of the biggest in Europe. It is built over 6 floors and covers an area of some 12,000 square metres. Its popular name comes from its location next to the busy M30 motorway. It can be spotted from afar due to its impressive design with its marble facade and 25-metre-high minaret. It was opened in 1992 and plays an important role in the cultural lives of Spanish Muslims as well as that of the city as a whole. It includes a madrasa, a library (housing volumes in Arabic, Spanish, English and French), two exhibition halls, a museum, an auditorium, a gym and the restaurant Alzahra, serving North African cuisine.
King Abdul Aziz Mosque, Marbella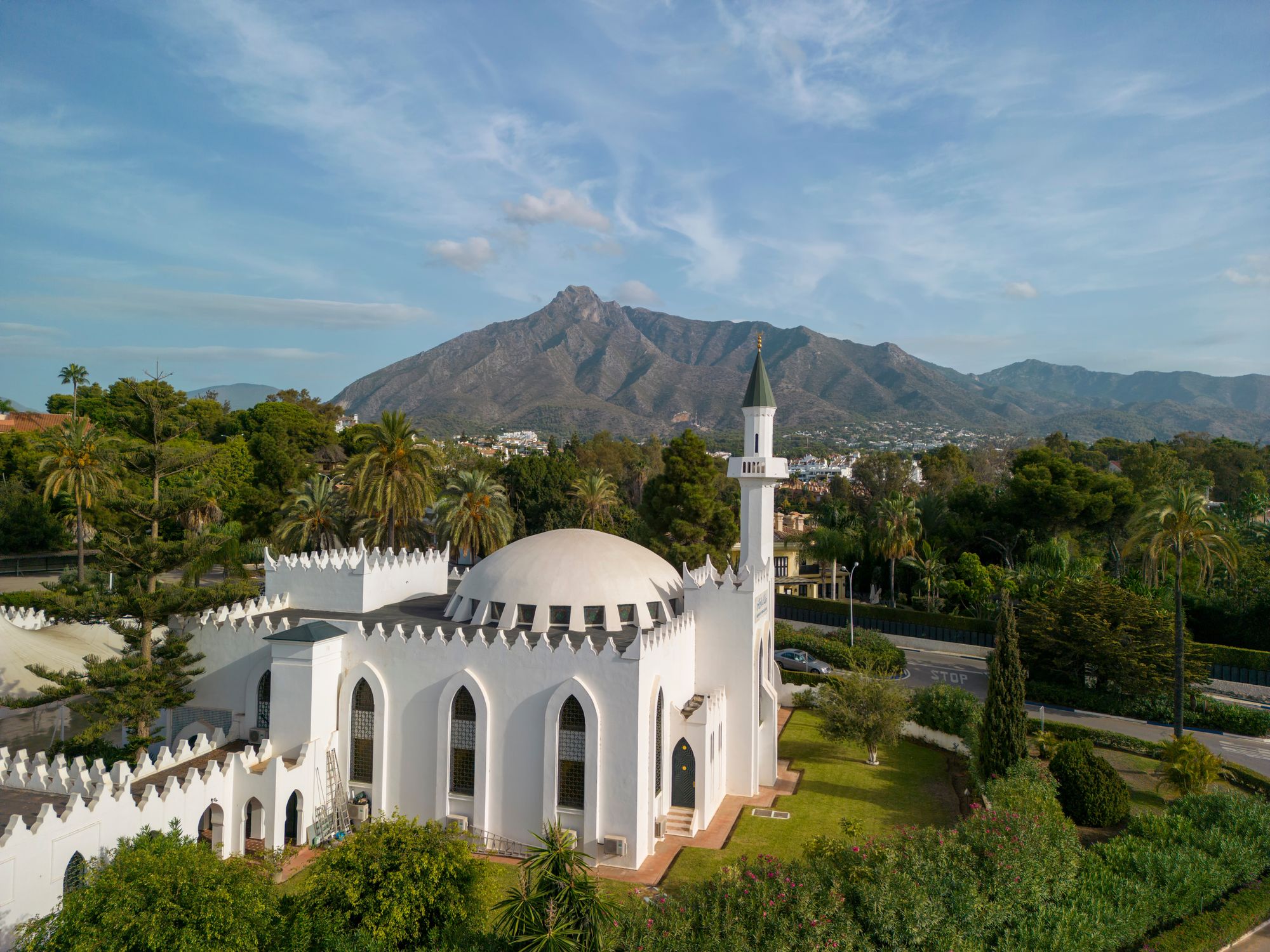 Named after the first King of Saudi Arabia, this beautiful mosque was built in contemporary design by Cordoban architect, Juan Mora, in the plain whitewashed local style. It is set in lovely gardens, overlooking the sea. It opened in 1981 and was the first to be built in Spain in modern times. It has separate prayer rooms for women and an impressive library, housing over 30,000 volumes on the subject of Islam and Arab-Andalusian literature, history and civilisation in Muslim times. Join the local community for daily and Jumuah prayers.
Halal food and restaurants in Spain
Finding halal food is relatively easy to cater for your family. There are plenty of Muslims living in Spain, especially in Andalusia, so neighbourhoods such as Albaicin in Granada or Raval in Barcelona will have halal butchers and bakers. In Majorca, you will need to look in the capital, Palma de Mallorca. If you're not sure where to look, finding the local mosque is always a good starting point, as Muslim communities and their shops are likely to be nearby.
Unfortunately, for Muslims choosing a holiday in Spain, traditional Spanish cuisine is very heavy on pork in its various forms such as 'chorizo' and 'jamon'. Minced meat often contains it, even when this is not specified, so it is worth avoiding it and sometimes pastry is made from lard. Also, non-halal meat may often be in sauces, so it is always best to check. Not everyone speaks English, outside the main tourist areas so do learn a couple of handy phrases such as: 'sin cerdo' 'no pork'; or to make absolutely certain: 'Soy alergico al cerdo' 'I am allergic to pork'.

There is a system of Halal Certification awarded by the Halal Institute (Instituto Halal) in Spain but you will find that a lot of the places serving halal food do not have an official certificate. Generally speaking, kebab restaurants are a good bet for cheap eats. Döner kebab served in Spain is often halal. Similarly, you will find Moroccan, Syrian, Lebanese, Turkish, Pakistani and Indian restaurants which serve halal food. If you are not sure, then just ask. Some Indian restaurants serve halal chicken, but not halal meat, and you will also find fried chicken restaurants serving halal chicken in Spanish cities.

Mostly, restaurants serving traditional Spanish food are not halal. There are a few notable exceptions though. The chain called El Asador de Aranda, which has branches in Barcelona, Madrid, Seville and Valencia, serves halal dishes. Their specialty is suckling lamb roasted in a clay oven. There are also a couple of specialty restaurants, which you might want to visit if you are nearby. Noor in Cordoba has become famous for its Michelin-starred chef Paco Morales, who has made it his mission to create a form of halal haute cuisine, creating contemporary dishes based on recipes of the past and only using ingredients which were available during Islamic rule in the period known as Al Andalus. His restaurant does serve alcohol, although there is also a range of delicious non-alcoholic cocktails and teas. On the hills above Cordoba, you will find Los Almendros, which is a certified halal restaurant, where traditional Spanish dishes have been created with halal alternatives. It even has its own prayer room. There is a list of halal-friendly and halal certified restaurants on the Spanish tourist offices official website.
There are also a number of hotels in Spain which have halal food options available, simply use the halal food filter to find them. There is also one hotel which serves only halal food, the Alanda Marbella Hotel.

It should be noted that in Spain, even if a restaurant is certified as halal it may still serve alcohol and non-halal meat, but also have halal dishes on its menu. The best advice we can give is to contact the restaurant to ask questions before you visit, and check reviews on Tripadvisor and other ratings sites to see whether the establishment fulfils your requirements.
Here are some delicious traditional Spanish vegetarian dishes:
gazpacho – a cold soup made from tomatoes, peppers and cucumber
patatas bravas - traditional, fried potatoes
tortilla de patata – Spanish omelette made with egg, potatoes and onions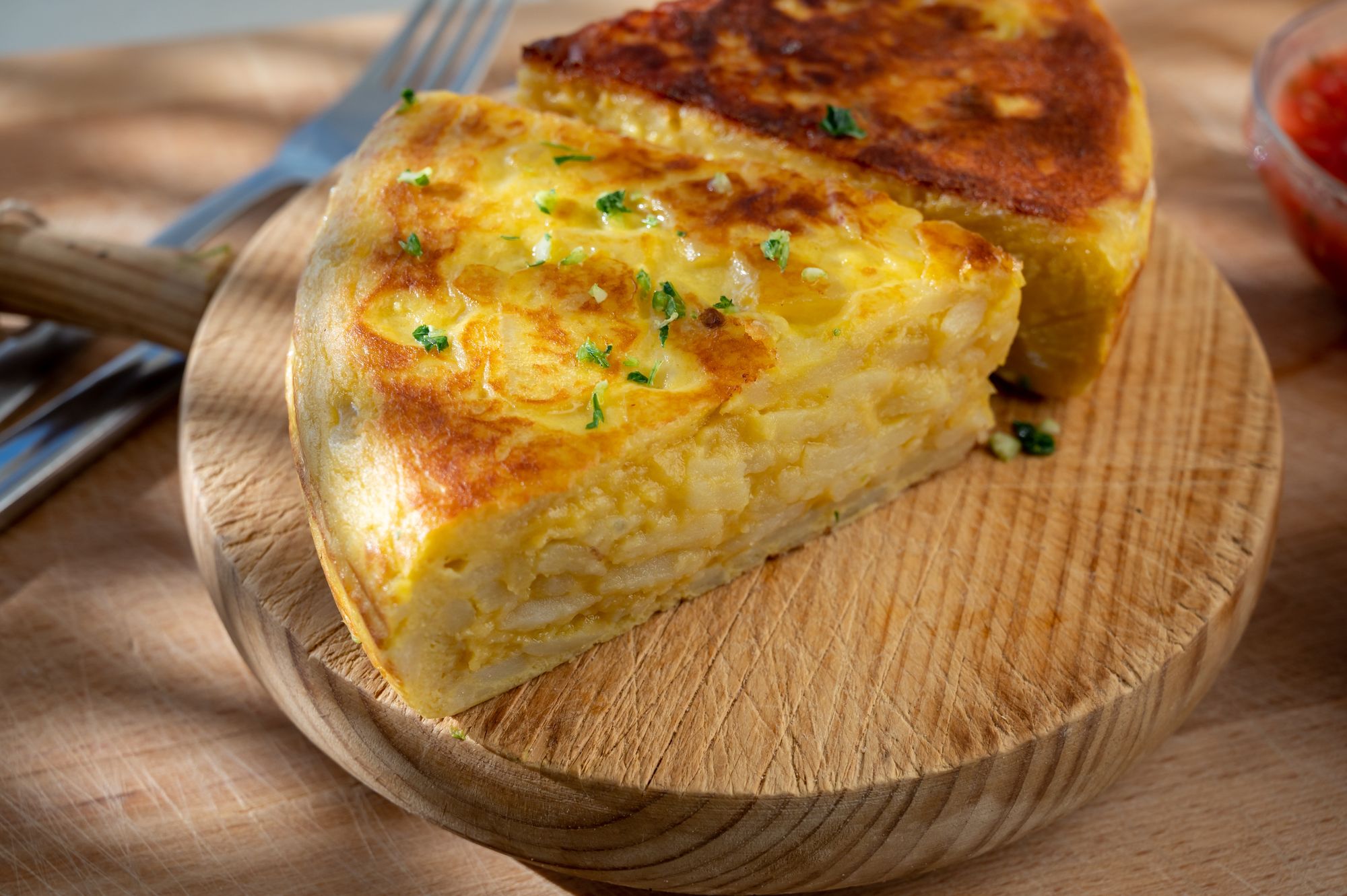 berenjenas con miel – a speciality of Malaga which is aubergine fried in honey or molasses
paella de verduras – vegetarian paella
pimientos del padron – green peppers cooked in olive oil with salt
garbanzos con espinacas – chickpea and spinach stew
How to get around in Spain
Travelling around Spain is very straightforward, whether you wish to hire a car, make use of the regular train services, which provide good inter-city and local connections, or for longer distances, use the domestic flight network.
If you are flying, then you will find that most of Spain's airports (including Malaga-Costa del Sol, Barcelona-El Prat, Gran Canaria and  Tenerife Sur) have multi-faith prayer rooms, where you can pray, which welcome all religions and display no images or religious symbols. There are two masjids in the Adolfo Suárez Madrid-Barajas airport, situated near the exits to terminals T2 and T4.
Best time to visit Spain
The main beach season in Spain is from June until the end of September - of course, it's busier during the school summer holidays. May and late September through October are good months to head to the coast if you want to avoid the crowds. There's no wrong time to visit Spain, however, as even in winter it is remarkably sunny. For sightseeing any time of year works well. The country has plenty of sunny days, even in the  depths of winter.
Where to stay in Spain
Spain is keen to welcome Muslim tourists and its tourist office has been promoting it as a halal-friendly destination for some years now, so standards and availability of halal-friendly accommodation is improving. Check HalalBooking's full range of hotels and villas and use the halal-friendly filters to find the accommodation best suited to your needs.
Here are a couple of our most popular hotels:
Costa del Sol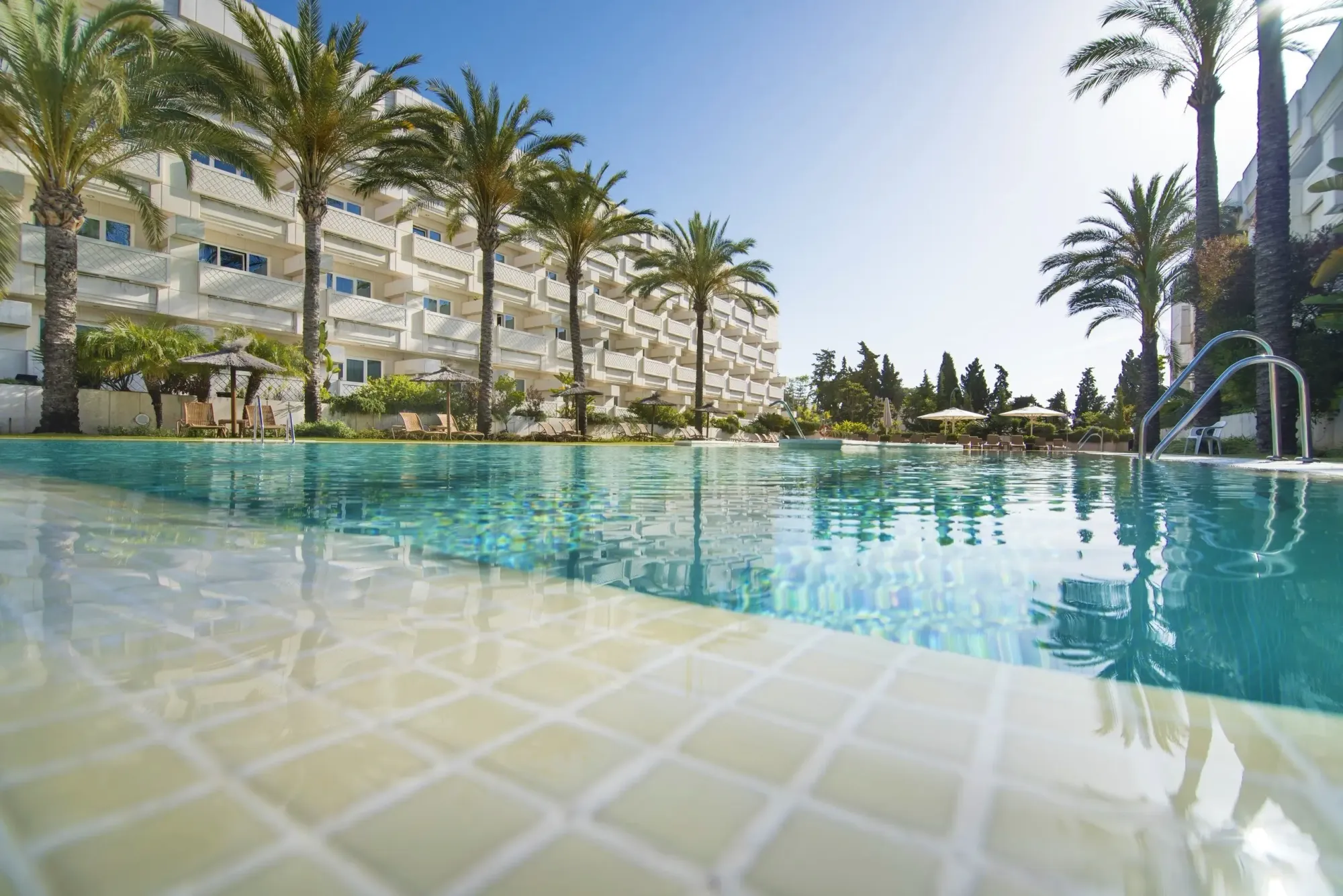 Rated very good by HalalBooking guests who particularly enjoy its location, cleanliness, comfort and food.
Alcohol-free and halal food-certified - the ideal base to explore Andalusia's Islamic heritage. It offers a warm welcome and is conveniently situated close to the beach and the mosque.
Costa Brava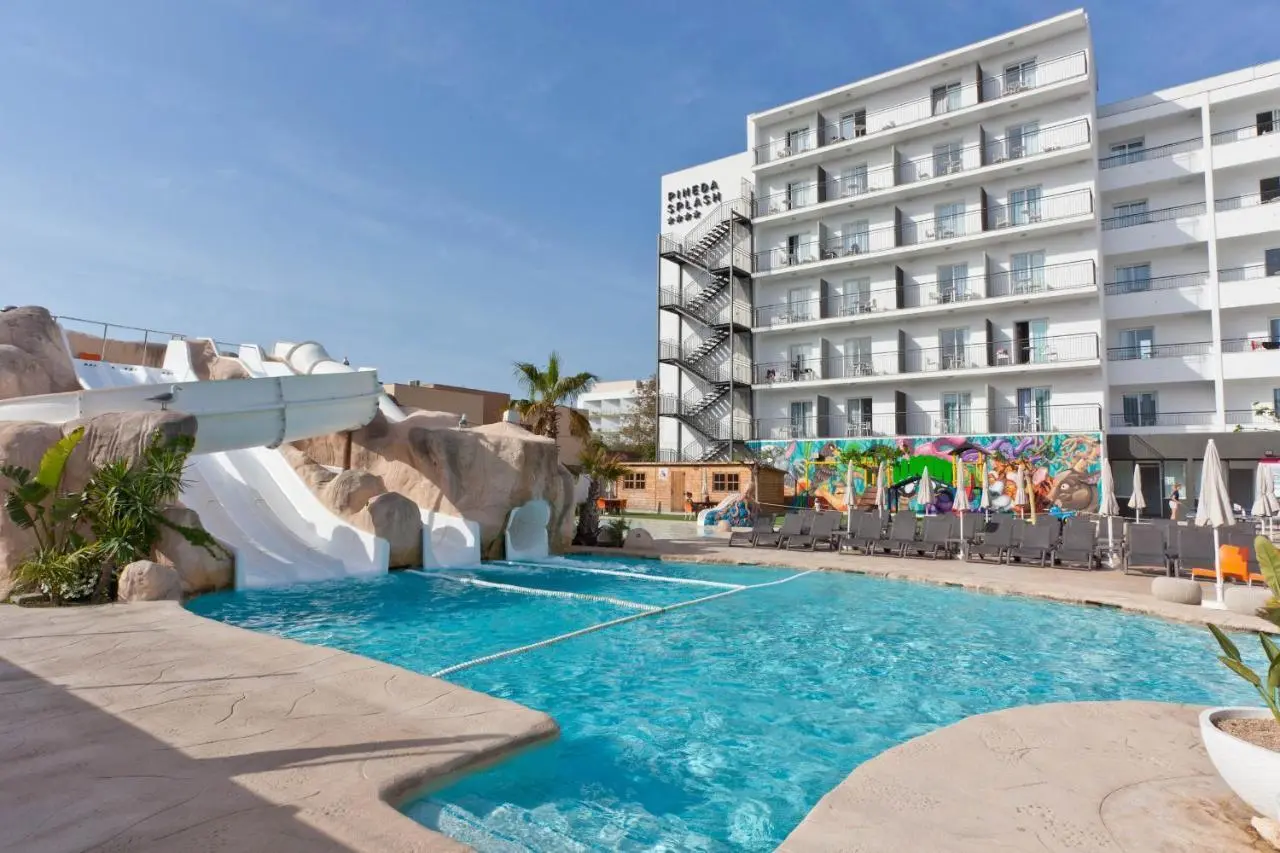 Rated very good  by HalalBooking guests who especially praise its rooms, friendly staff and children's facilities.
Popular, friendly hotel offering some halal food within a short walk of the sandy Pineda de Mar and Calella beaches. Great for families, it has an outdoor pool with slides where modest swimwear is allowed.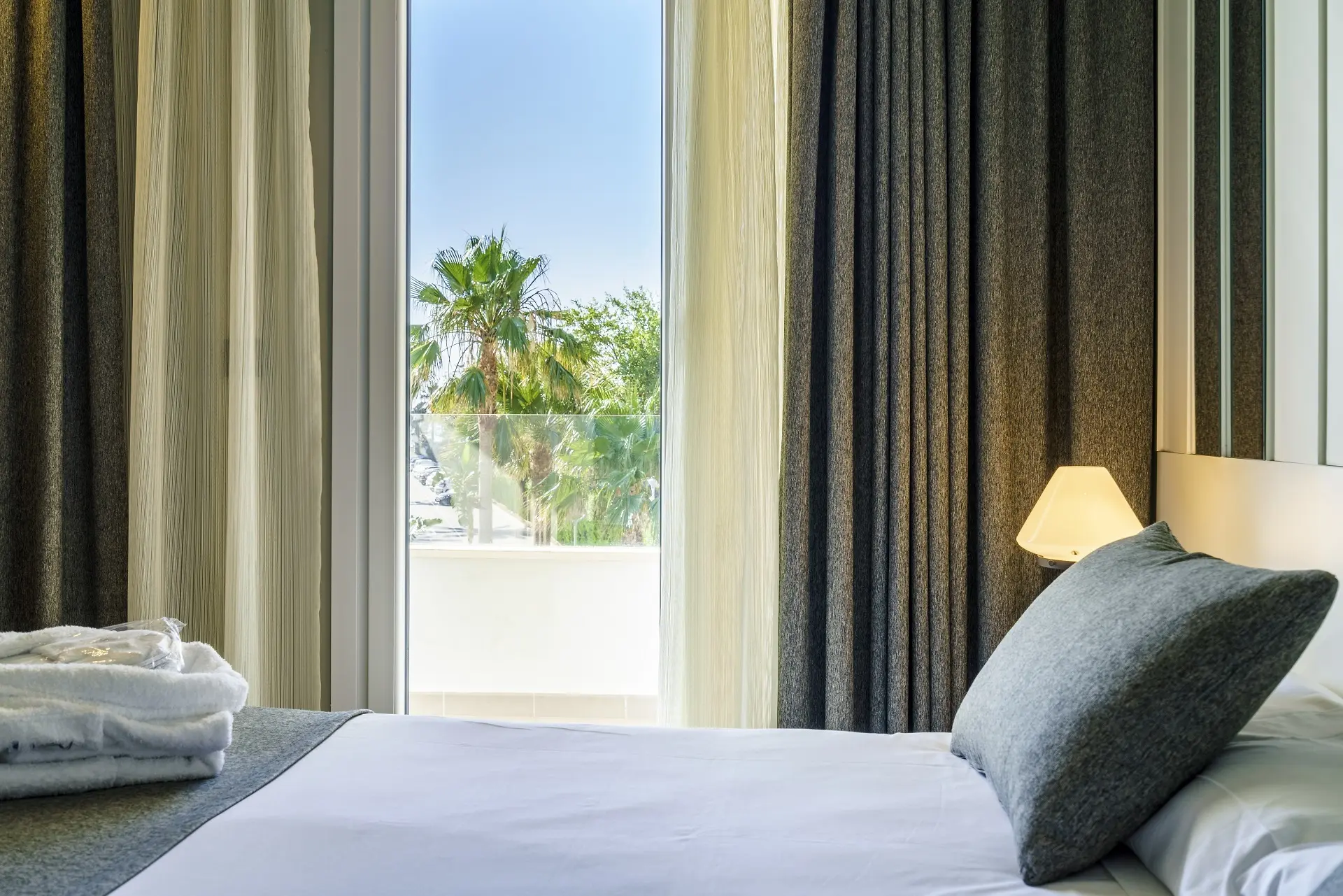 Rated very good by HalalBooking guests who enjoy its location, cleanliness, comfort and its friendly staff.
This stylish boutique hotel serves halal food and is conveniently located close to the beach. It's a great base for exploring the popular Costa del Sol and the rich Islamic heritage of Andalusia.
Discover all our halal-friendly properties in Spain.
Villa Holidays - ensuring flexibility and privacy for your family
HalalBooking also lists many halal-friendly villas with secluded outdoor pools throughout Spain, some of which are fully-secluded, so can't be overlooked from the outside.
Discover all our secluded halal-friendly villas in Spain.
Suggested Itinerary for your trip to Spain
What could be a better road trip, than a voyage of discovery through Andalusia to uncover Spain's rich Islamic heritage. This trip takes you from historic Granada to Cordoba and on to Marbella and Ronda, ending your route in Seville. You will see some of Spain's - indeed Europe's - most impressive sights including:
Alhambra Palace, Granada
Great Mosque of Cordoba (Mezquita-Catedral de Córdoba)
Minaret of San Sebastian, Ronda
Seville Cathedral and Giralda
You will also have a chance to explore the enchanting old town or relax on the beaches of Marbella.
If you spend a night in each of these fascinating destinations, you will need a minimum of 5 nights.
Granada -> Cordoba: 201 km - driving time approx. 2 hours 20 minutes
Cordoba -> Marbella: 217 km - driving time approx. 2 hours 17 minutes
Marbella -> Ronda: 63 km - driving time approx. 1 hour 6 minutes
Ronda -> Seville: 133 km - driving time approx. 1 hour 50 minutes
Read our dedicated blog: Discover the Islamic Heritage of Andalusia to find out more.