Take our scenic Sila Yolu road trip to explore the Balkans en route to Türkiye
Driving through Europe to Türkiye this summer? Take in the sights en route and experience an adventure you will never forget! This suggested scenic route allows you to spend what European Turks refer to as the 'Sila Yolu', (the spiritual journey back to reconnect with the homeland), exploring more of the Balkans on the way. It invites you on an exciting journey from Germany to Türkiye, crossing through six countries to discover the culture and history of some of Europe's most beautiful cities and lakes and get an authentic taste of Central and Eastern Europe. This route will take you across Germany, Austria, Slovenia, Croatia, Bosnia, Serbia, Bulgaria and Türkiye.
You can choose whether to spend a day or an hour exploring each place, we've even provided suggestions for overnight stays, but you're in control!
Even if your journey starts elsewhere in Europe, your road trip to Türkiye will almost certainly pass through part of Germany.
This road trip begins in the Rhine metropolis of Cologne and ends in the historic city of Edirne. If you prefer a shorter route, check out our direct road trip itinerary or if you have more time, have a look at our more leisurely southern route. Bon voyage!
Itinerary:
Cologne → Munich - 575 km - 6 hrs
Munich → Chiemsee - 97 km - ~ 1 hr
Chiemsee → Salzburg  - 51 km - ~ 45 mins
Salzburg → Wörthersee - 216 km - 2 hrs 30 mins
Wörthersee → Ljubljana - 114 km - 1 hr 30 mins
Ljubljana → Split - 467 km - 5 hrs
Split → Mostar - 166 km - 2 hrs
Mostar → Sarajevo - 125 km - 2 hr
Sarajevo → Srebrenica - 133 km - 2 hrs 30 mins
Srebrenica → Višegrad - 131 km - 3 hr
Višegrad → Niš - 334 km - 5 hrs 20 mins
Niš → Sofia - 159 kms - 2 hrs 30 mins
Sofia → Plovdiv - 145 kms - 1 hr 45 mins
Plovdiv → Edirne - 180 km - 2 hrs 15 mins
Start your road trip in the western city of Cologne. As the largest city in the German state of Rhine-Westphalia, Cologne is well known for its neo-gothic architecture, which is omnipresent throughout the city. It is also the fourth most populous city in Germany and was one of Europe's largest during the Middle Ages and the Renaissance.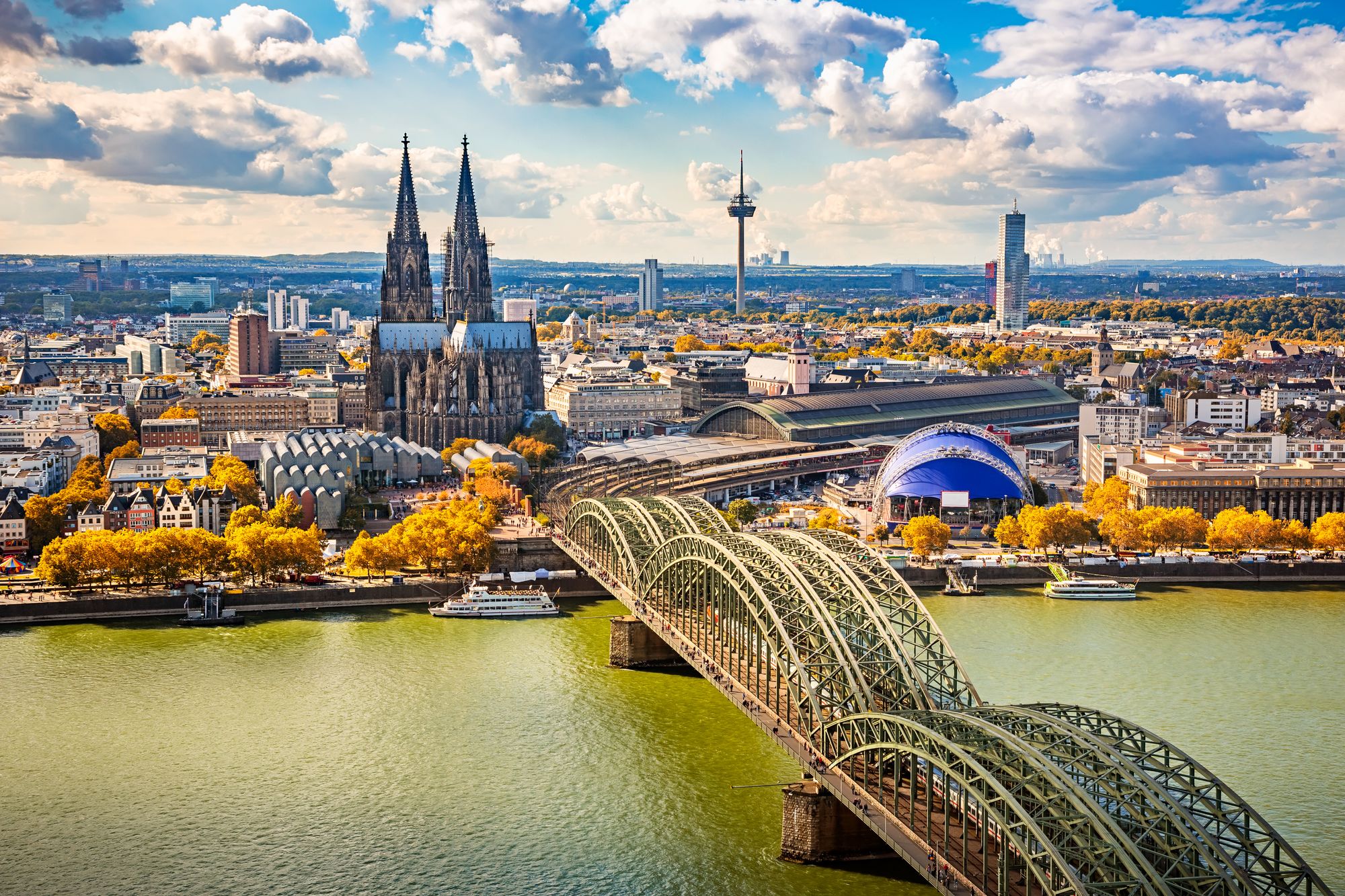 A must-see on your visit is the Cologne Central Mosque, which is the largest mosque in Germany. Opened in 2017, it features a modern and elegant design and can host up to 1,200 worshippers. It is open for prayer and regular events.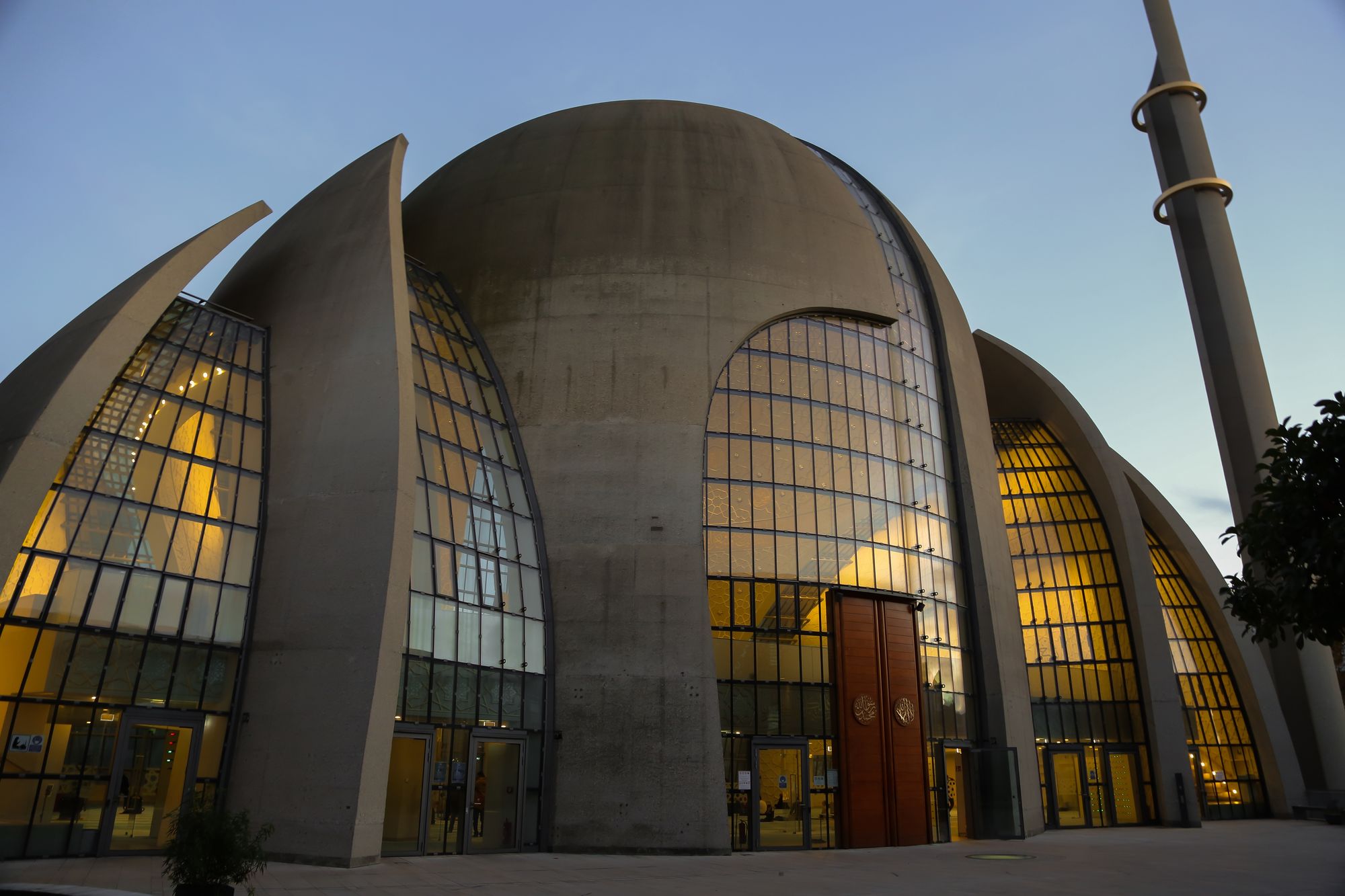 One of Cologne's most famous landmarks is the Cologne Cathedral. This Gothic-style cathedral is one of the largest in the world and is known for its stunning architecture and intricate stained glass windows. Visitors can climb to the top of the cathedral for stunning views of the city.
Another popular attraction is the Hohenzollern Bridge. This historic bridge spans the Rhine. For those interested in art and history, the Museum Ludwig is a must. It features an impressive collection of modern and contemporary art, including works by Picasso, Warhol, and Lichtenstein. The Roman-Germanic Museum is another popular museum that shows the history of the city from Roman times to the Middle Ages.
Cologne is also known for its charming old town with narrow streets lined with colourful buildings, cafes and restaurants. The Alter Markt is a popular square in the old town, known for its historic buildings and bustling market.
After your stay in Cologne, it's time to drive about 571 km across the country to Munich, which will take you around 6 hours.
Before arriving in Munich, make a detour to the "fairytale castle" Neuschwanstein in Schwangau, one of the most famous sights in Germany! It was built in 1869 for the Bavarian King Ludwig II as an idealised concept of a knight's castle from the Middle Ages.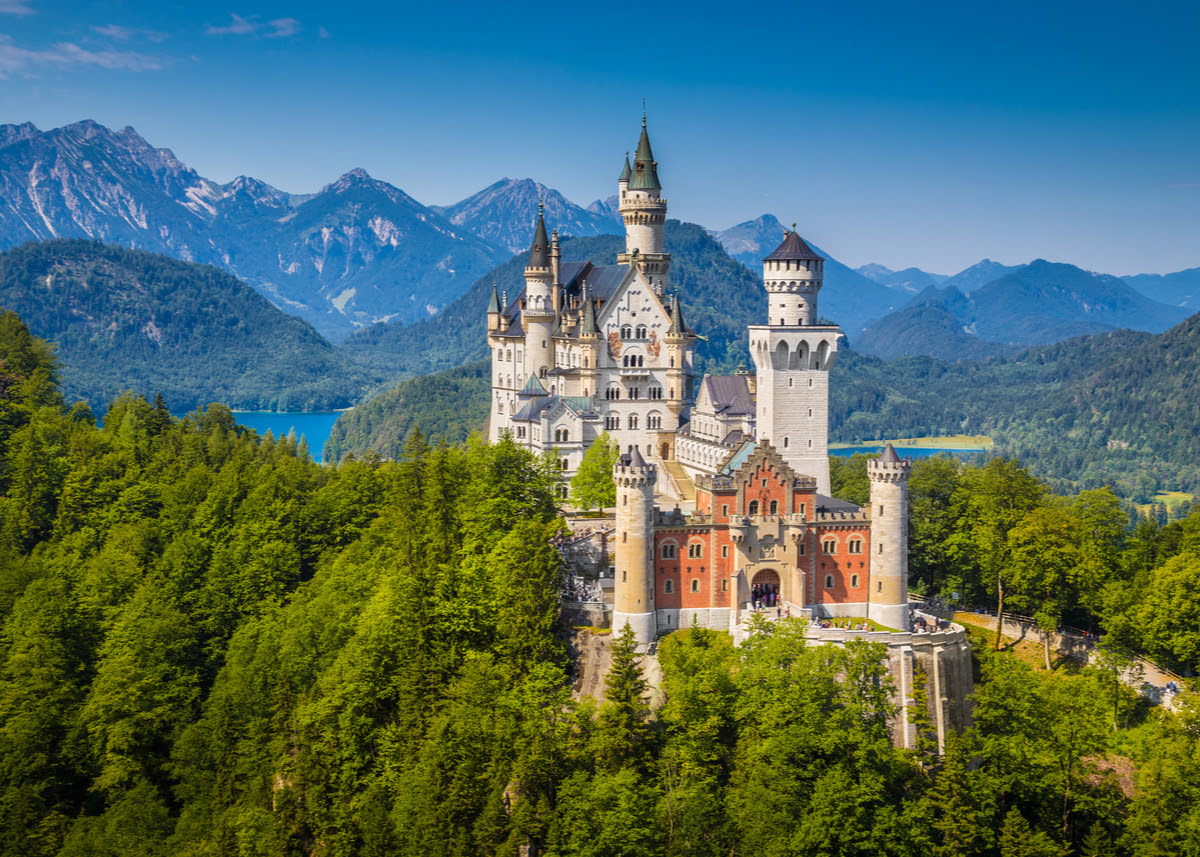 The next stop is Munich, the vibrant capital city of Bavaria, which offers a warm and welcoming atmosphere for travellers wishing to explore its rich history, cultural heritage and beautiful surroundings. With its diverse population and a growing number of facilities catering to the needs of Muslims, Munich has become an increasingly popular destination for those seeking a Muslim-friendly experience.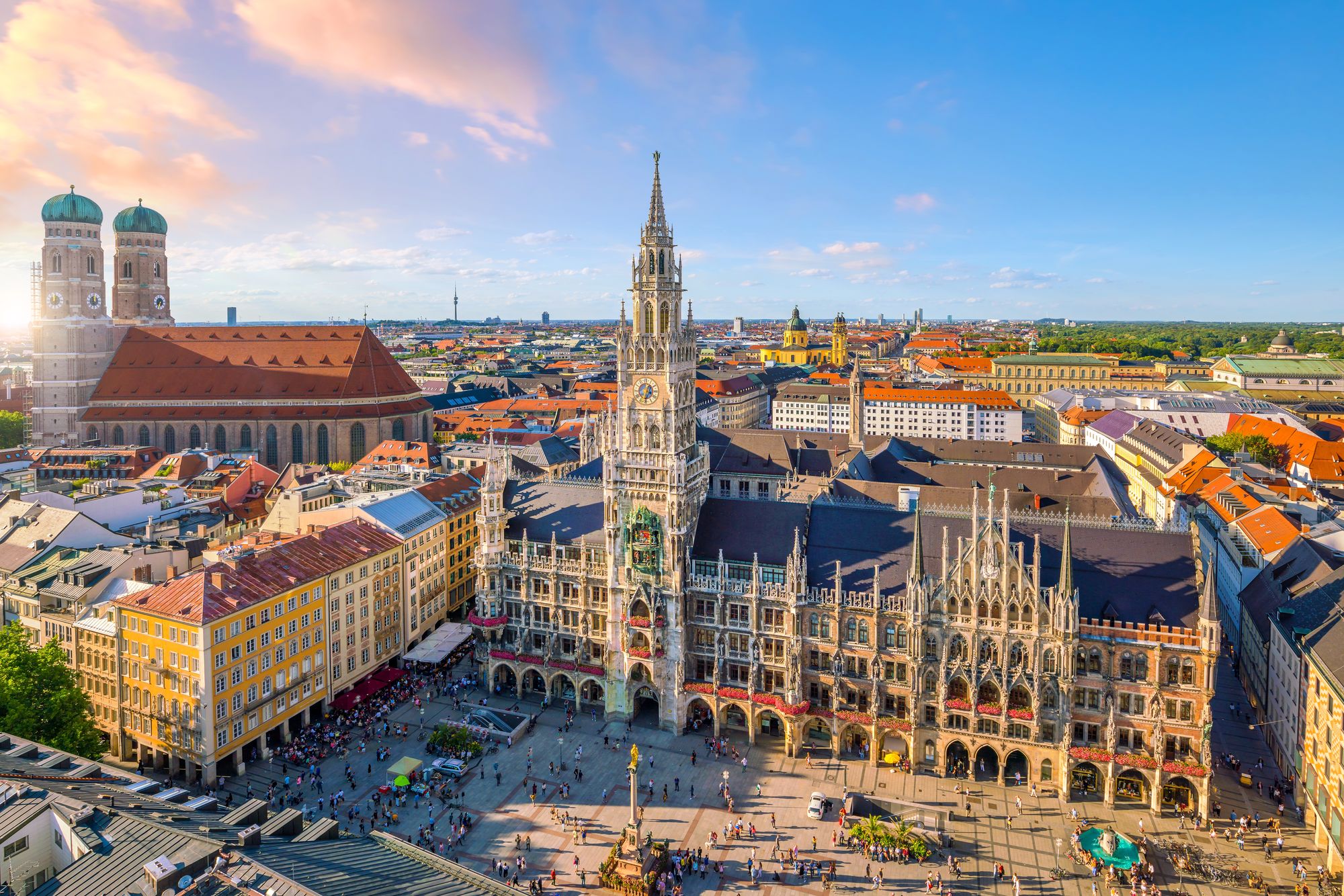 Munich is home to several mosques that offer prayer facilities and services for Muslim visitors. The Islamic Center Munich in the Sendling district is one of the largest mosques in Germany and welcomes visitors. There are also  smaller mosques and prayer rooms scattered throughout the city, providing easy access to places of worship.
Munich is renowned for its architectural marvels, including the iconic Frauenkirche, Nymphenburg Palace and the BMW Museum. Visitors can also immerse themselves in the vibrant atmosphere of the Marienplatz, Munich's central square, and witness the famous Glockenspiel show.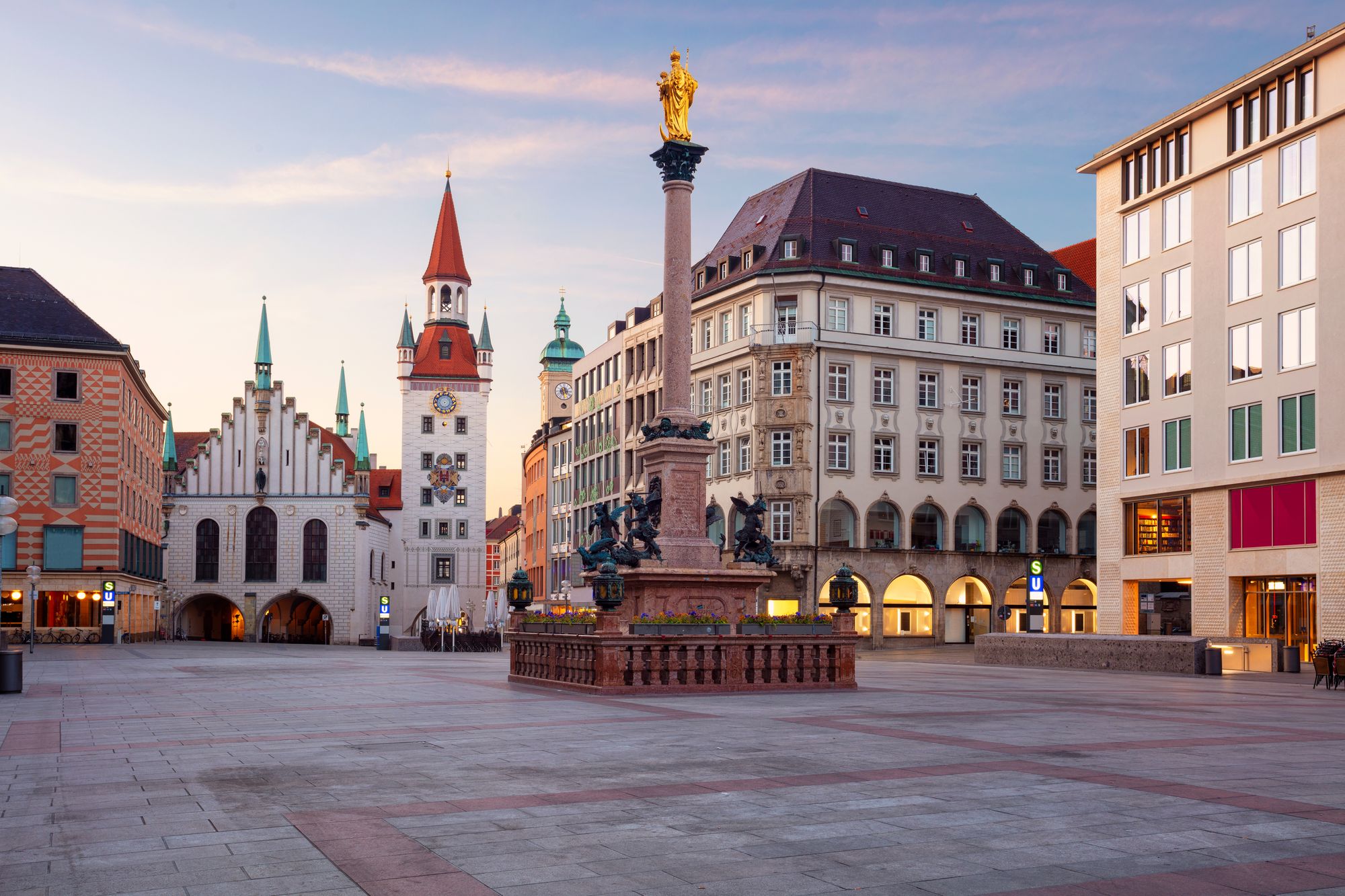 Munich also offers a variety of shopping options. The Kaufingerstrasse and Neuhauser Strasse form a bustling shopping district where visitors will find international brands, local boutiques and specialty stores. The city's traditional markets such as the Viktualienmarkt are also worth a visit and offer fresh produce, spices and souvenirs.
There is a wide variety of halal food from Turkish kebabs to Middle Eastern cuisine to satisfy diverse palates. Popular areas such as Schwanthalerhöhe and Sendlinger Tor are known for their halal restaurants, offering a range of delicious culinary experiences.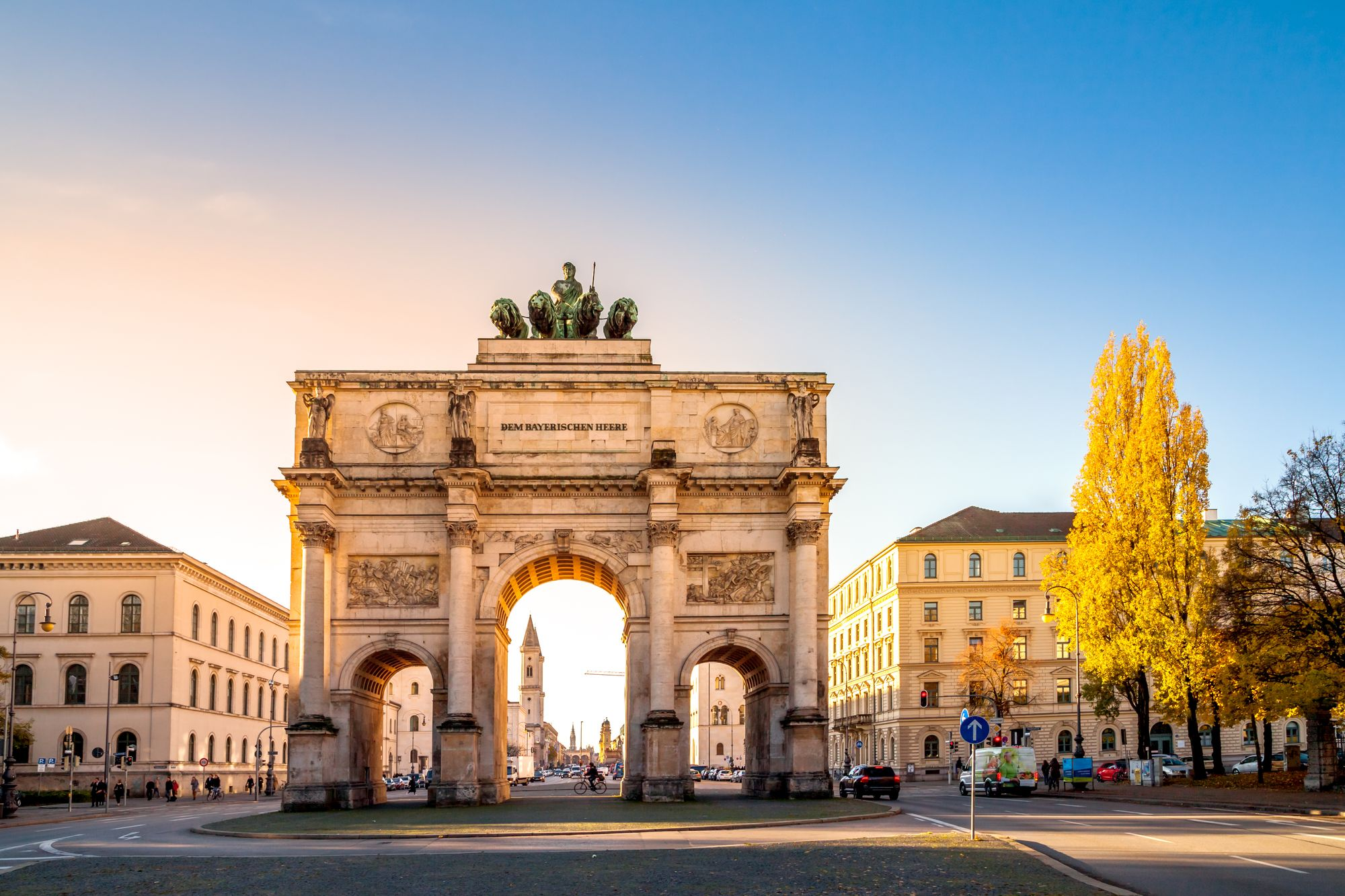 After your stay in Munich, it's time for a 97 km drive to Chiemsee.
Also known as the Bavarian Sea, the picturesque Chiemsee in south-eastern Bavaria offers beautiful scenery with the mountains to the south, two attractive islands that can be reached by boat trip and a number of different villages to explore.
The Chiemsee boasts natural beauty with crystal clear waters that are perfect for swimming, boating or simply relaxing by the shore. On the island of Herrenchiemsee is a magnificent palace built by King Ludwig II and inspired by the Palace of Versailles, and on the Frauenchiemsee is a picturesque Benedictine monastery.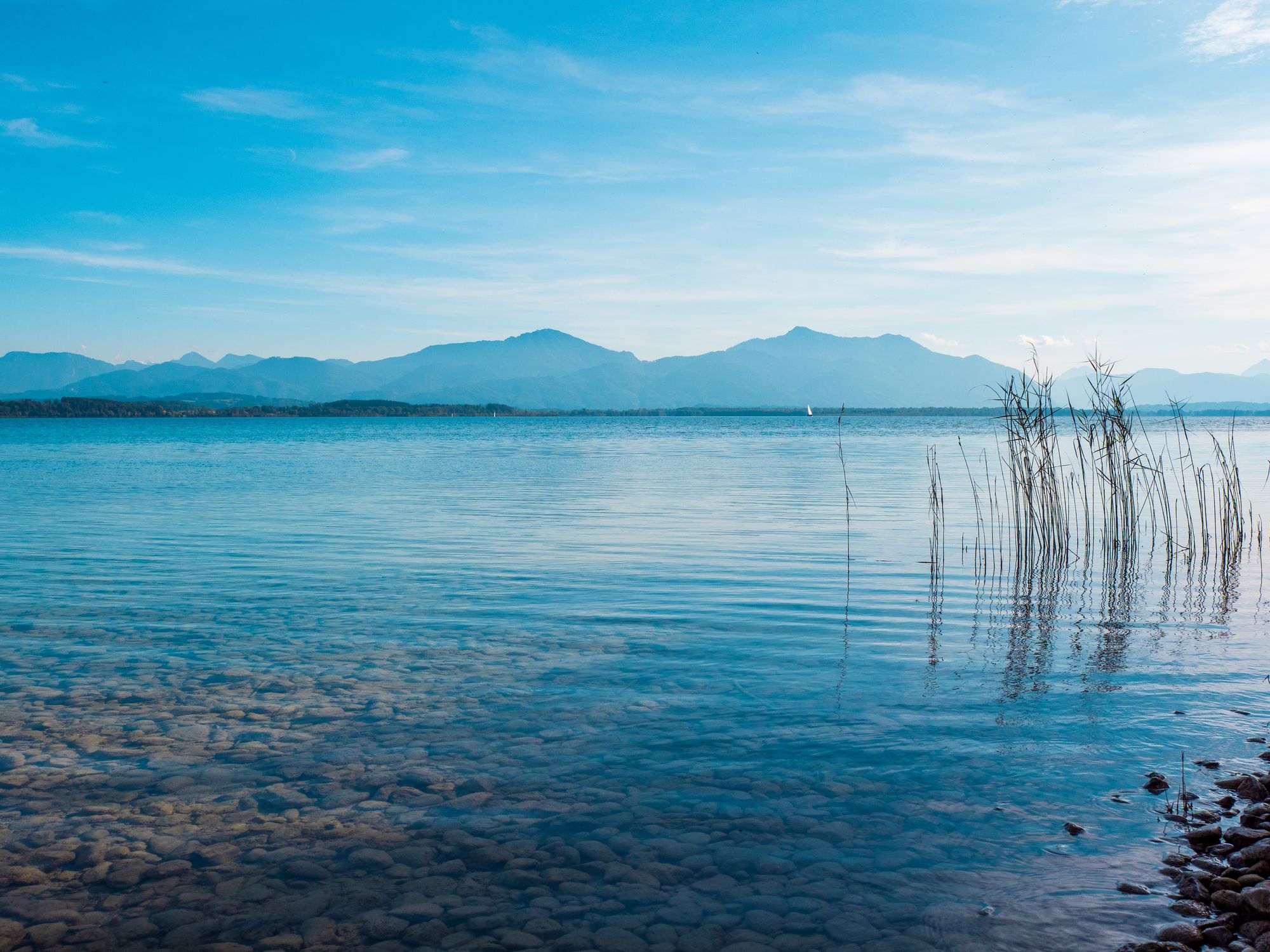 The accommodation options around the Chiemsee range from hotels to guesthouses, where visitors can find comfortable and suitable places to stay. While halal food options might be limited, hotels offer vegetarian and seafood dishes. In addition, if you are staying in a villa or have your own camper van with meal preparation facilities, there are several supermarkets in the surrounding towns where you can buy halal products and prepare meals if required.
There are no official places of prayer around the Chiemsee, but there are many quiet places to pray in the natural beauty around the lake. Nearby towns like Rosenheim and Traunstein have prayer facilities for Muslim visitors.
Exploring the surrounding area is highly recommended as it is known for its stunning landscapes, charming villages and outdoor activities.
Just a short 40-minute drive takes you to the Austrian border for your next stop: Salzburg.
Nestled in the Austrian Alps, the enchanting city of Salzburg, offers a delightful experience for Muslim travellers seeking a blend of history, culture and natural beauty.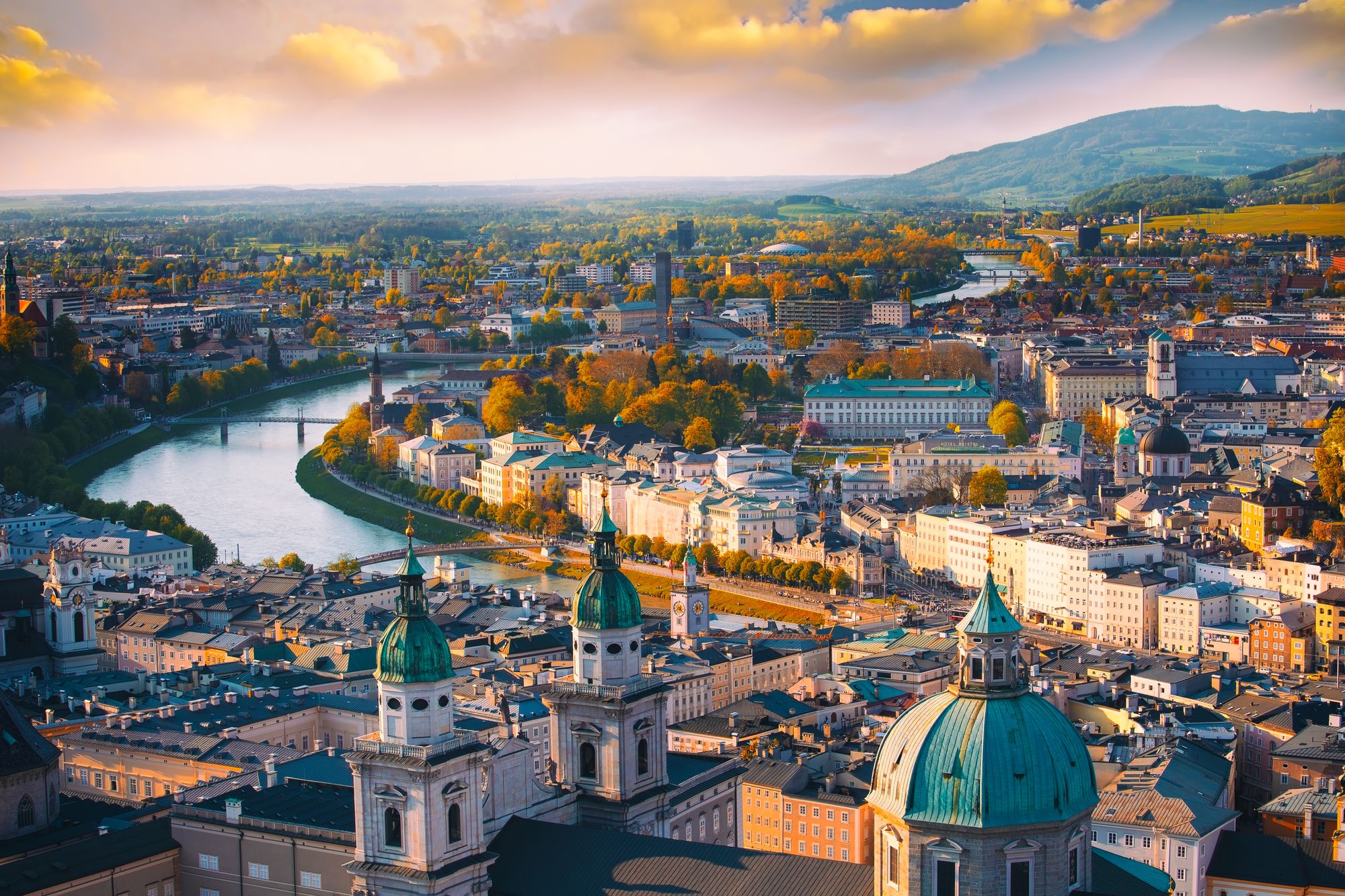 Salzburg's UNESCO-listed Old Town (Altstadt) is a treasure trove of architectural gems, including the grand Salzburg Cathedral and the Hohensalzburg Fortress.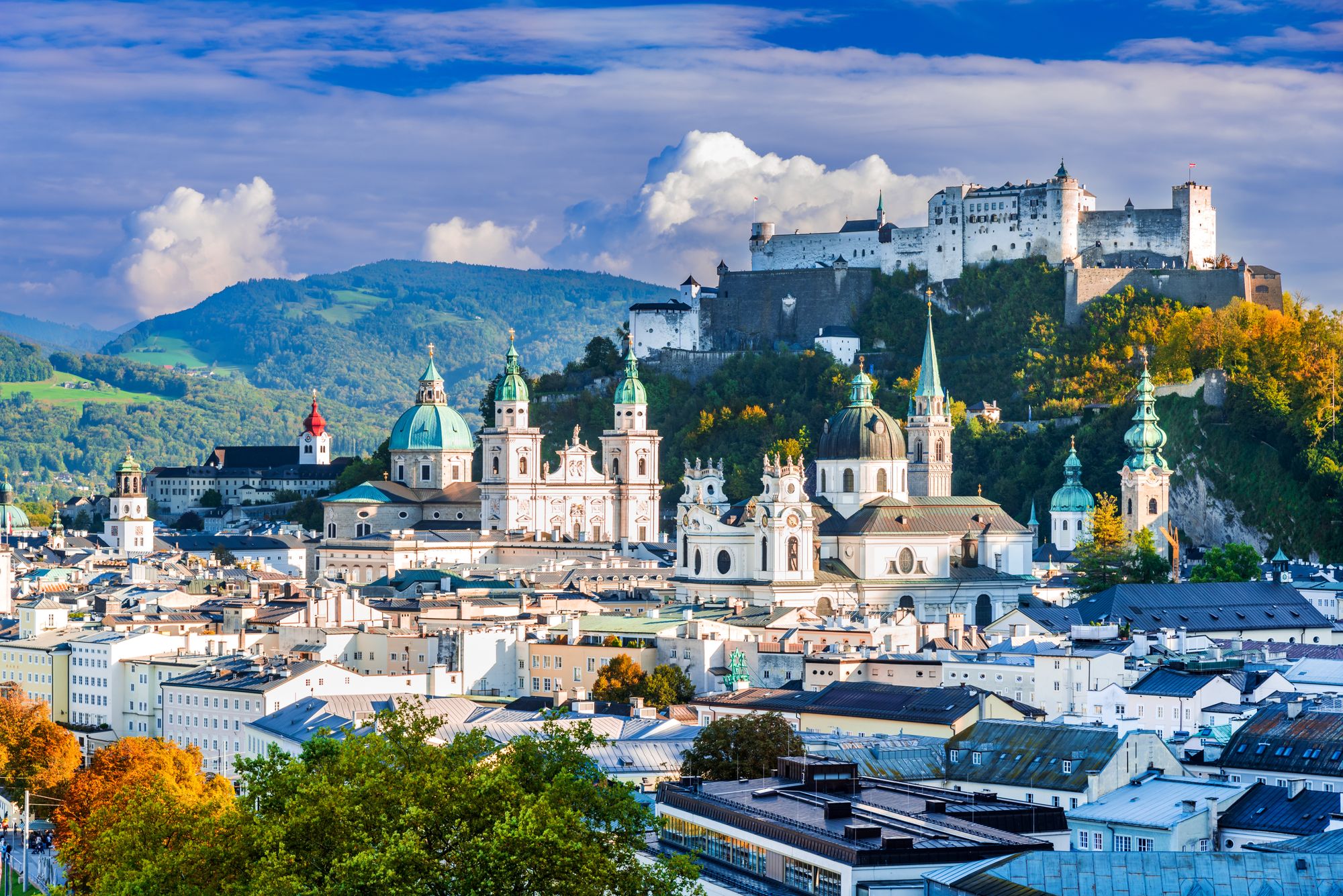 The Mirabell Palace and Gardens offer a tranquil escape, while the Salzburg Museum provides insight into the city's history and art. The city's most iconic site is the birthplace of renowned composer Wolfgang Amadeus Mozart, which has been converted into a museum.
The Salzburg Islamic Cultural Centre in the Itzling district offers prayer facilities. It's recommended to check prayer times and access details in advance.
You will find several restaurants in Salzburg that offer halal or vegetarian dishes. Exploring the Old Town area reveals a plethora of eateries serving international cuisine, including Middle Eastern, Mediterranean, and Asian cuisines. The friendly staff is often happy to accommodate specific dietary requirements upon request.
The nearby Alps offer opportunities for hiking, skiing and breathtaking mountain vistas. The Salzkammergut region, with its serene lakes and charming villages, offers a scenic respite from city life.
Next is a short trip across the country to Wörthersee, a 2 hrs and 30 mins drive away.
The beautiful Lake Wörthersee in southern Austria offers picturesque landscapes, crystal clear turquoise waters in a majestic Alpine setting and is an ideal retreat for those seeking relaxation, tranquillity and spiritual rejuvenation.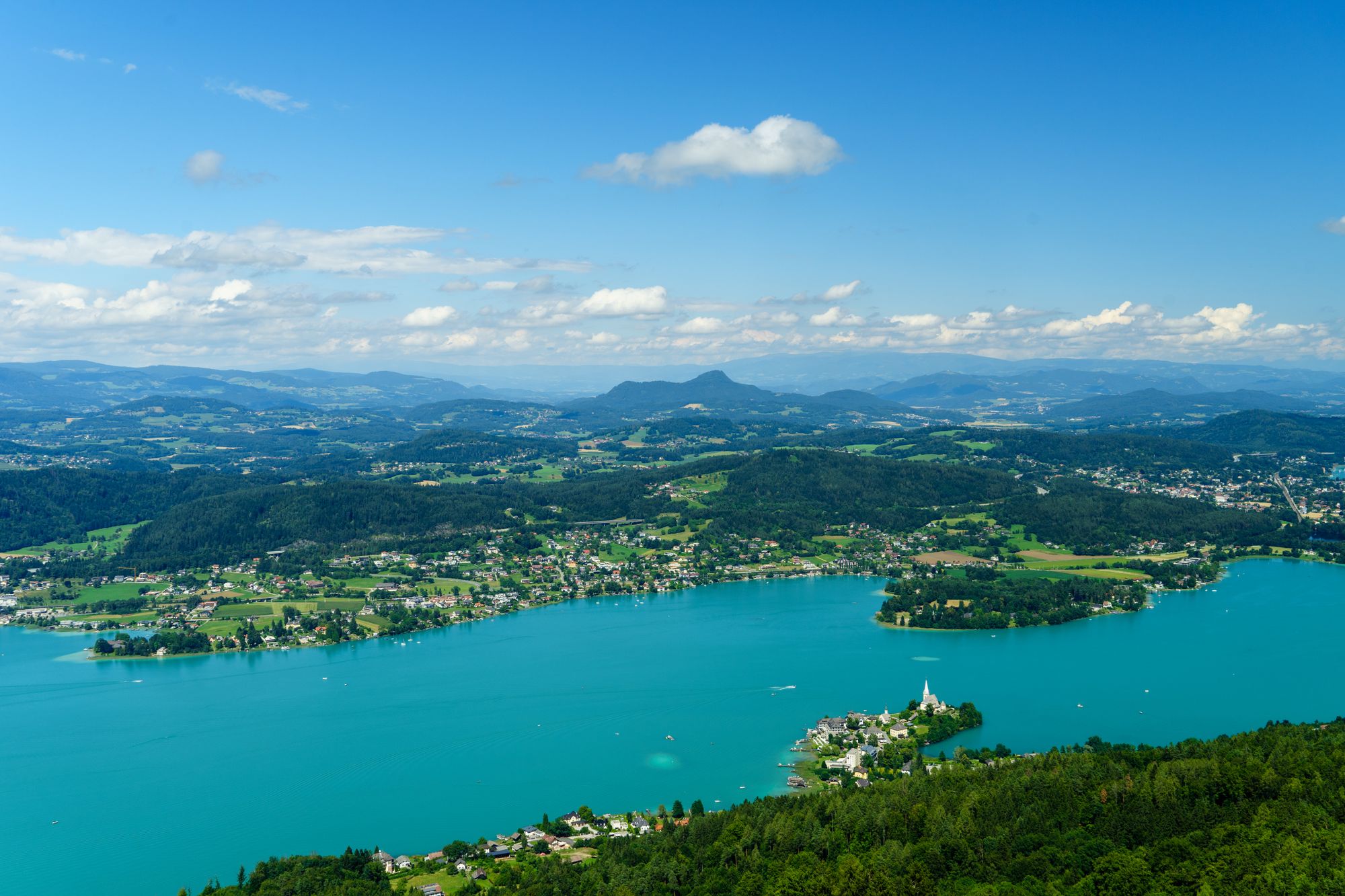 The serenity of nature around Lake Wörthersee offers countless opportunities for outdoor and leisure activities. Visitors can engage in leisurely walks or hikes around the lake, take a refreshing dip in the pristine waters, or simply relax on the sandy beaches. The beauty of the surrounding mountains also offers a chance for scenic drives and exploration of nearby trails.
For cultural experiences, the Wörthersee and its surrounding charming villages offer a rich history and heritage. Discover historic landmarks, castles and churches that showcase the region's architectural and artistic heritage. The town of Klagenfurt, located near Wörthersee, boasts a beautiful old town with well-preserved medieval buildings and museums, providing insights into Austrian history and culture.
While traditional Austrian cuisine may include pork and non-halal ingredients, many restaurants in the area offer vegetarian and seafood options, allowing you to enjoy local flavours without compromising on your religious beliefs.
It's time for another short drive of 1 hour and 30 mins across the border to the Slovenian capital, Ljubljana.
The small but charming city of Ljubljana offers a delightful and inclusive experience that combines historical landmarks, vibrant culture and a welcoming atmosphere. It is known for its pedestrian-friendly streets, green spaces and beautiful architecture.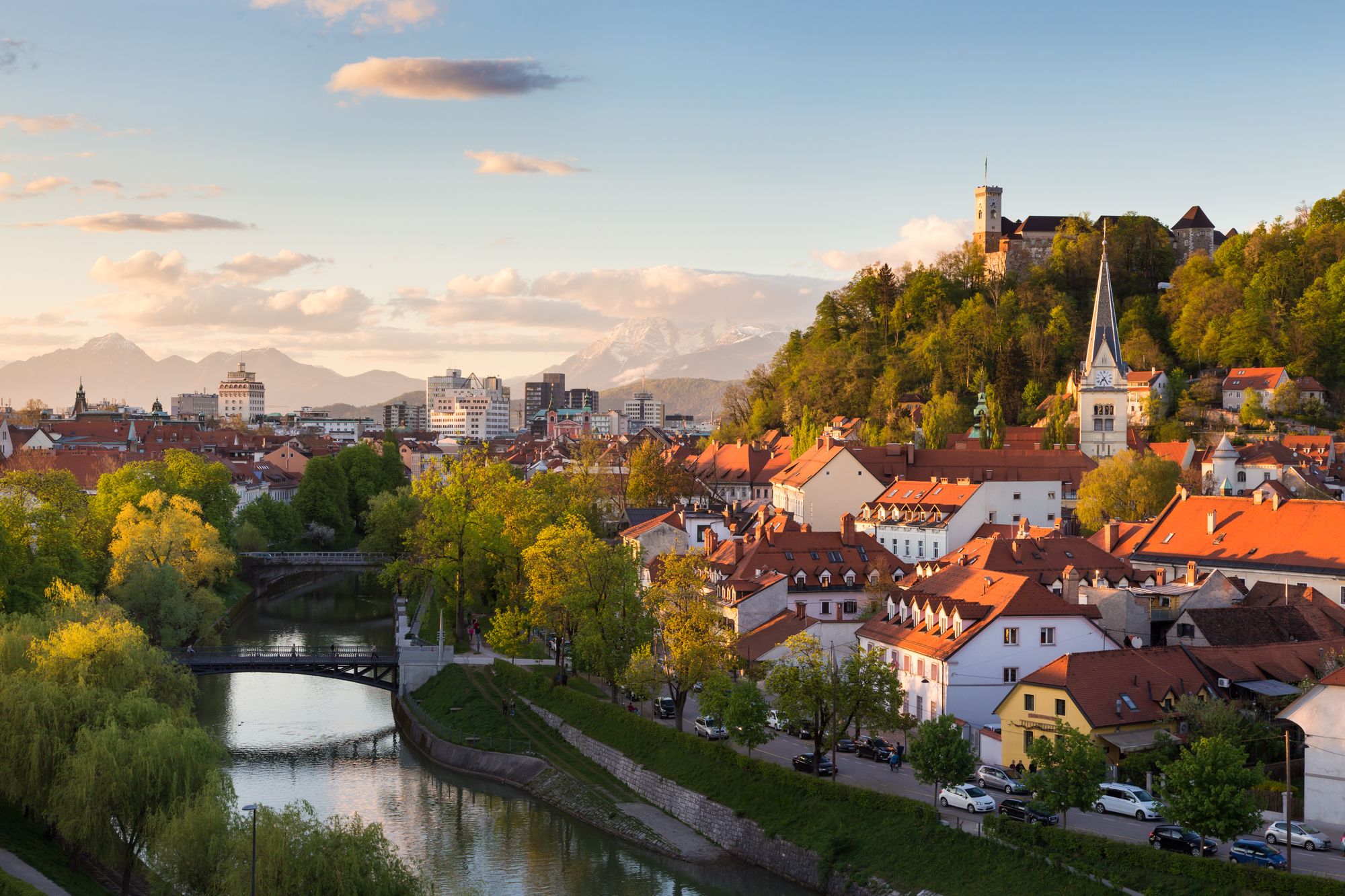 Ljubljana's rich history and cultural heritage are evident in its well-preserved architecture and landmarks. The mediaeval old town, with its cobblestone streets and Baroque-style buildings, invites visitors to explore its charming alleyways and historic sites. Notable landmarks such as Ljubljana Castle, Triple Bridge and the beautiful Dragon Bridge testify to the city's architectural beauty and provide sightseeing and photography opportunities.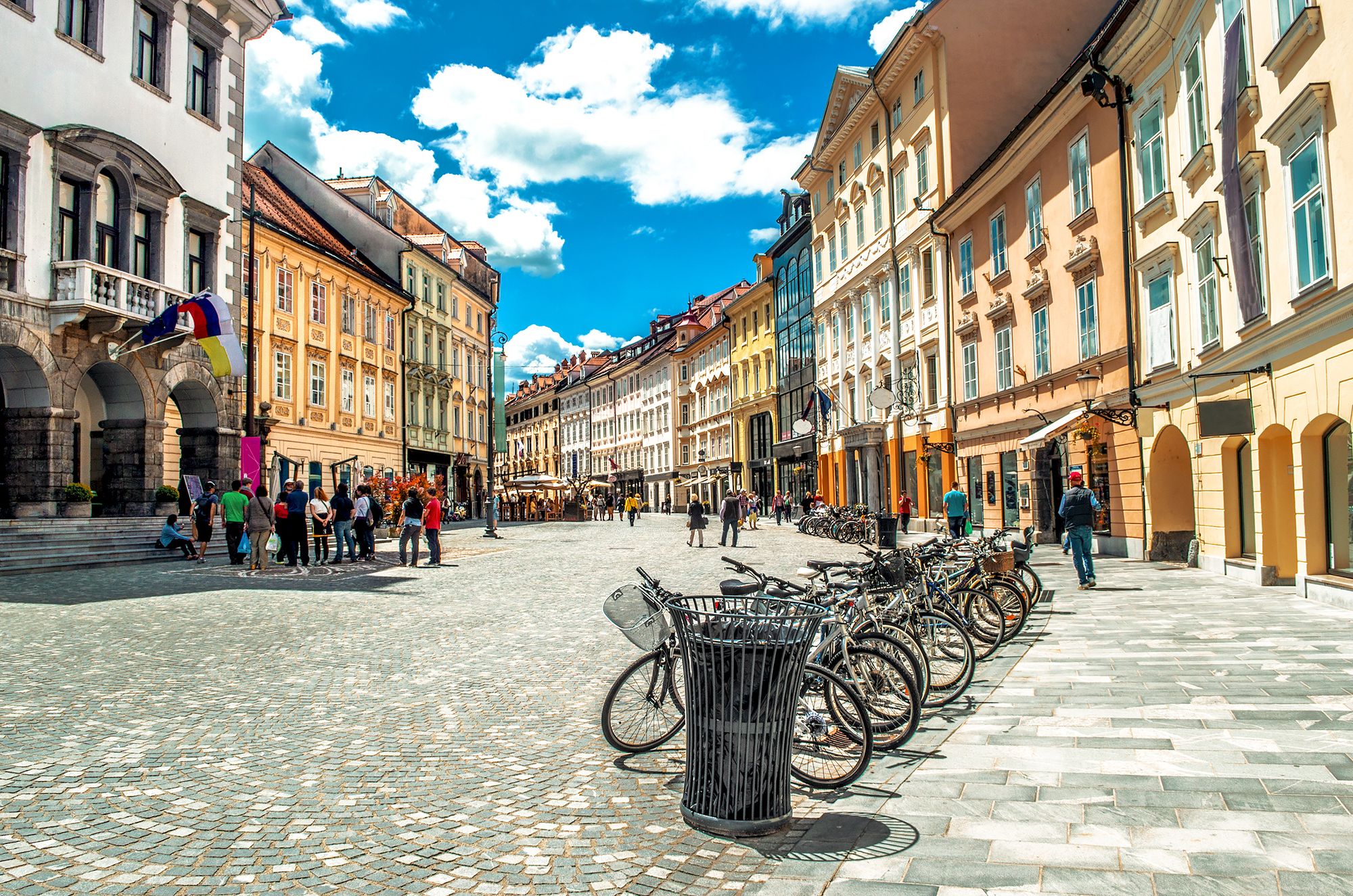 For spiritual fulfilment, visit the Islamic Religious and Cultural Centre, which offers prayer facilities and a space for community gatherings. The centre is an essential hub for the local Muslim community and provides a welcoming environment for visitors looking to connect with fellow Muslims.
Nature lovers will appreciate Ljubljana's green spaces and proximity to natural wonders. The city is home to numerous parks, such as Tivoli Park, which provides a peaceful retreat for relaxation and outdoor activities. Additionally, Lake Bled and Triglav National Park are just a short drive away, offering breathtaking landscapes, hiking trails, and opportunities for spiritual reflection amidst nature's beauty.
Ljubljana also boasts a diverse culinary scene that caters to different dietary requirements. While traditional Slovenian cuisine may include non-halal ingredients, there are a variety of international cuisine restaurants that offer halal options ranging from Middle Eastern and Mediterranean cuisine to vegetarian and fish dishes.
After your visit to Ljubljana, it's time to head east across the border into Croatia, an approximately 5-hour drive to reach Split.
Your next destination is Split, which is located on Croatia's wonderful Dalmatian Coast, offering a captivating blend of history, natural beauty, and a warm Mediterranean ambiance. As the second-largest city in Croatia, Split is home to a wealth of cultural and architectural wonders that harmonise with its idyllic coastal setting, offering you an unforgettable experience.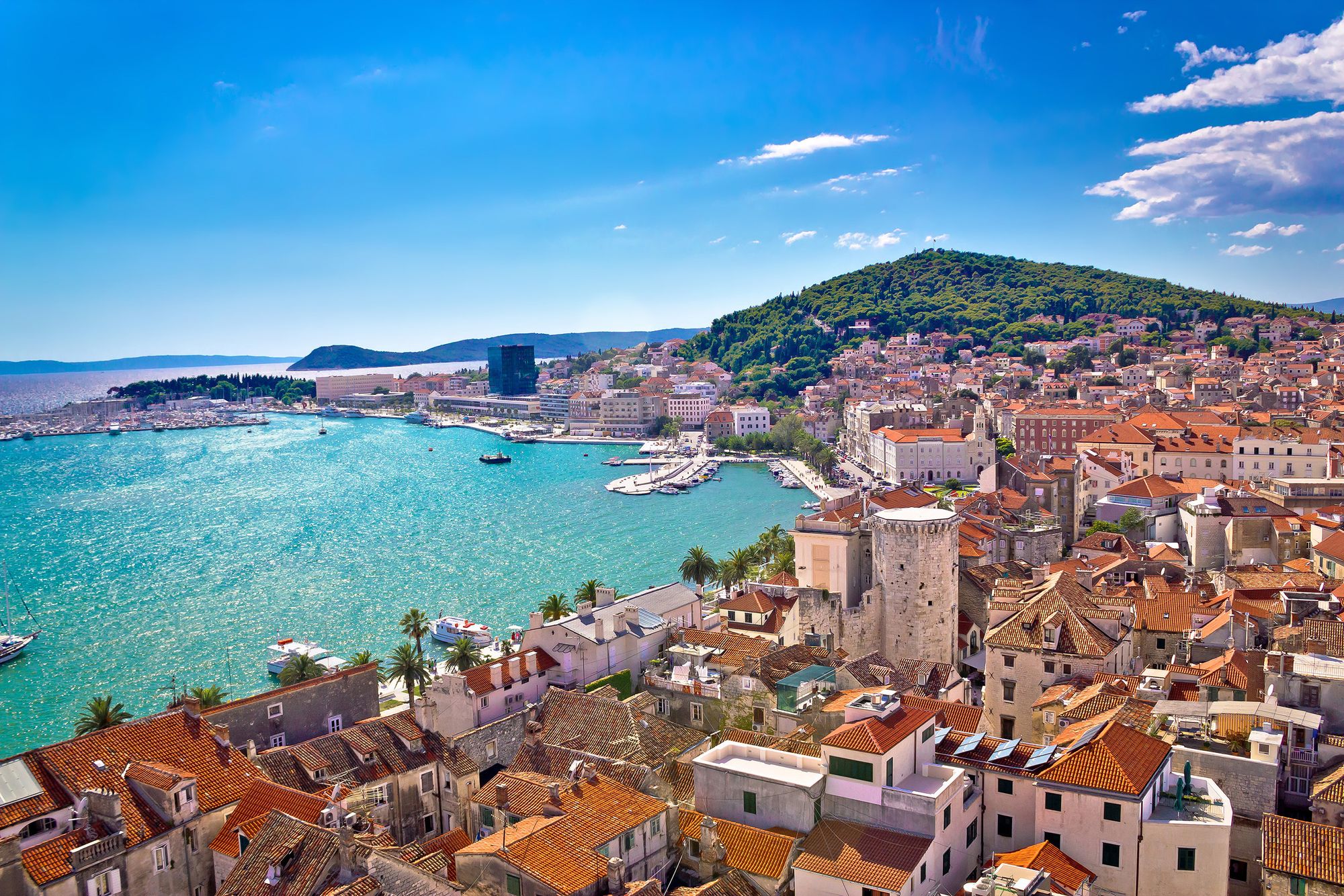 Muslims will find that Split is a welcoming and inclusive destination, with amenities and facilities that cater to their needs. While halal-certified restaurants are limited, several establishments offer vegetarian, seafood, and international cuisine options, ensuring a variety of dining choices that align with Islamic dietary preferences.
At the heart of Split is the historic Diocletian's Palace, a UNESCO World Heritage Site and one of the most well-preserved Roman ruins in the world. This impressive complex, with its grand architecture and labyrinthine streets, is a treasure trove of history and culture. Explore its ancient walls, the Temple of Jupiter and the Peristyle, an open-air courtyard that hosts various cultural events and performances. The palace's unique fusion of Roman, mediaeval, and Renaissance architecture creates a captivating atmosphere for exploration.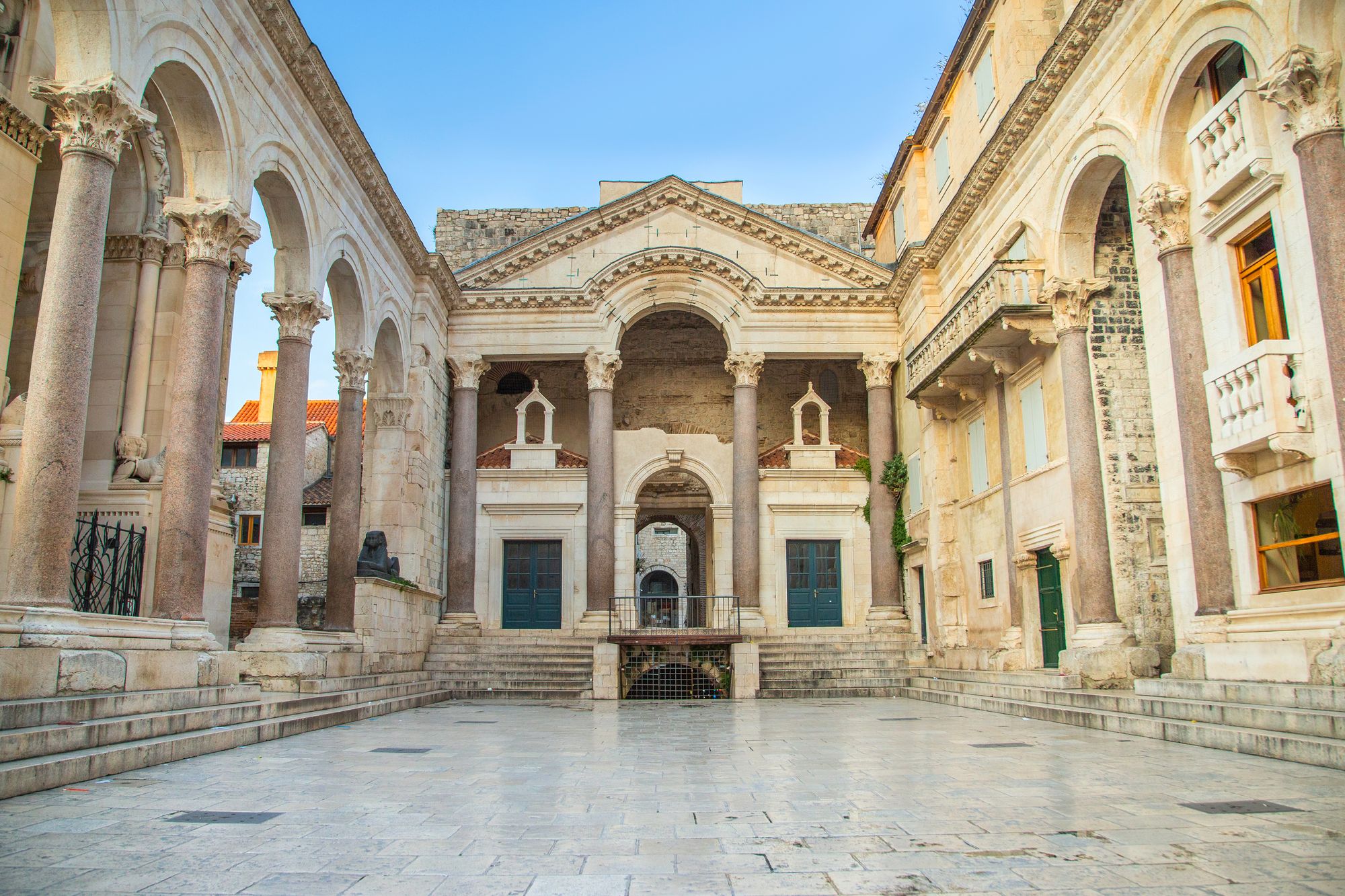 Beyond the palace, Split offers breathtaking natural landscapes and azure Adriatic Sea views. Marjan Hill, a verdant forest park, provides a peaceful retreat for those seeking tranquillity amidst nature. Its walking trails offer panoramic views of the city and the coastline, making it an ideal spot for spiritual reflection and contemplation. The nearby beaches, such as Bacvice Beach, allow you to relax and enjoy the sun, sand, and crystal-clear waters.
For your spiritual needs, Split is home to a few mosques and Islamic centres, including the Islamic Centre of Split, where Muslim travelers can find prayer facilities and connect with the local Muslim community.
Our next destination is Mostar in Bosnia, reached by a 2 hour drive.
Mostar, the enchanting city nestled in southern Bosnia and Herzegovina, is of immense beauty, history and cultural significance, offering an unforgettable experience. With its harmonious blend of Ottoman and European influences, the city boasts a vibrant Muslim community that proudly preserves its Islamic heritage while warmly welcoming visitors from around the globe.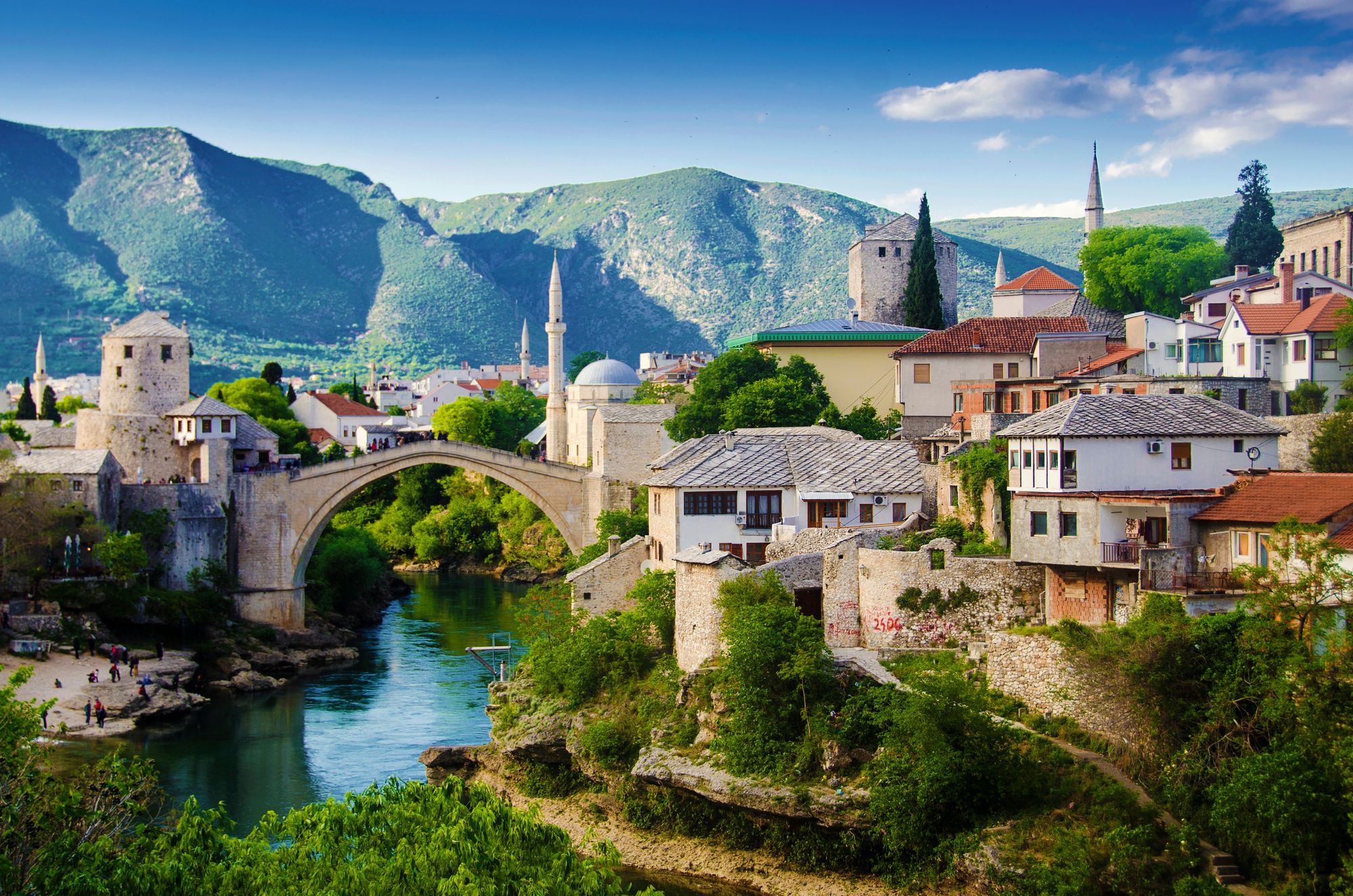 Central to Mostar's allure is the iconic Stari Most (Old Bridge), a UNESCO World Heritage Site and architectural masterpiece. Constructed in the 16th century, this bridge serves as a symbol of the city's multicultural past and serves as a gathering point for locals and tourists alike. Standing atop the bridge presents breathtaking views of the turquoise Neretva River, allowing you to appreciate the historical and cultural significance of the area.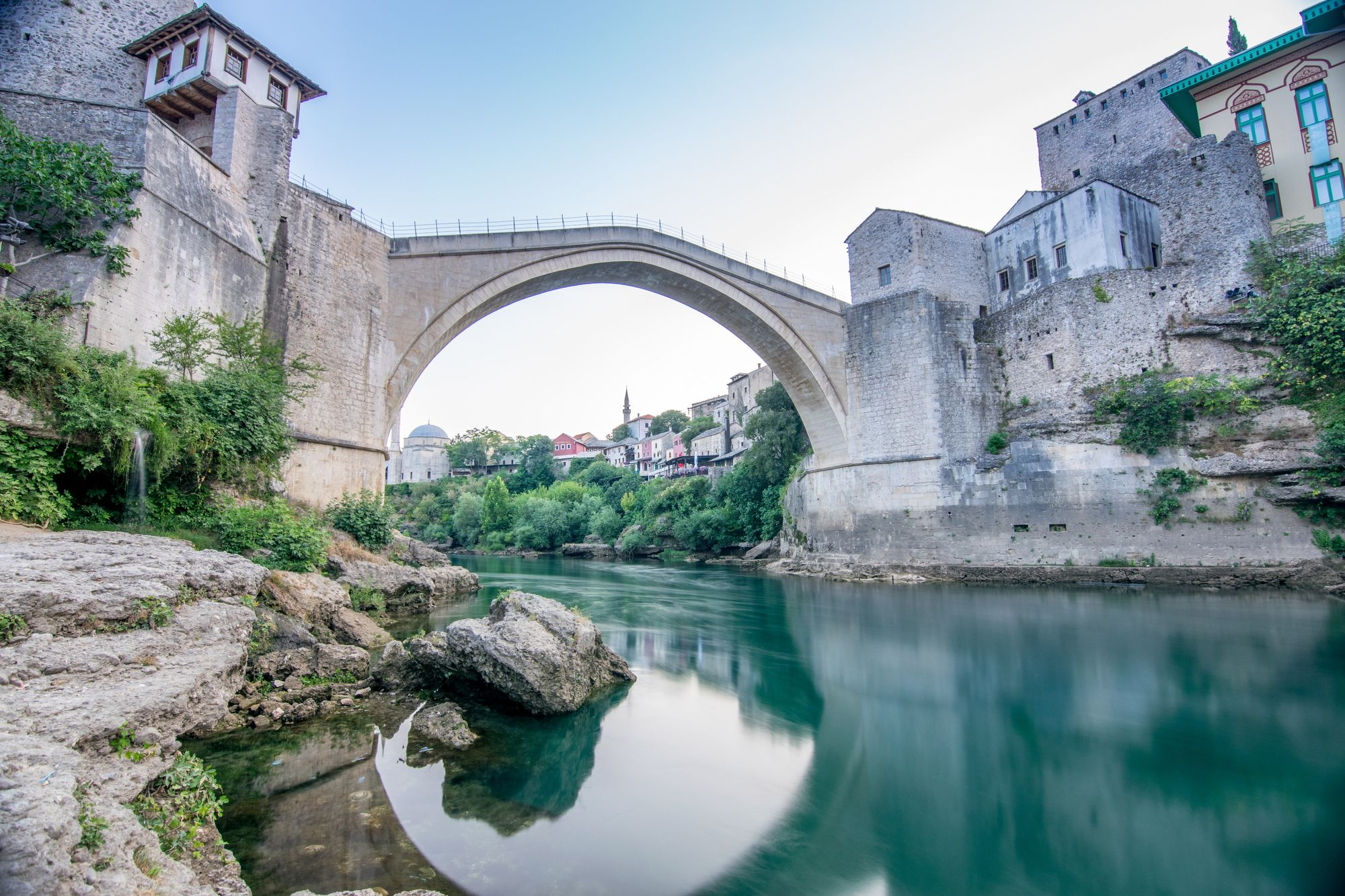 Meandering through the captivating old town, you will encounter several beautiful mosques that grace the cityscape. Among them is the Koski Mehmed Pasha Mosque, a serene and spiritually uplifting space for prayer. Its distinctive minaret and intricate architectural details exemplify the rich Islamic heritage of the region, inviting you to embrace the spiritual essence of Mostar.
Mostar holds deep respect for Islamic traditions and customs, ensuring a welcoming atmosphere for Muslim travellers. Halal food options abound, allowing you to savour authentic Bosnian cuisine while adhering to your dietary preferences. Numerous halal-certified restaurants and cafes offer tantalising dishes like cevapi (grilled minced meat) and burek (savoury pastry).
Moreover, the warm and hospitable nature of the locals adds to Mostar's allure. They take pride in their inclusive mindset, embracing diversity and fostering peaceful coexistence. Interacting with the locals provides a chance to deepen your understanding of the city's Islamic heritage and engage in cultural exchanges, leaving you with a profound appreciation for the local community.
Beyond the city's borders lies a world of natural wonders awaiting exploration. Mostar's surroundings encompass picturesque mountains, pristine rivers and breathtaking landscapes, offering an array of outdoor activities for adventurous travellers. From hiking amidst lush greenery to rafting down the vibrant river currents or swimming in crystal-clear waters, Mostar presents a harmonious blend of natural beauty and Islamic heritage.
Now it's time to visit the capital city of Bosnia, Sarajevo, with a 2-hour drive.
On the way to Sarajevo, you need to stop in Jablanica, also known as the "Balkan's capital of lamb on the spit". After having re-energised with a portion of delicious jagnjetina (roasted lamb), continue your journey to Sarajevo. The road will take you through Konjic, a must stop to view the famous Stara Ćuprija (Old Bridge - köprü in Turkish), built over six slightly pointed stone arches between 1682 and 1683 by Ali-aga Hasečić, a wonderful example of Ottoman bridge architecture in the Balkans.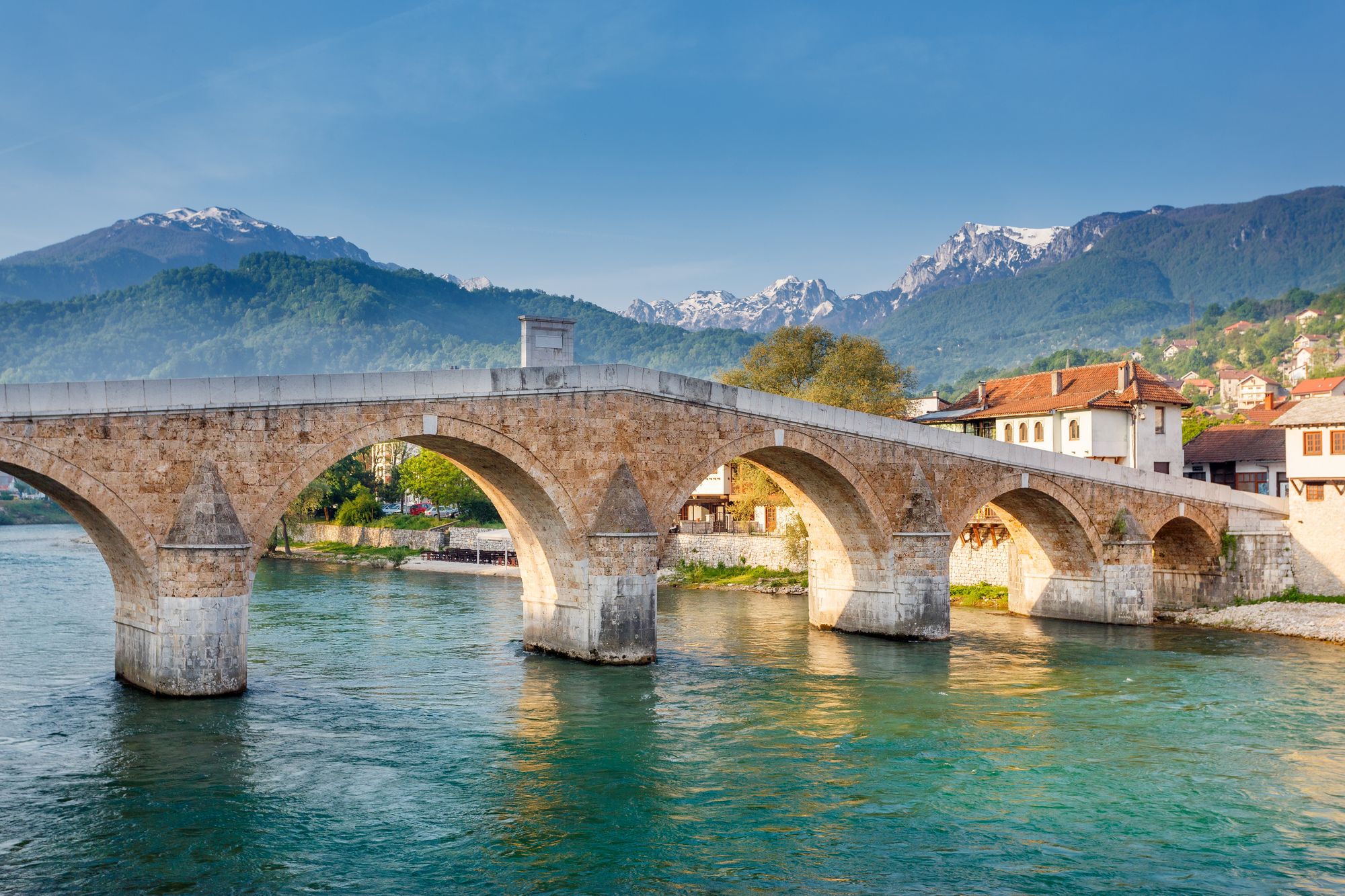 Sarajevo, the capital city of Bosnia and Herzegovina, is a captivating destination that holds great significance for Muslim travellers. Known as the "Jerusalem of Europe", Sarajevo boasts a rich Islamic heritage, a vibrant Muslim community and a seamless blend of cultures and traditions.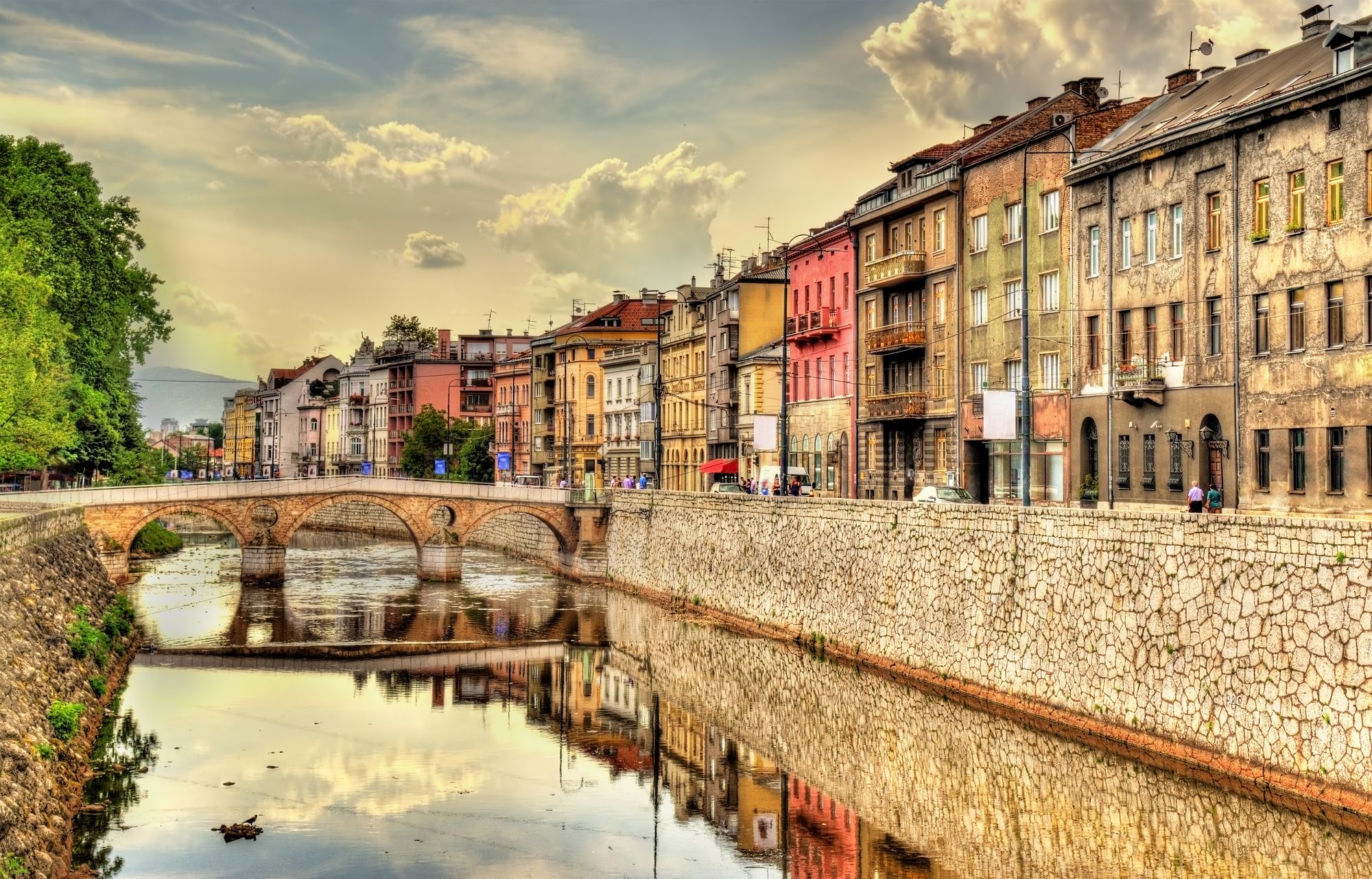 Sarajevo's historic core is a treasure trove of Islamic landmarks, offering a unique opportunity to explore its rich heritage. The city is home to numerous mosques, each with its own distinctive charm. The Gazi Husrev-Beg Mosque, dating back to the 16th century, is an architectural gem that serves as a spiritual centre for the local Muslim community. Its impressive courtyard, elegant minaret and exquisite interior design create a serene atmosphere that invites visitors to contemplate and connect with their faith.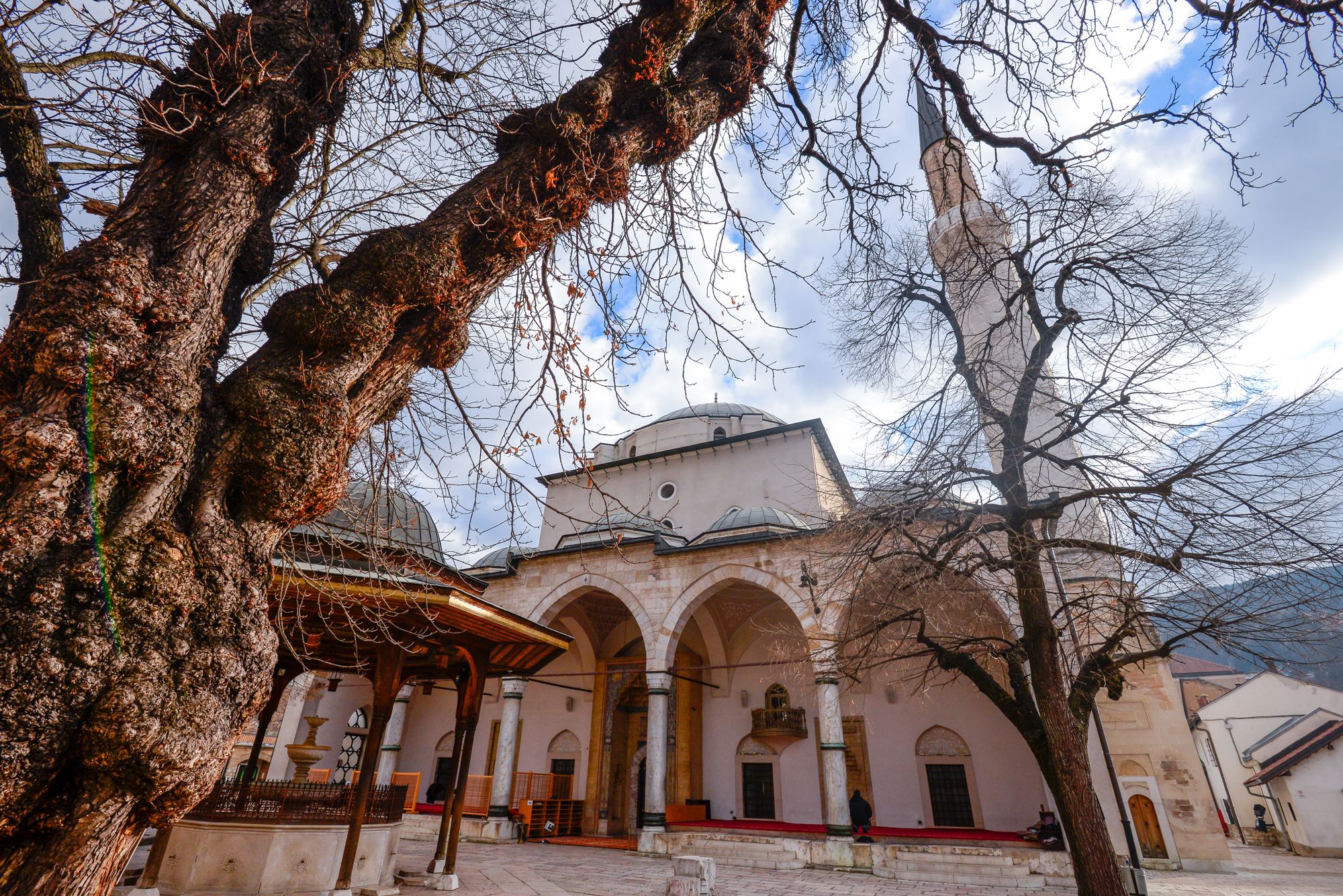 Baščaršija, the city's Ottoman-era bazaar, is known for the famous 18th-century Sebilj fountain. The Ottoman-style wooden fountain features intricate and ornate craftsmanship.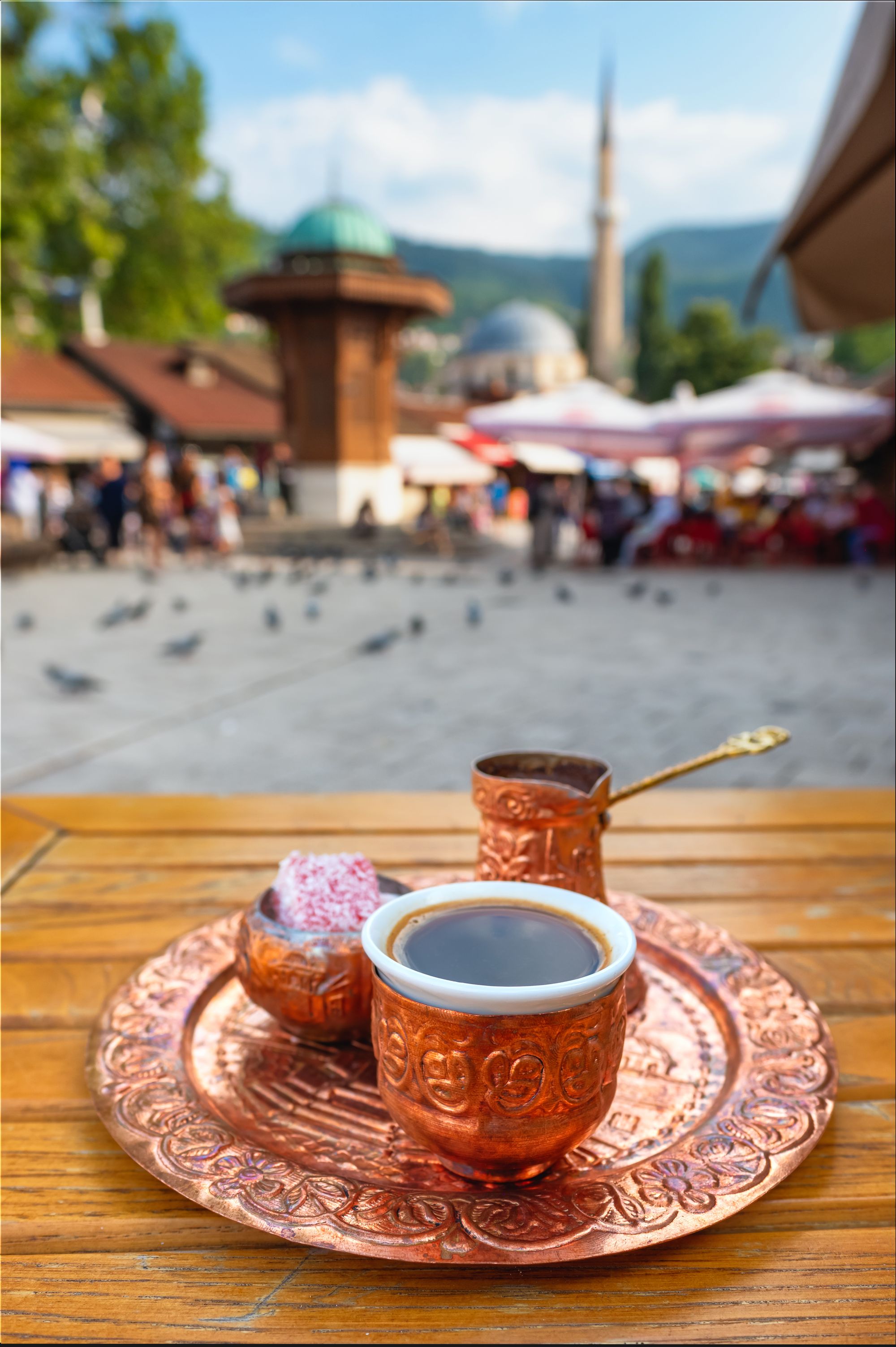 Baščaršija is also a bustling hub where the vibrant past comes to life. It showcases a diverse array of traditional crafts, authentic Bosnian cuisine and Islamic artefacts. Strolling through its narrow streets, you can savour the aroma of freshly brewed Bosanska kahva (Bosnian coffee) and taste local delicacies like ćevapi (grilled meat), burek (savoury pastry) and baklava (sweet pastry). Halal food options are readily available, with numerous restaurants and cafes serving traditional Bosnian dishes prepared in accordance with Islamic dietary guidelines. From delectable grilled meats to mouth watering pastries, Sarajevo offers a range of halal-certified culinary delights.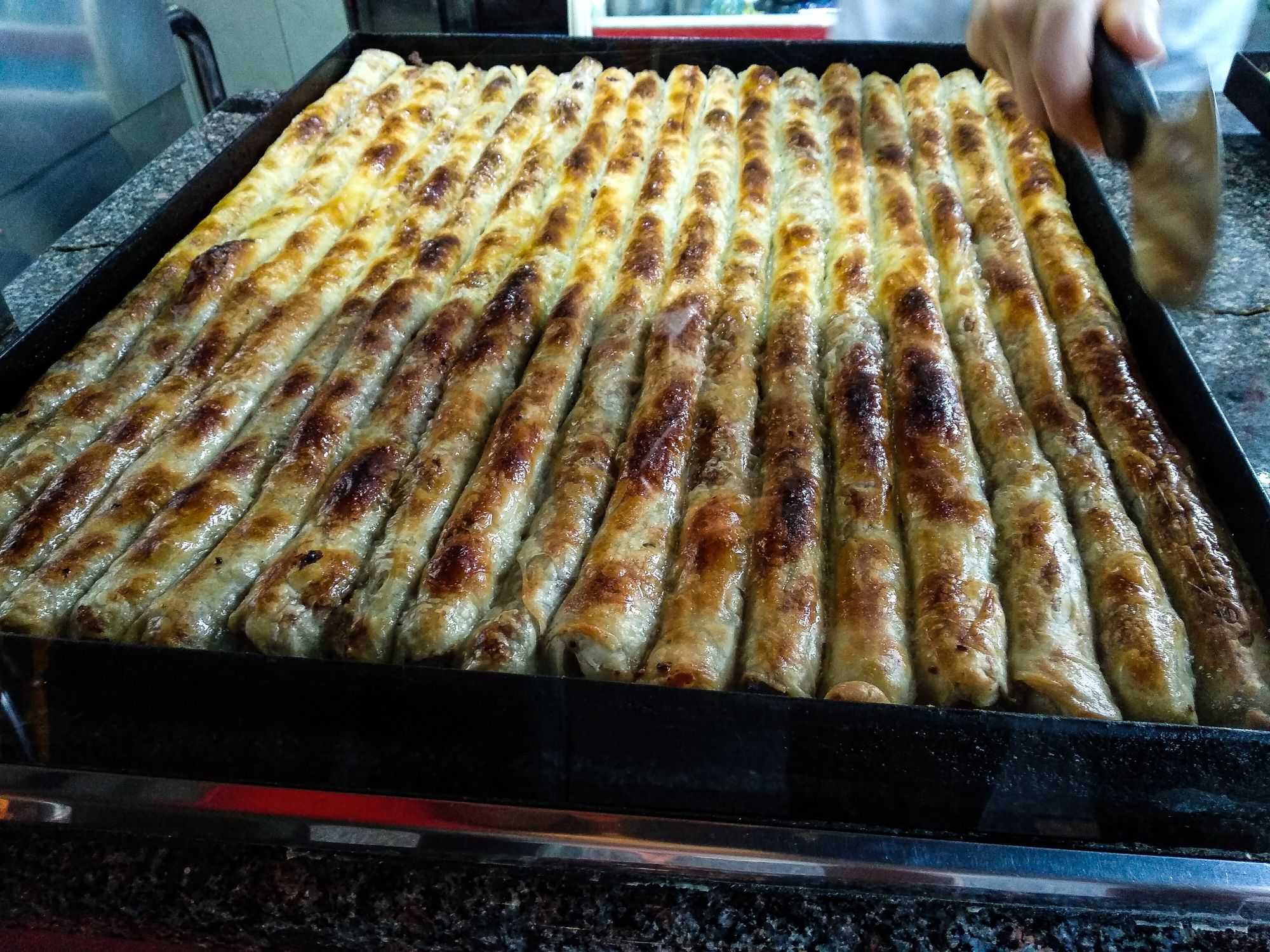 Baščaršija also houses workshops where skilled artisans craft beautiful copperware and traditional Islamic calligraphy, providing an opportunity to witness the preservation of ancient crafts.
A few minutes walk from the Sebilj fountain is the Kovaci Cemetery (Shahid/Martyr Cemetery), where you can pay a visit to the grave of the "Wise King", Alija Izetbegović, first President of the newly-independent Republic of Bosnia and Herzegovina, who led the Bosnians during the Bosnian War.
Also visit the Latin Bridge, also known as Princip Bridge (Principov Most), an Ottoman bridge over the river Miljacka next to Baščaršija. On June 28, 1914, the Latin Bridge was the site where Gavrilo Princip, a Bosnian Serb nationalist, assassinated Archduke Franz Ferdinand of Austria, heir to the Austro-Hungarian throne, and his wife Sophie. This event was a catalyst for the outbreak of World War I.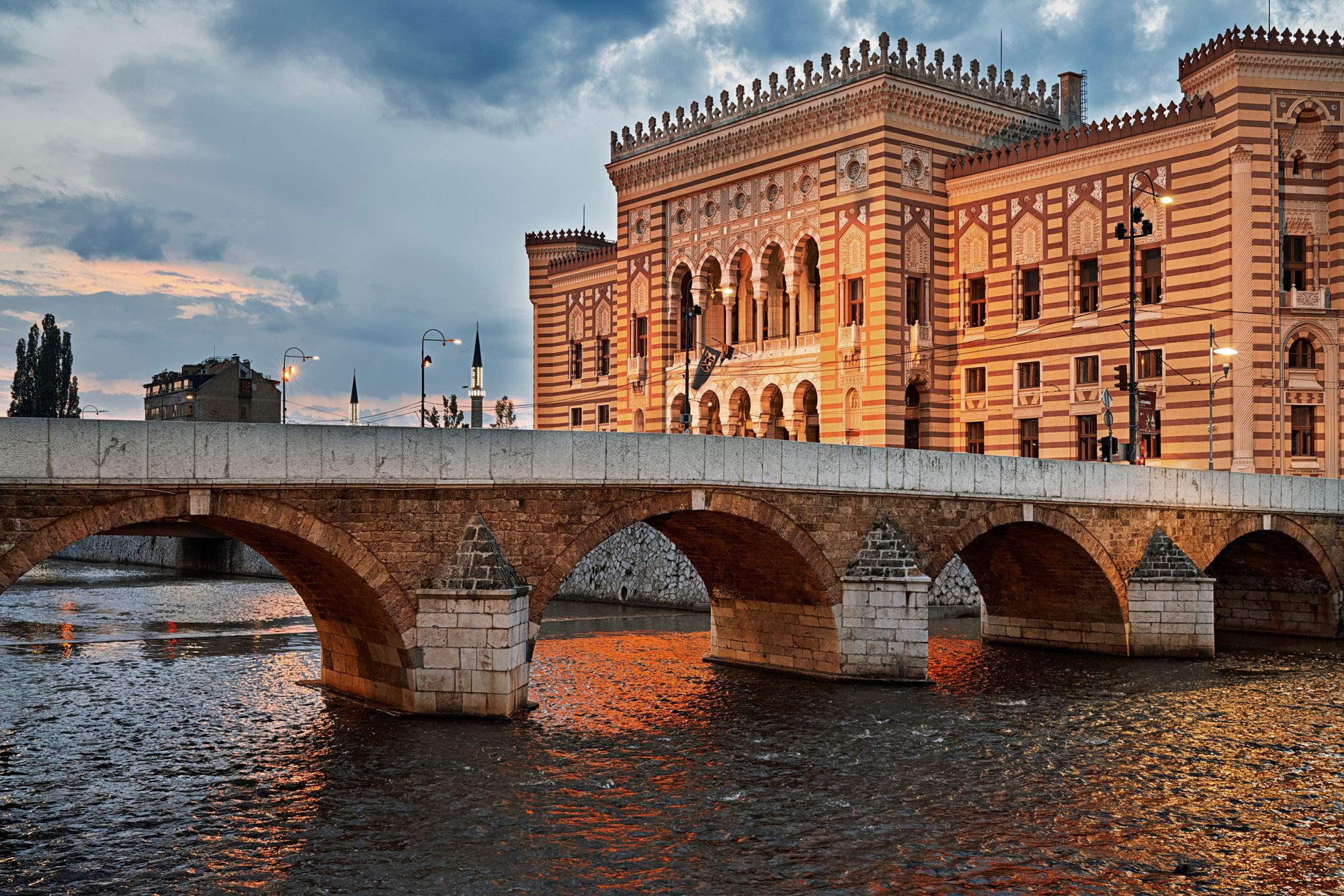 The Tunel Spasa (Tunnel of Hope) is an underground tunnel that played a crucial role during the Siege of Sarajevo in the early 1990s, providing a lifeline for its residents and the outside world. It served as a vital supply route, allowing food, medical supplies, and ammunition to be transported into the city and enabling residents to flee or access essential services.
Sarajevo's multicultural history is reflected in its architectural landscape, with stunning examples of Islamic, Ottoman, and Austro-Hungarian styles. The Sacred Heart Cathedral, the largest cathedral in Bosnia and Herzegovina, stands majestically alongside the historical Gazi Husrev-Beg Mosque, symbolising the harmonious coexistence of different faiths in the city.
Beyond its historical and cultural heritage, Sarajevo is nestled amidst breathtaking natural beauty. Surrounded by mountains and blessed with pristine rivers, the city presents opportunities for outdoor adventures such as hiking, skiing, and white-water rafting. Trebević Mountain, overlooking Sarajevo, offers panoramic vistas and a chance to reconnect with nature while basking in the serenity of the surroundings.
Next up is a 2 hr and 30 min drive to eastern Bosnia and Herzegovina, to the town of Srebrenica.
Srebrenica holds immense historical and emotional significance for Muslims. While the name is often associated with the tragic events of the Bosnian War, it is also a place where the resilience of the Muslim community shines through and offers an opportunity for reflection, remembrance and a deeper understanding of the past.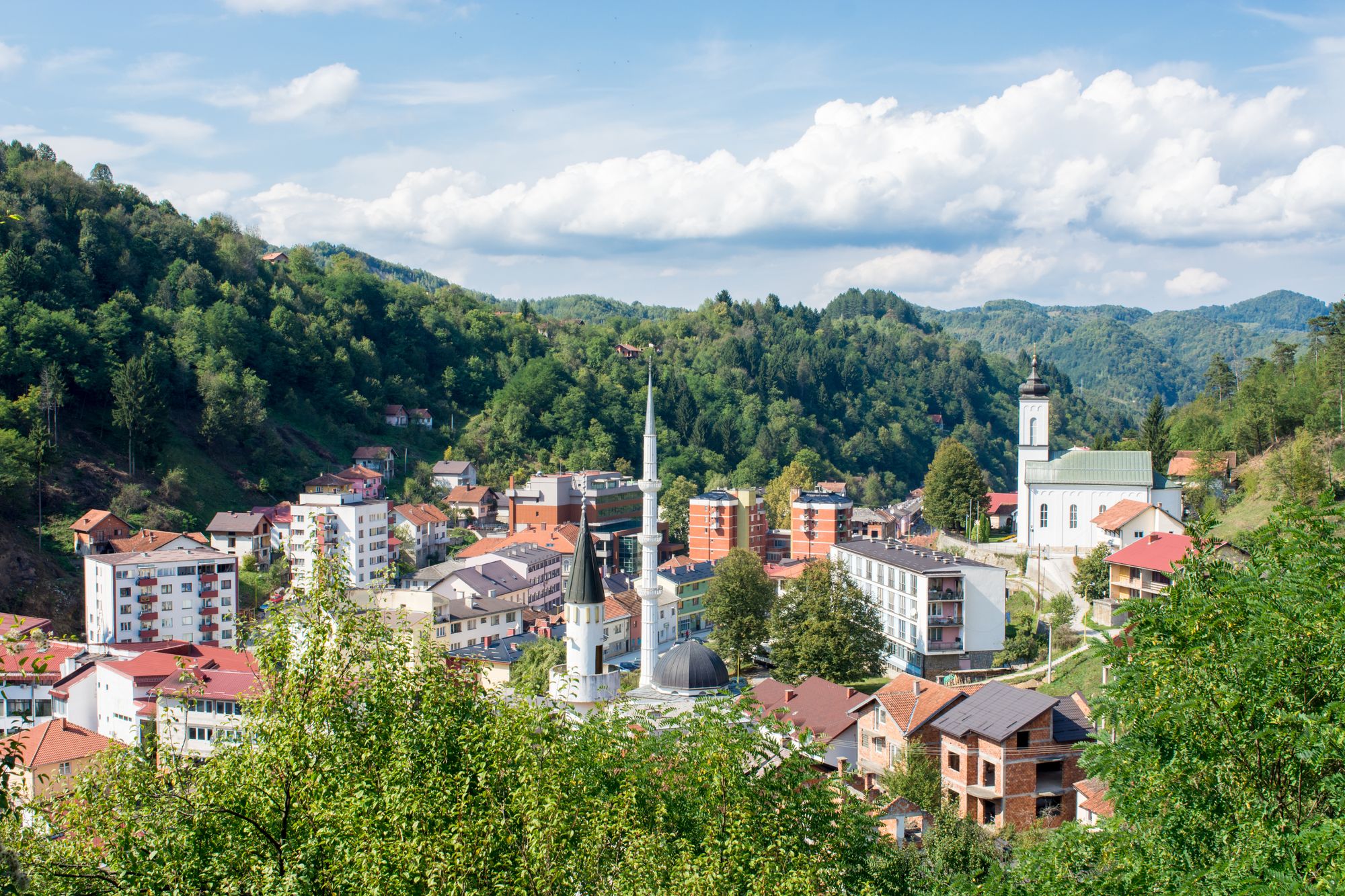 Srebrenica is home to the Srebrenica Genocide Memorial and Cemetery, a poignant tribute to the victims of the Bosnian War. This memorial complex stands as a solemn reminder of the the genocide committed by the Serbs in July 1995 with at least 8,372 male Muslim Bosnian victims. Serving as a place for mourning and remembrance, the cemetery is the final resting place for more than 6,600 victims of the Srebrenica Massacre who lost their lives during this dark period.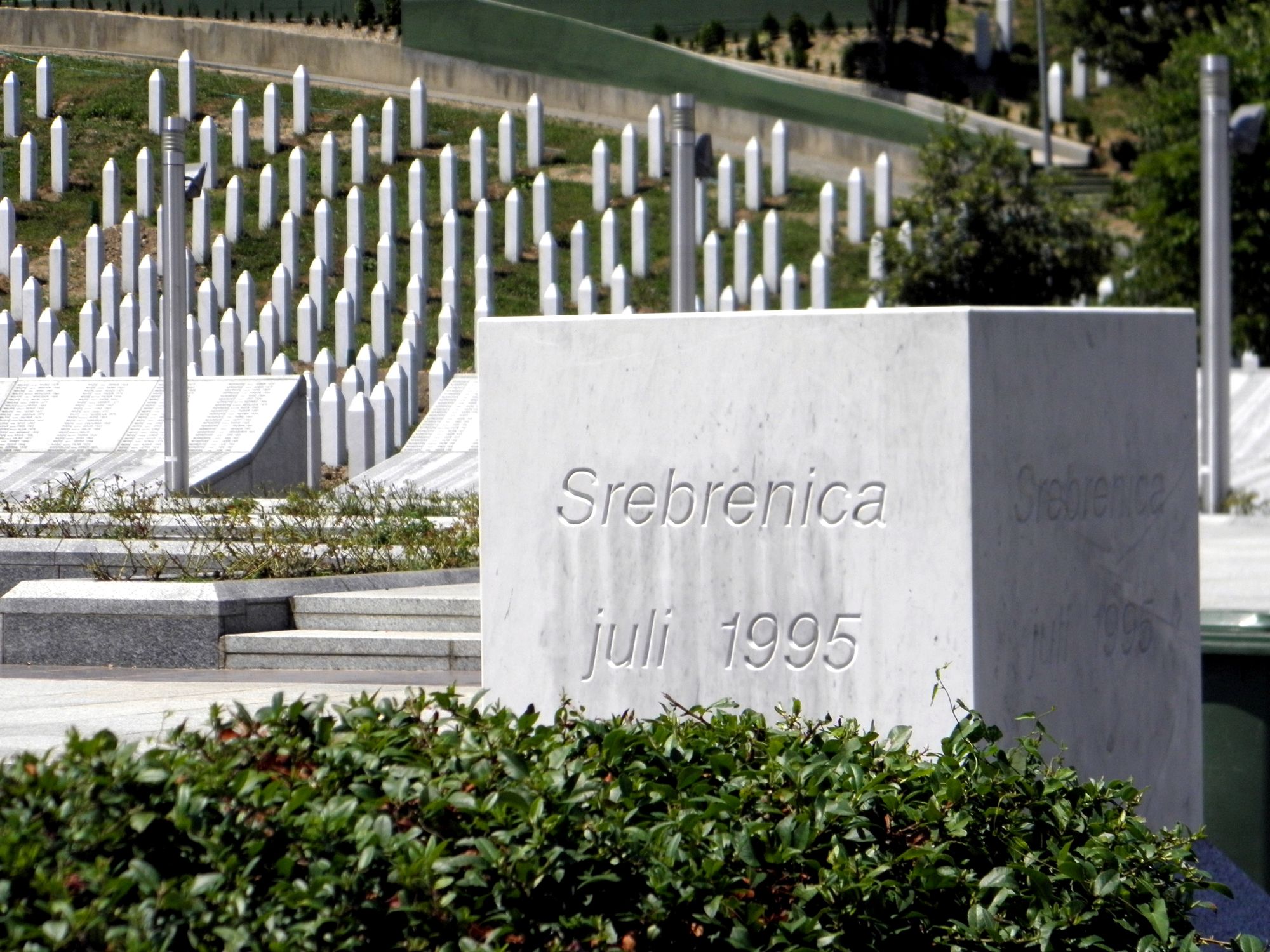 You can also visit the Srebrenica-Potočari Memorial and Museum, which provides a comprehensive and informative account of the events that transpired during the war. The museum showcases photographs, personal testimonies and artefacts, allowing visitors to gain a deeper understanding of the conflict and its impact on the local Muslim community.
Amidst the sombre history, Srebrenica's natural beauty provides solace and respite. The town is surrounded by picturesque landscapes, including rolling hills, dense forests, and peaceful streams.
Interacting with the local community in Srebrenica can also be a meaningful experience. Despite the painful past, the people of Srebrenica have shown immense strength and resilience.
Our next stop on the journey is a 3 hour drive to Višegrad, also in eastern Bosnia and Herzegovina.
Višegrad offers a blend of natural beauty, rich history and cultural heritage. It is a place steeped in tradition and charm that offers a unique and captivating experience.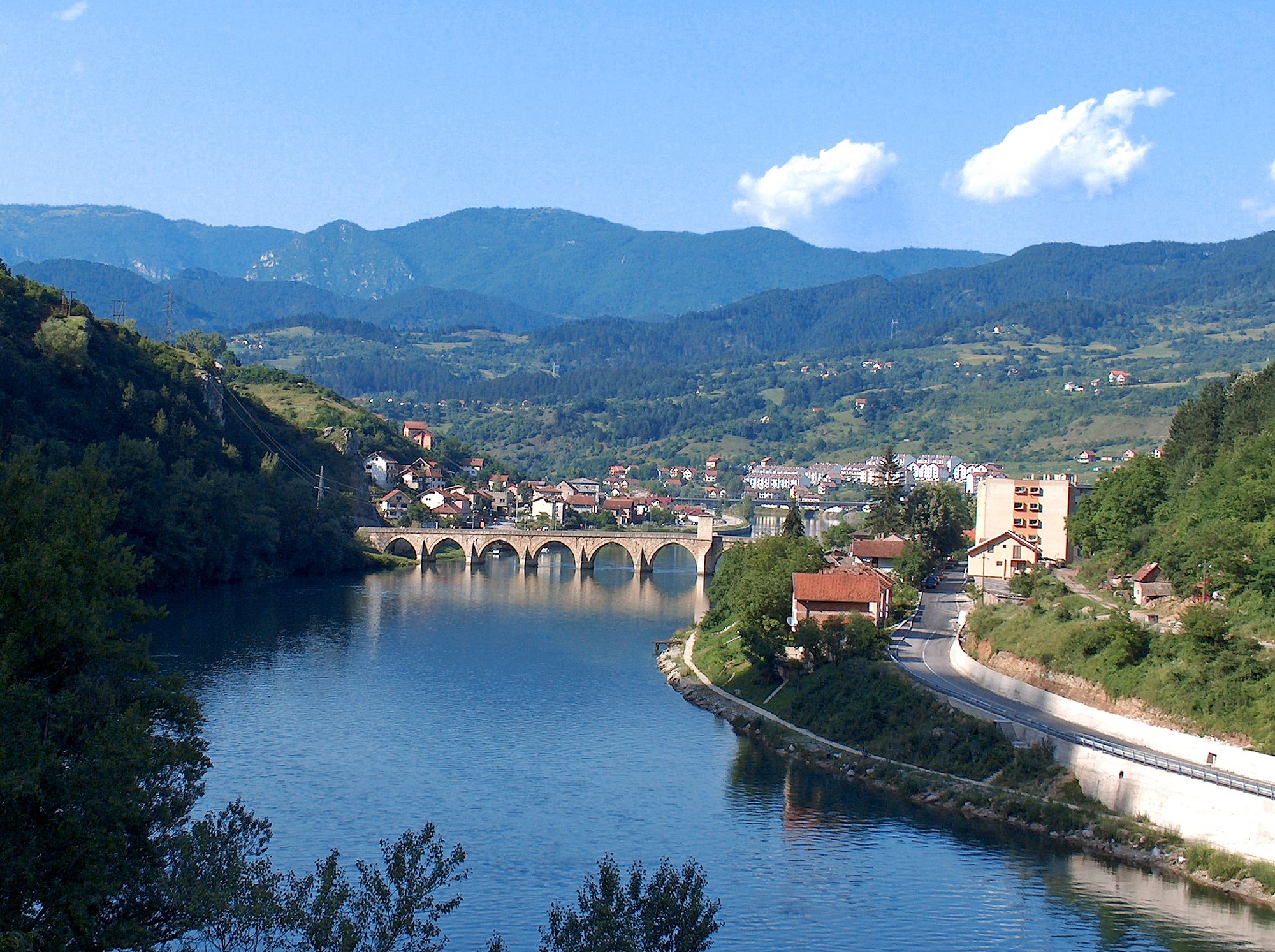 Višegrad is renowned for its iconic Mehmed Paša Sokolović Bridge, a UNESCO World Heritage Site and architectural masterpiece. Built in the 16th century, this Ottoman-era bridge spans the emerald-green Drina River, serving as a symbol of the town's historical significance and connecting the two sides of Višegrad. Standing on this bridge gives you a stunning viewpoint of beautiful nature and a chance to reflect on the city's cultural heritage at the same time.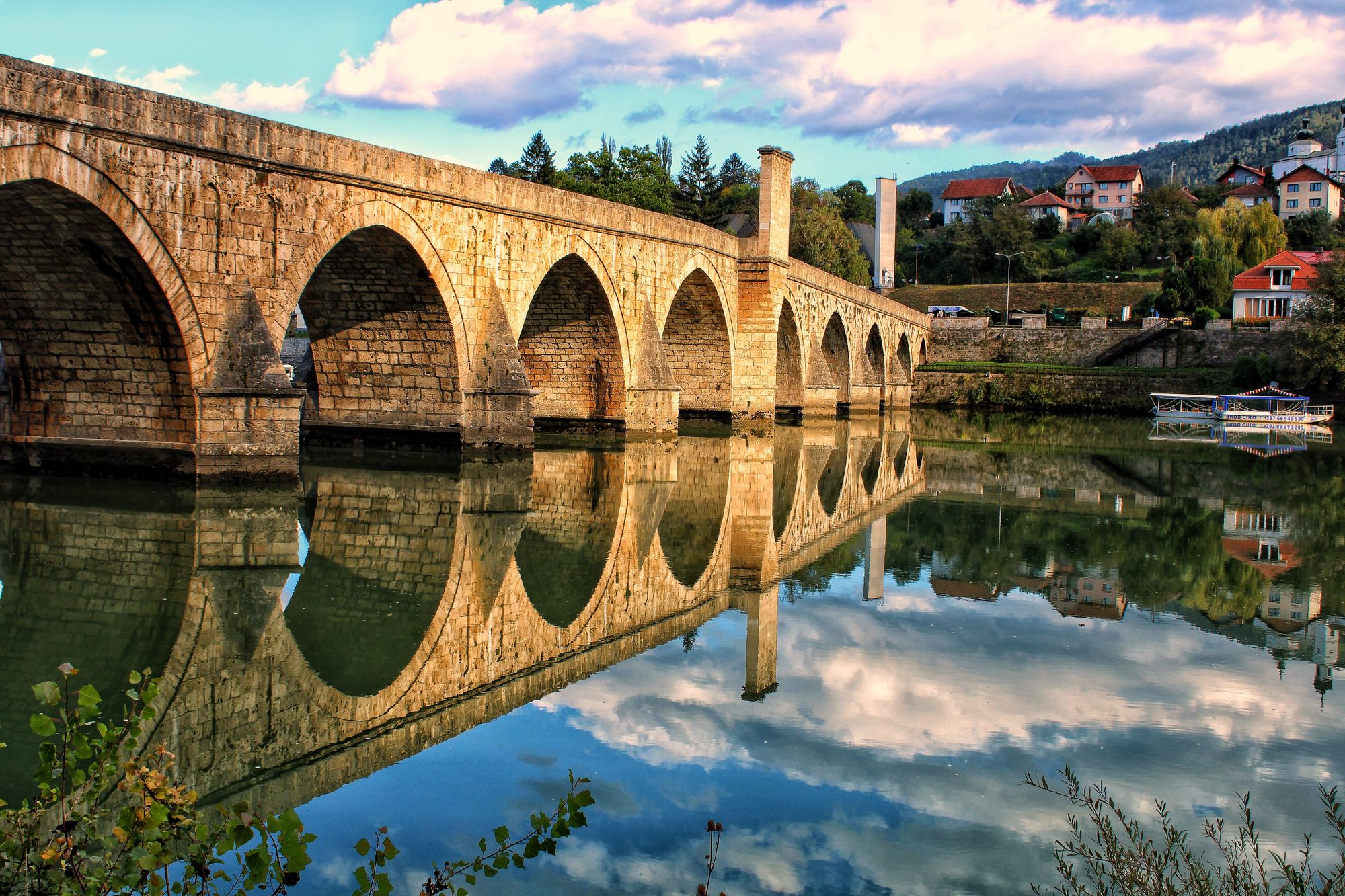 Višegrad is also home to the famous Ivo Andrić Bridge, named after the Nobel laureate and author of "The Bridge on the Drina." This modern structure pays homage to the town's literary legacy and serves as a testament to the enduring spirit of Višegrad. Walking across this bridge allows visitors to soak in the scenic views and gain a deeper appreciation for the town's historical and cultural narrative.
The Ottoman influence is prevalent throughout Višegrad, with its charming old town showcasing traditional architecture and cobblestone streets. As you meander through the narrow streets, you'll encounter picturesque centuries-old mosques like the Višegrad Mosque and Aladža Mosque, reminders of the city's Islamic heritage.
Beyond its architectural wonders, Višegrad is surrounded by breathtaking natural landscapes. The Drina River, with its crystal-clear waters, provides opportunities for river cruises, fishing, and leisurely walks along its banks. The nearby mountains offer hiking trails that reward adventurers with stunning vistas of the surrounding countryside.
If you wish to stay in Višegrad for the night to rest before the long drive to Niš, you can choose from our hotels in Višegrad.
Our next destination is Serbia, with a 5 hr and 20 min drive to Niš.
Nis has a rich cultural heritage and is known for its stunning architecture, ancient ruins and natural beauty. One of its most famous landmarks is the Niš Fortress, an 18th-century medieval fortress. Visitors can enjoy the breathtaking city and river views while learning about the history of the fortress.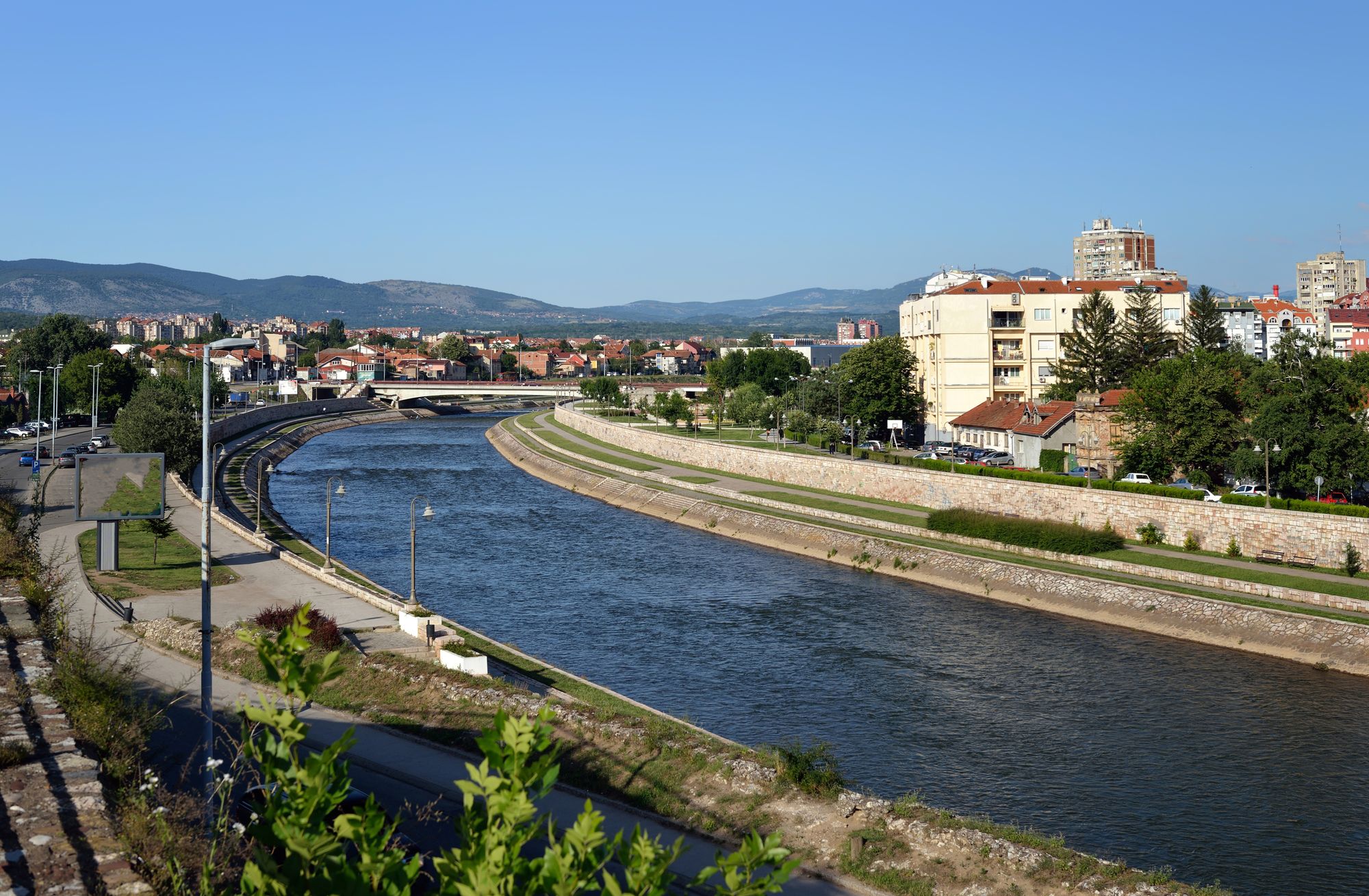 There are also several halal restaurants in the area, including the Restaurant Red Pepper, which offers a variety of halal food.
Niš has several mosques, including the Eyüp Sultan Mosque, the largest in the city. The beautifully preserved 16th-century Bali Bey Mosque is a prime example of Ottoman religious architecture, particularly due to its different styles of masonry, all blended into one façade. Following its restoration, the mosque was repurposed as an art gallery for local artists, and although most of its interior was whitewashed, a small portion of the original stonewall remained undyed.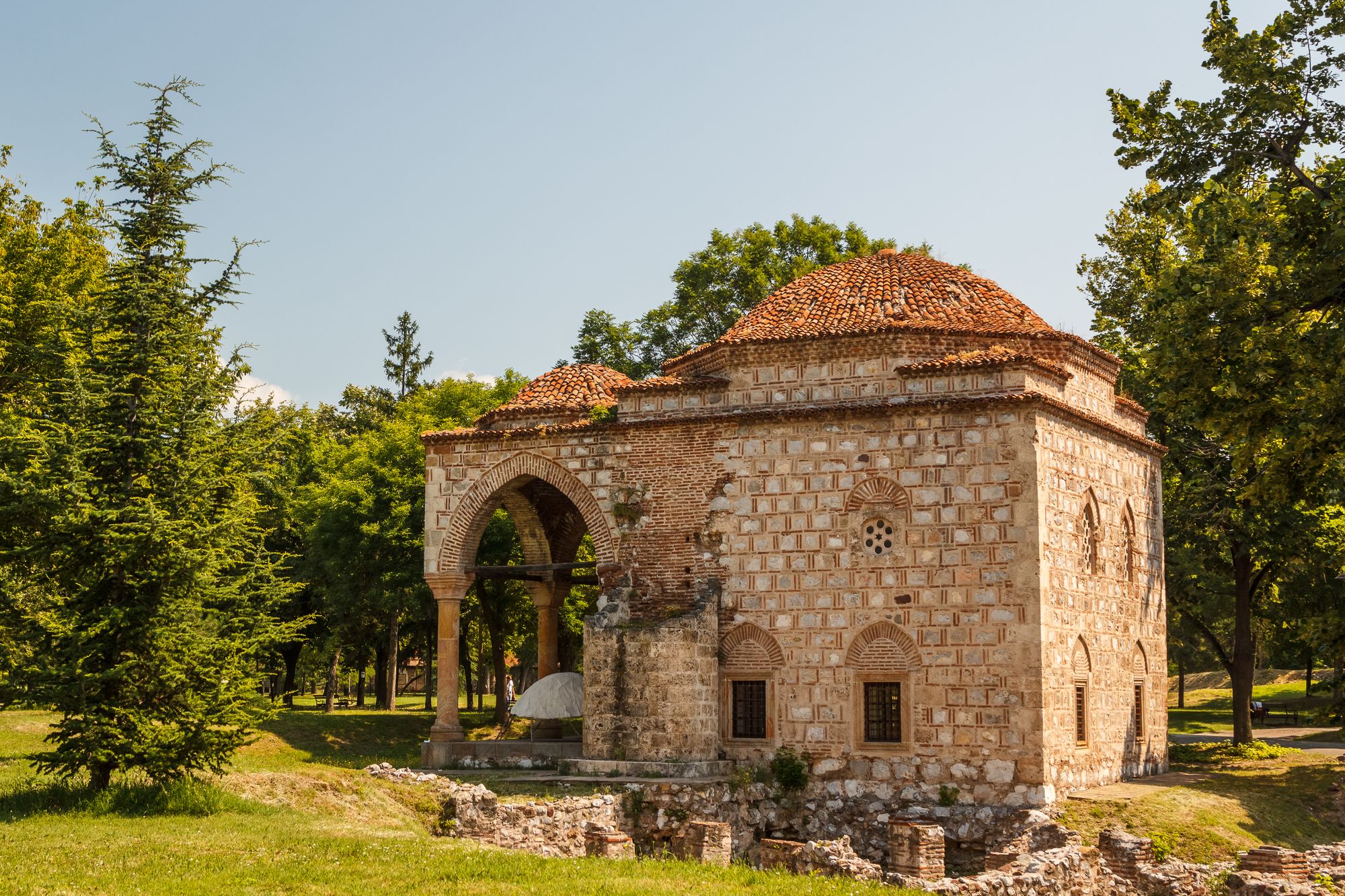 For those looking to explore the natural beauty of the area, Niška Banja Spa is a popular destination. This thermal spa offers a range of treatments and therapies and is known for its healing properties.
In addition, Niš offers several museums and historical sites of interest to Muslim visitors. The National Museum of Niš showcases the city's history and culture, while the Skull Tower is a unique monument commemorating the victims of a 19th-century battle.
It's time to head to Sofia in Bulgaria, further into Eastern Europe with a 2 hr 20 mins drive.
Our next stop is the beautiful city of Sofia, known for its marvellous architecture, rich history and beautiful mosques. It's of particular interest to those interested in Ottoman history, as Sofia came under Ottoman rule in 1382, as it impressed the Ottomans with its beauty. When the Ottoman Empire withdrew from these lands, it left behind a total of 170 founding works, including 32 mosques and 8 madrasahs.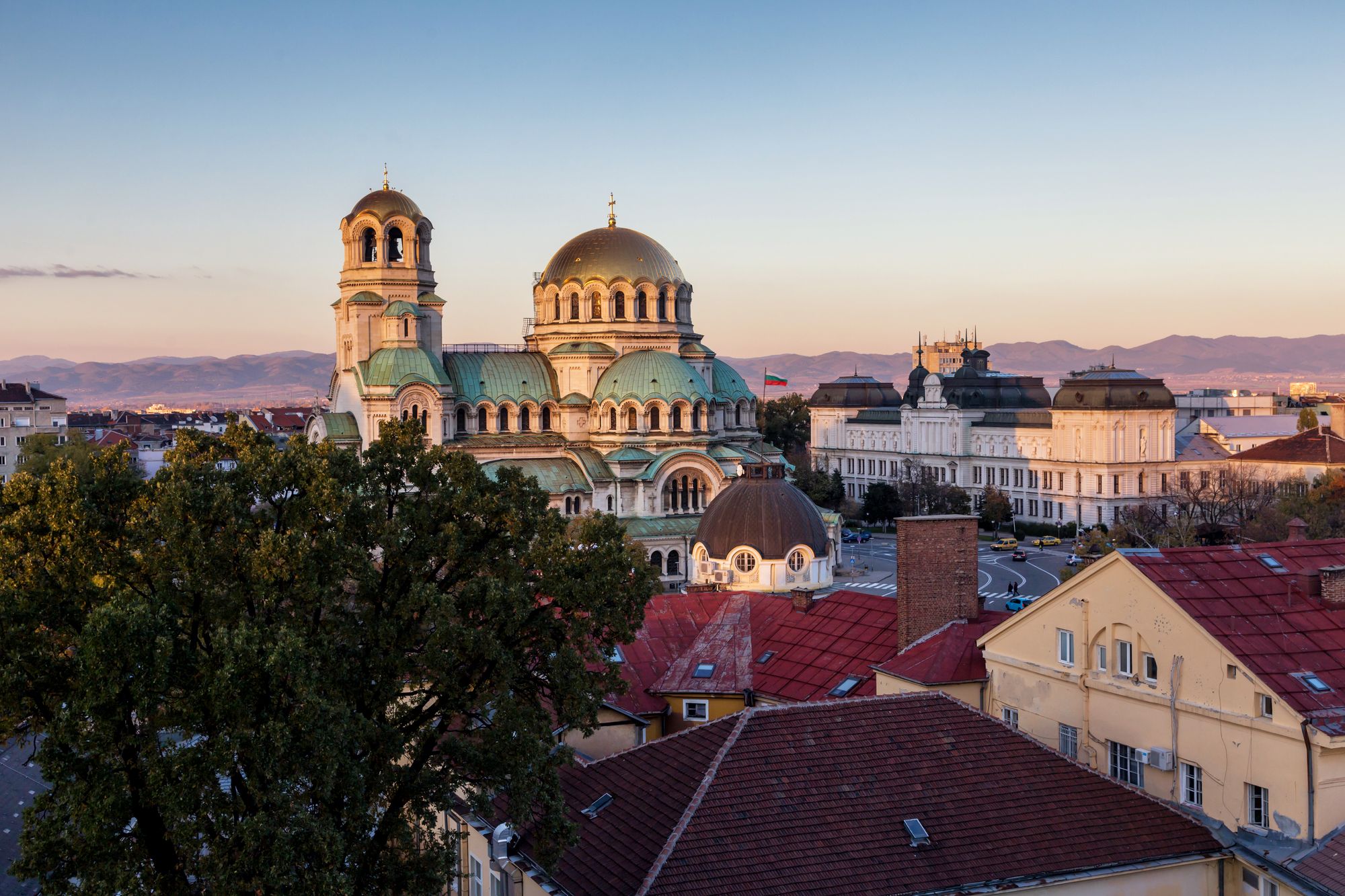 One of the most famous landmarks in Sofia is the Alexander Nevsky Cathedral. This beautiful cathedral is the largest in Bulgaria and an important symbol of the country's Orthodox Christian heritage.
The city also has several mosques, including the Kadı Seyfullah Efendi Mosque (or Banya Bashi Mosque) which is not only the oldest mosque but also the only one open for prayers. Next to the mosque are the remains of the bath, which was built in the 16th century. For this reason, the mosque is also known as "Banyabaşı", which means bath. The number of Muslims who come to Banya Bashi Mosque for worship on Fridays reaches 1,000 Muslims. The Sofia Islamic Centre also has a mosque open for daily prayers and offers Quranic classes.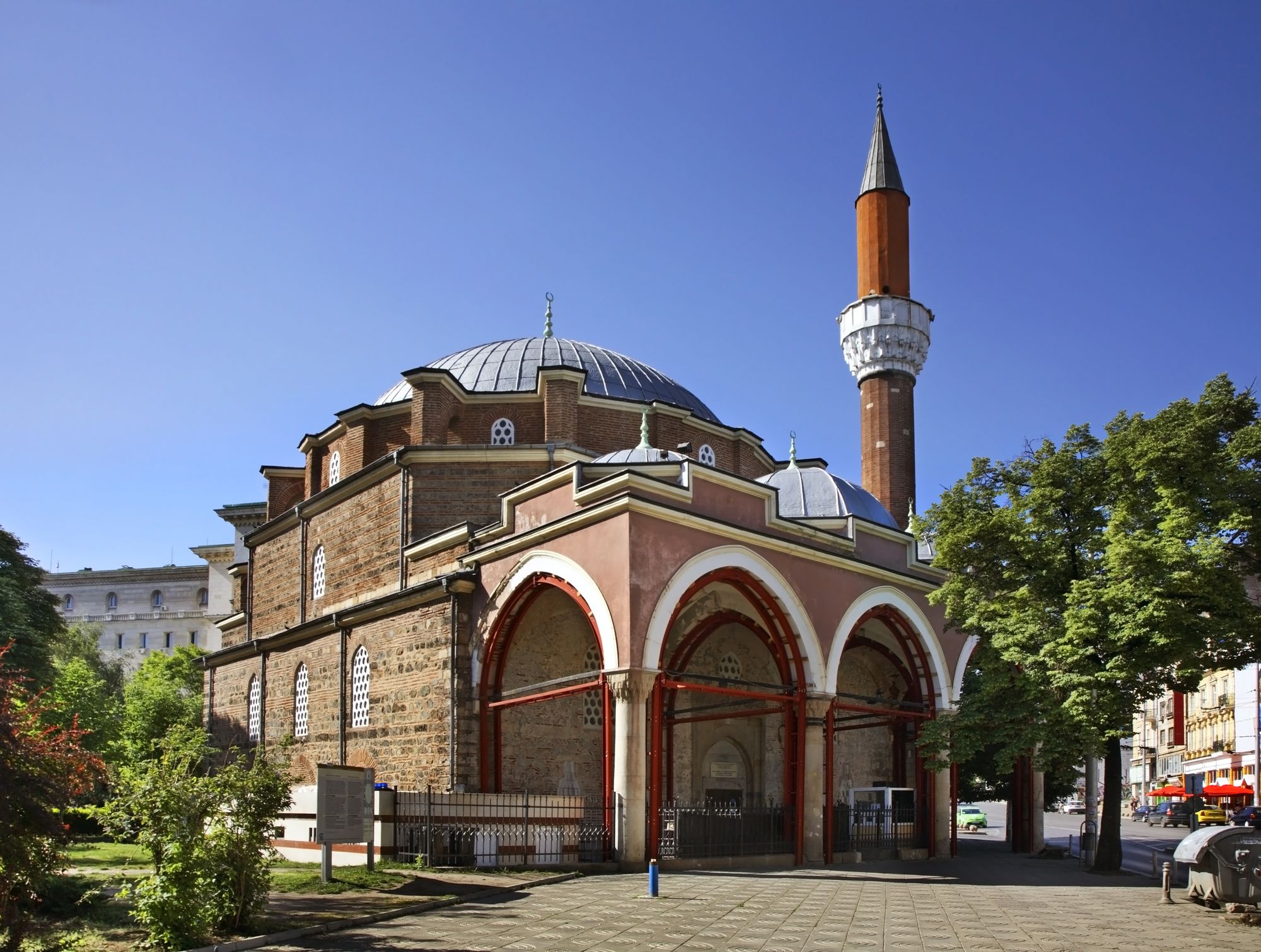 Another Ottoman heritage monument in Sofia, located in the very centre of the city, is the Mahmutpaşa Mosque. The mosque's construction started under Fatih Sultan Mehmet's grand vizier Mahmut Pasha, who was the governor of Rumelia, and was completed in 1494. Mahmutpaşa, the largest mosque in the Ottoman period, was known as the "Ulu Camii" ("Great Mosque") among the people. The mosque which was built as a complex with a madrasah, water cistern and fountains, operates as a museum today.
Dervish or Sofu Mehmet Pasha Mosque is one of the three mosques that have survived in Sofia after the Ottoman rule for five centuries. The mosque also known as Kara Camii (Black Mosque) was built as a complex with 16 madrasah rooms, was used as an arsenal and a prison. The mosque received its more popular name, the Black Mosque, after the dark granite from which its minaret was made. Since 1903 the Black Mosque has been operating as a church, the Sveti Sedmochislenitsi Church ("The Seven Holy Martyrs").
Sofia has several options for halal food: The Konyushnite Restaurant is popular for halal food, with a variety of traditional Bulgarian dishes and international cuisine. The Central Market Hall is also popular for halal food, offering a range of fresh produce, meats and spices.
The National Museum of History showcases Bulgaria's history and culture, while the Boyana Church is a UNESCO World Heritage site with stunning medieval frescoes.
After visiting Sofia, it's time to head to Plovdiv, Bulgaria's second largest city which will take 1 hour and 45 mins.
Our penultimate stop on this journey, Plovdiv is Europe's oldest inhabited city. It is best known for its romantic Old Town, which is full of colourful and creaky 19th-century mansions that are now house-museums, galleries and guesthouses.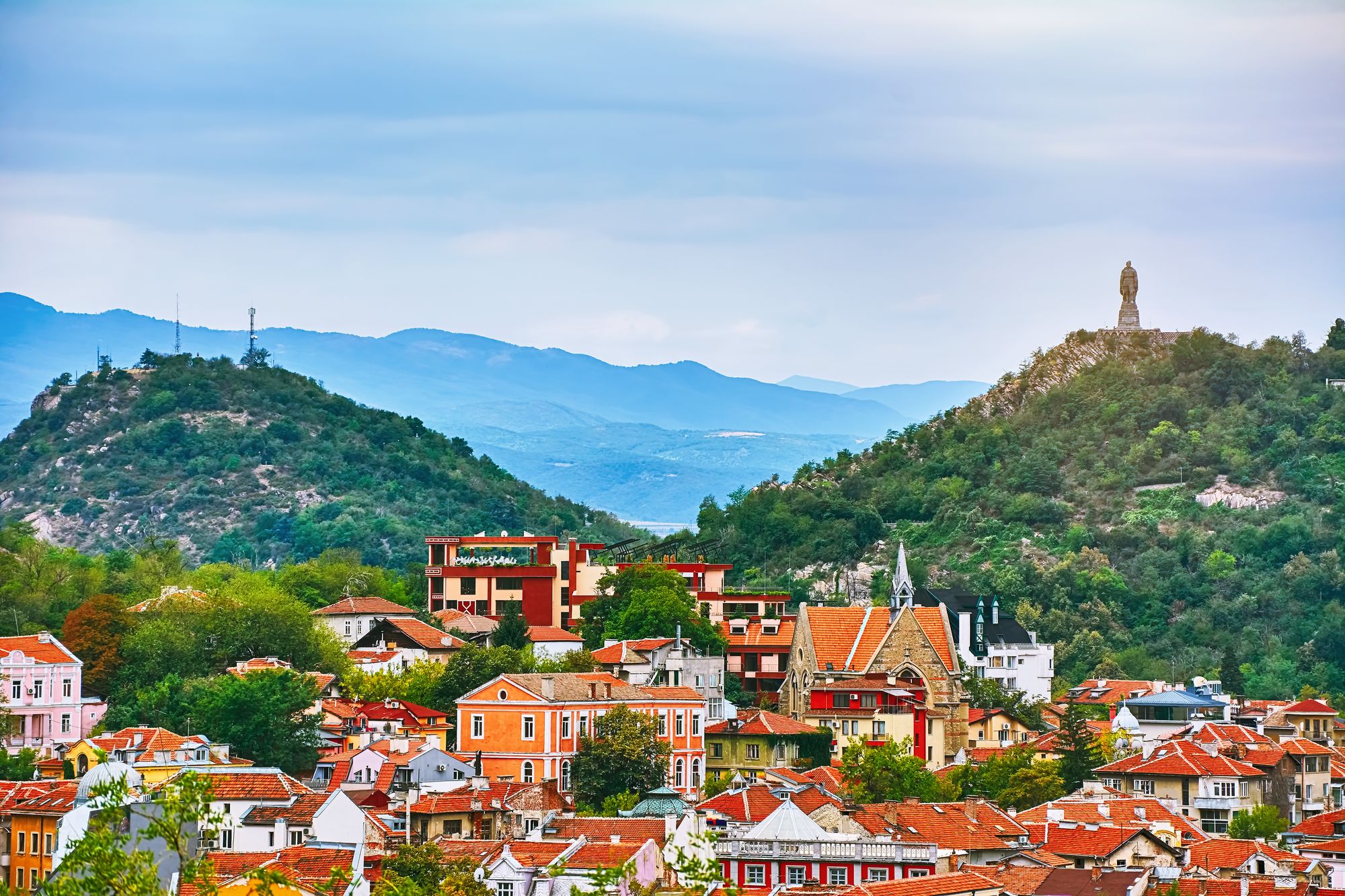 A particular must-see is Dzhumaya Mosque, which is located in the centre of Plovdiv and was built in 1363–1364 after the conquest of Plovdiv by the Ottoman army on the site of the Sveta Petka Tarnovska Cathedral Church. During the reign of Sultan Murad I in the 15th century, the old building was demolished and replaced with the modern mosque. It was called Ulu Dzhumaya Mosque or Main Friday Mosque. You can also visit the 15th-century Imaret Mosque and the Taskopru Mosque, built in 1860.
The Roman Theatre of Philippopolis is an ancient theatre from the 1st century AD, while the Ancient Stadium is a well-preserved 2nd-century artefact.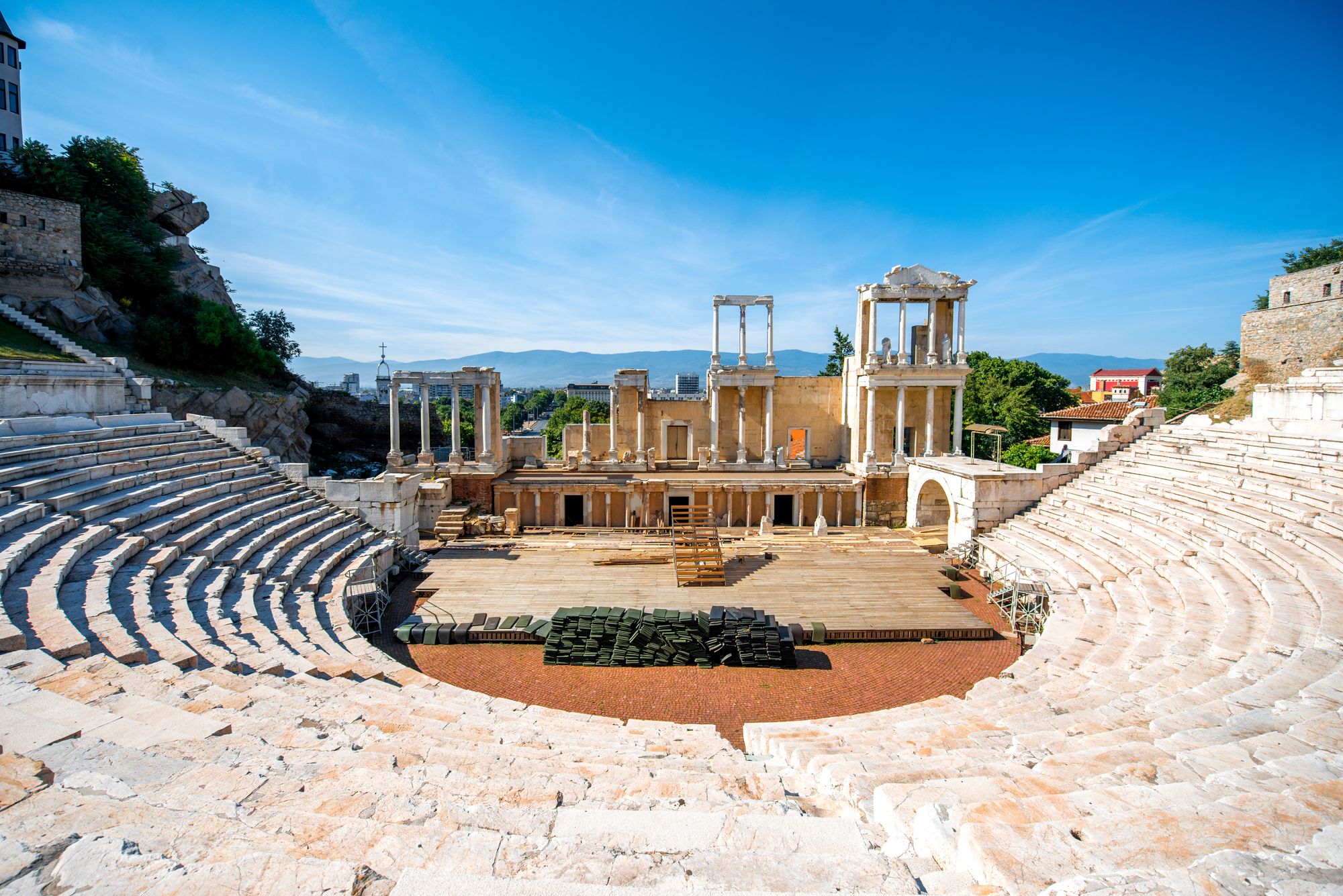 Plovdiv has several halal food options. The Shtastlivetsa Restaurant is  popular for halal food, offering a range of traditional Bulgarian dishes and international cuisine. Visitors can also enjoy halal food at the Balkan Bites restaurant in the old town. The Central Market Hall is also popular for halal food, with a range of fresh produce, meats and spices.
After your visit to Plovdiv, it's time for the final leg of your road trip, which takes you to the Turkish city of Edirne with a 2 hr 15 mins drive.
This Sila Yolu back home to Türkiye has taken you not only on a road trip through the beautiful scenery and bustling cities of Europe, but on a cultural and spiritual journey through centuries of Ottoman history on the way!
Edirne, the terminus of your epic journey, is a historic Turkish city and the second capital of the Ottoman Empire before the conquest of Istanbul. It has a number of attractions and is known for its fantastic architecture, rich history and beautiful mosques.

One of Edirne's most famous landmarks is the Selimiye Mosque, a beautiful 16th-century mosque that is considered one of the finest examples of Ottoman architecture. Sultan Selim II commissioned the construction and it was built by the imperial chief architect Mimar Sinan between 1568 and 1575 when he was 80 years old. Selimiye was considered by Sinan to be "my masterpiece" ("ustalık eserim") and is one of the highest achievements of Islamic architecture as a whole and Ottoman architecture in particular.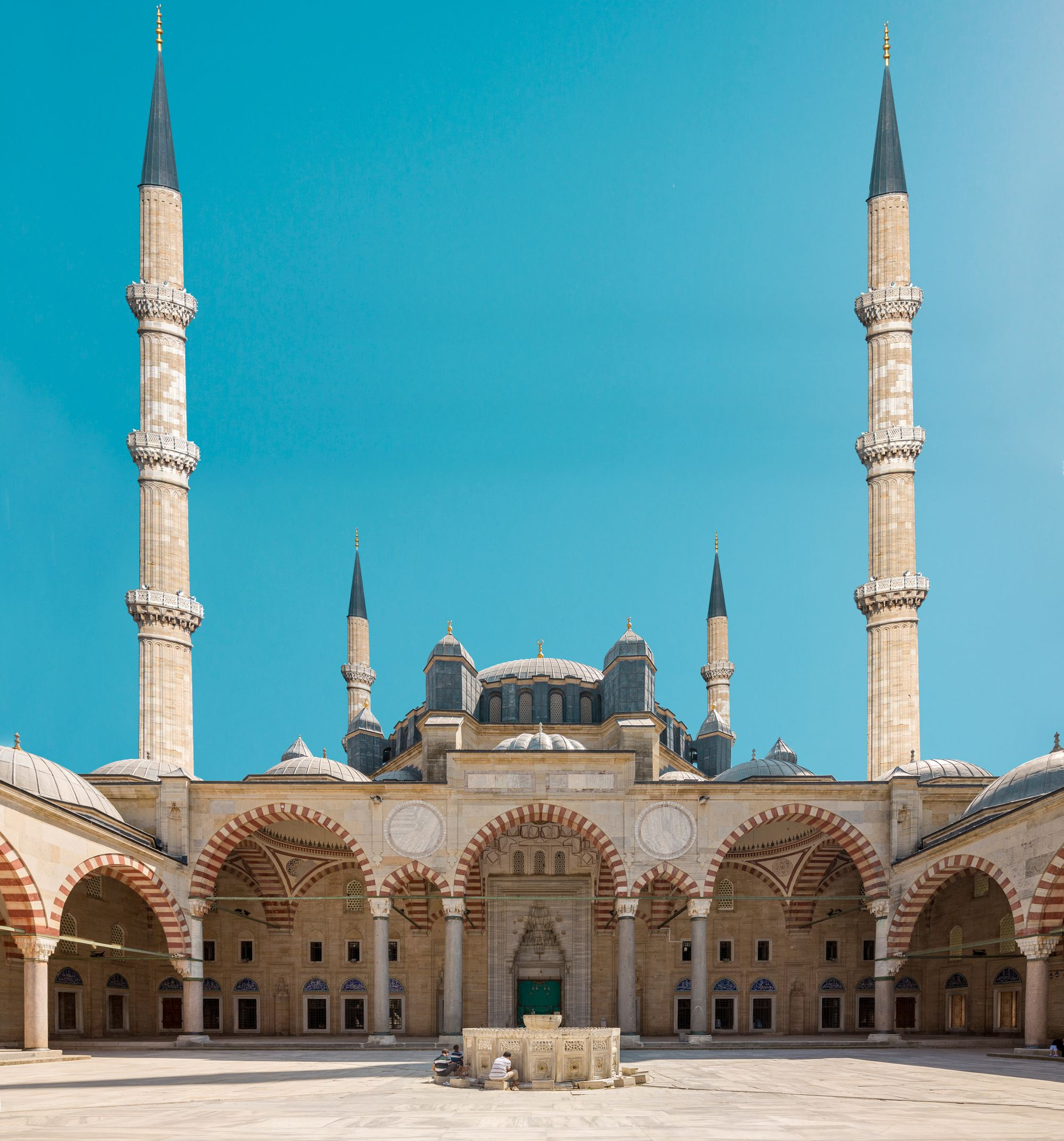 The city also boasts several other mosques, including the 14th-century Eski Cami (Old Mosque), known for its intricate tile work and its distinctively asymmetrical minaret arrangement. It has four minarets, two of which are situated at the entrance façade, while the other two flank the prayer hall. It was constructed between 1402 and 1414 under the patronage of Sultan Bayezid I. The mosque was designed by the renowned Ottoman architect, Hacı Alaaddin, and features a blend of Seljuk and early Ottoman architectural styles. The Üç Şerefeli Mosque built between 1438 and 1447, during the reign of Sultan Murad II, is another popular site with its impressive three minarets and beautiful courtyard.
For history-lovers, there are several museums and historical sites in Edirne. The Edirne Palace is a well-preserved Ottoman-era palace complex. The Balkan Wars Museum showcases the history of the Balkan Wars in the early 20th century, while the Museum of Turkish Islamic Art displays a collection of Islamic art and artefacts.
The city is famous for its Edirne-style fried lamb's liver (ciğer) with red onion salad. Visitors can enjoy halal food at nearby restaurants such as Cigerci Niyazi Usta or Lahmacun & Pidecisi.
In addition, Edirne is famous for its traditional Turkish baths (hamams). The Üç Şerefeli Hamamı is a fine example of Ottoman-era bathhouses and offers a range of treatments and therapies.
If you want to try a shorter or a longer route for your Sila Yolu across Germany to Türkiye, take a look at our other road trips: the direct route and the leisurely, southern route.
For more inspiring road trips or if you're looking for other travel options and ideas, visit our blog homepage.