Top 10 places to visit in Egypt
Everyone knows and loves Egypt as one of the most popular travel destinations in the world. Admire the pyramids in Cairo, visit some of the oldest mosques in the world, sail the Nile or discover ancient Egyptian artefacts in Upper Egyptian cities like Luxor and Aswan! As it is a Muslim country, it's needless to say all food is halal and many hotels booked through HalalBooking are alcohol free.
Egypt is an easy-to-reach destination as most major international airports fly to Cairo daily and many low-cost airlines fly to Sharm el-Sheikh from European cities. And the great thing is that an average journey from Europe takes no more than 4-5 hours, making Egypt a great short-haul destination.
Below are our top 10 most beautiful holiday destinations in Egypt, each with their own unique charm and diverse attractions, whether you're after a city break or relaxing on the beach overlooking the Red Sea or the Mediterranean.
1. Cairo
Home to over 20 million people, the capital of Egypt is a city that needs little to no introduction. With its centuries-old history, from the time of the pharaohs to the rise of Islam to the present day, Cairo is ideal for the halal-conscious visitor. Setting foot in Cairo is like stepping back in time through many centuries, from the ancient Egyptian era to the reign of the Ottoman Empire.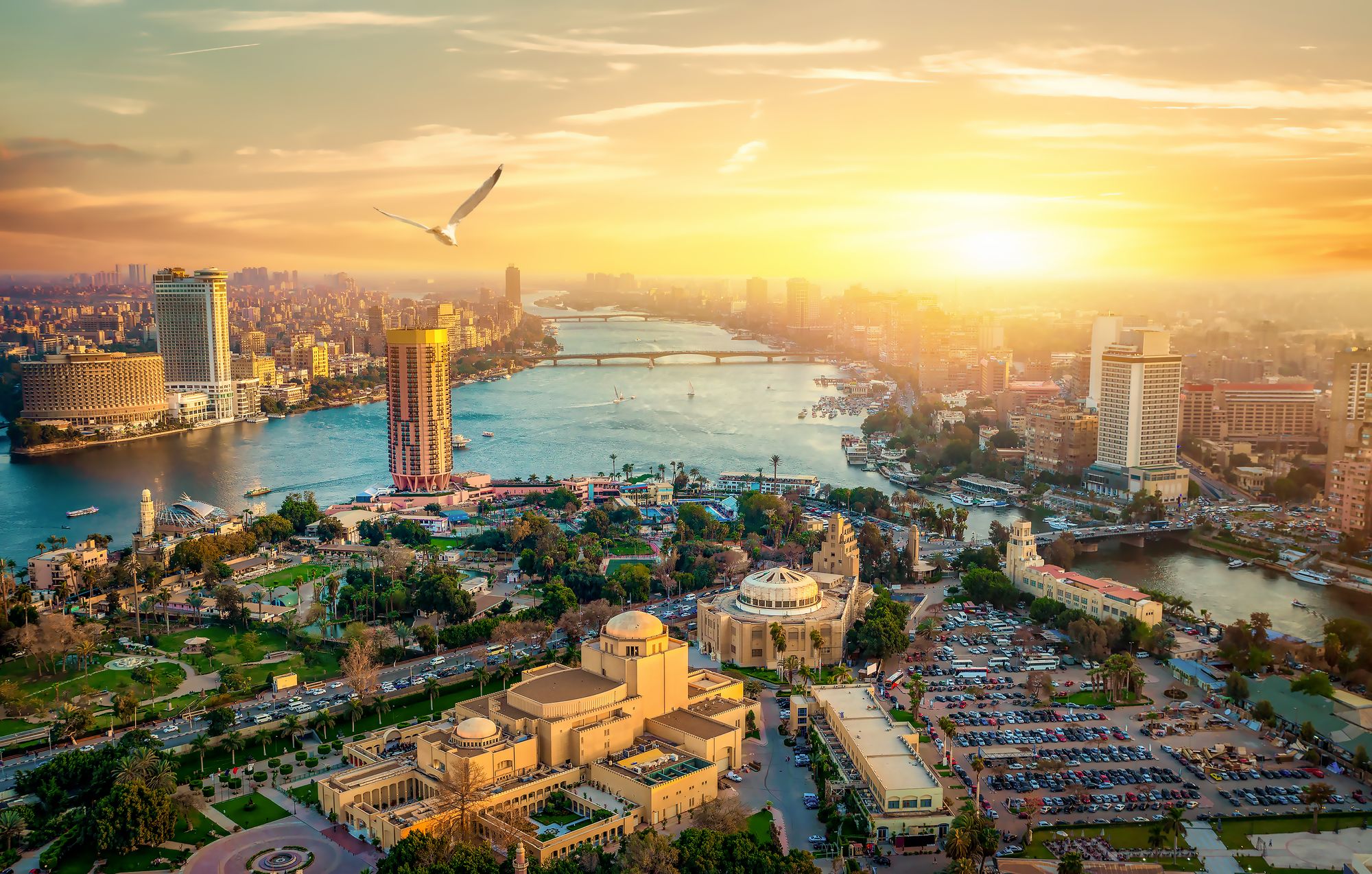 Top Cairo attractions
Giza Pyramids - The Pyramids of Giza are among the seven wonders of the ancient world. Visit the three pyramids and after a visit to the Valley Temple, embark on a camel caravan ride in the desert, then visit the Great Sphinx of Giza overlooking the scenic surroundings. Following that, make your way to Sakkara, Egypt's oldest cemetery, where you can see the world's first monumental stone building, the Step Pyramid of King Zoser. Discover one of the magnificent Mastabas (burial chamber) of either Ptah Hotep, Idut or Mereruca.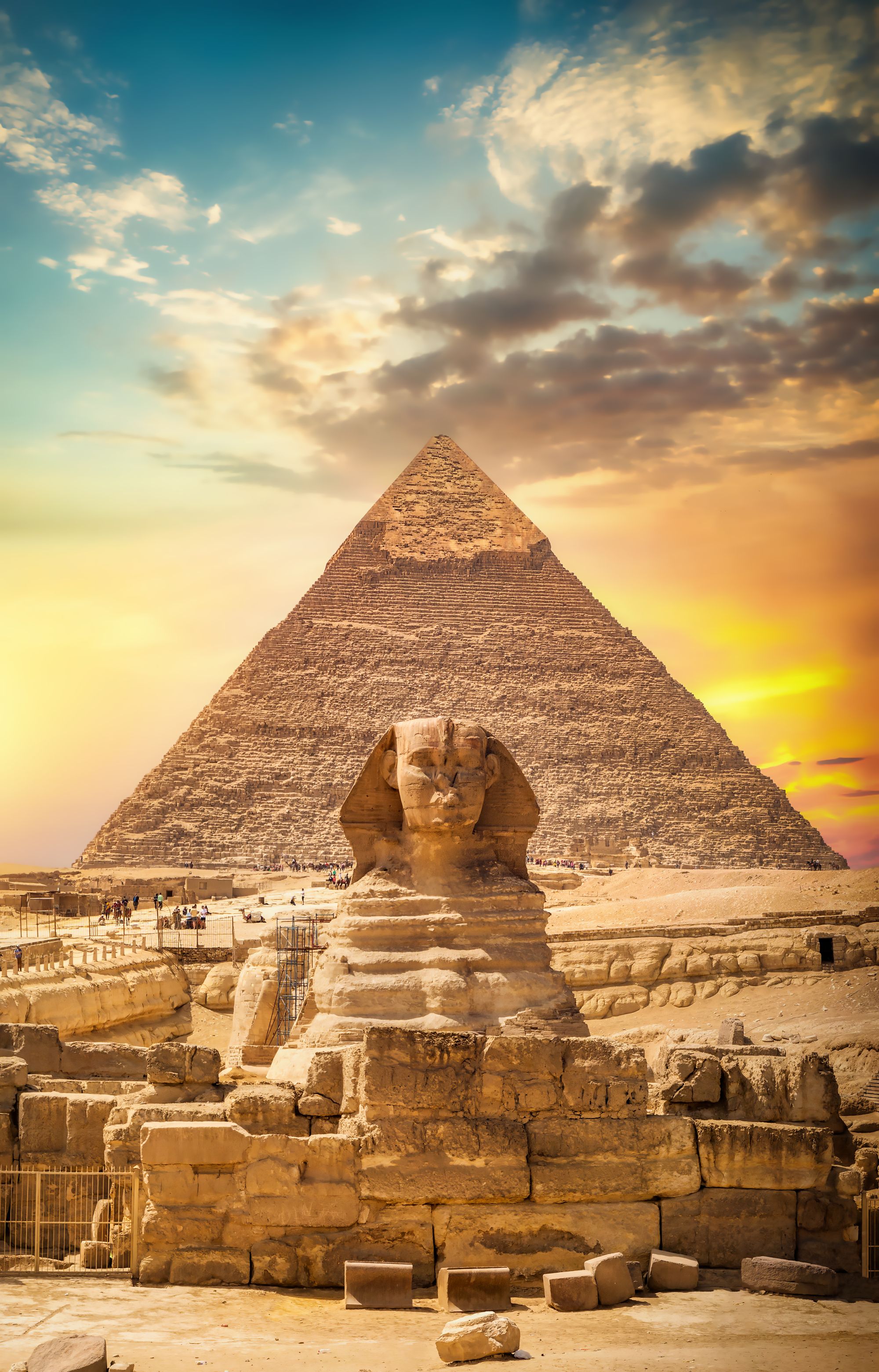 Cairo Tower - The free-standing concrete tower, Cairo's second most popular attraction after the pyramids, overlooks the Cairo countryside along the Nile. From the top, you can enjoy a 360 view of the city where on a clear day you can even see the Pyramids.
Al-Azhar University - Dating back to 970, Al-Azhar University is one of the world's oldest educational institutions. The original size of Al-Azhar was half what it is today, as many additions and restorations have been made throughout Egypt's different eras. During the fighting between the French and the British occupation, Al-Azhar played a significant role in shaping the history of Egypt.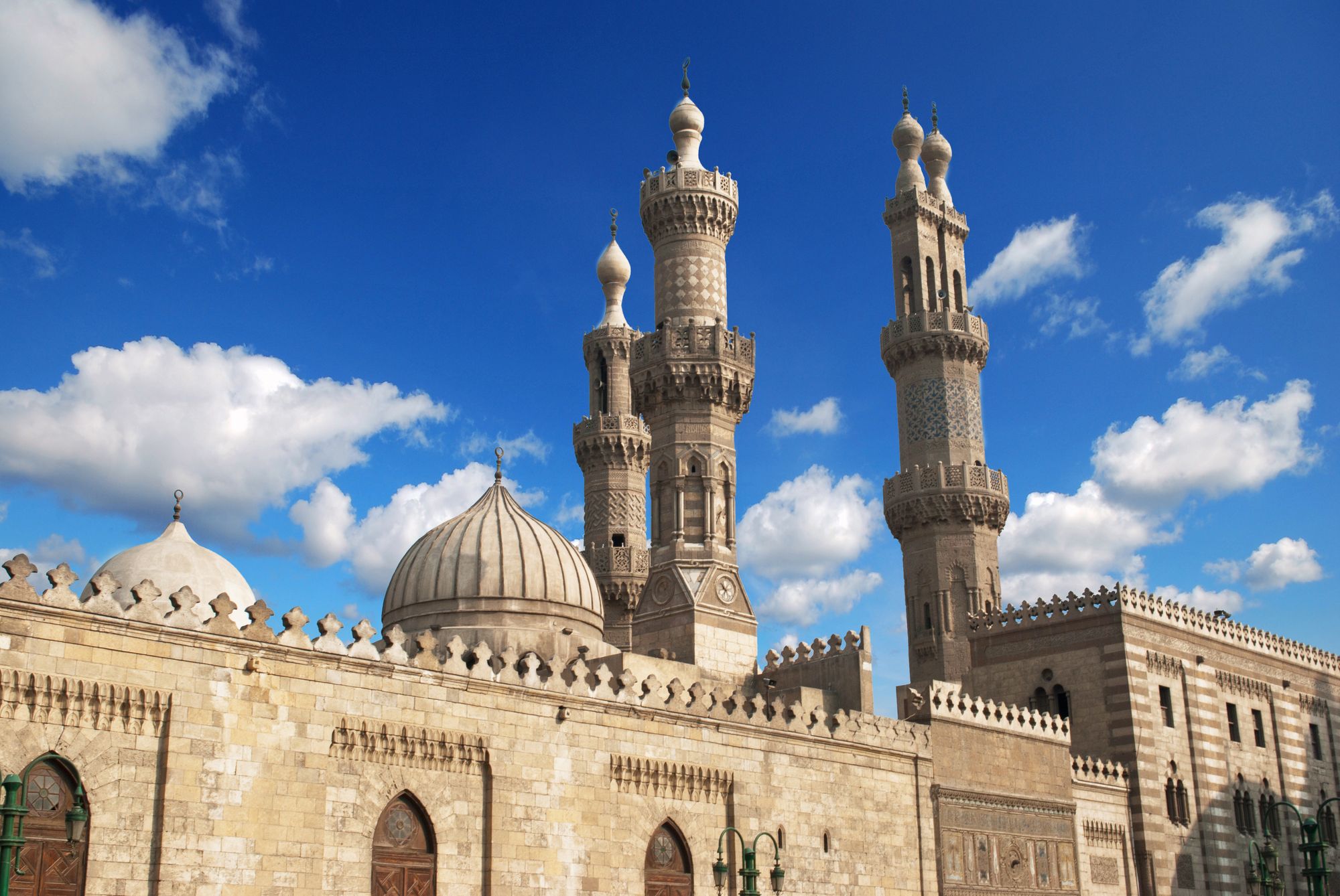 Manial Palace Museum - The museum depicts an important period in the history of modern Egypt and reconciles a number of Islamic architectural traditions. It is characterised by its architectural modern Islamic design, merging with Persian and Mamluk elements and inspired by Syriac, Moroccan, Andalusian and Ottoman motifs.
Museum of Islamic Art - Renowned for having some of the world's greatest collections of work, with exceptional exhibits of rare woodwork and plaster artefacts, as well as metal, ceramic, glass, crystal and textile objects of all periods from all over the Islamic world.
Where to pray in Cairo
Mohammed Ali Mosque - Also known as the Alabaster Mosque, it was commissioned  in the Ottoman era in the 19th century and is the most famous mosque in Cairo as it sits on the citadel overlooking the city. The mosque was built between 1830 and 1848 and was commissioned by Muhammad Ali Pasha, the erstwhile ruler of Egypt.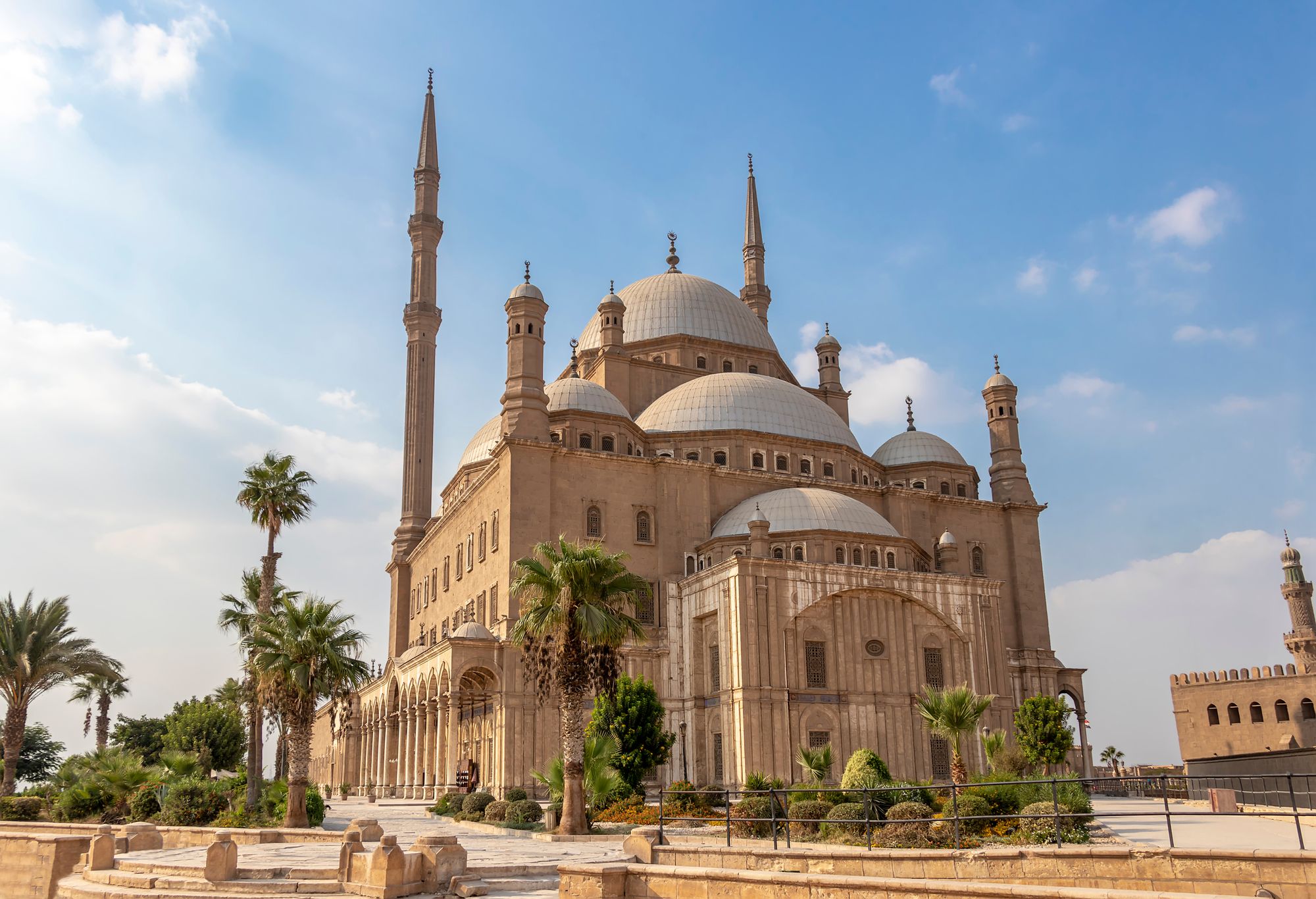 Imam Hussein Mosque - Located in the heart of Islamic Cairo, the Imam Hussein Mosque is famous for containing the oldest complete manuscript of the Holy Quran in the world. Built in 1154, it is next to the famous Khan el-Khalili Bazaar, where merchants have sold their wares since the 14th century.
Discover all our halal-friendly properties in Cairo.
2. Alexandria
Known by locals as the "Bride of the Mediterranean" or Iskanderia, Alexandria is named after Alexander the Great, who founded the city in 331 BC. Explore the historical and cultural sights, stroll along the Corniche and enjoy delicious seafood dishes in restaurants overlooking the sea.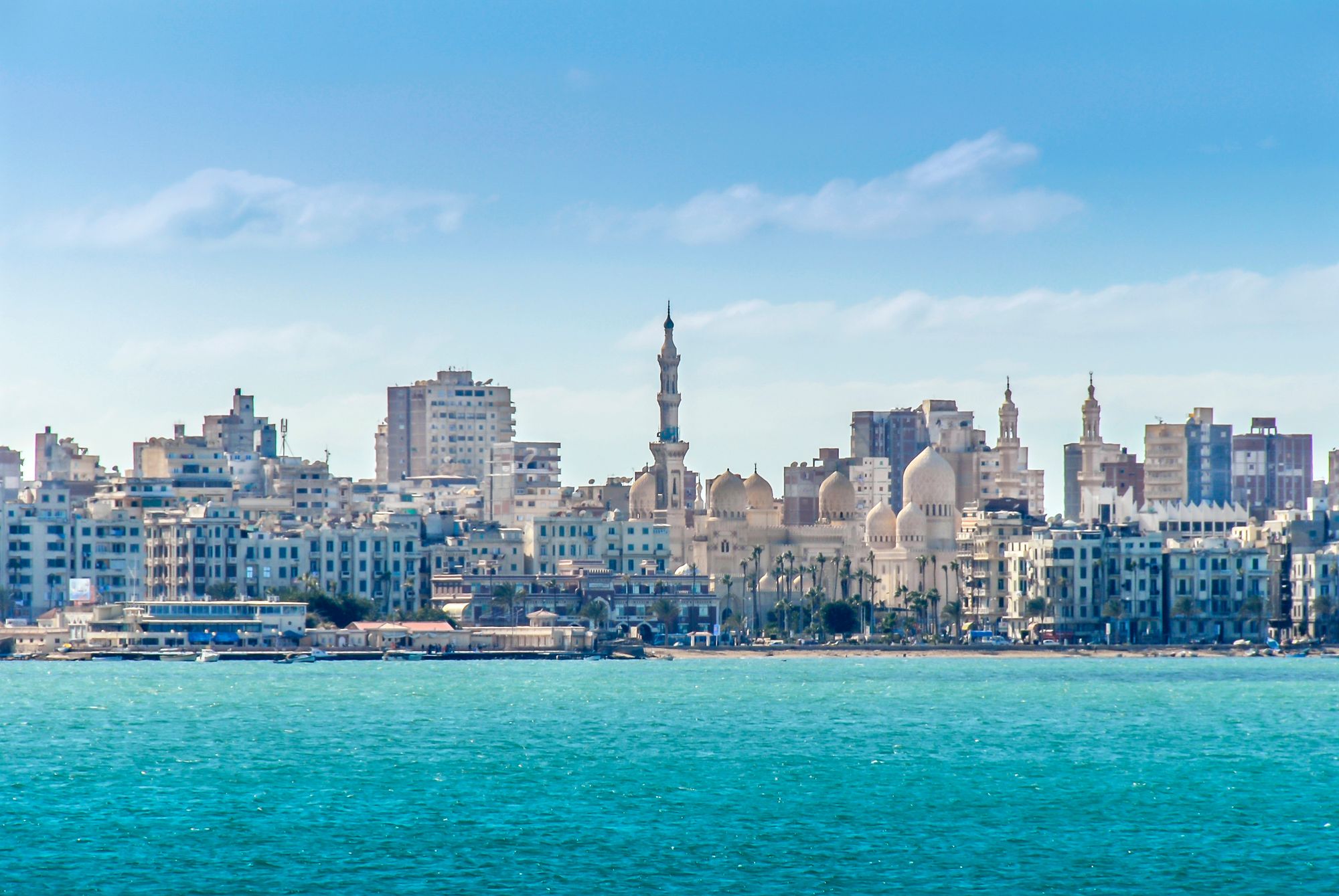 Top Alexandria attractions
Citadel of Qaitbay - The Citadel of Qaitbay is a 15th-century fort built by Mamluk Sultan Qaitbay to defend the city of Alexandria from the Crusaders. It is a large, imposing fortification with high walls and numerous towers with a long and eventful history. It has been described as "one of the most impressive mediaeval fortifications in the world" having been involved in several battles and sieges over the centuries. Today, it is a World Heritage Site and one of Alexandria's most popular tourist attractions.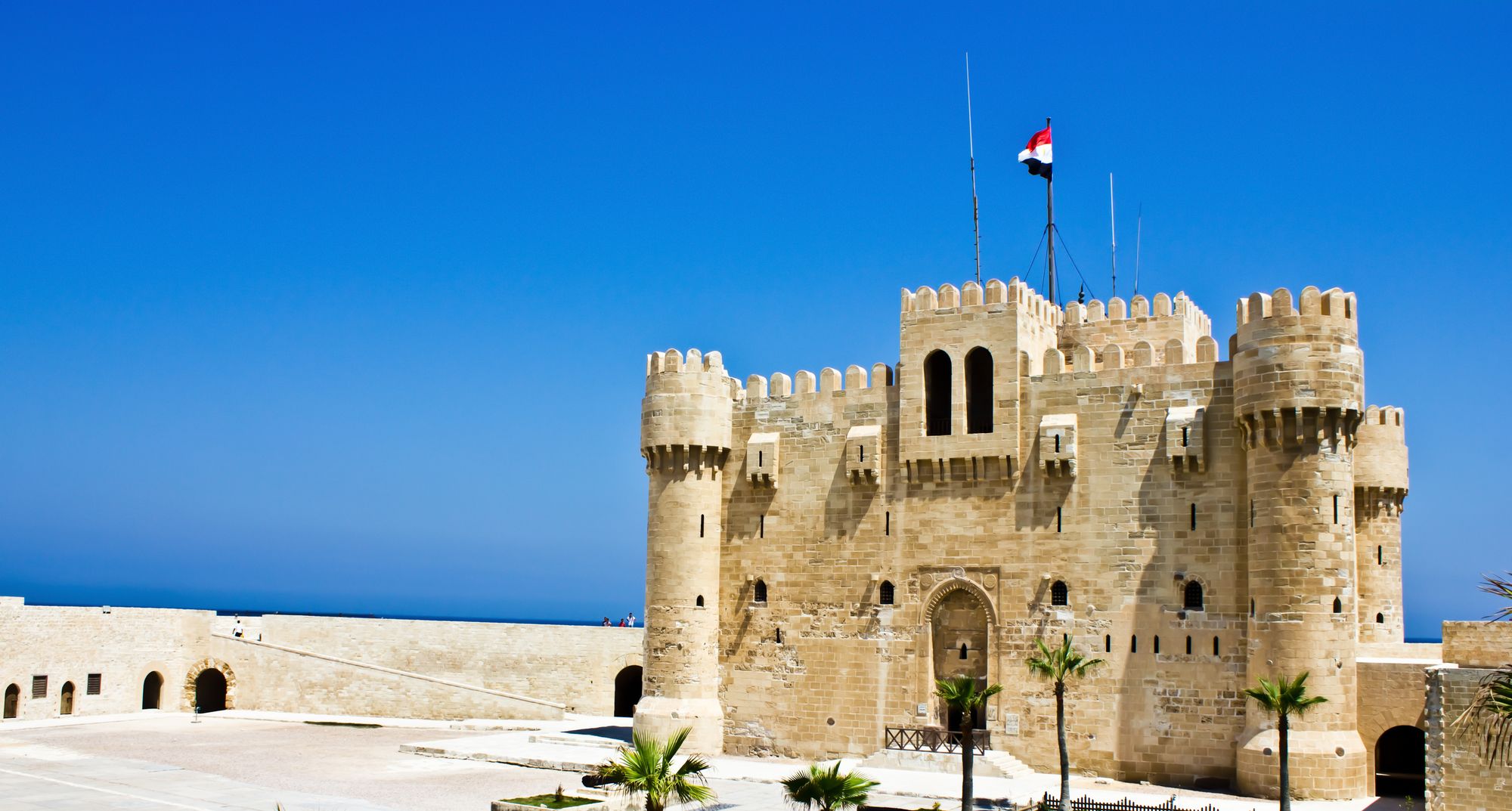 Library of Alexandria - Opened in 2002, this stunning piece of modern architecture is a conscious attempt to rekindle the brilliance of the original centre of learning and culture. The complex has become one of Egypt's major cultural venues and a stage for numerous international artists, and is home to a collection of brilliant museums. There are four specialised libraries and a huge array of other attractions such as four permanent museums, a planetarium, a conference centre, a range of temporary and permanent exhibitions, and a full schedule of events.
Lighthouse of Alexandria - One of The Seven Wonders of the Ancient World, with a height somewhere between 390 feet and 450 feet, the Lighthouse of Alexandria (also called the Pharos of Alexandria) was one of the tallest man made structures on earth for many centuries. Built in the third century BCE by the Ptolemaic Kingdom in Hellenistic Egypt, and designed by Greek architect Sostratos, it was used to help guide ships in and out of the Nile River harbour. Three earthquakes led to its destruction and the remains were used to build the Citadel of Qaitbay in its place in the 13th century.
Roman Amphitheatre - This large circular Roman theatre is the only one of its kind in the country. Though often referred to as an amphitheatre, the site is actually more of a small Roman theatre than a larger sporting arena. Its original marble seating, which can still be seen today, offered space for around 700 people.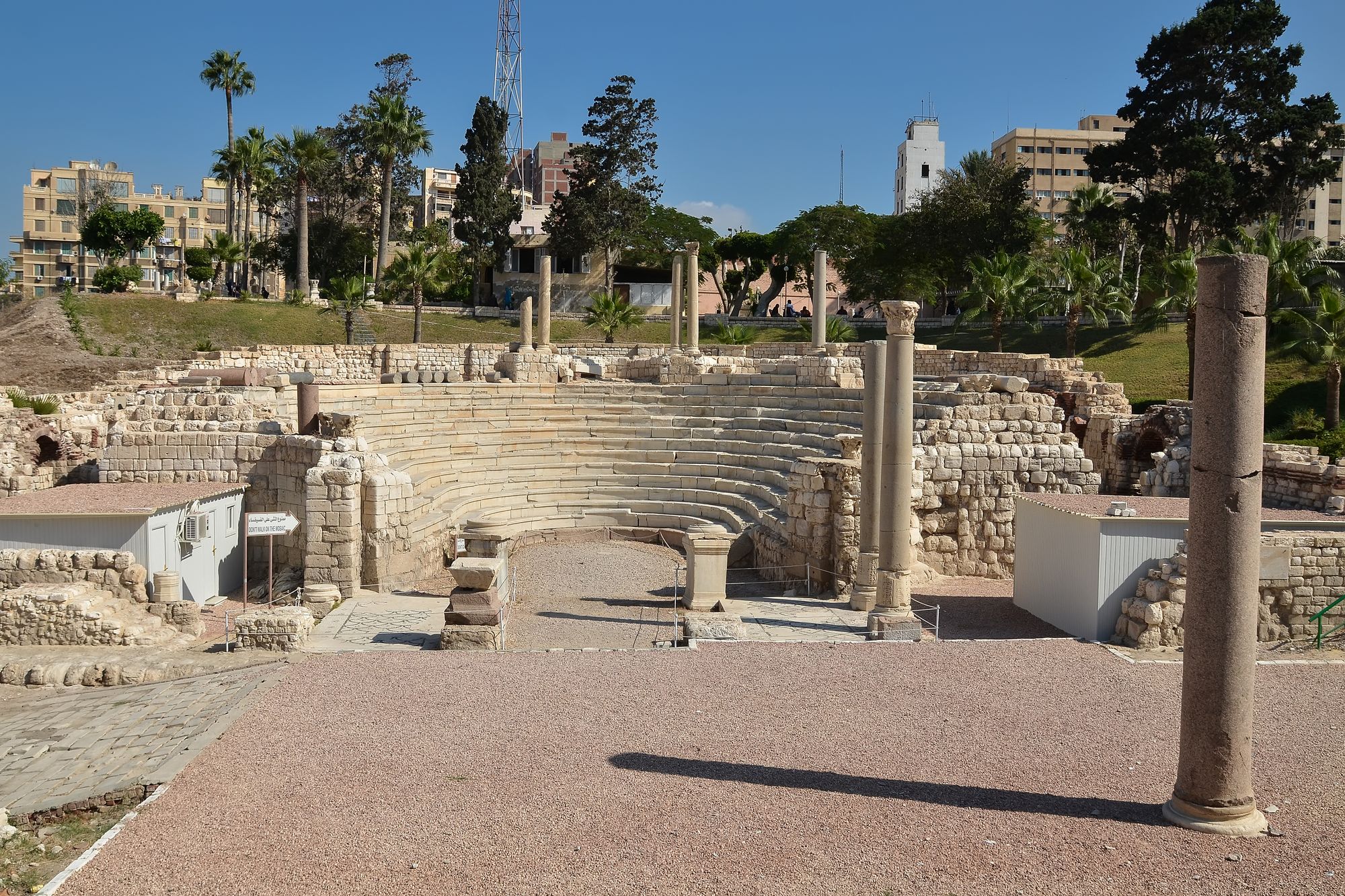 Montazah Palace & Gardens - Located east of central Alexandria, the Montazah Palace Gardens stretch along the coast and around Montazah Palace, offering beaches, avenues of palm trees and an ornate pink bridge, as well as manicured lawns and flower beds. The 19th-century Montazah Palace is closed to the public.
Where to pray in Alexandria
Abu al-Abbas al-Mursi Mosque - With four domes, arabesque designs and a high minaret, Abu Al-Abbas Al-Mursi is Alexandria's largest mosque. It was built in 1775 to commemorate the life of an Andalusian Sheikh that was buried on the site.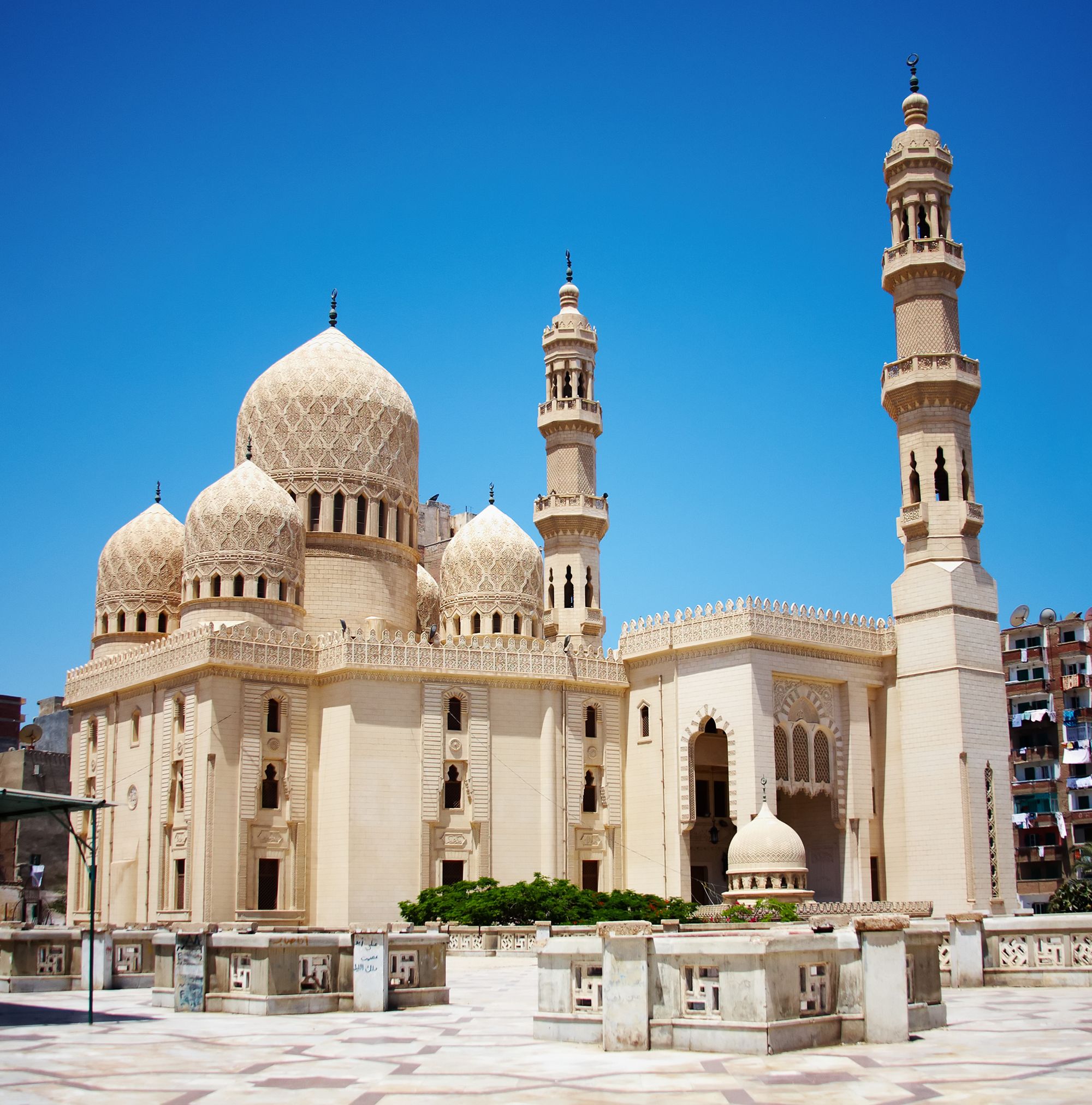 El Qaed Ibrahim Mosque - This historic mosque was built in 1948 during the reign of King Farouk to commemorate the 100th anniversary of the death of Ibrahim Pasha, a general in the Egyptian army and the eldest son of Muhammad Ali.
Discover all our halal-friendly properties in Alexandria.
3. Hurghada
Once a small fishing village and now popular with all holiday makers worldwide, Hurghada stretches about 20 km along the Red Sea. The seaside resort is ideal for snorkelling, diving and enjoying the beach, a paradise for sun lovers with many beach resorts and hotels to choose from.

Top Hurghada Attractions
Hurghada Marina - Hurghada marina is a pleasant, car-free place to stroll, especially in the evening. Admire the many huge yachts or sit in one of the many restaurants and enjoy the sea breeze.
Gota Abu Ramada - Located 5 km south of the Giftun Islands, Gota Abu Ramada is a popular spot for underwater photographers, snorkelers and night divers with an abundance of marine life.
Giftun Islands - Among the closest islands to Hurghada, Giftun Islands form part of a marine reserve and are surrounded by a number of spectacular reefs teeming with marine life.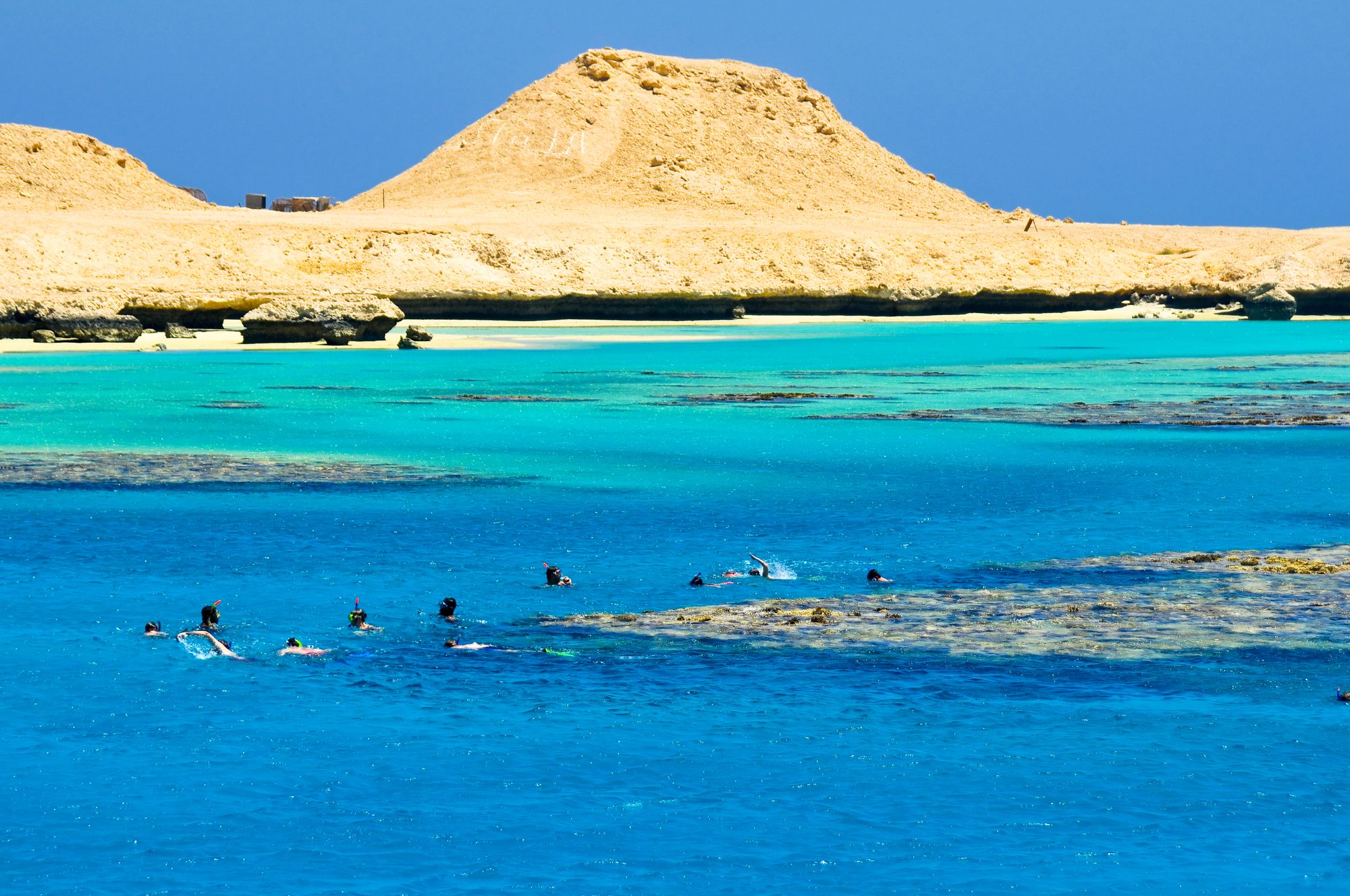 Submarine Tour - Out of only 14 recreational submarines worldwide, two are in Hurghada, ready to take you on an unforgettable journey 25m below sea level. Explore 500 metres of breathtaking coral reef and meet the fascinating sea creatures of the Red Sea.
Where to pray in Hurghada
El Mina Mosque - A unique architectural monument built in the heart of old Hurghada directly on the sea right next to Hurghada Marina.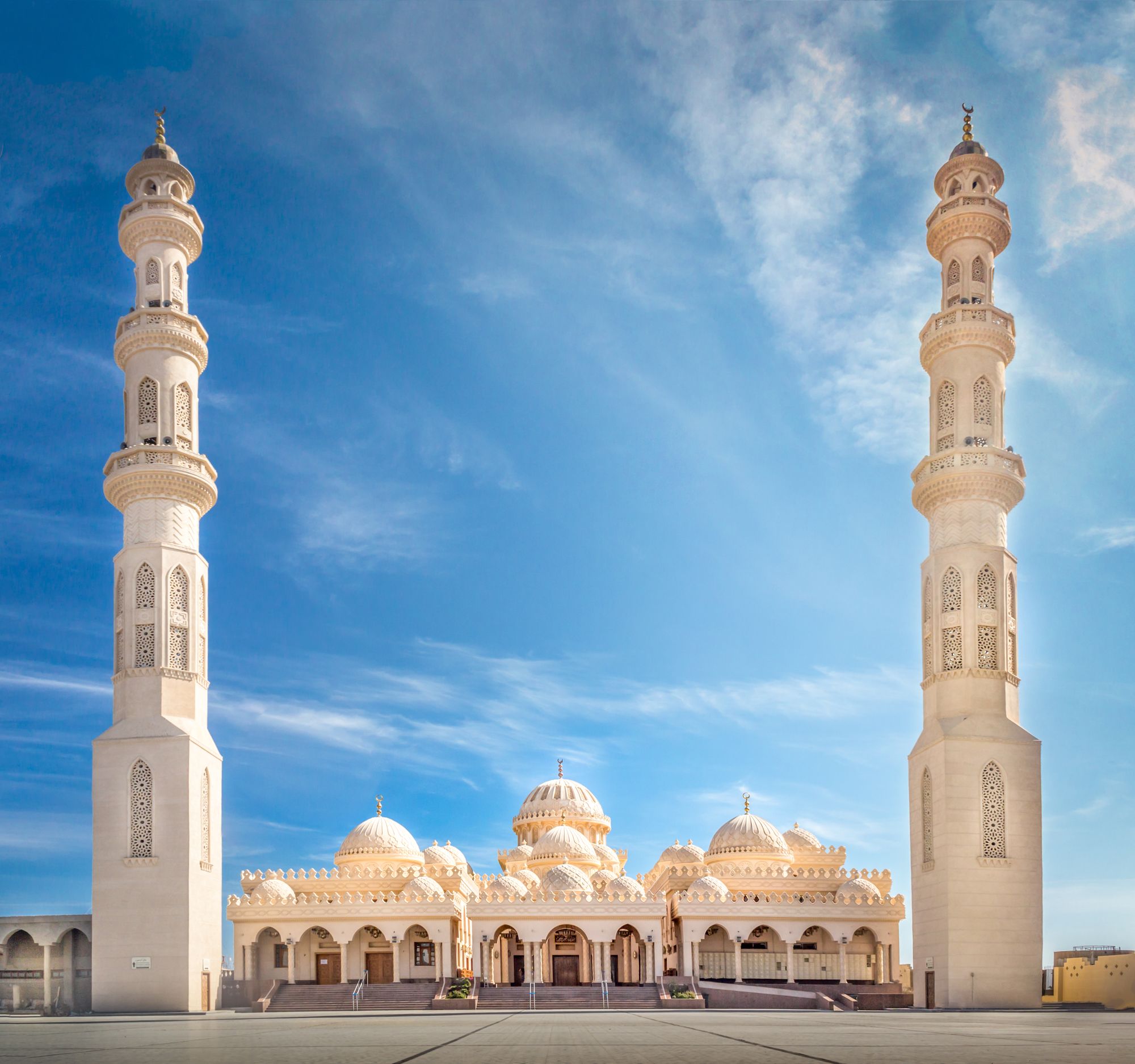 Abdel-Moneim Riad Mosque - Named after the Egyptian military hero Abdul Munim Riad, the Abdel-Moneim Riad Mosque was constructed in the early '70s, not long after he was killed in action.
Discover all our halal-friendly properties in Hurghada.
4. Sharm el-Sheikh
Perfectly situated by the Red Sea in the Sinai Peninsula, Sharm el Sheikh is another extremely popular destination for holiday makers, especially from Europe. There are resorts, hotels, beaches and activities on land and sea galore, meaning one thing: you won't get bored!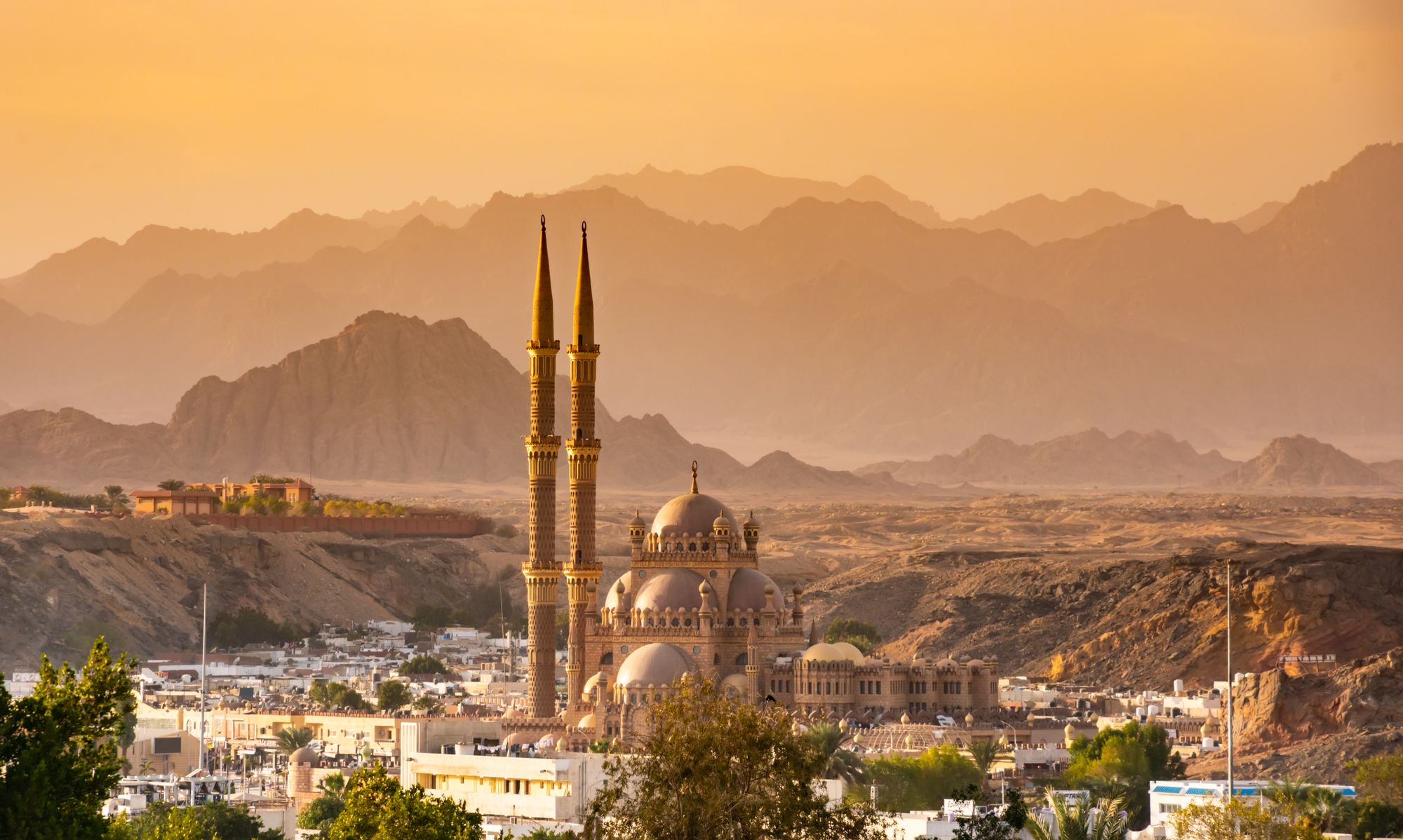 Top Sharm el-Sheikh attractions
Ras Mohammed National Park  - Go snorkelling in one of the most beautiful coral reefs in the world. Marvel at the 1000 species of Red Sea fish that can be seen in the park's waters, including coveted pelagics such as hammerheads, manta rays and whale sharks.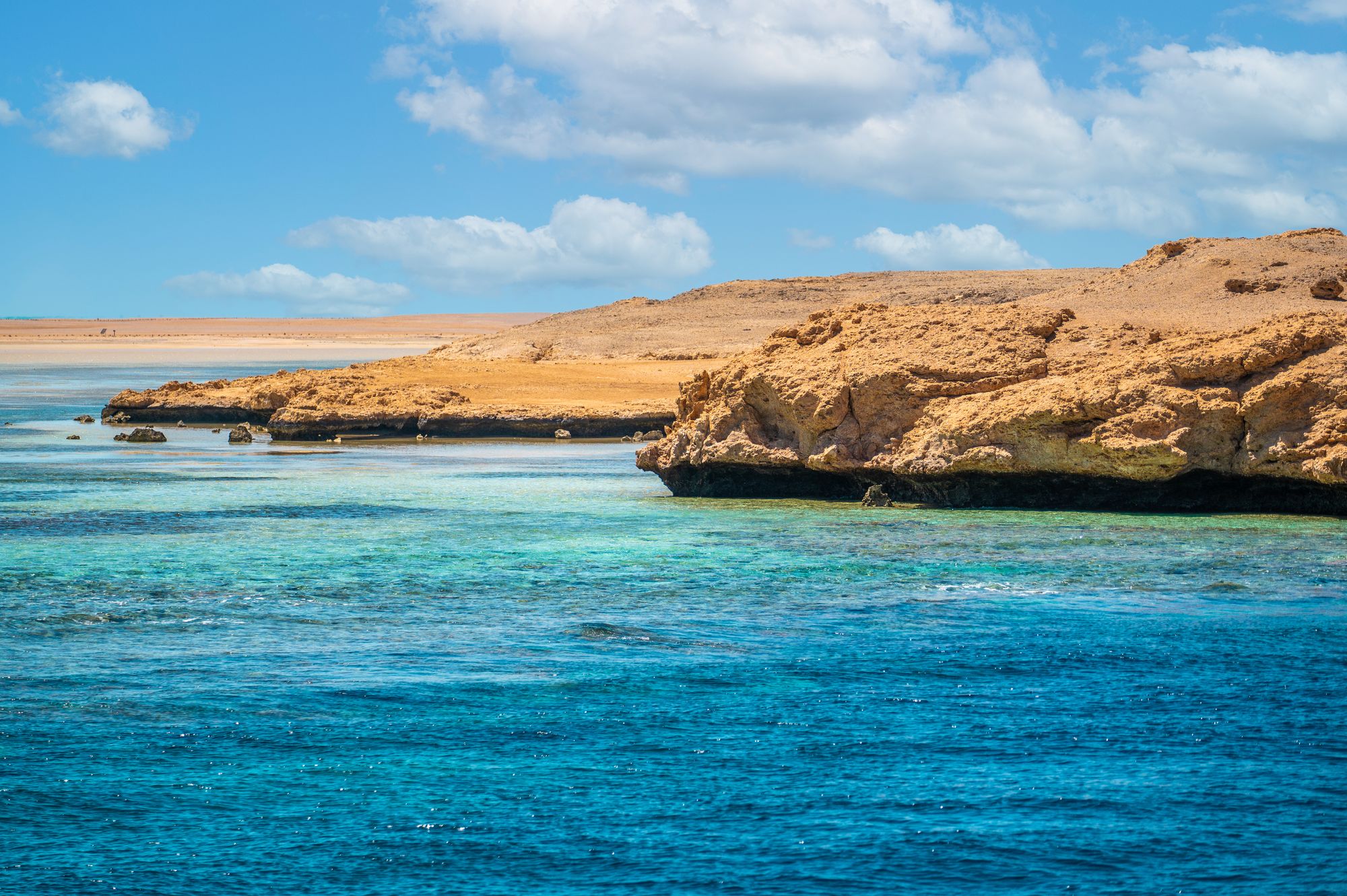 Na'ama Bay  - This natural bay is considered the main hub for tourists in the city, famous for its cafes, restaurants, hotels and bazaars. It's conveniently located just 5 minutes drive from the historic Old City and 5 minutes from the International Airport.
Soho Square - Soho Square is a shopping and entertainment complex suitable for all ages. Catch a show at Culturama, take a whirl on the ball pit and slides at the Kids' Zone, and snag a souvenir at the souk-style Khan El-Khalili Bazaar.
Shark's Bay Beach - With warm waters and clear skies, this beautiful cove about 7 km north of Sharm el Sheikh is among that area's most popular offering diving opportunities with a fantastic reef housing multicoloured fish and corals!
Where to pray in Sharm el-Sheikh
Al Mustafa Mosque - With a mixture of Ottoman and Mamluk architecture, the Al-Mustafa Mosque is one of the most beautiful mosques in Sharm el-Sheikh and a true landmark complex of Egypt's premier tourist spot.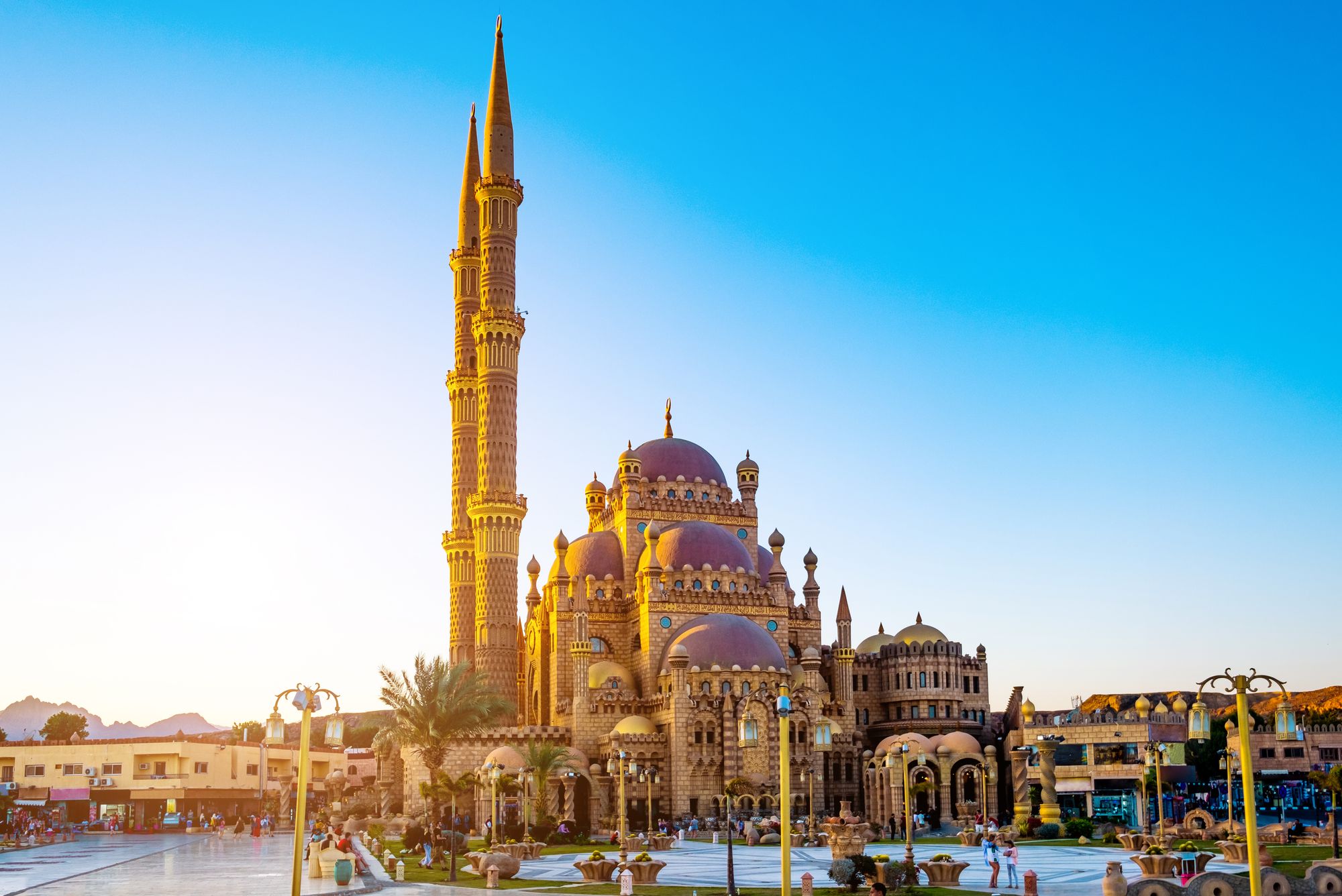 Al Sahaba Mosque - Considered the most important mosque built within the decade in the Sinai Peninsula, this mosque has grown in popularity with tourists and photographers due to its Ottoman architecture.
Discover all our halal-friendly properties in Sharm el-Sheikh.
5. Sinai Peninsula
Located on the Middle Eastern side of Egypt, the Sinai Peninsula has a lot to offer both by sea and land. Whether you are in Sharm el-Sheikh or elsewhere on the peninsula, there are many important Islamic sites to explore.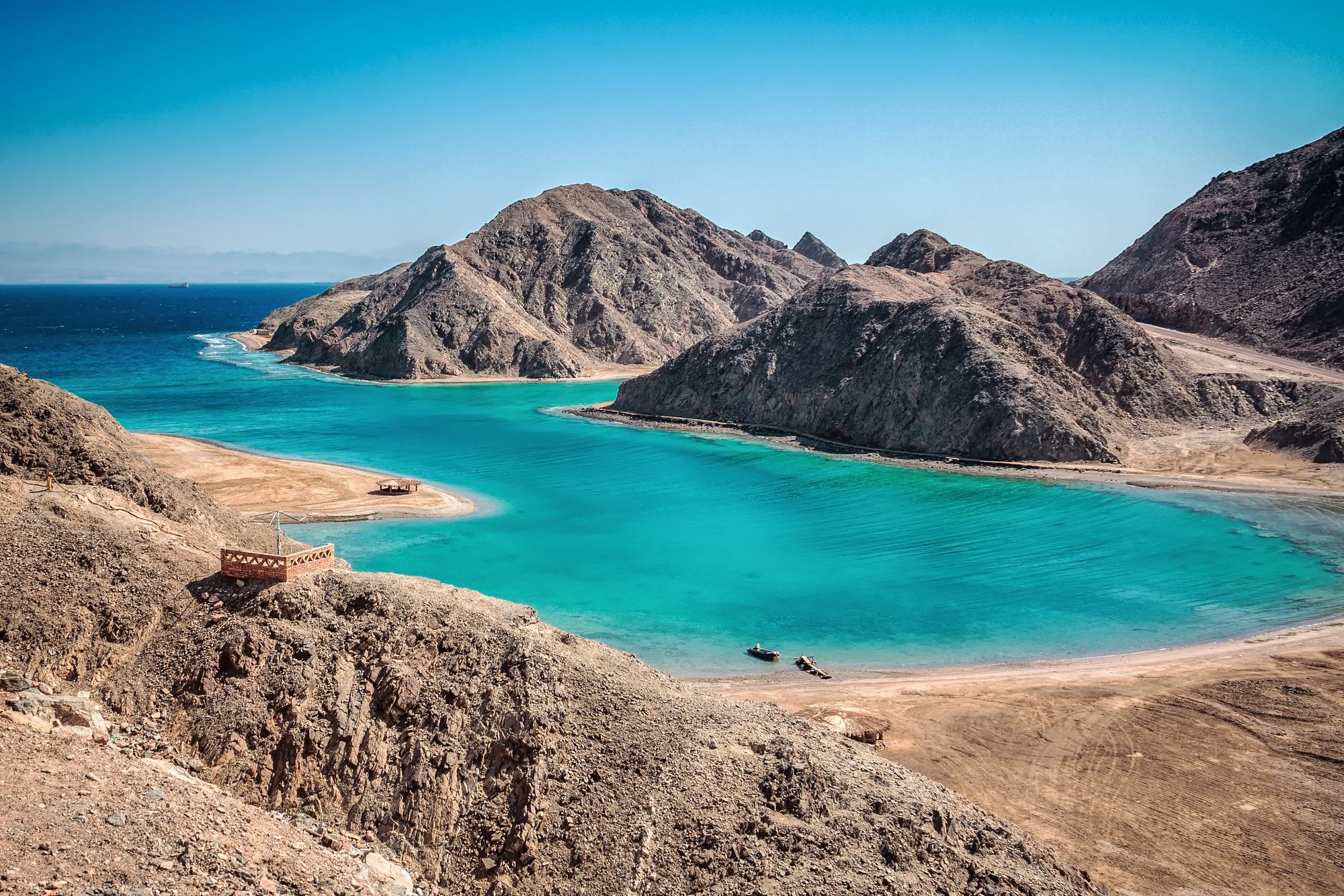 Top Sinai Peninsula attractions
Mount Sinai - Climb Mount Sinai early in the morning and follow the footsteps of Musa (AS) to the place where he received the Ten Commandments from Allah (SWT). At the summit you will witness the most spectacular sunrise you have ever seen.
St. Catherine's Monastery - The Monastery of St Catherine stands at the foot of Mount Sinai where Moses received the Tablets of the Ten Commandments from Allah (SWT). This UNESCO World Heritage Site is respected by Muslims, Christians and Jews.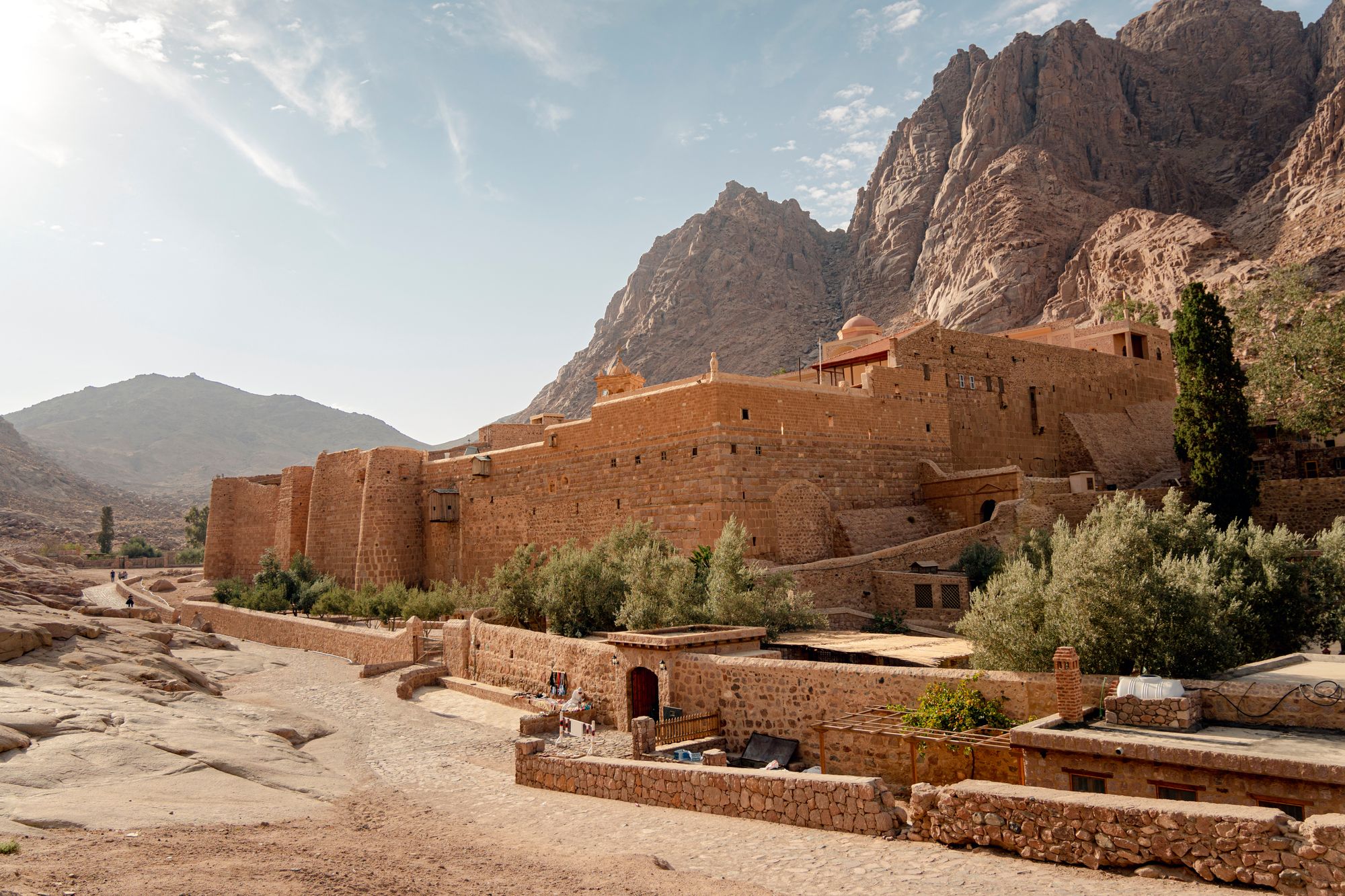 Burning Bush - The site of the Burning Bush next to St. Catherine's Monastery depicts the bush being on fire, but was not consumed by the flames as was seen by Musa (AS).
Sinai Desert Tour - Local Bedouin guides lead you through a fascinating world of silence and beauty between canyons, valleys, oases, sand dunes, mountains, rock formations and endless landscapes that go back many thousands of years.
Where to pray in Sinai Peninsula
Fatimid Mosque - Built in the 11th century during the reign of the Fatimid Caliph al-Amir bi-Ahkam Allah, this mosque inside the St Catherine's monastery was the fruit of the harmonious relationship between Muslims and Christians.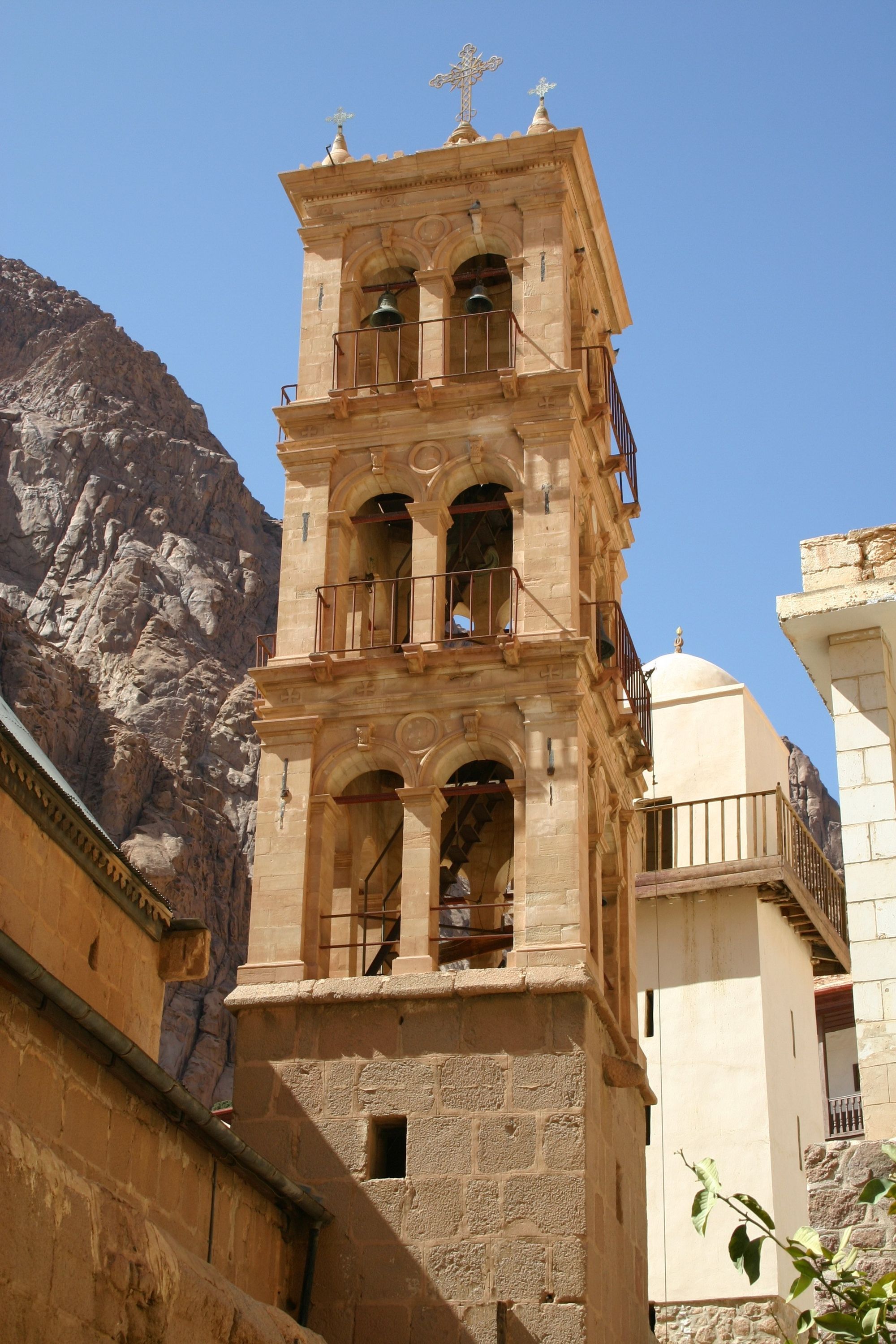 Mount Sinai Mosque - A small square Fatimid mosque located on Mount Sinai. Its original construction probably dates from the early 12th century.
Discover all of our halal-friendly properties in the Sinai Peninsula.
6. Luxor
Located in Upper Egypt along the River Nile, Luxor is often cited as the world's greatest open-air museum. Nothing in the world compares to the splendour and grandeur of the monuments that have survived from ancient Thebes. The setting is breathtakingly beautiful, the Nile flowing between the modern city and the west bank.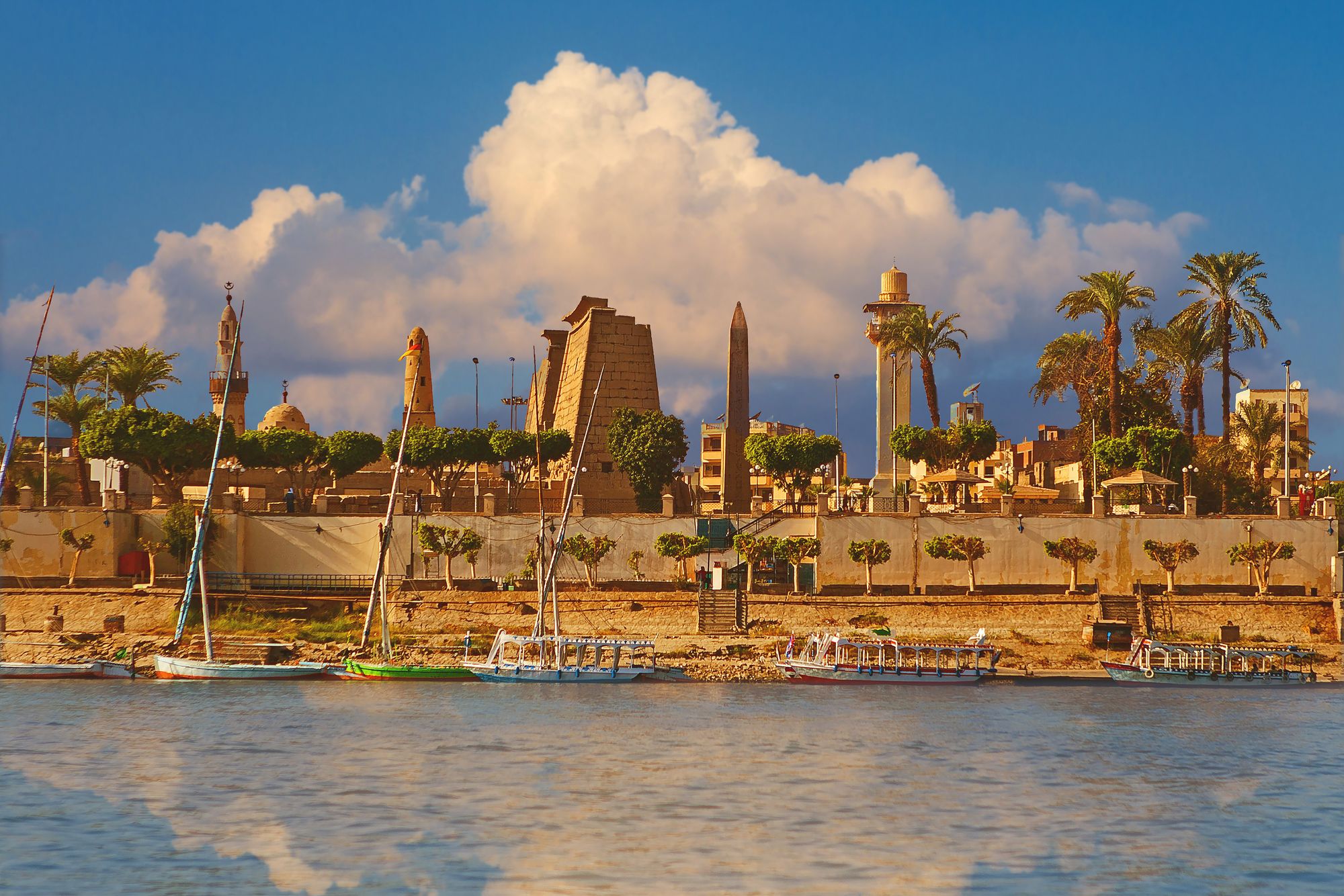 Top Luxor Attractions
Valley of the Kings - The Valley of the Kings, also known as the Valley of the Gates of the Kings, is a valley where over a period of nearly 500 years from the 16th to 11th centuries BC, rock-cut tombs were excavated for the pharaohs and powerful nobles of the New Kingdom.
Luxor Temple - This large Ancient Egyptian temple complex is located on the east bank of the Nile River and was constructed approximately 1400 BCE. In the ancient Egyptian language it was known as "ipet resyt", "the southern sanctuary".

Karnak Temple - The Karnak temple complex comprises a vast mix of decayed temples, pylons, chapels and other buildings. Construction at the complex began during the reign of Senusret I in the Middle Kingdom and continued into the Ptolemaic Kingdom.
Hatshepsut Temple - This famous temple is dedicated to the longest ruling female of Ancient Egypt, Queen Hatshepsut. It is decorated with statues, sphinxes, and reliefs, which have been meticulously restored over time.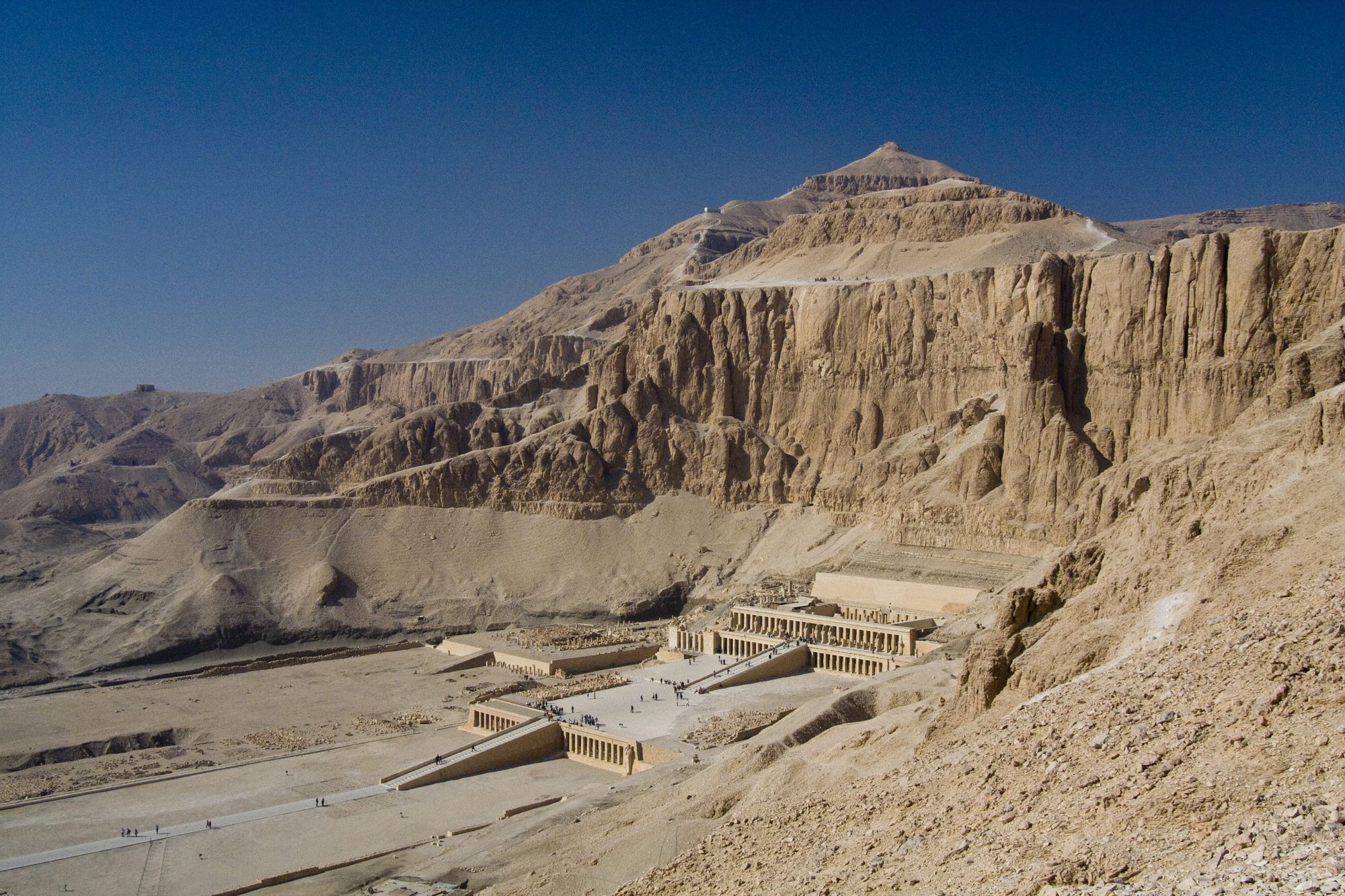 Where to pray in Luxor
Abu Haggag Mosque - The Abu Haggag Mosque is located on Luxor's East Bank, in the first court of the ancient Luxor Temple complex, an Ancient Egyptian centre of worship. It is integrated into the structure of Luxor Temple, making it one of the oldest continuously used temples in the world.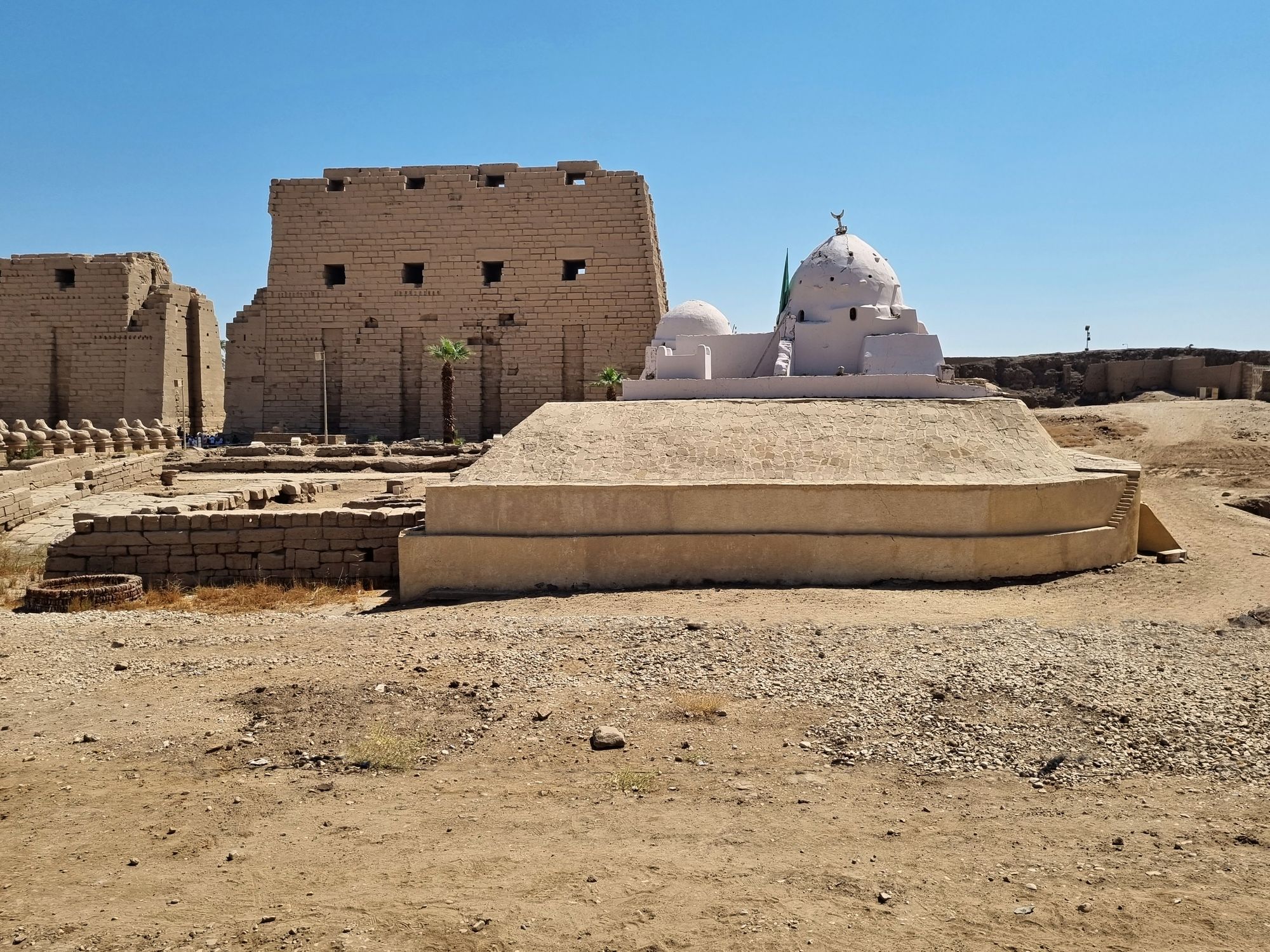 El-Mekashkesh Mosque - The oldest mosque in Luxor, dating back to the 10th century, is said to house the remains of a Christian saint who converted to Islam, some churches and the Coptic basilica.
Discover all our halal-friendly properties in Luxor.
7. Aswan
Being one of the most interesting places in Egypt, this oasis on the Nile in Upper Egypt offers picturesque landscapes of the Nile Valley, shores dotted with palm trees, important archaeological sites and a peaceful aura.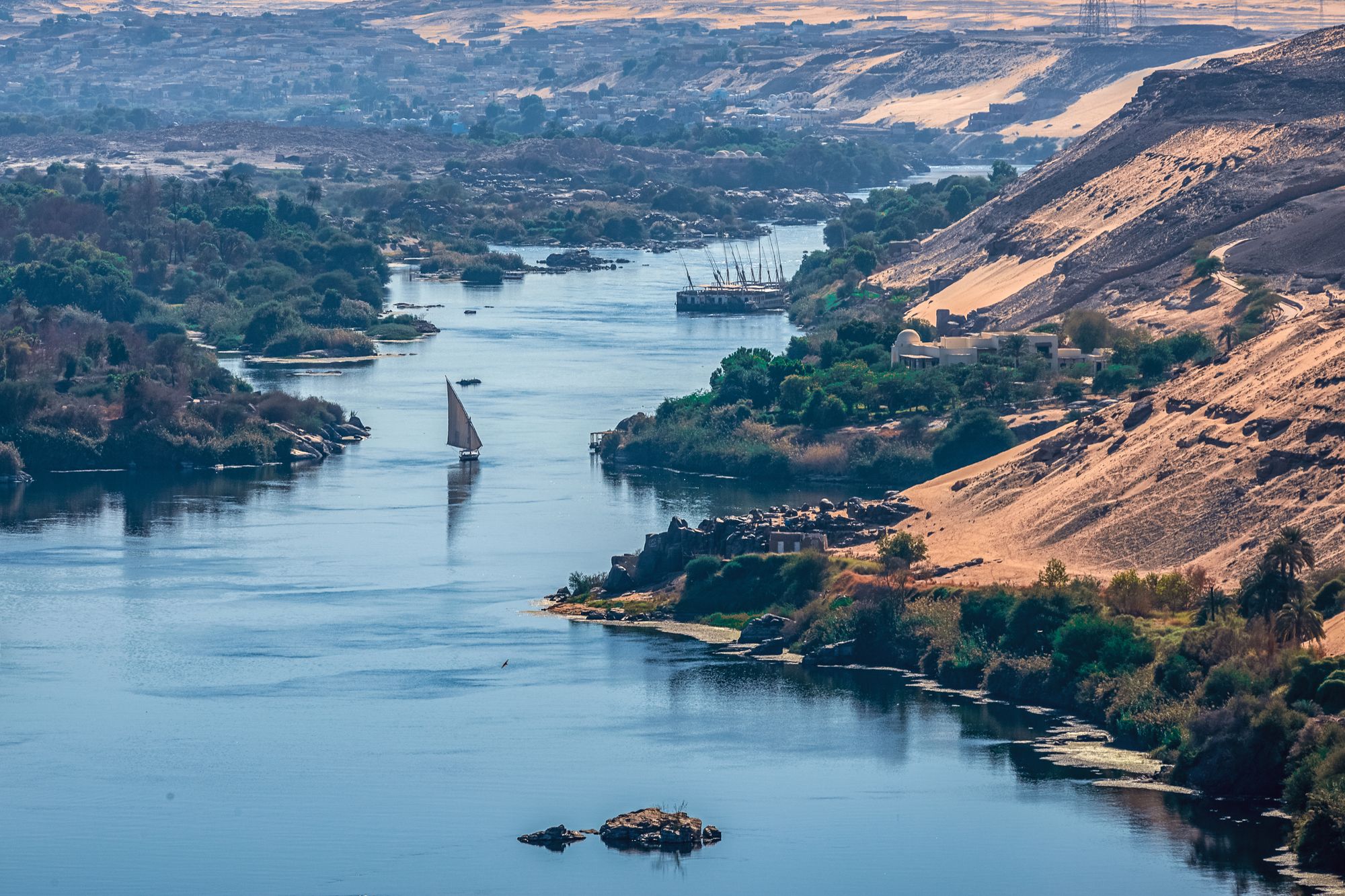 Top Aswan attractions
Abu Simbel - The Great Temple of Abu Simbel in Nubia is among Egypt's most impressive monuments. It was carved in the living rock by King Ramesses II of the 19th Dynasty around 1264 BC and is best known for the four imposing seated colossal statues that dominate its façade.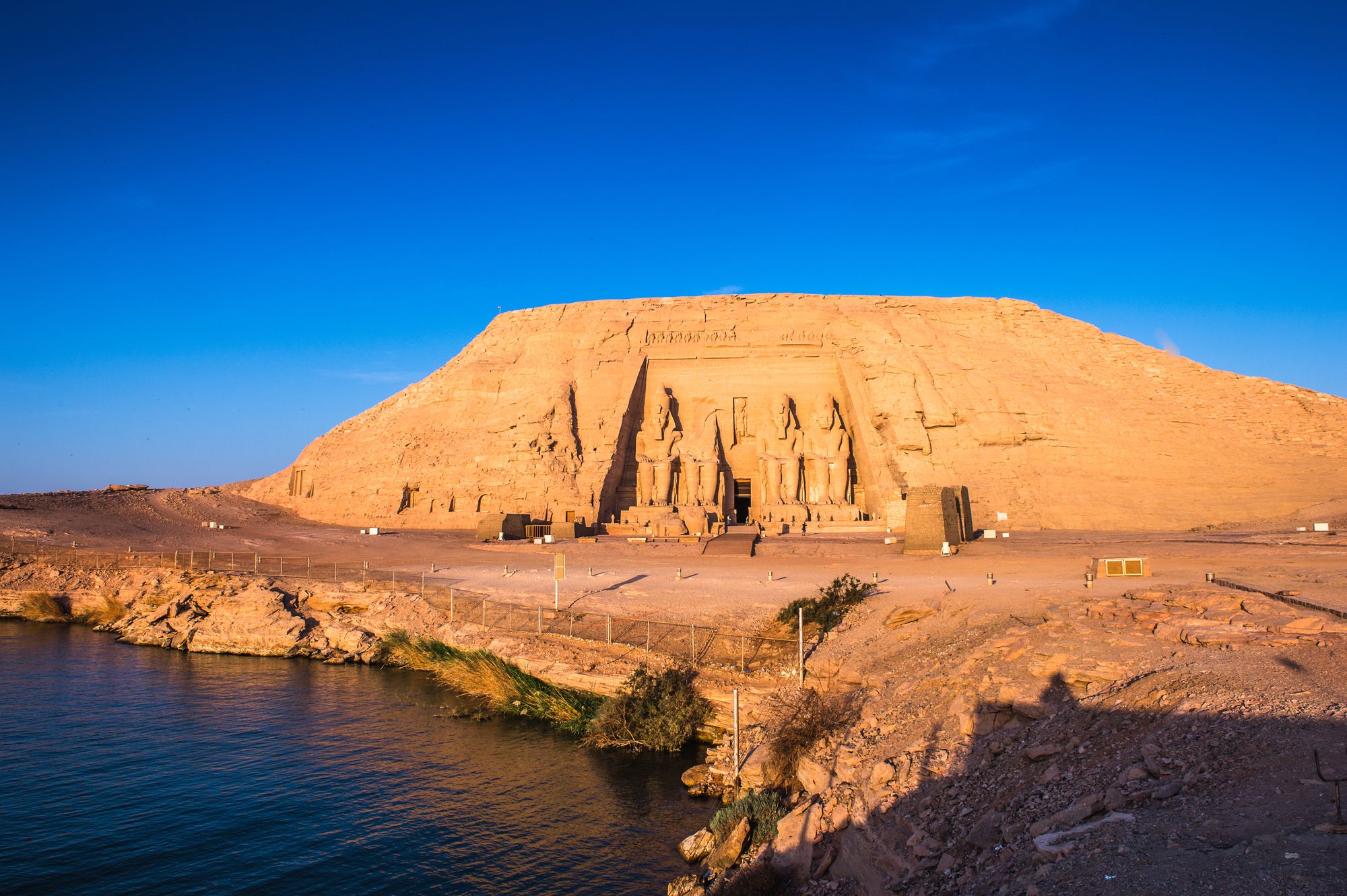 Temple of Philae  - Moved to the island of Agilika with the construction of the High Causeway at Aswan, this large temple complex houses the magnificent Temple of Isis, built in the late Ptolemaic and early Roman periods.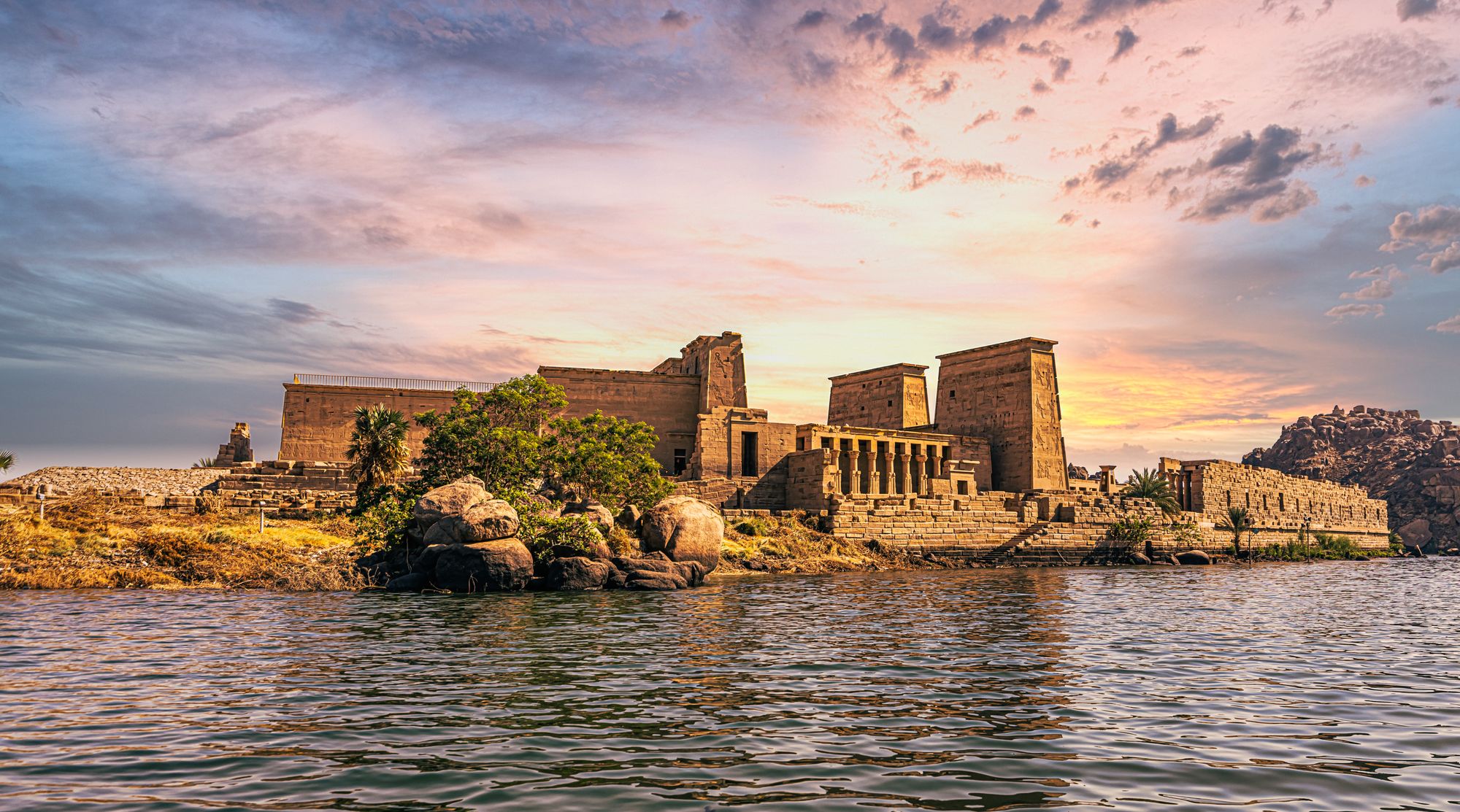 Nubian Museum - Built in 1997, this museum traces the history from the earliest settlements to modern day Nubia, the region defined as the area between Aswan in Egypt and Khartoum in Sudan.
Aswan Market - One of the most famous spots in the city and an important destination for all foreign and Egyptian tourists to buy various gifts, antiques, spices, handicrafts, artefacts like silver, gold, stones used to make Pharaonic statues and clothing embroidered with pharaonic drawings.
Where to pray in Aswan
El-Tabia Mosque - One of the largest and oldest mosques in the city, this architectural masterpiece is set in a park on a hilltop in the centre of Aswan surrounded by scenic gardens. It is a typical architecture of central-dome mosques with the prayer hall below.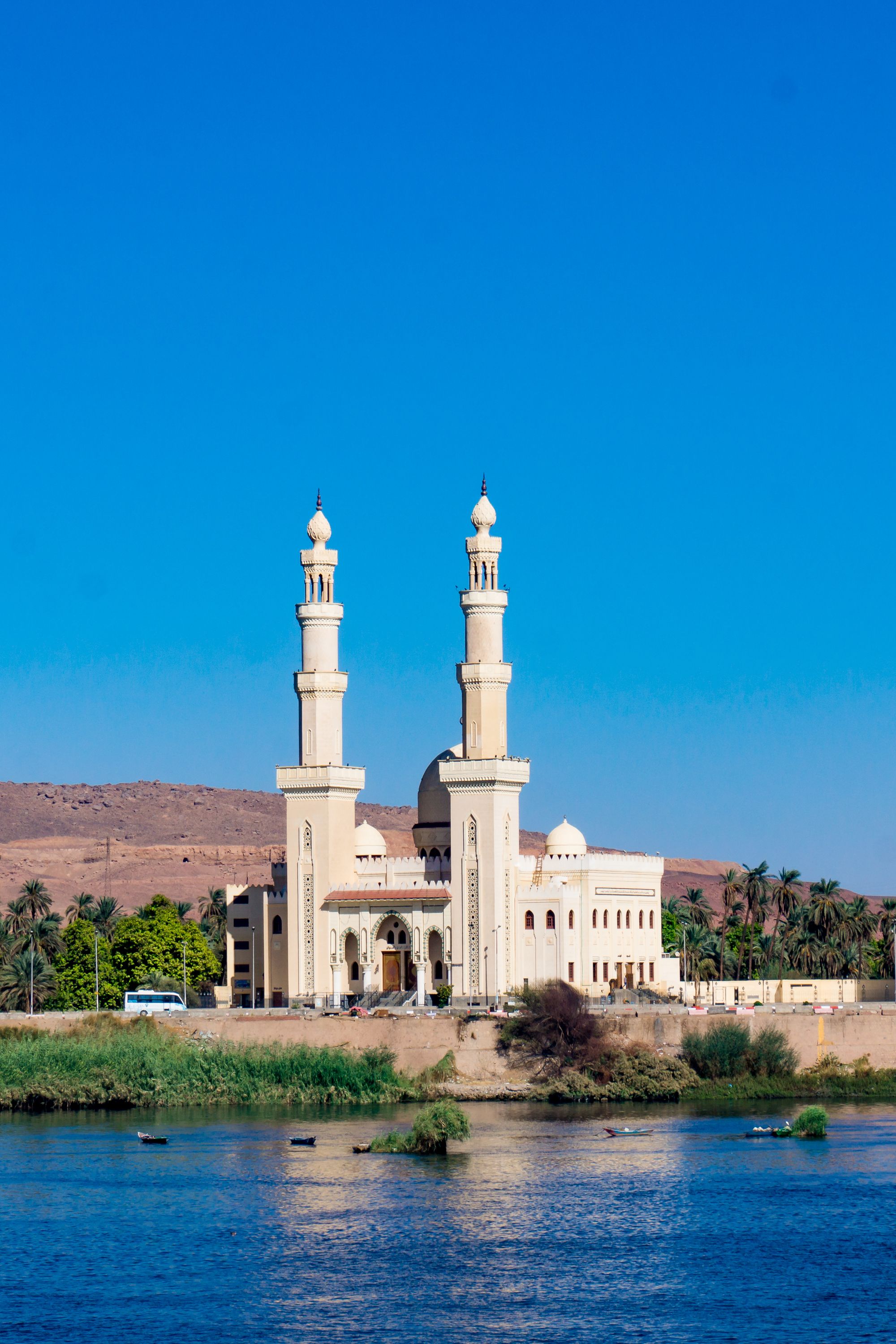 Discover all our halal-friendly properties in Aswan.
8. Makadi Bay
Located around 30 km south of Hurghada on the Red Sea, Makadi Bay is particularly well known for its crystal clear waters and stunning white sandy beaches. It is an ideal place for diving excursions, sailing, other water sports or just enjoying the beach.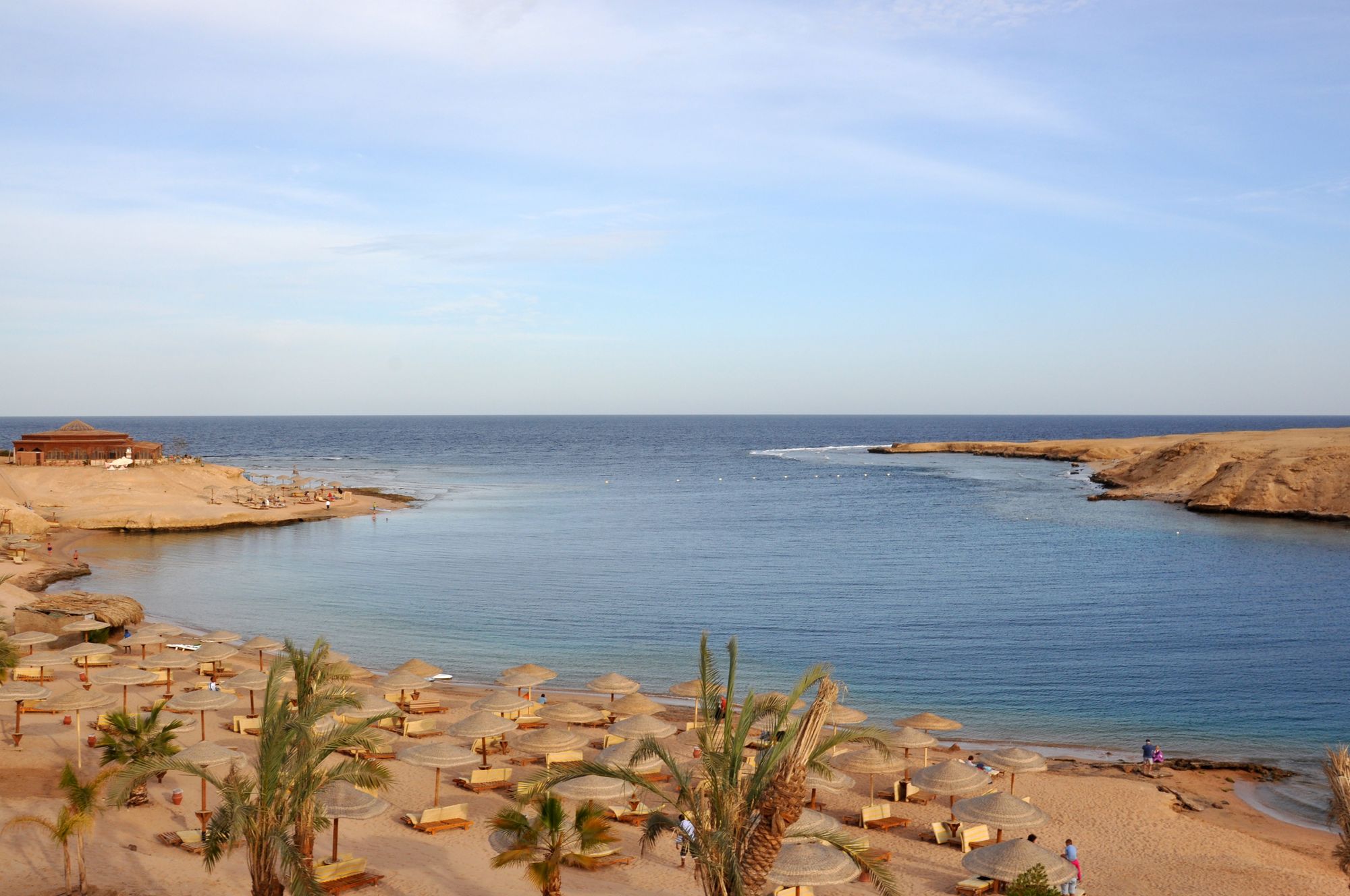 Top attractions in Makadi Bay
Quad Biking - Go quad biking into the Eastern Desert and visit a Bedouin village for an unforgettable excursion.
Mini Egypt Park - A miniature park of all Egypt, it has more than 50 1:25 scale models showing the most famous places in Egypt. It is an open air museum that can help visitors get an idea of all of Egypt in one place.
Horse/Camel Riding - Enjoy a horse or camel ride in the desert ending with a dip in the sea for an unforgettable experience.
Dolphin Watching & Snorkelling - Observe dolphins in their natural habitat and perhaps swim beside them. Then head to two different reefs to snorkel among colourful coral and tropical fish.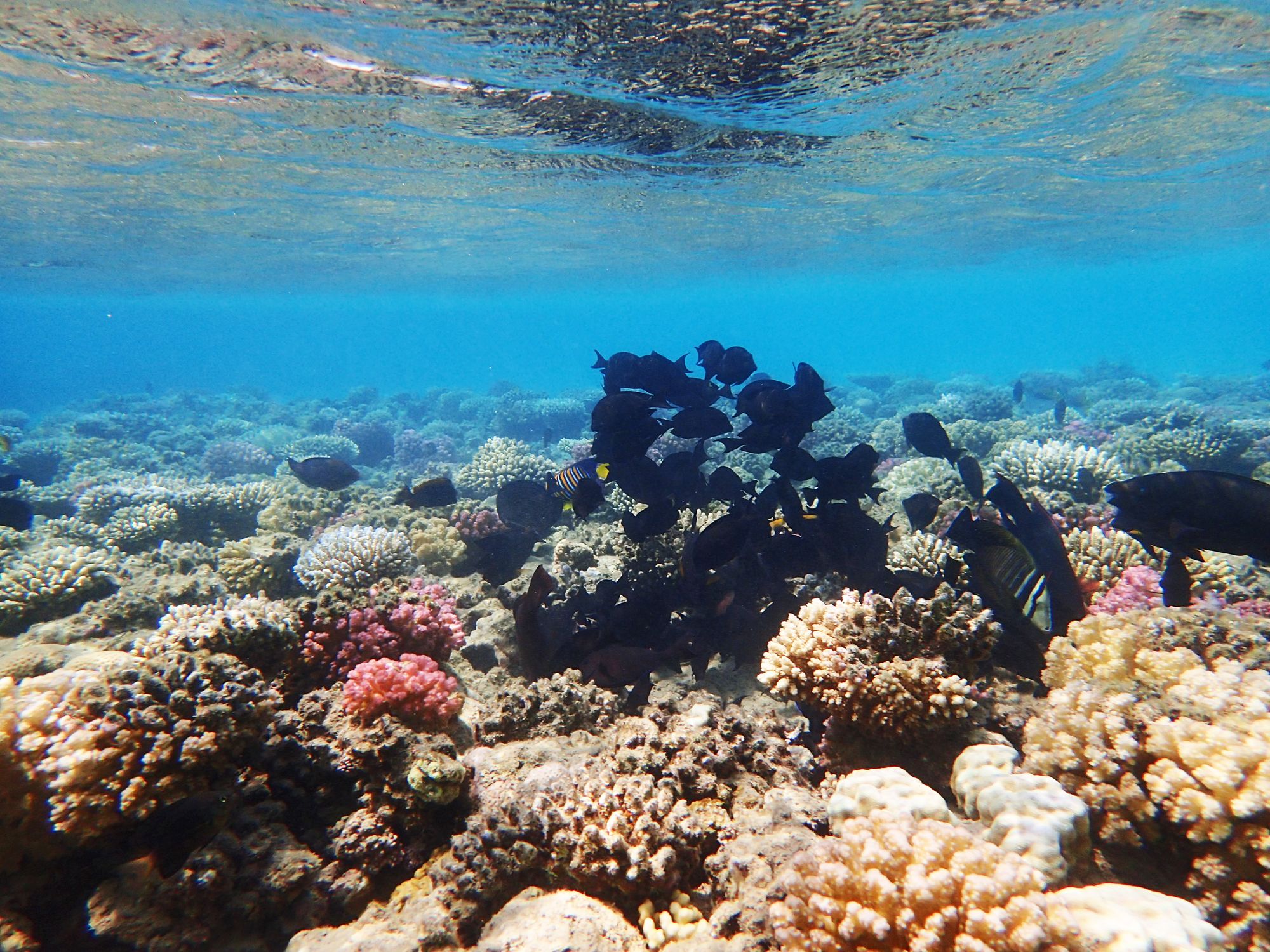 Where to pray in Makadi Bay
Tia Heights Mosque - Small mosque located by the coral reef of Makadi Bay.
Discover all our halal-friendly properties in Makadi Bay.
9. Red Sea Riviera
Located on the east coast of Egypt, the Red Sea Riviera combines a favourable climate, warm sea, thousands of kilometres of coastline and numerous natural and archaeological attractions, making it a popular national and international tourist destination.
Top attractions of the Red Sea Riviera
Dahab - A small town on the Riviera popular with windsurfers and tourists alike, Dahab is also considered to be one of Egypt's most treasured diving destinations and one of its most visited towns.
Taba - The northernmost resort on Egypt's Red Sea Riviera was originally developed as a tourist destination when the first hotel opened there in the 1960s, and is now a frequent holiday spot for Egyptians and other tourists.
Nuweiba - This little-known coastal town offers breathtaking views of Saudi Arabia soaring mountains beyond the Gulf of Aqaba, the inspiring Sinai Mountains as a backdrop, endless white sandy beaches, secluded bays, crystal clear waters, incredible diving opportunities and a genuine natural feel.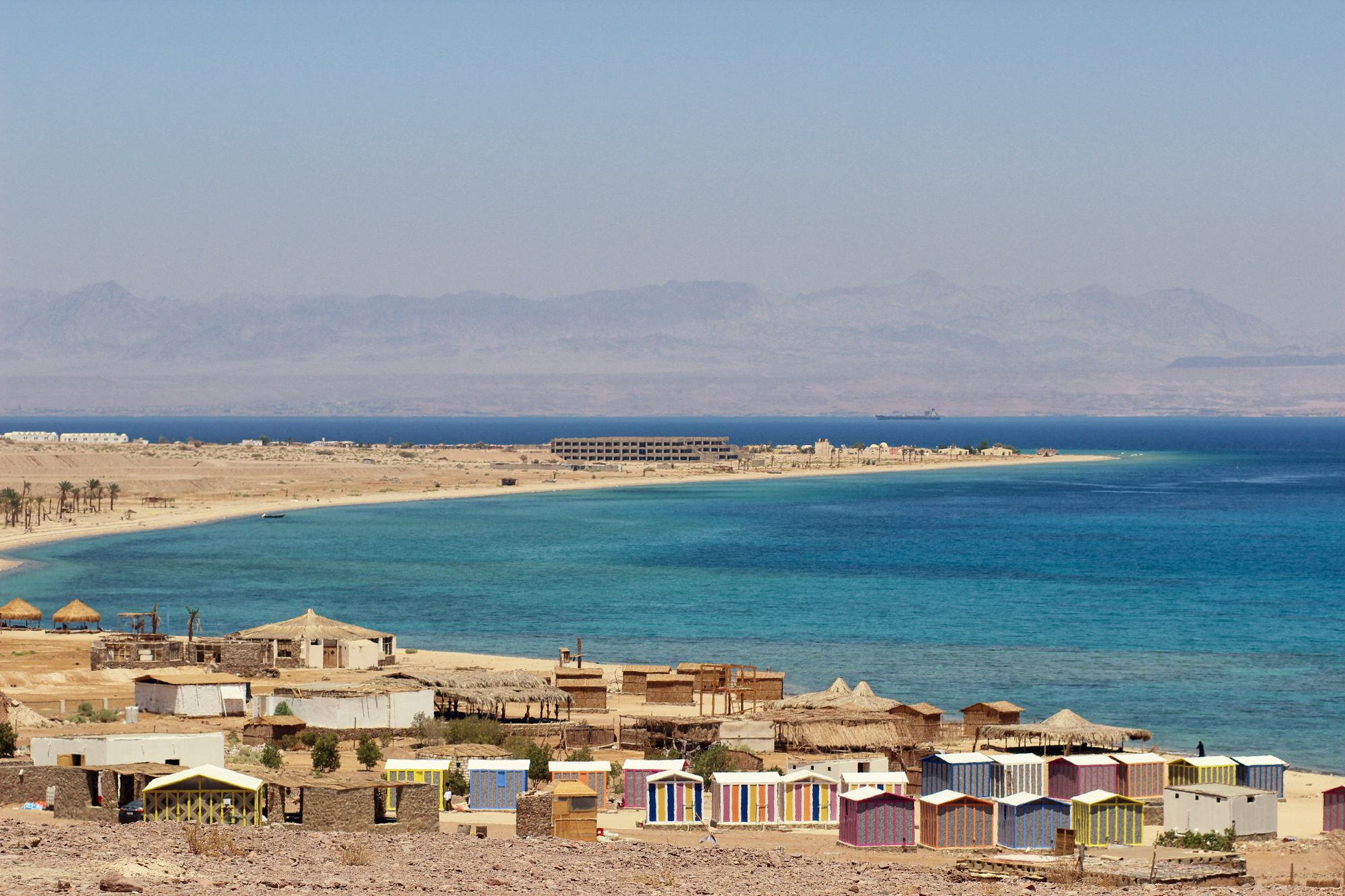 Where to pray in the Red Sea Riviera
Al-Rahman Mosque - This mosque in Dahab is open for prayers.
Discover all of our halal-friendly properties in the Red Sea Riviera.
10. Suez Canal
This important and historic canal is a sea-level waterway that runs through Egypt, connecting the Mediterranean and the Red Seas, and separating Africa from Asia. It offers the shortest maritime route between Europe and the countries around the Indian and Western Pacific Oceans.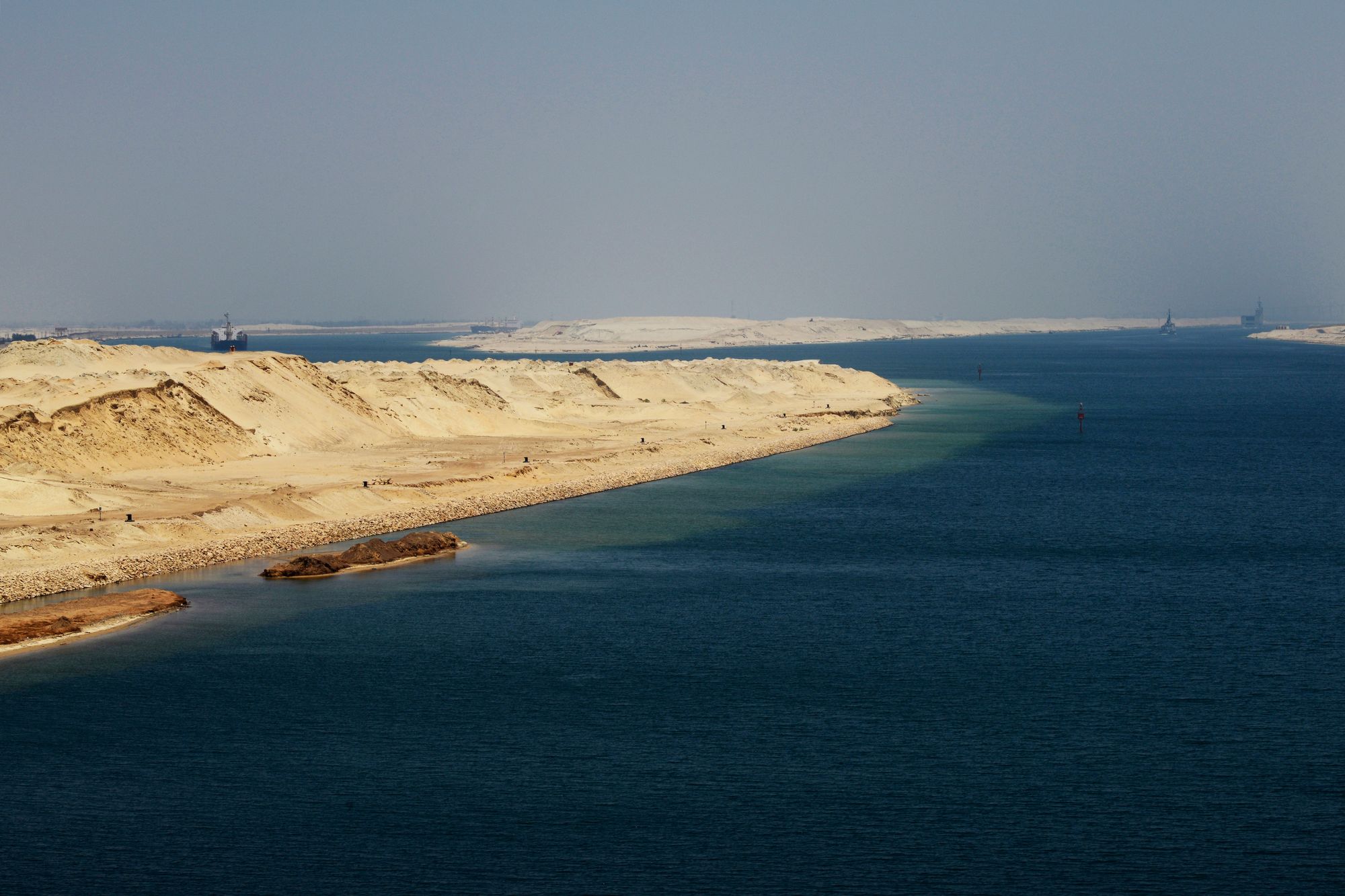 Top attractions in Suez Canal
Ferry Ride - Cross the canal from Port Said and reach the other side to Port Fuad with beautiful views throughout your journey. See the crossing ships varying in size, the Suez Canal Authority Building, and the water of the canal.
Ismailia - Considered one of the most charming cities in Egypt with its large number of gardens, clean, well-organised streets and neighbourhoods. Visit the Ismailia Museum with more than 4000 objects from Pharaonic and Graeco-Roman times including statues, scarabs, stelae and records of the first canal.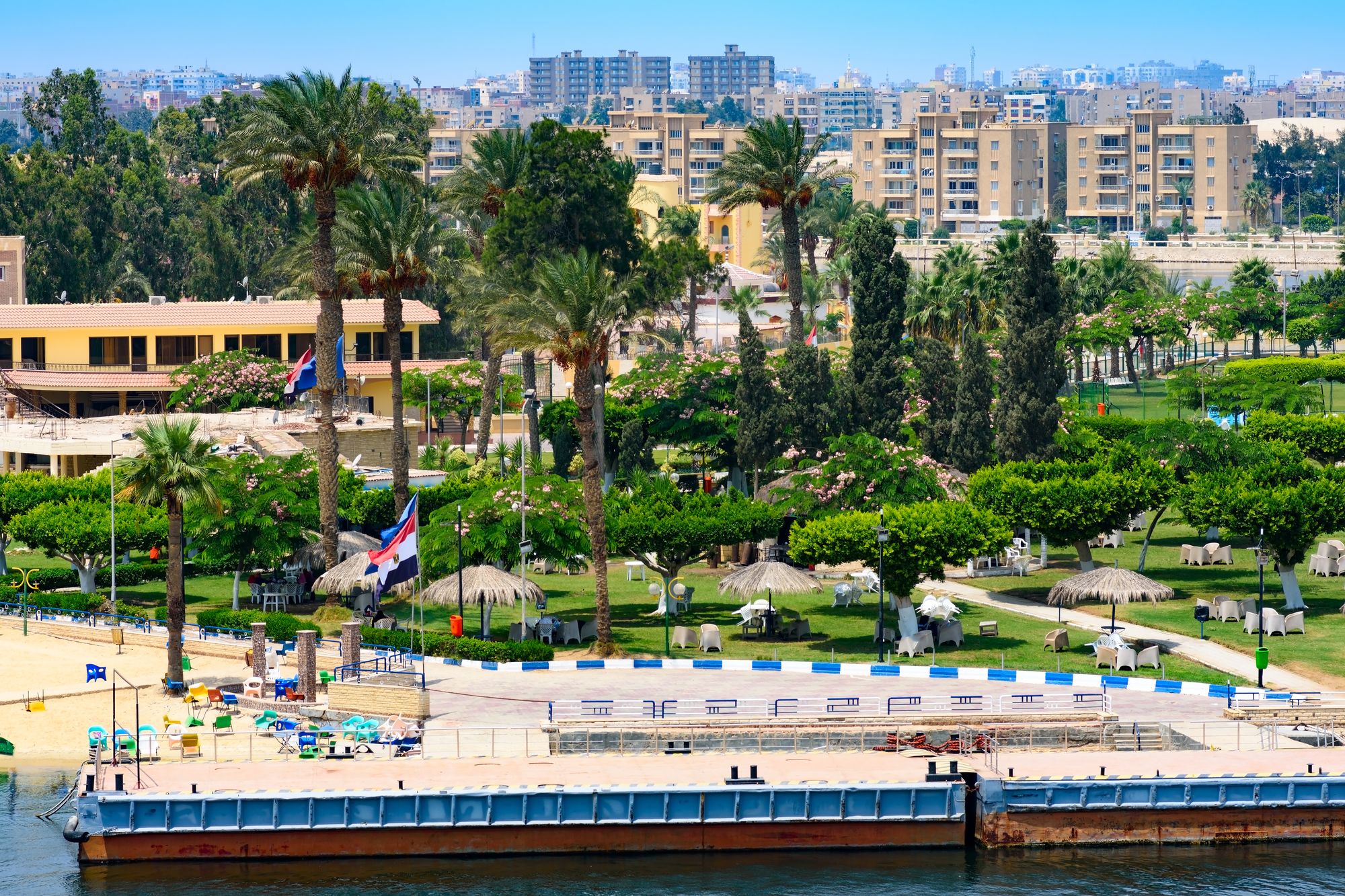 War Memorial - Suez's war memorial commemorates the Egyptian soldiers who lost their lives in the 1967 and 1973 wars with Israel.
Where to pray in Suez Canal
Al-Tawfiki Mosque - Al Tawfiki Mosque is the oldest mosque in Port Said and is open for prayers.
Al-Abbasi Mosque - The second oldest mosque in Port Said after the Al-Tawfiki Mosque was built by the khedive Abbas Helmi II in 190 and was inaugurated in 1905.
Discover all of our halal-friendly properties in the Suez Canal.
Traditional Egyptian dishes
Due to Egypt's rich Nile Valley and Delta, Egyptian cuisine consists predominantly of legumes, vegetables and fruits, while fish and seafood are widely available in Egypt's coastal regions. A significant portion of traditional Egyptian food is vegetarian and most meals are rice based, spicy, hearty and very filling. You'll always find classic foods like hummus, falafel, stuffed vine leaves and baklava, with a local Egyptian twist, of course. Tea, especially black tea, is one of Egypt's most popular beverages. Here are some traditional Egyptian dishes to try:
Molokhia - A popular dish made from finely chopped up leaves then cooked with garlic and sometimes coriander. It is served with rice and other meats such as lamb or chicken.
Koshary - Egypt's national dish contains a mix of lentils, rice and macaroni, topped with tomato sauce and chickpeas and garlic vinegar.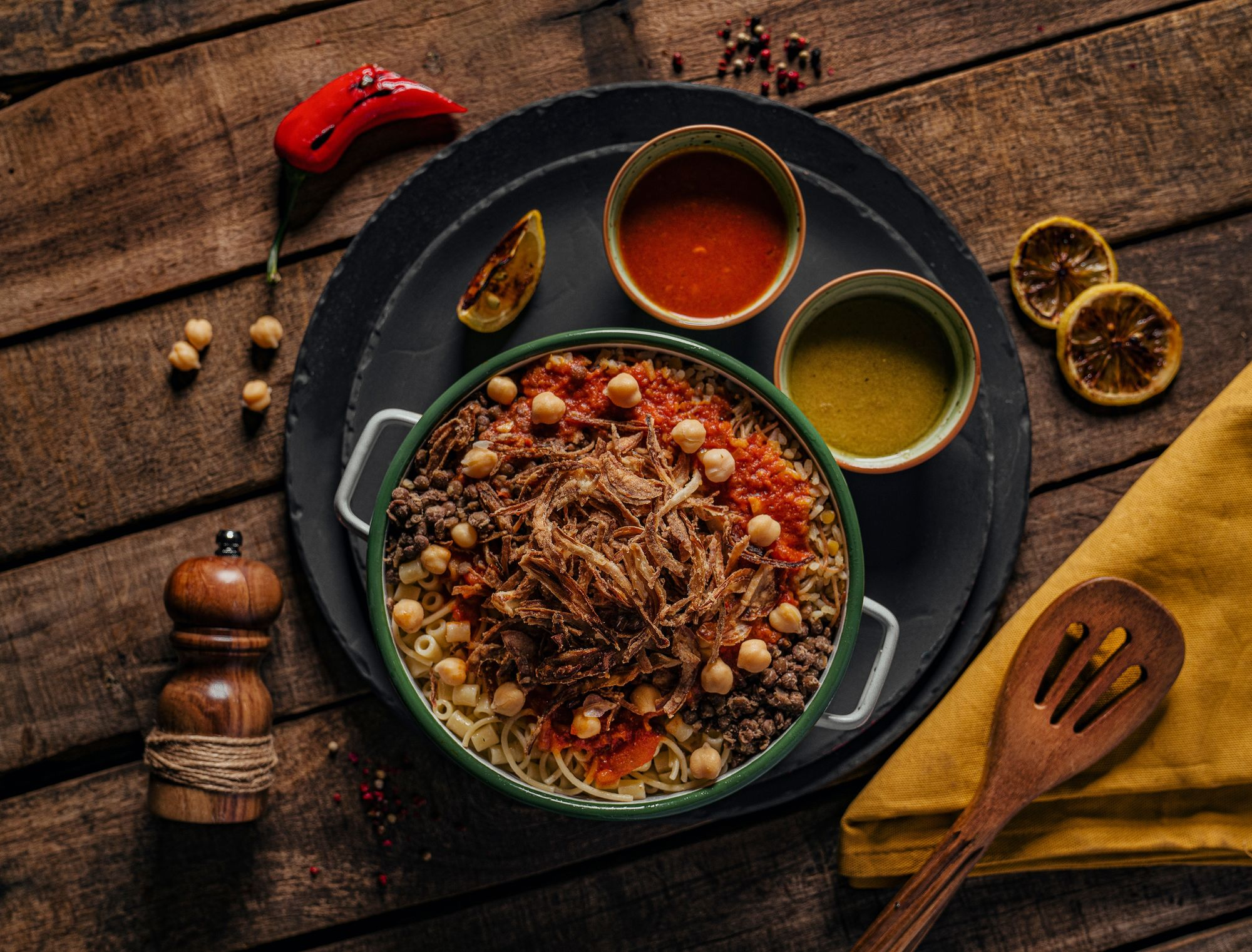 Ta'amiya - Looks and tastes like Falafel, but is made from fava beans. It's basically Egypt's twist on the popular street food, now famous worldwide!
Ful Medames - With a history stretching back centuries, this is one of the most common dishes in Egypt. It is a stew of cooked fava beans served with olive oil and cumin, and sometimes with parsley, garlic, onion, lemon juice, chilli pepper, and other ingredients.
Fiteer Baladi - Fiteer is made of plenty of filo pastry layers that are cooked in a brick oven. The original is served plain however, it can be ordered savoury with meats, cheese and vegetables or sweet with syrup, honey or sugar.

Hamam Mahshi - Hamam mahshi is a stuffed pigeon and has been served in Egypt for centuries. The birds are stuffed with onions and spices along with a grain called freekeh, which is green cracked wheat with a nutty flavour, or alternatively, they are stuffed with rice or bulgur wheat.