Top cities to visit in Ramadan 2023
Muslim communities around the world celebrate the holy month of Ramadan, the most important month in the Islamic calendar, with so many customs and traditions of their own. While it's a time for Muslims to reflect on their spirituality, purify their souls and enhance their relationship with Allah, travelling to Islamic cities helps achieve this! Be inspired by the great examples of Islamic cities and in particular the magnificent mosques, from which the Adhan is called for Muslims to perform prayer. It's also a wonderful opportunity to sample different dishes, share Iftar with your fellow brothers and sisters, feel being part of the Ummah and celebrate this special month in a unique part of the world.
Discover what it is like to visit a Muslim city during Ramadan.
Ramadan in Makkah and Medina
Visiting the holy cities of Makkah and Medina during Ramadan, the month when Allah (SWT) opens the doors of Jannah and closes the gates of Jahannam, offers a unique experience to recharge your soul and earn multiple good deeds at once.
As Maghrib approaches, streets in Makkah and Medina are crowded with Muslims making duas, while local volunteers clean and decorate the mosque and others enthusiastically cook and set tables for Iftar with dates, rice, meat, juice, coffee, tea and zam-zam water in and around the mosque. The poor and needy are also invited, which strengthens the sense of companionship and brotherhood among people.
After Isha, congregate for the Taraweeh prayers and the Qiyam prayers, especially during the last ten nights, and in the Laylat al-Qadr (27th night of Ramadan), the holy night in which the first verses of the Quran were revealed to Prophet Muhammad (SAW). The Taraweeh prayers start right after Isha and last for about two hours. In the night, stand in the congregation shoulder to shoulder with your Muslim brothers and sisters facing the Qiblah for the Qiyam prayers and the Witr.
The Prophet Muhammad (SAW), said about praying in Makkah and Medina:
"Prayer in this mosque of mine is better than a thousand prayers in any other mosque, except the Sacred Mosque. Prayer in the Sacred Mosque is one hundred times better than prayer in this mosque of mine."
Main Mosques in Makkah and Medina
Al-Masjid al-Haram - No visit to Makkah is complete without spending time at Al-Masjid al-Haram, the first mosque that was built in the history of Islam, the holiest site in Islam and the world's largest mosque, beloved by all Muslims worldwide as. Make Tawaf around the Kaa'ba and join your fellow brothers and sisters from all over the world congregating for the sake of Allah.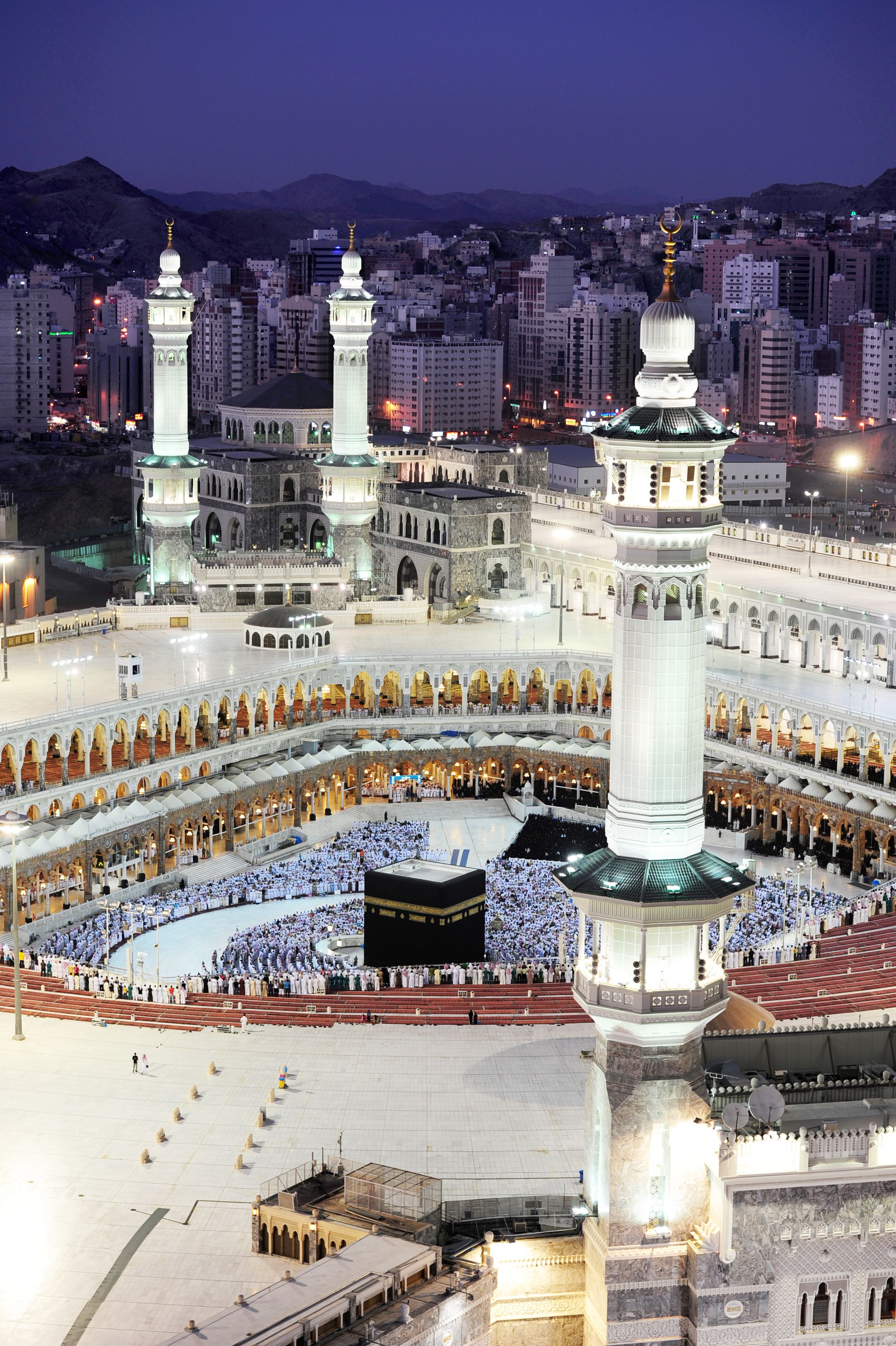 Al-Masjid al-Nabawi - Medina is home to the Masjid an-Nabawi, the world's second largest mosque. It was constructed by Prophet Muhammad (SAW) after migration in 622 CE, adjacent to his house in Medina. Praying inside Masjid an-Nabawi guarantees a thousand times more rewards for the believers than in any other mosque.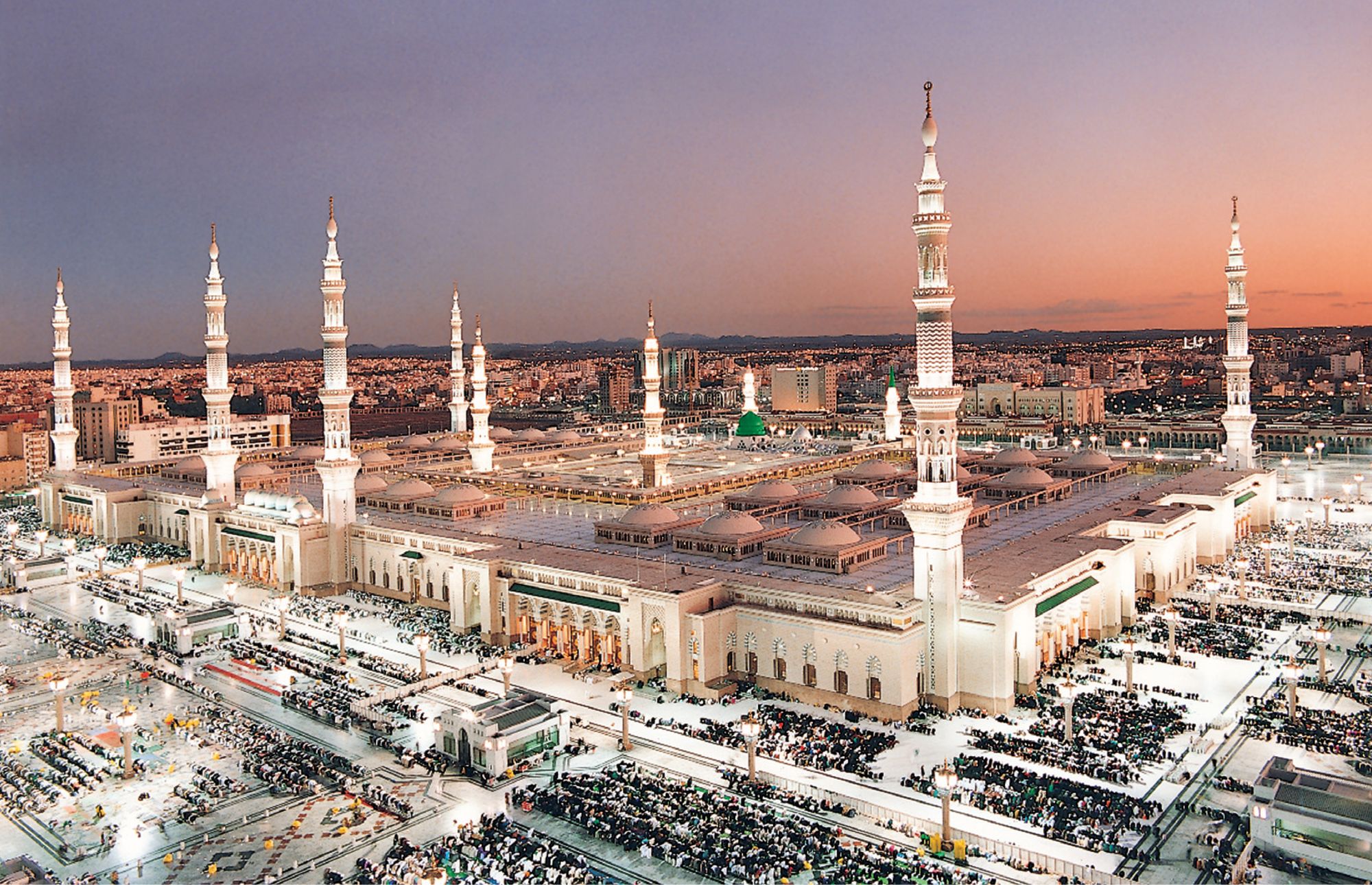 Discover all our halal-friendly properties in Makkah and Medina.
Ramadan in Al Quds
Al Quds is a holy city over 3,000 years old that has always been of great symbolic importance to the three major monotheistic religions and an important source of belief. Although Muslim Palestinians face many difficulties, Ramadan remains a special time, as the Arabs' proverbial warmth and generosity create a captivating atmosphere. Some decorate their homes with crescents, stars and lanterns, and colourful lights shine in the dilapidated streets at night during Ramadan as an expression of hope.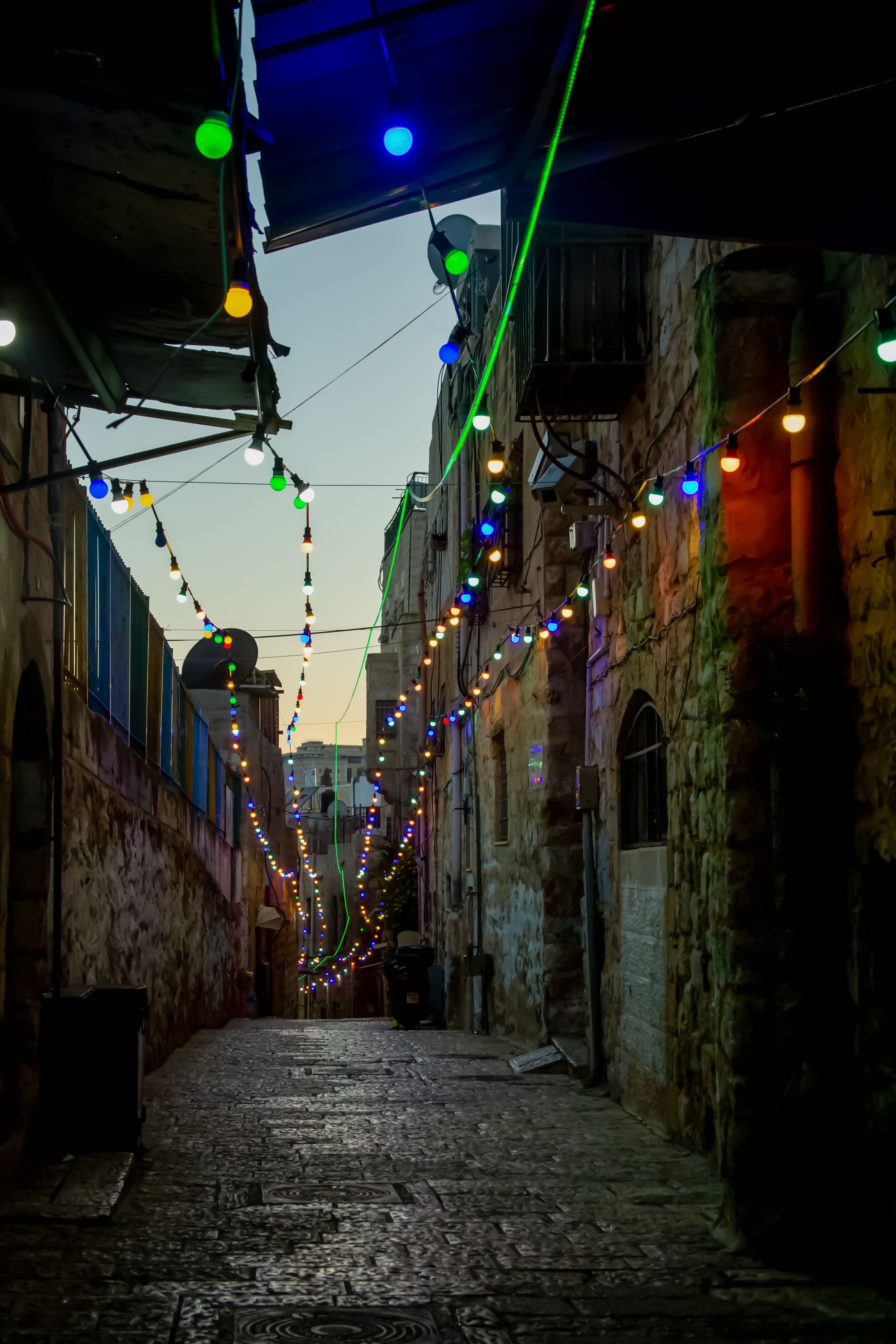 A UNESCO World Heritage Site, the Old City is visited each year by millions of Muslims who come to pray at Al-Aqsa Mosque. Especially during Ramadan, a festive atmosphere spreads in the old town. At the nearby market, the prepared traditional Iftar dishes exude inviting scents. Enjoy maqluba, rice, chicken and fried vegetables, and atayef, sweet pancakes filled with creamy cheese or nuts and drenched in a sugary rose syrup.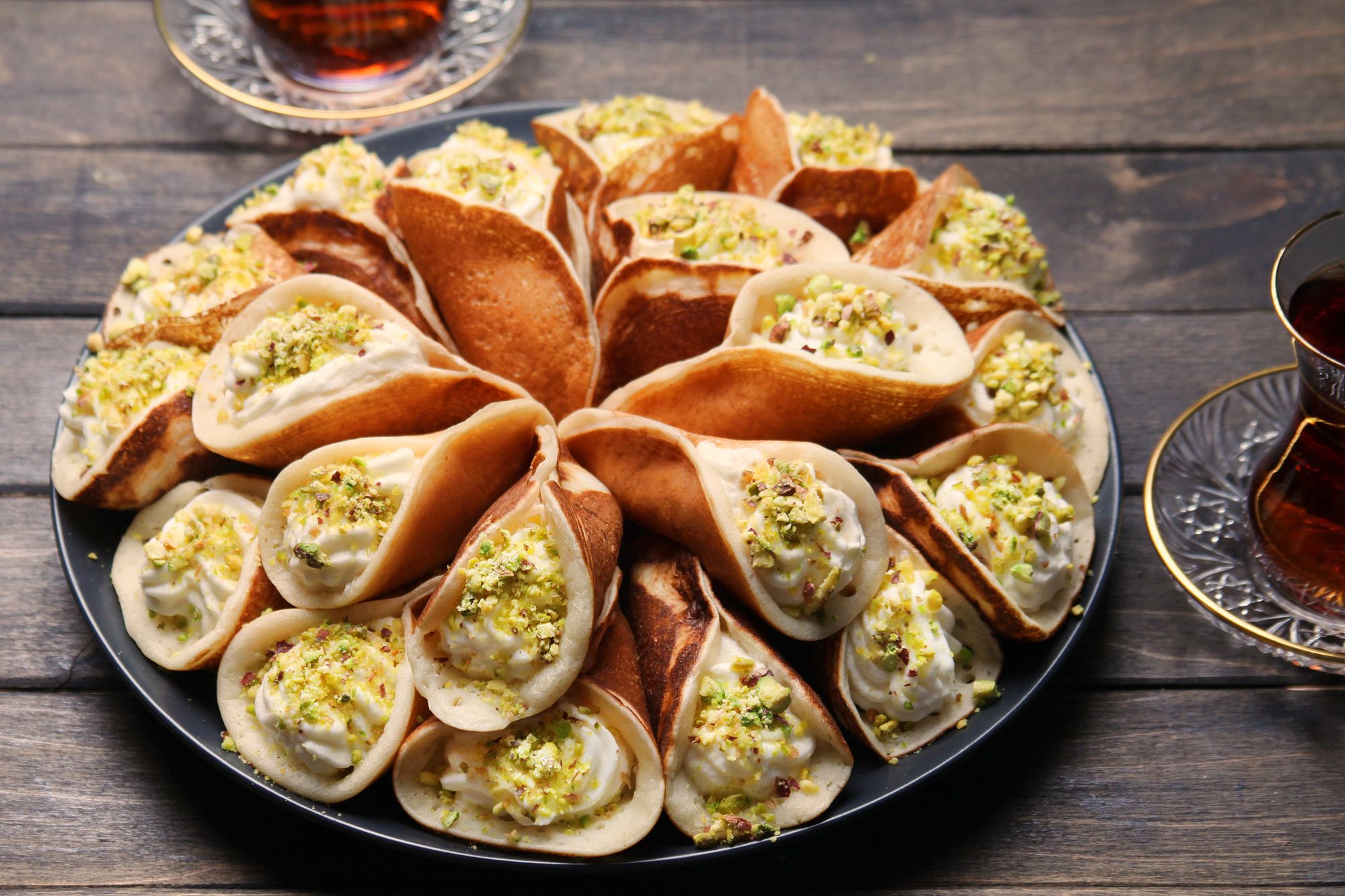 Main Mosques in Al-Quds
Al-Masjid al-Aqsa - As the third holiest site in Islam, Masjid al-Aqsa is revered by all Muslims as it is also the site of Al Isra' Wal Mi'raj, where the Prophet Muhammad (SAW) travelled from Makkah to Masjid Al-Aqsa in Jerusalem before ascending to heaven, in one night. It is also stated in the opening verse of Surah al-Isra':
"Glorified by He [Allah] who transported His servant [Muhammad (SAW)] by night from Masjid al-Haram to Masjid al-Aqsa whose surroundings He has blessed, so that We may show him of Our [Allah's] signs (17:01)."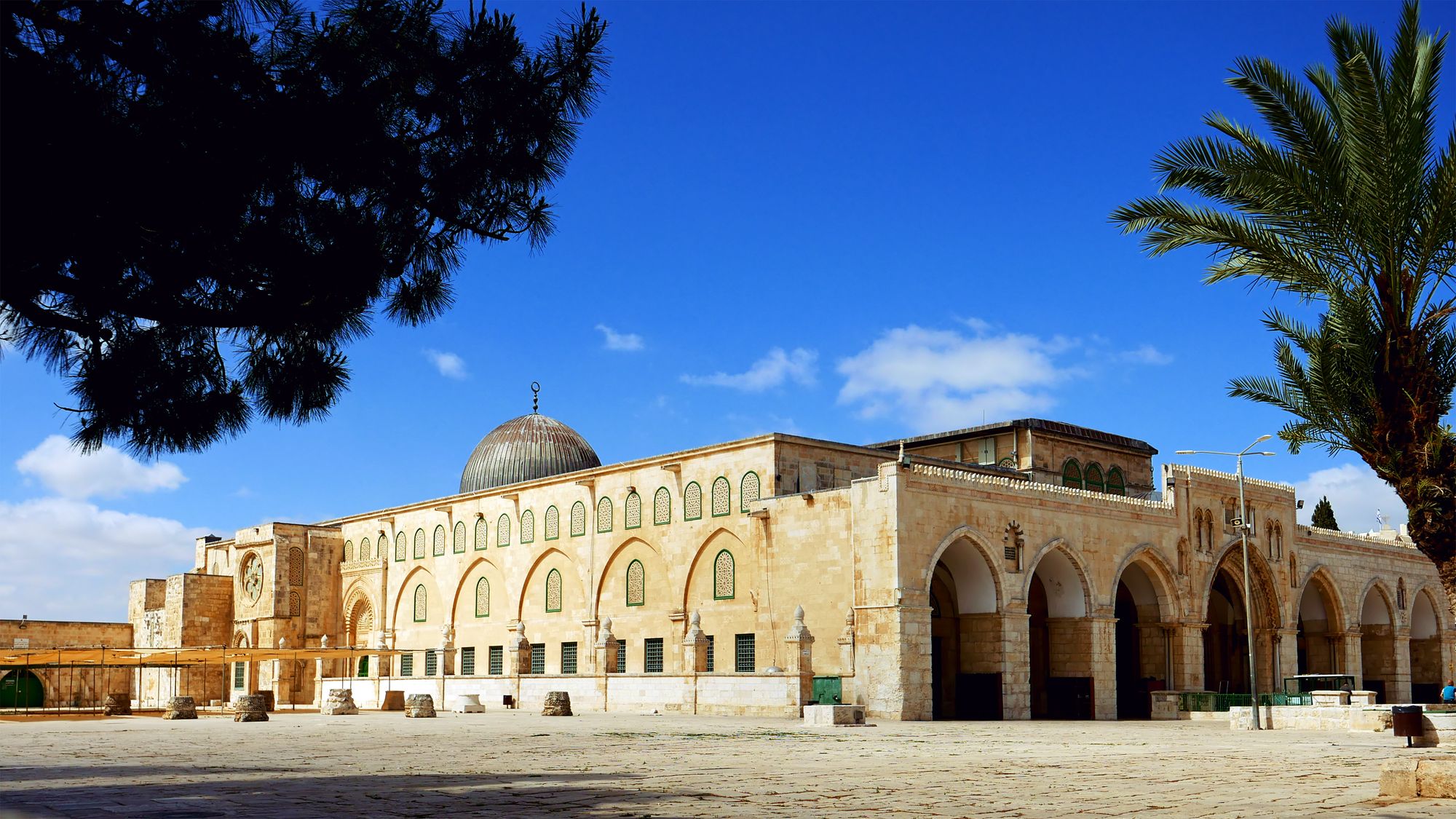 Al-Masjid Qubbat as-Sakhrah - Known as the Dome of the Rock, it sits on the Al-Aqsa compound, in the Temple Mount. Famous for its golden dome that can be seen throughout the whole city, it was built in 691 CE by the Umayyad Caliph, 'Abdul-Malik ibn Marwan. It is located on a plateau which is four metres higher than the rest of the blessed Masjid Al-Aqsa sanctuary. It is the longest-standing mosque on earth, and also contains the oldest Mihrab in the world.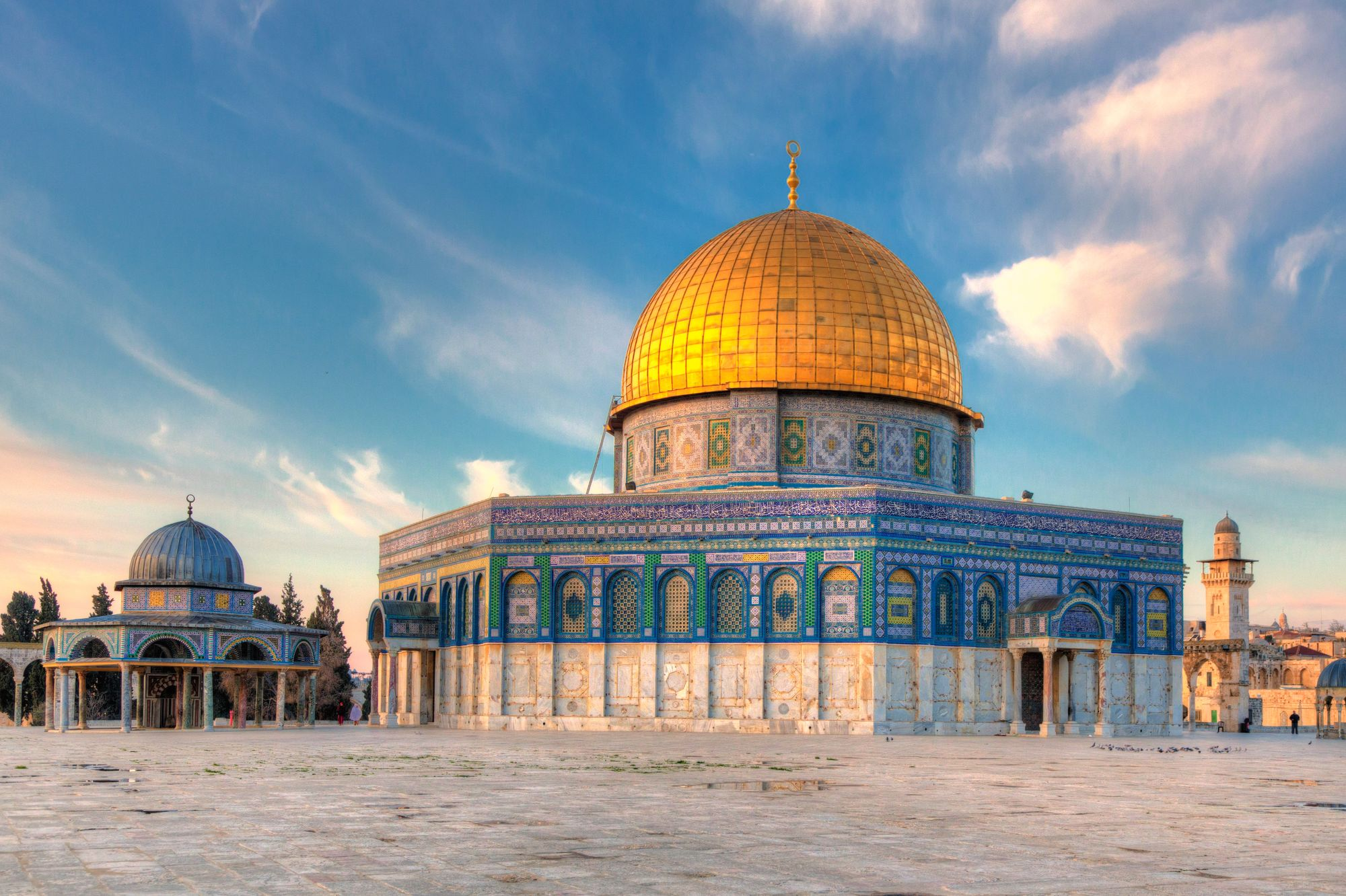 Discover all our halal-friendly properties in Al Quds.
Ramadan in Sarajevo
Sitting proudly at the crossroads of East and West, the medieval Ottoman city of Sarajevo in Bosnia offers a special charm during Ramadan. There are signs all over the city reading "Ramazan Mubarak" and every restaurant offers a celebratory Iftar menu.
Sarajevo's Ramadan rituals involve queuing outside local bakeries in the run-up to Iftar for a hot somun (flatbread) baked in a wood-fired oven and enjoying the lights of minarets turning on and illuminating the city to the sound of the adhans before breaking your fast with dates and a glass of water or juice/lemonade. During Ramadan, somuns are sprinkled with black cumin seeds, so this month is known in Sarajevo for that specific smell of somuns.
Typical home-cooked foods during Ramadan include stews (begova, sarajevska, škembe and tarhana), Sarajevo sahan, šiš ćevap and sogan dolma, all served in sahans, deep metal dishes that have been made by Baščaršija coppersmiths for centuries. The meal finishes off with something sweet like compote, plum or rose jam and sweets covered with a sweet syrup, such as kadaif, hurmadžik, tufahija or baklava and Bosnian coffee.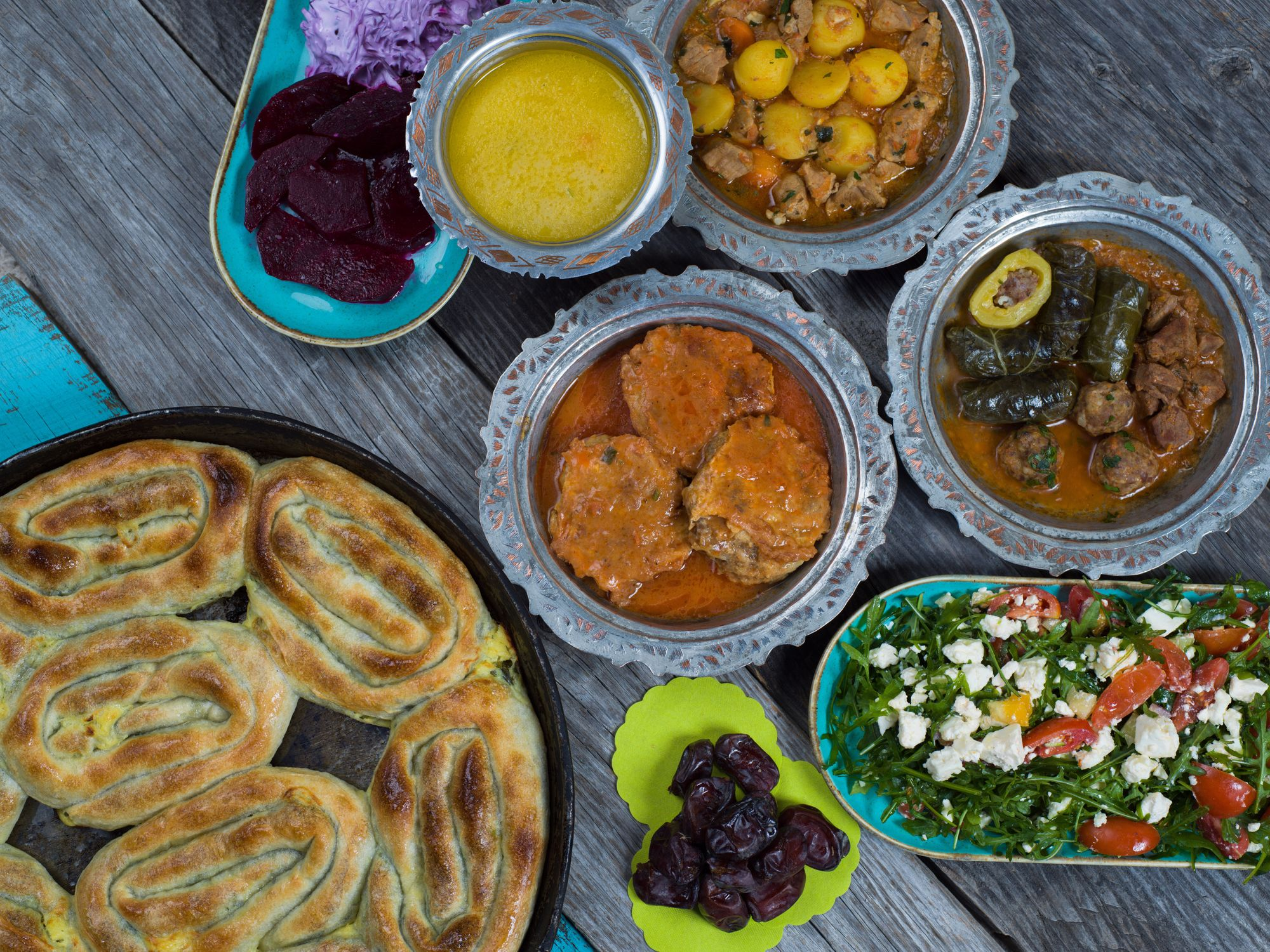 Iftar is usually followed by a stroll through the streets of Sarajevo, where there is a festive atmosphere around every corner, with illuminated mosque courtyards and open gates, and when the time comes, the muezzins call the faithful to Taraweeh prayers. After Taraweeh prayer, people usually stay in čaršija, drinking coffee and chatting until dawn.
The Sarajevo Ramadan Festival is an annual event with programs taking place across the city throughout the month of Ramadan, aiming to create interfaith dialogue and promote peace, reconciliation and solidarity between faith groups through the showcase of Islamic art and culture such as concerts of Islamic music concerts, exhibitions of painting or calligraphy, lectures, films, poetry reading and other activities held at the Gazi Husrev-beg Library, the Gazi Husrev-beg Madrasa and the Sarajevo National Theatre. The centrepiece is a vast open-air Iftar held every evening at the city's Yellow Bastion (Žuta Tabija), the Ottoman fortress overlooking the city. It has been a tradition for centuries for the canon to be fired to mark the beginning of Ramadan and the end of the daily fast.
You can also attend Muqabalas (communal recitations of the Qur'an) that are also held at some of the mosques during Ramadan in the Oriental Baščaršija (old town).
Main Mosques in Sarajevo
Gazi Husrev-beg Mosque - Set in the heart of Sarajevo's old town, this 16th century mosque is the largest historic mosque in Bosnia and Herzegovina and is a classic example of early Ottoman architecture. It has the distinction of having been the first mosque in the world to use electric lighting, in 1898 during the period of the Austro-Hungarian Empire.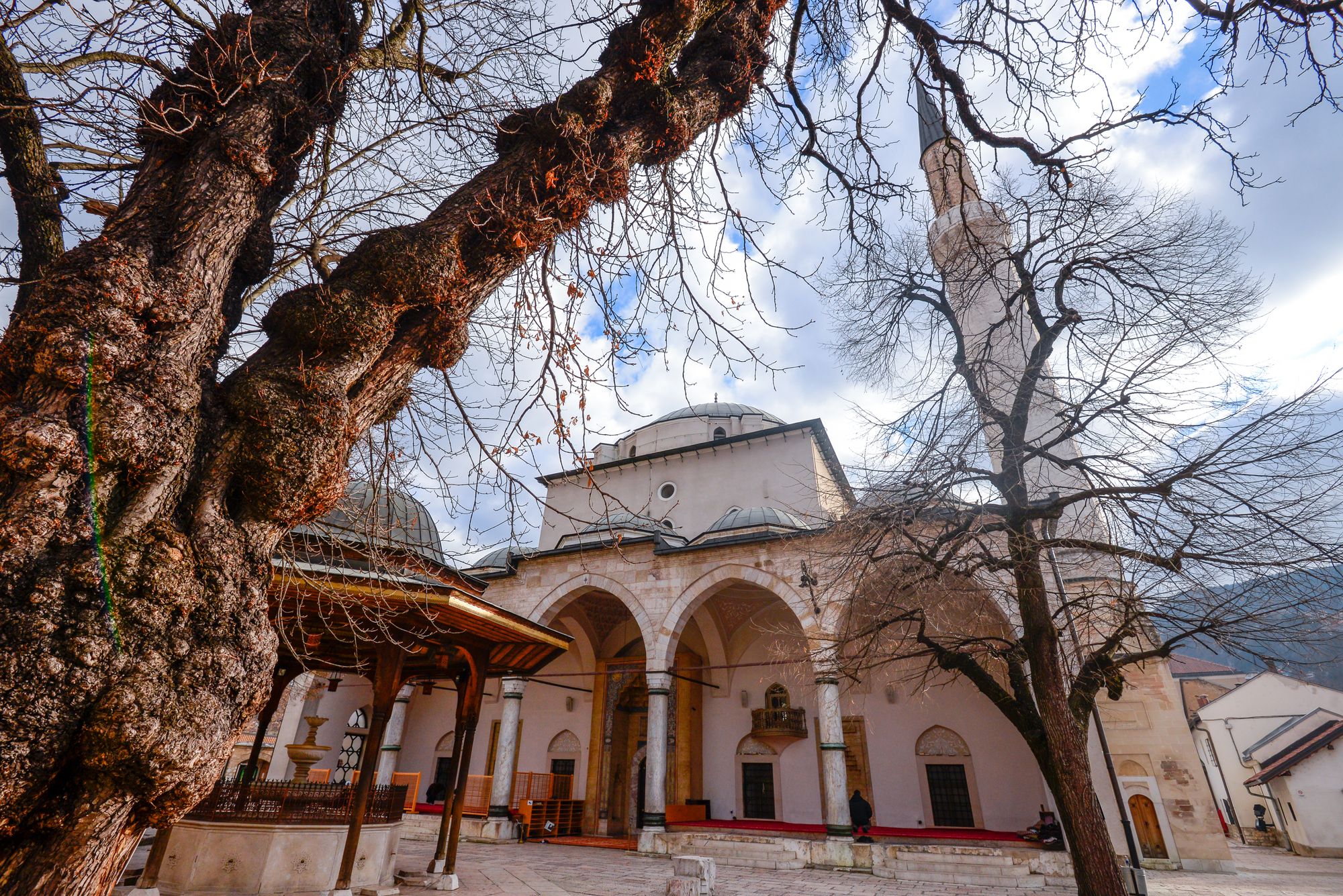 Emperor's Mosque (Careva Dzamija) - Originally built from wood in 1457 and dedicated to Sultan Mehmed the Conqueror, this impressive mosque was the first mosque to be built after the Ottomans conquered Bosnia. It was rebuilt in 1565, as a more substantial stone structure and this time dedicated to Süleyman the Magnificent.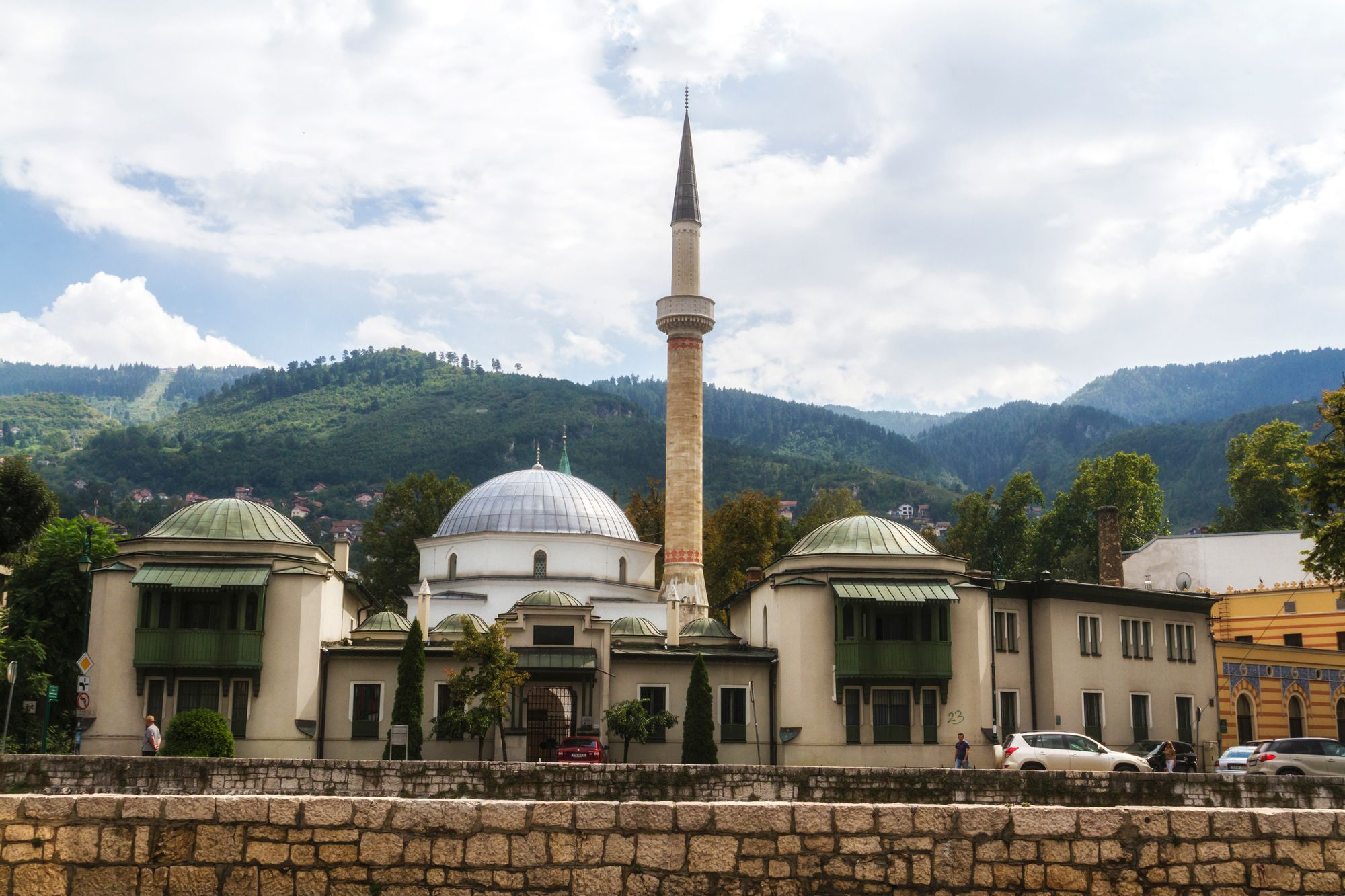 Discover all our halal-friendly properties in Sarajevo.
Ramadan in Istanbul
Ramadan is celebrated with great enthusiasm in Istanbul every year. Visitors enjoy the city's spiritual atmosphere, which reflects sharing, love and tolerance. The city shines with illuminated mosques, lively celebrations and various activities in a holy atmosphere.
Istanbul residents like to gather in public parks, squares and mosque courtyards, for public Iftar meals organised by local authorities or charities and companies - great occasions on which to experience Turkish hospitality. Everyone waits for the signal to break the fast: the traditional 'Ramazan top atışı' (Ramadan cannon fire), a tradition since the 1820s, and the subsequent Adhan from the minarets of the surrounding mosques.
People traditionally wake up to the sound of drums being beaten by the famous Davulcus, who continue the centuries-old tradition of wandering the streets to wake residents for Sahur, usually in the form of a light breakfast.
Typically, according to the tradition of the Prophet, the fast is broken with a hurma (date). Soups are a staple of Turkey's iftar meals, with one of the most popular being the delicious and nutritious mercimek (lentil soup). Various types of börek, puff pastry filled with cheese or meat, are likely to be on the table along with white cheese, black olives, other delicacies and ayran, a refreshing yoghurt drink that is especially welcome on warm days after a long fast. A main course of succulent kebabs or a hearty stew is followed by sweet, honey-soaked treats like baklava or kunefe, a sweet pastry filled with melted cheese.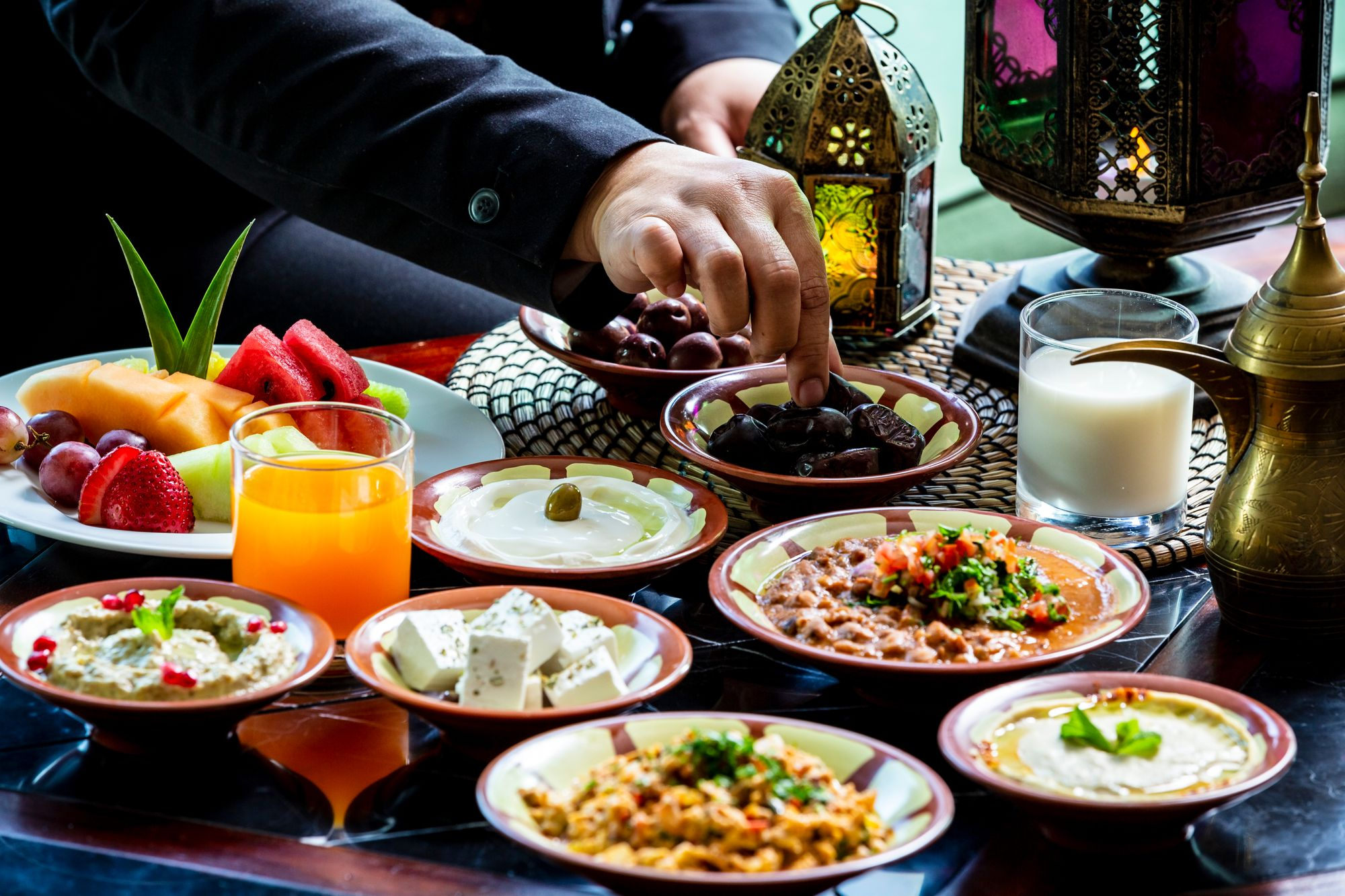 A traditional iftar meal would not be complete without the 'ramazan pide', a traditional soft leavened flatbread with sesame and nigella seeds made only at this time of year.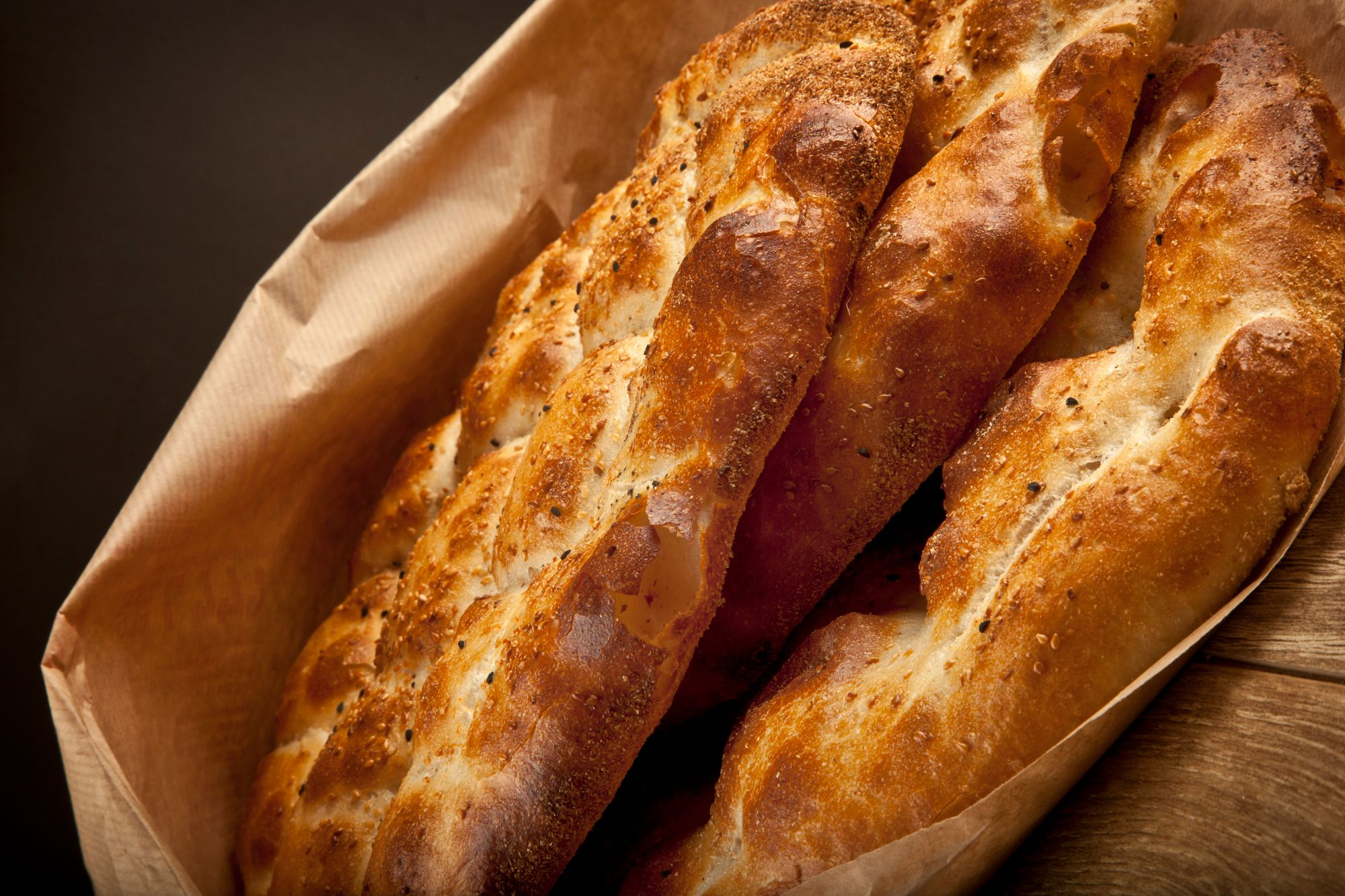 Main Mosques in Istanbul
Mosques in Istanbul have special illuminations during Ramadan. Typically lights are hung between the minarets displaying the message: 'Hoşgeldin Ramazan' or 'Ya Şehr-i Ramazan' (Welcome Ramadan).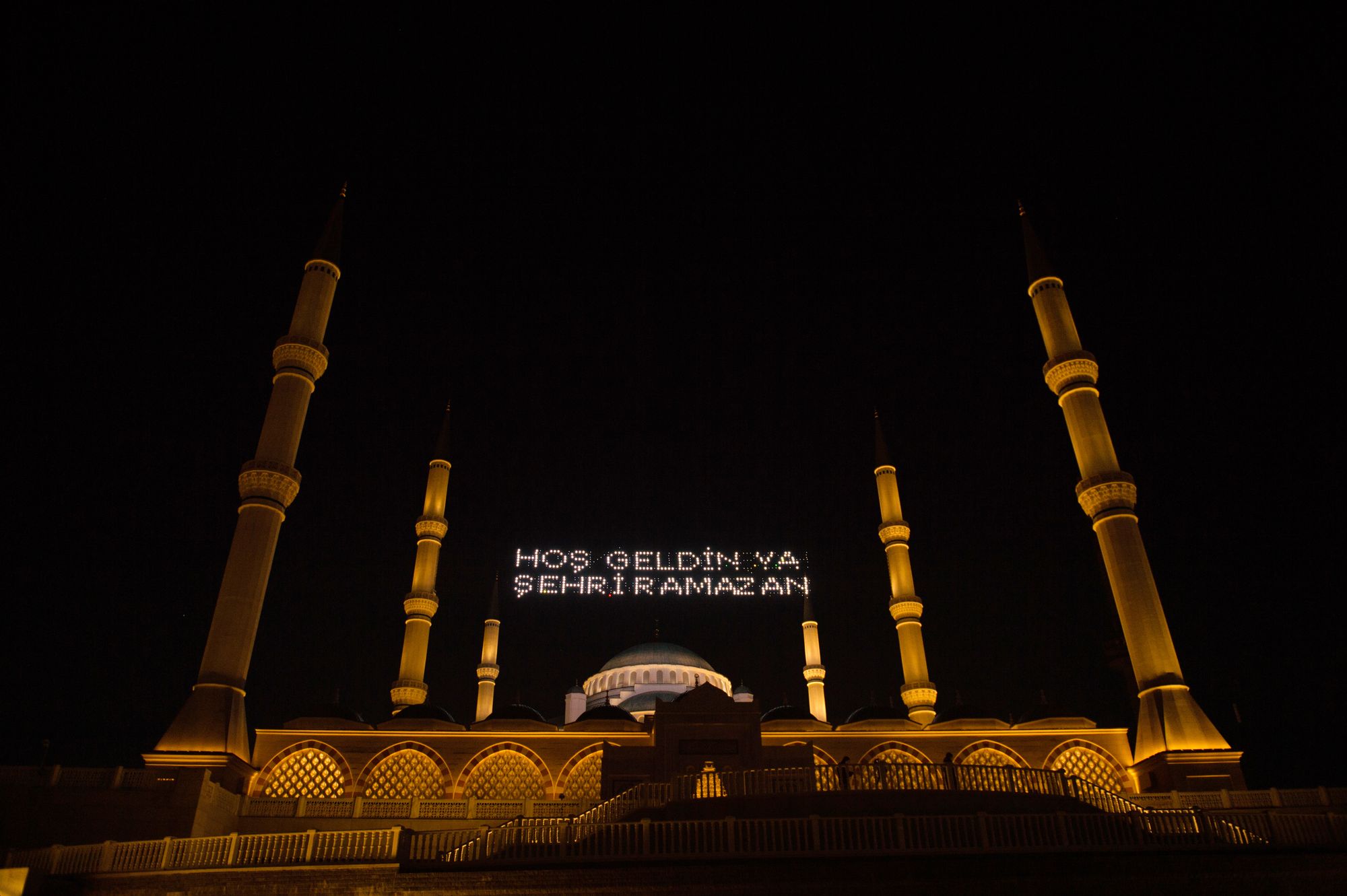 Hagia Sophia Grand Mosque - Undoubtedly the most famous attraction in Istanbul, Hagia Sophia Grand Mosque has a centuries-old history. Originally a Greek Orthodox Church built in the 13th century, it was converted into a mosque in 1453 when Constantinople was conquered by Sultan Fatih Mehmet. Then in 1935 it was turned into a museum. In July 2020 it was reopened as the Hagia Sophia Grand Mosque.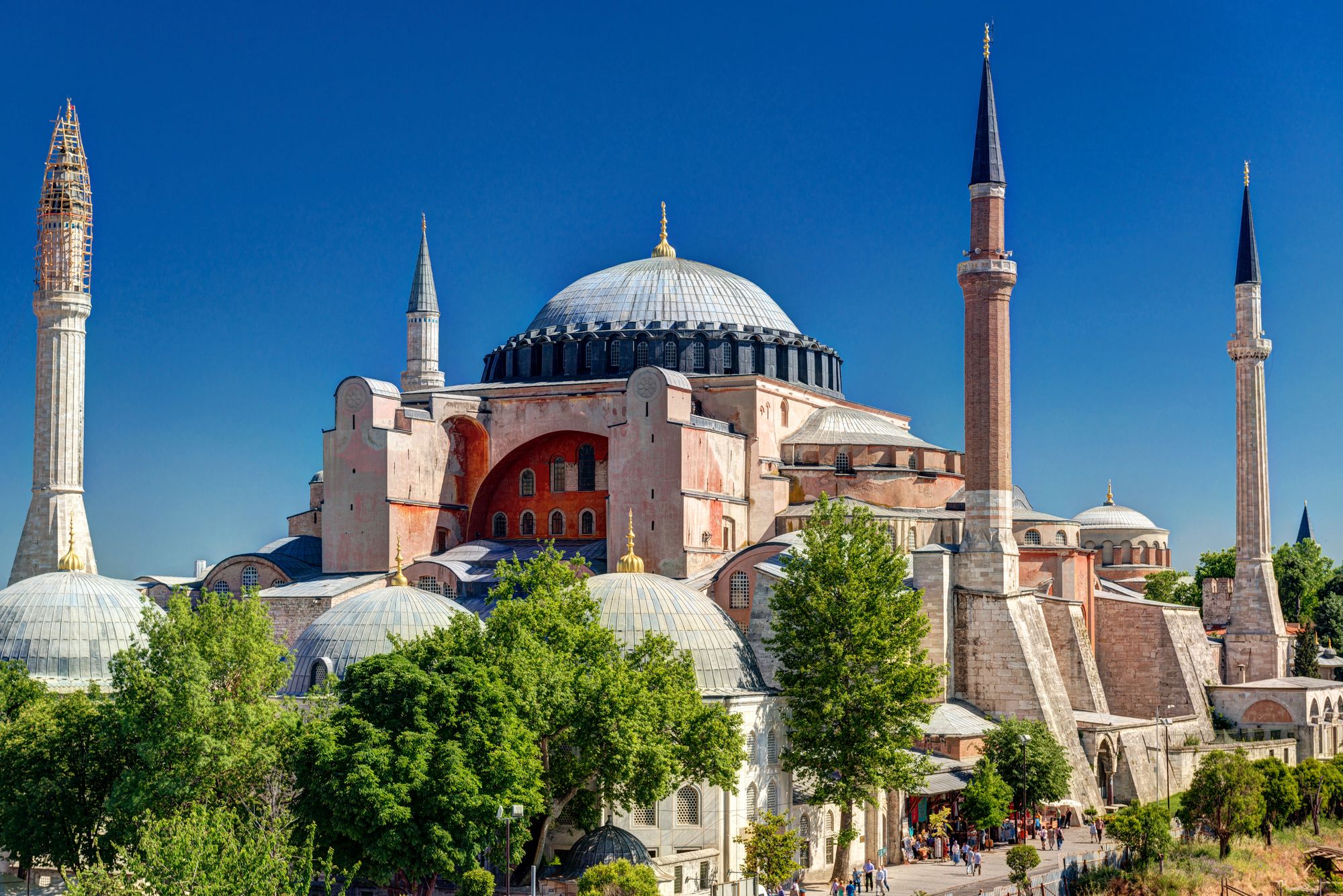 The Blue Mosque (Sultanahmet Mosque) - Known as the 'Blue Mosque' after its interior, featuring beautiful blue Iznik tiles, Sultanahmet Mosque is one of Istanbul's most famous mosques. Its construction was commissioned by Sultan Ahmed I and was built by Mehmed Ağa, a student of the great architect Sinan between 1609 and 1616. Its breathtaking size and exquisite beauty is complemented by a very distinctive element, namely that it has six minarets, as opposed to the usual two or four of most of the city's mosques.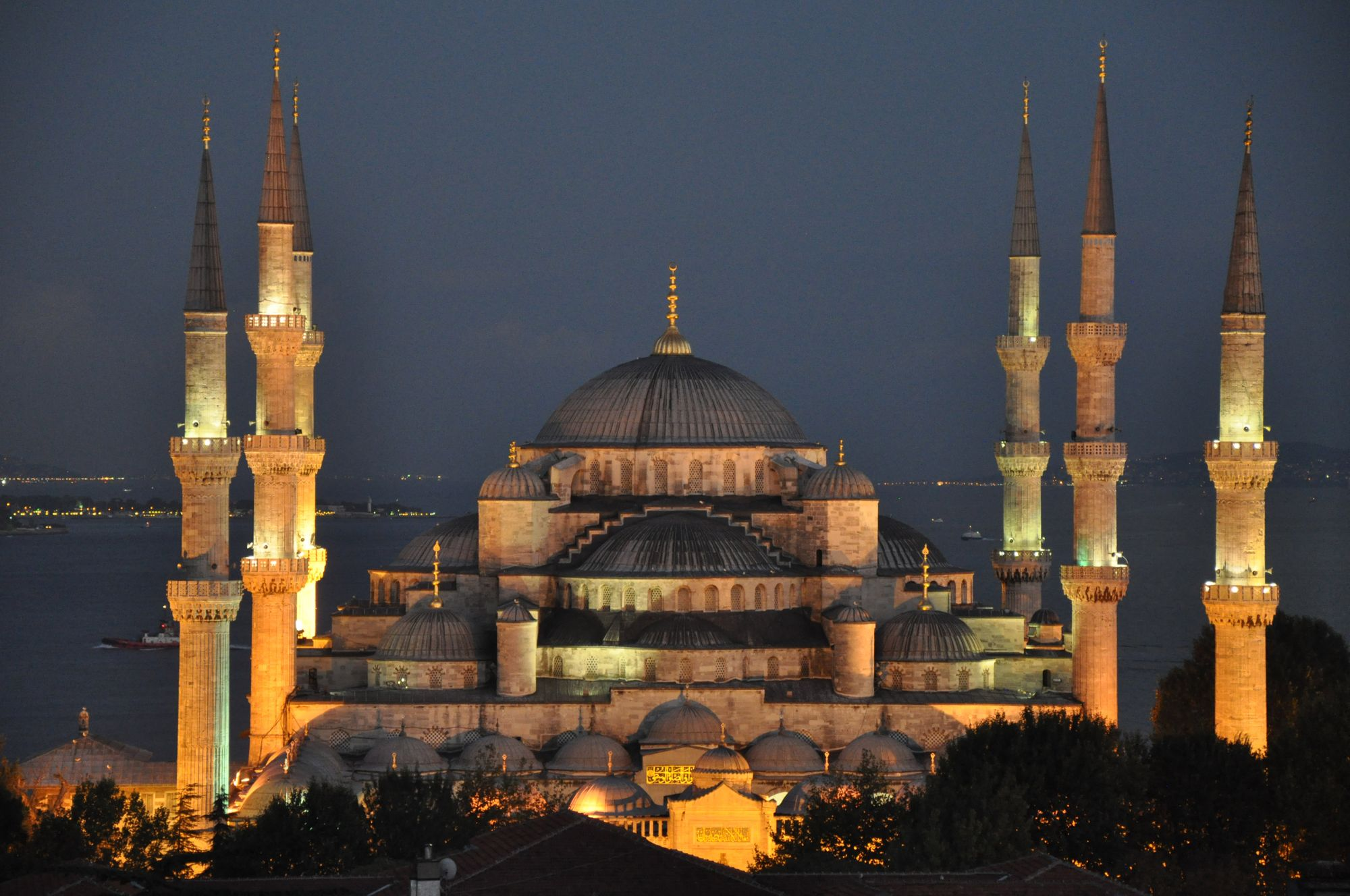 Discover all our halal-friendly properties in Istanbul.
Ramadan in Dubai and Abu Dhabi
In the UAE, Ramadan is celebrated similarly to the rest of the Middle East. In Abu Dhabi, a cannon is fired at the Sheikh Zayed Grand Mosque as well as at Umm al Emarat Park when it's time to break the fast. Many hotels in Abu Dhabi and Dubai will put together huge buffet extravaganzas and Ramadan dining tents. Most restaurants and hotels also have special Ramadan menus.
Sample the best of what Emirati hospitality has to offer with numerous Iftar and Suhur options available throughout Dubai and Abu Dhabi. They traditionally break their fast like the Prophet Mohammed (SAW) did, with a sip of water and some dates. Fruits, sweetened grains, yoghurt and puddings are the main features of a Suhoor meal. Iftar meals include a range of rice-based dishes like biryani and grilled meat to nourish and refuel after a long day of fasting.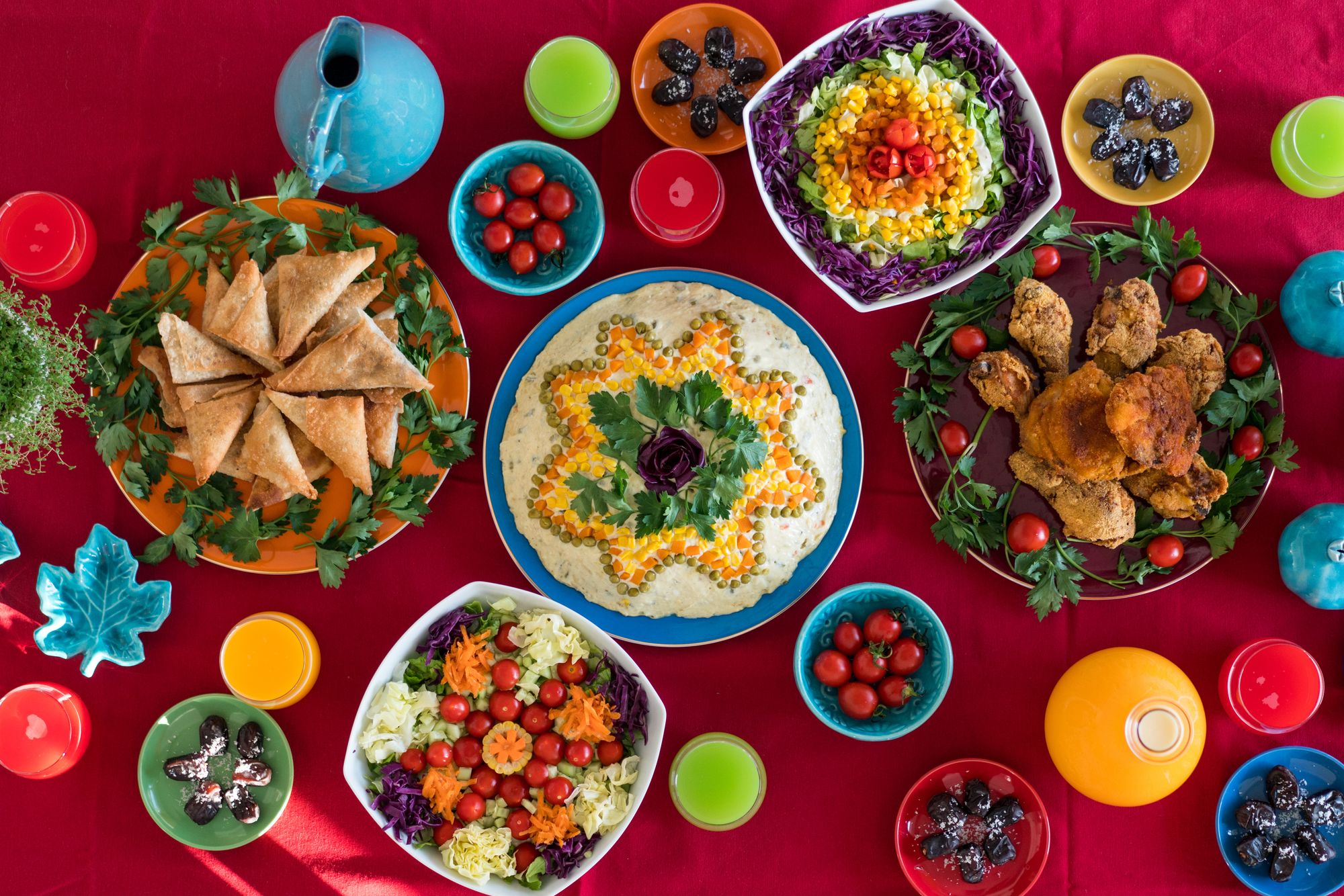 If you're invited to the home of an Emirati friend, brace yourself for a night of great food and conversation that often lasts through to the early hours. Pray Isha and Taraweeh at the elegant Sheikh Zayed Grand Mosque in Abu Dhabi.
A special celebration that is considered an integral part of the Emirates' national identity is the tradition of Haq al Laila, which takes place on the 15th of Sha'ban, the month before Ramadan. On this day, children in brightly coloured clothes roam their neighbourhoods collecting sweets and nuts in tote bags known as kharyta – while singing traditional local songs.
Main Mosques in Dubai and Abu Dhabi
Sheikh Zayed Grand Mosque - The Sheikh Zayed Grand Mosque in Abu Dhabi is one the world's largest and is also an architectural work of art. Built by the late Sheikh Zayed bin Sultan Al Nahyan, it features 82 domes, more than 1,000 columns, 24-carat-gold gilded chandeliers and the world's largest hand-knotted carpet.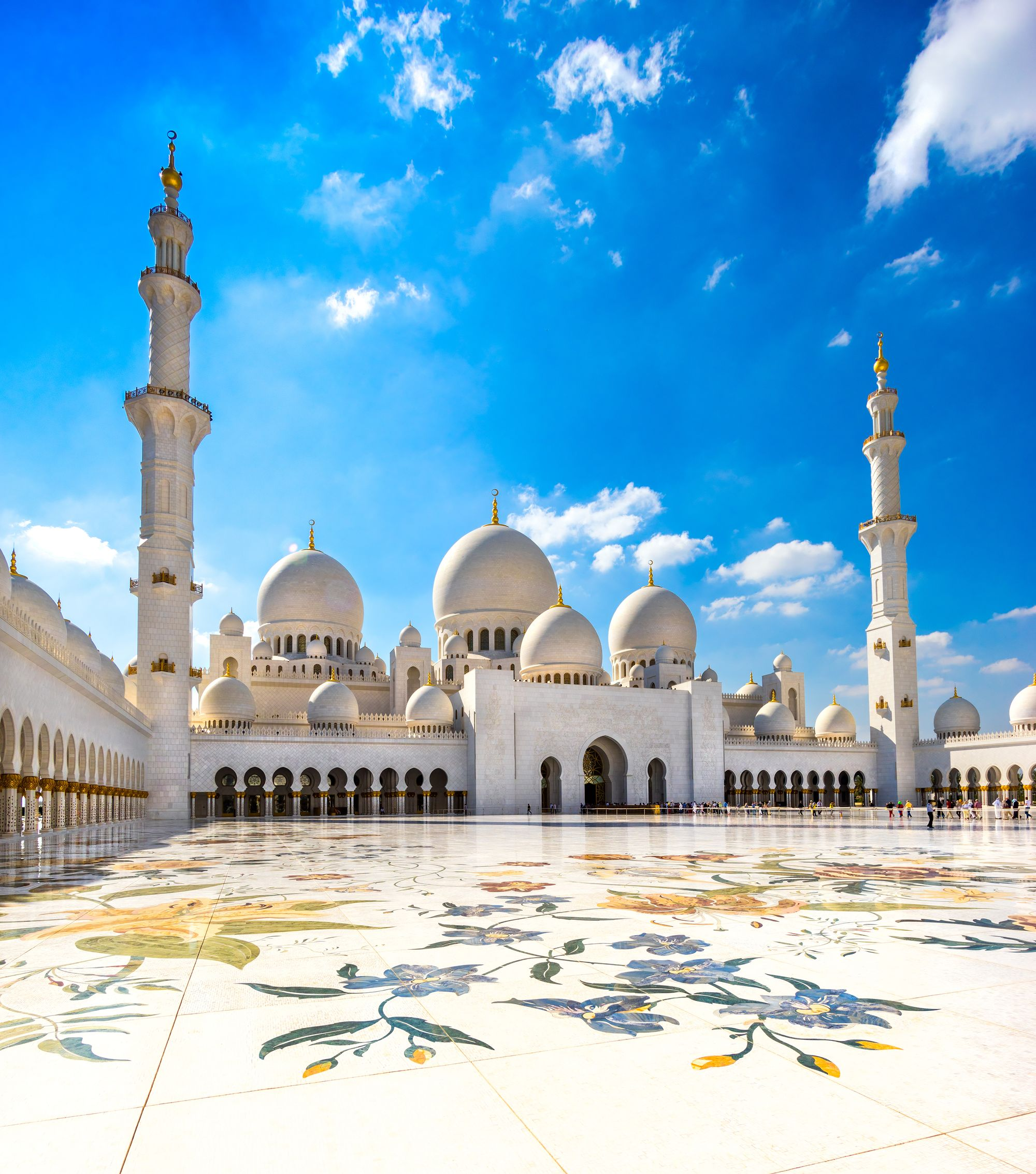 Jumeirah Mosque - Jumeirah Mosque has become one of Dubai's most famous Islamic landmarks. Opened in 1979, Jumeirah Grand Mosque was a gift from the Late Sheikh Rashid bin Saeed Al Maktoum, the former Ruler of Dubai and father of the current Ruler of Dubai HH Sheikh Mohammed bin Rashid Al Maktoum. The mosque can accommodate approximately 1500 worshippers.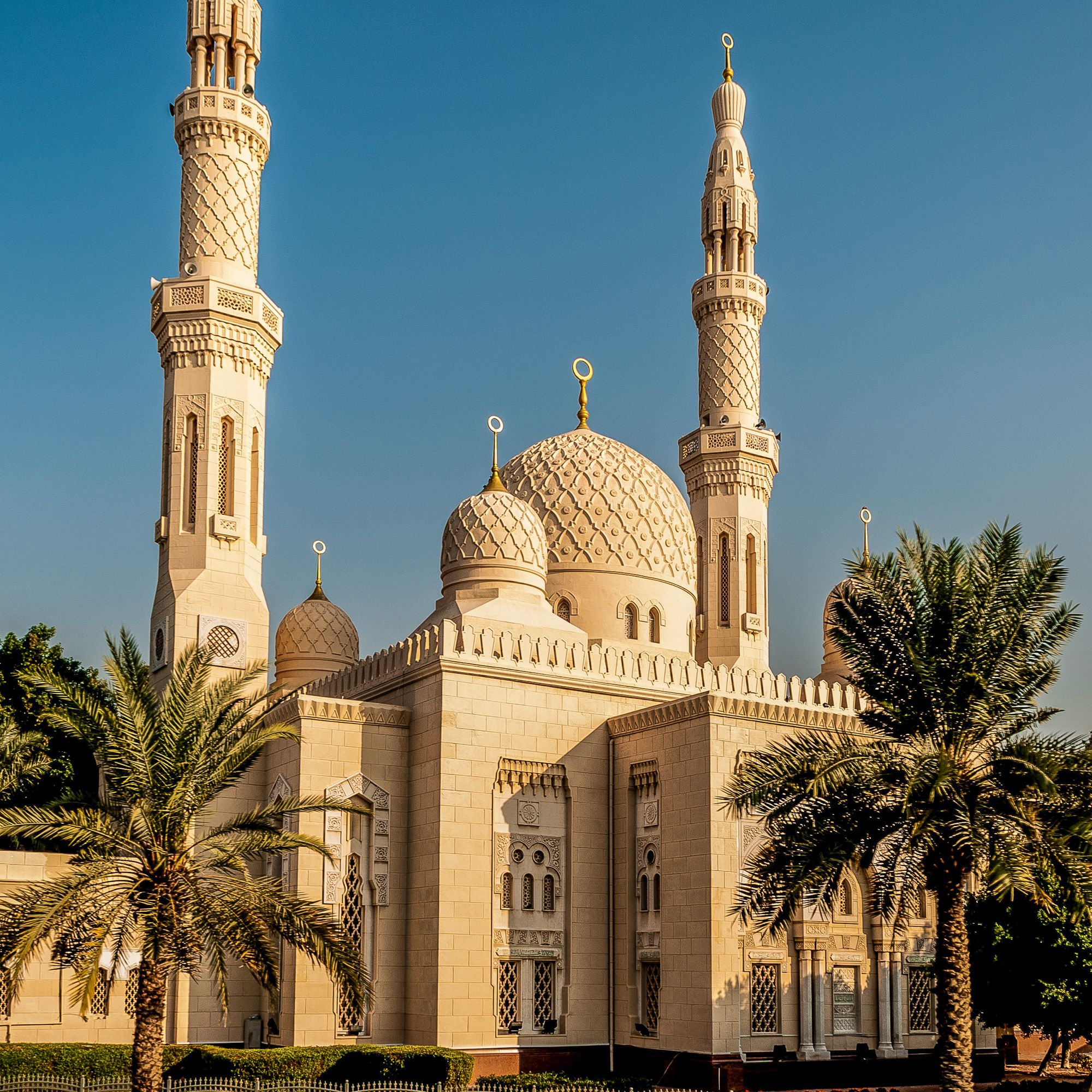 Discover all our halal-friendly properties in Dubai and Abu Dhabi.
Ramadan in Muscat
Oman's capital city is more traditional in terms of architecture and culture. It is very quiet during the day during Ramadan, as restaurants are mostly closed, but it is a great opportunity to visit the cultural and historic sights in and around Muscat. Break your fast for Iftar at some of the city's leading restaurants, offering the best of traditional Ramadan delicacies inspired by local and international cuisines. Omanis are known for their generous hospitality and kindness. Don't be surprised to be invited to their homes for Iftar, famous for being big feasts! Make sure to attend a Taraweeh prayer at the impressive Sultan Qaboos Grand Mosque for a unique experience.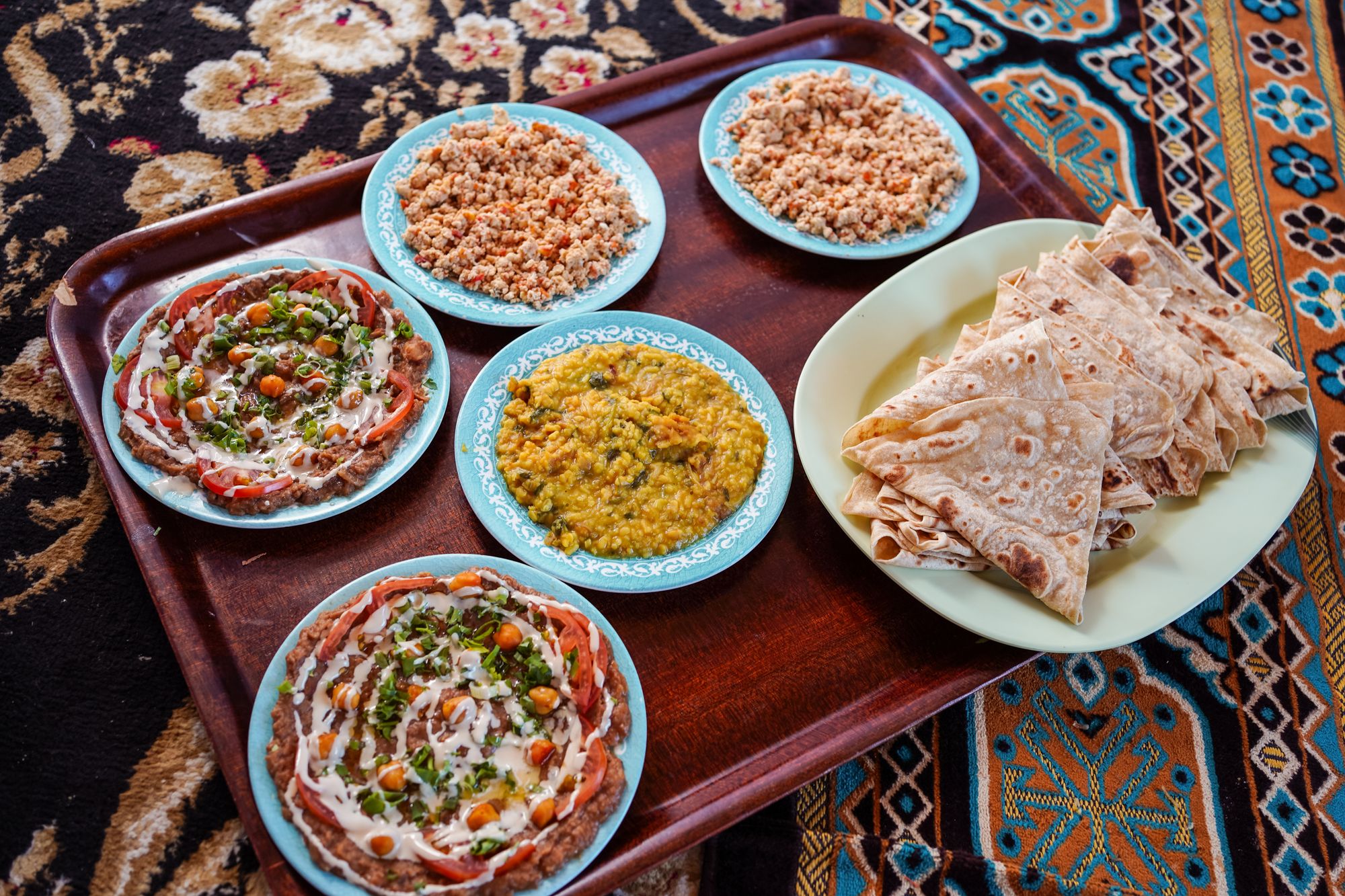 In Oman it is also a tradition that the Misaharati (night walkers) go through the streets with a lamp and a drum to wake people up for Suhur. The fast is broken with coffee and dates, followed shortly by a ritual meal, often shared with family and close friends. With over 1,500 kilometres of coastline, fish salad is a common Omani Iftar dish. Iftar desserts include small pastries with local honey, dates with cinnamon syrup, yoghurt and fruit juices.
Similar to that of the Emirates, the Omani tradition called Qarankasho is a celebration for children, where after Maghrib, on the fourteenth night of Ramadan, children dress in their best clothes and carry bags woven by their mothers to go singing songs from house to house and are rewarded with sweets, nuts and fruits.
Main Mosques in Muscat
Sultan Qaboos Grand Mosque - Sultan Qaboos Mosque is Oman's largest and grandest mosque and features manicured gardens, fountains and long, elegant walkways. It was inaugurated on May 4, 2001 by Sultan Qaboos bin Said Al Said himself as a gift to the nation to celebrate his third decade in power. The handcrafted Persian rug and Swarovski crystal chandelier were both considered the largest of their kind in the world at one time.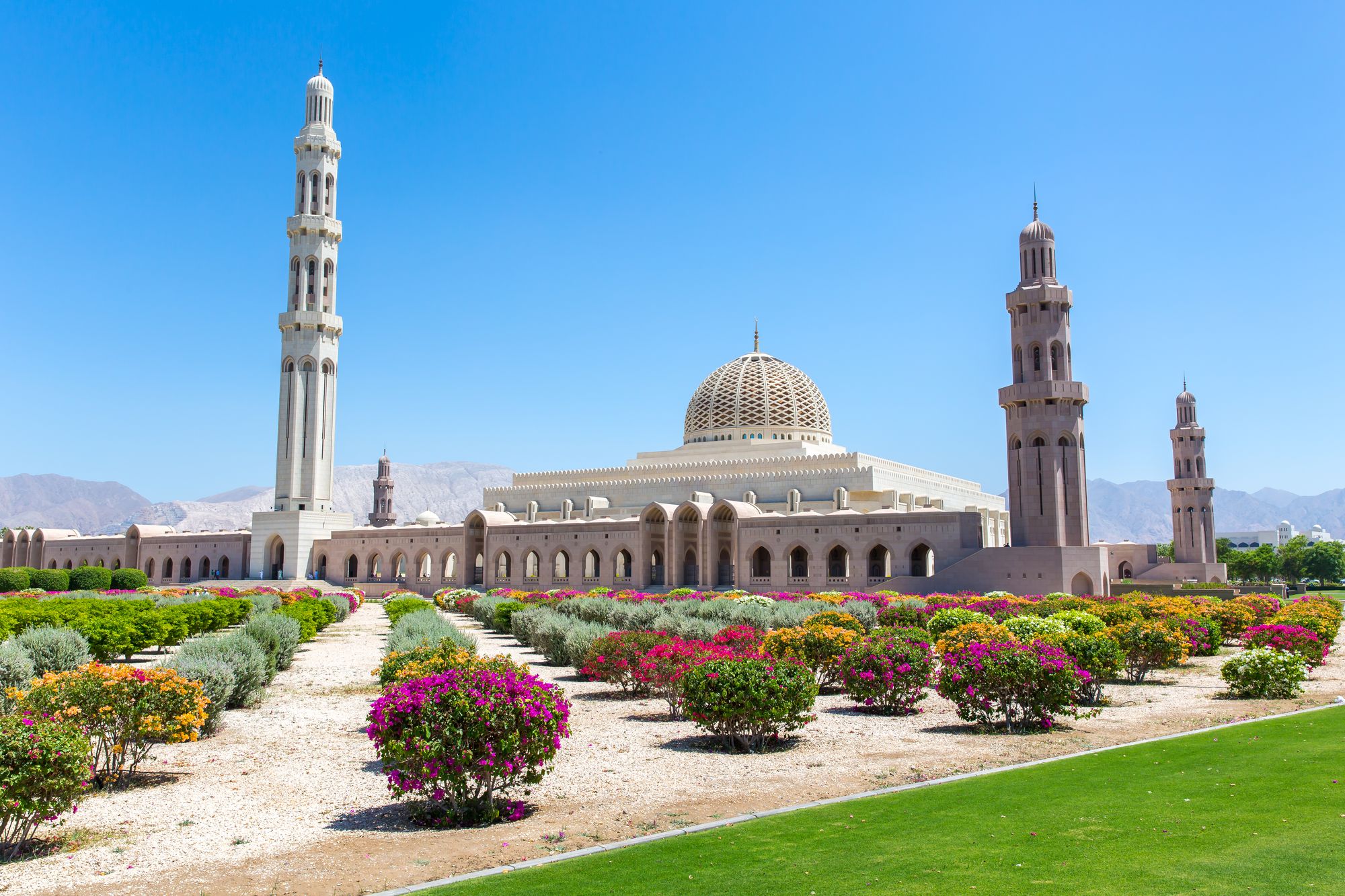 Mohammed Al Ameen Mosque - The Mohammed Al Ameen Mosque is the second largest in Oman and has a 2,500 square metre Persian carpet which is said to be the third largest handmade carpet in the world. Often confused with the Grand Mosque due to its sheer size, the building can be seen from almost every street heading towards Muscat.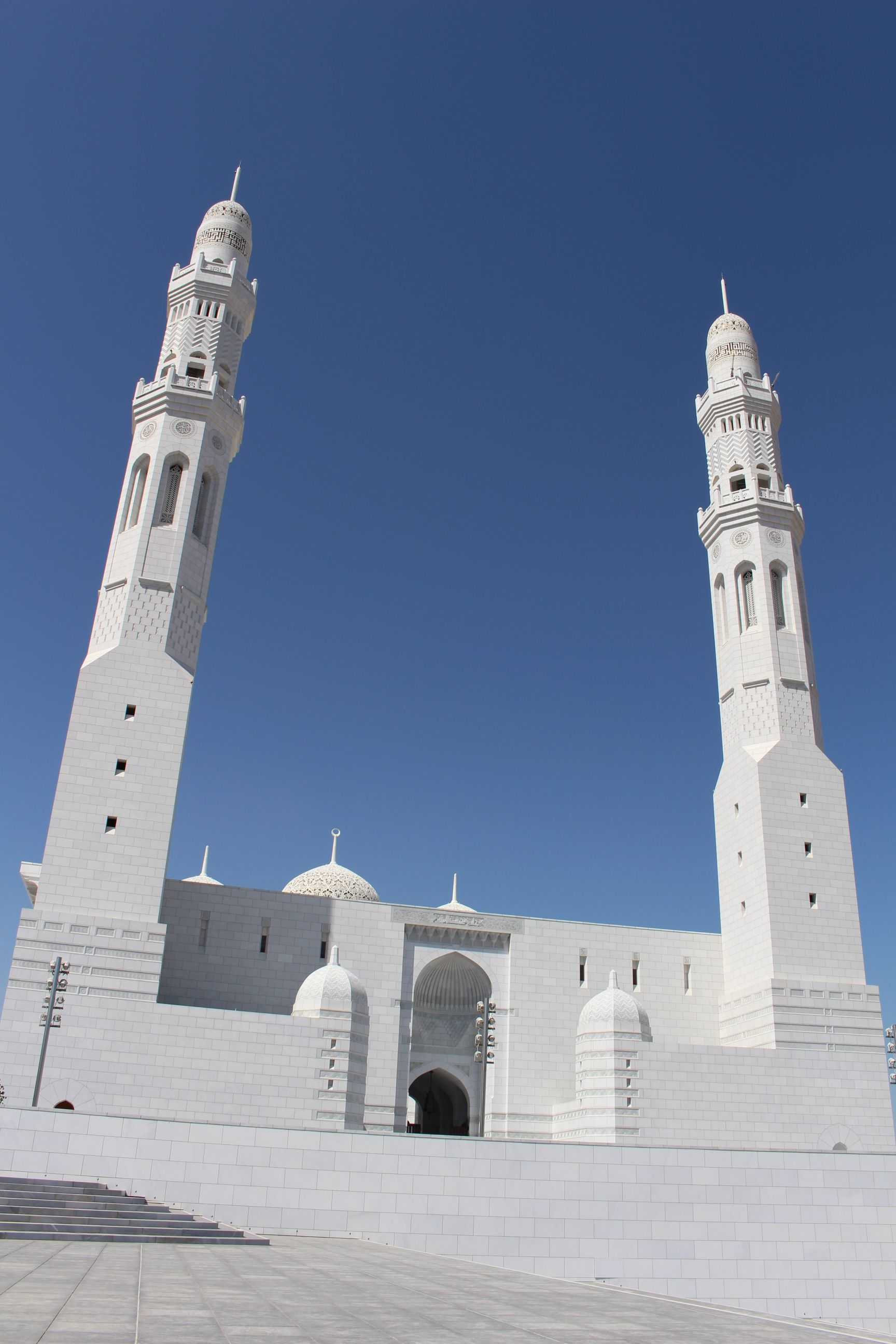 Discover all our halal-friendly properties in Muscat.
Ramadan in Marrakech and Fes
In some cities and neighbourhoods, families will be woken for Sahur by the 'Nafar' who walks the streets playing a distinctive trumpet-like instrument. In other places, it will be drummers playing the traditional Moroccan drums known as 'duff' who wake people to pray and eat their dawn meal. At the end of Ramadan, they knock on doors and they are rewarded with gifts as a reward for their job.
It is common for families to attend Taraweeh prayers together before heading home to enjoy an Iftar meal and then wandering on to the streets to enjoy the atmosphere of celebration and perhaps taste some of the delicious street food. Often the crowds thronging the mosques are so big that loudspeakers are set up outside, and streets are closed so that worshippers can join in prayers outside the mosque. Families also gather together to break the fast and focus on the essential messages of Ramadan.
After breaking the fast with the traditional date, usually one of Morocco's soft, sweet Medjoul dates and drinking fermented milk,  many families start their Iftar meal with harira soup, a delicious and nutritious soup made from tomatoes, chickpeas, lentils and lamb.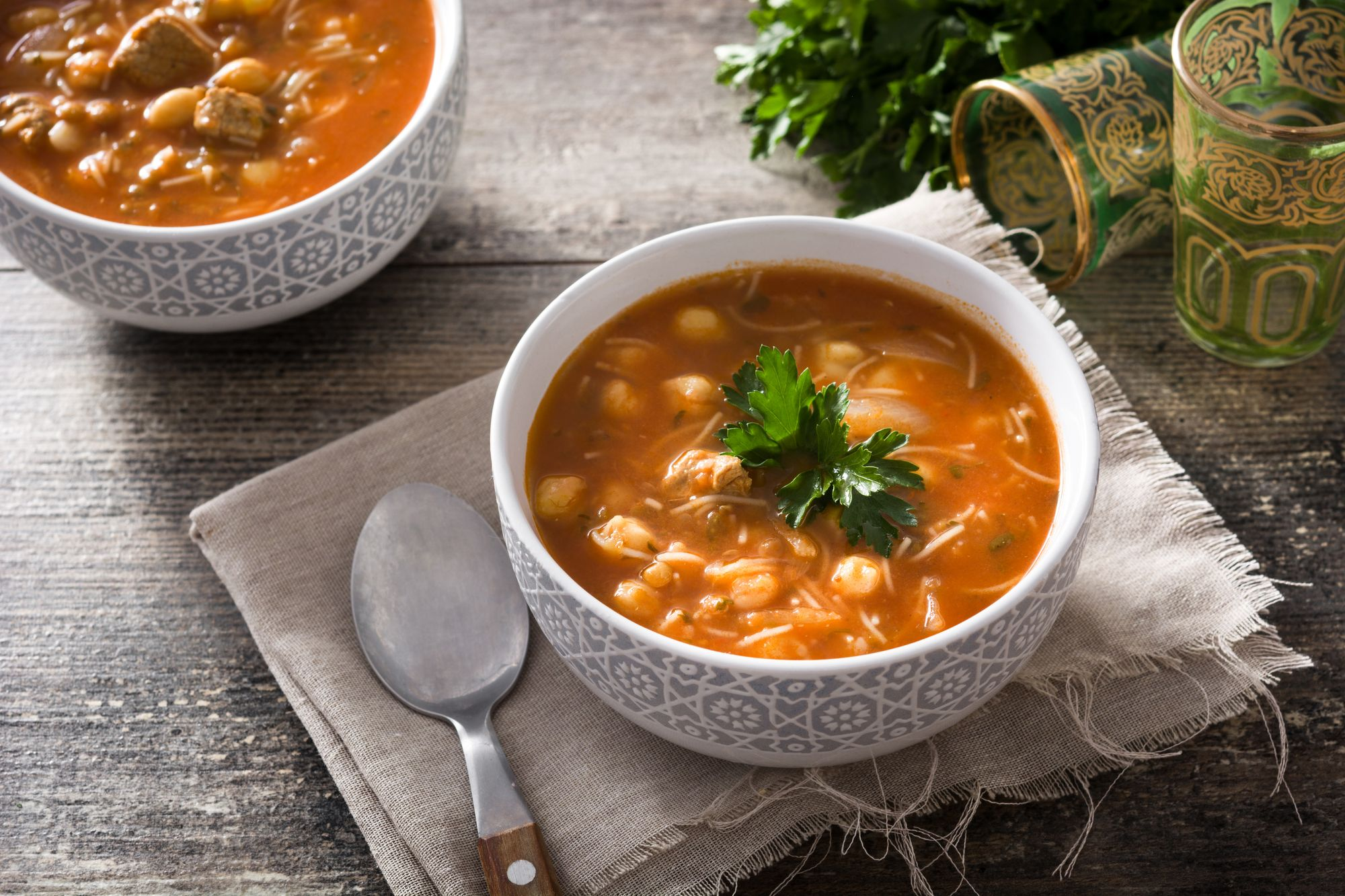 The Iftar table will be full with delicacies such as: briouat, flaky pastry parcels, similar to samosas, filled with eggs, cheese, minced meat or chicken and almonds; msemen, which are sweet or savoury pancakes, filled with minced meat or with honey and butter; semolina pancakes known as baghrir; small pitta breads known as batbout and cigares, filo pastry rolls filled with meat. Morocco is famous for its fruit and freshly squeezed juices which are a great source of vitamins.
The Iftar meal is completed by sweet treats such as chebakia, which are Moroccan sesame pastries, fried and coated with honey, ghriba and sellou pastries, all washed down by the traditional drink of sweet, fragrant fresh mint tea.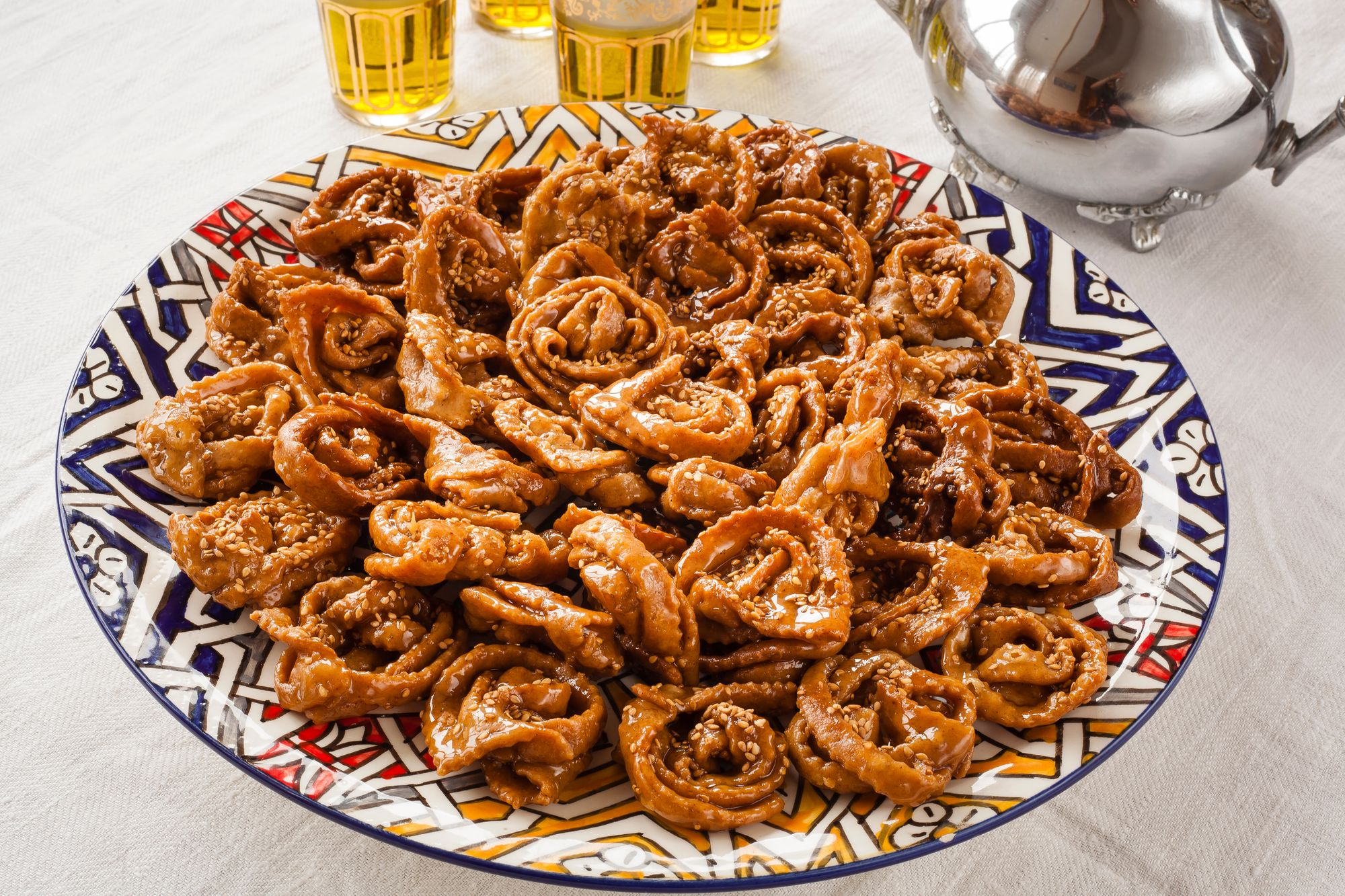 Main Mosques in Marrakech and Fes
Koutoubia (Kutubiyya) Mosque, Marrakech - This mosque, which was built in 1199, is one of the city's most recognisable buildings. Its name comes from the booksellers, which once surrounded it. Its minaret towers over the surrounding buildings at an impressive height of 77 metres, built from huge blocks of the distinctive local red sandstone. Usually, during Ramadan, worshippers at Taraweeh prayers would spill out onto the surrounding streets, with prayers from the mosque being relayed over a loudspeaker to those standing outside.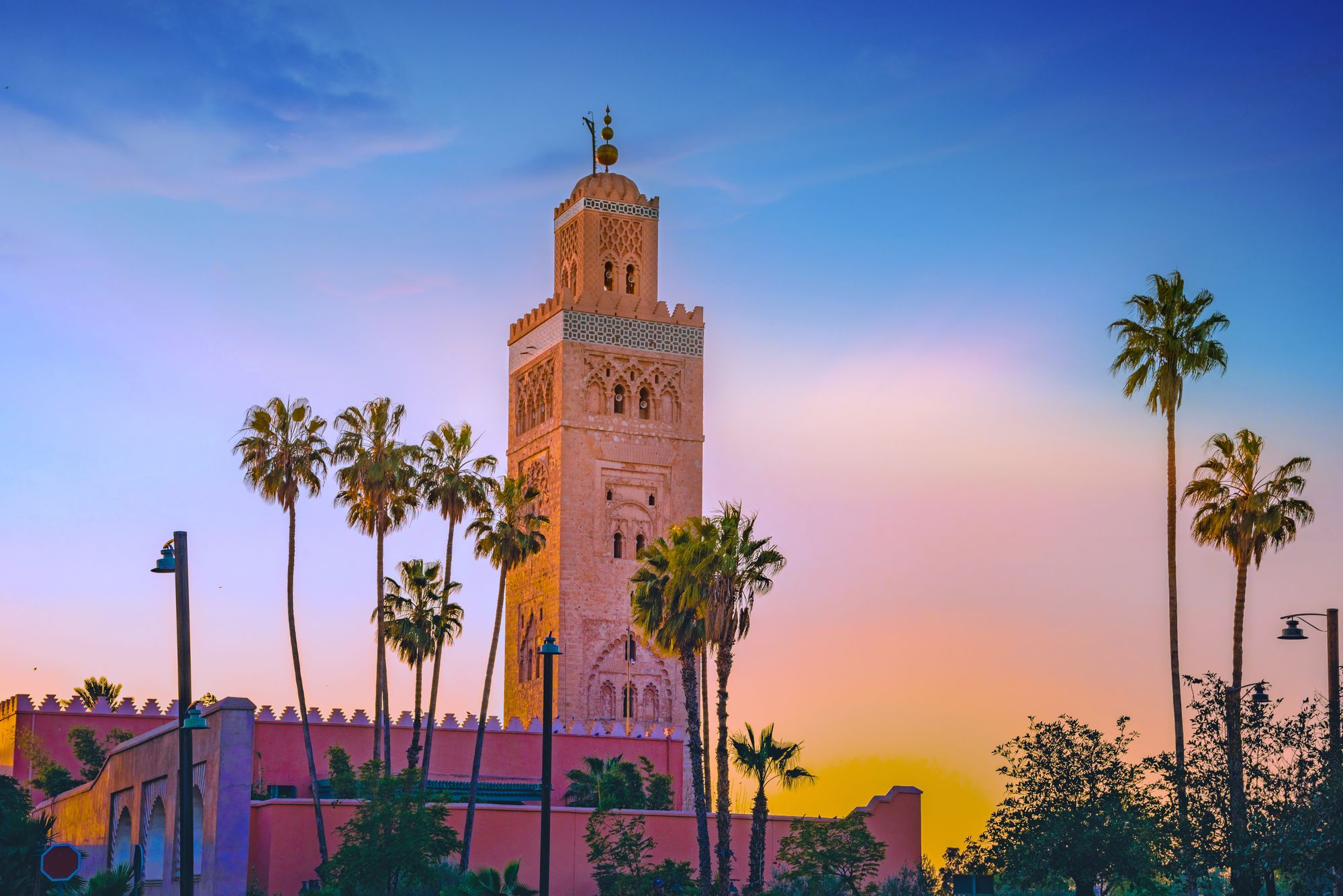 Kairaouine Mosque (Al Quaraouiyine), Fes - This mosque was founded in 859 by a female Tunisian refugee named Fatima El Fihria. It was originally built in a simple style, which has been embellished over time, with the addition of arches, magnificent pavilions and Andalusian style decoration. It is located at the heart of the university, which is one of the world's oldest educational establishments. Its distinctive green pyramid-shaped roof and minaret rise above the university buildings. This mosque is also exceptionally large and can accommodate over 20,000 worshippers at one time.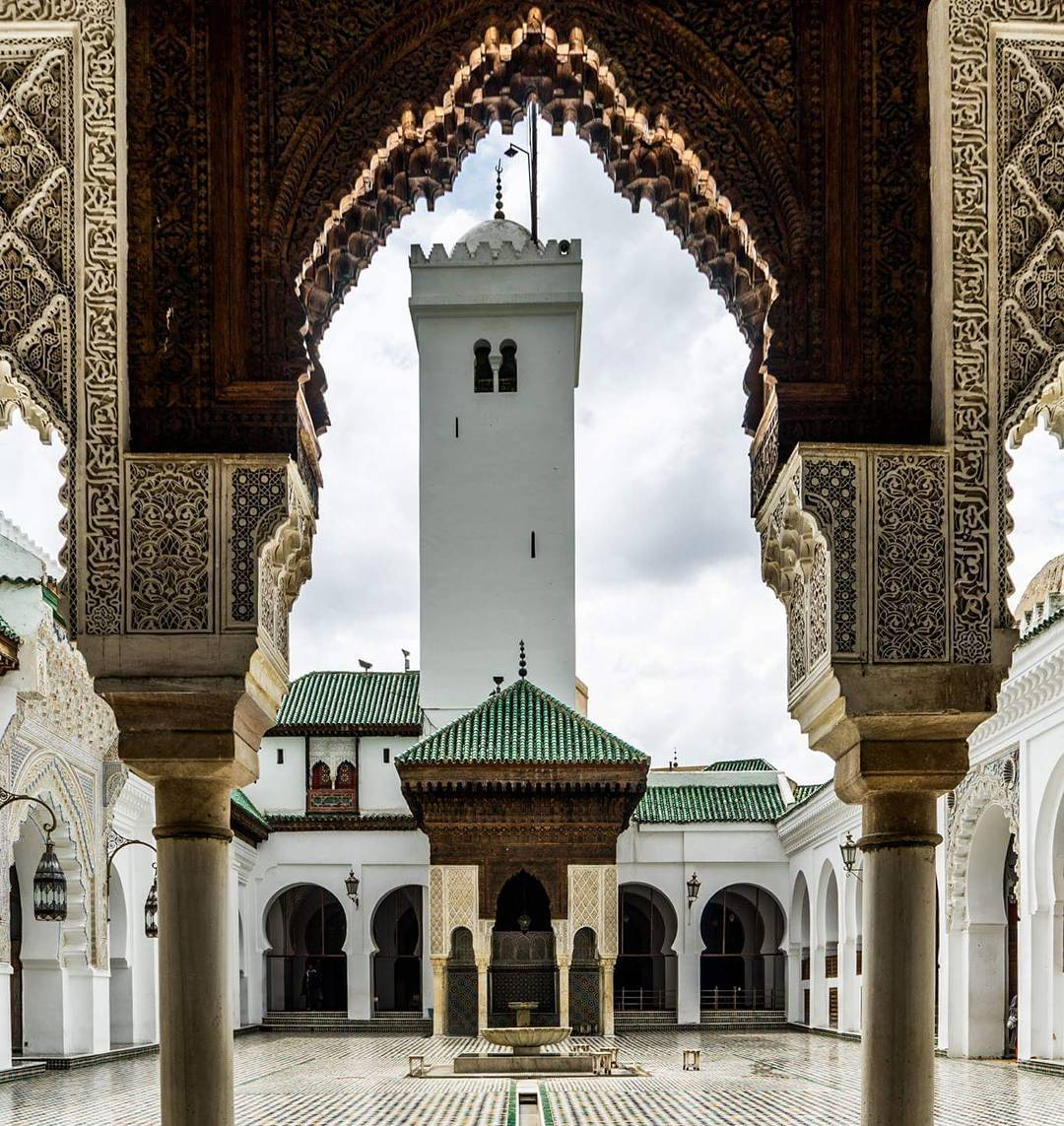 Discover all our halal-friendly properties in Marrakech and Fes.
Ramadan in Cairo
Ramadan is undoubtedly one of the best times to visit enchanting Cairo, offering a festive atmosphere that vibrates in every street and alley: decorative lights twinkling like stars on the horizon, beautiful handcrafted lanterns hanging above from every doorway and rainbow-coloured canvas covering endless rows of tables and chairs across the city. Cairo's traditional Ramadan lantern, the fanous, is used during the holy month as a decorative symbol that can be traced back to the Fatimid conquest.
Traditionally, a special cannon located in the Citadel of Salah el-Din announces the start of Iftar by firing at sunset.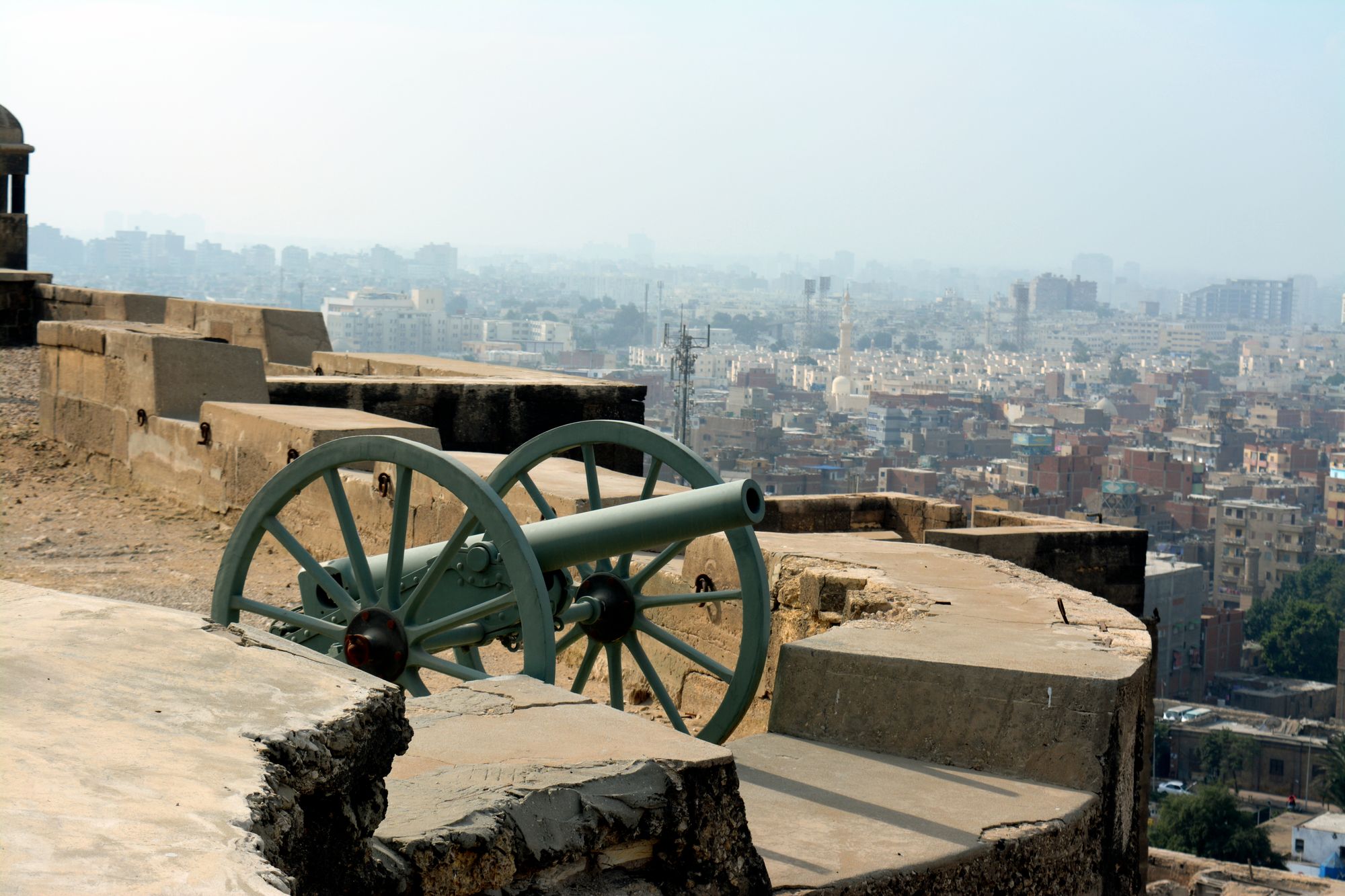 Traditional Ramadan dishes in Cairo include mahshi, stuffed vegetables with rice, rokak, stuffed pastry with minced meat, molokhia, a rich soup with strong flavours of coriander and garlic fried in Ghee and keshk, a savoury dish with flour, chicken, oil, and yoghurt. A traditional iftar meal is completed by oriental desserts such as Um Ali (bread pudding), Basbousa (semolina cake with yoghurt) and Qatayef, a sweet dumpling filled with cream or nuts.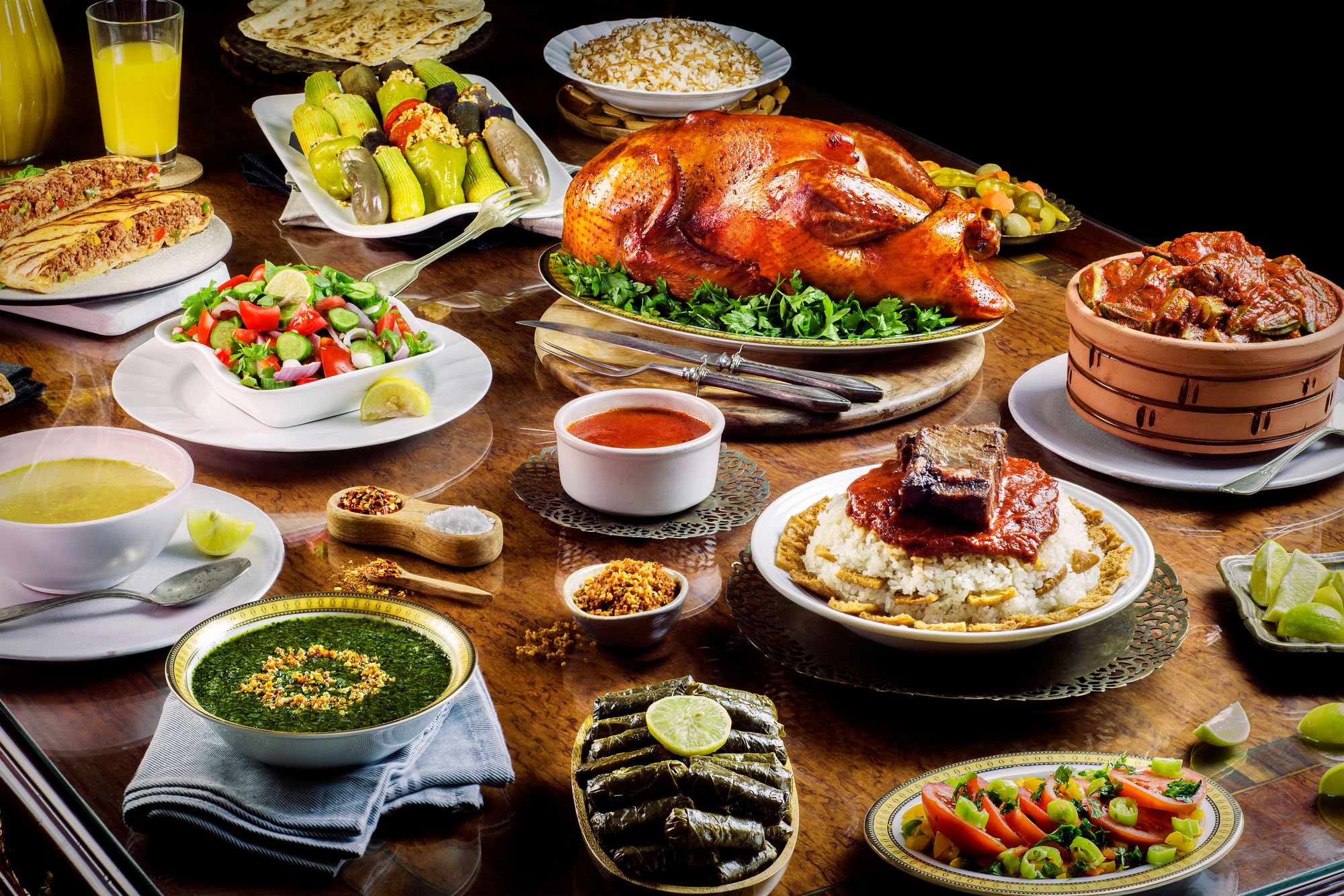 Although business is as usual during the day and you can see all the sights and landmarks of Cairo, at sunset people make their way to the place where they want to break their fast. While entertainment reigns supreme throughout the city, each night offers a wide variety of shows and activities that increase as the clock ticks down at midnight. For an authentic Ramadan in Cairo experience, mingle with modern Cairo in the famous Egyptian tents of Ramadan Suhoor (Kheyam), where you can enjoy mezes and fruity cocktails.
Main Mosques in Cairo
Al-Azhar Mosque - Built in 970 AD, the mosque has undergone major expansions over its 1,000-year history and blends different architectural styles seamlessly. It has three minarets from the 14th, 15th and 16th centuries. The building also houses the second oldest university in the world, dating back to 988 CE, whose large modern campus is the most prestigious place to study Sunni theology.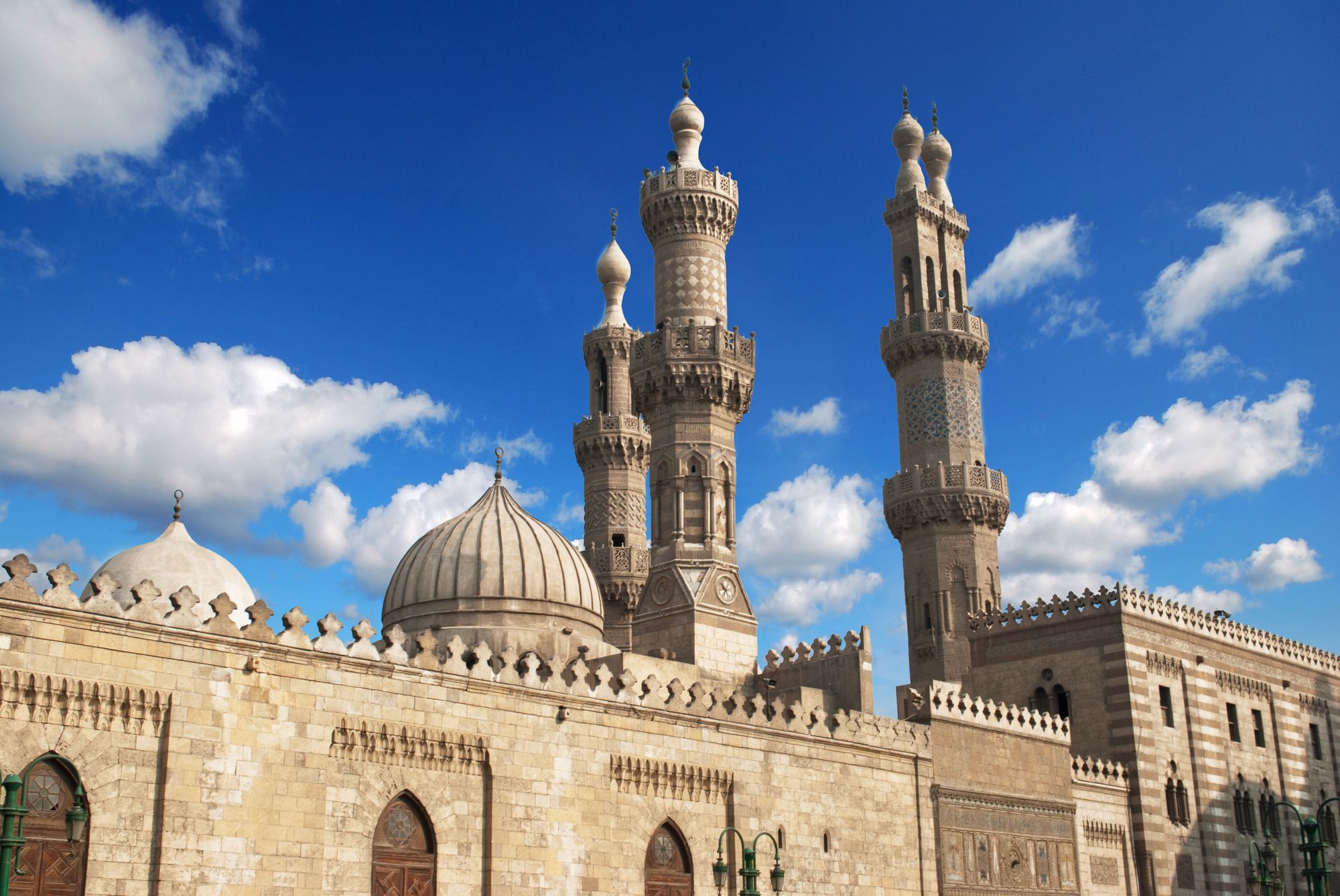 Muhammad Ali Mosque - Known as the Alabaster Mosque, the Muhammad Ali Mosque is one of Egypt's most popular tourist attractions. It was built between 1830 and 1957 by order of Muhammed Ali Pasha, the ruler of Egypt. Located on top of the Saladin Citadel, its 270 feet high minarets can be seen from many distances in the city of Cairo.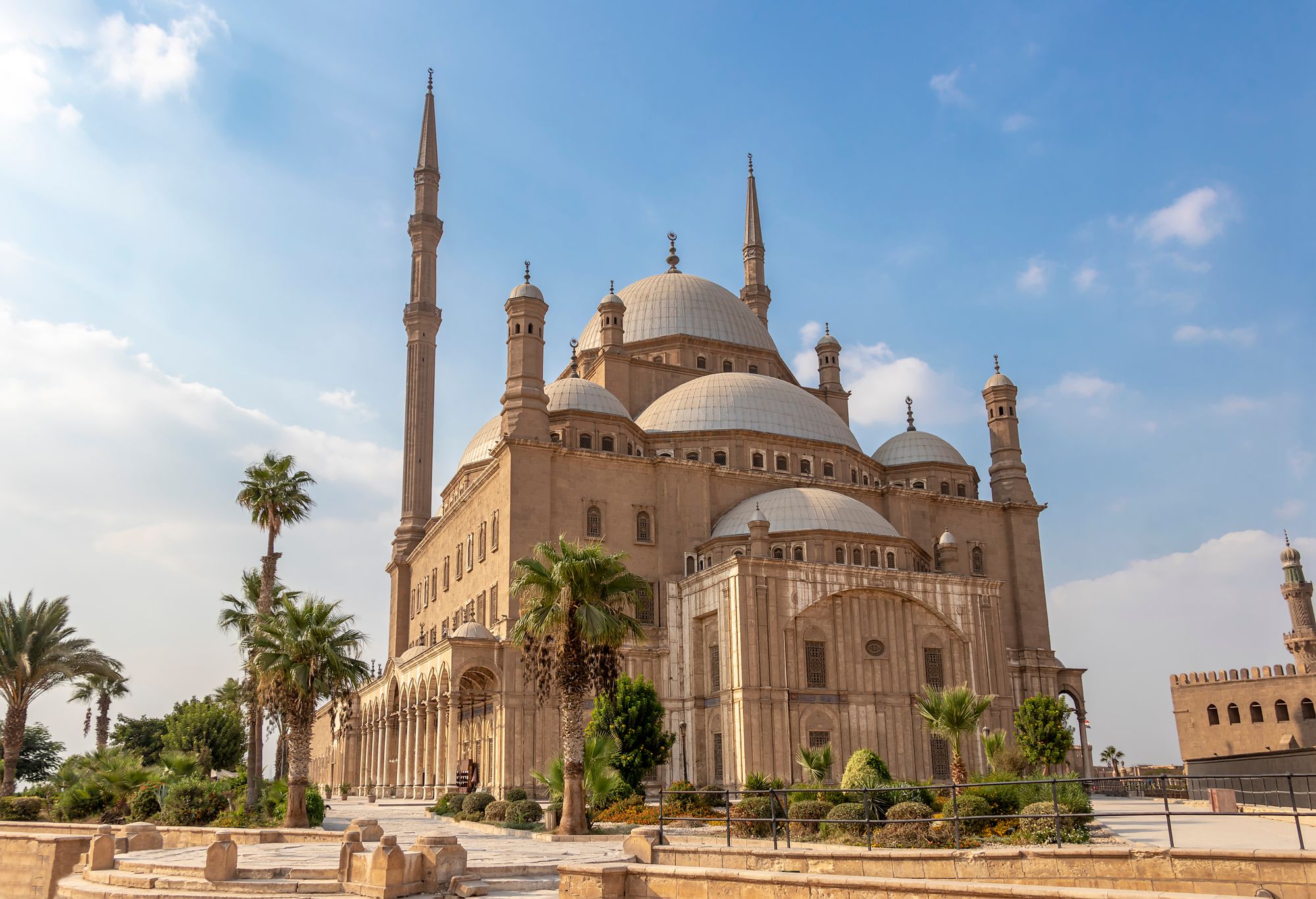 Discover all our halal-friendly properties in Cairo.