Turunç – Turkey's hidden gem
Small and peaceful, Turunç is a family-friendly resort, with a beautiful Blue Flag beach, sheltered by majestic pine-clad mountains. Its relaxed charm is perfect for those halal-conscious holidaymakers who want to enjoy a taste of the real Turkey. If you're looking to experience the authentic Turkish way of life and the famous Turkish hospitality for which the locals are renowned, then Turunç is the place for you.
Turunç is the ideal place for Muslim families to unwind and get away from it all. It is perfect for those who want to enjoy the local atmosphere and stay in small and friendly accommodation.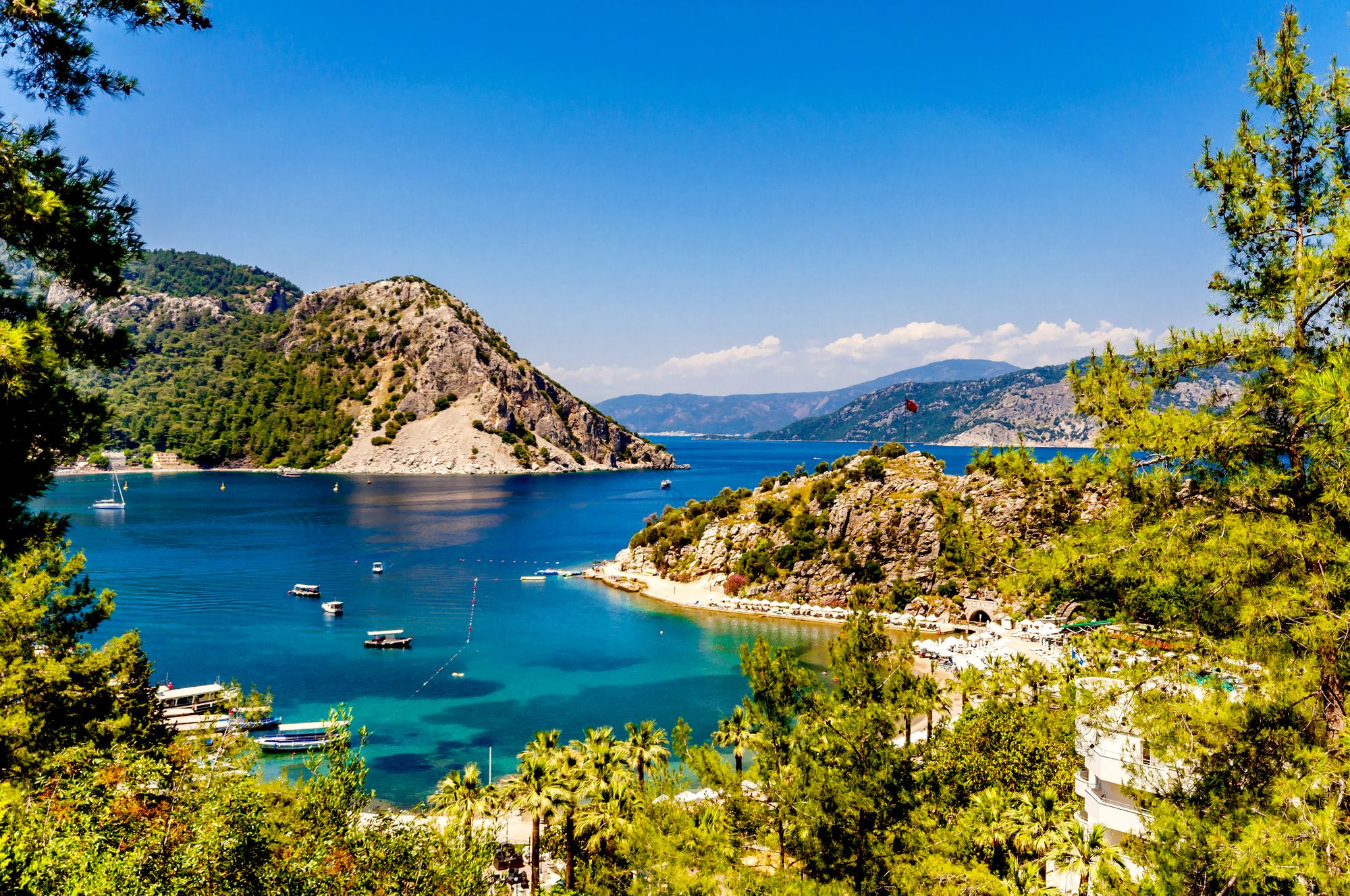 Turunç was once little more than a fishing village, and you can still walk the length of the village in around half an hour. The surrounding scenery is beautiful, with its impressive mountains covered in pine trees. It has a main street where there are small shops and a good choice of local restaurants – all serving halal food – so there are plenty of places to eat out if you enjoy variety.
The beach runs the length of the bay, with its dark sand and shingle. It leads to the small harbour from which water taxis leave for Marmaris and Içmeler and gulets leave for day trips to deserted coves and small islets in the clear waters. If you walk up the hill you will soon come to olive groves and smallholdings where sheep and goats are grazing and chickens wander freely.
At the heart of Turunç village is its mosque, with its beautifully tiled interior. It is welcoming to visitors, who want to join the locals for prayer.
Five reasons to visit Turunç in 2020 on a halal-friendly holiday
1. Beautiful beach at Turunç bay
Turunç is known for its clean, Blue Flag beach, which runs the length of the gently curved bay, a pleasant mix of sand and shingle lapped by crystal-clear waters. The beach is used by locals and tourists alike and the Hotel Mavi Deniz (which aptly means 'Blue Sea') and is set to one end of the beach, also has women-only and men-only pools.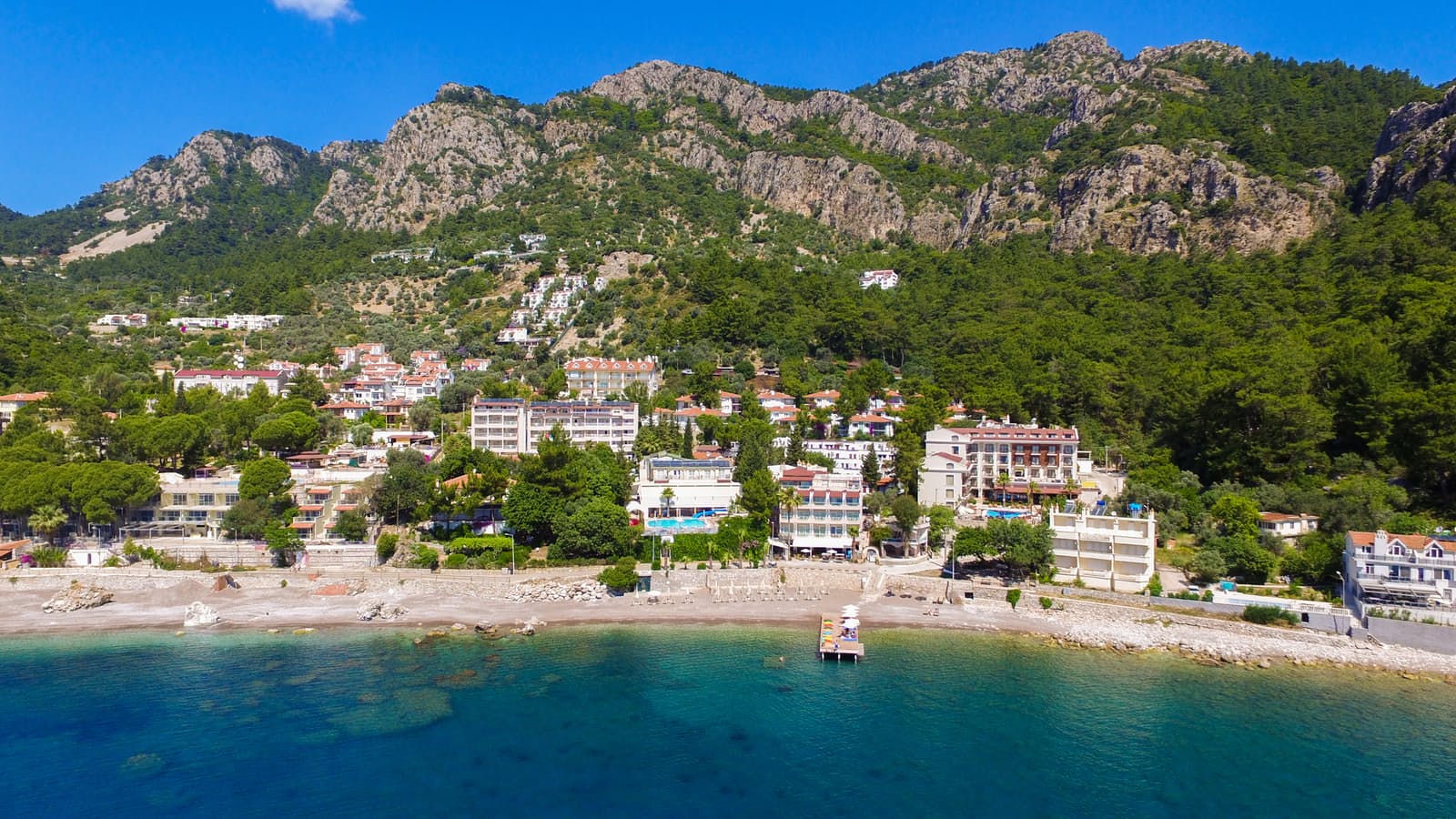 2. Delicious halal food
Try delicious Turkish cuisine, mouth-watering kebabs, fresh local vegetables served with olive oil and sweet honey-soaked pastries. Make sure you visit the traditional tea garden and join the locals for a glass of Turkish tea or a refreshing ayran (yoghurt drink). It's also a great place to try the gözleme (village pancakes) which come with fillings such as feta cheese, potato, spinach or minced meat.
3. Shopping at the local market
Mix with the locals at Turunç market, which sets up close to the harbour every week on Mondays and is open from around 8am until 4pm. You will find fresh fruit and vegetables and delicious treats such as olives or local honey, which is famous in the region. It's a great place to shop if you are staying in a private villa. The market is also a good place to pick up souvenirs. Towels, textiles and leather goods are particularly good value.
4. Take a boat trip
The traditional wooden sailing boats, known as gulets, leave from the harbour every day for trips along the coast to explore the beautiful Loryma peninsula. For privacy you can hire an entire gulet for your family and ask the captain to take you to secluded bays or tiny islets along the coast, where you can swim undisturbed.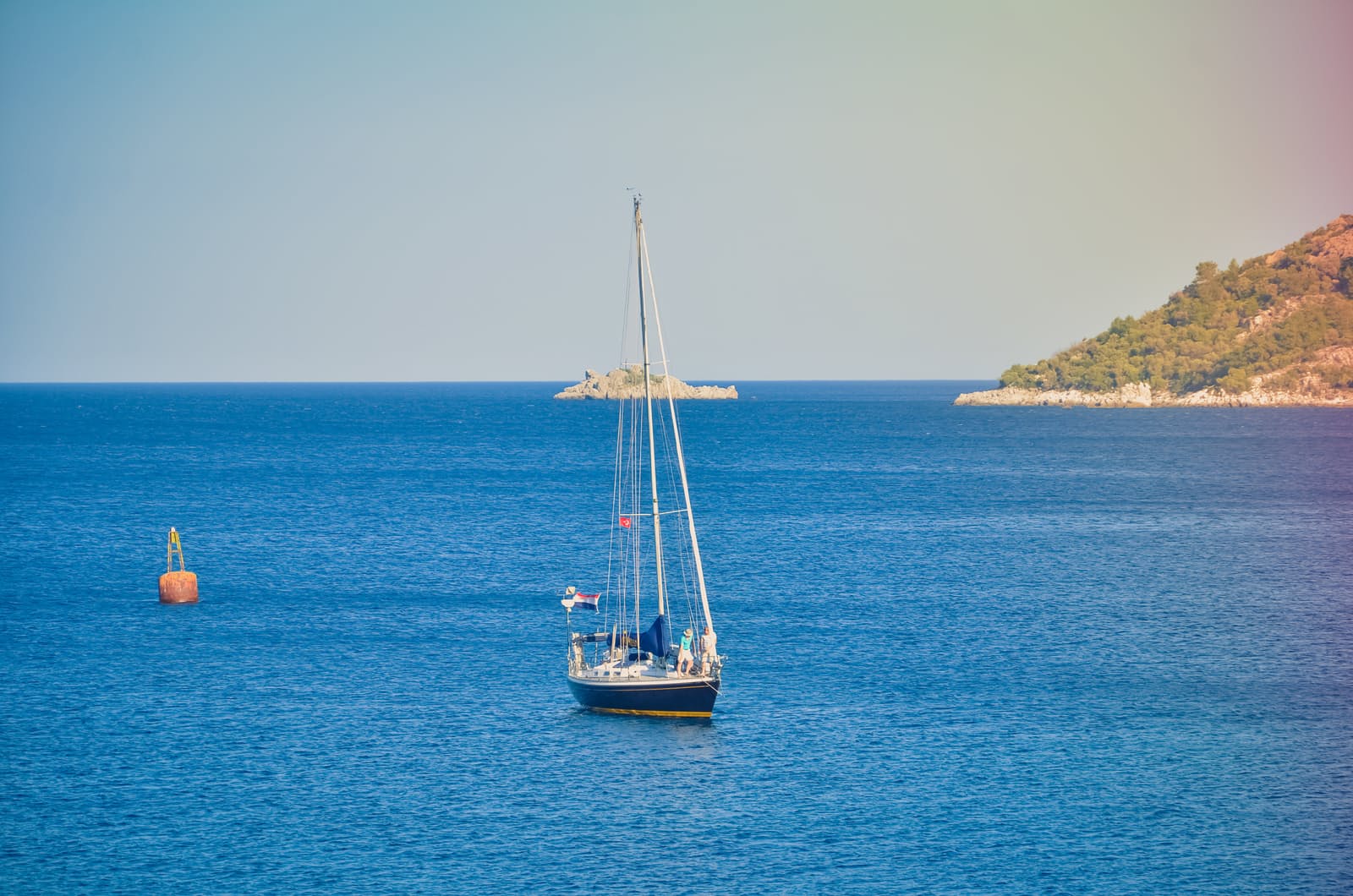 5. Visit Marmaris for shopping
Just 20kms from Turunç – and two bays further along the coast – is the busy, cosmopolitan resort of Marmaris. It's well worth a day trip for keen shoppers, as there is a much wider choice and better prices than in Turunç. You can get there easily by water taxi or local bus services (dolmuș).
Other places to visit whilst on holiday in Turunç
Ancient City of Amos
Visit the remains of the ancient Carian city of Amos, once inhabited by the people of Rhodes. You can still see the ancient theatre, which would have once seated over 1300 spectators, as well as a temple and necropolis.
Turunç Waterfall
It's well worth visiting the impressive waterfall, which is situated around 18-20 kilometres from the village itself. You can enjoy a pleasant walk in the area or enjoy the views of the waterfall whilst enjoying a meal of fresh trout in one of the restaurants nearby.
Village of Orhaniye
Just the other side of the Loryma peninsula is the village of Orhaniye, which is home to another natural wonder of the region, the bay of Kızkumu. From a distance it appears that people are able to walk on water, but actually they are walking on a sandbar of reddish sand, which stretches out into the waters of the bay.
Içmeler
Between Turunç and Marmaris lies the wide sandy bay of Içmeler with its palm-lined beachfront promenade. In fact, it is possible to walk right along the seafront for the 7 or so kilometres between Içmeler and Marmaris. Içmeler has become a popular holiday resort, especially with families, who love its shallow waters. It is also a big centre for watersports.
Loryma Peninsula
The Loryma or Bozburun Peninsula, where Turunç is situated,  is a beautiful region of unspoilt coast and pine-clad hills. It is well worth exploring on land or by sea. There are many charming villages and small coastal resorts, which are well worth visiting such as Hisarönü, Selimiye, Akyaka and Datça, which is at the very tip of the peninsula
Where to stay in Turunç for halal-friendly travellers
Stylish private villas with full hotel services
–     Ideal for families seeking complete privacy with a private swimming pool, which is not overlooked in any way.
–     Choose whether to cater for yourself or order in halal food.
–     Guests at these villas can also use the beach at the Mavi Deniz Hotel.
Alya Piynar Villa Hotel ⭐⭐⭐⭐ 8.0
Attractive 2-bedroom villas offering complete tranquillity, each with its own fully private pool. They are set in lush greenery on the edge of the forested hillside, offering spectacular views.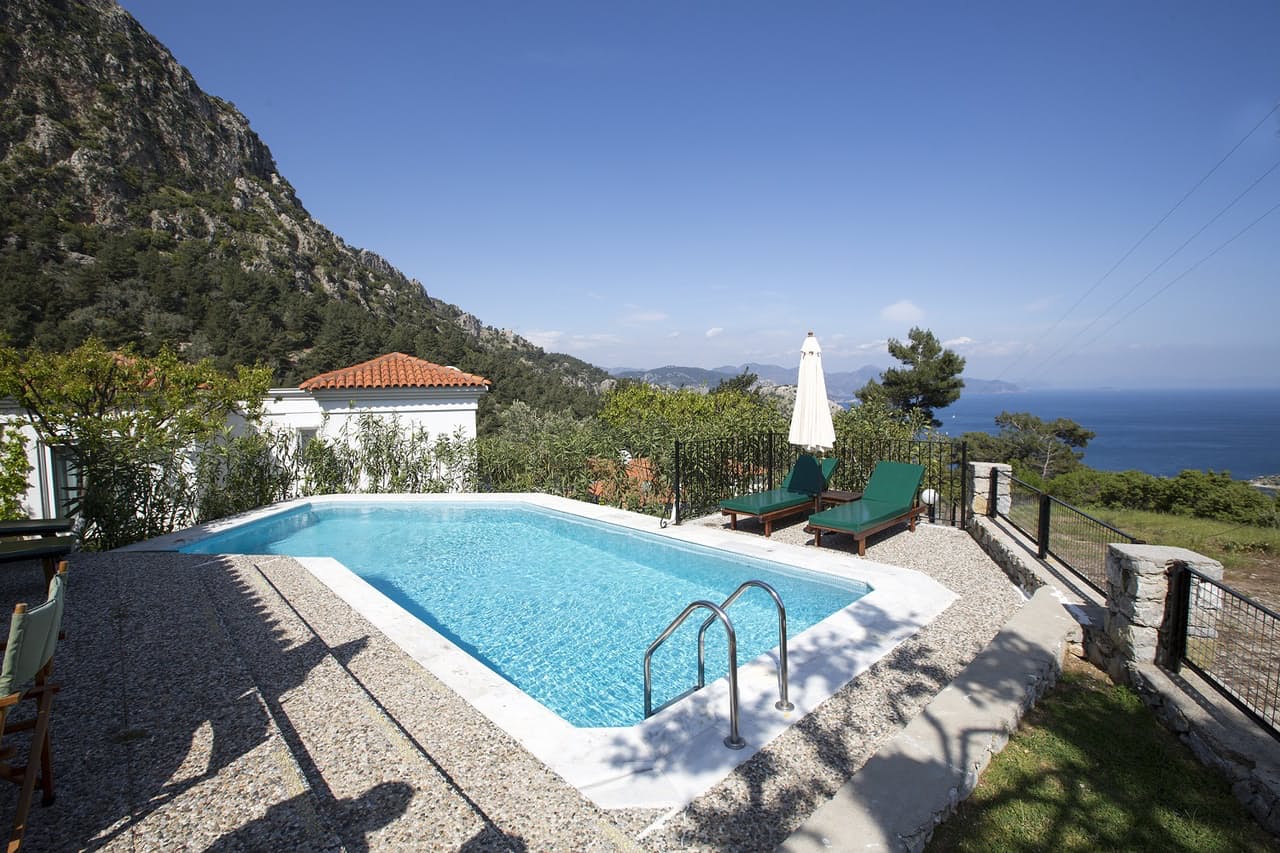 Villa Alya Boutique Hotel ⭐⭐⭐⭐⭐ 8.7
Contemporary 3-bedroom villas, each with its own completely private pool set in the attractive garden. In a beautiful spot on the edge of forest land and olive groves, they overlook Turunç Bay. Flexible meal plans available.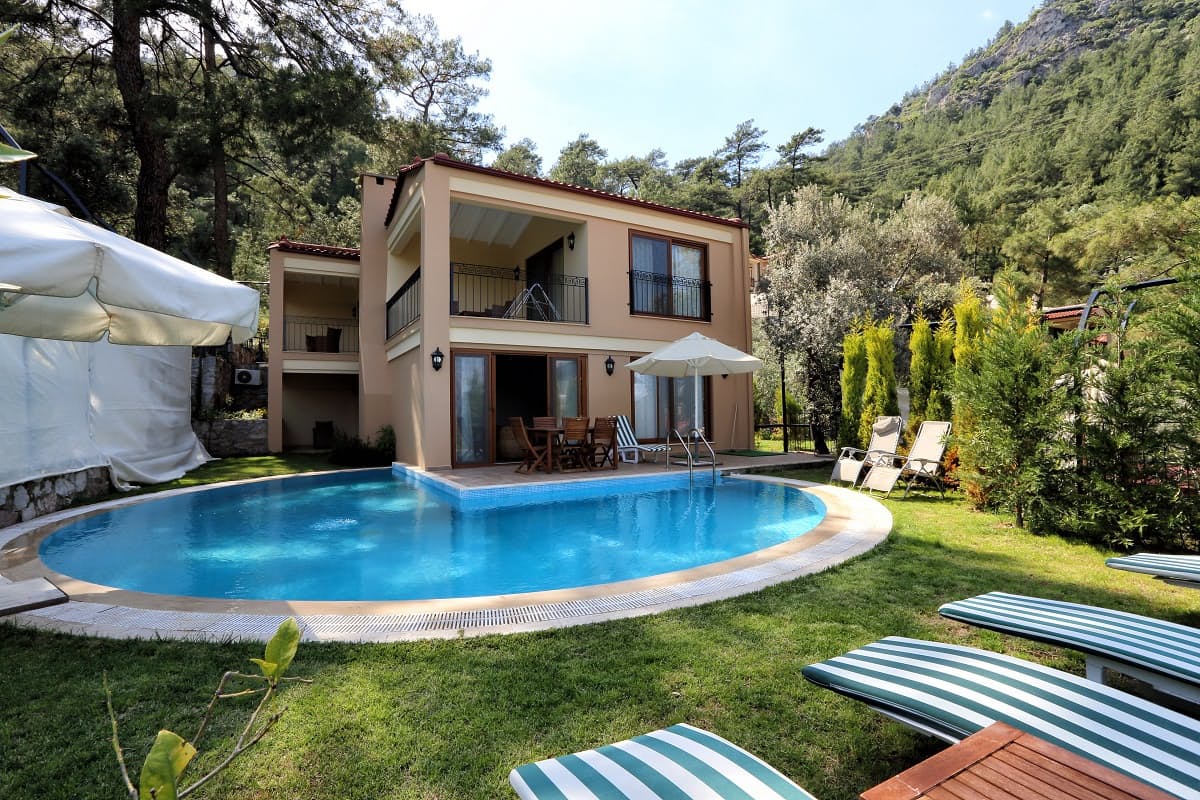 Family-friendly beachfront hotel
–      Women-only and men-only pool
–     Great value for money – 2020 early summer prices start from just £54 per night for two people sharing a twin/ double room on all-inclusive board basis.
–     Sea views from some rooms, family rooms and interconnecting rooms are available.
Hotel Mavi Deniz ⭐⭐⭐⭐ 8.4
A relaxed, alcohol-free hotel set to one end of the sandy beach, with men- and women-only pools. Its spa is open to men- and women-only at set times and it is in the heart of Turunç village.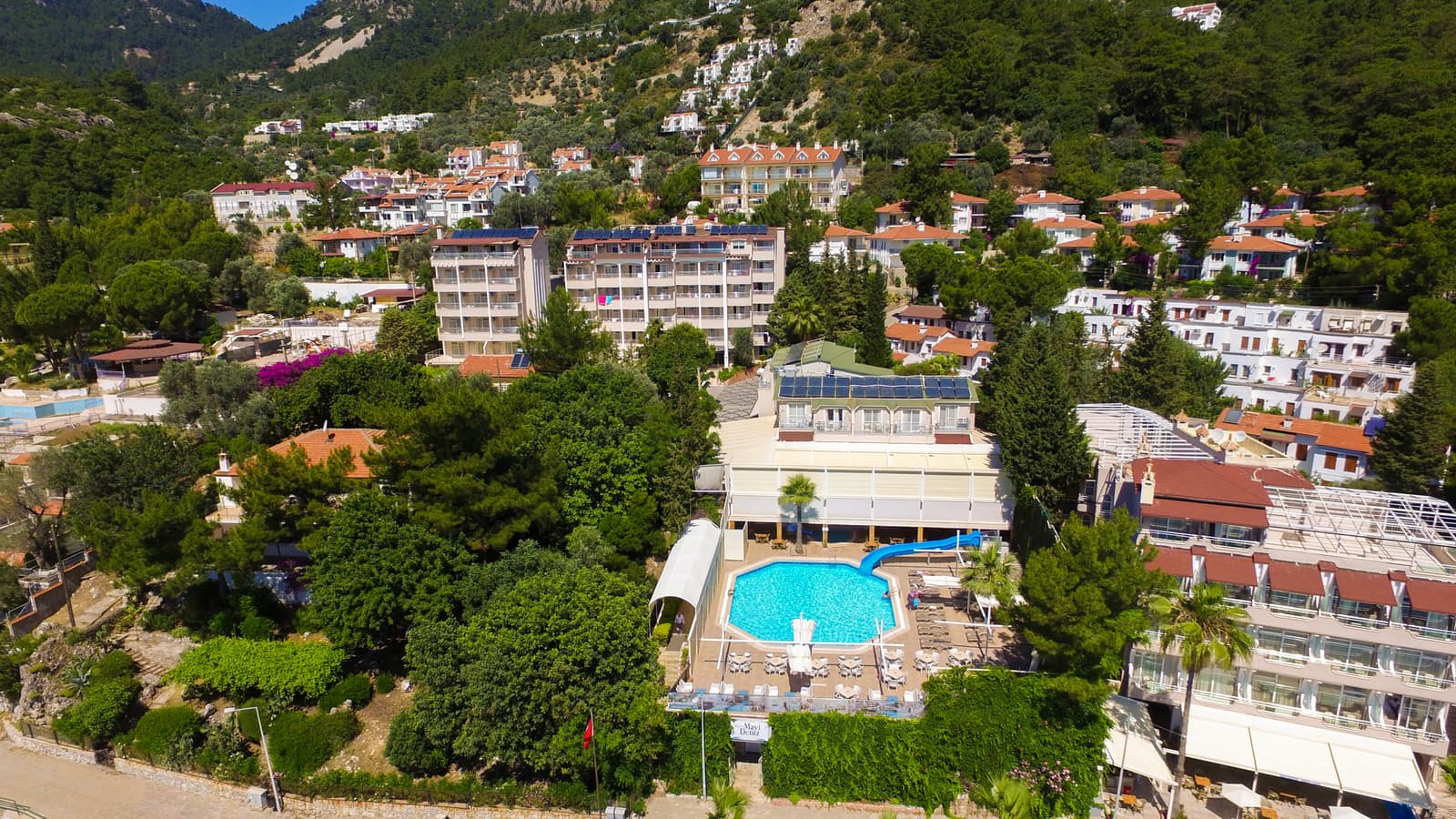 How to get to Turunç
The nearest airport is Dalaman. There are plenty of direct flights, including cheap charter flights in the summer. Turunç is around 2 hour's drive from the airport – this may be a bit longer than you are used to, but is one of the reasons why it has remained less busy and less commercialised than other resorts, so don't let it put you off.
Getting out and about from Turunç
It's easy to get around using taxis or the dolmuș (shared minibus) and local bus service. You can flag buses down anywhere on their route, but the main stop is outside the tea garden. A one-way trip to Marmaris by local bus service, will cost less than the equivalent of £1. Alternatively take a water taxi service from the harbour, which costs around the equivalent of £3. It is also possible to hire a car to get around – as long as you don't mind driving on the somewhat windy mountain roads.