New York: The melting pot of cultures and experiences
New York, New York… songs about this iconic city describe it as a place of opportunity, where anyone can follow their dreams and where people from different backgrounds and religions come together.
It's why Muslims too have found their place in the city that never sleeps.
'The Big Apple' has a long-standing connection with Islam. And it's gaining popularity as a preferred choice for Muslims seeking an enriching city break experience.
New York City has the largest Muslim population in the US. A 2018 study estimated that over 750,000 Muslims lived there — approximately 9% of New York City residents. It means a quarter of Muslims in the US live in New York.
The city has more mosques than any other state. There are around 300 mosques across the five boroughs, with the majority in Brooklyn and Queens. Add to that the thousands of halal eateries and New York solidifies its reputation as one of the most welcoming places for Muslims in the US.
So whether you want to explore its rich history and culture, or relish its unique atmosphere, New York City will provide a truly memorable experience for any Muslim traveller.
Muslim history in New York
Incredible stories of racial struggle, artistic endeavour, and religious growth makes New York a central hub of American Muslim history. From trade interactions to the influx of immigrants and the establishment of mosques, the influence of Islam has significantly shaped the city's development and diversity.
The origins of Islam in New York can be traced as far back as the 17th century when the first permanent trading posts were founded. Many came as slaves, but more came as immigrants in later years.  Small-scale Muslim migration to New York began in the 1800s with sailors and merchants arriving from the Middle East and South Asia.
The first person to come to the US specifically to give dawah was a Sudanese man called Satti Majid, who arrived in New York in 1904. He was well known for dispelling myths about Islam in the media and went on to establish several Islamic institutions. Imam Majid was influential in introducing large parts of the city to mainstream Sunni Islam, with many converting to Islam because of him.
Malcolm X's legacy
In the early 20th century, the Nation of Islam (NOI) sect emerged in Harlem. Led by Elijah Muhammad, the NOI advocated for black empowerment, self-reliance and racial pride.
Many NOI followers later converted to traditional Sunni Islam. The most famous was Malcolm X, who became  El-Hajj Malik El-Shabazz. He played a significant role in promoting Islam among African Americans in the city.
Malcolm X abandoned his black separatist position and split with the Nation of Islam following his pilgrimage to Makkah. The Hajj experience, and the absence of a racial hierarchy, left a lasting impression on him. In his famous and very moving letter about the experience he wrote of the pilgrims: "Their sincere submission to the Oneness of God, and their true acceptance of all nonwhites as equals makes the so‐called 'whites' also acceptable as equals into the brotherhood of Islam with the 'nonwhites'. Colour ceases to be a determining factor of a man's worth or value once he becomes a Muslim."
On his return to New York from his travels in the Middle East, Malcolm X founded a Sunni mosque on 113th Street and St. Nicholas Ave. That mosque is now called The Mosque of Islamic Brotherhood.
Malcolm X was murdered while making a speech at the Washington Heights Audubon Ballroom. Parts of the original ballroom were restored and now house the Shabazz Center, where visitors can find a wealth of documents related to Malcolm X and his wife Betty Shabazz. It also has a 63-foot mural depicting the life of Malcolm X and a life-size bronze statue honouring the human rights activist.
The city also permanently recognises Malcolm X through the Malcolm X Boulevard in Harlem.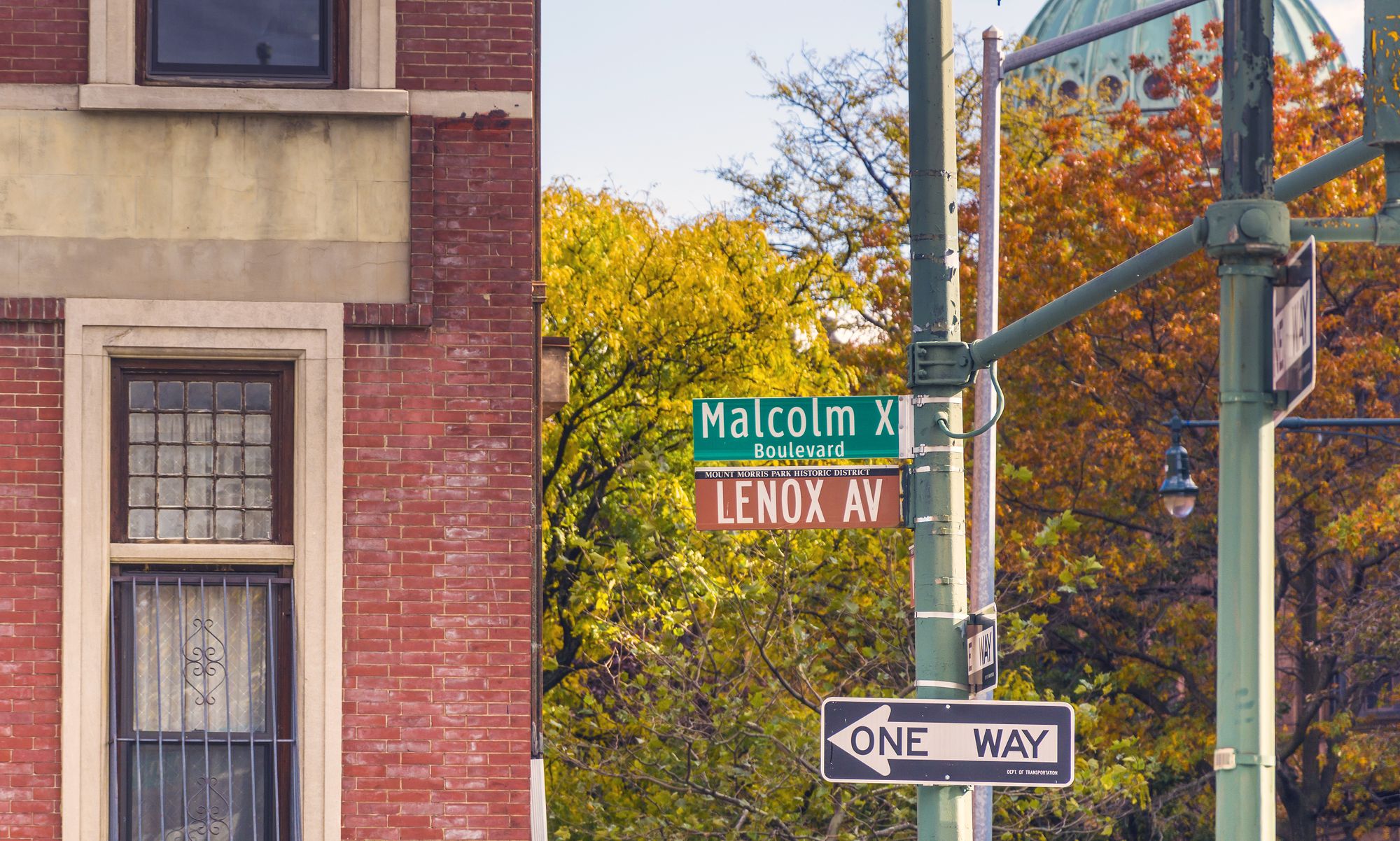 Malcolm X's story shows the intertwining of Muslim and Islamic history with New York. Muslims have left a mark that travellers will find difficult to miss when they walk its streets.
As New York evolves, the contributions of Muslims will continue to play an integral part in the city's vibrant and multicultural tapestry.
Top attractions in New York
Whether you're eager to explore New York's rich Muslim history, immerse yourself in the lively Muslim communities, or visit the more traditional iconic landmarks, the city offers an experience for every interest. Let's explore some sites and attractions:
●   Malcolm X trail
●   "Little…"
●   Central Park
●   Empire State Building
●   Statue of Liberty
●   Brooklyn Bridge
●   Times Square
Malcolm X trail
Visit the Malcolm X Boulevard in Harlem where you'll find the Masjid Malcolm Shabazz.  It was run by the Nation of Islam and known as Mosque No. 7 before it became a Sunni Muslim mosque in the 70s and named after the civil rights leader.
Hotel Theresa is where Malcolm X met with Fidel Castro, while Harlem 28th Police Precinct is legendary in his legacy. It's where Malcolm X single-handedly stopped a riot following an incident of police brutality, prompting one officer to famously remark, "No one man should have such influence."
Malcolm X was assassinated at the Audubon Ballroom in Washington Heights, where a museum honouring him now stands.
"Little…"
Tourists usually flock to Little Italy or Chinatown when they visit New York, but other Muslim equivalents are worth visiting.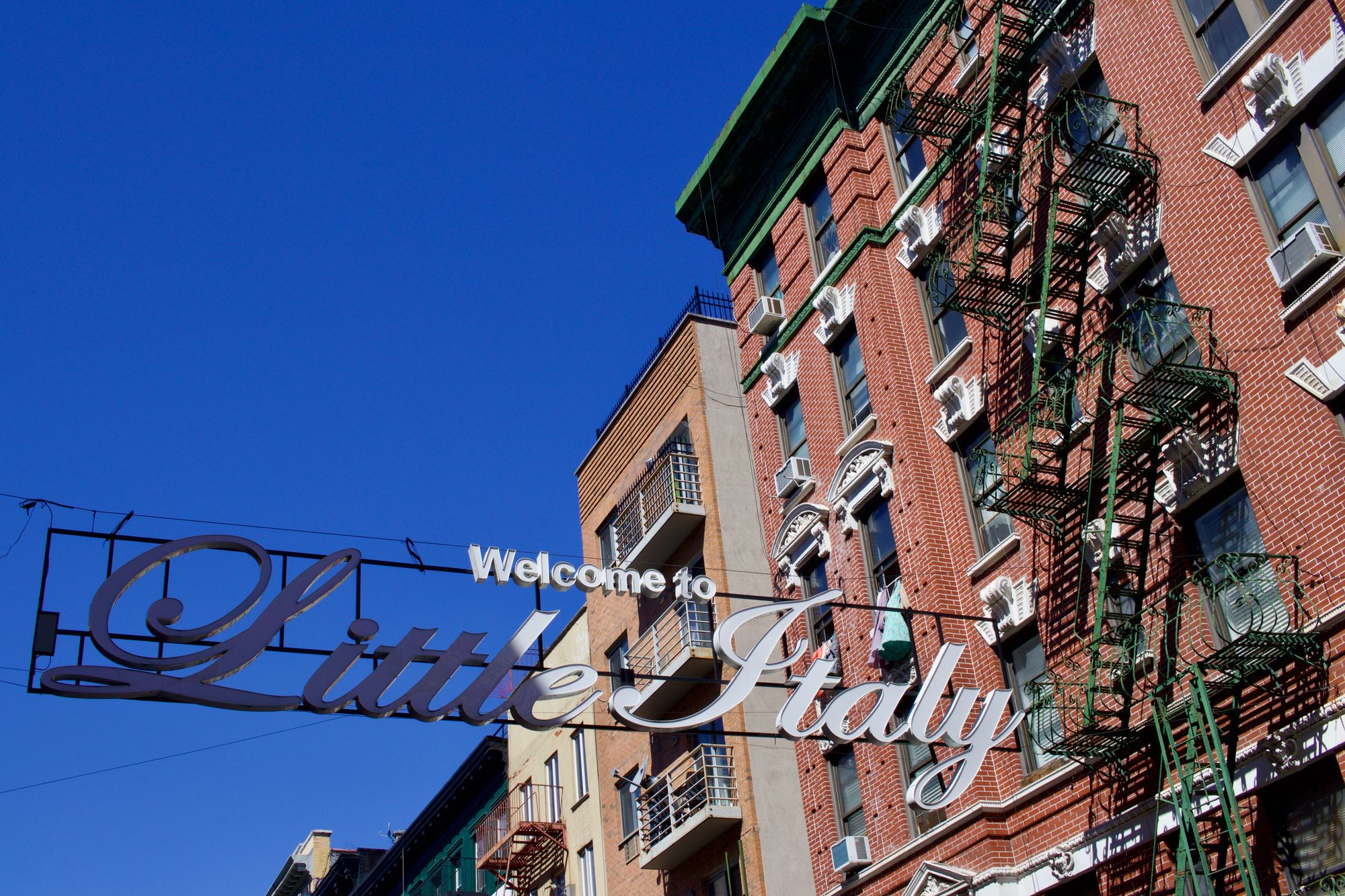 In Bay Ridge, Brooklyn, there are Yemeni and Palestinian restaurants, shops and mosques. The neighbourhood has a growing community of Arab residents who have nicknamed the area Little Palestine and Little Yemen. Meanwhile in Astoria, Queens you have Little Egypt.
Last year, Brooklyn's Kensington neighbourhood was renamed Little Bangladesh. It's where 35% of the city's Bangladeshi residents reside, teeming with eateries and cafes that celebrate Bengali culture.
Even though they no longer exist in their original form, you can explore other areas steeped in Muslim history.
Little Syria was a vibrant Arab immigrant neighbourhood in Lower Manhattan. It thrived in the late 19th and early 20th, gradually disappearing in the 1940s due to urban development. Historians and tour guides have recently uncovered evidence of one of the city's earliest mosques on Rector Street.
Staying in Manhattan, Little Africa in Greenwich Village flourished as an African American neighbourhood from the late 19th to the early 20th century. Today, only a few remnants of its history are left in the area.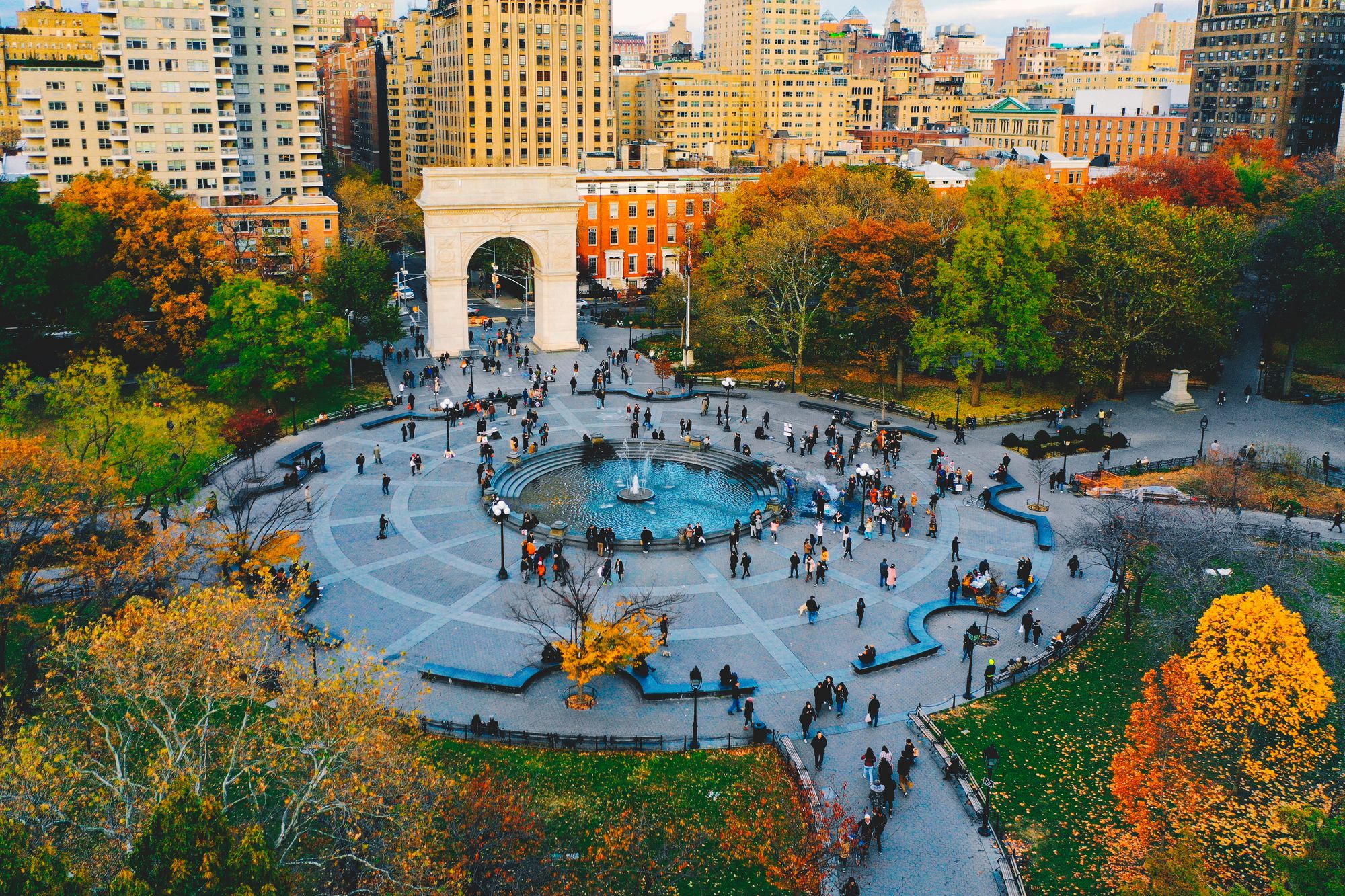 Central Park
An oasis of green in the middle of the city, Central Park spans more than 800 acres. Created in the mid-19th century, it's a go-to location for New Yorkers and visitors. The Central Park Zoo, Bow Bridge, and Bethesda Terrace and Fountain are just some of the attractions found in the park. At the park, you'll also find the Metropolitan Museum of Art, a world-renowned museum that boasts over 5000 years of art from around the globe.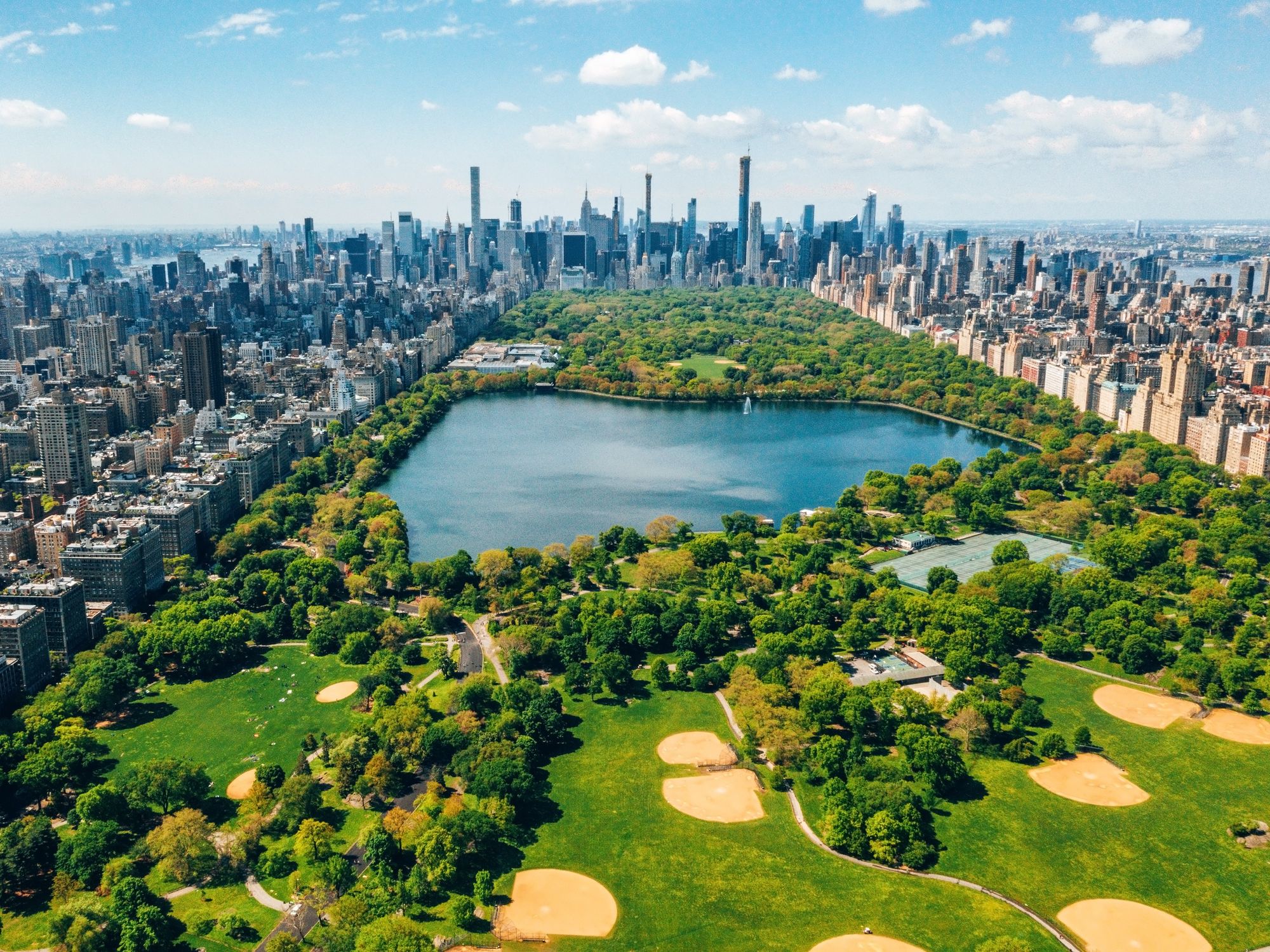 Empire State Building
You've no doubt seen this iconic landmark in films. Completed in 1931, The Empire State Building is 1,454 feet — it was the tallest building in the world for nearly 40 years. Visitors from around the globe flock to its observation decks to take in the spectacular views of the city.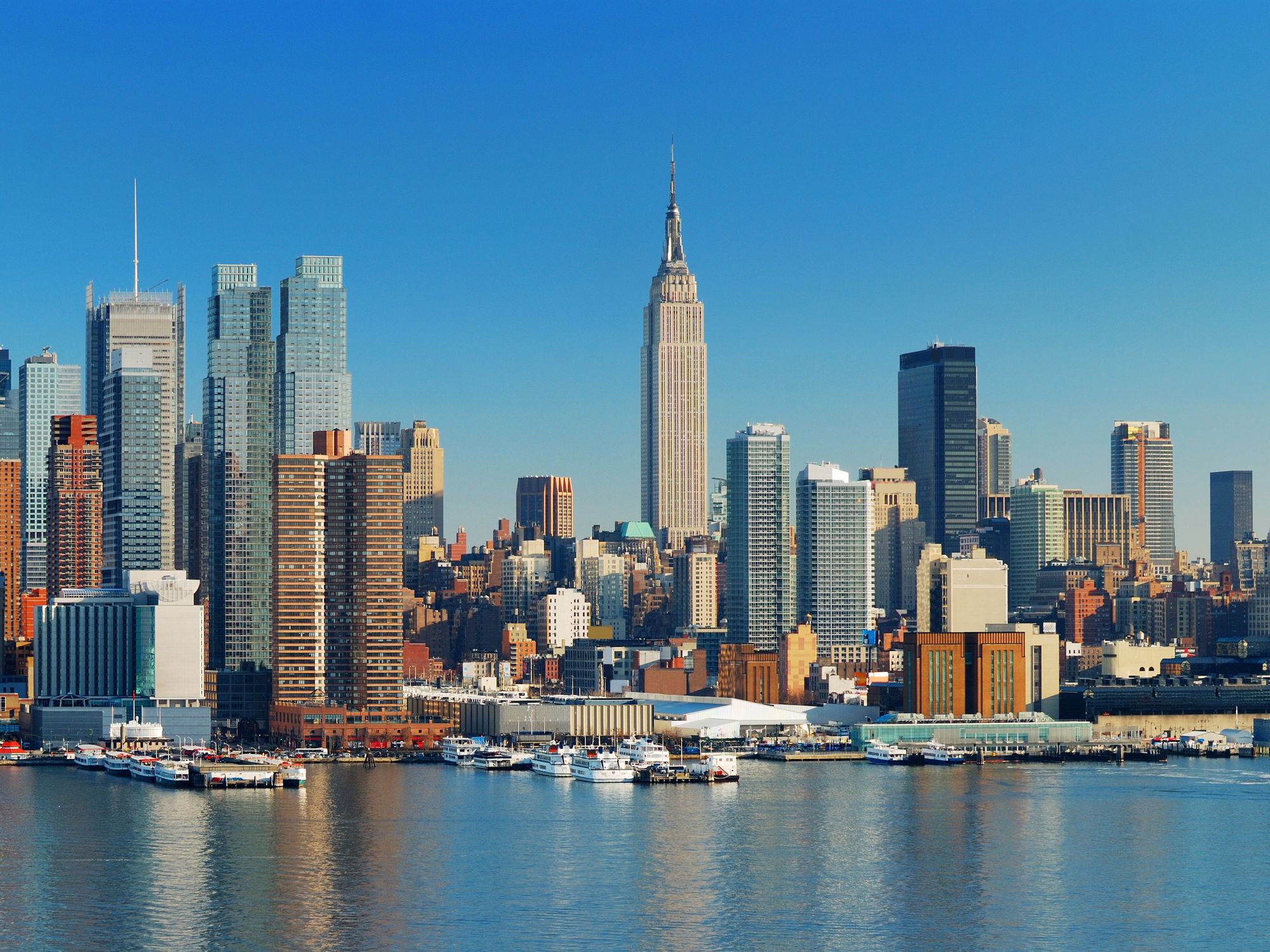 Statue of Liberty
It's one of the world's most famous monuments, with an estimated 4 million people visiting annually. The statue is of Libertas, the female personification of liberty and personal freedom in ancient Rome. She holds a torch with her right hand and carries a tablet in her left, which has the date of the American Declaration of Independence inscribed.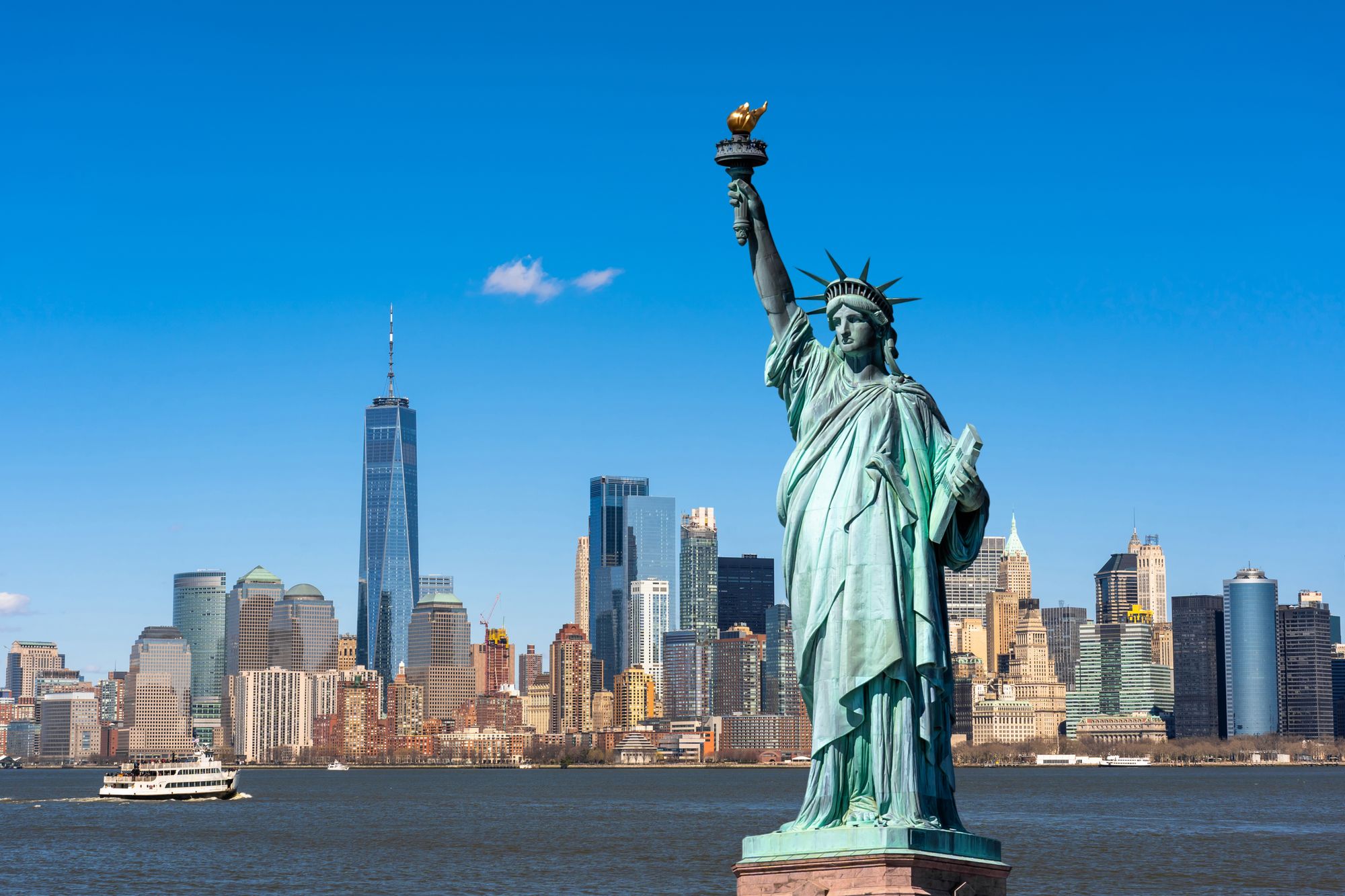 Brooklyn Bridge
Completed in 1883, the Brooklyn Bridge is one of the oldest suspension bridges in the United States. It crosses the East River and connects Manhattan and Brooklyn. Visitors enjoy strolling across the bridge and taking photographs of Manhattan's skyline.

Times Square
A brightly lit place famous for its digital billboards, shops, restaurants, and offices. It's one of the busiest pedestrian areas in the world and attracts 50 million visitors a year. Times Square is also home to one of the world's most famous theatre districts, Broadway, where well-known musicals and plays are staged live at over 40 theatres.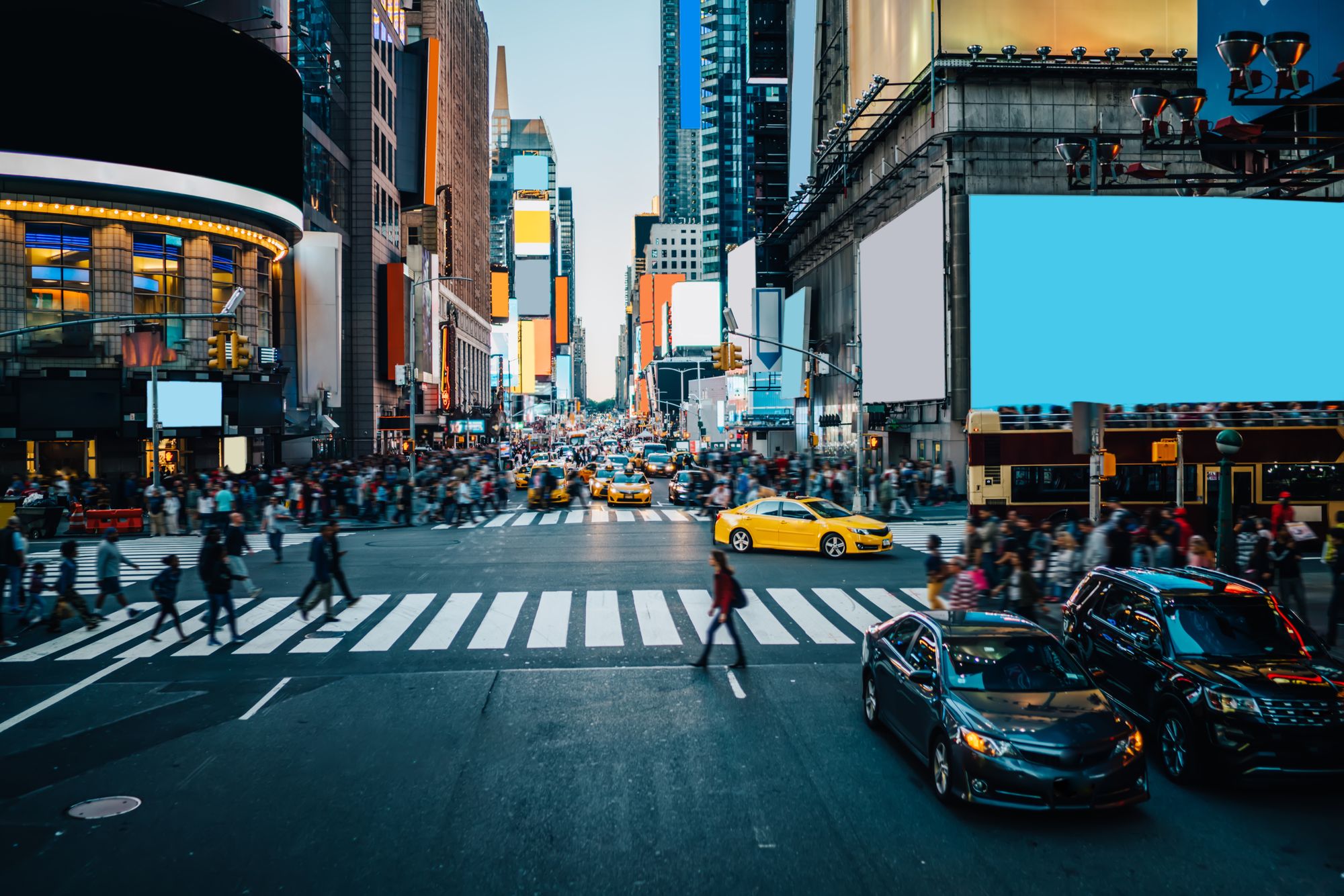 Mosques in New York
New York has nearly 300 mosques across its five boroughs. According to a study in 2015, Brooklyn and Queens have about 100 mosques each, with the Bronx boasting another 50. Here's a pick of just some of the few you can check out.
Islamic Center of New York
Established in the early 1960s, The Islamic Cultural Center was the first purpose-built mosque in New York and is one of the largest. Located in East Harlem, Manhattan, the mosque is open for all the regular prayers and activities for the local Muslim community. Given that it's one of the more recognisable mosques in the city, it plays an active role in interfaith events and is open to people of all faiths to come and visit.
Masjid Manhattan
Established in 1970, Masjid Manhattan provides all the services you would expect a mosque to provide for both men and women. The mosque actively engages in charitable and humanitarian initiatives to support the wider community and presents Islam through educational and cultural activities.
Masjid Hazrati Abu Bakr Siddique
Located in the residential neighbourhood of North Flushing, Queens, the beautiful mosque has a striking white facade and blue minarets. As well as the daily prayers, it offers Hadith and Tajweed classes for locals and Quranic classes for children.
Powers Street Mosque/Moslem Mosque Inc
America's oldest functioning mosque is in Brooklyn and it was started by Muslims of Eastern European descent. In 1907, Lipka Tatar immigrants from Lithuania, Poland and Belarus founded the American Mohammedan Society and went on to create a mosque in Powers Streets. The mosque now opens only sporadically since the Tatar congregations moved out of Brooklyn in the 60s and 70. Though not available for daily prayers, it does open its doors for special occasions, like Eid.
Masjid At Taqwa
Wanting to practise authentic Islam, 25 African American Muslims left the Nation of Islam in 1981 and built Masjid At Taqwa. Now it's a prominent mosque in the city that serves as a focal point for the Muslim community in Brooklyn. With its charismatic leaders, the mosque has become a vital centre for religious, educational, and social activities.
Masjid 'Eesa ibn Maryam
Also known as the "Jesus, Son of Mary Mosque," this vibrant house of worship is in Hollis. The mosque focuses on community service, development, and worship. It provides daily prayers, weekly sermons, a children's Quran memorisation program, a Saturday children's program, free community programs and an open gym.
Masjid Al-Falah
The mosque began as a rented storefront carved out of a three-story wooden house in 1976 but later turned into a beautiful mosque featuring a unique white dome and minaret. Designed by a Korean engineer, the mosque received a building prize from the Borough of Queens. It offers all the facilities you'd expect from a mosque and even has a kitchen in the basement.
Halal food and restaurants in New York
From (halal) hot dogs and pizzas to bagels and doughnuts, New York is full of food options to satisfy your cravings.
And with a booming halal food scene, you can indulge in some of the best dining experiences in the city, making your visit to New York even more memorable. Check out the top halal eateries you should try:
Halal cart street food
One of the most iconic street foods in New York is the halal cart. They have now become a staple of New York, displacing hot dog carts as the city's dominant form of street food. As the name suggests, the food is halal and consists of mostly Middle Eastern and South Asian cuisine. A study found that in 15 years, the number of halal carts in the city rose from 70 to 560.
The Halal Guys
Many credit The Halal Guys for starting the halal cart trend. Their journey began in 1990 when three Egyptian founders started a hot dog cart in "Little Egypt". They then pivoted to selling halal food to Muslim taxi drivers before it became widely popular. They're famous for their platters of chicken and gyro over rice, falafel sandwiches, and red and white sauces. With their franchise model, new l food carts and storefronts are being added throughout New York.
Rasa
The 52-seater eatery offers diners a variety of halal Malaysian, Thai and Indonesian dishes. The menu features traditional favourites such as Kampung Fried Rice, Hainanese Chicken Rice and Penang Assam Laksa. This restaurant serves alcohol.
Ravagh Lenox Hill
From classics like kotlet and khoresh fesenjan, to Mediterranean favourites like baba ganoush and hummus, this classy venture serves Persian cuisine.  With four branches across New York, the restaurant is clearly popular. Please note, it does sell alcohol.
Korai Kitchen
Given that Bengalis have a rich tradition in New York, visiting a Bengali restaurant is a must. There are several Bangladeshi restaurants in the New York City area, particularly around Queens. But Korai Kitchen stands out as it offers homestyle dishes, prepared with love by a mother and daughter team.
B&D Halal
If you fancy some no-frills cheap food with lots of variety, try this venture dishing up African food. The restaurant serves a wide selection of meals synonymous with West Africa, served buffet-style in a relaxed and laid-back setting.
How to get around New York
There are a lot of options to get around New York City. But you wouldn't expect anything less! With 20 million residents, the city is designed to make it easy for people to get around. Here's how:
Take a stroll
If you want to fully experience New York's hustle and bustle, walking is the way to go. If you're in Manhattan, you've got places like Central Park, Times Square, Broadway and the Empire State Building within walking distance - no wheels needed!
Get on a City Bike
Citi Bike has bike stations all over New York, so getting to where you're going is easy. You can buy a day pass for $19 and use the bikes as much as you want during that period. Just unlock the bikes from one station and return them to another when you're finished.
Ride the subway or bus
Suppose you want to go somewhere further away or don't fancy walking too much. In that case, New York's extensive public transportation is accessible and affordable. There are almost 6,000 buses in New York, covering over 300 routes.
The iconic New York Subway is another great way to avoid traffic. With 472 stations, the subway is the largest in the world and one of the oldest. The good thing is it runs twenty-four hours a day across many lines, further cementing the city's reputation as a 24-hour destination.
You can choose between two types of cards to travel that are valid on both the metro and the bus: a pay-per-ride card and an unlimited card. The pay-per-ride card costs $2.75 for every ride. The unlimited card can be used as many times as you want but it's only available for seven days or 30 days. The 7-day unlimited card costs $33, plus $1 for the card itself.
Cab/Taxi
The iconic yellow taxis can pick up passengers from the street. Of course, there are more modern cheaper alternatives like Uber and Lyft, but the recognisable cabs are worth taking, even if it's just for the experience!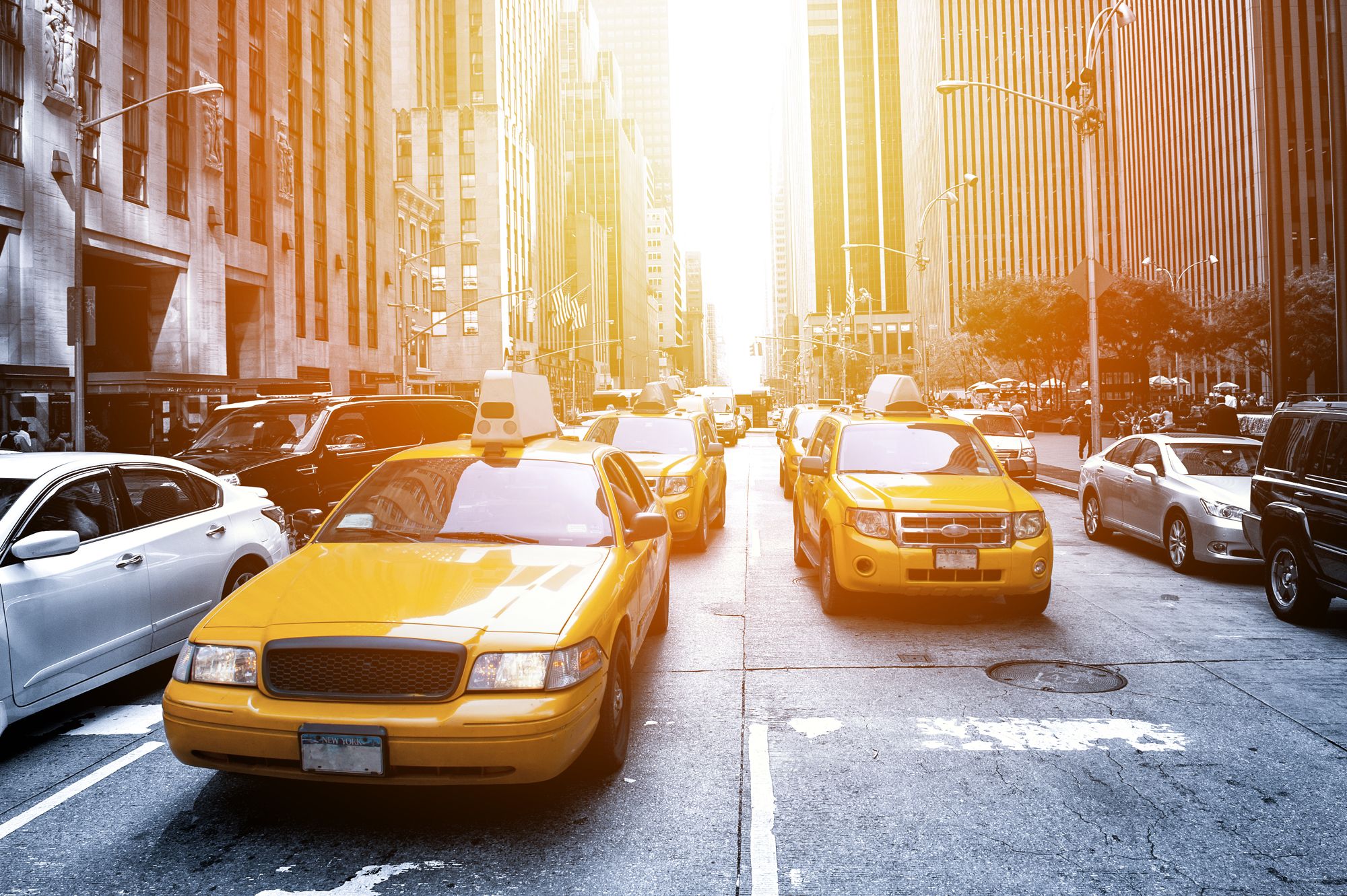 Best time to visit New York
The best time to visit New York depends on your preferences and what you want to experience. There are always things to do in New York, no matter the season.
Summer is the peak tourist period with the best weather. You can enjoy outdoor activities, festivals and events, but be prepared for larger crowds.
If you want to avoid the crowds and queues, the best time to go is spring and autumn. The weather is still nice during this period, and the prices of hotels are lower compared to the peak season.
For those on a budget, the cheapest time to visit New York City is early January and February.
Winter brings cold temperatures and occasional snowfall. But it's also the festive season with holiday decorations and events like the famous New Year's Eve ball drop in Times Square.
Where to stay in New York
HalalBooking.com features over 600 hotels in New York, providing a huge amount of choice wherever you want to stay and whatever your budget.
Here are two options which our guests have enjoyed: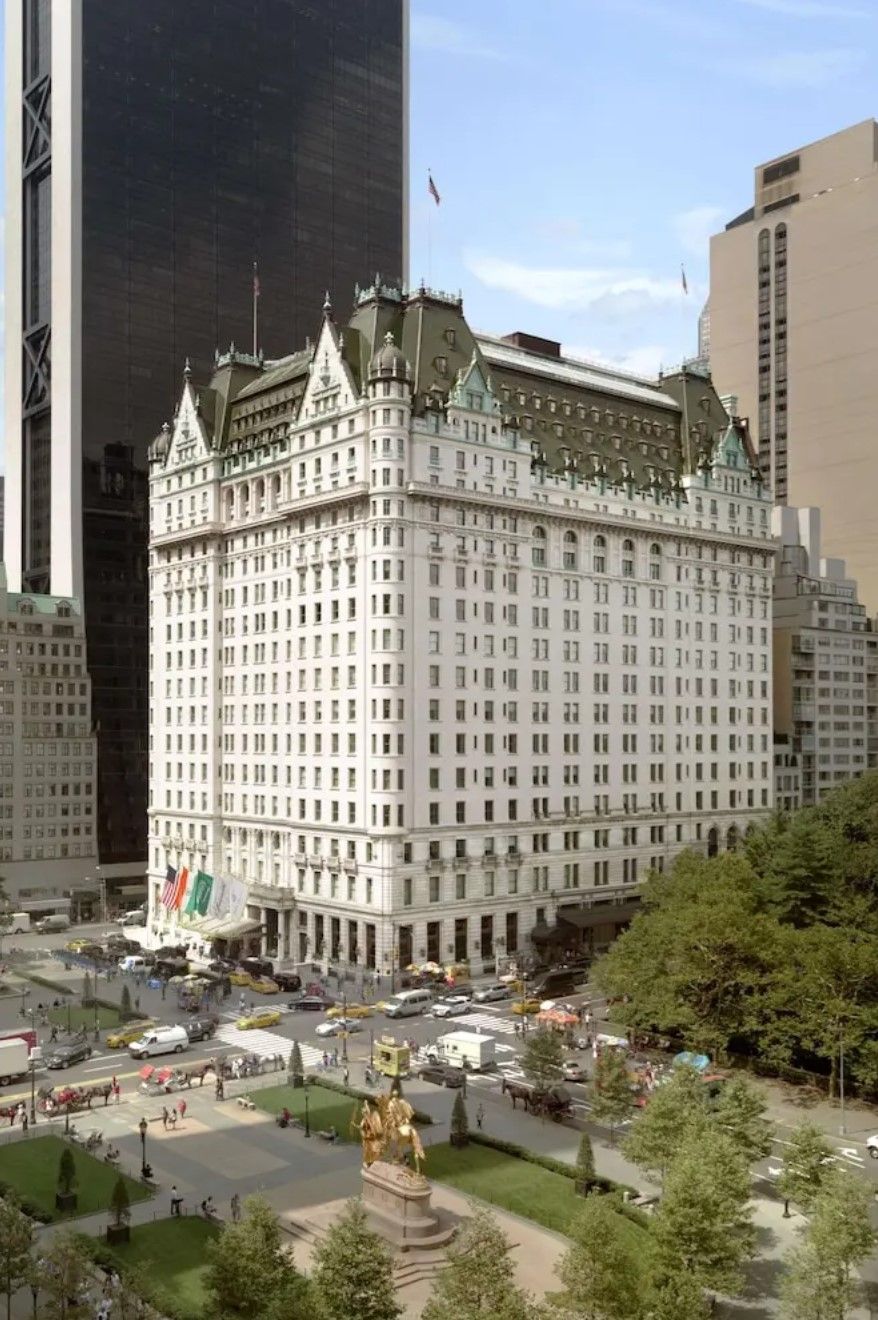 A luxury hotel with a prestigious Fifth Avenue address on Central Park South, ideal for a celebration or the ultimate city break. A New York icon since 1907, there is plenty of halal food nearby and its spa treatment rooms are available for private hire.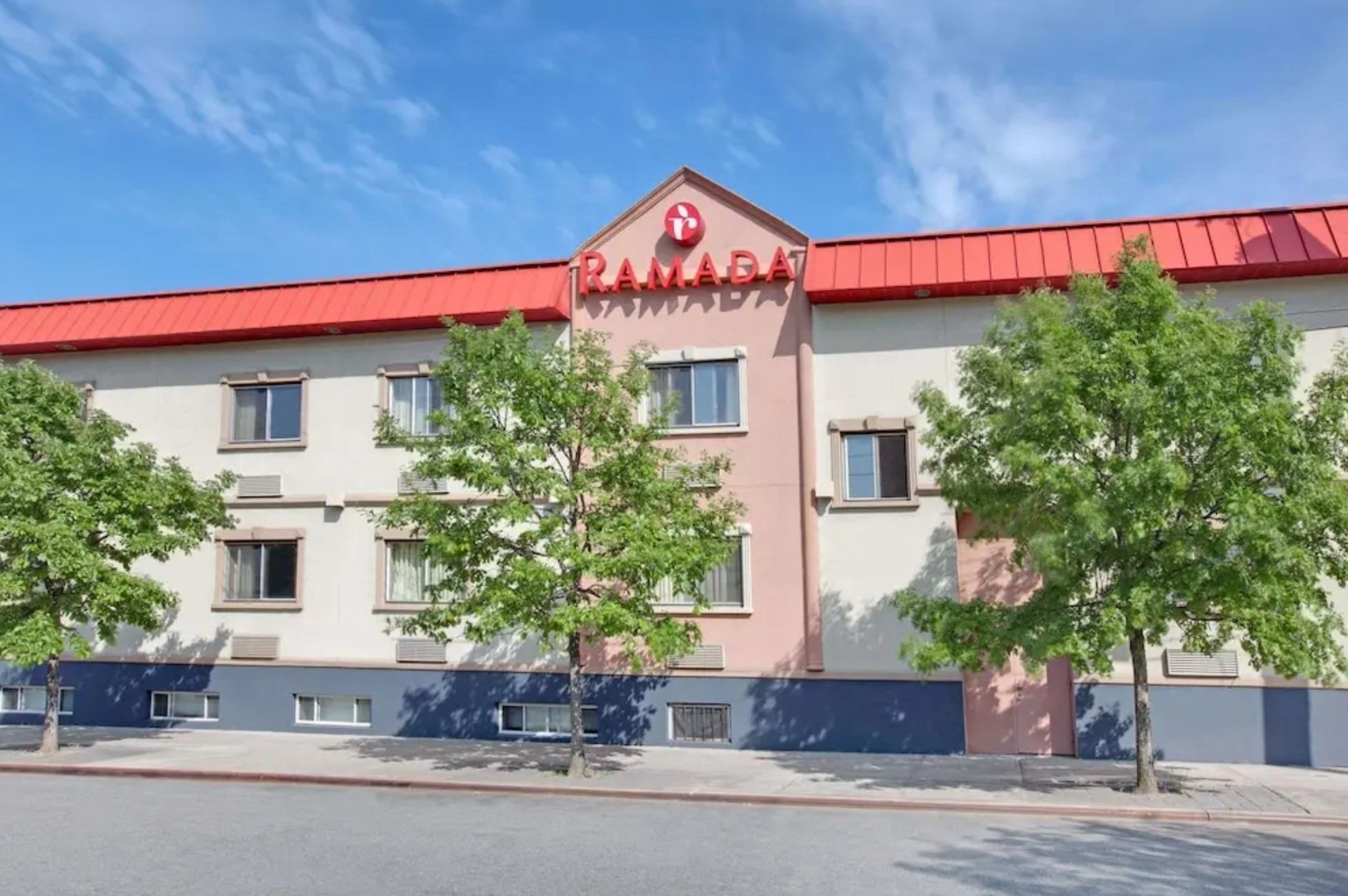 Good for those on a budget, the hotel is close to Bronx Zoo and the beautiful New York Botanical Garden. There's plenty of halal food options nearby and it's easy to get into Manhattan for sightseeing.
For more options view our full range of accommodation in New York here.
Three-day itinerary suggestion for your stay in New York
Planning to spend 3 days in New York? Here's what you can do:
Day 1: Muslim History and Cultural Gems
●   Start your day by visiting the mosque Malcolm X opened on 113th Street in Harlem, now called The Mosque of Islamic Brotherhood. Five minutes walk from there is Masjid Malcolm Shabazz. Explore the nearby Malcolm X Boulevard and learn about the civil rights leader's legacy.
●   Head to "Little Palestine" in Bay Ridge, Brooklyn, and also check out "Little Bangladesh" in the borough.
●   Stroll through Central Park and admire the iconic Bethesda Terrace and Fountain. Visit the Metropolitan Museum of Art, showcasing art from around the world.
Day 2: Iconic Landmarks and Halal Food
●   Visit the Empire State Building and take in the breathtaking views of the city. Then, take a ferry to the Statue of Liberty and Ellis Island and learn about the city's immigrant history.
●   Walk across Brooklyn Bridge and capture the stunning skyline of Manhattan. Explore Times Square's vibrant atmosphere and enjoy some halal street food from the famous halal carts.
●   In the evening, indulge in a delicious sit-down dinner at one of the many halal restaurants.
Day 3: Mosques and Staten Island
●   Visit a few of the mosques dotted around the city, such as Powers Street Mosque and the Islamic Center of New York.
●   Use the remaining time to check out the other boroughs of New York. Staten Island is the southernmost borough and is connected to Lower Manhattan via the Staten Island Ferry.